Sprint
Contact Sprint Corporate
Toll free phone number: 1-800-777-4681
---
Have a complaint about Sprint? If you need to report a problem about your device or wireless account the customer service number to call is 1-888-211-4727 or toll-free 1-800-777-4681. If you are troubleshooting your device it is recommended that you call using another handset.
To escalate your issue to Sprint headquarters including the CEO, write to Marcelo Claure at 6200 Sprint Pkwy. Overland Park, KS 66251. You can also ask for his extension when you call the Sprint corporate office at 855-848-3280. You may also log on 24/7 online to a personal MySprint report at the www.sprint.com website. Store locations are listed there as well as a live chat.
We have the best phone numbers for Sprint listed to reach a live human. Founded by Cleyson Brown and Jacob Brown in 1899 and affiliated with GTE Telephone in the early days, Sprint has a long history of mergers, acquisitions and blog to keep customers current on "Sprint in the news".  Sprint has social presence at Twitter, Facebook and on YouTube.
Sprint Corporation is a United States telecommunications company and provides domestic wireless service and international internet. Serving the US, Puerto Rico, and the US Virgin Islands Sprint is publicly traded on the NYSE:S. Employing over 31,000 and with revenues reported in 2013 at US 35 billion Sprint continues to be a presence in the mobile device industry.
Sprint Contact Information
Report complaints to corporate and get satisfaction
Sprint headquarters address

6200 Sprint Pkwy.
Overland Park
KS 66251

Company website

1-800 phone number

1-800-777-4681

Support email address

support@sprint.com

Better Business Bureau rating

A-

Customer service hours

8am-5pm Central Time, 5 days a week
Browse reviews of other Cell Phones
Top Sprint Complaints
Browse more than 353 reviews submitted so far

Gayla Harris
from Irving, TX
Went into sprint store 2 months ago to check into preordering the iPhone 7 and switching to sprint. Was clear with sales rep that I did not need to switch that day just wanted to preorder. The sale rep told me I could start that day, they would give us temporary phones and our iPhone 7 pluses would be in the store in 2 weeks. 2 months later and 4 trips to the store, we still do not have the iPhone 7 plus and have found out that the sales rep told us incorrect information about data overages.
He pulled a fast one on us to get a sales. The manager is never in when I go or call and although I've left several messages, he has not called me back. I called the customer service line and since I bought from the store all they can do is issue a store complaint. They can't help me. So here I am again waiting for the store manager to call back. Why can't someone just step in and fix the situation?

I have had some billing issues with Sprint ever since I added phones to my account. They put a phone on its own plan instead of adding to our current plan at the time. They adjusted and then bill came out with issues again because they switched plans. I've talked to 2 resolution supervisors who set payment arrangements to keep phones on while they fixed problem. It wasn't fixed. I was told to pay 187 before the 17th and make arrangements on balance. I did that and my phones are shut off. I've been hung up on 3 times as no one will help me. Service is still off. None of this was my fault and I have no phones.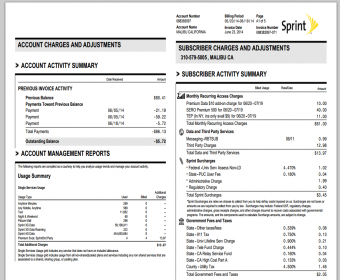 Shameka Goins
from Belleville, MI
Me and my spouse went to the Sprint store looking to become new customers 1/24/15, which we did and it all seemed to work out. The next day I wanted to return my mobile phone for a smaller version of it, the rep that helped us was not in attendance this day 1/25/15. When we spoke with the young lady she advised us of our new account monthly payment, which seemed more then our original monthly payment. Come to find out the LEASE plan that we were suppose to be on, he did not place us in it, then we asked her if our numbers could have been ported over from our old Mobile carrier, she said of course it can, which he told us it wasn't possible. And he also neglected to tell us that our device payments would go up after 1 year. So me and my spouse was furious and decided to return everything. Not knowing that there is a restocking fee for every device. Mobile phone #1 $35, Mobile Phone #2 $35, Tablet device $75. All this could have been settled correctly if that guy wasn't worried about making his commission.

Why do we pay insurance on a phone for the whole contract on a lease phone and if I drop it I have n pay a deductible on a phone I don't own and pay insurance for. I dropped my Galaxy s5 screen went black but the phone still works my home screen key still lights up and I can answer calls take pics unlock my phone but I can't see anything. I pay 25 a month for lease and 11 for insurance.
My contract is up in April so I have paid 720 on the phone that is over 2 years old and then I have to pay 200 more if I want it fixed or to buy it at end of contract to get a new phone. It should b replaced for free with maybe a 50 dollar deductible if any. What is the point in insurance every month if it doesn't go towards my phone being fixed for free.
That's not fair we have been with u guys for 8 years now. Been paying insurance for 8years never 1 time had to get a new phone use my insurance or anything. We pay around 180 month for 2 lines for 8 years now that's almost 18,000 dollars we paid u and then I can't have my phone fixed or just have a new or used on for free? We love your service 90%of the time it works great. But if we can come to an understanding we will have and change our service provider.

Sherri
from Germantown, MD
I am a new Sprint customer switching from Verizon. I am writing to tell you that I am beyond unhappy with the customer service I have received from your company. In the over 15 years I was with Verizon, I have never had to go through the hours of discussions and sitting on hold to resolve a problem that was not even my fault. When accessing my account to pay my bill on Sprint.com my balance went from $159.66 in the morning to $1099.96 in the afternoon to $102.27 the following morning. After spending an hour on the phone trying to work out the problem, I told the representative I would send my check in immediately, which I did. I was told that would be fine.
Then two days later (on Sunday) I got a call from your Finance department. I spent another hour explaining things. He said he would put in the notes not to suspend my service for 7 days to allow for the check to arrive and be posted. On Monday night they suspended my service anyway. On Tuesday morning I did an online chat where I spent an half an hour being transferred to different representatives and then being told I had to call the Finance Department. I don't have a phone. So I called the Finance Department in the evening when my husband got home.
The woman in the Finance Department said she would transfer me to a Supervisor. She actually put me back in the queue where I sat for 30 minutes until I hung up. Now I am on hold again, so far 15 minutes. Sprint customer service department is completely useless, unknowledgeable and they don't tell the truth. I am throughly disgusted. In the time I have sat on hold, I have filed several complaints online. I have 6 phones on my account and I can guarantee you that at the first opportunity, I will be leaving Sprint and so will all my family members.
In the meantime, while I am sitting here on hold, I guess I will just keep filing online complaints to hopefully save others from the same frustrations!

Ginger Stoetzel
from Wagoner, OK
We have tried and tried to get our bill straightened out. We've been overcharged, charged for things we shouldn't be charged for, and lied to about the amount our bill would be. We've paid approximately $900 the past couple months and it's still not right. Fix the problem or there will more negative publicity for Sprint.

Michael Palmer
from Brookhaven, PA
For many years I have received a bill in the mail and have paid my bill on time. I have been a Sprint customer for many years and pay for my families three cell phones every month. I contacted Sprint on 8/4/16, and requested a bill that I never received in the mail. I was told by a Sprint Rep. that they were experiencing a billing problem and a bill would be mail out in a few days. I called again on 8/19/16, looking for a bill that never came. I was told by the Rep. (after she spoke to a supervisor) that I would be put back on "bill by mail service" and that a bill will be sent to me via overnight mail.
I called again on 8/23/16, to let Sprint know that I never received a bill yet. My phone bill for last month should be $236.33 but it is now $485.40 because I still haven't gotten a bill. I spoke to supervisor, ID number i1066132618, after being on hold for 43 minutes and 25 seconds only to have my problem not resolved. What does it take to get a bill in the mail which I want to pay? At this point I will be contacting my Attorney to see what legal action I can take against Sprint. Furthermore, I will be preparing to switch over to AT&T. I am on a budget and because I this situation my cell phone bill just increases because I have not received a bill.

Jack Postell
from Englewood, CO
Please forward this to the Sprint security department – Over the weekend our CEO's wife received a call on her company cell phone from telephone number 336-755-9006 which is a number assigned by Sprint. The caller attempted a scam by stating the CEO had been in an accident etc. In researching this number it appears to have come from E.Martin, 903 Grace, Burlington, NC 27217. We don't know if the number was spoofed from another number but wanted to report it to your security folks. Any assistance is appreciated.

Sandra Fernandez
from Las Vegas, NV
Our contract end next month and we called to find out what kind of deals we could get on new contract and phones. We are paying 210.00 a month for 3 lines now and was quoted 130.00 a month for 3 lines and 2 phones on the promo of 5.00 a month for 24 months. She mailed me transcript of our conversation. I called back the next day and spoke to Brandon who was very helpful. He said we would be charge 190.00 for 3 lines and the promo for 2 phones a month. He was getting ready to order the new phones and e-mail me the new contract we got disconnected. I waited a few minutes to see if he would call me back but he didn't. So I called sprint again and got a real rude guy who said our new contract would jump up to 310.00 a month. I got very upset and hung up on him. After cooling off over night I called back again and a lady was working with me. She put me on hold, after at least 10 minutes we got disconnected again just like the past. So we went down to the store and this guy said we can't get the promo offer and our bills would be 224.00 a month. Which is more that what we are paying now. I asked why loyal customers that have been with them for 10 years get kicked in the face and new customers will be paying half of what they were paying with their old providers. Checked Virizon and they would be 154.00 which includes 2 new phones and no contract. So unless someone called us with something better than what Virizon quoted we well be changing servers on Feb. 12, 2015

Paul Cameron
from Alpharetta, GA
I signed on with Sprint only if they would pay for my 3rd phone in addition to the BOGO promotion they were offering. Here I am in the 4th month and I still can't get the credit for the 3rd phone even though there is something in my account from collections that they approved the credit. I have probably spent about 8 hours on the phone with them over this and they still don't get it. I have been on the phone 2 hours 5 mins. now, been transferred to customer service from collections but now I have to justify again why I am getting the 3rd phone. I don't know how to get them to understand English. Also, no one cares about my problem, they just want to get rid of me.

Mary Busuito
from Los Angeles, CA
I had called Sprint two weeks ago to complain of no internet on my phone while at home. The representative checked the device and offered me a $20 credit. On Feb 8th, I called the recorded line and the voice told me my balance was $43.00 and some change. I paid off the balance and they said my balance was zero. 3 nights later, I receive an email stating my balance is $131.00+.
I called and the representative didn't have a good explanation as to why my bill was extremely high. She also didn't see the $20 credit that was suppose to be given to me. She said it looks like a balance from months ago reappeared on my bill. I don't believe this. I think Sprint is overcharging people who don't bother to look at their bill. I have been a customer for over 10 years. I am disappointed in how this has been handled. I deserve a full refund and some credits.

Defective Phone and Bad Customer Service
from Columbia, SC
I am very disappointed with the Sprint representative Justin and Ron at the South Carolina store on Two Notch Road. My husband and I have a Family Plan which includes my son, husband and myself. We upgraded all three of the phone with the new Sprint versioin. My husband and son phone works fine. My phone is defected. I called the customer representative and she walk me thru steps to fix my phone. My phone could not receive data or connect to the internet. After trying to walk to all the steps to fix the phone the representative told me my phone was defective. She gave me an interactive number and told me to take it back to the Spring store I receive the phone from.
She told me since it was then 14 days from the date I purchase the phone it should be no problem. My husband took the phone back and gave them the number. They then went thru the same process. They had to then order me a phone. Receive a call phone is in. Husband goes to pick up phone. Representative couldn't find the phone. He was told the representative who order the phone was not in. Next trip, representative was in. However, order the phone under the wrong phone number. Now each trip my husband has to wait in long lines until his turn. Rep states he has to return the phone in order another one. Phone comes in yesterday...long line.
The representatives still could not update the phone (Justin and Ron). Kept my phone and told me someone would update it for the next day. To top this all off my husband paid for the screen protector/store fee for putting it on. Then he was told that we had send the screen protection back to the Zappo (life time warranty if we register it) and get another one. My thing is this...if you give me a defective phone why do I have send the order cover back to Zappo to get them to send me a new one. I feel that the Sprint store should put a new one on the phone. No phone yet and when I receive it I have to wait for Zappo to send me a new screen cover and I am assuming I got to put it on myself. This do not make sense. After this contract is over I am terminating my service with Sprint. Let hope the phone is ready today.

Robert Sotomayor
from San Francisco, CA
I held a CHAT session with Sprint about changing calling plans in hopes of reducing my bill. I was told I could change over to their Family Share Plan that they advertise on TV. I was told that my new monthly bill which would include 5 lines and a tablet would be $158+taxes. This quote was sent to me via their chat log. I received my current months bill and my bill was over $300.00. I called to understand why and was told that there were several fees that were being charged and would be charged on a monthly go forth basis and thus my bill would be substantially higher than what was quoted to me. After sending fax documents to Broken Promises team, a follow up call and chat, with no response, emails to their media team I finally got a response back from their executive / regulatory relations team who responded and issued credits for the fees on the current bill. However, they still continue to state that future bills will be approximately $290 a month. This amount is still $100 more than what I was expecting and what I was previously being billed.
I re-contacted them advised them that this amount is still greater than what I was quoted and had in writing from them and expect them to honor their quote. I'd also note that this new amount is also almost a hundred dollars more than my previous bill and plan and had I known and been advised of these added costs then I would have never opted to change my plan in the 1st place. As of this complaint I have not heard back from Sprint and have also pursued official complaints with the CFPB and the FCC regarding what I consider deceptive and bait and switch type tactics being employed by Sprint. They need to be held accountable and be made to honor the word of their team members.

Ana orellana
from Chatsworth, CA
Sprint shouldn't even deserve one star it's the worst thing ever. The Sprint "manager" tricked me into having a service 130 bucks a month. He said "guarantee" and he said he would pay off the cancellation for my AT&T. It's been 5 months and now I'm sent to collections. He even screamed at me for complaining to him and made fun of me! I'm so pissed. I can't even afford to pay 530 dollars.

Yvette Godoy
from Long Beach, CA
Had my service transferred 2 months ago into my sons name. On October 26, 2015 my son made a payment for $200.77 online, thinking it went to his account. a day or two later, his phone got disconnected, so he went into the sprint store and they told him the payment he made went towards my account. so they reversed the payment from my account into his account. He got his phone turned back on. on November 10, 2015 I got an email for a collection agency alert, it states I need to pay $200.77 within seven days. I called Sprint and spoke with a manager and he told me I would have to make that payment for my account, I told him, why should I have to pay twice. I asked if the funds could be reversed back into my account, and he said no that the funds have been taken out already. So if my son would of kept that payment made on my account, his phone would still be disconnected for non payment of $200.77. So what do you do. The manager would not even work with me on this, So im hoping someone can help me resolve this situation.( Just a note my son made a pymt prior to this one, and it went to his account.)

Dennis Deu Pree
from Portland, OR
Waited 4 months foe this day to upgrade my daughters phone. Found out today that Sprint changed their upgrade policy LAST NIGHT. So she is not eligible for four more months. So i called Customer service, after a 30 minute wait on hold, talked to someone, after another 20 minute negotiation, agreed to pay $100.00 to get upgrade early. But i had to go to a corporate store. So i drove 20 minutes to the store, and gueas what?! They couldn't do the upgrade. So i called back, 30 minute wait. Was willing to order over the phone, even though i promised my daughter a new phone today. It took two people, and another twenty minutes to start the process, and then they hung up on me. Decided to try one more time. Another 30minute hold, got some one that really tried to help, but after 20 minutes of her trying to get help i finally gave up. Not sure what i am going to do now.

My husband and I have had our sprints phones for a long time very good customers - pay our bill on time - it was time to renew our contract with sprint the rep offered me 2 phone upgrades without a cost to me and $70 credit on each line - stupid me I took the offer and on my next bill saw charges for the phones - they claim that you can't get the $70 credit per line and new phones - but because the first rep that offered it to me made a mistake they would not fix it.
So I had to pay the $314 bill in order to not get a mark on my credit and pay the $200 cancellation fee - this all happened in a 32 day period and because it was 2 days over the 30day change policy they wouldn't except the offer to give me back my old phones and start over with out a cost to me what terrible customer service to a very good customer they dont care its all about the $$$$$$ with sprint and when my contact is up.
I will never use them again nor will I give them a good name to others - I even get a discount because of my business but I still won't use SPRINT again

Kelly Yerian
from Oklahoma City, OK
I'm upset with Sprint because my service is scrappy I get hit with a high phone bill. I can't make arrangments and I'm requesting higher up to look into this I should get quality service if I'm getting charged a full bill I want this issue fixed. I thought Sprint was supposed to be the wireless service that cuts your high phone bill in half not makes it higher?

Mary Ames
from Georgetown, OH
From what I have been reading I am not alone in my frustration with Sprint. I will be letting as many people as I can know that they should not choose Sprint as a carrier or switch when you can. Basically they lie to you and then it is your word against theirs. They won't go back and listen to the conversations that are supposed to be recorded, if they even are recorded at all. If I sound angry, I am. This company has free reign to lie and there is no support from corporate. We left Sprint once and came back, won't make that mistake again. Verizon is by far superior when it comes to customer service!

We have 5 lines with Sprint. I was charged for insurance on my sons phone for NY though We all Live in CA for over 14 mos. Every time I call to speak to a rep I get sent to either India, Philippines or anther region in world. As of yet they have not been able to stop the charge nor get the adjustments needed on my account. I filed a report with BBB last night and will stop making payment until someone in US calls. Horrible service.

Ana Reyes
from Bellflower, CA
I bought a phone a couple months ago it is an iPhone 6 and I broke the screen a couple days ago. I tried to change it and see what I could do for them to fix it, but the people at Sprint told me that i had to log in to my Sprint account. I forgot the password to my account and the people told me that there was nothing i could do to change. I tried a various amount of passwords but i could still not remember it. I want to know if there is anything that I can do to change my password or find a different way to log in to my account.

Hillary Brown
from Brooklyn, NY
I have been a customer since 2001 and I have given so much money to sprint and the service is no that good. I live in the NY area and work in Staten Island the service out her is bad. The plan that I have had for over five years has increased a lot. My bill was suppose to be 149.99 a month plus taxes and I can't even catch up with my extra charges when my phone gets cut off. I am at the end of the road with Sprint and I want out. I would really like a responds from Sprint.

Husband and I were with Sprint several years. Husband passed away recently I and called to get his phone turned off and account/plan changed since it is just me now. (I have the death certificate, Will filed, durable Power of Atty, etc etc.). I was eventually told (after checking with his Supervisor) that this could ONLY be handled in person in a Sprint Store and to go to my nearest Sprint store for this. I could not email, fax or mail in the death certificate or any other papers they would need. So, I went to my nearest Sprint store and was told there I need to go to a Sprint Corporate Sprint Store 20 miles from here, which is again "the only place that handles this matter".
Who knows? I may end up having to drive to their Corporate HQ in another State to deal with this relatively simple matter: File death cert and create new account/plan in widow's name, same address, bank, financial info. How stupidly, but so far no one in the company knows what to do with this "unusual" matter. To give you a concept of how bad the Customer Service is: So far, in dealing with my husband's death I've gotten far, far better service from the Social Security Administration and the IRS than Sprint.

I've been a loyal sprint customer and blackberry fan and consumer for many years now. It's unfortionate that I am now considering cutting my ties with sprint and disowning blackberry for life. My issue is simple enough, and I don't get why sprint can't handle my problem in a better manner. I have now owned 4 blackberry styles model 9670, in under 2 years. I am not rough with my phones @ all , in fact the 4th one which i've had for about a year now looks brand new still. The problem then u ask, the charging port on this perticular model seems to have been built poorly. Sprint now wants me to file an insurance claim, pay $100 and be given the same exact model. I wouldn't have a problem with that, if I hadn't had the same problem with all prior phones. Its clear to me that there is an issue with the way this model's charging port was made. I really really love my Blackberry, I'm kind of sad that our relationship will end soon because of poor craftsmenship. I won't pay only to be given the same problem phone. Infact I wouldn't take that same model even if it was given to me for free.

I just recently became a sprint customer. I went with sprint for the unlimited data for the iPhone. This was a huge mistake. In about 90% of the areas I am in, the network is so slow that it is almost totally useless. Try to bring up a map to see where you are. Forget it.
The amount of time it takes to see the map, it would be faster to unfold a traditional map and find my location. YouTube is totally useless as is any other video. Even email takes forever to download.
Everything is extremely slow. 3G is the only service with some speed and even that is very slow compared to other providers. I don't live in a remote area either. I have compared the same iPhones, side by side, all from different providers, and the sprint iPhone is embarrassingly slow.
I am about to pay the early termination fee, sell the phone and go with another provider. I can't take it anymore. It has rendered my iPhone almost useless everywhere but my home on wifi.

90% of the time we were unable to use our cell phone for almost two and a half months. From the middle of Nov 2012 to the end of Jan 2013. We keep getting the run around and told they were working on the towers in our area. Finally, in Jan 2013, we were told we would have to upgrade our cell phones. And that we would not be charged a upgrade fee. Well, they lied we do have to pay a $36.00 upgrade fee for ea line. Plus were stuck with another two year contract. And our monthly bill is twice as much as it was. We never received a credit for the time we couldn't use our phone. Do not upgrade with Sprint. They are lairs and sheats.

I've been with Sprint since 2006. I upgraded from my Nextel Minolta 686 (used for my truck company business) to a Samsung 400 from the Madison Ave., Sacramento, CA store, Dec 28, 2012. I immediately began having problems. No service. My roommate is handicapped and uses her phone for possible emergencies when I am in my dump truck working. Not having service was dangerous as well as costly. Went back to the store and was told both towers in my area were being worked on and the problem would be fixed in a few days. The problem continued into March 2013. Meanwhile, I was having problems charging my new phone, receiving messages 2 to 3 days after they were sent (costing me, to date, over $2000.00 in lost income).
Every trip to the Madison Sprint store to try to correct the problem ended in dismal frustration. I asked to turn back on my old Nextel phone and was told that I would have to pay more money because Nextel had changed. All calls to Sprint for help are logged. I was finally told in the beginning of March during yet another call to Sprint customer service that I might need an Airave to boost signal. I would receive it 3 to 5 business days. After week of non receipt, I called customer service again. The Airave had not been sent...I'd get it for sure in 3 to 5 business days. Once received, I had to spend another chunk of another day on the phone with customer service to help me get it connected. I finally had service but my phone continued not to charge and I would find it dead in the mornings.
Back to the Madison store. Frustration. On May 1st,2013 I was told that my battery was fine in the phone so I bought a new charger(35.00) in case that was the problem. They would not exchange the phone because it was past 14 days since purchase. The tech department would not look at the phone because I had not purchased insurance. Tech said to contact Samsung. I put the phone on the new charger and it was dead in the morning. I went to the corporate store on Howe Ave, Sacramento, CA on May 3rd, 2013. I was told the battery was bad and waited 3 hours while they replaced it.
I put it on the new charger and found it dead this morning. I called customer care. Sprint had me call Samsung. Samsung will repair the phone on warranty but they will have it for at least 14 days and have to wipe all of my broker and customer numbers out of it...plus the loss of a phone (loss of more $). I called Sprint customer care again. I was told they would send me a previously owned phone that I could download my contacts into while my phone was being repaired...49.00...more dollars. I do not text, use apps, or take photos with my phone. It is used for business and emergencies. I'm not asking for a better phone. All I'm asking is that this phone be replaced with a phone that works. As a long time and loyal customer, I deserve that respect and service.

Gwen Williams
from Shreveport, LA
Today I called sprint I was on the phone with 30 min holds each first representative I spoke to told me that my past due was 216.57 and that I had a balance due of four hundred something dollars I told her that that was part of the next month's bill and that it was not due yet she put me on hold then came back and said could I pay half of the past due amount I said yes I will load a card and call right back. She advised that she was a supervisor and she would notate my account.
I called back got a very rude lady said no one had advised me this and that the lady did not notate the account she put me on hold came back and said she did see it in the account and that it didn't matter because the lady had lied to me and that there was nothing she could do for me I asked to speak to a supervisor she said that there was no higher up and then cold transferred me. I call to get my bill extended every other week because I'm told by customer service reps I have to make the larger amount just to get an extension even with me advising that I'm barely working I always advise the least amount I finally after 3 hours Thomasina helped me I wish she could get acknowledgement for being a outstanding.

Rebecca M Spaulding
from Springfield, MA
We had been loyal customers of Sprint for at least 10 years but my phone eventually stopped working and could not find replacement batteries or accessories for it so we cancelled last Nov. 28th, 2015. We had been given an AirRave several years ago also but was never told that if we cancelled our service that we would be charged $140.00 for it especially since we weren't even in a contract! Also because you pre-bill, our account was all paid up when we cancelled services but yet I keep getting bills and calls from debt collectors all the time.
I need you to send a pre-paid label or package to send you this AirRave thing back at no charge to us and remove the unjustified fees that keep accumulating interest even when we don't owe anything. My husband and I are disabled but we only have one income so it's hard enough to pay the. bills we do owe without being harassed to pay bills we don't owe! Thank you in advance for taking care of this.

Wendy Feins
from Houston, TX
Sprint does not care about their loyal customers. All they want to do is keep charging and giving great deals to their new customers. I lost my telephone. I went to the Sprint store on Westpark in Houston, Texas. I just wanted to keep within my free upgrade. The girl talked me into an Iphone6 and said it was only $120.00. She did not tell me it was a lease but instead a special offer for established customers. NOT TRUE!! I constantly am calling because my bill is incorrect. My monthly plan is $110.00 but with all the add ons it is over $300.00.

I have been dealing with sprint and their customer service for 9 months now. The problem is I will have less than 2 blocks away from it but I get no internet service. It is very shoddy and poor. I still pay $100.00 a month for the service that is not being provided to me. After 9 months a technician finally calls me and informs me of speed test. He said that it should never ever be below 600 kilobytes per secent For download and upload. Then I have another technician come to my house And he showed me on his computer that I am bouncing between 2 different towersAnd he advised me that all they would have to do is turn the antenna. 1 or 2 degrees And it would be hitting the residential area instead of the 200 miles of desert. It is currently spanning across. Then Mr William Shipmon From The executive resolution department. Calls me and says that we are not going to do anything for you. It is more important to have that I was aiming at the desert tortoise is an coyotes then it is the paying customers. And if I don't like it I can cancel my account give them back the phone that I paid for? And they will just keep the money that I have been paying for a service that they have not provided to me. If anybody should be getting that money it is me, I was not provided what I paid for. Customer service is done nothing but lie to me and jerk me around And place me on hold for hours at a time? My suggestion to all is. Never activated service with sprint.

Jenna Smith
from Las Vegas, NV
I have been trying to pay my phone bill for the month for the past two weeks. First it started with my card being declined each time I tried. I have had more than an ample amount in my account to pay this bill. The first rep that I talked to told me to call my bank and double check that there was nothing wrong with my card. I did just that. My bank let me know that there was nothing wrong with my card. This was not surprising to me as I had used my card for several other bills that day and do not have a spending limit on it other than what is in my account.
So I called Sprint back. Again, the card was declined. I have been paying this same phone bill, the same amount each month, for the last 8 months. I have had no problems prior to this. I asked to speak to a floor manager and was told that not only would he give me a $20 credit to my account for this bill, but that he would put an extension on my account. I told him I did not want or need an extension. I could pay my phone bill right then and there. I just needed to know what was wrong. He said he would need to check with the financial department and would personally call me back in 3 hours since I would be off of work by then.
Here we are, a week later with no calls back, no credit applied to my bill, and now extra fees added to my account. I am getting no explanation as to why these fees are on my account, especially the late fee when I did not ask for the extension and have been trying to pay my phone bill since a week before it was even due. I have been on the phone for about an hour at this point, just today, and have been on hold for about 45 minutes of the hour. Needless to say, I am furious. I have tried to be as calm about it as I can but not only are they not even bothering to listen to what I am saying, but they are not even bothering to try to figure out what is going on.

major erickson
from Lincoln, NE
Sprint Galaxy S4 wouldn't work. Took it to Sprint service center. They told us it had moisture damage and tried to sell me a new phone. I knew the phone hadn't been in any moisture so took it home, put on the charger and it works fine. Just needed charging. I am very unhappy about them telling me I needed to buy a new phone. What, do they get a commission? Just wanted to let you know.

Marilyn Hernandez
from Hoboken, NJ
I added a line and signed a new 2 year agreement for a free iPhone 4s. Every time I switch to a so-called lower plan like the family share plan which is suppose to be 100 per month plus all my fees ins and other the bill, was said to be no more than165. Now I got a text that I will be charged 25 extra because I got a discounted phone. How if that was the reason for signing another 2 year agreement. My bill has not been lower than 223 since I added another line in Aug.
I have tried many different plans and have been gaurenteed a lower bill but they always find a way to add fees and additional charges. I am at my wits end and am ready to terminate and let them take me to collections. I am to the point I don't care anymore

Stephanie Rodrigues 857-212-1587
from Brighton, MA
I have been a customer of Sprint for 10+ years. I am being treated unfair and unexcuseable. My problem started about 2 months ago when I purchased 3 HTC M8 for 3 of my lines. The day I brought the phones home is the day my life has turned upside down.
I am not recieving phone calls, text or voicemails on any of my 3 lines. I have been in and out the Sprint store, called any times, spoken to many different reps, have 2 tickets put in and never once has anyone got back to me on those tickets.
I REFUSE to continuously explain my situation over and over again. When you review my acct please pay close attention to the notes and my phone calls I'm NOT receiving. This is a never ending issue and I'm fed up. I have not recieved any phone calls sine 4/30/15 today is 5/5/15. This entire situation is going no where fast.
Please contact me or I WILL DISCONNECT MY SERVICE! THIS IS BEYOND RIDICULOUS! I AM FED UP!! IF I DONT NOT HEAR FROM ANY ONE IN 24 HRS I WILL CANCEL.
I would say thank you but I have NOTHING to be thankful for, hopefully you can fix that.

i was inadvertently signed up for a mobile hot spot through best buy 3/12. i did not receive this device. i called this company several times explaining this. i ended up paying the bill aug 3 for 94.00 for a device i did not have i had told the person i spoke with ( i think her name was michele) that i did not have this device and that i was a verizon customer. i was not paying attention in best buy when i was purchasing a ipad and a netbook. i had my 7 year old son with me and he has adhd.
he was acting up in the store and i wanted to get my purchases and leave. when i paid this bill i told the person that this account needed to be closed and i have to look into why this happened in the first place to keep my credit score ok. come to find out this device was turned on again with out my knowledge. i have been trying to fix this error but i have been getting the run around by your staff. from that i can not close this until its been paid in full and there will be a 130 early termination fee. i do not know why it is not understood that i did not have this device in the first place nor do i want this device.
i did not give it to my son for college ( he is 7 years of age and not in college). your staff has kept me on hold for 45 min several times and even stated that i would receive a call back ( their names are brad and raymond) and never called back and when i call back i get the run around again. i am looking in to my rights as a consumer legally because i already paid for something i did not have i am not doing that again because someone does not know how to follow instructions. hope to get this situation fixed as soon as possible.

I have been with sprint for several years. I noticed last September (2012) my phone was dropping calls, no service or failed calls. I called and was advised that the system as going through upgrades in the bay area (San Francisco). I was advised it would be done in October, then again in December and last was told it won't be done until march of 2013. I have call 611 several times with complaints and questions. I talked with one lady who was very nice, made me up a ticket, checked my phone to make sure it was okay and then told me someone would call me within 72 hrs to discuss this issue further. I never got that call and then when I called back to talk with the lady who made my ticket up, the guy on the phone said it was impossible to find that person. I think that was just laziness and BS. If one writes up a complaint, I know they can tell who wrote it up by name or employee number. I was told my bill might be adjusted or credit made when this upgrade is complete. It is very frustrating to experience these types of issues for such a long period. I have three other phones attached to my account. I know I am just a small fish in the sea and losing won't small fish won't even put a dent in your business.
I would like to know if sprint would let me out of my current contract for just my phone only (707-333-9790) and the other three phones for now will stay there until there contracts expire. I am just totally fed up with this issue and service and want to move on. Your cooperation regarding this matter would be greatly appreciated. Thanks!! Ronald Braxton

This is how low Sprint phone service is.....my husband died but prior to his death we asked Sprint to turn off his cellphone service while he was in hospice. (They did that) Once he passed away I called the company to have his cellphone removed from the family plan account. First they turned off all the phones and I had to call back and get the phones that belonged to live family members turned back on. Then after I transferred all the account information to a NEW account, they sent me a bill on the old account for "early withdrawal" to my husband. He died, he did not withdrawal from the account due to dissatisfaction with the company he DIED. Plain and simple.
After fining yet another complaint to the company about the billing they now what someone to take over the now CLOSED account. Hmmm I m confused all the way around. Why does a dead man still receive billing from Sprint? Are they really hard up for money that they are going over board with their billing department. What is the problem here? Can anyone explain why this so called company has so many departments that they do not know what one offices is doing vs. the other. Needless to day these people are morons.

I have insurance on my cell which i have tuned it in 3 times cause thing had not worked the store assured me since i have insurance on cell covered no matter what.So one month or so after i pick my cell phone out of my purse and the front face plate was broke so i took it in and now of course all new people wrking in there srart to raise thier voice at me like i am stupid also i told them i had cochlear implant will let the jokes flow at deaf person me you know my iq does not drop20 points when u are deaf and i hope all deaf people protest anything to do wi

ronald newsome
from Virgie, KY
I called 2 nights ago to see what kind of offers sprint had the guy took my info I asked if it will show as hard inquiry on my credit he said no I asked r u sure he said yes it would noy while still on phone got email from Experian not 10 minutes after he ran and it showed as hard inquiry I was mad I have spent 20 hours or more past couple days trying to let them know they committed fraud against me got sent to 30 different people sevral refused to give name or employee id and several refused superviser when I asked plus they would give me name or id they have to and to really get u a woman in telesales told me if they were going to send me what I asked and dexter an employee requested they had to honor she said she needed my permission to listen I gave it about 5 to 10 minutes later she hung up I call back on hold always and I mean always 20,30,40 minutes b4 anyone answers phone and I got hung up on by several people I asked for name or od and superviser they knew they were in troblr but I know u can listen to all my conversations but main one is last night I don't know exact time 9 to 11 im guessing but I was told I would receive 2 iPhone8s and tablet and six months no payment comfirmed he said no payment toll January next year for what happened sprint staff r the worst and I mean worse company ive eber come across they need training badly they send u 2 wrong people lie and I have been lied to multiple times last couple days and sprint has to honor what was told to me but everyone claims I have no account have sales make account that gives me my stuff and no payments til January I will not quit till I receive my stuff and I want immediate response

kelli grant
from Inman, SC
I was offered a plan of 90 for 4 phone permanently to stay with Sprint. The bill has been wrong for the last 3 months. I have spent countless hours on chats and on the phone with representatives. They all tell me i'm right they can see it in the chat and will fix my account and never do. Today the supervisor I spoke with said the plan they offered was wrong and they weren't going to honor it because the person made a mistake. It wasn't my mistake and I feel my deal should be honored. I asked to speak to someone higher up and she sd there is no one higher up and it just can't be done. I told her someone at that company would have the authority to honor a deal they made in writing no less.

Susan Holloway
from Cedar Rapids, IA
6/9/2018 3:00 pm EST - My current phone no longer holds a charge so it is time for an upgrade to phone & service. Called 800-777-4681 to upgrade my phone/service. I've been a customer since July 2006, I'm out of contract and have no insurance on the phone. The first sales consultant wanted to send a code to my non-functioning phone before proceeding with an upgrade which is senseless since the phone cannot hold a charge and cannot call or read text. She told me I need to go to a Sprint store that is 35 mins away in another state. This is a major inconvenience especially since I verified my account via name, address and secret question. I don't know the pin # and I don't know how to get it. I asked to talk with a supervisor and the consultant dropped the call, I called back and was on hold for over 7 mins waiting to talk with the supervisor. I called back. During this 3rd call, the sales consultant, told me that she put a note on my account and that was all that can be done. So I asked how do I go about cancelling my service. She put me on hold and I'm waiting again.

Sue crawford
from Chicago, IL
My mother who had the account has recently been placed in a nursing home and she will not be needing her phone as her daughter I am DPOA of her affairs I have tried for several days to get this account canceled was put on hold numerous times and when I finally got someone to help me they said they would call me back in 7 to 10 days to get everything canceled what a freaking nightmare easy to get the phone but hard to get anyone to help at customer service I have never experienced anything like this before

Bobby Seawright
from Saint Charles, MO
My complaint is a lot of things. First, the customer service is horrible, as horrible as it can be. My wife has called with issues regarding improper billing numerous times, each time for no less than an hour sometimes two! Is there anyone there that can make a freaking change to a bill? Each time she has to go through many forwarded calls to finally get someone and then SHE GETS DISCONNECTED! Today for example, 6/8/2018, my wife was on the phone for over two hours and then they hung up on her !!! Holy crap are you kidding me! This same scenario happened last month also. FIX YOUR BROKEN CUSTOMER SERVICE!!! I am not happy at all with the way we were told at the corporate store in Fairview Heights Illinois what our bill was going to be each month and then it was WAY more than we were told. LIES LIES LIES FREAKING LIES! All of it is a joke. How about you fix my bill to what it should be for one, reimburse my wife and I for the time we lost trying to make you fix what you broke, let me live out this contract with you with the payment I should have so I can leave Sprint the exact second I can and tell everyone I know that doesn't already hate you to never use Sprint. Not surprisingly, there are a lot of people we4 know that avoid you like a plague.

Johanna Morehead
from Bradenton, FL
My Sprint phone has been having recurring issues, plus new ones. The Sprint Store on Tamiami Trail, Sarasota FL has many sales people wandering but we had to sit and wait for over 25 minutes to be told that my phone needed to be sent in. Ok, so far not too irritating. Then I was told there were ZERO loaner phones available for over 1 week! Seriously in this age where everything is done on the phone, how can anyone be expected to be without for at LEAST a week. Does that mean possibly 2 weeks? I work using my phone. Their alternative resolve was to pay off my phone and purchase a new one. Does this reek of a scam to you because it does to me. Better Business Bureau here I come.

Max Bartsch
from Jaboticabal, SP
After several attempts to unlock an Iphone that was bought at a Apple Store , and it supposes to be unlocked , the Iphone is Locked to Sprint.
At Apple consumer support they told me that , they can´t do nothing, only Sprint can do.
I try several times doing international callings (I´m from Brazil) and they said to send an email unlocking my Iphone ,but nothing happens.
The first call was made 04/23/18
The Iphone IMEI is 353066090975503 and attached is the transaction receipt.
What should I do?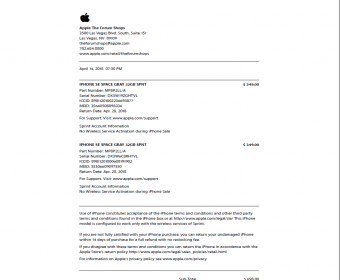 Laurie Baranek
from Ontario, NY
You owe me $5.88! I have contact Customer Service several times in the last month and was told my credit card would be credited or you would send me a check. I have not received either; I would expect a check because I am not a customer with you anymore (which is a good thing). Here is why you owe me money:
1) I called Sprint to cancel my account on January 14 2018 because when I was a customer of Sprint - I could not or received group texts when I was at home. I had a Airwave Tower which was not helpful so I decided to leave Sprint.
2) When I left Sprint, I requested and Sprint sent me a "Label Kit" to return the Tower. Well, when the first Return Kit arrived - it only contained an envelope to send a cell phone back - this would not fit the fairly large tower & box. I immediately called Customer Service and explained my situation; they said No Problem we will send you another "Return Kit".
3) I received another useless RETURN LABEL (for cell phone). Called Sprint Customer Service (useless) - said they would send another one.
4) On or around January 24th or 25th - This happened again - so somehow they transferred me to Antoinette (located in the States - I have forgotten where - but she was helpful and said she would send me a Return Kit. I asked her for her email; she could not give me her email; but I could contact her manager ( - her manager's email I used Christina.2.coy@sprint.com); Christina. We emailed for several weeks - with no results. Below is a copy of one of our correspondences:
From: Laurie [mailto:baranekl@rochester.rr.com]
Sent: Monday, January 29, 2018 3:12 PM
To: Christina.2.coy@sprint.com
Cc: baranekl@rochester.rr.com
Subject: Fwd: Sprint Account Notice for XXXXX8963 ATTN: Antoinette
Christina and Antoinette,
I just received my 3rd Return Label & envelop for a cell phone!!
I should have received a Return Box and Label for the Airave??
Antoinette, can you please call me when you get a chance?
Thank you!
Laurie
315-483-8623
Sent from my iPhone
Begin forwarded message:
From: Laurie <baranekl@rochester.rr.com>
Date: January 26, 2018 at 5:21:36 PM EST
To: Christina.2.coy@sprint.com
Subject: Fwd: Sprint Account Notice for XXXXX8963 ATTN: Antoinette
Hello Antoinette,
Just wanted to forward to you the email I revel from Sprint.
Not sure if it is important, but I have a concern that
It had the phone number as 585-7973099.
The phone number connected to the Airave was
Another phone number (585-615-....).
Just wanted to let you know!
Laurie
Sent from my iPhone
4) I was told by your customer representatives when I called to see why I was charged in February and March; they said because of the Airave??? I TOLD THEM ALL I tried to return - but SPRINT DID NOT SEND ME THE CORRECT RETURN LABELS. So. I ended up wrapping up the tower and using the address label Sprint sent even though the price was incorrect. And, the tower was delivered to Libertyville, IL. and received on February 14, 2018!
SPRINT CUSTOMER SERVICE IS TERRIBLE!!!! I would like you/Sprint to CREDIT me the $5.88 you charged me for the useless Airarve that I couldn't use and TRIED ON MANY OCCASIONS to return! You DID RECEIVE IT and should NOT HAVE CHARGED ME!!!
Laurie Baranek
5639 Centenary Shores
Sodus, NY
Sodus, NY 14551
315-483-8523

Jane Beatty
from Menifee, CA
I leased a samsung s8 which I paid off and wanted to upgrade to a s9 and was never given the option of the galaxy forever program now they want a 450.00 down payment I wanted to see if there a discount or some kind of offer. I was happy with sprint . I dont have enough money for another down payment. I am on a month to month payment now .

Was offered visa card and other incentives to stay with sprint after contract was over , got few things but won't give me the visa they offered. Now manager says he has done all he can do , they lie and I will never go with sprint again or recommend them to anyone

Jean hicks
from Fayetteville, AR
I having problems since the first time. They are buying my att contract off your people didn't write the numbers done. I
Air I what is for sprint to keep their promise. The total contract to buyout att is 930" , I am really pissed off at sprint and th their people they weren't rained right at all. I have been back to the store to see if you people got it straighten out yet. I can't afford to but both phones. I will be sensing the att bill to your ceo to see if he can handle faster. I am stressed out tha bout it all you guys have lie to me form day one I won't sent of my friends to sprint after this see.
Have feedback for Sprint?
Thanks for your feedback!
Sorry. Please try again later!