Pizza Hut
Contact Pizza Hut Corporate
Toll free phone number: (972) 338-7700
---
Pizza Hut is an American fast food chain, international franchise and a subsidiary of possibly the world's largest mega restaurant corporation, Yum!Brands, Inc. Pizza Hut has over 11,000 outlets worldwide with 6,000 in the United States. Employing over 160,000 there are outlets in approximately 94 countries. Corporate website is www.pizzahut.com.
If you experience a problem with your dining experience at any Pizza Hut you may call 1-866-364-0082 in Canada and 1-800-948-8488 US. You may also address correspondence to the CEO, David W. Gibbs at 7100 Corporate Drive, Plano, Texas 75024 or call the corporate office at 972-338-7700.
Pizza Hut was started in a small house in June of 1958 in Wichita, Kansas by Dan Carney and Frank Carney. Pizza Hut uses promotions, movie sponsorships, seasonal offers and products to capture extra marketing opportunities. Social media presence may be found in Facebook, Twitter and YouTube.
Pizza Hut Contact Information
Report complaints to corporate and get satisfaction
Pizza Hut headquarters address

7100 Corporate Drive
Plano
TX 75024

Company website

1-800 phone number

(972) 338-7700

Support email address

feedback@pizzahut.com

Better Business Bureau rating
Browse reviews of other Fast Food
Top Pizza Hut Complaints
Browse more than 437 reviews submitted so far

James Jones
from Houston, TX
I ordered a pizza on line i got charged 31.38 never got pizza and bread sticks order # a027119x81t2353 how do i get a refund i will never order from Pizza Hut again i even called and the lady said it was scheduled for delivery at 1:07am now we are starving and will have to find a burger joint thanks a lot Pizza Hut i have to go out on the road with all the rodeo drunks .

David Ford
from Carlsbad, CA
How can they employ a thief and a liar like Brandon ? His clothes are filthy dirty and he wears the same clothes to work every day. He smokes weed all the time. He just got out of prison in November of 2015 for breaking into a building, stealing a four wheeler and selling it. He lies to everyone to get people to feel sorry for him so he can use them to get what he wants. You really can't believe anything he says. He also has a desire for young girls. He has been with a 12 year old within the last year. How can you possibly keep him employed?

Patricia Kinney
from Fort Worth, TX
I placed an order tonight August 3rd 2016 4 the 2-inch 1299 Pizza for delivery. The driver came out and I missed him I didn't hear the knock so I called. And when I talk to I guess the shift manager there he told me that someone came ten minutes ago he was going to have them come out and run the same order but I did not want the same order and I apologize for having the driver come out and I would like to place another order. He put me on hold for about a minute or two then he came back on and said he can not have his driver come out again until our apartment.
When I asked him why he said because it's not safe for the drivers to go to the same address more than once in the same time period. So I asked him if I place the order online again is he going to cancel my order and he said if it's coming from my address yes he will or I can come pick it up. I was very upset because his demeanor over the phone was as if he did not care about my apology and he didn't have time for it. I just want to know is that Pizza Hut policy. And I informed him that I order there frequently I know at least more than 3 times a month I was very unhappy with the way he handled the situation.

Patti Smith
from Jefferson City, MO
first I would like to say we have had negative experiences with the Capital Mall Pizza Hut in Jefferson City MO in the past but yesterday was the icing on the cake. My husband all them at 3:53 and ordered a large thin super supreme with extra cheese. They gave him the total and said it would be ready in 20 minutes. He phones me to go by after work and pick it up. I get there and the manager is at the register. I told him the name and what I was picking up and he said he didn't have any order for that. After giving him my name my husbands name both phones numbers he still says he has nothing. Not to mention he is rude and short. He didn't seem to care one way or the other to help us out or anything. Didn't apologize offer a discount nothing. I said never mind I don't have time to wait. My husband calls back and talks to a woman there and she says she is sorry and agreed he must have called considering he knows the exact total, they offer to deliver it. Again we are on a time frame here. He gives her our address and they said they would have it there in 15 min. 25 mins later she calls back and says out computer messed up can I get your address again. It will be another 10 mins. He said no. we don't have time for all this. this will be be LAST time we EVER eat at pizza hut. There are way to may pizza places in Jefferson City to put up with this crap. I seriously have no idea how this place stays open if they treat all their customers this way and that manager needs an attitude adjustment. If he hates being so bad then maybe he needs a new line of work. I'm not expecting a reply. I'm sure you all don't care is why you want this emailed and won't talk on the phone about complaints.

Nichole Smith
from Visalia, CA
I ordered a pizza online for the first time ever. After waiting in the living room for over an hour I realized it was taking way to long. So I called and they said that my card had been declined and they canceled my order. First there was nothing wrong with my card. Also they said they had tried to call but that was nearly an hour after I had ordered. Why would you cancel an order without trying to make the delivery and obtain cash. Which I would have been fine with. I was so upset I didn't even want it anymore. The only reason for that card to be declined whold be if they put in the wrong info. I'm so disappointed with my first attempt at online ordering. And on top of that they weren't even apologetic.

I was online and noticed a free $50 gift card from pizza hut if you signed up and purchased a living christian CD and subsequent monthly membership. I purchased the cd and then never received the $50 FREE gift card from pizza hut. Naturally Pizza Hut denies there was such an offer online! So I returned the living christian cd and they want to now charge my account because they said I never returned the cd even though I have proof the cd was returned by the post office. I will fight this one for all of us who make mistakes buying stuff online! Pizza hut really screwed me on this one and I still can't believe this!

Nakeisha Gibson
from Philadelphia, PA
I placed an order for carry out. When I went to pick up the order, the cashier almost forgot my pizza. After getting what I believed to be my entire order, I headed home. When I got home I realized that you had forgotten my wings. I attempted to call the store, but the line kept giving me a busy signal, sometimes immediately and others times after 2 or 3 rings. Ordinarily I would have just gone back up to the store, however, the weather is horrible, which is why I decided to pick up the order while I was out. Attached is a screenshot of my order.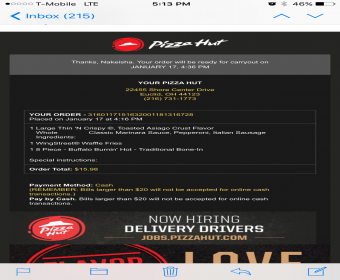 Mercedes
from Jackson, MS
I had placed 2 orders for pick up I was told it would be a 45 min wait. I waited 45mins then I came in and paid for them and I was told my order was ready. I got 1 of my pizzas and they said it would be another 5mins for my other pizza. After 10mins they asked me again what I was waiting for. And they still could not find my other pizza. I waited almost another hour and by that time my other pizza was cold and the person up front just gave me a random pizza and gave me my money back.

The place is a complete dump. Has been for awhile now. It takes 1-2 hours to get a carry out pizza on a weeknight not even a weekend. Pizza is always messed up or not good at all it's always to greasy and half cooked. Booths and tables are digusting and filthy. Makes you not even want to sit down or if you do you want to take a shower as soon as you leave . Ceiling tiles falling down bathrooms filthy I could go on and on about this ridiculous place. It needs new management or just needs to be shut down. I will drive 45 mins out of the way if I want Pizza Hut again. Will not be back to the new Albany one until something is done

I wanted fo reward the a team of ladies I work with for a great job they did in our department store in Louisville Kentucky. i order three large pan pizzas from the Pizza Hut on shebyville Rd near St Matthew Mall. First the who delivered the pizza was rushing me and when I checked the pizzas they were not pan they were thin crust the topping were wrong. I call and spoke with the manager he said he gave me the thin crust because they ran out of pan.He didn't even call to ask If It would be ok. I order pizza all the time from the Preston Hwy location and Its great. I was very disappointed.

Howard Rooks
from Naperville, IL
This complaint is to Pine Ridge SD Pizza Hut We have been calling for 30 minutes! They finally answered and told me they are not taking orders for 30 minutes! Last time we called in a order we went to pick it up some ladies were outside smoking in the back and no one to help us then they didn't have our order ready! This place needs a new manager!

Nicholas Pommier
from Opelousas, LA
I am not complaining about the service for Pizza Hut on Creswell Lane in Opelousas, la. I am complaining about the receipe for the pan pizza. There no onions, barley any sauce and too much cheese. What happened to your pan pizza? Way too much cheeze.

Shelaire
from Santa Ana, CA
I called at 10:06 about my order being messed up girl named renee right away had attitide i asked for a manager she wouldnt give me one. I told her she needs to loose her attitude she said she doesn't give a flying F***. I advised her the call was being recorded and I will take it to corporate she said I don't give a f*** you h** I don't care. I just called in to say my order was messed up that is no way to treat a customer. I order from this location all the time never ever again. I told her I can go up there and she said she will beat my A** I mean it's not the best area over there but hire someone with better customer service skills. Phoenix location on central ave

jamie tapley
from Muncie, IN
I have never written a complaint before, but i felt led to this time. We took our son out on his 11th birthday and he choose pizza hut 3901 w bethel ave, muncie, indiana. There were 6 adults and 5 children that came along to celebrate my sons birthday, We were greeted by your employee amy. The place was practically empty. so she said we could sit in the party section, which i appreciated. My husband ordered a pitcher of beer. amy comes back to bring more drinks and to take our order. She accused my niece of drinking beer, i guess because the glass was close to her, so amy goes out to the counter, and tells her co-workers that we were letting my niece drink beer, which is absolutely not true and embarrassing for us to hear. She kept saying that she was going to lose her licence because we were letting my niece drink. So, on top of that we couldn't enjoy our meal because a male employee kept checking on us and looking into the room. Amy seemed to be annoyed every time we needed or asked for something. She had mentioned a few times it was the pizza hut way "CHEAP". I can tell you this was the worse dinning experience I have ever had!!!! Your employee Amy seemed on edge and very annoyed of her job, I was so sick of hearing how short handed they were. There was no one there but us in the restaurant. Thank you!
Jamie T

Mike Allen
from Waycross, GA
Arrived at Troy Alabama Pizza Hut at 15 til 10. Their hours were open til 11 and they absolutely refused service even after we were seated in the dining area . Asked to speak to a manager never got one.

Connie J Carnagey
from Mammoth, AZ
Prineville pizza hut, the last 3 times we have ordered they have messed up our orders then got rude when we asked them to fix it. Including making us wait another 45 min to deliver the rest of our order that they messed up. Never one time have they offered to try to make it right I will not order from here ever again. This was the last straw we are very calm laid-back people but putting up with that much attitude is not worth it. This is the 3rd time that half the family had to wait a extra 45+ min to eat. My husband just literally had to drive up and wait for them to cook the food that was already in the order to begin with. They delivered our dinner box but not our 16-piece chickens with our fries. I give up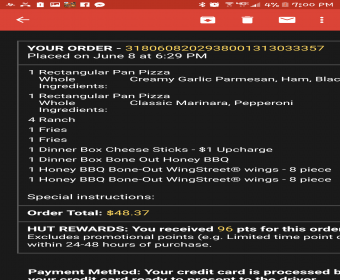 Timothy MCknight
from Barberton, OH
I ordered a medium pizza from the pizza hut on Copley Rd on June 4,2017 by phone. After waiting for the pizza to it come..i open the box to eat, and it was burn and on the Simi cold side... this is not the first time I had problems with the service but 3 times altogether. The first time was when I call I had problems with the manger and had to call the police to get my order which the police deliver the pizza themselves to solve the problem, the second time was the pizza came in a hour and half later which it was alright and I wrote it off as and busy time... I always try to order over $20.00 and always give a $3.00 tip... I will not be ordering a pizza from you again until this manager is gone... I only live 0.9 miles and the way I am treated is not fair... thank you Timothy Mcknight

Sean Fairfax
from Germantown, MD
I'm so fed up with pizza hut in Germantown Maryland on Crystal rock they take my money and never show up and deliver are pizza we call and they repeatedly say its on the way and never show up we love pizza hut and we continue to order and pay pizza hut please help us we really want to continue ordering from you guys we need help you can check are records and are reviews this restaurant continues to mistreat us terrible customer service and terrible management for years and we keep giving you guys a chance please help.us save the pizza hut in Germantown Maryland on Crystal rock drive please help us just look at there reviews my name is sean Fairfax I also go as Sean Fax on the reviews but I'm just one of many on the reviews that are saying that this pizza hut on Crystal rock from in germantown Maryland is really making pizza hut that we love a bad name I also apologize for the grammar and punctuation not being used because I'm so upset with you guys

Marvin Morales
from Albuquerque, NM
I have a major complaint about the silver city n.m. 88061 manager. She works the hours of 7:30 p.m. on sat. June 2 2018. They got our order completely wrong and did not offer or give us crushed peppers or grated cheese packets. I informed her about the situation and was very rude and non helpful. I will probably never order from the silver city n.m. 88061 branch again. Please make this right and discipline this individual.... Thank u

Joshua
from Madisonville, KY
I ordered a two topping large pants pizza with buffalo sauce instead of pizza sauce, and chicken and pineapple as the two topping. The pizza had about two pieces of chicken per slice on only 3 slices, and these was a majority of the cheese in the center 75% of the pizza that was still in a solid shredded form of mozzarella. Which left me with raw pizza dough in the center as well. Completely unsatisfied with this product, and only gave it 3 stars due to the exceptional delivery driver.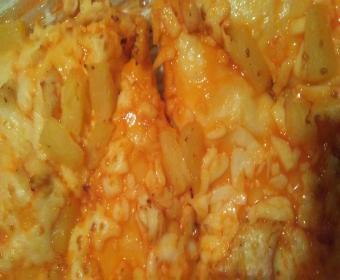 Amy E Stevens
from Jacksonville, FL
I want to start off, I'm not normally one to complain but we've ordered from the same Pizza Hut, North Ponce de Leon St. Augustine Fl. three different times in the last few months. The first time they forgot a order of cheesticks. Told them the next time we ordered they sent another one we asked for extra marinara with this order we were charged and did not receive the sauce. Now third time we order the order was wrong pizza crust and only 1 topping when ordered and charged for two. All times the food was great and received fast. Just never right and have payed for more than received, not much but thought someone should know.
Thanks, Amy

Angela Alcorta
from Dallas, TX
Once again i called pizza hut and was left on the line for 30 minutes only to be hung up on when they get on the line again. And i tried calling back several times and never got answered. I seriously believe that something needs to be done about the horrible customer service here in lamesa. It is unbelieveable. And i will not be returning to this location in the future.

Kimberly hunt
from Chesapeake, VA
I went inside to order my food and the food was cold and it took over a hour to make. I have been a long term customer of Pizza Hut and I am truly disappointed in their services. I will not return ever to this location and the company should consider hiring professional employees who listens to their customers and are eager to assist them

They had no salsa for the toco pizza, but didn't tell me

Daniel
from Junction City, KS
The store in Herington KS has a relationship issue. It is a very inappropriate Relationship between a 17 year old server and 27 year old delivery boy. Alexus is 17 and is having an inappropriate Relationship with Luies the 27 year old delivery boy! Not none is doing anything about this relationship, it's very disturbing and awkward around Work with these two. Is lude and disgusting

Jeff Collier
from Yorktown, VA
First I order a thin and crispy pizza sliced as normal..it came in little bitty pieces...not acceptable..complained with no results to rectify this...tonight I tried to order from you and needed an expiration date on my card...a no brainer..3 attempts and 45 minutes later..nothing..dominos will accept it I bet!!..thanks for nothing..twice...

Ronald Koziel
from North Hollywood, CA
Called for large super supreme pizza at victory/Whitsett location with pineapple extra cost for one pizza 41.50 delivered never cost me over 22.00 delivered took the man 6times i had to repeat my address and I ordered from there at least 20+ times!!☹️

Jeannie
from Murfreesboro, TN
On the receipt there is a web site to go to to take a survey and receive 10 dollars off your next online order of 20 dollars or more but when you enter the info needed you get kicked out an never receive anything. I have tried this several times. What a scam!!!!!

Durlyn Sewell
from Chesterfield, SC
Ordered 3 personal pan pizzas with extra tomatoe sauce and there wasn't any extra sauce. They refused to fix more, took $3.00 off order. LOST ME as a customer.

I ordered delivery online and waited more than an hour with no delivery. Called the store and was told they don't have a delivery driver. This was at almost 10pm. I was ordering food for 4 kids and didn't have a way to go pick up the pizza. They didn't call or anything to inform me. This is not the first time we have experienced poor customer service with this store. You can check their reviews. The store is located at San Ramon, CA.

Marvin Linder
from Buna, TX
Went to pizza hut in jasper, texas tuesday night for the buffett. When arrived there were no pizza's ready (we accepted this) but the waiter asked what we wanted to drink. We asked for tea was told that they didn't have any. My wife then asked if they had any diet drinks they said no.
There chairs on some of the tables very unprofessional! The service has always been bad but its getting worse. May be forced to go to a carry out pizza restaurant.

Diana Domaingue
from Peru, IN
You guys have a special of 50% off on all pizza on-line but for some reason your on-line is not working so I call the store and they said that there was nothing they could do which is unfortunate because we had the family and grandkids over and we had a really large order. Maybe we will order another day when your on-line specials are working. We wanted to make you aware of this because you are losing potentially large orders from your customers. It is unfortunate that your store managers can't step in and make judgment call in these situations.

I ordered a Medium Chicken Caesar Pizza and a Choc Chip Cookie at the Pizza Hut on Boston Road in Springfield MA and when I got home and bit into it found it had TOMATOE SAUCE rather than the WHITE ALFREDO sauce it's supposed to have. Very disappointed. Someone was confused, obviously. Please feel free to contact me via email

LINDA STRAWSER
from Danville, IL
I MADE A DELIVERY ORDER FOR A $10 DINNER BOX ON APRIL 11th, 2018 AT THE DANVILLE, ILLINOIS PIZZA HUT & WAITED 1/12 HOURS FOR IT TO BE DELIVERED! THEN I CALLED THE STORE & IT TRANSFERED ME TO ANOTHER PIZZA HUT ANSWERING SERVICE-(I'M GUESSING CORPORATE OFFICE), & I SPOKE WITH A LADY WHO TOLD ME DANVILLE PIZZA HUT HAD "CHANGED" MY ORDER TO PICK-UP FROM DELIVERY THAT I HAD CHOSEN & NEVER EVEN BOTHER TO CALL ME & TELL ME ABOUT CHANGING IT TO PICK-UP! THE LADY I SPOKE WITH ON PHONE WAS AFTER HOURS & I WAS TOLD I WAS RECEIVING A $13 CREDIT FOR THIS MISTAKE/MISUNDERSTANDING THAT WAS MADE ON DANVILLE PIZZA HUTS PART & SHE TOLD ME JUST GIVE THEM MY CELLULAR # OF (217) 918-2456 WHEN I CALLED TO DANVILLE PIZZA HUT & THEY COULD PULL MY CREDIT UP THAT WAY ONLY! WELL DANVILLE PIZZA HUT TOLD ME THEY DIDNT SEE "NO" $13 CREDIT IN THEIR SYSTEM UNDER MY # & 1ST DAY I CALLED & 2ND DAY I CALLED THEM, THEY TOLD ME THAT IT WAS IN THEIR SYSTEM THAT A VOUCHER WAS SENT OUT TO ME FOR MY CREDIT & IT SHOULD BE HERE BY TODAY-(TUESDAY APRIL 17th, 2018) & IT STILL IS NOT HERE-(I HAVE NOT RECEIVED IN THE MAIL AT ALL), & DANVILLE PIZZA HUT IS REFUSING TO GIVE ME MY $13 CREDIT I WAS GIVEN BY CORPORATE NOW?! i WOULD LIKE TO KNOW WHAT IS GOING ON WITH THIS ISSUE & WHY I STILL HAVE YET TO RECEIVE MY $13 CREDIT I WAS OFFERED & PROMISED!?? THIS IS RIDICULOUS & I'VE NEVER HAD A PROBLEM WITH PIZZA HUT & HAVE ALWAYS LOVED THEM UNTIL THIS INCEDENT! PLEASE EMAIL ME AT : Nicolestrawser83@gmail.com OR Call Me On My Cellular # of (217) 918-2456 So this Issue may be resolved at your earliest conveneince PLEASE & THANK YOU VERY MUCH!
I've also attatched to this Complaint - The copies of My DELIVERY Order from date listed above, That Danville Pizza Hut changed on THEIR OWN & WITHOUT CONTACTING ME & TELLING ME THEY DID SO as well, So I NEVER received THIS ORDER NOR MY $13 CREDIT I WAS PROMISED!!!
Best Regards,
Linda Strawser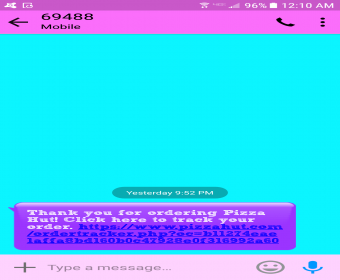 rhonda wells
from Spring, TX
The location at 8765 Spring Cypress, Spring, Texas has terrible service and is getting worse every day. We don't do delivery because it is always 45 minutes to an hour, so we do carry out. The last time we ordered, we were told it would be 2 hours for delivery. That is absolutely absurd. But the worst part of that experience is when I went to pick up the order the clerk did not open the lid to confirm that it was correct. It was not anywhere close to what I ordered. When I went back, they said they gave us the wrong pizza and threw mine in the trash. I had to wait while they prepared another pizza for me. They did not apologize but did offer a free bottle of water (WOW). After being a customer for years I will no longer be.

Marietta Mackey
from Portsmouth, VA
I had a coupon that I received in mail on Wednesdays. Went to Pizza Hut, Churchland Blvd. Portsmouth VA 23703 on Saturday, April 7, 2018 around three o'clock with the coupon for breadstick and two liter for $5.99. I presented the coupon and the manager told me that I could not use that coupon at that Pizza Hut and I told her if she look into the system I had used the coupon before and she saw that I did use the coupon. The manager stated that she was not going to accept the coupon and the persons that except the coupon before should not have taken the coupon. The manager also told me the coupon was good only for the Suffolk store and not that store. The coupon did not have any locations listed.

robin kronmiller
from Powell, OH
I order from the East Main Street store in Lancaster, Ohio quite often. The past 2 orders had an issue. I just ordered again tonight, hoping all would be well, but no, once again, an issue. It is a Thursday evening, I placed my order at 8:44 p.m. My pizza arrived at 10:04 p.m., and room temp. I am so very disappointed. Pizza Hut is the only place I care to order from, not anymore. I called at 10:02 p.m. and was actually on the phone when my order arrived. I spoke with a Shaun, and was not satisfied with his "customer service attitude". Please fix the problem so others can enjoy a nice freshly baked pizza, this is just terrible, both food and service. Thank you..

Seawall Galveston tx
Drivers for this location have no respect they drive through where I live sometimes pull out backwards, sometimes forward, always in a hurry the other night all most got run over by a delivery driver we have speed bumps here in my complex. (seaside village) unbelievable lack of this is where I live, & they seem to think they can fly by in our parking lit to get to their destination 1 driver actually told me they are timed???!!! As they are speeding through my parking lot, they almost hit me, & my fur baby??!! So inconsiderate just to make a tip, how sad

Marcus Dewitte
from Ashburn, VA
I went to the Pizza hut in nowata Oklahoma tonight and the first thing I was told is that they had no delivery driver on duty tonight then as I was ordering my pizzas they started list a number of topping they were out of and by this time I was like whatever at this point after I got there and got my half assed order as I entered my vehicle and inspected my order I noticed that that not only did they not put enough topping on the pizzas on them they were also cold this is by far the worst Pizza hut I have come across of I could give them a lower rating than one star I would

Chanel Evans
from Fort Lauderdale, FL
I ordered a pizza at 5pm it was delivered at 5:35 no problem however order was wrong I called back & was told correct order would be here in 20 min by the manager 6:48 still no pizza I called back was told it will be here very shortly well its 7:47pm & STILL NO PIZZA!! This is so wrong on so many levels!! I will not be ordering from pizza hut anytime soon!!

Kevin Hedrick
from West Palm Beach, FL
I ordered 47 dollars worth of stuffed crust pizza for my grandchildren that is down from Tennessee and had the worst experience ever. I ordered over the phone and when i got to the store 11851 Southern Blvd Royal Palm Beach Fl 33411 the manager told me the same thing he was telling everyone, I quote ( I'll bump your order up it will be out in 10 minutes.) 25 minutes later he came up and said I'm sorry they haven't put it in the oven yet that it's gonna be 30 minutes. This other kid gave his food back and said it was cold to remake it. I got my money put back on my card and went elsewhere. Very bad management in that store. 9:05 pm on 03/31/18. Won't be back.

LaQuan Hunt
from Portsmouth, VA
I have just recently order some pizza and I understand that driver's don't have enough change in them and everything but they could have left my free pizza that my wife order with her pizza points and also it was cold and he was rude

Courtney Despain
from Chicago, IL
I ordered pizza online and ordered it for carry out due to the fact that the store was closing soon and I didn't want the delivery person to have a last minute order. I received my confirmation email stating that my pizza would be ready at approximately 1115. I arrived at the store at approximately 1130. The pizza was in my boyfriends name therefore he went in to get it. The lady whom I later found out was Brianna told him her screen didn't have any orders. He told her my wife has the confirmation email on her phone. She proceeded to turn her screen around and say I don't have any orders on my screen. My boyfriend stated that well I know my wife ordered it. And she said we are closed. Feeling defeated he came out to the car. So I pulled my confirmation email up on my phone walked back into the "closed" store and approached Brianna politely showing her the details of my confirmation email and she showed me her screen and said I don't have any orders and we are closed and we have been closed for almost an hour. I politely pointed out that my order was placed before the closing time of store. I wanted to point out to her that we had already argued with her for fifteen minutes which I believe would have been enough time to make our one pizza we ordered. I am a waitress and have been for ten years now. I'm not complaining because I want something for free. What I'm saying is I get her side of the situation. But her lack of customer service skills should be noted because I'm sure this will not be the only complaint she receives. I just think that someone should know about her lack of customer service.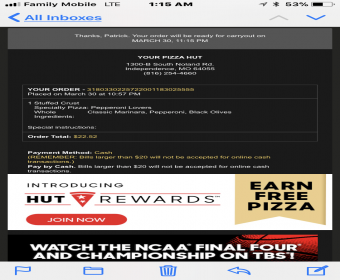 Stan Boggie
from Eugene, OR
I was informed by my neighbors that a delivery driver from Pizza Hut on 32nd and Main in Springfield OR, backed into my utility trailer that was parked across from 896 Hazlenut Lane. I live across the street at 3904 North Street. According to my witness, the driver hit it with substantial force and pushed it up tight against the curb and causing damage to the drivers vehicle as he was observed inspecting the damage and tried to move my trailer back to its original position. I was at work at the time of the incident which was shortly after 3:10 pm and my neighbor was kind enough to give me the receipt for their order. I have inspected the trailer as best as I could this evening and it appears as though the driver incurred the majority of damage. My major complaint is one of the disrespect that was shown me as no note or attempt to inform me of this incident was considered. I attempted to gather information by contacting the store and was speaking to "Jake". Jake said that he knew nothing about the delivery asked for my name and phone number. I then asked for his last name for my records and he refused to give it to me despite the fact that I gave my full name. I then asked for the Regional Supervisors name and was told he would be at the store tomorrow morning. I would hope that an individual under your employ would have the common decency and fortitude to do the right thing and simply admit an accident and inform all parties affected by such.
If you have any questions that I can answer my phone is 541 729 4026
I trust the individual responsible will be counseled and I expect nothing more from this incident
Thank You
Stan Boggie

koramanti hayden
from Indianapolis, IN
:rder#3180324185218001182022133 I placed my order tonight at 7:30 DELIVERY WAS SUPPOSED TO BE AROUND 8:50PM I CALLED AT 9:15PM THEY SAID THEY WERE HAVING DELIVERY PROBLEMS AND MY FOOD WAS COLD BUT THEY COULD REMAKE MY ORDER AND IT WOULD BE TO ME IN 30.MINUTES. I CALLED BACK AT 10:15 PM HE TOLD ME THAT THE DRIVER JUST LEFT WITH MY PIZZA AND HE SHOULD BE HERE IN 10 MINUTES.AT 10;45 PM I CALLED BACK I STILL DIDNT GET MY ORDER AND NOW THEY WOULDN"T ANSWER THE PHONE SINCE THEY WERE CLOSING AT 11:00.MY ORDER STILL ISNT SHOWING UP CANCLED,I HAVE HUNGRY TEENAGERS HERE FOR A SLEEP OVER AND NOW I HAVE TO GO SIT IN DRIVE THRU FOR SOME BURGERS BECAUSE OF UNPROFESSIONAL,IMMATURE AND PISS POOR COMMUNICATING EMPLOYEES AT THIS PIZZA HUT LOCATION.I WOULD LIKE A RESPONSE ON WHY THIS HAPPENED AND HOW AM I GONNA BE COMPINSATED SO I REMAIN A LOYAL PIZZA HUT CUSTOMER!!

CEO, David W. Gibbs at 7100 Corporate Drive, Plano, Texas 7502
Will be very short & simple Mr David!
In ref to Pizza Hut # 029557
Cashier name Samantha is not just nasty but racist super obnoxious and rude! Long story short if I don't hear from the corporate before Tuesday I will post the live video on my Facebook # Instagram as well! I have 10k followers just in the local area & trust me it's not going to be a good one! Better is to resolve it before this becomes public! My # 561-707-9826 & my name is josh! I have been a regular and so is my entire family! Really been insulted here and overcharged! Samantha is not just nasty but also yells st the Employees not to answer the phone, she has no passion about her job! I personally feel that location has a huge potential, but it's people like Samantha that destroys & tarnishes the image of a Pizza Hut! But if I don't hear before Tuesday this will be public to almost 10k people in local area explaining them to boycott Pizza Hut! That's howmuch I'm hurt & insulted!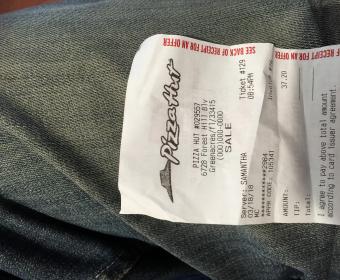 Philipsburg, PA 16866 - Was seated by a table which had two dogs. Dog shook his dandruff off by our table. I could not breathe. When patrons left, one dog was carried by the front of the buffet. We went there frequently but have no desire to return.
Have feedback for Pizza Hut?
Thanks for your feedback!
Sorry. Please try again later!