McDonalds
McDonalds Complaints Continued... (Page 10)
913+ reviews added so far. Upset? Call McDonalds corporate: 800-244-6227

I know you might hear this a lot but i have had it. I needed to vent about the drive thru service in Rockford or Loves Park IL….every McDonalds you go to the service sucks…people make a joke that you have to do the job of the workers so you get your complete order. Today i ordered two happy meals in the McDonalds drive thru and they asked me if girl or boy toys i stated girl…well i got home WITHOUT checking my bags…thinking to myself omg i know better not to check and sure enough…NO FRIES…AND THE TOYS WERE BOY TOYS. Ok I can see messing up the toys but COME ON two easy meals and the same and NO FRIES. The last time i went to McDonalds they gave the car in front of me MY ORDER.
What do they hire for staff…And people REALLY NEED to take PRIDE IN THE WORK THEY DO…i dont care if you are washing toliets…TAKE SOME PRIDE…stop worring about boyfriends or if your hair is ok…SHOW some respect for your employment…. i am ticked off at McDonalds…

In store McDonalds #1807 order # 257 [3-09-11] my order was taken incorrectly and I didn't get my fish sandwich. I got chicken which the ticket read but did not check until I got home. In the last month I have been shorted chicken McNuggets twice which my wife and mother in law love. This time I checked the bag to see I had 2 boxes of chicken nuggets and a sandwich which I did so I was surprised when on arriving home I found no fish sandwich. If it wasn't for the terrific fries, apple pies and coffee I would go down the street to Burger King. Somebody needs to get these people at McDonalds to pay attention, they are not the only fast food restaurant in town.

I had to wait in line inside for thirty minutes at mcdonalds to place my order on march 5 2011. they had one new lady on the register who had very little experience. six times it took to get the order placed and i only had 1 happy meal, 1 #10 meal, and 1 mcchicken, 1 value fry, and 1 tea. this happened at store #12161 in port st. lucie, Florida . please if mcdonalds cannot do better than this as much business they have they need to close up and go home.

My husband and I stopped in at the Vincennes Indiana Mcdonalds on thursday morning and my english muffin was burnt and the edges of my egg was burnt. The hash rounds tasted like they was soaked in oil and had the oil taste. I told the manager on duty and she said don't know its not my store just filling in here. Will not eat breakfast there again. It was horrible.

My daughter got some coupons for McDonald's for valentines day. When I took her there to eat then use the coupon we were denied to use it. My daughter was crushed as she has several of the coupons from class mates. I talked to a Manager and his response was to find out where the coupons where purchased and used them there!!! I'm sorry, but how in the world would I do that and how humiliating to ask a parent where you bought your coupons!! There is NO where on these coupons where it say valid at the McDonald's where you got them from!!! I'm very disappointed and I may NEVER eat at McDonald's again! What has this world come to?

Had to do the the Heimlich maneuver to my friend who choked on a piece of plastic found in a double quarter pounder from McDonald's. This happened in Oromocto NB Canada on Friday 25th, February 2011 at 1130 pm. I am looking for compensation from McDonald's for this incident and don't know where to go from here. Contact me at, fabianhenry79@hotmail.com, Thank you.

I have a complaint about the mcdonalds on 1642 pitkin ave, brooklyn NY. the worst service ever, from mgmt down, no control, everyone has a poor attitude and the food sucks big time. I'm done with mcdonalds, first time shame on you second time shame on me!

My friends and I went to Mcdonalds to get some food from the drive through and we placed some specific orders. Then after arriving home we saw that the staff only gave us half of the order. We then had to get in the car and drive all the way back. We then queried the McDonalds staff, and they were totally clueless about what happened. We supplied them with the receipt, and only then did they find the rest of our order. By that time the food were already cold, and we also realized that they did not remove the onions from 2 of the meals as we asked for. This was not the standard we are accustomed to from Mcdonalds.

I went to all 3 McDonalds in my city. They each have a huge advertisement of the Monopoly game they have going. The first sentence is that no purchase is required to play. So I asked for a free Monopoly piece. They said you need to by a meal. I showed them their advertisement right in front of the counter. Their reply was always you buy and meal and the Monopoly piece comes free. I said you sign says no purchase required. Your telling me it is required. This is definitely false advertising. I tried to find a way to complain to the McDonalds headquarters, but there web site does not give you anyway to complain, only how do get a franchise or job or coupons, etc.

2/2/2011, purchased 2 breakfast sandwiches and coffee at McDonalds. employee wore no gloves putting the sandwiches together. witnessed McDonalds employee placing egg, meat and cheese using no plastic gloves for any customer. I ordered two sausage biscuits, one hashbrown, and a small orange juice at 1610 sycamore view 38134 memphis,tn. The sausage biscuits were both burnt. I'm an african american woman and my sausage biscuits were the same color of my skin. The hashbrown was cold and taste old as if it had been sitting out for years. A
And the small cup of orange juice was $2.99 and it was a very small cup that shouldn't have been worth $2.99. I couldn't take it back because I had no receipt and plus class for college had just begun, so I had no choice but to throw it away or eat it and die

I currently work at mcdonalds and I can either be the nicest worker there or the worst. Next time you complain, you might need to consider this before you do. When ordering through the drive thru at mcdonalds, be sure to look at the 12 inch screen displayed in front of you to ensure that your order is accurate. Don't say the mcdonalds big mac meal is yours when you clearly ordered a large coke and that's it. When we park you, we do it not in spite of you, it's because your food is obviously not ready. So don't come in all pissed voicing your observation! The reason nothing is stocked is because fat people like YOU GUYS keep coming in  to mcdonalds and ordering a ton of food!

I wanted a smoothie from McDonalds, so I pulled up to the drive thru window to order. The lady starts screaming something crazy through the mike and so I politely ask her to slow down and that I can't understand her, maybe it was her accent I dunno. Finally I got tired of this, drove up to the window, but she never came. I guess if you can't hear the crazy foreign immigrant on the microphone, McDonalds doesn't deem you a worthy customer! I get that America is diverse blah blah but seriously most people speak English McDonalds, can you not hire people who speak it as well! Da da da I'm hatin' it!

Jesus… I understand if i see an overweight person eating at subway , but mcdonalds? GUYS, CUT DOWN THE FAT OR YOU'LL DIE .

richard kahl
from Oceanside, CA
Today at your location : Oceanside blvd and College in Oceanside ca 92056 was Charged $6 for two Sausage egg Mcmuffins with cheese
last visit the charge was $3,99 for 2
seems to me way out of line.
Please answer\
A very Good Customer
Richard

Margaret Rasch
from Moreno Valley, CA
You dont have enough minus starts to be rated. One star says nothing. We just went to the McDonalds on Iris Street in Moreno Valley, CA, the drive thru, and had to wait over thirty minutes watching car after car drive off with their food, while four cars sat there waiting. Person came out with a bag, only half of what we ordered and when we told her, she laughed and went back in the store. She did not come back out so I went in and after hearing the girl in the drive-thru window, say "her she comes" I wnet through the door seeing our mac jrs, just sitting on the counter waiting for someone to notice them. Whether we order 2 or 20 things, we always have to wait. By the time we got home, the mac jrs were cold and dry, the chicken nuggets were cold and hard. I spent $22.42. on food that we could hardly ear. which we didn't eat half of it, our dog loved it. I dont want a sorry that McDonalds doest mean., I dont want another coupoun for a breakfast or whatever the last one had on it that you sent us. I want mcdonalds to care about its customers and hire people that actually give a dam. You want to make $15.00 an hour because your underpaid for the amount of work that you do. This store doesn't deserve $ .15 an hour. When I went into the store to get our food, there were more employees in the back, bumping into each other that customers in the dinning room and drive thru together. I want my $22.42 refunded and want to know when I can come pick it up. Phone No. 951-269-5694. I've seen all the complaints online, I wonder how many complaints have to be files before your corporate office actualy gives a dam!!!!!!!!!!!

darren leivers
from Nottingham, ENG
I went to mcdonalds last night on junction 30 m1 .I ask for fresh cooked food as I drove through I did speak on the speaker and he was quite rude and when I got to counter I said again to him it is fresh cooked yea and he just starred and nodded not yes sir and thankyou.he rolled is eyes only.when I got my food the chips was cold ,nuggets was luke warm and cheeseburger warm only and as I was driving through a gal was sticking her arm out to hand me my drink before I hadn't even got to collect my food. this is the third time on the bounce ive been there and been treated like this and I did at alfreton .I won't be going to mcdonalds again .disgusting food and treatment.these kids must be thick or never listen when a customer ask for fresh cooked food and need to learn manners. I nearly got out my car and went in and through it at them .

Theresa Dipirro
from Akron, OH
Alliance McDonald's on State Street avoid at all cost! Waited a total of 20 minutes for food. Disorganized man agent. Food when I did end up getting it. Drive a little further down the road to Wendy's were there food is hot and fast!!!

Dale Tarrant
from Mauldin, SC
This happened to me not once, not twice, but three times in a row. Early morning breakfast thru the drive thru. I ordered, the big breakfast with bacon and with out the hot cakes. I also wanted 4 extra strips of bacon. When I got to work and opened the bag and took out the meal. There was no bacon but had 1 sausage patty instead. This is the 3rd time this has happened to me at the same McDonald's. A customer shouldn't have to worry when they drive away if their order is right! It should be right no if' and or butts about it. I will never go back to this McDonald's ever again. You pay for something, and you end up with something different. I'm sure this isn't the first time you are hearing about this. But something needs to be done.
Thank you
Dale Tarrant

mary ann
from Ontario, CA
I went to several mc I ordered a smoothly, they told me they were cleaning the machine, this is on a Tuesday. I went to another mud ordered a smoothie, they told me the machine was broken, I visit mud often and I really don't understand why they clean a machine in mid week and during dinner time. Also I ordered a Fanta, they said they ran out, go figure. These are the mud I went to. Fourth St Ontario calf, mountain Ave, Ontario. Thank you for your understanding.

kenneth pors
from Bethlehem, PA
I am writing in regards to my wife and 88 year old mother in-law.
My wife visits her mom in Walnutport every week and they usually go to the McDonalds there.
Today Feb 13th my wife was waited on by a young woman and my wife ordered food costing maybe seven dollars and change so she hand the person behind the counter a twenty dollar bill and her change was only three dollars.
When she questioned the girl she said you didn't hand me a twenty but a ten dollars...
My wife had just been to the local bank for her mother to get money for her and the money she withdrew from the bank was all in twenties, she had no ten dollar bills with her.
The manager counted the drawer and said the count was right so they called my wife a lier.Could you please help us.

Andy Vu
from Huntington Beach, CA
Dear Mikey Ds,
I have been a great and very loyal customer and once an employee of McDonald. I have tossed the crates of buns and meat patties into the storage room while changing shift and closing up at night. I tossed those meat patties into the grills and made many burgers each day with great taste. I have fried the french fries better than the French themselves. I have cleaned my hand before I served. I was subjected to food serving qualification prior to the hiring. At young age, I was able to ate all those hamburgers and BigMac for free until it became 50% off for employees. I have never thought that this restaurant have become less original and quality in it's sanitation. I purchased a McChicken and Bacon McDouble yesterday at the Hunting Beach 16866 Beach Blvd, number 857. I came home about 30 minutes later with an explosive diarrhea.
The services that I have watched over the years, going back around 5 years. Something went wrong or something spook the workers. It wasn't the way that it used to be. I have done my shared, but the services nowadays needed much more improvement. I hope you will take this as an improvement feedback instead of a complaints. Yeah, it went all out of my gut in less than five seconds.

Troy True
from Yankton, SD
Wrong breakfast order, very long wait 10 minutes, short on breakfast sausage biscuit, had to substitute McMuffininitially lost my Visa Debit Card, then forgot my 6 fruited yogurt parfaits, called local store, many excuses, asked 3 times for refund or coupons, asked to speak to franchise owner/manager Bridget, was told they have large inspection coming up Tuesday, so she won't have time to talk to me. Been McDonalds customer over 37 years. This was in the Yankton, South Dakota McDonalds 2/11/18 at 6:13 a.m. Just want order corrected, an apology and friendly service.

Ava Dekker
from Red Bank, NJ
Hello,
I proceeded to McDonald's at around 8:00 p.m. on February 10th, 2018. As any other event, I enjoined a six piece chicken mcnugget and a medium fry. I then came home and opened my bag to eat my supper. I opened my chicken mcnugget box, which essentially was made for a 6 piece, and perceived the fact I was only presented with 5 chicken mcnuggets. I personally do not understand how one can miscount a six piece mcnugget order, but I am completely flabbergasted with the inexplicable absurdity I have witnessed tonight. I personally appreciate the consideration you take in my complaint.
Thank you,
Ava Dekker

I bought a Filet-O Fish 2.8.2018 it was all dried out like it was made hours before was not good did not know until I got home

Joshua Monte
from Duncan, SC
My experience here is always terrible. I am a local business owner In Greer, South Carolina and this McDonalds never ceases to negatively amaze me. I went through this morning at 6:51 am and proceeded to order a bacon egg and cheese meal w/Dr. Pepper. Upon arriving at the office I quickly realized that my order was completely wrong, but it doesn't stop there. They gave me a sausage egg and cheese and the sausage was UNCOOKED. I didn't want to complain so I tried to eat it before noticing the uncooked sausage (even though I hate sausage) and after one bite I spat out my food and almost threw up. I called the McDonalds I had placed the order at, 308 W. Wade Hampton Blvd. and I was told they would issue me a refund once I was available to come back, I came back at 4:05 pm and asked for the refund (politely), I was rejected and cursed at relentlessly. The manager Bree repeatedly cursed at me and said "sir you need to leave before I call the cops... Byeeeee bye now". I was jotting down notes throughout verbal onslaught, I have significant proof of this entire occurrence and I am absolutely astonished at this establishment, This is not the first time I have dealt with this mistreatment from this location and I am sure many more people deal with it. This franchise is tarnishing this McDonald's brand and stomping all over the core values, I had to leave the building while being yelled at by "Bree" (amongst other customers) and I did not receive a refund. Receipt number and transaction are illegible due to low ink, but I still have the receipt. I spoke with a complaint rep named "Jennifer". My Cell 864-546-0330 is what I called from. Thanks.

sharon maloy
from Bristol, PA
I paid for my order in the drive thru at 6:15pm and they pulled me to the curb to wait on chicken tenders. I sat there and watched 2 different cars come and go, they too were pulled over. We were told 2 minutes from the girl in the drive thru. After 10 minutes an employee brought a bag of food out to the car next to us - but not our food. I had to enter the store and approach the manager on duty to get a refund at 6:34. Takeout food is a luxury to my family and I don't always have extra money to spend on it. This was a real treat for us, we all got full meals Receipt # 10918-13930-20218-18153-00205-3 ours was order # 93 and I know this particular McDonalds is closing but the people and the service were finally enough to push me over the edge. No more of my hard earned money will ever be spent on McDonalds again. I really liked your food but I like being treated well more than I like your food. This experience really deserves a negative stars on the scale because you have management that doesn't care and doesn't know what she was doing. to make matters worse, you have workers who were yelling at me and one was fighting with me from behind the counter. They wasted/took 20 minutes of my time, insulted me and a worker berated me at the counter in front of a store full of people. ENOUGH!!! I will be sure to tell everyone about my experience. you think because you are a big corporation that I don't matter. I'm just one person. BURGER KING GIVES US COUPONS AND GOOD SERVICE WITH A SMILE!!!

Veronica Mora
from Ensenada, BCN
Hi. I am a regula customer to the McDonald at your location 727 E San Ysidro Blvd, San Diego, CA 92173. Today when I came in I made an order of 6 items order #150. The cashier was very nice. Then when it came to picking up my order there was a Waite of 15 minutes and there were at least 15 customers. As I was waiting I noticed that the man named Bryan figaro was handing them out with no problem no question, but when it came toy order I new right away I had the biggest order. He put ketchup with put asking if the customer wanted then proceeded to call the order number. When I got close to the cashier he then looked at me and said in a ruded tone " is this your order" and gave me a dirty look. I the said yes 150 with my recipe in hand he then rudely held on to the bag and demanded that I gave him my recipe because he did not believe it was my order. I showed him my recipe and when I asked for a specific quantity of ketchup he ignored me. I then asked to speak to manager and asked her for ketchup he rudely interupted and replied you already have ketchup. As I was explaining the issue he was laughing. I don't understand how some one with such rude additued could take my order. I've came many times and had no problem till today. If this can please be taken care of. I will no longer be coming to this McDonalds. Thank you

Mary Stephens
from Gainesville, GA
Me and my family had lunch/dinner at the McDonald's in Oakwood, Ga on 1/31/2018 around 4:30pm. We ate in our car in the parking lot and we went in the restaurant to refill our drinks when the manager (a black lady, not sure of her name), came up behind us and very loudly said "Ladies, that is gonna cost you $1.07 each". I polieyly told the rude lady that we had already ordered and ate. She informed us (very loud) since we didn't eat inside that we were not intitled to refills. I was so embarrassed and so was my 15 year old daughter!! We eat in that restaurant and many others at least 3-4 times a week, but I don't think we will ever step foot near any of the restaurants ever again! There's a way to handle each situation and way to say everything. She needs some training or maybe just to be fired! That's how upset we are! Maybe someone needs to specify when or where your aloud to get refills!!

I stopped at McDonald's this morning for breakfast and received bad service. In my order was a large sweet tea with light ice. When I ordered in the drive thru, I did mention light ice. When I pulled up to the window I was handed my drink and mentioned to the lady I ordered light ice where my drink was full with ice. The lady took my cup dumped the tea out and tossed the cup in the trash, with attitude, then turned and spoke to the other associate, who may be a manager now as she has been there for over 5 years, and then proceeded to replace my drink. When handed the drink, the lady handed me a cup and said "here's your ice" and then gave me another cup with tea. Over a span of 17 years I have been to this McDonald's and have not had the service that I had this morning. I did not get my receipt, so I don't have the the store number or exact time I was there, but it was between 7:29 AM and 7:40 AM on 01/31/2018, and this is the location, 12135 N I 35, Oklahoma City, OK 73131.

Teofila Matar
from Kerman, CA
I ordered food from your establishment at the Kerman Ca 93630 store on whitesbridge through my Mobil app.I then proceeded to give all my information on the last step which completed my order I then went to pick up my order and was told they didn't have anything for me they claimed that the system was down and even though I had proof that my order had been submitted and I was charged for the food they went on to say that there was nothing they could do to fix the problem I showed them that I was actually charged twice on my card they still were very uncooperative stating that I would have to take it up with corporate and I was not getting any food from them unless I paid again there.When I checked my account I was charged twice for the order thus putting my account in an overdrawn state. I will not accept that I should be responsible for the extra overdraft fee that my bank is now charging me or for the food (which I didn't receive)or the additional $6.99 I was charged for Lord knows what. it is not my responsibility to pay this I was only suppose to pay $8.83 and when I looked at my account I was also charged an additional $6.99 which was the reason for My bank to charge me with an overdraft fee, we called the McDonalds when we got home and they stated that the system had been down all day and even said that there was no way that we could have placed the order. Which seemed funny to be because I have the code and I screen shot the page in which it told me to pick up my order.so the manager in charge who's name is Brad said that the general manager who's name is Elizabeth Ortiz was told that the system was down and she did nothing to fix it or report it all day today. This to me is unacceptable with all the technology we have at our finger tips today. I stated to the young man that for him to not honoring our food order was very unprofessional and extreme bad customer service being that we had clearly paid for it.he stated again "well there's nothing I could or will do about it" he also stated that the system is new and they are still learning how to work it.I am 52 years old and have learned so much of todays technology and it is a shame that such a huge corporation as McDonalds does not have proper training for its employees. I am pretty sure its not from lack of funds. Just my Family of 5 alone spends at least $50 a week there. I will wait for someone to clear this matter up and return my funds to my account and my over draft fees since we didn't receive any food from your restaurant. I'm hoping I get a response to these issues.
My name Is Teofila Anna Matar and my phone number is 559-644-6594

SONIA BEARD
from Milwaukee, WI
Hello, My son Kourtney Beard works at one of your stores in WI, N56W15475 Silver Spring Dr. in Menomonee Falls WI. 53051, 1-262-252-4609, my son has been there for a few months working weekends only we; he is 17 years old first job, I spoke to the manager to have him to work weekends only because I would be the one taking and picking him up, the days that we decided were every Friday, Saturday from 5 pm.- 11p.m. and every Sunday from 3p.m. – 9 p.m. So these are the days and times my son were coming in each time he would come in he either was not on the schedule at all or he was only on one day I talked to the scheduling manager over and over but nothing is seem to be done about this, I need your help to resolve this manner.
Thank you
Mrs. Beard
414702-5427

LorrieAnn
from Quesnel, BC
My 81 year old Dad goes to McDonald's every day except Tuesdays (he has a Mcdonalds meal on this day) for your coffee and muffin deal.
Often, there are no muffins. His favorite is blueberry. Often, there is no blueberry. Today we went and there were no muffins of any flavor. Yet, the advertising for this deal is splashed all over the restaurant, the menu, and T.V. He is always so disappointed. Sometimes the staff member working the till will go into the back and get him a muffin. Today they refused to even look. Just wanted to let you know.

Patricia Lehmann
from Lakeland, FL
Store manger Justin, you will need to watch film back to believe this, he embarrassed me and humiliated in my whole life, I left McDonalds in tears in my heart beating out of my chest, need to speak in person, it happen through drive thru, the cashier called the manger because the McDonald app, would not work and it was because we had to make a shake a med., I said ok, got to the window they gave me another frap. I did not order and they did not take off for the app, they called Justin back over and that is when he got rude saying I don't know how to use the app, I told him that I never had trouble before with the other mangers and he said that is because the other mangers and I don't know how to read it correct, I told him you don't have to be rude to me and I had my grandchildren in the car listen to him talk to me that way, I told him, I don't need free drink just give me my food, he would not I ask him again, he just stood there with line of cars behind me wanting argue about the app. after taking my phone from my hand, then I said just give me my money back by then I was very upset, he told me that I was going to park and he would give me my money back after he was done with all the other customers, then I said I was here and I want my money now and I would not come back and I told him he should not treat customers that way the only thing I did was yell at him to give my card back and he would not, he went out side letting me sit at window he kept me there for total of 40 minutes. after he came back inside made Jokes to the employees she can wait, and they started laughing and he proceeded to tell the customers also, he I was crying by then I am 57 and never been talk to that way, I sign the receipt and gave it back to him, he ask me if I was recording him, I told him I was calling customer service to report him, I never told him I was recording him, I ask him to give my card back that I was back customers up but he did not care, I pulled around front he came out front said he was going to show me he called the law I said good you send to me at my house I was taking my kids home he would not give me my bank card, he waved it at me so grabbed it but the film will show I did not touch him, he was yelling at me say you touched me, I told him he should be ashamed, what happened to treating someone kind, I gave him several chances to give me food being kind or give me my money, he was the nasty one but yes I did get very upset after I seen everyone laughing what kind of leader is he? I can't get over this, my sons and Daughter all of us and my church is going take this further no one should every be treaded like this.
863-701-6503 Patricia Lehmann

Ms. Goines
from Montclair, NJ
I have made a complaint about a week ago and I still did not get any email concerning this matter. The complaint was about this McDonald's
783 Springfield Ave, The date January 22, 2018, I was at a teacher's work shop, we decided to go to this MC.D, and the lady manger there was very rude, this is no way to treat customers. If we work in a community we should treat the people in that community with respect, if not go and find a job in a community that you can and will show respect.
Irvington, NJ 07111

Ms. H. Goines
from Short Hills, NJ
On 1/20/2018 there was a work shop for Irvington's teachers. Some of us decided to go to McDonalds at 783 Springfield Ave. Irvington NJ. There was a woman manager worker there around 12:15 PM. She was very unethical to me when I was trying to get her attention, because my order was coming next, and I wanted to change it, before they made it. I said Ms. Ms. Ms. she walked away, then came back and took the woman behind me, which was her ethnic background. This cause the woman and myself to exchange words, because I ask the manger was it a problem, why are you taking this woman when I'm next. She was very unprofessional, not people friendly at all. If we work in a community, we must treat the people in that community with respect. Thank You

McDonalds at Quivira &135th in Overland Park, KS. Very poor & rude service by DORA. Ordered 6 pc tenders & fries., Ordered 6 tenders only received 5. The fries were soggy. I went back through the drive to tell them. Dora gave me a chicken nugget instead of the tender and she acted like is my fault. Dora is always rude. I won't be back ever! Initially, I thought she was having a bad day but this has happened her rudeness many times. There are so many other places to go and have someone be friendly. Not going back, very rude. Dora shouldn't be dealing with the public. Typically, I don't open the box to count and did just as I was leaving. Terrible service and mean.

Rose Oehling
from Bethel Park, PA
I stopped by my local McDonalds this morning, 5261 Library Road, Bethel Park, PA 15102. McDonald's employee stated to me in a huff "you are going to have to wait, I'm here by myself and I have to take care of the drive thru that's been waiting longer than you". I said I can't wait, I'll be late for work. Employee said can't help you out. I left and went to Burger King who greeted me with a smile on their face and took my order immediately. That's what I call customer service. I have visited this same McDonald location many times and service is definitely not what I had experience in the past years with McDonald's. I want to give my business to the company that want's my business. I thought McDonald's promoted fast food. I would appreciate hearing from you. Thank you! Rose

Irvin Turner
from Lutcher, LA
I waited in line for 15 min. to get a cup of coffee, which I have no compliant about. I asked for 12 sugars and 2 cream to be put in the manager said that is to much and handed me sugar and cream in a bag. This is the only store I have that problem.(store #26657). I have asked to speak to the manager he would not come to the window. I have called the store and they would not pick up the phone.

Haven't been to a McDonalds for 6 months. Excited about your new prices and menus I ordered the 2for5 Special for $5.00 at the store located in Payson,Utah.
I had the filet of fish as one option along with the Big Mac.
I remember the filet of fish sandwich served on a WHITE soft bread bun that fit the sandwich great. Instead I received a round almost WHEAT like bun and of all things it was toasted?
I normally do not complain but the sandwich was HORRIBLE! It actually made me mad that I had to throw it away and cost me $2.50 for the worst piece of crap I ever tasted.
I will not be patronizing McDonalds again soon if this is what the Filet has come to!

lucille scott
from Gainesville, FL
i didn't want to rate at all, it is 1/10/18 my visit was within the 9pm to 10pm hour block. went to McDonald order 10 nugget meal with sweet tea, and hamburger small fries. usually the tea is not sweet to me so I asked for 4 pumps of liquid sugar. the guy , rolled his eyes and said to another crew member, "these customers be trippin" so since I heard it. I asked to speak to a manager, because what is 4 pumps of sugar. she came to the window with a attitude, I told her what he said. she rolled her eyes and said "oh I'll take care of that with the girl and guy standing there. the guy at the window must of said he wasn't gonna give me my food, so your so called manager gave me the food with an attitude! I thanked her and asked for her name she said "KIM" I said thanks ms, kim and came home and typed this out without eating my food. kim should have been taught how to calm a situation down not make it ten times worse. she was rolling her eyes, giving attitude!! I know who run that McDonald's, the crew workers. I worked in many fast food places and I firmly believe the customer is not always right, but there is always a right way to handle them. and by the way the tea was sweet!! this mc'donalds is in Gainesville, Florida Williston road.

Karla Scarborough
from Louisville, KY
On 12/1/17 at about 7:00 pm thru the drive-thru, I ordered a #4 large, no onion and a #9 large. I was told the #9 was no longer available despite the fact it was still listed on the menu. I then opted for the #7 large with Ranch and 2 more additional Ranch on the side. Got home and discovered I had NO Ranch at all, the fries were old and cold and the #4 had excess amounts of onion as opposed to the NO onion I had requested. The #7 also had only 9 chicken nuggets instead of the 10 the meal was supposed to have.
I initially made this complaint on 12/1/17 and I heard back from no one despite the fact I requested a followup.
The store in is located at 2500 Dixie Highway, Louisville, KY 40216.
I am not happy with the lousy customer service I received and the lack of concern for this poor customer service this particular store has shown. It also is really sad that a customer has to literally request fresh food when this should be the standard.
I expect someone to follow up with me in a TIMELY manner.

Karla Scarborough
from Louisville, KY
On 12/1/17 at about 7:00 pm thru the drive-thru, I ordered a #4 large, no onion and a #9 large. I was told the #9 was no longer available despite the fact it was still listed on the menu. I then opted for the #7 large with Ranch and 2 more additional Ranch on the side. Got home and discovered I had NO Ranch at all, the fries were old and cold and the #4 had excess amounts of onion as opposed to the NO onion I had requested. The #7 also had only 9 chicken nuggets instead of the 10 the meal was supposed to have.
I initially made this complaint on 12/1/17 and I heard back from no one despite the fact I requested a followup.
The store in is located at 2500 Dixie Highway, Louisville, KY 40216.
I am not happy with the lousy customer service I received and the lack of concern for this poor customer service this particular store has shown. It also is really sad that a customer has to literally request fresh food when this should be the standard.
I expect someone to follow up with me in a TIMELY manner.

P. Henderson
from Brevard, NC
We visited the drive thru at mcdonalds located on radio hill in canton nc 28716. We spent $12.55 on 4 double cheese burgers 1 bacon egg and cheese and 2 drinks. We took our food straight from the bag and began to eat it. My husband is a fast eater. He usually finishes before the rest of us are half way. Half way through his double cheese burger he found a hair. A long hair and his hair is visibly short. In turn it stopped the rest of us from eating. Therefore the $12 meal was thrown away. I would like to be reimbursed for the $12.55. I believe that is the least they could do. If someone wants to contact me through my email. I will be glad to return my name and address. Thank you for your time.
Ms Henderson

MARILYNN HEARNE
from Brooklyn, NY
I just came from your Mc Donald's in Levittown, N.Y. 11756--first off the drive thru line was so slow--we spent over 10 minutes --it was both at the money collection end and the people who gave the food. When I got to the last window the girl made a comment that the orders she had on her counter were way ahead of the people who were at the window--meaning me--so I said well we have been waiting for over 10 minutes--she totally ignored me and said have a good night---then to top that off-I ordered a Filet of Fish--and when I got home it had no tartar sauce on it and it was completely dry. I threw it in the garbage--this is not the first time I have had problems with this restaurant--but I assure you it is the last--I, nor 17 members of my family, will be using Burger King from now on and I will let everyone know, thru the internet, how poorly your company operates.

Betty Garrett
from Shinnston, WV
Once again the MCDonalds in Mannington poor service is disappointing ,,,Tisme foe new Manager cannot get hash browns with breakg=fast agin ...if they don.t want to make something they saym they are out of it and why put gravy over biscuit on carryout..soggy Gee please check on your store in Mannington WV 26582

PISSED OFF
from Wickliffe, OH
THE MCDONALDS IN WILLOUGHBY OFF EUCLID AVE - BY LOWES - WHAT A JOKE - REALLY? DEC - 14 -17 5PM - 600PM LOOK AT VIDEO - TEENAGERS GROUPED TOGETHER VERY LOUD - LANGUAGE WAS BAD EMPLOYEES WERE JOINING THEM AT BREAK YELLIND ALONG WITH THEM - PLACE IS VERY DURTY - SMALL BUGS FLYING AROUND GARBAGE AND FOOD - PEOPLE WERE LEAVING - VERY BAD ATMOSPHERE ! BAD! LOOK AT VIDEO YOU'LL SEE - PLACE SHOULD BE CLOSED -- BAD FOR PEOPLE WITH KIDS OR JUST WANT TO EAT IN A GOOD ENVIORMENT -- NOT THERE THEY LEFT......... YOU HAVE A BIG ISSUE LOOK AT VIDEO

Dakoda Redden
from San Antonio, TX
Dear McDonalds corporate;
I regret to inform you that I am under harassment by your workers at your 71241 location.
I am unaware of their names Sir/Ma'am.
They have been SLANDERING my name, DEFORMING my character and making my experience at your food chain EXTREAMLY unprofessional/upsetting.
It has been CONTINUOUS and if they wish to CONTINUE SLANDERING my name, DEFORMING my character I WILL seek SETTLEMENT through your corporation.
Thank you Sir/Ma'am for your time/consideration on the subject.
Sincerely yours, -Dakoda Redden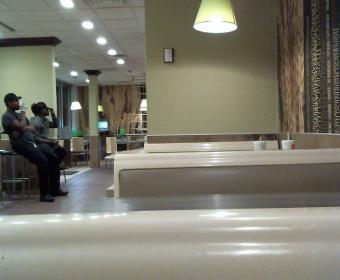 Joanne Masciopinto
from Centereach, NY
I went to McDonald's at 9:15pm this evening and ordered my food when I went to sit in the dining area the girl said the dining area is closed but they are open til 10pm. Soo I had to stand with my family and eat our food. Another woman and her 2 yr old daughter came in and a stool could have fallen on her because they were staked. And it almost did. Soo the woman asked to speak to the manager which didn't even come to the counter right away. When they weren't even busy to speak to the customer. No saying sorry basically telling that's what they are told to do and that is it. Extremely poor people skills not to mention the girl in the dining room having a hissy fit because the woman and I said something than she proceeds to say we can sit in the dining area but drenched the Seats with spray. Now I worked in this industry and never saw such unprofessional behavior by a manager and worker. It's baffling to see a person mopping the floor around a c customers feet while he sat and ate! That is a liability if he fell than what. This was a horrible experience I hope these workers are retrained because really seeing the girl in the dining room saying I'm just doing my job stomping her feet basically was pathetic. She watched us eat standing up and didn't feel bad or even care! I hope this issue gets corrected. Thank you for your time! This incident took place inside Wal-Mart McDonald's Setauket By

Sosene Seupule
from Leichhardt, NSW
I brough 2small sundays&2large sundae both large sundae wer same as the small sundae i was unhappy how totaly poor the service was in anycustomers eyes this is wrong&needs tobe corrected i stand up on what i belive in paying for something thats is not right canleyvale maccas has a totaly poorservice thats need tobe corrected this is so poorservice i will never buy from any maccas again!!!

Mike Bommarito
from Brighton, MI
I went through the drive-thru or two orders of hotcakes and a sweet tea they didn't give me no syrup no silverware and when I call them to try to get new meals they said they would not reimburse me they give me one not both I've called multiple times the owners called me 3 times and he will not do anything to fix the problem I'm going start picketing until they resolve this problem

john nichol
from South Shields, ENG
I took my daughter to McDonalds drive through opposite the marriot hotel at the metro centre tyne and wear at 9 30 am this morning there was about five cars in front of me we did not leave until 10 am nobody was moving when I inquired what the problem was I was told they just didn't have the staff the last thing I wanted to do on a sat morning was wait half an hour for a McDonalds breakfast a disgruntled customer !

cold burgers no ketchup on burger cold French fries poor service

Absolutely no french fries throughout the day, I went without and that was part of my order. French Fries are a main entry on the menu there should have been no problem.

Michael O'brien
from Hollywood, FL
I had a very terrible experience when i visited this Mcdonald's restaurant located in Florida. This Mcdonald's address is 1400 South US Hwy 1 Delray Beach, Florida 33483. The managers there are very rude and unprofessional. On Wednesday 22, 2017, at 8:05 a.m., I went there to eat breakfast. I ordered a cup of coffee with a sandwich then payed with my bank debit card. A young black lady, ( and I believe she is Haitian by national) served me a cup of coffee which was not warm but cold. I told her that my coffee was not warm but cold she raised her voice in high pitch and said something to me in Creole which I did not fully understand but I knew that the language was Creole because the Haitian community here in South Florida is vast. So I knew it was Creole that she had spoken to me because I am familiar with little Creole words here and there. Anyway, she said what said and I did not understand it but I knew it was rude and unpleasant. Then she. The her hand up in the air with her eyes wife open as she kept on talking. As she was talking, I looked over and saw another woman who was making my sandwich, spit in the sandwich. This woman did not see me due to distance parameter. When they presented me the sandwich, I refused to take it. I called the managers who were a man and a woman both of them, I believe still are Haitians by national, these two managers told me, " if you don't like it, leave it!" Then they started to laugh. I continued to express my discontent about what I saw and what just happening, the black Haitian man came over around the counter and stood right before me in a threaten manner and with his fist tighten and told, " get the fuck out of here, we run this here!" By this statement, I take it this Mcdonald's restaurant they are working in has become franchise, maybe that is why they are behaving this way. This is still unprofessional and not good for business. Please remedy this poor action by a removal process of these two managers.

Dave Hood
from Holland, OH
On 11/16/17 I was in your Mc donald's in Fostoria, Ohio and had to wait over 20 minutes for 2 cups of coffee and a hamburger,and
with that being said there were only 4 other people in there I thought this in being very very poor services and uncallrd for.
I went in there again tonight 11/21/17 ordered a Large cup of coffee and paid for it and after 10 minutes of waiting I walked out
they are not only getting slower and slower it is very disappointing to me as my wife and I use to go there on a regular basis
but due to poor services we will no longer be going there and I will be sure to let everyone I know not to go there as the services is very poor.
I would hope someone would do something to correct this problem.
Dave Hood a very upset customer that will not return to this store.

Anthony Brown
from Honolulu, HI
At this location is where I had trouble one of my friend I buy coffee for said she couldn't get a refill of coffee I even gave her the receipt so she wouldn't have any trouble cause she didn't buy it but I buy it for her. I was told from a employer that she would not give her a refill cause I buy it for her the employer said I have to get the refill for her why is that, it happen when I wasn't with my friend but today I got her a refill of coffee as of 11/21/2017 this morning. I even told that is my friend that I buy coffee for and y'all refused a refill of coffee to her when I buy it for her wow. Also one of the employer was very rude to me.

Ruth Ann Fitzgerald
from Florissant, MO
I went to the 1090 Shackelford & Mullanphy , Florissant, MO. 63031..@ 2:01 p.m. 11-16-2017 Store was NOT BUSY, 3 or 4 workers were in the cooking area No one was behind the counter or anywhere to be seen. Then a couple of workers walked behind the counter never asked if they could help us. One was throwing a rolled up paper ball up in the air. catching it. Fed Ex. finally hollered to a guy walking around & asked if we could get waited on. he said I'll see and went thru a door. No one was by the drive up window. Finally after about another 3 minutes a girl came over that was walking around & waited on the Fed Ex guy, cause I knew he had to get to work. Then a young girl comes in to the counter and the girl behind the counter started to wait onher. I am 83, I said, " I have been here for awhile". She gave me a look that could kill & looked at the young girl & said I have to wait on her. The store is dirty. Every other McDonalds --as soon as you walk in they greet you and Say Good morning or afternoon. can we help you!! This is not the FIRST TIME --SERVICE IN THIS STORE IS TERRIBLE.
This one has been noted for the bad service. I called the # 1-618-676 3289 THREE TIMES Left my name & number . No one ever calledI called three separate days

Richard Sp[ika
from Lombard, IL
On Nov 17th, 2017 I had a problem at MacDonald in Lombard at, rt38 and Stewart. The manager did a very nice job in rectifying the problem. She gave me two "Be Our Guest Free 4pc Buttermilk tenders, extra value meal" coupons which expires on 12/31/2017. Today on Nov 21st 2017 I go to the same MacDonald and try to use the two coupons, they advise me they are out and I would have to go to another location. I asked if your out than how can you fill the orders list on the menu in the driveup. Could not give me an answer.
I next stop at the MacDonald at Rt64 and Bloomingdale Rd and order two from the above noted coupons. They also advise not only that they are out but will no longer have. I questioned this as you can still get the four pcs chicken tender. They than said the promo was over, I advised them the coupons is good till 12/31/2017, something is wrong here. i told them I would be contacting corporate as they were unwilling to fix this. They had the 4 pc tender meal, all they had to do was make it a large fry and drink, DONE, They refused again to do even that, Rather than argue further, I am writing to you (Corporate). Several attitudes at this location were not very friendly, Will most likely not go back to this location! If this promo is truly over than why give coupons that expires 12/31/17.

Nelda Ervin
from Portsmouth, VA
My son works for London Blvd Location in Portsmouth Va 23704. The managers and team leaders there are HORRIBLE. My son been working for this company for almost 9 months now he only missed 1 day due to sickness. He had a really bad headache and cold. He was scheduled to work on 11/20/2017 from 3-8pm. He get right off of school and head to work. He was sent home because he was told to not leave the drive thru However he seen a new team member struggling he help her for a split second and returned back to his destination. The manager then sent him home. That is not a reason to send some one home especially when they already need all the help they can get. He was very respectful. A lot of the team members feel used and abused. The managers Monique and Vivian are very disrespectful and rude. Monique had a customer who made a mistake and drop something on the floor pick it up herself. Poor customer service. Most of them don't speak don't say thank you come again or nothing just hand you the bag and move to next customer. Mrs. Vivian is extremely rude she yells and screams at the team members. Please help and investigate. Some of the employees stand outside smoking weed.

Pat Wilson
from Charlotte, NC
The breakfast burrito is the most disgusting thing possible. It looks like baby poop. Runny, yellow with little pieces (very few) of i think sausage, hard to tell. The taste is as bad. If it is supposed to be egg, cheese and sausage it is NOT. I will never try those again. I love Burger Kings and thought it would be similar but not good at all.

PISS POOR SERVICE SLOW ORDERED A CHOCOLATE SHAKE WAS GIVEN A VANILA TOLD IT I WANTED A CHOCOLATE SHAKE LOOKED AT ME AND SAID THAT IS CHOCOLATE. I TOLD HER IM NOT GOING TO ARGUE WITH YOUR DUMB ASS I WILL FILE A COMPLAINT.
HERE IT IS .

linda wade
from Birmingham, AL
I went thru the drive thru approximately 30 min ago. I ordered a large sweet tea and a large hot chocolate.
I was told to drive to window 2 for my total.
I was very surprised at $4.72 for two drinks but paid. I was not given a receipt nor any change. Granted $.28 is not
much but it was the attitude of the guy playing with the other clerk as they handed my drink back and forth and ignored
the fact that I am watching them play. Apparently there is no management at night at the Tarrant location.
Not only did they play for several minutes before finally giving me my drink (which I ordered hot chocolate and it
was not even lukewarm. Appeared they used warm tap water to mix)
I dp not mind paying for what I order however, this is always the case. They NEVER charge me correctly for tea
at nite and apparently now you cant get ANYTHING there. No hot chocolate no change no receipt but the guy and
the girl can flirt and play and ignore the cutomer.
This is NOT ACCEPTABLE BEHAVIOUR in most business but apparently no one cares at the Tarrant location.

Ruth Steigerwald
from Littleton, CO
I was visiting a McDonald's on Monday at lunch time. I had my 2 year old granddaughter with me. I had seen a lighted sign that said "buy a happy meal, get one free" I made sure that deal was still good by checking with cashier Before I ordered. I ordered 2 happy meals and was charged $3.77. She gave me a numbered sign to put on my table, so food would be brought to me. I then went in the play place and let my granddaughter play. I was waiting for quite a while, which seemed like forever. Finally the lady brings me my food, no eye contact, and left to speak to 2 other people at another table. I then opened my burger and found that it was stone cold, and the fries were stone cold. And to top things off, I only got ONE meal. Not asked if I wanted apples or gogurt. I assumed she would come back and bring the other meal. But no. Problem was I had a very temperamental child, who would have pitched a fit if I had taken her away from her play. So I decided to take it up when we decide to leave. But by then, it had many customers coming in for lunchtime. It was 10:51 when we arrived. So there was no way I was gonna stand there forever while trying to hold my granddaughter. I also have a very bad back. I usually don't complain cause I don't like confrontation.. I let a lot go. But NOT this time. I was very angry. Another point, if I had to wait so long to get my food, you would think it would be hot. But it wasn't even warm. I threw it away, I would like to get this resolved.
Thankyou for your attention to this matter
Ruth Steigerwald
Have feedback for McDonalds?
Thanks for your feedback!
Sorry. Please try again later!