McDonalds
McDonalds Complaints Continued... (Page 1)
684+ reviews added so far. Upset? Call McDonalds corporate: 800-244-6227

Susan Kinsey
from Shelton, CT
Gone to this Mcdonalds many times. Store #6150, Milford CT. Tonight was the worst experience I ever had. Went through Drive-thru. Placed my order at 10:19 for two items. Told to pull over and the food would be brought out. Sat at window 5 minutes. The food was not brought out to me until 10:35 plus. Not acceptable.
Ate food on my way home from work. Order was wrong! Got a sausage McMuffin and bacon, egg cheese biscuit (wrong). I ordered the McMuffin and a McGriddle. Only ordered 2 items and they got it wrong. Took over 16 minutes to get the food. They weren't that busy!

sherman gibbons
from Brainerd, MN
received only a third of my fries and they were cold cold cold. was charged double and had to argue to get money back.. should i go on.. my grand daughter got about half her fries n were just as cold. probably never going back. took me eight years to try ur junk since the last time u pissed me off. u cannot call yourself a restaurant, maybe a fake one.

noel rodriguez
from Chicago, IL
I went to the McDoanld's at 3245 W. North Ave. bought 25.00 worth of food guess what happen with the credit card I gave. Decline I gave another 3 other credit card all decline. go to Burger King down the same street MY GOD The first card I gave at McDonld that was decline WORKED !!!!!!!
Please everytime I go there there always problems...either they leave off sandwichs or something....I live close by but I think that Burger King does a better job !! I KNOW YOU DON"T CARE !!!!!! GUESS WHAT I DON"T EITHER FOR YOUR STORE ON 3245 W> NORTH AVE EITHER !!!!

Jeff Lewis
from Kansas City, MO
I have to be at work at certain time in the evening, I send my surveys every night about my complaints. It takes 10 minutes or better for service in the drive thru at store number 10938. Last night I had to go in to get my order after ordering outside speaker and there was one person working the front line. Poor guy can't blame him when I came out the same seven cars still in line, also I keep telling in my surveys it goes a lot faster when they use both windows. The line person taking the money has to walk over to the front counter register pay and then back to customer with change than get the order, also the counter line window receipts have been getting where you can't read the print I ask for that to be fixed for over two months. The 1st window receipt looks great every time. The management has told me several time it's been resolved works great that night then back to always.
It's just not working for my working with the local management there, and I use this McDonalds day and night because it's close, only have this problem at night between 9-10 P.M. Hope this correspondence helps me thanks for listening love those cheese burgers. Jeff Lewis lucndoit@aol.com

Barbara Richardson
from Maryville, TN
I went through the drive through and ordered 2 double quarter pounders sandwich only. A single quarter pounder xtra pickles xtra onion meal with
and ex large unsweet ice tea. Repeated my order 3 times, got to the window, asked for her to repeat the order she said 3 quarter pounder meals
I said no and repeated my order again.
got to the window to pick it up it was wrong they called the manager the manager asked to see my receipt I gave him my receipt told him what my order was suppose to be and said look just give me my money back and I'll go elsewhere, He said well this is what I can do for you ,,,,, we never got
to the end of the conversation as I said this is not what I ordered just keep you're hamburgers and give me my money back as I had things in the car
that were melting he got all indignant and and walked away all in a huff- so here's the deal this is the 3rd time in 3 weeks that I ordered and not once was the order correct, this happened at 35773,2315
Market Place Drive, Maryville, TN 37802 phone number 865 982 7880 - July 20th 2018 at 3:45 pm can I blame the staff? well sure but in reality It's poor management policy, poor training., a lack of customer service a lack of taking pride in what they are doing and the manager on duty at that store needs to be demoted if not fired, This order came to $16.75

thomas wanko
from Granville, NY
poorchanges are made service at the Granville ny store. seems like my orders are always getting fed up pay for and do not receive all I paid for. this store has teenagers who value their social lives more than doing their jobs.I.am fed up with getting short end of my orders getting messed up 12 times in 3 years. I will not go back to this store or any other stores until

Ralf Toahty
from Dallas, TX
I ordered an ice cream cone from your Perry store just now and after I left driving down the road the cone was flat . Flat as in taste flat. And had a soggy rubbery texture about it. I can't find the store number when searching so I made the complaint here . Maybe let them know their cones suk. At 1.30 for an ice cream you get to hear it . Thanks

Jeff Carpenter
from Alliance, OH
I ordered a quarter pounder and my wife ordered chicken nuggets. Her nuggets were raw and disgusting and my burger was soggy and had a 20 inch hair in the middle of it which I discovered the hard way through choking and pulling half the length out of my throat with food still attached. The other half was still anchored inside the burger. I showed the contamination and demanded my money back and they said it was against company policy. Against company policy to return my money that I paid for them contaminating and undercooking my dinner. Unbelievable.

I AM ZIONSDAUGH2ER
from Fort Lauderdale, FL
ON JUNE 29/2018 I WALKED INTO THE MCDONALDS RESTAURANT- NUMBER 32379 ON PALM AVE/MIRAMAR, FLORIDA @ APPROXIMATELY 10:17AM; PLACED MY ORDER AT 10:22 (DUE TO A SHORT LINE OF PEOPLE ALREADY WAITING) BUT DIDN'T RECEIVE MY ORDER UNTIL 10:33AM..WHICH IS ABSURDLY, RIDICULOUS!!!!!!!!!!!!!!!!!!!!!!!!!!! I NOTED TWO (HAITIAN) SUPERVISORS/MANAGERS THAT WORKED THIS PARTICULAR MORNING. BOTH SEEMED DISCONNECTED IN THEIR OVERALL DUTIES AND PERFORMED FLOOR TASK TO A BARE MINIMUM. WHAT THEY'RE HAUTINESS DID ASCERTAIN [TO ME PERSONALLY] WAS THAT THEY WERE IN CHARGE. INSTEAD OF ASSISTING IN THE PREP SERVICES WITH STAFF, THEY SLOWLY FLOATED BACK AND FORTH IN THE FRONT. WAVERING OVER THE SHOULDERS OF THEYRE SUBORDINATES; WITH LITTLE TO NO HELP AT ALL. I FOUND THIS TO BE TOTALLY DISGUSTING AND WAS OFFENDED FOR THE WORKERS THAT WOULDN'T OPEN THEY'RE MOUTHS!!! PUT SOMEBODY ELSE IN CHARGE. THEY ARE AN EMBARRASSMENT TO THE DILIGENT REPUTATION OF THIS COMPANY AND SHOULD BE REPRIMANDED FOR LACK OF LEADERSHIP DISPLAYED AND POOR MANAGEMENT SKILLS.

Deanna Reich
from Houston, TX
First of all, as I approached the counter I wasn't greeted. Instead a manager yelled for the cahier to get on her registar. Then as I ordered the manager again yelled at the cashier as I had paid for sundae but wanted it after I The manager said to cashier why didn't you tell us this before. As I went back to get ice cream sundae, they did not even give me a full cup of ice cream. Another young man chimed in when I asked her why isn't the cup full. He said they got in trouble for filling up the ice cream. I took a picture of the ice cream and will be sharing it on my social media page. The behavior of this crew is loud and disrespectful. They completely lack customer service skills.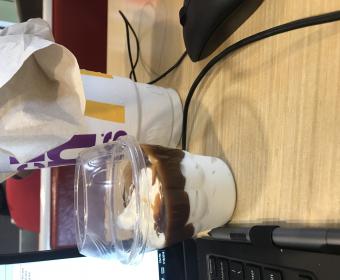 brian hannanm
from Halifax, NS
I was in Halifax for the day and decided to get a take out meal a one of your stores. I asked for no cheese because I am lactose intolerant. by the time I noticed that there was cheese I was some distance away from the store and could not return to get I new meal. I felt that I was robbed of my meal because I couldn't eat it with cheese on it. thought you should know that your employees should watch the screens more closely

LIONEL CROOKS
from Lakeland, FL
4 items on the dollar menu= 4 dollars
same items as a meal $4.39
why are they charging more for the meal when the items are on the dollar menu
specifically the burrito breakfast meal

Gayle Jackson
from Greenwood, IN
This is my last complaint it's pretty sad you are right next door to me and I have to take my business else where. I don't just complain, I am letting you know where you lack in customer service and believe me you restaurant at 31 and declaration drive is in need of people who care if I get an egg muffin that is so hard you couldn't eat it or that I came there with my grandson and waited 45 minutes in a parking space for food that was lost or never cooked and asked for a call back from the manager and never received it, or we got a frappe and the cup was cracked we took it in and it took twenty minutes to get another one when they could have just poured it into another cup maybe it's all due to poor training, it's not my job to figure out why it's so bad there it starts with the manager and when it gets so bad I guess the owner should look into it . I have known Paul and his family mom and dad, brother for years back when they were my customers at jerry's restaurants they are good people and good business people! So I believe they or Paul will take interest in what I have to say. Thank you Gayle jackson

Vickie Bennett
from Detroit, MI
Went through the drive thru first off no greeting just opened the window took my card went to 2nd window same thing no greeting no thank you come again NOTHING. Went back to hotel which is right behind McDonald's fries were cold and my quarter pounder was salty needless to say no happy with all the choices around I chose to go there but not again... They need help with customer service and in the grill area.

I'm a disabled veteran. Proud of my vet status too. I wear a vet cap everywhere I go. So ppl KNOW i'm a vet. Went to their drive thru. Unbeknownst to them, while I was sitting in the Drive thru (two lanes I'm in left one and only person ahead of me in that lane, five or six cars are in other one. My fr's were inside the store.) So I get in left lane, the car ahead of me pulls off, and I pull up to the box, and the employee asks me to wait for a few seconds. Ok fine I can wait a few seconds. So while I"m sitting there, the cars in the right lane, ALL get their orders taken and I"m still waiting wth? So finally I get fed up with waiting see my fr's are out anyhow and so I pull up to them. That's when the "prblm" began. They informed me, this employee had seen me pullin in, seen my vet cap, and had asked me to wait on purpose, and was inside laughing, about me waiting while others are getting their orders taken. Since this is how McDonald's treats veterans here is what I have decided to do. A: I am affording McDonalds time to respond to this complaint. Before I pursue the matter further.

Darell Leurquin
from Green Bay, WI
We went to McDonalds on East Mason St. in Green Bay Wisconsin. We got ice cream. The difference in price between different McDonalds is appalling. We seen a big billboard along side the highway advertising a $.59 cone. We were charged $1.19. What's up with that? Should'nt they all be the same? I would love to know why. That was quite a shock. Also the sundaes didn't come to the top of the bowl. Not happy.

Richard roussellr
from Biddeford, ME
My wife and I went to your macdonalds in Biddeford me. I ordered a quarter pounder and my wife ordered a sausage biscuit sandwich. After waiting about 10 minutes and watching your emplyeees just fooling around, they came back and told us that they were out of biscuits. Well we ask for our money back, with the promise of never going back. You need to hire managers that do their jobs, instead of just fooling around. We will never go back to your restaurant again. You need better management. Thank you for lousy service.

debbie best
from Chino, CA
I am extremely upset over the poor business practices of McDonalds on mission and Ramona in Montclair calif. I got buy 1 get 1 free quarter pounders they didn't honor.. I got them there.. then I used mobile app for coffee get 6th free scanner wouldn,t except it free...I tried to use the $1.00 sandwhich they honored 1 time now the guy says scanner doesn't except your qrt pounder sandwhich..........seriously they are scammers.. I am disabled and I look forward to eating out once in awhile and on a very low income they make it hard for me to treat my grandson who I am raising...this is crap..........ty

amanda derise
from Wheeling, IL
i went there to order a drink first my order was wrong to fixed it then get to next window and she was giving me a medium drink with no ice I ordered a large coke with extra ice she fixed it but had to redo it cause she put no ice in it she was very rude. I only get to work and realize its flat.

Sherri Edwards
from Lexington, KY
I went to McDonalds on 7/14/2018 I order the new Quarter pounder single. When I got home and bit in to my burger it was RAW inside and I tried to contact them by phone and no answer. Also I have been calling Corp office No answer.

johnny contreras
from Alamo, CA
I had ordered my food and was waiting go my order and 15minutes had gone by then 30minutes had gone by so I asked about my order and they said it got canceld so they asked what I had and I told them and I got home after about an hour of heating and did have all my order that was the worst visit I ever had at a McDonald's it was # 26873 I will not be going back to that McDonald's again.

Clarissa baker and James sawyer
from Port Angeles, WA
Me and my girl went to McDonald's in sequim and are food was not cooked all the way I got a new one and my girl eat hers and she gave it back and got her money back we are sick now.

Justin brooks
from Indianapolis, IN
My wife and daughter and myself went to McDonalds in Glenwood, AR at approx 7:10 p.m. on Thursday, July 12th . We went through the drive thru and ordered exactly this
2 mcdoubles
2 mcdoubles mayo onion only
3 small fries
1 large coke
2 apple pies
We sat in the drive thru for quite some time (approx 10 minutes) and received our order incorrectly. We got 4 mcdoubles mayo onion only and all the rest of the order was correct. When we then had to come back to the store to get burgerss corrected, the inside was completely empty. Not one customer inside and we had to wait extremely long for our food. And then given the wrong items to then be treated like crap. The burgers yanked out of.my hands and chunked in the trash right in frobt of me. Very rude. And to think, McDonalds is one of the only fast food restaurants in our small community to choose from. But they make it really easy to avoid them at all cost. Customer service is horrible and food is consistently incorrectly made.

Mary Ann Federico
from Winter Garden, FL
Cocoa fl,went in for a fish sandwich no cheese xtra target sauce,they were charging me additionall 45 cents for a condement,that's like charging xtra for kethup. Needless to say I did not stay cancelled my order and left, I will not pay extra for a condiment I just won't go there I mean the sandwich itself is 339 and its barely the size on the regular $0.89 hamburger.

Love McDonalds but ate and used the restroom at McDonalds in Le Mars Iowa. The bathroom was disgusting!!! The general appearance of this location floor and tables was not as clean as I would be comfortable eating at. This happened July 12 around 2 pm. Thanks and not the first time I was not impressed with that locations cleanliness

Debra DuBois
from Millbrook, NY
Hi, Iam writing this this morning my daughter was having a problem with her bank card .She goes there 4 times a week for my granddaughter they gave her food and then took it back , my granddaughter then was so upset, the thing that bothers me is i know that everyone has to pay, just don't know how they could take it back it was for only my granddaughter they went to the bank which is two minutes from there and then returned and got the food , she is only 4 years old and didn't understand there are good people in this world and she would of came back and paid, again all the hurt that was done all over a breakfast just upset me and was wondering if there is such a policy for customers that they see often Thank You and have a great day.

Larry Parker
from Fayetteville, NC
I am upset with the small amount of gravy that my local McDonald's at 3000 N. Main Street in Hope Mills NC 28348 -#5749. I have been informed by employees at this McDonald's that they will start giving you a reasonable amount of gravy on your Sausage Gravy Biscuit. Last week they did just that but this visit 07/11/2018 I ordered the Sausage Gravy Biscuit and there wasn't even enough to cover one Biscuit. When you complain and ask for more gravy they will charge you $1.00 more. I don't have a problem paying you $2.79 for the sausage gravy biscuit ,so you should at least allow me a reasonable amount of gravy on my order. Sincerely, Larry Parker , 914 Linda Ave. Fayetteville NC 28306.

Bonnie Van Pelt
from Mesa, AZ
While across town on my way home I stopped at 1785 e University in Tempe Az. store #22111 @ 5:18 p.m. used drive through, lobby was closed. orderd a bundle. As i got home to enjoy my meal with my family we notice that the big macs only had one hamberger patty. I called the # on the reciept, 480 446 8619 three x's with no answer. Again across town, no answer by phone, lobby is closed. Very disappointed. Ate anyways we were hungery. F.Y.I. KS# 13 07/11/2018 05:18 PM side 1 order 19 surveycode 22111-13190-71118-17182-00140-4

yes, today July 10 th at 9:03 am pulled into the McDonalds on 9mile in Eastpointe MI. to get a sausage mcmuffin before work. i pull up to the drive thru window. There is a hand written sign out of order pull to the 1 st window. Had to wait 13 minute while the car before me was searching there car for change. I pull up to the 1st window, there is another handwritten sign that states "exact change, debit or credit card only." I ask the attendant i only want a sausage mcmuffin can you brake a 5 dollar bill. She stated nicely Did you not read the sign. I state yes and thank you then left. I proceeded to Tim Horton's I guess my question is, this McDonads was open at 6 am how many customers did it lose to Tim Horton's, that is only 7 blocks away,because the had no money to make change.Did no one know how to open the safe. Did know one try to go to the corner store to break a 20.00. i am sorry but there is no excuse. Thank you for your time

peggy booth
from Sevierville, TN
McDonalds Rest. 1977 Cumberland Falls Hwy., Corbin KY.........................
My husband and I stopped in Friday July 6th around 1:00 AM right after midnight on Thursday. Ordered four cheeseburgers and a large order of french fries. Paid young unkempt man at window.
Drove to next window and noticed more young unkempt people behind counter. Didn't notice any McDonald uniforms on these people. A young female had a sleeveless dress with criss crossed wide straps in the back exposing her bra. We commented to each other about the young people and the unprofessionalism. We recieved our food and left.
Luckily, I decided to get my burger out and eat it in the car. I opend it to remove the pickel and found there was NO MEAT. . My husband told me to check the rest of the burgers. Unbelievably there was NO MEAT on the others and the fries were barely warm. Needless to say, we drove back. Explained to the young woman that there was no meat on all four burgers. Her comment to us was that the cook was very stupid and that he was the dumbest cook she had ever known. (not making this up people) We let her know the fries were barely warm. She said they were going to get right on it and get us taken care of. She asked us to drive forward and wait. We waited and waited until my husband became impatient. He backed the car up to the window and asked the young man what was the hold up on our order. He said it was coming up in a minute.
We waited and waited again while looking at the young people behind the counter talking and standing around.
Finally the order came. We checked and found hot fries and meat on the burgers but no napkins or the extra ketsup my husband had previously ordered.
This is by far the worst McDonald's we have ever visited. Can't imagine what the restaurant looked like inside. The owner needs to know this and the manager should have approached us with an apology. Whew!

Oscar Albarez
from Van Nuys, CA
Mc Donalds located in California city ca on 9628 California city blvd. Have been using $1 dollar Sandwich. Coupon located in Mc Donalds app, and have been purchasing a Quarter pound with cheese that is supposed to be 100% real beef but actuall have been using leftover beef to serve the $1 dollar sandwich for the quarter pound with cheese.

MICHELLE SUTTON
from Cleveland, OH
Please advise the best time of day to visit this restaurant for good food or good customer service? I haven't found any time of the day that the restaurant personnel are courteous or helpful! I went through the drive thru at 9:00 PM tonight (07-06-18) and could not see their menu board due to NO LIGHTS on any of the menu boards. I asked that the lights be turned on and they could not do that! The lights may be on a timer but they should be on by 9pm and if not, the timer needs changed.
I wasn't sure what " type" of shake item I wanted. Order taker said SHAKE MACHINE WAS DOWN!! This is the third time I have gone in at different evening times and the shake machine has been down. The shake machine could be put on wash during the times of 3:00 am or 5:00 am and it would not create a problem. I told the order taker well I can't see the menu board and you don't have any type of milkshakes so GOODBYE! Ridiculous!! This would be a "good place to start a restaurant!" I speak from plenty of restaurant management experience as I was the manager of several restaurants and have 10 years management experience. I was paid well, respected my customers and my restaurants made money. Thanks for listening, Michelle Sutton mybadcat@yahoo.com

Joe Woodle
from Mullins, SC
I visited the McDonalds at 2014 Irby St. Florence, SC today and the service was pathetic. On top of getting my order wrong, it took at least 10 to 15 minutes to get my order, there was only one other person waiting inside the store. It was hard to understand why it was taking so long because there were at least 10 associates standing behind the counter (not including the cooks and sandwich artists in the back). The manager and assistant manager were among the 10 associates. If this store makes any profit it is a wonder. The owner of this franchise would well served to take a good hard look the operations at this store.

Thomad Anderson
from Tacoma, WA
I've been going to the same restaurant in tacoma wash.980404 on 72nd pacific ave.I order sausage egg mc muffins 2 for about year and a half my complaint is more then not most visits the muffins are so hard you cannot bite into them I've brought this to the attention of so many different mangers .some replace the food some say bring in the receipt I'm always in a hurry not looking for free food I just can not understand how a muffin could get that hard it's been a constant problem I've worked in many restaurants it's pretty hard to over cook a English muffin unless it's burned and I've received both burnt and stale hard as a rock wouldn't give it to the homeless person.that should say a lot you have a problem I will visit one more time and if I waste almost $7.00 on 2 more inedible mc muffins I'm done with your business sincerely Tom at pensharpen@hotmail.com

James hilliard
from Wheeling, IL
The bacon mc double are ok but the bacon is like eating rubber most of it is fat. On your app there are No prices for any of the Coffees and doesn't McDonald's care at all how each and every store are being Operated !!!!!!!!. Plus the McDonald's that I go into there is little or no real management.

Oscar Alvarez
from Pacoima, CA
Received a phone call at approximately 10:49am from a person named Ashley concerning some feedback I provided to the customer service number at 18002446227, ashley said to mention the name Ashley in mc donalds when ordering and also mention that Ashley said an ice latte would be on the house. So i did today on 6/30/18 in the morning and received a plastic cup with uknown substance Inside not a latte at all. Appreciate the gesture but it was an uknown substance and that I do not appreciate.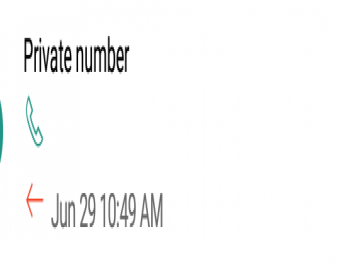 Bonny
from Johannesburg, GT
I was in the shop to buy food for my family and i have received a very poor service. I have asked for manager and they Refused to call him or her for me. We were left unattended without any notice for more than 5 minutes. I have sent The lady called Goitse, Mpho and to call manager the just ignored me. I am so disappointed really about the poor service. On top of that o have waited for my order for 45 minutes no communication. I have also spoken to the guy called Ditiro and he told me that Manager said he or she is busy. Is this how you handle your customers. A guy called Eliot attend me only after i have sent my complaint. I will never go and buy there and i will not recommended anyone to buy there. Disappointed with poor poor poor service. If you think i am not telling the truth sent unknown person there and this is not for the first time.
Regards
Bonny Molale
076 861 5162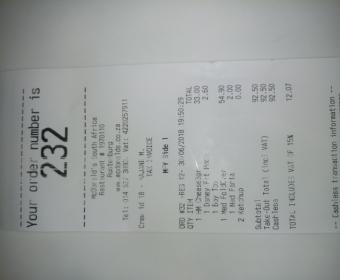 linda garrett
from Cleveland, OH
food all over the place, floors greasy and slippery, fry girl told the order taker to stop taking orders. out of 8 beverages all were water except for three NEED I GO ON? I WILL NEVER GO BACK THERE ONLY IN THE WHITE NEIBORHOOD DO YOU GUYS CARE ABOUT BECAUSE I HAVE CALL ABOUT THIS BEFORE SO GOODBYE TO MCDONALDS

Bobby Adkins
from Marietta, GA
worst svc. ever = I had to wait over 15 minutes to receive my order + a 5 minute wait just to place the order
all in all = it took over 20 minutes to receive my simple order of 2 mcmuffins = all of the workers are evil obama clinton
deep state democrat racist scalawags who hate white americans = like myself = I will HATE mcdonalds for all eternity
you evil basdtards are ALL evil "obama-clinton" democrta communist nigger nazi thieves = damn you bastards to hell!

Louise Healy
from Tucson, AZ
Yesterday I went to the Mcdonalds at Park Place Mall in Tucson, Arizona; there were about 4 people ahead of me; while I was waiting I saw that one of the customers before me had 9 individual orders; each with its own money; the line was getting longer and the gentleman working the counter did not get more help to move this line along. After standing there for 20 minutes; I gave up and left even though I really wanted a Mcdonald's Fish Sandwich. When I looked around a little while later; the person with the 9 orders was waiting for the orders and the line has not gone down. In my opinion this was not what I would call fast food. if you have to stand and wait to order for a long time; that is bad. I will probably not ever go to that
Mcdonalds again and that's a shame because I happen to like their food. Could someone please contact me reference this matter; it was very disappointing and I don't know if I would recommend that place to anyone.
Thank You
Louise

Mary Pandey
from Elyria, OH
North Ridgeville, Ohio Lorain road location. Double Quarter Pounder was RAW... Took it back in and did not get a new one. Left disappointed.

Carol Spencer
from Jerseyville, IL
I am a regular at McDonald's. Coffee at least 3 times daily. I take my grandkids there and often grab a sandwich for lunch. Jerseyville, IL McDonald's has to be one of the worst..Often times, no complaints. However, the last month service has gone very poor.. I always get cream in my coffee.. Many times, 3 to be exact, no cream when I get my coffee to work. My granddaughters happy meals are not complete.. No fries, wrong items, etc. The turnover of employees seems to be very high... Today, I experienced the same thing. One poor girl working who appears to be training two new employees at one of the busies times for drive through.. I no longer see any familiar managers.. I think I need to look somewhere else for my coffee fixes...

boo bob
from Fort Collins, CO
Specifically referring the the south college mcdonalds in fort Collins, Colorado. they are going through yet another remodel and choose to stay open even though it horribly inconvenient and a disservice to their customers. the customers get nothing from this remodel, could care less what the building looks like. on top of this they have raised their prices again. they are thieves who think they can charge whatever and treat the customers poorly. I will go elsewhere, the food is very low quality, hamburgers so thin you can see through them and grainy. awful

Nancy moreira
from South Weymouth, MA
I purchased just a lg. hot coffee at rest.#2599 at 10;08 am.When I got back to the car and went to put the cup in the car cup holder,it popped open and sprayed hot coffee all over my car seat and my hand.I doused it with bottled water I had.it turns out that the paper cup was damaged on the lip and that is why the lid didn't fit correctly.My hand was painful and red the whole morning at work.

Barbie
from Milwaukee, WI
I just had a new quarter pounder and it was the worst thing I have ever had. The burger was dripping in grease and I had to use napkin just to eat it and catch all the grease. Could not even eat it. It was dripping grease all over me and my car. If you used quality beef there should have been that much grease. Come on this is not healthy. Never will have one again. Thanks for listening!

Roger and Pam Dalrymple
from Chantilly, VA
I would have given store 3663 in Westminster Md. 0 stars if that was possible -- the poor service, long wait, and poor quality of the food when we finally received it on 12 June was brought to the attention of the store manager, with many promises by him to make good by sending us a McDonalds gift card, to be used in any store -- to date, nothing has arrived -- the last message we received said the card(s) had been mailed on the 20th, nothing has arrived as of the 27th, and most of our inquiries go unanswered. Clearly not high on his priority list. We are asking for the name and contact info for the district manager, and/or of the owner, and are asking for any simple resolution to our request -- it's time for McDonalds to fix this. Thank you.

sherry
from Pleasanton, CA
Out here in Rwanda CA. Wanna the manager won't serve the home less for the past for years this is been going on so much tussle there's a bout a forget of us or more where going to the medeia

Milton Wilcox
from Foster, RI
I asked the weight of a mcdouble hamburger patty and it was a problem telling me. It was a simple question

C. Barth
from Chicago, IL
McDonalds Restaurant #12157
Mequon, WI on 6/22/2018 @ 9:55am
Upon entry the crew demeanor was horrible! No one smiled, no one seemed in a hurry to place my order. There was one person waiting for their food already. One female worker with an attitude , who I am assuming was trying to go on break, was standing about 4 foot from the cash register we asked if she was waiting she told us to go ahead. We stepped to the register to place order and a guy (who I assume was still training) had the register open attempting to break a coin sleeve he closed the register and very softly spoke while still holding the half opened coin sleeve. I told him I could not hear him so a tad louder he said "go ahead".I told him I wanted 2 sausage egg muffin meals with breakfast sauce and one with a coffee and the other with an orange juice. He looked at me very confused and said "two sausage muffin meals?" I said yes he said "oh I put in 3." At this point a few other customers walked in and the lady that was trying to go on break walked back around the counter, with an even worse attitude, to assist the guy with putting my order in. I had to repeat my order another 3 times and just to be told they didn't have orange juice. Meanwhile, a few other people walked in to order and one lady asked if they could open another register and the female worker just looked at her with an attitude and shook her head. I said oh ok then a milk. She told me my total and then walked off. I used my debit card to pay and then the guy handed me my the receipt and said have a nice day. At this point I was waiting for my food to come ready. Two different people from the drive though came in to get their order corrected. Another worker walked in to start her shift who also had an attitude, started to ring people up. Not once did she say hello to anyone or smile. Several people told them they were out of ice and lids. Not one worker said sorry or went to stock the empty stuff they just took a lid out of a sleeve from under the counter and handed it to the customer. Now, there are about 8 people waiting for their orders. Three people received their order before me due to the drive through girl clearing my order before I received it. The worker that was trying to go break ordered her food and went and sat down. The worker who had just clocked in a few minutes ago kept playing with her phone and even had her phone sitting on the counter next to her register. When she wasn't playing with her phone she either had her arms folded with a horrible look on her face or was too busy with her hands down the back of her pants trying to pull them up or whatever it was she was doing. Either way, that is absolutely unacceptable!!!! I do not want you handling my food or drinks or touching anything after you just had BOTH of your hands down your pants!!! It took 18 minutes for me to receive my food and then I still hadn't been given my milk or coffee. The front end manager handed me the drinks and I had to ask to get creamer. She had 3 very long fake nails and the others were missing making me wonder if they had fallen off in someone's order! Out of all the customers, I was the only one who was apologized to for the wait. As a former McDonalds employee, I know the standers that are expected of the employees. NONE of which were met at this location. Not one employee seemed to want to be there nor do their job. I know times can get busy and hectic but that still do not excuse the lack of worker ability nor customer service. The only crew member that was attempting to hustle was the back of house manager making the sandwiches. The women's bathroom had urine on the floor and needed some serious attention. The food and coffee was barely warm. As many of McDonalds I have visited in my life, this location is BY FAR the worse!!!!! This entire crew, minus the trainee, needs a serious attitude adjustment and need to be re-education on what customer service means and the expectations of the job they were hired for!!!!

Paula Smith
from Florence, KY
Your McDonald's store on dream street in Florence kentucky is the worst. I went there on June 15, 2018 at 9:30 pm . I was in the drive through for 30 minutes and when I did order the manager said there was only one other person working there besides her. She told me that she was going to close. That store lost so much money that night. The drive through was all the out to the street and a lot of them were leaving because of it. Someone needs new management. Sad very sad....

Anthony Arnold
from Fort Wayne, IN
I have lost all confident in the two McDonalds that we have close to us as they just don't care about the customers and the stores are ALWAYS dirty and can never find a seat and that they only care about drive thru. Its too bad you don't have someone who can impersonate a customer and see it thru their eyes as this will tell the whole story.
I have work in food service most of my life, and it's an embarrassment to see how these stores operate, and if there were competition in the area they would not be in business, as people deserve to be treated as guest not just another number on the screen.
One of the other stores that we visit we waited 30 min just for a plain chicken sandwich while fifteen other tables had been taken care of, when I talked to the manager on duty I was informed that they were short staffed and that they apologized but if I had any time to eat somewhere else I would have but instead my 30-min lunch break was over and had to eat on the run and ended up buying a Snickers bar just because I would not have time.
I hope this response and survey doesn't land on deaf ears as I feel it might, because the bigger a business becomes the less important a customer will become and more important is sales.
Please PROVE ME WRONG!!!!!!!!!!!!!!!!!!!!!!!!!!!!!!!!!!!!!
I submitted this complaint to McDonalds and they NEVER Followed up on this as I guess they would. God I hate being right.

Gerald Robinett
from Auburn, WA
I went thru the drive thru ordered a double quarter pounder meal with a coke went fine got my food pulled over in the Walmart parking lot to starting eating my meal Now I eat all my food before drinking anything so when I got to my coke and took a big drink and wow to my surprise my was not only coke but it had whiskey or rum in it and strong too at first I thought I was crazy so I took it home to have my wife taste it and she was surprised as I was it definately had alcohol in it I called the Spanaway MC and reported it to a manager she told me she was going to tell the other manager and would review the camera footage she took my name and number but I have yet to hear anything from them I have the coke in my fridge I'm not sure my next step is going to be this is a really serious thing and should find out how who and why someone put alcohol in my coke just lucky this time it was not a child who received this coke

Lori Petlock
from Hollidaysburg, PA
The person who took my order at the drive through window at station mall, Altoona, pa 16602 on 06/12/18 was very rude by making me feel rushed to order, extremely poor hygiene, and handed me my change and turned and walked away without saying thank you or have a good night. She seemed so disgusted that I was there to order food. I will never return to that location ever again.

Ray Tutor
from Glen Allen, VA
Waited in the drive thru of so minutes place order still waiting to pay get to window to pay waited some more get to next window to get food gave me my drink ask me to pull up they would bring food out. Waited 12 minutes they bring me my food. The food was cold not warm why did I have to wait 12minutes to get cold food . Extremely dissatisfied very poor service.I
Restaurant #17539
893 Garrisonville Rd
Stafford Va. 22554
Ray Tutor

greta bircheat
from Bowman, SC
2 drive through windows creates confusion for your staff in keeping orders straight, 4 out of 10 orders are not correct;correct (sounds like a small % ); however. when you live 12 miles away, it becomes a wrinkle in your day. My 9 year old grandson, a pain when his food is not right, likes plain burgers with cheese ( never eats bread) frequently has to have his fast food washed off and re-fixed at home. I have learned to pull over and check each burger before I leave. June 9th his burgers were wrong again so I drove around again, The order girl asked if I was the burgers and mocha, I said no 2 plain double cheeseburger; she said drive to the next window, At the 2nd window I was asked if I was the burger and mocha-repeated my order-she asked if I had my paper - she closed the window then returned with a bag, When she handed me the bag, I was trying to return the other food, she closed the window and walked away. I pulled down and checked my order and found 2 plain burgers in the bag instead of 2 plain double cheeseburgers. At his point I was to mad to go back and talk. Your staff at the windows should practice customer service and learn to smile and greet customers..People should feel they are welcome at McDonald's even if orders have to corrected.My grandson thinks we should eat more chicken and tacos until they learn how to get the orders right

FRANCIS J NICOLO
from Rural Valley, PA
I'M A US NAVY VET AND ON MY WAY HOME STOPPED AT MCDONALDS IN ST MARYS ON JUNE 8TH FRIDAY AND PLACED A ORDER
BETWEEN 1:30 AND 2PM, I WAITED 40 MIN. FOR A FISH SANDWICH AND FINALLY WENT IN TO COMPLAIN AND THEY PROMPLY
GAVE ME MY FISH SANDWICH AFTER I COMPLAINED, NO EXCUSE FOR THAT, POOR MANAGEMENT I WOULD SAY, SURE PEOPLE MAKE MISTAKES, BUT UNACCEPTABLE IN THAT PLACE OF BUSINESS, I BELIEVE THEY FORGOT AND I WILL NEVER GO IN THERE AGAIN, I'M SORRY BUT THATS THE WAY IT IS, BEST WISHES, FRANK.

Theresa Ann Burkholder
from Lancaster, PA
I was at the north reading rd Ephrata Pa McDonlds this morning and I sat in the drive thru line for all but 20 min. They only had 1 person working both windows and when I got my order (after I had driven away) I noticed my order was even wrong! This is ridiculous that they only have 1 person working at 7:30 in the morning!!!! I will probably not go back there!!
Theresa Burkholder

Michelle McKinnie
from Crete, IL
Good Evening, I am writing this letter to file a recent compliant. I went to the McDonald's in my neighborhood today 6/2/2018. Unfortunately, my experience in the drive thru was horrible. I sat in the line from 5:44pm to 5:54 pm just for a Southwest Salad. I am not certain what is going on with this McDonald's, however this is not expectable for a Fast Food restaurant. Possibly this site needs additional help? I know this is not how McDonald's wants to be recognized. However, this has happened on numerous occasion1s.
Richton Park-McDonald's ILLINOIS 60471

Brenda Batey
from Anniston, AL
I contacted the store directly and the manager had a awful attitude after 3 attempts to get what we wanted I called to discuss the issue an the manager who stated her name was Susan was sarcastic and very rude and would not resolve our issues nor did she want even talk about it she rather argue than try to explain to me that they were wrong so we paid for three items that we did not want nor do we order and she did not even attempt to fix it, sad that a manager is so childish an would rather talk over an I've worked in the restaurant industry for 25 years an never have I experience a manager that was an awful as she was,so we spent money on 3 items we didn't want nor ask for because we did not know the proper name of the coffee the drink that we ordered she refused to even look and she kept saying we don't have frozen coffee instead of explaining to me that their coffee was called certain things she wanted to argue about it, pathetic service when management can't control themselves 1 even 2 mistakes but 3 an to then have her conduct in a manner to which she did ,maybe McDonald's has just taken anyone who doesn't remember there job title and how to act,I've dealt with employees who had more common knowledge than her,I've been a customer for a long time an I'm ashamed of McDonald's an who they allow to resolve issues,very dissatisfied an shocked at this type of behavior she might not care but I work hard for my money an this is has a feeling of takin my hard money from me an didn't care shame on u

tonya trail
from Oxford, MS
They blocked off all the doors and said the lobby is closed and it dont close till 5am here. Then after they said they was closed they let people in but not me i feel like they was being racist toward me me cause im half white. And they told another lady they was closed too. A black couple they let in. There something needs to be done bout this. This is at your marion sc 29571 location.

Shaun
from Johannesburg, GT
Every time we come to Mc donalds by the entrance by carnival mall, which we visit twice a week they tell us that we need to go and park something doesnt work, but everything outside work and the card machine, is this purr laziness or what??? Also what happen is that u can place an order by the drive thru and pay then they will tell u to pay and go park when there is no one infront to wait for an order!!! We are a family of 5 and spend alot of money there and like i said twice a week, but this is getting out of hand and if this wount change we will rather drive to another mc donalds.
From a very very unhappy customer!!!!

Carol Phillips
from Portsmouth, OH
quarter pounder with cheese was not cooked completely. This has happened twice--yesterday, May 8, 2018 was the second time.
as expensive as these are, I do not appreciate having to throw 1/2 of it away.
this happened both times at the Mc Donalds in Thurman, Ohio.

Joyce Sankus
from Linville, VA
I placed and order when I got to the window to pickup I was told that the French fries were cooking would I move up. More than happy to wait for fresh cooked hot fries. To my surprise when I was given the bag the fries were not fresh cooked infact they were cold, (very cold) This is the second time I have not been happy with this McDonalds.

merle Overton
from Greenville, NC
this is the second time this has happen at the Mcdonalds on Greenville Blvd, Greenville, NC. Service was very slow and employees not friendly at all.
I ordered a large Moca Fappe, it was in al large cup but only about half full and whip was then added to make it look like it was full and the whip was not even at the top of the large cup. When I questioned if that was large I was told very rudely that it was. this is the second time I have gotten less than a full cup. thought maybe the first time was by accident so I did not say anything. I did not say anything then since it was packed with customers. I eat at Mcdonalds several times a week and was very sadden by the service at this location.

Don Myers
from Phoenix, AZ
I ordered the Big Box, extra plain burger and large f2f at 5:30 p.m. after approx. 20 minutes I went to manager asked if my order would be ready soon. He said "I thought that one had been served". I said "no I`m still waiting". Finally got my order at 5:53 p.m. From the temp. of the food as well as taste I believe they found my order sitting waiting to be served and they gave me my order that had been sitting for at least 20 minutes. There was no apology to go with my cold soggy ff and burgers no "sorry for the wait to go with my hard stale hamburger bun.
It was Restaurant #4518.
Don Myers
reggired69@cox.net

Atif malik
from Islamabad, IS
dear mcdonald my name is Atif malik Deputy captain of the army from askri 14 rawalpindi 03415772011 Today I went to your branch at jinnah park rawalpindi I am going there for eight years But today, for the first time I feel so bad there There was one of your female employee Naila This name was written on their shirt i was so hurt today by listening to such a dirty language With McDonald's Staff That my heart is broken today after going there That's why I can not go there with my family So please keep your quality as the first Otherwise we have some other options.

Stephanie hanway
from South Sioux City, NE
You gave us coupons so we could try McDonald's in Sidney me again no grilled chicken again this time machine broke what is wrong with this place

Ernest Anthony
from Franklin, NC
Bad meal didn't eat it about $8.50 want my money back April 14 at about 12 sylva NC 28713
today I ate at other place not a MCD
Ernest

patricia price
from Cincinnati, OH
it mcdonald on 5341 glenway cincinnati ohio i go to mcdonald a t least for 3-4 time a week because it right down street from me i have lot restaurants around me burger king/rally/subway /firsch/plus more i choose mcdonald lately i have not been complaint but this time your third shift is very bad about 5:00 in morning on saturday morning i alway stop at mcdonald before 5:15 in morning because i know it take at least 15 minute for order i was there on 4/21/ at 5:19 am no one didn't answer for a least 5 minute so i waited a couple x minutes no answer so i drove around to place order inside the door are lock and said on your door that they open at 5:00 am so knock on door they walking around like zombie didn't response so i call no answers call again at 6:45 no answer this time really disappointed at customer service i work at hotel front desk so this business is 24 hour so can imagine i not at front desk for 5 minute when a guest come up to checkout or not answer phone i in business of make sure guest is taken care of i have so very bad time to but i smile and deal with it that business you in with customer service

dora steele
from Jackson, MI
i went to drive thru at 1130 on 4/19. my order was wrong The fries were old and the nuggets were hard. I tried to call that night but didnt get an answer. So i called the next day and talked to the night manager and he said he would replace my meal. I went up there showed my receipt and first the lady manager acted like I was lying and she was very rude. The night manager finally figured out who I was. I waited for an hour to get my replacement meal and then they gave me the wrong size fries. I asked for a cup and she said I only replace food not drink. The lady manager that was there at 8 pm was very rude.

Pat
from Hendersonville, NC
I just watched an appalling incident on FB that someone took with their cell phone. A good Samaritan took a homeless man into a McDonald's to buy him a meal & the establishment called the police to have him removed. The meal was paid for & the good Samaritan & the homeless man were made to leave by police. The establishment would not give him his $$$ back. McDonald's is a public place & anyone should be able to go in & buy food & eat it w/o any discrimination. That is not what happened here. What's this country coming to? Please view this link to see what happened. I believe you also will be appalled. Hopefully some restitution can be made here & the mngr called on the carpet for treating a customer like this. https://www.facebook.com/ViralAudience/videos/166686257315103/UzpfSTE1MD...
Thank you for checking this out.

Terry K Ward
from Sebring, FL
I almost died today from choking on a Egg McMuffin today because it had Egg Shell in it! The egg shell cut my gums and the rest went down my throat, I only realized it had cut my gums after I had almost choked too death; now I know how people feel that has almost choked too death, it's a CHILLING FEELING!
P.S. I guess there is no Quality Assurance at McDonald's, people be sure you check everything that you eat from McDonalds first; because all the shortcuts they have been taking the last decade or so must be catching up too them!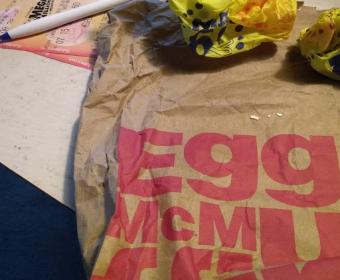 Doyle Yates
from Barstow, CA
My wife and I were at this location on 04/18/2018 @ 02:30 PM. ticket #351 order # 51. They took our order and I paid cash and was given my drink cups. When I got to the drink machine the whole area was dirty and drink spilled all over the place there was drink spilled on the floor in front of the machine and down the isle way for several feet. I let someone at the counter know. They had someone come out to clean it up. He did not do a very good job. Then we went to get a booth or table to eat our meal and we had to go to 3-4 tables and booths because the were so very unclean with food and drink on them and around the area. Then when we got our food it was not very good either the sandwich had old dark leaves on them. My wife and I at this point decided to leave. I did not talk to management about this because I did not want to cause any trouble. We will not be going to this location again.

Beverley Walls
from Mississauga, ON
I would like to start this off by saying that I was under the impression that the drive through was for convenience ! I have experienced nothing but slow incompetent service each time being served by Nadia !!! This morning as usual I went through the drive through , slow taking order, but we have come to understand that multi tasking is not her thing , however we ordered 2 medium blueberry smoothies, 1 large coffee and a medium hot chocolate. When we got to the window we paid the amount due only to have Nadia at that time inform us that the smoothie machine needed to be filled !!!!! Are you kidding me, we have jobs to get too, and her incompetence just put us back 20 minutes ! she told us to pull aside and wait for the attendant to bring out our order, which we did . I finally had to go in and see what the hold up was, no smoothies were made, I asked for a refund and told Nadia that this is not an isolated incident, that she's incompetent on the window and every morning we dread her being our server. Had she of told us that the smoothies were not available at that time , we would have just taken the rest of the order, the fact that we paid to sit and wait on her convenience is beyond disturbing !!!!!! This location does have extremely friendly staff, however Nadia is not one of them. Using the Creditview & Eglington location is an everyday stop for myself along with the many staff I work with . Nadia is not the girl to have on the window when people generally like to start their day in a refreshing mood too take through the day !!!
Thank you
Beverley Walls

john madey
from Berea, OH
I went to restaurant 3710 in Berea Ohio and placed an order at 10:17 pm today 4-17. This location closes at 11 pm.I ordered a hot apple pie and was told that "they were out." I asked the drive thru attendent why they did not have pies and was told they stopped making them at 10 pm because the manager tells them to to avoid waste.This has hapend before at this location to me and I complained as I am doing now.You're corporate office responded the location manager called me and I was assured it wouldn't happen again.so with enough time passing they again do what they want.I feel if you have a menus item it hold be available.

Tod M
from Walla Walla, WA
I seen the Mertle Beach incident where a man brought a homeless man in to buy him a meal. Management called the police to remove the homeless man just because he is homeless~!~ Then they made the good Samaritan man leave also. I WILL NEVER STEP FOOT IN A MCDONALDS AGAIN~!~ I personally know many people with whom we share experiences in life, and you can bet they will know about this~!~

Samuel
from Rhinelander, WI
The McDonald's in myrtle beach Florida is full of bitches! Kicking out a homeless man how horrible

went through the drive threw ordered a sausage mc griddle went back to work which i work maybe 3 minutes away, opened my sandwich no sausage inside so i go back maybe 30 minutes later and told the manager her name April what happened she asked me wheres my receipt i told her i didnt have it because i was working but that I'm a regular customer i come here everyyyyy day for breakfast and lunch she was veryyyyyyy rude and told me she needs the sandwich back or the receipt..then she just gave a sandwich which was ok with me... i didn't like the way she handled it by being very rude..,,when mcdonalds need s change they come to where i work and i give them excellent customer service....she should've just tell me ok I'm sorry heres another one .... not give me attitude....shes new there she should be more friendly with the customers...otheres that go there say the same thing about her she's rude....the staff is great been going there for the last 13 years Sara assistant manager is great if she was there she wouldve taken care of me the right way ....this has happened before and i never got any negative response.. Im not a satisfied customer anymore guess ill be going to burger King...

Terra Lewis
from Round Lake, IL
Today I drove home with my husbands, kids, and my meals. My 2 girls had happy meals and my husband and I had Qrt Pounder meals. $27.70 for the total. We where very upset to get the happy meals totally wrong. My husbands and my meals where fine but not the girls. My order on the receipt was all correct but not the happy meals which is why I think someone at the Lake Villa, IL Mc Donalds does not know how to read at all!!!! ! Happy meal Ch Burger ONLY Shredded Lettuce and extra Pickle is what i ordered. Well they gave her a Chicken sandwich with the lettuce and extra pickle not a burger. My daughter said it was gross and refused to eat it. My other daughter ordered 4 piece chicken nugget happy meal. She got a cheese burger w ketchup and one pickle. She hates cheese burgers. So my kids didnt eat there lunch and I wasted my money. Very unhappy! when my husband called they didnt seem to want to do anything about it.

Katy McLennan
from Weatherford, TX
We need the foam cups back! I have been to mcdonalds several times in the past few weeks and the new cups start to leak really bad and also do not keep the drinks as cold. thank you!

jesse smith
from Phillipsburg, NJ
on march 17 2018 at 10pm i went to the store at 660 memorial parkway Phillipsburg NJ 08865 when i pulled up we notice light were off, so the drive threw was wrap around the building and i was not waiting because they were taking forever. so i call the store and ask why the dining room was lock and there was no sign posted ( i have pic) and the time is post to be closed at 1 am , the lady told me there was only 2 people on because there was a call out, which means they should called more people in for that reason or put a sign up stating dining room closed due to lack of people working,,

Robert Gillespie
from West Chester, PA
WE GO TO MC DONALDS ON A DAILY BASIS MC DONALDS IN EXTON PA MANAGER JAKE 3/17/2018
.MY DAUGHTER HAS DIABETES TYPE 1
AND WE ALWAYS ORDER DIET SODA
THIS IS 3RD TIME WE HAVE GOTTEN WRONG SODA, BEING SUGAR SODA
I COMPAINED ON ALL OCCASIONS AND TOLD MANAGER JAKE HOW SERIOUS A SUGAR SODA CAN BE FOR A DIABETIC
HE WAS VERY SORRY AND REPLACED OUR ENTIRE MEAL THE FIRST TWO TIMES
THIRD TIME AFTER TELLING MY WIFE HE WOULD TAKE CARE OF US
HE TOLD MY WIFE REPLACE SODA ONLY YOU GET NOTHING ELSE
NOT GOOD CUSTOMER SERVICE MY, WIFE WAS VERY EMBARRASSSED
ROBERT & MARY GILLESPIE

Pallavi Sethi
from Sydney, NSW
I was at the Rydalmere McDonalds Restaurant Number #1535 on 14.03.2018 at 05:40 am. Me and my partner waited in the waiting bay for almost 15 minutes for coffees. When I placed the order I requested for Extra hot coffees and when I partner went inside he found the coffees were cold and just lying at the register.
He told the girl and asked to make the coffees again , The staff member gave him attitude and made the wrong order. My partner insisted the staff member that this is not my order ,can you please check it. She ignored the request and made the order incorrectly almost 3 times . She used inappropriate terms as well e.g. "you placed an order 8000 seconds ago".Then the manager intervened and served us.
order number was #84-REG#12

Michael hudson
from Mexico, MO
I went in to McDonald's in new Florence missouri and the first thing I see is a big a vary dirty mess of ketchup right in front of the main counter and then I get up to the counter to order and noticed that there were two people I thought were in line two order but then I noticed they were there just hanging out chating with the employees and were even going behind the counter and laughing and joking with people in the drive thru window then I asked for someone to take my order and was treated vary rudely and and when I placed my order I had to tell her several times what I wanted and had to ask her to take off things I didn't order because she was more into her friends conversations more then what my wife and myself were saying and then I get my drink cup and head over to fill my cup and the drink area was filled with spills and trash all over the counter as I get my drink I head over to the table and wait for my food when I got my food the fries were cold so I returned to the counter and asked for fresh fries because they were cold and got a additude and she mumbled under her breath by the time I drank two glasses of tea and my wife finished her food my fries finally was done and this is not the only time I have had problems at this location but this is the first time I have made a complaint and I will say this I will not ever return to this location I did take pictures of the mess but could not get the attachment to up load them and I as I was leaving the store the employee came out to clean the floor and I noticed she didn't have a mop she used a hand full of napkins .thank you for taking the time to read this

karina clay
from Dodgeville, WI
on march 4th 208 I went to drive through and this mcdonalds aloud strangers to come in and make fun of me and ake my order they served me garbage write off food and a large cup of urine I did not deserve this treatment they even made me pay full price for it mcdonalds restarunt number is 10423 order 53mks number 13 sidel I want them all fired for who took part in this I got sick and went to my family doctor on this because Ib een treated for a cervical cancer I don't want to have to do a lawsuit but I can if I do not get an appology letter and explaination of why they aloud tis at there store I worked mcdonald's 3 times and never had such disrespect before this is one of the reason why I wont comeback 608-408-0450 I want the managers replaced and fired for lack of ability to allow this to happen to me

dutchessangela@comcast.net
from Ridley Park, PA
I live North East PA and not far from DE. Every area McDonald's I go to is LOUSY!! (food, service). It's basically slop. The double cheeseburger's
are dried-out, the French fries are not cooked properly ex. not brown---I give them to the seagulls they love them. The quality is gone!
As far as the service sometimes I don't even get a thank you(that's in drive thru) just push the food in my face---I'm totally disgusted with
the food and go elsewhere to have lunch.
I've been wanting to send a complaint for years, but figure it's not going to make a difference. Like who cares?

Maxima Galang
from Poway, CA
I bought a to go 5 fish sandwiches today (2/23/18) & one of the fish sandwich's fish is missing. When I got home my husband drove back to Mc Donald for missing fish on his sandwich. He drove 4 miles of that single missing stick or square patty of fish. We were furious about it. The Hispanic guy in charge did not even apologized for my husbands for the special trip or inconvenience. My husband gave them back the bun with a missing fish and the cashier hand it the manager. They just slipped the fish in the bun touched by the cashier and gave it back to him. It is unsanitary since cashiers are touching cash and their hands were dirty. Is that how they treat their customers for not even a customers fault of missing fish? Especially now of the flu season & different virus/germs around. I told just my husband to just trashed the sandwich since I work at the Hospital as a scientist.
Mc Donald Restaurant # 3187

Jim Healy
from Thomaston, CT
I always thought your big Mac was the best burger out there. But lately they are dry and barely any Mac sauce. I brought it to there attention and they said they would tell the cook. When I got the second sandwich it was as bad as the first one.I didn't ask for a deal or anything free just a good sandwich, couldn't get it. Even was told at one McDonald's that if I wanted more Mac sauce it would cost me more. When they don't even put as much on as they should?

jeff oliver
from Grand Rapids, MI
Our orders are never right at the battle creek Michigan 49037 on Columbia avenue. in and out of the restaurant. Our order is anywhere from 50-70 dollars for 9 people.
I know it may not be the normal order but time and patience can make putting it together correct every time.
on 2/17/2018 we had a take out order and 75% of the order was incorrect.
order was supposed to be 4 big mac meals large with shakes, 3 mighty meals with choc milk and gogurt , 1/4 lb cheeseburg deluxe with shake. (unfortunately my 3 toddlers didn't know to tell me their gogurt was missing until after the second trip was over and i kept getting hung up on)
instead we got one big mac meal was missing, 2 big mac meals rung up as medium, no chocolate milks, all fries that were there were medium.
Called store told them what was wrong we were told they would not fix the incorrect 2 big mac meal mediums, but would give us missing large mac meal and shake, 3 chocolate milks.
upon arriving to the store: was given 2 milks and told the manager (young african american lady) there were to be three milks, mac meal and one missing large fry. I had receipt with everything circled and what was missing written on it, it was never asked for. After coming home 2nd time and frustrated again it was wrong. Called to tell them and the manager said it was all in the bag and everything else would be based on the receipt (she never asked for or saw)
This made me angry and i elevated my voice to tell her it is not what i spoke of i was hung up on. Called back she said we have caller ID and hung up. I had someone else call and she again said this conversation is done, had to call several times before i got a different person to answer. The new person identified themselves as a manager but it was not the same person spoken to before and the one who hung up on us several times, and she spoke to us with the manager we had talked to answering in the background. I was told to hold on during the conversation if she was the manager she could have handled the problem alone.
I dont appreciate at any time being talked AT, treated unprofessionally, and never to be called a liar. The first order was wrong, second (fix it) was wrong but WE were supposed to think that they couldnt have messed it all up. When twice in a row two trips they were wrong. So we ordered large on every meal but was told basically too bad, OH BUT BY THE WAY TRUST US WE DID THOSE TO MEALS RIGHT JUST MESSED UP EVERYTHING AFTER THAT. How would anyone think they did any of it right after all this. But it was what we were told to do.
During this the Manager kept referring to the receipt and what she said re receipt wasnt correct understandably since she never saw it. This whole thing felt racist, the way the manager talked to us and handled the whole situation. I even asked and told second person without raising my voice because it was making me feel uncomfortable hearing her in foreground during our conversation and she said it was rude and hung up.
I called back the Manager answered said this is the black girl you asked about don't call back or i will call the police. Answering the phone this is the black girl just warrants what i mean and the tone of voice along with it. Constantly diversity is mentioned in situations like this happens when it happens in reverse. I believe in diversity but when its 100% on both sides. Not to mention to argue with and talk like this to a customer is outrageous. I have worked with customer service over 20 yrs. We have all had bad days but going off unprofessionally is not how a manager is suppose to handle any situation.
I was so upset and shaking crying out of anger, i called another location for help and to file a complaint. I spoke with Bailey at the S.W Capital store in Battle Creek she was very kind and helpful.
I would like resolution, I don't want to travel extra miles for dinner i can get in minutes, and i don't think should have to.
Any one any where no matter where you go car shop, hair cut, hospital, etc. there are expectations if you paid money for break job and left with squeaky breaks you would go back, and if they said to you well we replaced them sorry sir/mam I don't know what to tell you, you would not let it go (just an analogy) my point being customer service.
So McDonalds keeps my money and food, treats us this way and by a manager.

richard kahl
from Oceanside, CA
Today at your location : Oceanside blvd and College in Oceanside ca 92056 was Charged $6 for two Sausage egg Mcmuffins with cheese
last visit the charge was $3,99 for 2
seems to me way out of line.
Please answer\
A very Good Customer
Richard

Margaret Rasch
from Moreno Valley, CA
You dont have enough minus starts to be rated. One star says nothing. We just went to the McDonalds on Iris Street in Moreno Valley, CA, the drive thru, and had to wait over thirty minutes watching car after car drive off with their food, while four cars sat there waiting. Person came out with a bag, only half of what we ordered and when we told her, she laughed and went back in the store. She did not come back out so I went in and after hearing the girl in the drive-thru window, say "her she comes" I wnet through the door seeing our mac jrs, just sitting on the counter waiting for someone to notice them. Whether we order 2 or 20 things, we always have to wait. By the time we got home, the mac jrs were cold and dry, the chicken nuggets were cold and hard. I spent $22.42. on food that we could hardly ear. which we didn't eat half of it, our dog loved it. I dont want a sorry that McDonalds doest mean., I dont want another coupoun for a breakfast or whatever the last one had on it that you sent us. I want mcdonalds to care about its customers and hire people that actually give a dam. You want to make $15.00 an hour because your underpaid for the amount of work that you do. This store doesn't deserve $ .15 an hour. When I went into the store to get our food, there were more employees in the back, bumping into each other that customers in the dinning room and drive thru together. I want my $22.42 refunded and want to know when I can come pick it up. Phone No. 951-269-5694. I've seen all the complaints online, I wonder how many complaints have to be files before your corporate office actualy gives a dam!!!!!!!!!!!

darren leivers
from Nottingham, ENG
I went to mcdonalds last night on junction 30 m1 .I ask for fresh cooked food as I drove through I did speak on the speaker and he was quite rude and when I got to counter I said again to him it is fresh cooked yea and he just starred and nodded not yes sir and thankyou.he rolled is eyes only.when I got my food the chips was cold ,nuggets was luke warm and cheeseburger warm only and as I was driving through a gal was sticking her arm out to hand me my drink before I hadn't even got to collect my food. this is the third time on the bounce ive been there and been treated like this and I did at alfreton .I won't be going to mcdonalds again .disgusting food and treatment.these kids must be thick or never listen when a customer ask for fresh cooked food and need to learn manners. I nearly got out my car and went in and through it at them .

Theresa Dipirro
from Akron, OH
Alliance McDonald's on State Street avoid at all cost! Waited a total of 20 minutes for food. Disorganized man agent. Food when I did end up getting it. Drive a little further down the road to Wendy's were there food is hot and fast!!!

Dale Tarrant
from Mauldin, SC
This happened to me not once, not twice, but three times in a row. Early morning breakfast thru the drive thru. I ordered, the big breakfast with bacon and with out the hot cakes. I also wanted 4 extra strips of bacon. When I got to work and opened the bag and took out the meal. There was no bacon but had 1 sausage patty instead. This is the 3rd time this has happened to me at the same McDonald's. A customer shouldn't have to worry when they drive away if their order is right! It should be right no if' and or butts about it. I will never go back to this McDonald's ever again. You pay for something, and you end up with something different. I'm sure this isn't the first time you are hearing about this. But something needs to be done.
Thank you
Dale Tarrant

mary ann
from Ontario, CA
I went to several mc I ordered a smoothly, they told me they were cleaning the machine, this is on a Tuesday. I went to another mud ordered a smoothie, they told me the machine was broken, I visit mud often and I really don't understand why they clean a machine in mid week and during dinner time. Also I ordered a Fanta, they said they ran out, go figure. These are the mud I went to. Fourth St Ontario calf, mountain Ave, Ontario. Thank you for your understanding.

kenneth pors
from Bethlehem, PA
I am writing in regards to my wife and 88 year old mother in-law.
My wife visits her mom in Walnutport every week and they usually go to the McDonalds there.
Today Feb 13th my wife was waited on by a young woman and my wife ordered food costing maybe seven dollars and change so she hand the person behind the counter a twenty dollar bill and her change was only three dollars.
When she questioned the girl she said you didn't hand me a twenty but a ten dollars...
My wife had just been to the local bank for her mother to get money for her and the money she withdrew from the bank was all in twenties, she had no ten dollar bills with her.
The manager counted the drawer and said the count was right so they called my wife a lier.Could you please help us.

Andy Vu
from Huntington Beach, CA
Dear Mikey Ds,
I have been a great and very loyal customer and once an employee of McDonald. I have tossed the crates of buns and meat patties into the storage room while changing shift and closing up at night. I tossed those meat patties into the grills and made many burgers each day with great taste. I have fried the french fries better than the French themselves. I have cleaned my hand before I served. I was subjected to food serving qualification prior to the hiring. At young age, I was able to ate all those hamburgers and BigMac for free until it became 50% off for employees. I have never thought that this restaurant have become less original and quality in it's sanitation. I purchased a McChicken and Bacon McDouble yesterday at the Hunting Beach 16866 Beach Blvd, number 857. I came home about 30 minutes later with an explosive diarrhea.
The services that I have watched over the years, going back around 5 years. Something went wrong or something spook the workers. It wasn't the way that it used to be. I have done my shared, but the services nowadays needed much more improvement. I hope you will take this as an improvement feedback instead of a complaints. Yeah, it went all out of my gut in less than five seconds.

Mariel C. Pajes
from Makati City, 00
I ordered around 8:30 am (Order #dtcp6z). almost 9:36am still no food arrive. I call up your customer service and he told me that my order is for verification. I repeatedly told him that I didn't received any call from you! but instead of apologizing for the delay, your customer representative still insist that my order is for verification. I want a nice answer and just an apology instead. but I only received a "MAARTE" speaking words from your call center representative.
Almost every week I ordered and always suggesting to order from you because of your fast delivery service.
Until now, while doing this complaint, my order still not arrive!!

Shirley shubert
from West Palm Beach, FL
My husband and I recently moved to Florida and located a wonderful McDonalds on Lake Worth Fl. We have never any issues until today. There were separate table with about 20 teens. Not only were there disgusting tables but yelling and screaming. One teen even placed his food on our table and walked away. I politely asked him to remove it. Not one person or manager said a word or cleaned up any mess. I was appalled. The store # was 34868. Please help.
7578 Tahiti ln
103
Lake worth Fl 33467

Janet Brower
from Myrtle Beach, SC
Window employee not helful.when asked for condiments no ketchup.she said they had none.i said the whole restaurant' had none.no just her window.so do without.asked for unsweetened tea,got sweet. Fries cold.im extremely un happy

David M. McGrain
from Levittown, PA
To whom it may concern,
This morning I went to McDonalds to get breakfast for my family. I was greeted nicely from the person at the drive thru and where I paid for my food. After I paid for my food I moved up to the next window to receive my food which was taking a long time to get. When the girl finally came to the window and gave me my bags with the food I asked her for another hash brown and tried to hand her money for it. She shouted to someone there real loud " HE WANTS A HASH BROWN ". She then tells me that I will have to come in and get it or go back in the long line of the drive thru and get it. I couldn't go in the store to get one because I had twisted my ankle yesterday and it hurt a lot and when I had explained it to her she said " I don't know what to tell you " and then closed the window and walked away. I did not go back in the drive thru because the line was real long and the road to go back in is dangerous. Is this how McDonalds train their employees to treat customers? I never ever had a problem with that store but today I felt that it was real rude for that person to treat me like that and that the person in charge that she was talking to should of let me buy another hash brown. Burger King is closer to my house. Thank you , David McGrain

Gary Shipman
from Marquez, TX
Went in recently to the McDonalds at Madisonville Tx to eat breakfast. Ordered and tried to sit down and enjoy my food. The music was so loud and very inappropriate I had to leave. Said something to person behind the counter, she just gave me a "who cares" look and turned around and walked off. There were children present. This music should not have been heard by them.

Shondon Renee LeBlanc
from Charlotte, NC
Used mobile order. Paid for 2 extra chicken nuggets in Happy Meal for my autistic son and did not get them. The 4 I got were way overcooked as were his fries which were cold and chewy.

Rick Fischer
from Loudon, TN
I stopped to buy dinner takeout at your Loudon, TN, location two days ago. The takeout line was full of cars and pickups, stretching around the back of the building, so I went inside to the counter. I found several people waiting for their order. There was a crew of two boys and three girls. None of them was doing anything of note. Hardly any activity was noticeable behind the counter.
I placed my order and waited. The fry cook had a single patty on the grill, which he passed to the girl assembling two sandwiches. These and two fries were bagged and given to a customer with "sorry for the long wait". I saw nothing to justify any wait at all.
For the full time I was there, not a single patty was fried. It became immediately obvious that the bun toaster was controlling the output of product, and the buns were dropping very slowly. When one dropped, another was put in. The sandwich girl mostly stood around waiting for a bun to drop, then assembled another sandwich, and resumed waiting. The fry boy did nothing while I was there, not one thing to speed up product. He once walked over to drop a bun into the toaster, but not one thing else.
That toaster should have been dropping buns at a fast rate, given the number of customers waiting.
The boy who took my order wandered over the the french fry station, stirred them up a bit, then stood there absently scrapping the side of the warming bin for a minute, then wandered back. He did make two cones for a couple, but other than that, he did nothing to move product out the door.
The window girl had nothing to pass through the window. She make a coffee or two for the counter, but other than that, stood there waiting.
The fifth girl had the job of waiting with an open paper sack for sandwiches to arrive, which while I was there, perhaps eight or ten minutes, only happened twice. She then passed the bag to the window girl who put fries in, and passed the bag out the window. They processed two cars all the while I was there.
They all then resumed waiting for another bun to drop. And all us customers waited.
It was absolutely clear that this crew had no idea how to speed up production, no idea how to step in and help out.
But this is what was most upsetting. The bag girl was constantly regaling the crew with funny stories, which had herself in tears of laughter and was clearly distracting the other crew. She had her back to the counter the whole time, oblivious to us customers waiting there.
I finally had enough, and said loudly for the whole crew to hear that this was without doubt the most incompetent McDonald's crew I had ever seen. No one was doing anything productive. They had customers waiting at the counter and the whole takeout line was full, and they clearly did not give a tinker's damn. They had no idea how to work together to get product out the door.
Then the bag girl had the nerve to tell me that I had not been waiting long for my "one sandwich and fries", so I shouldn't complain. I responded that the manager should be made aware of this situation, upon which she declared "I am the manager", as if that was something of pride.
I told her that if she was the manager, she was to blame for the terrible example she was setting for her crew, for their lack of training and their inability to move customers quickly.
Lest you think I caught them at an inopportune moment, the lady behind me thanked me for speaking up. She said, quote, "I eat here most days, and they are always like this". Unquote.
You people might as well hang up a sign "If you have been waiting a long time, We. Don't. Care."

Dennis H Monnin
from Buffalo, NY
The food and service is great. But how do I enter my Trick Treat codes?

LISA MAY
from Madison Heights, MI
facebook video of store on john r road between 11 and 12 mile road in Madison height, shows completely filthy conditions of the store and there is a person walking around with a puppy, quit going to this store years ago and I live down the road...it's always dirty, they always get my order wrong and the management is rude and the caldeans that work there don't understand or speak very good english

Christi Shelton
from Germantown, TN
Your store at the corner of Millbranch Rd and Winchester Rd in Memphis, TN is not being managed well. It used to be my favorite store. Now the service is slow, the orders are inaccurate and there are two bullet holes in the drive-through order kiosk. The kiosk looks scary and is a real turnoff. The service has changed in the last 6 months. The staff is completely different and they are doing a horrible job. Your prior staff worked well together, but none of those people are there now. Please check on your manager there. It is very disappointing how this store is representing McDonald's so poorly.

Joseph O'Brien
from Bainbridge Island, WA
I and a friend went to McDonalds to eat. My frient wanted breakfast and I wanted a hamburger. I also had the latest coupon book from McDonalds
cbook-1007 WWOA V206 which showed a Free Big Mac next to a free biscuit breakfast sandwich. Problem solved, he would get his breakfast meal and I would get the Big Mac. When I ordered I was informed that hamburgers were not served until 10:30 which it almost was. I then had to order a breakfast item which I really didn't want to do. When The items were being served I ask the sales people why is the Big Mac being advertised on the The most important deal of the day page when it can't be served until 10:30? Very irritating!

Jeffrey Oliver
from Danville, VA
On 10/21 at 2:53 pm I ordered 3 filet o fish w/ tomatoes and extra tartar and 1 leg fries. I clearly asked the manager of store 1255 to drop my fish fresh which she acknowledged and placed on receipt cook to order. The fish was obviously recooked, very hard and bitter. This cost 16.50 and was terrible. I don't normally write complaints but this was a I don't care attitude toward me and my request. This needs to be addressed ASAP.

Joe a Vandenheuvel
from Walker, MN
I ate at a McDonalds south of Missula, Mt., Ended up with food poisoning. I have been sicker than a dog for two days, just getting better, and don't dare go very far from a bathroom. I wish there was a way to get compisated for last time and sickness, but I suppose I'll get a free bi mac or something. I called the so called coporate office and got to explane what happened to a phone answering service. No more big macs for me.

Steven Urquiza
from Huntingtown, MD
Visiting McDonald's in Dunkirk, Maryland on Oct. 17th I ordered two hot apple pies to go. After I got home one of the pies was Pumpkin and I hate
Pumpkin. Well I thought a small glitch in the system. Today on the way to work I ordered two apple pies again, well the same thing, one of the pies was pumpkin. The two boxes containing the pies were both marked APPLE. Someone boxing the pies is not paying attention,
Steve

Lester Cline
from Vinton, VA
I personally won't wait on my self we have a store in Harrisonburg VA I have asked for someone to take my order they point at the self order congratulations you are now in the Walmart category I won't go there a whopper is almost as good and they can still pay cashiers it's a shame you think all you need is management

When ever I go to city center mall Doha McDonald's the 24 hours restaurant I Just leave very mad due to the bad attitude from the staff, last time I memorized the name of Bett she is veryyyyy impolite, they also used to serve me not fresh meal, and when I just request to check my food she just through it in the garbage front of me and I just used to leave the order and go. That's really very bad for the name of McDonald's as an international and known brand. I'm so mad because of that as it was not the first time. Please a gentle request to the management team to double check with their instructions

judy freiermuth
from Buffalo, NY
We were planning on having breakfast at McDonald's. We walked in at 10:08 am We waited in line for fifteen minutes. Only one cashier/order taker. We finally place our order, well we tried. My husband said he wanted the Big Breakfast. The manager said, "we are serving lunch now". The ads on television and the sign in the restaurant says BREAKFAST SERVED ALL DAY. People were waiting for coffee refills, they took care of them first.
So what am I missing here? We left . Extremely unhappy. We had breakfast at Tim Horton's.
No problem at all. Very disappointed at your place .Customers behind us, walked out with us!! Not very good, no wonder businesses are closing.

Thomas Kratofil
from Murrysville, PA
On Oct 14,2018 My wife and I went to McDonald on Rt.22 in Delmont after Church that we been doing for years, both of us are in the high 70ths. When we got their the place was locked and they had a sign on the door saying (Due to lack of employees we cannot let you in) and that you have to go through the drive through. If you had to use the Rest Room you were out of luck. Cars were lined up off of Rt. 22 coming in to McDonald and they did not know what was going on. Either shut the place down or get a Owner that knows how to run a restaurant. My wife was Head Manager at Kings Family Restaurant for 29 years and she said this is BULL.. There is a McDonald down in Murrysville but that is like 20 miles round trip from were I live. If you have one thing like this happen and the word will get out and make McDonald look bad. I would appreciate it if you would look into this matter and the owner. They would have been better off if they would have shut down the entire store till they got enough employees to run it. There been employees of this McDonald store that should never have been employ their. I live off of Rt.66 and my name is Thomas Kratofil I live at 303 Evergreen Ct. Export Pa. Phone Number 724-468-3744. Thank you for your time.

Samuel Williams Jr
from Fayetteville, NC
I ordered two number 3 combo meals double quarter pounders. My burgers was half cooked I happen to be eating the burger in the dark watching tv and noticed the color coat of the burger as well as the upset feeling I was getting on my stomach. I have pics of the burger and called back for a refund. My question is how are y'all going to accommodate me for my upset stomach and throwing up after consuming this burger. If I have to I will seek legal action with my paralegal.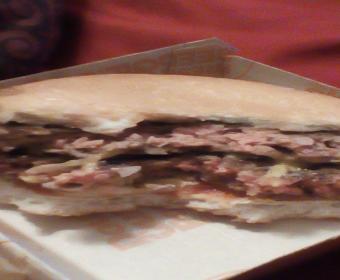 Dr dave
from New Hudson, MI
I was at your strore in warren Michigan 14 mile an Ryan service sucks no Americans working it took over 10 minutes to get my food manger must be 15 yrs. old would not help she maid use your rich screen I'm color blind so a customer help me I'm looking into a lawyer!!!!!!!!!!!!!!

Linda McCartney
from Dallas, TX
We are encouraged to tell about our visit (by wwwmcdvoice.com).. I do it after each visit and always use the validation code to receive free items. It takes my time, but I always use the coupons before they are declared invalid. The last three visits I have turned in the receipts with the validation code on them, still within the acceptable time frame. They did not honor them. Two of them were for BOGO egg mcmuffins and one was for coffee. What do you do for your customers, when they are lot treated fairly?

Went to McDonalds on 10/09/18 with my family. Ordered myself a double cheese burger and fries and coke. When I got my burger the cheese was not even melted and the meet looked dry. You could tell that the burger was cold. I talked to the manager (Monica) and told them if they can make me a new burger and all they did was heated up and gave it back to me with the cheese almost being liquefied. I return their burger back and told them to keep it and walked out. This happened at the McDonalds in El Paso, TX Store # 5581.
Don't know why they hire young kids that don't know how to provide customer service.
Thank you,

Jazzmine
from Bakersfield, CA
To whom it may concern I was at the McDonalds on 8400 Rosedale highway enjoying my favorites the chicken burger and the chicken mcnuggets and I saw a group of five vegetarians eating your food so I thought it would be a good idea to put real meat in your food if you agree please contact me back thank you

Diane Herrle
from Kailua-Kona, HI
I ordered a spam and scrambled egg breakfast. It comes with rice! I asked them to keep the rice . I also ordered a large coffee and a yogurt parfait. I paid and they gave me the food. When I got home I noticed that they gave me egg and rice but no spam. I was so hungry I ate the egg then I took it back. I told them they had messed up my breakfast. They took the rice back but would only give me the spam they had not given to me. I asked them why they did not give me the egg cause they were the ones that messed up the order! I talked to the manager but she would only give me the two pieces of spam! I like eating the egg and spam together! The manager did not understand the concept that they messed up my order and should give me my whole breakfast back!! I didn't accept the two pieces of spam cause I don't like eating it without the egg!! So it was a huge time waster and I went away feeling cheated by the management! When t went back to the order taker admitted her finger slipped and that is why my order is messed up!!

Phil Clark
from Mt. Pleasant, SC
I am unhappy about and plan to boycott McDonald's for trying to push out Customer staff relating to me at the front counter. The installation of and pushing kiosk order stations is not the personal character I expect and have come to enjoy in the past when I walk into any McDonald's nationwide.
I believe that this is an attempt to take more people out of the work force as well as it depersonalizes the ordering and eating experience in your local stores. I appreciate talking with an employee and I believe that there need to be fewer machines doing things people are capable of doing. I like the food McDonald's however, I will not continue to go to McDonald's if there cannot be personal employee service at the front counter.
One other comment; the hand cooked Quarter Pound Hamburger that was offered for a short time I really loved! I hope it might be offered on a regular basis or permanent basis. It really brings out the flavor so much more and is worth the money you charged for that service and fine food.
Thanks for listening.

julia Flagg
from Plymouth, MI
September 17th, Store #12012 Northville Township
The store was nearly vacant at 4:49 in the afternoon, it should have been busy. The only two guests present complained that they had been there waiting for their orders for over 30 minutes. They said the service has declined steadily after the remodel. I ordered an ice cream sundae, which after 4 or 5 minutes I was handed the sundae, no peanuts, so I asked again for the peanut topping. The employee then went around the corner and then returned with the bag of chopped peanuts. This did not appear to be very efficient for the workers. Upon leaving the building, I realized the employee overfilled the container, not securing the lid, and ice cream and chocolate was oozing all down my hand and arm. I stood in the parking lot and ate what I could with it all over my hands and the parking lot. With no trash containers in view, I walked back into the store to throw the mess away and used the restrooms to wash my hands. Clearly something is wrong with this store!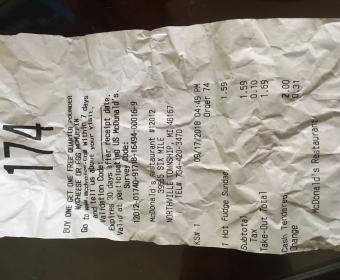 Went through the drive through about 5.30pm 22/9/18, one car in front of me. Ordered cheese burger and a large cappuccino from Holden Hill SA. Received burger but told to wait in waiting bay for coffee but couldn't say how long the wait would be but told it would be wait. Waited for a while and gave up Paid for product didn't receive.

Kathy Brabender
from Madison, WI
I love the SW salads, but his time the chicken seemed half the normal size and very dry.
There was so much lettuce and spinach it was like I was eating a plan lettuce salad.
It was horrible.
Resturant #13480 - 9/19/2018 - 5:30pm

Scott Kremers
from Charlotte, NC
The incompetence of your employees at the Arboretum shopping center store in Charlotte N.C. is staggering.Twice I've left the store because of (1)unreasonable delay when attempting to order and (2) an incredibly long wait ,along with 12 other cars in the drive through lane after placing an order.With no movement of the cars ahead of me I parked my vehicle and entered the store, Customers were waiting to be acknowledged,but were being ignored. There was one employee serving the drive thru,too busy to take orders from the customers inside the store. The only other employee present appeared to be the cook.A women and her daughter had waited so long that she requested that a fresh batch of french fries be prepared,not wanting to eat the fries that had been sitting for God knows how long. I received a surly response from the employee,telling me to get back in the drive thru and wait my turn. At this point I canceled my order. I will never frequent that establishment again. In fact I doubt I will ever eat at a McDonalds again . I rate my experience a negative 5 stars

Kate Evans
from Manhattan, KS
It isn't worth the time nor the food to tolerate the rude dismissive service my party had to put with at Westloop McDonald's in Manhattan Kansas. The mornings you are treated with respect. But the incompetent staff of the evening made several people wait too long for their food, while those coming after them were given their food quickly. My guest was finally given 2 undone quarter pounders and the fudge sundae was melted as they left it on the warm counter too long while the rest of the order was being under cooked. (that is how stupid the staff is) I watched this and is when I went up to the clueless manager & told her 3 people were served & given their food AFTER my guest and another poor patient customer had ordered and had to wait and wait. I refused my cone, told her I wanted my money back and I was turning them in for their socializing with people instead of paying attention to their customers. Why in the world would we have to wait nearly 30 minutes for 2 hamburgers, a melted sundae so that the staff of McDonalds can socialize with the few people who came in they recognize? No respect for their customers, taking advantage of the politeness of paying customers. I will never recommend McDonalds to anyone who wants to come in for lunch or dinner. They gave other people their cones quickly after ordering, WE & another person were ignored and with the given the ice cream has melted? We paid for this garbage!???

jack Grodner
from Dayton, OH
Sat. Sept 8th I went to the McDonalds on rt 48 south in Centerville Ohio about 6:30 pm I ordered a hamburger, small fry, a cheeseburger, a quarter pounder with cheese and a large fry. Due to the long line behind me I did not check my order which I believe a customer should not have to due, and my order was not complete. They forgot to include the hamburger. I am not looking for a reimbursement, but I feel it is imperative that your employees check every order for accuracy before it is handed to the customer. Thank You

Brendon Louth
from Toronto, ON
While pacing an order of a Mac and two large fries,I had to repeat myself 4 times Because your server SHERIFF Did not know WHAT A MAC IS The man was just rude, he informed me that he speaks 4 different languages but did not seem to know what a MAC to me as a customer this is unexeptable.this happed AT Queen and Javis Toronto. I will put the word out to all NOT TO EAT ORDER ANYTHING FROM THIS LOCATION UNTIL THIS MATTER IS CORRECTED. YOURS BRENDON LOUTH.

Jason McKinney
from Chicago, IL
Went to the McDonalds in Southfield, Mi on Northwestern highway by 12 Mile and ordered a Bacon Smokehouse combo in the drive-thru. The attendant asked me if that was what I ordered and then still gave me the wrong sandwich. Got a plain chicken sandwich.

john estabrook
from Greenwell Springs, LA
I called the store in central on hopper rd within 30 minutes and they said they had the new chx tenders. went down and they were out. for this store it's not the first time they just wanted you in and didn't have the product. mickki ds in central sucks.

Jerry W McCoy
from Monroe, NC
I'm probably wasting my time. But, here goes. Customer # 253, time : 11:39am 9-6-18 ,Store # 2601, Monroe, NC 28110. I told the manager (Taych) the diet coke was out. I stood there for a response. So I said sir, what about the diet coke, he turned around and said with a very smart attitude, did you not hear what I said. I said you have not responded to me and let me know anything after standing here for 5 minutes or more. He turned around with an attitude and ignored me. People like that has no place in public work.
I expect a response in a timely manner, if not, I will put this whole experience on Face Book, and Twitter in capital letters McDonalds experience in Monroe, NC , Store #2601.

ziggy
from Independence, MO
went into mc donalds in pleasant hill mo 64080 on 7 hi way
and order the two for five this was at 9:20 pm i was very hungry
hadent had anything to eat all day they take my order and while
i am waiteing for my food i nappened to look back were the food was
being made and notice that the person makeing my burger had one glove off
handleing my bugers with a bear hand he did us the the thongs to get the burger out of the hot tray but put them on the buns with his bear hand
so i ask for my money back and they gave it back but the guy kept comeing up until i left giveing me dirty looks
thatwas totally un called it not my fault he had a glove off doing his job and why would he have one on and one off
i told the front counter that i wanted my money and the reason and she told him to put on his glove and he did
but befor that he had served about four or five orders with no glove on bottom line i will never eat there again thats just to nasty for me
and as far as a rateing that place gets a big - 1000

Caro McCutcheon
from Collins, MS
I have been a Golden Arches fan since 1950. No more. My friend and I went in for iced coffee lattes. We did not want to use the kiosk so we went to the counter. After an extended wait, the manager finally noticed us and asked if we had been served. No. He instructed the male mopping the floor to take our order. He attempted to do so after he wiped his hands on his apron...hardly sanitary!! He was unable to place the order..after many questions..and called the manager over. After an argument and with much difficulty, the manager FINALLY succeeded. As we stepped away from the counter,the man behind us was also obviously irritated that he had a repeat his order for a hot fudge sundae twice. Since then, I have spoken to several other people who have had unpleasant experiences since then renovations and will take their business to Wendy's rather then to return there.
As for the new renovations, all the chrome, low counters, emptiness, kiosks, etc would be appealing...IF you were an ice cold robot. It is hardly warm, friendly, family oriented atmosphere that was the original appeal. I suppose the next move will be to redesign the McDonald clown as a robot

Jo Ann Maples
from Seguin, TX
McDonalds, Seguin, Texas.
First the young girl that took my order had the attitude she could care less about my order. Second even with the cashier she could not count my change back. Third after waiting 20 minutes for my order and not receiving it I decided to ask for my refund. Which I received. The Seguin McDonalds needs a better manager!

Ronald Wells
from East Orange, NJ
Hello to all I hope this complaints reaches you of right mind body and soul. However I experienced an encounter in one of your locations in Elizabeth by Division and Trumble Street that disturbed me. The manager during the graveyard shift refused to give me his name for this complaint after I complained about his credit card machine being down repeatedly during these hours forcing people to use cash from atm inside. In addition, it was reported that this store refused to grant a receipt for purchases made in cash. This led me to believe theft of money is going on during these hours. The Police were called but took some time to respond so I was forced to leave and go to work. The manager even refused to give me my order of Sausage mcgriddle, after mistakingly giving me the bacon mcgriddle. As a result, he refunded my money and refused to serve me my correct order. Another employee got involved by calling names as I video taped his actions.

ronnie terrell
from Louisville, KY
I went to mcdonalds at 330 today and ordered chicken tenders he told me they were out of them and would not have any till tomorrow how can a multi million dollar business be out of a product at 330 in the afternoon we have some bad management or something I don't understand please explain. the location is at us 42 prospect at timber ridge dr 40059 there is no excuse I was really pissed

Sabrina Burnett
from Minneapolis, MN
I went through the drive-thru yesterday and ordered 2 other breakfast items and an egg McMuffin with no meat. I looked in the bag when I received my food, saw 3 items, and saw that one had the white sticker on the wrapper, so I drove away, believing my special order was correctly handled. When I got home and unwrapped it, however, my egg McMuffin (correctly) did not have meat, but also DID NOT HAVE ANY EGG. It was an English muffin with a slice of cheese. That's all. The sticker on it said no sausage. It did not say to hold the egg. This menu item I order ALL THE TIME at that restaurant (and receive correctly most of the time) because it is my favorite item, went out missing the key ingredient: The egg. The other menu items were correct.
This was the restaurant at 5400 West Broadway in Crystal MN. The receipt is almost useless because there was hardly any ink in the register, so I can't be sure, but it looks like it might be store number 581, or perhaps 531. I couldn't make out the phone number because the receipt was so light, so I had to google the phone number. I called the restaurant twice and it just rang and rang; I never got to speak to anyone so it was never resolved. This was not during lunch or dinner rush, this was 2:30 in the afternoon. It was a very frustrating experience.

Terry Lovato
from Montrose, CO
McDonalds here is getting worst as time goes by. First I was buying quarter-pounders then they are now letting not cook all the way. I call them had to take it back to them and was told they are suppose to leave then a little bloody the Corp told them they stated. Now tonight I went and bought fries and guess what they are pinching the cup to give us a lot less but for the same money. First time I was told to bring back the quarter pounder and which I did and they give me another one just as bloody as the first. I had to drive all the way back there just to get a bloody burger again when I call they said they could not return my money but could exchange it for another. I waste to much gas running back and forth just to get a bloody burger again. I believe the next step will be to report it to a higher office.

tara brown
from Dallas, TX
I am a very upset customer with McDonalds (2) locations i visited last
Night was very unprofessional and I will never visit those locations
Again the McDonalds on Illinois let us sit in the drive thru for 20 minutes
Only to tell us they ran out of hamburger they only had chicken, now that
Is all well and good it happens but no one came out side to announce it
They just let the lines pile up we ended up leaving and once we left we seen
Two employees coming from behind the bushes smoking weed, we then left and
went to the McDonalds on 35 and Keist it was worst all of the employees were sitting
Around talking from what we could see inside and the lines were piled up and once we finally
Got to the intercom we were then told they were out of one item we wanted so we
proceeds to order the remaining food and we stayed in line 15 min one person order a big order
So instead of them telling him to go park we had to wait and once i
Got to finally get my order the fries were threw in the bag and cold they were not in the
Holder they were just in the bottom of the bag and cold i got a soda that i did not order
And the clerk asked me several time my order saying very rudely i just got here. I am here to say I will never go to either one of those location again.

Victoria Farley
from Macon, GA
Today 8/18/2018, I came today to speak with the General Manager Mrs. Sonja of Day Shift, my daughter works there and they always having words, so I took her to talk to the General Manager, since she the only one my daughter having problem with, I asked her to come outside to have a conversion, after we talked, she didn't know that I had came in the Store behind her, everything we talked about outside she came in and was telling the other staff, that my daughter is a grown woman but she got her mother to come up her questioning me, and was repeating everything to them.
There have been many time she had words with other employee, she unprofessional, messy, and very childish, and very petty, how can you manage a store if your employees have to fuss and curse you out, then she will take the person off schedule for two week because they voice their opinion of how she do things there.
Signe is a very hard worker and she always come to work when they call her to come, but this Sonja is the only one she have problem with, today the night manager even call Signe to come back to work, after Sonja sent her home around lunch time, just because she questioning her.

Ronald Kendrick
from Gastonia, NC
I witness a shift leader berating an employee in front of customers of and her co-workers for no apparent reason. His name is Antwain Cunningham at the Mcdonalds on West Franklin Blvd Gastonia, NC. This is the second time in this Mcdonalds I have witnessed his behavior. If he is in management and behaving that way I will stop bringing my family and tell my friends not to bring their families either. He was out of control cursing, swearing. In my opinion, I think he is power happy and should not be employed until his attitude is adjusted. The management team there
must really be desperate if they allow him to continue to work. I was so intrigued I asked other employees about him and they said he has curse them and their parents. Mcdonalds surely you can do better. I own a small business and if I were to talk to my workers in front of my customers that way I'm sure my business would suffer.

kevin delong
from Fort Wayne, IN
When the alleged give away of the Big Mac coins was announced I went to 4 McDonalds in my area starting at 11 Am. I was told by all 4 stores that they were sold out. Very strange all 4 sold out 1/2 hour after the minimum start of being able to buy them at 10:30 as before that only breakfast was sold.. Found out by employees that assistant Managers and store managers were not issuing coins and holding them back to sell on ebay or trade for cash under the table. Found on ebay over 1,100 listings for MC Donalds coins. What the employees told me was absolutely true

McDonalds Complaint, 17 Aug 18
On 17 Aug 18, I walked into the McDonalds's N. 15635 on John Young Blvd in Orlando FL to order a meal. I ask the attendant if they offered military discounts and she did not know so she asked the manager (Shawanda?) and she offered a 10% discount. I asked for my free Friday med fry and she did not know how to do that and asked the manager. She ended up canceling my order and reentering it. She said to place my on phone bar code into the reader. I tried to bring it up and it would not allow me to bring up the free fry code. It kept telling me to relog in. I did about five times and then tried to reset my pass word. The app asked if I wanted to reset my password to log in. I tapped on it and it dropped me into a loop and would not allow me to log in. I asked the manager what I should do to get my free fries and she said to enter in the barcode for the scanner. I explained the app would not allow me to do that and asked her what to do. After her telling me and me reexplaining it several times, she out of frustration provided the free medium fries. When she printed off the receipt, I noticed I did not get the discount anymore and pointed it out. She said I did not get the 10% discount anymore because she gave me the free medium fries. She then provided my hot fudge Sunday and I had to ask for a spoon and nuts.
When I went up to ask for the spoon and nuts there were two others having the same problems and received the same response (it is the customers problem and/or corporate).
I was not impressed with her problem solving skills and lack of knowledge of customer relations.
I provide this to correct a number of issues identified so other customers do not have the same negative experience.
Thank you.
Curt Read
4630 S. Kirkman Road, #416
Orlando, FL 32811
253-227-6995
curtread@hotmail.com

Ray Ford
from Broadbeach, QLD
This morning I ordered a sausage n egg a bacon n egg muffin with a hot chocolate from the drive thru I was about 1 minute up the road when I started eating the bacon n egg which wasn't very hot to start with but still continued to eat it anyway when half way through it I felt a crunch of a piece of egg shell and immediately with discuss spat it out the window and then proceeded to turn around and go back to complain about my finding and when speaking to the manager that was there about it he asked if I had brought it back with me I said no I hadn't as I instantly spat it out the window where he explained back to me that without proof he cant do anything about it so I queried him about that if I did bring it back that he was actually going to physically sift through some chewed up food that I had already crushed in between my teeth as proof I think not and as I looked to me he was in a bit of a hurry to go home and in my view was very rude about the whole situation so before I lost my temper with this manager I left disgusted with the whole experience hence why I am now putting this complaint in which has put a real shitter on the start of my day other than that the service from the girls was always a pleasant experience as I frequent that store regularly , thank you R Ford

Isis Billings
from Miami, FL
I applied for employment on August 10, 2018, I understand for reasons unknown to me that I was not hired, The problem is that I called to find out if a decision had been made since I went to an interview, Lilibeth the Manager said that I was not hired because I was a felon! I said what! I just graduated high school and I'm going to college and to be told I was a felon, over the phone really distrubed me, I was shocked, and hurt! Did she say this because I am a young Black American, was it because the way I look, I just don't understand why! I can't understand why she would say that to me over the phone. I have NEVER been arrested or in any trouble, because of this I will NEVER eat at or go to the McDonalds located at 6150 South Dixie Highway store number 792, I would like for someone to contact me about your policy and why the Manager would treat me like this, I can be contacted at 7863469714 and email Tilisab35@yahoo.com
Have feedback for McDonalds?
Thanks for your feedback!
Sorry. Please try again later!