McDonalds
McDonalds Complaints Continued... (Page 1)
816+ reviews added so far. Upset? Call McDonalds corporate: 800-244-6227

20 min. from lot to pay. Window 2 says "no eggs", wait at Window 3. I waited at Window 3 for 12 more min. then informed window 2 I entered lot 35 min prior, still waiting. 3 min later I was given a sack. The person showed zero gratitude, zero apology, zero concern. Asked if she thought an apology might be warranted, she didn't understand English well. Zero concern. Begrudgingly wished her well and left. My order was 1337. They gave me order 1228 (how long ago was that?). I got the wrong order, AGAIN. Called Phelan Mgmt for survey. Recording says leave feedback at beep - there was never a beep, only repetitive loop. EVERY menu option led to false statements -not one chance to leave message or speak to person, no chance to enter survey code, during normal biz hours. Next called store and they refused to answer phone - it hangs up. Called for Phelan Mgmt again 12/27, phone menu had changed but yet again, the menus lie. No tones sound enabling messages. NO opportunity to speak to a person. Unable to provide feedback to Phelan. Are they sincere or going thru motions to satisfy corporate? Documented, w/ evidence 8 negative aspects in single visit. Asian Phelan's playing games w CUSTOMERS

Teresa Dodds
from Lafayette, TN
Went to McDonald's in Portland, Tn.last week and found hair in my hamburger. Today being Christmas, not a lot of choices. Went to McDonald's in Gallatin, Tn.. My bill was 5.56, I gave him a hundred dollar bill and 56 cents.He had to ask for help with the register and still shorted me 10.00. The man behind me also getting his order paid for, this boy could not count and as I sat there, he had to have help with every single order, and my two cheese
burgers were cold. I understand decent help us hard to come by, but at least train what you
have.

Anne Stroker
from Irving (Las Colinas), TX
I visited McDonalds in Hasselt, Belgium. It was a nightmare.
We had to wait 45min before receiving our meal.
The kitchen was covered with food rests, empty frie boxes, etc...
The whole restaurant floor was dirty and shining from grease.
As a result, not only was our food cold, but due to this soiled floor, I slipped, fell on my leftside on the floor and hit my head very badly against a doorframe. Many people witnessed this and helped me getting up. The McDonalds personnel did not even bother.
At that moment I did not experience and discomfort, apart from a big bump on my head. However, yesterday and today 2 days later, I'm in more and more pain. Especially my head; neck; shoulder; left arm and hip. I'm filing this complaint, but will also contact HQ in Chicago and Belgium, as well as the food inspection.
I've never experienced this before with McDonalds. This restaurant is not worth to remain open. It's the Christmas holidays, when unfortunately no doctor can be consulted here and as such I will have to wait till at least December 26th before getting treatment and in the meantime suffer from pain.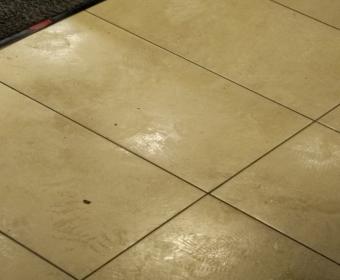 Justin Thornhill
from Fort Worth, TX
If I could give the McDonald's in Sherman Texas a no star review I would because this place is trash and the people that work there overnight are useless and need to find a job that they want to be at because the last 3 times I have been there I've got some bs excuse on why I couldn't get anything to eat because they are too lazy to do their job and cook the food. I've been told they can't take a card, and even though I have been there plenty of times and got food they have told me twice that they only have breakfast even though I've been there and got cheeseburger and fries after they told me that and then I just got told that again I will never go back to this place ever again and I encourage other people to stay away also if I had the time on my lunch break to go to the next town I would

cheryl pinckney
from Buffalo, NY
I went to McDonalds on 1630 Jamaica Avenue on 12/22/18. I ordered one $2.00 sausage McGriddle and a small coffee I put my credit card in the slot before realizing the amount was $4.36. When I questioned why it was so much, I was told you ordered the special and because you ordered one sandwich the coffee was $2.00. I told her I ordered the $2.00 McGriddle which is clearly on the $1,$2,$3 menu and the small coffee (which is $1.39 I go to McDonadls often) I told her again I ordered the $2.00 McGriddle, and a small coffee why was I being charged $2.00 for a small coffee. Another cashier told me they had no control on the way it rang up, that -that is the way the system works pointing to the cash register WHAT!!!!! I told him that made no sense, he told me they had no control of how things are rung up and I can always go to Dunkin Donuts and get their coffee WHAT!!!!. I asked to speak to the manager and explained to him what happened, he looked at my receipt said I ordered the egg cheese and bacon McGriddle, and because I ordered one sandwich I was charged $2.00 for the coffee. I told him I did not order that sandwich I ordered the $2.00 McGriddle again which is clearly on the menu, and a small coffee. He refunded me, but for the wrong amount $5.76 ( which I still do not see on in my bank account) and charged me for a small coffee??????Really your staff made a big mistake, made me feel like I did not know what I was ordering, took three of you all to figure out what was going on and still charged me for the coffee, but did not order me another sausage McGriddle. I told him that was very bad customer service and obviously the cashiers did not know what they were doing. I was so annoyed I took my coffee and left. I went back to the same McDonalds on 12/23/18,(different cashiers and manager) ordered the same thing I ordered yesterday and the total was $3.27 at least someone knows what they are doing. I may have let this slide but when the cashier told me I can always go to Dunkin Donuts and get their coffee, and had they been a little bit apologetic, I would have let it go.

Mary Biddle
from Washington D.C., DC
On Monday December17, 2018 and Tuesday December 18, 2018 we saw Mcdonalds commercials on tv that stated If you purchase a big mac you could purchase the second big mac for a penny on Wednesday December 19th only. The same commercial stated that if you purchased a 10 piece Mcnuggets you could also get a second 10 piece Mcnugget for a penny. On Wednesday December 19, 2018 after shopping we went to our local McDonalds in Arcadia, Florida. We ordered the big mac and the 10 piece nugget. My husband wanted the second big mac but we had to pay full price. We left with two big macs $7.58 and only one 10 piece nugget. I still have my receipt. When we arrived home and while we was eating our food we saw the exact same commercial offer with the big mac and the 10 piece nugget. Very frustrating and aggravating. Seriously!!!
Mary Biddle

kim veale
from Roanoke, VA
Visited the McDonalds on Airline Blvd in Portsmouth VA today for lunch and was not satisfied with services. First, staff(young) were all playing around and goofing off, laughing, talking about personal relationships and stuff in front of customers. Observed some team members looking at their phones and not interacting with customers. Secondly, I chose to dine in, however all the tables were dirty and no one came to the dining area to clean tables or sweep floors. This location is poorly managed, I have been there several times for lunch. A mature staff and manager needs to be present instead of children. The cleanliness is horrific.
Sincerely,
Unhappy customer

Sarah hughes
from London, ENG
Ok me and my family have been to the tonypandy branch twice this month for a ice cream.the first time we quid for ten mins in the drive thru only to be told when we got to the window there was no ice cream...today we went back for a malteesers ice cream for the four of us only to be told there wasn't any...I'm disgusted and will be telling friends about this.

vanisha chetty
from Randburg, GT
I visited McDonald's Old Fort Road, Durban, South Africa on 16 December 2018. Till Slip 4309. We used the drive through. We were told to park our vehicle in the parking lot and someone will bring the order to us. We drove to the parking lot and had to park in the disabled parking as there was no other parking.. We waited 15 minutes before our meal was brought to us. At that stage the milkshake was melted and the cool drink was warm. Note that I enjoy having my French fries with my milkshake. I informed the lady that brought the order to the car. She did not say anything. I am a regular Customer at McDonald's. I would like a reimbursement of my meals. Thank you.

Gerry Hambrick
from Jackson, MS
We stoped at McDonalds in Winchester Tn. on Sat 12-15-2018. My wife's bis egg and bacon was so hard that she could not eat it at all. My McMuffin was also very hard. I was able to eat it, but it was not the best. We were going on a trip and could not turn back. We love McDonalds and will continue to eat their, just thought you should know. Order number 59 at 07:12 AM

Gregory Suzanne sr.
from Saranac Lake, NY
Hello, I talked to you're CEO this summer early. the manager Mike served my wife again after all the former problems she had with him asking for KETCHUP. she just went through drive thru for a salad. the girl gave my wife her change and threw it all over the ground. she was served her salad by manager Mike at window. the SALAD was tipped all over the bag!!! this is NOT professional to McDonalds standards. I believe this manager is going to give McDonalds a bad reputation. I believe a harsh reprimand is in order sir. regards Greg Suzanne Sr. 5186376552 oh, I would of attached a photo of served salad if she wasn't so upset!

Rhonda Shaffer
from Naperville, IL
the new ordering system at ur Ann Arbor rd Jackson , mi Location is the biggest pain at lunch time its busy enough without having to try and order and then it takes 20 mins out of the 30 min lunch !!!!!!!!!!!!!! I can tell u first hand my co-workers and myself will no longer be eating at McDonald's for lunch Wendy's is a block away and u get REAL service not some stupid ass computer to order our food ..whom ever came up with this idea is a complete moron have a good day

T. Henry
from Baton Rouge, LA
I went to the McDonalds on the corner of Perkins & Bluebonnet in Baton Rouge, La. for lunch today around 11:30. I don't have the store# because I accidently threw my receipt away. Though my customer service experience was good and my food was fresh, when I went to sit down in the dining area, I hear the Manager on shift loudly fussing at an employee about being 10 minutes late from his break. Then, she proceeds to yell out loudly to the entire staff about taking orders correctly. This was very unprofessional to talk to the staff like that in front of customers. It got so bad, she and one of the employees got into an altercation (fuss match) about how she was talking to them. The Manager proceeded to say things like 'you are below me', 'I make twice what you make', 'go home and clock out or I can call the police'. The employee she was yelling at, I could barely hear what she was saying but I'm reporting this because every time I go to this particular restaurant - it's always something. I had stopped going to this one and starting going to the one on Siegen Lane. I think the Manager needs some managerial behavior classes. No one wants to be talked to like that and I'm sure she doesn't either and her professionalism was awful and did not show very good leadership skills to the other staff. Someone needs to handle that because I know I don't want to hear hollering and fussing while I am eating my lunch. Thank you.

vicky harvey
from Jackson, MS
I when too mcdonalds after I got off work it was 2.30 in the morning I am a food server anyway I when by there too get a sauge biscuit anyway I had when by there 2 nite ago but for 2 days they said they were closed it suppose too be open 24 hours anyway I sit there for 15 minutes waiting for my biscuit finally when I got it I was asking the girl that was working why it took so long she slam the window in my face I am 64 years old I dont need some young treating me that way the place is located in Gulfport on coward road an I-10 these people need too wear name tags well that done it with me I will do without before I ever go back there again this happen on dec.12 at 3.00 in the morning these young kids need too be train better

Christine Kelly
from Garfield Heights, OH
Let me start by saying I love your products! The coffee is especially great, and this is the ONLY reason I go to the awful store here in Garfield Hts, OH. I have been going to this store since 2009 and at least 3X per week. I spend $5.79 every time I come and if my addition is correct, I have paid this store about $10,000 over the course of the last 9 years. The store in which I am referring and filing this complaint has been sub par for the past 5 years. It has changed ownership and was doing a little bit better for about a month, then the owners turned it over to the managers. The service is Slow at best. I have made comments to the manager about staff working like they strolling through the park on a Sunday to no satisfactory change. The customer base at this store is lower- middle wage working class and 9 of 10 times, we are just trying to get our coffee before going in to work. Over the course of the years of coming here, I have realized that if there are more than 2 cars in the drive through, I can expect to be in line for at least 20 minutes. When there are more than two cars, I used to just go inside because it seemed to be quicker. Until, they hired this woman who is easliy confused, never makes my coffee correctly, and mumbles under her breath that she will "pray for me" when I correct her on what I want in my coffee. Today was the final straw when I ordered a blueberry muffin as I always do (they are GREAT) and this woman attempted to put it a cookie bag as I watched through the drive through window. When I tried to ask her to put it in a small sandwich bag as to not smash it, she again mumbled something and when I asked what she said, she denied saying anything. The MOD just watches everything that happens there and I have never seen her try to train or correct any staff member even when a customer has complained. It is obvious that Im not much of a complainer as evidenced by this being my first time comtacting corporate, but I am seriously thinking of switching breakfast food restaurants in the search for better and faster service. I hear Taco Bell has a pretty good breakfast with cinnamon delights.
Thank You,
Christine Kelly
Intake Coordinator
Charak Center for Health and Wellness
216-587-6727 ext 3403

Patricia garcia
from San Jose, CA
I came into McDanolds today it was 49 degrees outside. Inside it was cold. I ask the personal if they could put the heater because it was cold. They said, they didn't Know how to move the control. There were three counting the supervisor at night. They laughed and shrugged there shoulders. The supervisor told us I don't know. No one turned it on for us. We are clients of McDonald's every Saturday we are here along with 8 more people. I can't believe the supervisor is not trained on all the lights and controls and the other Co workers. That is a shame being we are locals. Please have more training on your employees. I feel at night it's more like a game for them instead of caring for customers.

Cheryl Perry 0408 675 424
from Alexandria, NSW
EVERY morning since McDonalds have opened up in Gordonvale I have bought a large lactose free coffee..This Monday morning 10.12.2018 waiting in line in drive through I was told NO lactose free milk...Had to wait till all other cars have there order before I could go..was not happy. Not all people can have full cream milk. Today I go back again to give them one more chance and NO Lactose free milk again! You are in a service station get the milk from them! No we cant do that.. I feel this is terrible customer service for anyone who can't tolerate full cream milk! I will be going to Zarrafas froM noW on where I know I get what I order.. A few months ago we were abused by one of your managers in the drive through and I put in a complainT and received a phone call the next day with an apology and was advised you will receive a voucher so you can buy your coffee each morning,,Guess what?? No voucher was ever received ... I don't think McDonalds take any complaints seriously and I will not be going back there again and will be voicing my opinion on social media as this is not good enough. I feel like I have been discriminated against due to being lactose intolerant.

Raymond Moore
from Albemarle, NC
Our McDonalds on Hwy 52 in Albemarle N.C. has the worst service of all the McDonalds I have ever been in. I went there for breakfast on my way to church, Dec 2nd 2018. They were six people standing in line waiting to be served. After about 4 or 5 minutes of being ignored, a man called for the manager. The lady working behind the counter identified her self as the manager. He ask her if we were going to be waited on and she said they had to wait on the drive up first. She announced loudly, she did not make the rules she just worked there. Almost all the people walked out. This is a very unfriendly staff. No one likes the kiosh ordering, but looks like it is being forced on us. This staff needs additional training.

Sabrina Ranking
from Atlanta, GA
For start this McDonald's is absolutely beautiful from the outside, so I decided to go inside and order. I noticed one of the employees had on a bonnet. Not any type of bonnet, but the one that you sleep in, and then when I received my cup I went to the Coke machine and there was garbage everywhere. Just nasty. Honestly I got very little ice and coke. My food was hot when I received it, but upon eating it I realized that my fries had been reheated. I was literally sick. I will NEVER go back to that McDonald's again. I love your food, but this experience has been the worst ever. If I could I would give this store 0 stars.
Restaurant # 38758
4640 S. Orange Blossom Tr
, Orlando FL 32839
, n407-839-3840

Ray Collins
from Amsterdam, NH
I live in the Philippines and probably order at least five times a week. Several times made online orders for delivery...I have three branches within a mile or less from my house and several times I'm told the branch doesn't not want to cater my order or that they can't find a branch to accept my order. Tonight I was told they no longer take 24 hour orders and then when I found out by going to the branch I was told that the branch stopped accepting orders after 1130pm cause they had to many orders. I explained that they should not cancel the order but call me and state they are behind and my order would take x-amount longer to be delivered and let me decide if that is acceptable. But, they refused and said that branch won't accept the order and the other two branches said they wouldn't cause it wasn't their responsibility to handle a branch that can't keep up with orders. That isn't acceptable! Why keep letting franchises be franchised if no matter how many you put around me they wan't catter my orders. My primary branch is at RMR square Tandang Sora Ave Philippines. They are also indangering their customers cause there is only one entrance and exit to the branch...they chain locked their second floor doors and their two other exits are always locked. I have told the security and management this is a fire concern but they just scrug their shoulders and do nothing.

Suzanne Stewart
from Elmira, NY
I had ordered two egg sausage cheese mcgriddles and got home and had two mcmuffins called the restaraunt about this and was told i would recieve coupons for my sandwitchs and recieved nothing after a month called back was told the same two more months go by nothing i guess my service means nothing and my voice is un heard not happy being lied to.

Betty Garrett
from Henderson, NC
I went to McDonald's on dabne y dr. in Henderson nc. on December 4th 2018 with 11.00 am. It the cashier 4 minutes to come to the cash register to take my order . Then it took 20 minutes to get my food. It was 7 cooks in the back cooking. The cooks in the kitchen were laughing and talking to each other. I hollered back them and asked them where was my big Mac then it took them 5 minutes. to fix it then. The McDonald on dabne y dr. In Henderson nc. Is always real slow. You need to make it the turtle restaurant please please do something about it.

Pamela Jones
from Bedminster, NJ
I cant ever get this app to work. It works perfect everywhere else (other restauurants) but not mcdonalds. Since i go there about everyday i have missed out on a lot of food and free frappas. When you buy 5 the 6th is supposed to be free. This is very disappointing. I asked the employees about it and they said other people are saying the same thing so its not just me. I am beginning to go other places more where i can get rewards. Please fix this issue. Thaznk you.

Sandra Crow
from Raleigh, NC
In the past 4 visits, I've received an egg mcmuffin that only included the muffin no egg, cheese or ham. 1 of the other visits (today) I ordered the classic meal and there were no french fries. The other 2 times the food was cold. They were busy on their cell phones and laughing and talking about what they're doing over the weekend. It's becoming where I have a hard time understanding the employees also.

Joe Condino
from Saint Clair Shores, MI
I went to the McDonalds in St. Clair Shores Mi on 9 Mile RD. between Jefferson and 9/Mack Dr. I ordered a double fish sandwich a double mushroom\swiss burger and a large fry . I paid then when I pulled up to the food window the girl ask me what I ordered I told her then she wanted to see my receipt so I gave it to her. Then she told me to pull up they had to make the burger . I pulled up and waited there for about 10-15 minutes . I ended up going in to see what was going on . When I went in and ask what's going on the kid that was at the counter said what wrong in a rude tone. This McDonalds has gone downhill within about the last year with my orders being wrong !
Looks like I'll just go to a McDonalds further away or just stop going to McDonalds all together !!!!!!!!!!!!!!!!!

Jim thorson
from Bedminster, NJ
McDonalds at the pilot truckstop in Whitefield Indiana. Server at counter never once made eye contact. The condiment counter was out of catch up in both containers, and also out of large list, as well as being disgustingly dirty. I waited eight minutes for my food, and when it still was not ready, I asked for and received my money back and left. I've never posted a complaint, and sadly this was not my worst experience at a McDonald's store, but it may be my last.

doyle wilson
from London, KY
where do they find so sorry workers. they cant get your right you make an order get home they left something out. at least seven times I have order things got home at least 5miles from their store look inside package what doyou know they left something out again.makes me very mad I don't want to drive back to store to change so I let it go things I paid for but didn't get if they cant your order right and package it right fire them hire some who can makes me very upset when I go to mcdonals pay them for my order to find out something was left out when I get home thing about going to hardes from now on.

Jeffrey
from Siloam Springs, AR
I have been to mcdonalds twice n 2weeks i go wrong food cold food additude and they sent me coupons and today i use 1 and they did the same thing somebody needs to contact me now!! Manager snatched my reciept away and i dnt have a copy

myrtle armstrong
from Washington D.C., DC
I stopped at your McDonalds at 2485 Blanding Blvd in Middleburg Fl I placed an order for 3 hamburgers and 2 large sweet teas that was at 1244 am and was not served my items until 1am. This was at the drive through with me being the only car in line. The 3 hamburgers were cold and there was grease dripping from the wrappers. I went back through the drive through and spoke to the manager about the problem. Her response to me was that they had a new trainee. And she would have the burgers remade. Now you expect me to wait another 15 or so minutes? This not exceptible for service or food. I find it hard to believe that a manager would blame an employee for her not doing her job of training. How many people have to become sick or stop going to you stores before problems like these are corrected?

Carolyn Starr
from Lexington, KY
I was at your store at 2483 Nicholasville Rd, Lexington, KY 40503 , a lady came in bought food sat down said a prayer and proceeded to eat the food she bought there , when your fatass employees started harrassing her for no reason , told her she had 30 minutes from the time she walked in to finished her food and get out or they were going to call the police on her !! I will never eat at any Mcdicks ever again !!! this was so uncalled for, it is cold here in Ky . she is probably homeless and justed wanted to eat and get warm .. Your staff is the most heartless bunch of maggots I have ever seen !!!!

Upon receiving our order I double checked the food in the bag and we were missing 2 items. I waited almost 10 minutes and no one opened the window to see if we needed anything. I watched as the staff carried on conversations and ignored us. I pulled back around not to hold up the customer behind me. I arrived at the window again to be looked at and ignored by the manager. she also carried on a personal phone call while on shift behind the counter. I had to knock on the window to get the attention of the staff so I could get the remainder of my food. I clearly stated that some items were missing and I have the receipt. the response I got from the manager was " I don't remember that order, did I serve you?, no I don't think so" in condescending tone. Also when she served us the remainder of the food she just threw it in the bag and thrusted the bag out to me and didn't say anything and stormed off with a bad attitude. This manager displayed a horrible attitude the entire time I was talking to her. this occurred 28 November 2018 1035 PM at 440 Mary Esther Blvd, Mary Esther FL 32569. The name of the manager was either Alisha or Felicia. she did not show proper managerial skills nor customer service skills. I believed she should be removed from management or fired from the restaurant. if I could give lower than 1 star rating I would because that is not how you should be serving the public.

jeffrey sato II
from Fort Walton Beach, FL
Upon receiving our order I double checked the food in the bag and we were missing 2 items. I waited almost 10 minutes and no one opened the window to see if we needed anything. I watched as the staff carried on conversations and ignored us. I pulled back around not to hold up the customer behind me. I arrived at the window again to be looked at and ignored by the manager. she also carried on a personal phone call while on shift behind the counter. I had to knock on the window to get the attention of the staff so I could get the remainder of my food. I clearly stated that some items were missing and I have the receipt. the response I got from the manager was " I don't remember that order, did I serve you?, no I don't think so" in condescending tone. Also when she served us the remainder of the food she just threw it in the bag and thrusted the bag out to me and didn't say anything and stormed off with a bad attitude. This manager displayed a horrible attitude the entire time I was talking to her. this occurred 28 November 2018 1035 PM at 440 Mary Esther Blvd, Mary Esther FL 32569. The name of the manager was either Alisha or Felicia. she did not show proper managerial skills nor customer service skills. I believed she should be removed from management or fired from the restaurant. if I could give lower than 1 star rating I would because that is not how you should be serving the public.

Jane Lee
from El Cerrito, CA
I went to McD a week ago, ..their mcNuggets tastes like dried crap, w cheap used oil..their burger and meat was 1/4 of the size..tried those new bacon cheesefries, and it had 1 peice of cheese, not even melted w sprinkled bacon. I can go back just to get a pic for you. Sick. Had diarrea a few hours later.

Sonya Barton
from Texarkana, TX
My husband and I came through, after a doctors appt. for a late breakfast, because no food before appt. The staff was very friendly, and helpful, but the food was just horrible. I guess if you don't get it at breakfast time, you just are outta luck on getting it fresh, because you obviously get what was left over. It should have been free, it was that bad..Oh wait! The drinks were ok..kinda..I went inside to order, and brought it home to eat it

Jacky
from Charles Town, WV
I have a complaint about one of the manger of the mcdonalds in moorefield wv the manger named Sam she said the f word like 15 Times in front of children in the store she very rude and needs to be fired I asked her if she could not talk like that in the store she told me it was her store and could do what she wanted talked to the big manger and nothin was done and she yells at her employees all day long

Mr S.W. Ainsworth
from Johannesburg, GT
On Friday 23/10/2018 we went to you Lambton branch Germiston. First complaint Mc Donalds motor bikes parked in the disabled park, making it very difficult for me to park in a normal parking and to get my wheelchair out the car. The my partner and I go to the toilets, only to find there are no locks on the toilet doors. As these are public toilets, I find this totally unacceptable. When confronting the manger about the two problems, he just acted as though he new nothing about the motor bikes and the lock situation in the toilets. Surely if you are the manager you must know what is happening around you business.
My experience a Mc Donald's has left me with the feeling that this is a business that just wants to take your money and has no interest in the customers.
Regards

susie Winningham
from Raleigh, NC
Nearly every McDonalds downtown Raleigh N.C. the homeless are sleeping under the tables or in the booths with all they own. They hang around outside and try to start to talk to you wanting money or food. If this is what you want to support I can not understand this. Last night was my last time at McDonalds. My children love going there.

Christopher E Cubbage
from Sherwood, OR
I have had enough negative experiences with McDonalds of late that I felt the need to reach out. The simple challenge for me is that the easiest way for me to express my dissatisfaction is to quit frequenting your restaurants much like people did years ago when McDonalds experienced a signifiant decline in business. I also recognize the futility in reaching out to a large organization that is likely tone deaf to its customers. Nonetheless here goes... I drove up to a drive through this evening to get warm fries and a frosty coke. I love your fries and your coca cola has a secret that makes it better! Suffice to say a cold soggy fry did not light my fire. When I went into the restaurant to complain the manager essentially made it my fault for complaining yet admitted to serving an inferior product intentionally! Thus the slipper slope of just getting away with inferior service an delivery. Also I don not like the kiosk ordering system. Is this a people business or just a assembly line for hamburgers. You guys decide but nobody has to get a hamburger at McDonalds. You might want to remember this is just a hamburger. I can get cold fries and a stale coke anywhere. I doubt you guys care about losing a single customer.. Assuming you do what are you going to do to win back a customer?
Chris

Michael Yeager
from O'Fallon, IL
The McDonalds on 906 Carlyle Ave. in Belleville, IL 62221 has been progressively getting worse in service cleanliness, and drive through times. The management at this location is severely lacking. People are just plain out lazy. For one exception, "Scotty" , is probably one reason why people come back in the morning times. I do avoid going to this location because of the complaints listed above. Hope things change,
Michael Yeager.

Wendy Lobley
from Ashfield, NSW
Mc Donald's Arndell park.
On Friday 16/11/2018 I went through the drive thru to order to children happy meals. I was asked what I wanted I said 2 happy meals. Please note I had two children with me they both wanted McDonalds. I got to the pay counter and I said to the girl can I get a medium coke as well, she said sure I tapped my card never noting the cost never having the order confirmed. I drove to pick it up at the next window maybe 15 m away. I got to the window and was given one happy meal. I said I ordered two. The young girl turn to a young "in charge person" who said they will have to back through the drive thru we don't take cash here...............................
Here my complaint.
1. I ordered two
2. they never read my order back
3. The cash register is 15m away or may be 5 m away in the store.
I drove back thru the drive thru as I had two children who need food. As I cam back throu the said in charge woman was laughing. I did yell a bit of abuse at her but....
3. Clearly they did not hear my order
4. Its not funny to make someone drive around the block
5. I am the customer what horrible service
6. the cash register was never more then 5 m away
its not the first time I have had trouble at this Mc Donalds but this was just ridiculous.
My mistake on the nigh was I should have asked for a refund as the order offered was not what I wanted. Question would I have had to drive around to get a refund.
SERIOUSLY BAD SERVICE> I would like too know what you think of such bad service.. Or is that acceptable
I was so angry, at the stupidlity of driving around and furious at the fact the staff thought it was funny. Arndell Park mc Donald is laughing matter I am there at the sporting club regularly and all the families laugh at it but interestingly not to the face of the staff....
I am sure my complaint will just become electronic fodder but I will keep telling my story as I sit right near the shop.5 m is to far for you not service focused staff to walk what a joke worst service I have ever received.

Andy Luong Vu
from Santa Ana, CA
Dear Ronald McDonald,
I grew up with Miki Dsss in my blood and I also served the restaurant during my several first employment. I am one of your most loyal customer in the world; however, when it comes to services, I was always the extra miles kind of worker. Messing with customers is one of the most disobedience action taken while on your clock committed by some of the services. Today, I got my first classic Big Mac meal. I specifically said I didn't want Ketchup, but I got a lot of ketchup to toss away as waste to your money. I said that I wanted a medium Coke, they gave me a large Pepsi. Another service misunderstanding into the trash can of waste. In addition, the fries were soft and bitter? Why? What happened to MIKI DSSSSSS.
Validation code: 00616-12871-11818-15145-00064-6, McDonald's #616, Westminster at 0314PM

David Hill
from Yellow Springs, OH
I was at the store 11277 north main st dayton ohio and I stood at the counter. A girl at the register stood there looking out the window finally she asked me what I wanted. I can't give you her name because she had no name tag. frizzy hair black hoodie with white lettering saying pink. I asked for 2 cheese burgers small fry and mocha frappe. still looking out the window she asked what I wanted again. I had to tell her 3 times. I waited 15 minutes for my order to which they finally told me the machine was broke. They asked me if I would like something else in it's place. I said no that, that was the real reason I stopped in. and said I wanted just to be refunded for the drink. They yelled for someone named Dianne . Dianne never came they yelled for 2 more time and still she didn't come. I stood there for 25 minutes and still nobody refunded me the money. I assume that this store needs to be retrained for lack of customer service. I wouldn't have complained but this wasn't the first time of bad service at this store. I will no longer patron this store. even though I have to drive farther. I love your food and it's value but not willing to pay this stores wages and not get the product. I eat everyday at McDonalds. ks#2 side 1 order 10 date and time 11 18 2018 12:34 pm

Jerri Greene
from Lake Worth, FL
My family and many of my friends have stopped going to McDonalds for the following reasons:
The Filet of Fish sandwiches - They used to be so good and now they are horrible. There is only 1/2 slice of cheese on each one. They are lukewarm and hard when served (the last 4 times I visited), and there is only 1/2 tsp of sauce on them that covers only the center of the sandwich.
The French fries are lukewarm and are tough in texture.
The chicken nuggets are lukewarm to cold and are tough after sitting for long periods.

Diana lee
from Carson, CA
Food was done incorrectly. I called to explain and the .manager was rude and acted like I was lying. People who prepare the food should pay attention to the screens and order tiers should write down everything you say. Even if you show proof your order is messed up,theirs always one uncompassionate manager their. I request a refund for my entire order please

julie welladsen
from Kellyville, NSW
on 17/11/2018 at 1659hrs I attended the McDonalds store at Wollongong #0369 - the best part about my visit to that particular store was my purchase of my McHappy socks - I stood at the McCafe counter for approx. 2-3 minutes whilst the girl made coffees - she eventually looked up and said "my register isn't working - order at the other counter" - no apology - to which i replied "well maybe some sort of signage would be beneficial" - I then moved to the main counter where there was 3 registers and no person serving and 5 people waiting - eventually one of the staff who were cleaning tables was called to serve customers - I ordered my coffee and coconut pineapple bread to "eat in" which was read back to me "eat in" I confirmed "yes" - after waiting 18 minutes I received my coffee in a takeaway cup - I queried it to which i was told "well thats what they put it through as" - I wasnt going to wait another 18 minutes so I accepted it in a takeaway cup and then waited another 5 minutes for my coconut pineapple bread - a total of 23 minutes - the lack of staff the slow service - the way the staff spoke to paying customers was and is disgraceful

cindy brutcher
from West Monroe, NY
hello I weitnt to mcdonalds in a very bad snow storm to get myself and grandchildren dinner at restaurant nimber1515. it was a wait of 7 minutes in line until I ordered that was fine. after paying at the drivethru window I got to next window . they told me to pull up. ok no problem. after 15 minutes and the cars behind me were driving by me I waited another 3 minutes. I didn't want to go in because my grandson had no jacket for it was taking at an event we were at by someone. but I had to go in the line was long again, so we went in. I asked for manager and the man said I am one of the managers. I explained whats was going on. he spoke to another man and brought me my bags of food. I told him it was now over 20 minutes old and wanted fresh he asured me it was not cold , so I took food out before I left and it was very cold!!!!. I was upset . I said I would like some kind of reembustment he told me only thing he could do was refund me my money. I said im not asking for you to give me my whole meal but one free fry or coffee would be nice . again he told me all I can do is refund u your money. well I was hungery and my gran children were was a long nite at hockey practice.i man 62 and have never been trated like this in my whole life from a mcdonalds. id like something done. like maybe this manager needs to be trained on how to take care of customers when something goes wrong and not be treated like this trying to give me cold food. glad I checked it I should not of had to though. he should of known my food be cold after sitting this long

Mariel C. Pajes
from Makati City, 00
I ordered around 8:30 am (Order #dtcp6z). almost 9:36am still no food arrive. I call up your customer service and he told me that my order is for verification. I repeatedly told him that I didn't received any call from you! but instead of apologizing for the delay, your customer representative still insist that my order is for verification. I want a nice answer and just an apology instead. but I only received a "MAARTE" speaking words from your call center representative.
Almost every week I ordered and always suggesting to order from you because of your fast delivery service.
Until now, while doing this complaint, my order still not arrive!!

Kevin Boswell
from Alton, IL
4 out of 5 orders is usually missing something..
They are rude when I call to complain they will mail me a coupon
It never happens
Store at homer Adams park way
Alton Illinois
62002

RICHARD GALLAGHER
from Arlington, VA
I have complained about this site previously. They do not properly maintain (clean) the iced tea dispenser. Sometimes, their iced tea has a distinctly sour, spoiled smell and taste. I live on iced tea at home and know from experience that tea will "turn" after two days at room temp. I had followed up with this site's supervisor previously, who let me know their procedures & checklists specified daily cleaning. She also told me that on the days in question, their night shift had NOT cleaned the units. This morning's visit was at 0530 this morning just as they opened. I went thru the drive-thru. The tea was distinctly sour, spoiled! Clearly, the units had NOT been cleaned the entire Veteran's Day weekend! Otherwise, how could the iced tea have been so disgusting just at this morning opening? The local food service inspectors should audit their shift records and cite this McDonalds with a fine appropriate for the risk they have subjected their customers. An appropriate inspection placard should be posted.

Sandra Purcell
from Havertown, PA
My daughter had ordered food from the menu and had paid for it at the first window. When we got up to the next window to pick up the food, I decided I wanted a Diet Coke. The gal told me it would be $1.07, I handed her $1.10 (one dollar bill and two nickels). She dropped the change outside the window and told me she dropped it I kept my mouth shut and gave her and additional quarter. When she handed me the drink, it was not full (about two inches from the top. When I asked her to fill it up, she told me she couldn't that it was done automatically. Really, she couldn't top it off.
I am 67 years old and have never made a complaint before,but this whole experience is uncalled for (not a good customer service experence at all.

hope deleon
from Azusa, CA
i went to get something to eat ordereds a 10 piece chicken nugget meal. got to my house and sat down to eat picked up a chicken nugget and bit into it and realized that i was biting downon a chicken bone. its not so much a big deal but i have a 6 year old who was sharing with me snd she would have ate it and choked on it and something where to happen.

Shirley shubert
from West Palm Beach, FL
My husband and I recently moved to Florida and located a wonderful McDonalds on Lake Worth Fl. We have never any issues until today. There were separate table with about 20 teens. Not only were there disgusting tables but yelling and screaming. One teen even placed his food on our table and walked away. I politely asked him to remove it. Not one person or manager said a word or cleaned up any mess. I was appalled. The store # was 34868. Please help.
7578 Tahiti ln
103
Lake worth Fl 33467

Janet Brower
from Myrtle Beach, SC
Window employee not helful.when asked for condiments no ketchup.she said they had none.i said the whole restaurant' had none.no just her window.so do without.asked for unsweetened tea,got sweet. Fries cold.im extremely un happy

David M. McGrain
from Levittown, PA
To whom it may concern,
This morning I went to McDonalds to get breakfast for my family. I was greeted nicely from the person at the drive thru and where I paid for my food. After I paid for my food I moved up to the next window to receive my food which was taking a long time to get. When the girl finally came to the window and gave me my bags with the food I asked her for another hash brown and tried to hand her money for it. She shouted to someone there real loud " HE WANTS A HASH BROWN ". She then tells me that I will have to come in and get it or go back in the long line of the drive thru and get it. I couldn't go in the store to get one because I had twisted my ankle yesterday and it hurt a lot and when I had explained it to her she said " I don't know what to tell you " and then closed the window and walked away. I did not go back in the drive thru because the line was real long and the road to go back in is dangerous. Is this how McDonalds train their employees to treat customers? I never ever had a problem with that store but today I felt that it was real rude for that person to treat me like that and that the person in charge that she was talking to should of let me buy another hash brown. Burger King is closer to my house. Thank you , David McGrain

Gary Shipman
from Marquez, TX
Went in recently to the McDonalds at Madisonville Tx to eat breakfast. Ordered and tried to sit down and enjoy my food. The music was so loud and very inappropriate I had to leave. Said something to person behind the counter, she just gave me a "who cares" look and turned around and walked off. There were children present. This music should not have been heard by them.

Shondon Renee LeBlanc
from Charlotte, NC
Used mobile order. Paid for 2 extra chicken nuggets in Happy Meal for my autistic son and did not get them. The 4 I got were way overcooked as were his fries which were cold and chewy.

Rick Fischer
from Loudon, TN
I stopped to buy dinner takeout at your Loudon, TN, location two days ago. The takeout line was full of cars and pickups, stretching around the back of the building, so I went inside to the counter. I found several people waiting for their order. There was a crew of two boys and three girls. None of them was doing anything of note. Hardly any activity was noticeable behind the counter.
I placed my order and waited. The fry cook had a single patty on the grill, which he passed to the girl assembling two sandwiches. These and two fries were bagged and given to a customer with "sorry for the long wait". I saw nothing to justify any wait at all.
For the full time I was there, not a single patty was fried. It became immediately obvious that the bun toaster was controlling the output of product, and the buns were dropping very slowly. When one dropped, another was put in. The sandwich girl mostly stood around waiting for a bun to drop, then assembled another sandwich, and resumed waiting. The fry boy did nothing while I was there, not one thing to speed up product. He once walked over to drop a bun into the toaster, but not one thing else.
That toaster should have been dropping buns at a fast rate, given the number of customers waiting.
The boy who took my order wandered over the the french fry station, stirred them up a bit, then stood there absently scrapping the side of the warming bin for a minute, then wandered back. He did make two cones for a couple, but other than that, he did nothing to move product out the door.
The window girl had nothing to pass through the window. She make a coffee or two for the counter, but other than that, stood there waiting.
The fifth girl had the job of waiting with an open paper sack for sandwiches to arrive, which while I was there, perhaps eight or ten minutes, only happened twice. She then passed the bag to the window girl who put fries in, and passed the bag out the window. They processed two cars all the while I was there.
They all then resumed waiting for another bun to drop. And all us customers waited.
It was absolutely clear that this crew had no idea how to speed up production, no idea how to step in and help out.
But this is what was most upsetting. The bag girl was constantly regaling the crew with funny stories, which had herself in tears of laughter and was clearly distracting the other crew. She had her back to the counter the whole time, oblivious to us customers waiting there.
I finally had enough, and said loudly for the whole crew to hear that this was without doubt the most incompetent McDonald's crew I had ever seen. No one was doing anything productive. They had customers waiting at the counter and the whole takeout line was full, and they clearly did not give a tinker's damn. They had no idea how to work together to get product out the door.
Then the bag girl had the nerve to tell me that I had not been waiting long for my "one sandwich and fries", so I shouldn't complain. I responded that the manager should be made aware of this situation, upon which she declared "I am the manager", as if that was something of pride.
I told her that if she was the manager, she was to blame for the terrible example she was setting for her crew, for their lack of training and their inability to move customers quickly.
Lest you think I caught them at an inopportune moment, the lady behind me thanked me for speaking up. She said, quote, "I eat here most days, and they are always like this". Unquote.
You people might as well hang up a sign "If you have been waiting a long time, We. Don't. Care."

Dennis H Monnin
from Buffalo, NY
The food and service is great. But how do I enter my Trick Treat codes?

LISA MAY
from Madison Heights, MI
facebook video of store on john r road between 11 and 12 mile road in Madison height, shows completely filthy conditions of the store and there is a person walking around with a puppy, quit going to this store years ago and I live down the road...it's always dirty, they always get my order wrong and the management is rude and the caldeans that work there don't understand or speak very good english

Christi Shelton
from Germantown, TN
Your store at the corner of Millbranch Rd and Winchester Rd in Memphis, TN is not being managed well. It used to be my favorite store. Now the service is slow, the orders are inaccurate and there are two bullet holes in the drive-through order kiosk. The kiosk looks scary and is a real turnoff. The service has changed in the last 6 months. The staff is completely different and they are doing a horrible job. Your prior staff worked well together, but none of those people are there now. Please check on your manager there. It is very disappointing how this store is representing McDonald's so poorly.

Joseph O'Brien
from Bainbridge Island, WA
I and a friend went to McDonalds to eat. My frient wanted breakfast and I wanted a hamburger. I also had the latest coupon book from McDonalds
cbook-1007 WWOA V206 which showed a Free Big Mac next to a free biscuit breakfast sandwich. Problem solved, he would get his breakfast meal and I would get the Big Mac. When I ordered I was informed that hamburgers were not served until 10:30 which it almost was. I then had to order a breakfast item which I really didn't want to do. When The items were being served I ask the sales people why is the Big Mac being advertised on the The most important deal of the day page when it can't be served until 10:30? Very irritating!

Jeffrey Oliver
from Danville, VA
On 10/21 at 2:53 pm I ordered 3 filet o fish w/ tomatoes and extra tartar and 1 leg fries. I clearly asked the manager of store 1255 to drop my fish fresh which she acknowledged and placed on receipt cook to order. The fish was obviously recooked, very hard and bitter. This cost 16.50 and was terrible. I don't normally write complaints but this was a I don't care attitude toward me and my request. This needs to be addressed ASAP.

Joe a Vandenheuvel
from Walker, MN
I ate at a McDonalds south of Missula, Mt., Ended up with food poisoning. I have been sicker than a dog for two days, just getting better, and don't dare go very far from a bathroom. I wish there was a way to get compisated for last time and sickness, but I suppose I'll get a free bi mac or something. I called the so called coporate office and got to explane what happened to a phone answering service. No more big macs for me.

Steven Urquiza
from Huntingtown, MD
Visiting McDonald's in Dunkirk, Maryland on Oct. 17th I ordered two hot apple pies to go. After I got home one of the pies was Pumpkin and I hate
Pumpkin. Well I thought a small glitch in the system. Today on the way to work I ordered two apple pies again, well the same thing, one of the pies was pumpkin. The two boxes containing the pies were both marked APPLE. Someone boxing the pies is not paying attention,
Steve

Lester Cline
from Vinton, VA
I personally won't wait on my self we have a store in Harrisonburg VA I have asked for someone to take my order they point at the self order congratulations you are now in the Walmart category I won't go there a whopper is almost as good and they can still pay cashiers it's a shame you think all you need is management

When ever I go to city center mall Doha McDonald's the 24 hours restaurant I Just leave very mad due to the bad attitude from the staff, last time I memorized the name of Bett she is veryyyyy impolite, they also used to serve me not fresh meal, and when I just request to check my food she just through it in the garbage front of me and I just used to leave the order and go. That's really very bad for the name of McDonald's as an international and known brand. I'm so mad because of that as it was not the first time. Please a gentle request to the management team to double check with their instructions

judy freiermuth
from Buffalo, NY
We were planning on having breakfast at McDonald's. We walked in at 10:08 am We waited in line for fifteen minutes. Only one cashier/order taker. We finally place our order, well we tried. My husband said he wanted the Big Breakfast. The manager said, "we are serving lunch now". The ads on television and the sign in the restaurant says BREAKFAST SERVED ALL DAY. People were waiting for coffee refills, they took care of them first.
So what am I missing here? We left . Extremely unhappy. We had breakfast at Tim Horton's.
No problem at all. Very disappointed at your place .Customers behind us, walked out with us!! Not very good, no wonder businesses are closing.

Thomas Kratofil
from Murrysville, PA
On Oct 14,2018 My wife and I went to McDonald on Rt.22 in Delmont after Church that we been doing for years, both of us are in the high 70ths. When we got their the place was locked and they had a sign on the door saying (Due to lack of employees we cannot let you in) and that you have to go through the drive through. If you had to use the Rest Room you were out of luck. Cars were lined up off of Rt. 22 coming in to McDonald and they did not know what was going on. Either shut the place down or get a Owner that knows how to run a restaurant. My wife was Head Manager at Kings Family Restaurant for 29 years and she said this is BULL.. There is a McDonald down in Murrysville but that is like 20 miles round trip from were I live. If you have one thing like this happen and the word will get out and make McDonald look bad. I would appreciate it if you would look into this matter and the owner. They would have been better off if they would have shut down the entire store till they got enough employees to run it. There been employees of this McDonald store that should never have been employ their. I live off of Rt.66 and my name is Thomas Kratofil I live at 303 Evergreen Ct. Export Pa. Phone Number 724-468-3744. Thank you for your time.

Samuel Williams Jr
from Fayetteville, NC
I ordered two number 3 combo meals double quarter pounders. My burgers was half cooked I happen to be eating the burger in the dark watching tv and noticed the color coat of the burger as well as the upset feeling I was getting on my stomach. I have pics of the burger and called back for a refund. My question is how are y'all going to accommodate me for my upset stomach and throwing up after consuming this burger. If I have to I will seek legal action with my paralegal.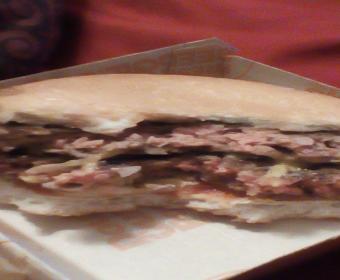 Dr dave
from New Hudson, MI
I was at your strore in warren Michigan 14 mile an Ryan service sucks no Americans working it took over 10 minutes to get my food manger must be 15 yrs. old would not help she maid use your rich screen I'm color blind so a customer help me I'm looking into a lawyer!!!!!!!!!!!!!!

Linda McCartney
from Dallas, TX
We are encouraged to tell about our visit (by wwwmcdvoice.com).. I do it after each visit and always use the validation code to receive free items. It takes my time, but I always use the coupons before they are declared invalid. The last three visits I have turned in the receipts with the validation code on them, still within the acceptable time frame. They did not honor them. Two of them were for BOGO egg mcmuffins and one was for coffee. What do you do for your customers, when they are lot treated fairly?

Went to McDonalds on 10/09/18 with my family. Ordered myself a double cheese burger and fries and coke. When I got my burger the cheese was not even melted and the meet looked dry. You could tell that the burger was cold. I talked to the manager (Monica) and told them if they can make me a new burger and all they did was heated up and gave it back to me with the cheese almost being liquefied. I return their burger back and told them to keep it and walked out. This happened at the McDonalds in El Paso, TX Store # 5581.
Don't know why they hire young kids that don't know how to provide customer service.
Thank you,

Jazzmine
from Bakersfield, CA
To whom it may concern I was at the McDonalds on 8400 Rosedale highway enjoying my favorites the chicken burger and the chicken mcnuggets and I saw a group of five vegetarians eating your food so I thought it would be a good idea to put real meat in your food if you agree please contact me back thank you

Diane Herrle
from Kailua-Kona, HI
I ordered a spam and scrambled egg breakfast. It comes with rice! I asked them to keep the rice . I also ordered a large coffee and a yogurt parfait. I paid and they gave me the food. When I got home I noticed that they gave me egg and rice but no spam. I was so hungry I ate the egg then I took it back. I told them they had messed up my breakfast. They took the rice back but would only give me the spam they had not given to me. I asked them why they did not give me the egg cause they were the ones that messed up the order! I talked to the manager but she would only give me the two pieces of spam! I like eating the egg and spam together! The manager did not understand the concept that they messed up my order and should give me my whole breakfast back!! I didn't accept the two pieces of spam cause I don't like eating it without the egg!! So it was a huge time waster and I went away feeling cheated by the management! When t went back to the order taker admitted her finger slipped and that is why my order is messed up!!

Phil Clark
from Mt. Pleasant, SC
I am unhappy about and plan to boycott McDonald's for trying to push out Customer staff relating to me at the front counter. The installation of and pushing kiosk order stations is not the personal character I expect and have come to enjoy in the past when I walk into any McDonald's nationwide.
I believe that this is an attempt to take more people out of the work force as well as it depersonalizes the ordering and eating experience in your local stores. I appreciate talking with an employee and I believe that there need to be fewer machines doing things people are capable of doing. I like the food McDonald's however, I will not continue to go to McDonald's if there cannot be personal employee service at the front counter.
One other comment; the hand cooked Quarter Pound Hamburger that was offered for a short time I really loved! I hope it might be offered on a regular basis or permanent basis. It really brings out the flavor so much more and is worth the money you charged for that service and fine food.
Thanks for listening.

julia Flagg
from Plymouth, MI
September 17th, Store #12012 Northville Township
The store was nearly vacant at 4:49 in the afternoon, it should have been busy. The only two guests present complained that they had been there waiting for their orders for over 30 minutes. They said the service has declined steadily after the remodel. I ordered an ice cream sundae, which after 4 or 5 minutes I was handed the sundae, no peanuts, so I asked again for the peanut topping. The employee then went around the corner and then returned with the bag of chopped peanuts. This did not appear to be very efficient for the workers. Upon leaving the building, I realized the employee overfilled the container, not securing the lid, and ice cream and chocolate was oozing all down my hand and arm. I stood in the parking lot and ate what I could with it all over my hands and the parking lot. With no trash containers in view, I walked back into the store to throw the mess away and used the restrooms to wash my hands. Clearly something is wrong with this store!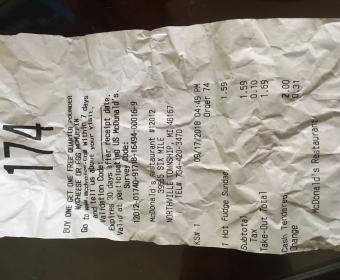 Went through the drive through about 5.30pm 22/9/18, one car in front of me. Ordered cheese burger and a large cappuccino from Holden Hill SA. Received burger but told to wait in waiting bay for coffee but couldn't say how long the wait would be but told it would be wait. Waited for a while and gave up Paid for product didn't receive.

Kathy Brabender
from Madison, WI
I love the SW salads, but his time the chicken seemed half the normal size and very dry.
There was so much lettuce and spinach it was like I was eating a plan lettuce salad.
It was horrible.
Resturant #13480 - 9/19/2018 - 5:30pm

Scott Kremers
from Charlotte, NC
The incompetence of your employees at the Arboretum shopping center store in Charlotte N.C. is staggering.Twice I've left the store because of (1)unreasonable delay when attempting to order and (2) an incredibly long wait ,along with 12 other cars in the drive through lane after placing an order.With no movement of the cars ahead of me I parked my vehicle and entered the store, Customers were waiting to be acknowledged,but were being ignored. There was one employee serving the drive thru,too busy to take orders from the customers inside the store. The only other employee present appeared to be the cook.A women and her daughter had waited so long that she requested that a fresh batch of french fries be prepared,not wanting to eat the fries that had been sitting for God knows how long. I received a surly response from the employee,telling me to get back in the drive thru and wait my turn. At this point I canceled my order. I will never frequent that establishment again. In fact I doubt I will ever eat at a McDonalds again . I rate my experience a negative 5 stars

Kate Evans
from Manhattan, KS
It isn't worth the time nor the food to tolerate the rude dismissive service my party had to put with at Westloop McDonald's in Manhattan Kansas. The mornings you are treated with respect. But the incompetent staff of the evening made several people wait too long for their food, while those coming after them were given their food quickly. My guest was finally given 2 undone quarter pounders and the fudge sundae was melted as they left it on the warm counter too long while the rest of the order was being under cooked. (that is how stupid the staff is) I watched this and is when I went up to the clueless manager & told her 3 people were served & given their food AFTER my guest and another poor patient customer had ordered and had to wait and wait. I refused my cone, told her I wanted my money back and I was turning them in for their socializing with people instead of paying attention to their customers. Why in the world would we have to wait nearly 30 minutes for 2 hamburgers, a melted sundae so that the staff of McDonalds can socialize with the few people who came in they recognize? No respect for their customers, taking advantage of the politeness of paying customers. I will never recommend McDonalds to anyone who wants to come in for lunch or dinner. They gave other people their cones quickly after ordering, WE & another person were ignored and with the given the ice cream has melted? We paid for this garbage!???

jack Grodner
from Dayton, OH
Sat. Sept 8th I went to the McDonalds on rt 48 south in Centerville Ohio about 6:30 pm I ordered a hamburger, small fry, a cheeseburger, a quarter pounder with cheese and a large fry. Due to the long line behind me I did not check my order which I believe a customer should not have to due, and my order was not complete. They forgot to include the hamburger. I am not looking for a reimbursement, but I feel it is imperative that your employees check every order for accuracy before it is handed to the customer. Thank You

Brendon Louth
from Toronto, ON
While pacing an order of a Mac and two large fries,I had to repeat myself 4 times Because your server SHERIFF Did not know WHAT A MAC IS The man was just rude, he informed me that he speaks 4 different languages but did not seem to know what a MAC to me as a customer this is unexeptable.this happed AT Queen and Javis Toronto. I will put the word out to all NOT TO EAT ORDER ANYTHING FROM THIS LOCATION UNTIL THIS MATTER IS CORRECTED. YOURS BRENDON LOUTH.

Jason McKinney
from Chicago, IL
Went to the McDonalds in Southfield, Mi on Northwestern highway by 12 Mile and ordered a Bacon Smokehouse combo in the drive-thru. The attendant asked me if that was what I ordered and then still gave me the wrong sandwich. Got a plain chicken sandwich.

john estabrook
from Greenwell Springs, LA
I called the store in central on hopper rd within 30 minutes and they said they had the new chx tenders. went down and they were out. for this store it's not the first time they just wanted you in and didn't have the product. mickki ds in central sucks.

Jerry W McCoy
from Monroe, NC
I'm probably wasting my time. But, here goes. Customer # 253, time : 11:39am 9-6-18 ,Store # 2601, Monroe, NC 28110. I told the manager (Taych) the diet coke was out. I stood there for a response. So I said sir, what about the diet coke, he turned around and said with a very smart attitude, did you not hear what I said. I said you have not responded to me and let me know anything after standing here for 5 minutes or more. He turned around with an attitude and ignored me. People like that has no place in public work.
I expect a response in a timely manner, if not, I will put this whole experience on Face Book, and Twitter in capital letters McDonalds experience in Monroe, NC , Store #2601.

ziggy
from Independence, MO
went into mc donalds in pleasant hill mo 64080 on 7 hi way
and order the two for five this was at 9:20 pm i was very hungry
hadent had anything to eat all day they take my order and while
i am waiteing for my food i nappened to look back were the food was
being made and notice that the person makeing my burger had one glove off
handleing my bugers with a bear hand he did us the the thongs to get the burger out of the hot tray but put them on the buns with his bear hand
so i ask for my money back and they gave it back but the guy kept comeing up until i left giveing me dirty looks
thatwas totally un called it not my fault he had a glove off doing his job and why would he have one on and one off
i told the front counter that i wanted my money and the reason and she told him to put on his glove and he did
but befor that he had served about four or five orders with no glove on bottom line i will never eat there again thats just to nasty for me
and as far as a rateing that place gets a big - 1000

Caro McCutcheon
from Collins, MS
I have been a Golden Arches fan since 1950. No more. My friend and I went in for iced coffee lattes. We did not want to use the kiosk so we went to the counter. After an extended wait, the manager finally noticed us and asked if we had been served. No. He instructed the male mopping the floor to take our order. He attempted to do so after he wiped his hands on his apron...hardly sanitary!! He was unable to place the order..after many questions..and called the manager over. After an argument and with much difficulty, the manager FINALLY succeeded. As we stepped away from the counter,the man behind us was also obviously irritated that he had a repeat his order for a hot fudge sundae twice. Since then, I have spoken to several other people who have had unpleasant experiences since then renovations and will take their business to Wendy's rather then to return there.
As for the new renovations, all the chrome, low counters, emptiness, kiosks, etc would be appealing...IF you were an ice cold robot. It is hardly warm, friendly, family oriented atmosphere that was the original appeal. I suppose the next move will be to redesign the McDonald clown as a robot

Jo Ann Maples
from Seguin, TX
McDonalds, Seguin, Texas.
First the young girl that took my order had the attitude she could care less about my order. Second even with the cashier she could not count my change back. Third after waiting 20 minutes for my order and not receiving it I decided to ask for my refund. Which I received. The Seguin McDonalds needs a better manager!

Ronald Wells
from East Orange, NJ
Hello to all I hope this complaints reaches you of right mind body and soul. However I experienced an encounter in one of your locations in Elizabeth by Division and Trumble Street that disturbed me. The manager during the graveyard shift refused to give me his name for this complaint after I complained about his credit card machine being down repeatedly during these hours forcing people to use cash from atm inside. In addition, it was reported that this store refused to grant a receipt for purchases made in cash. This led me to believe theft of money is going on during these hours. The Police were called but took some time to respond so I was forced to leave and go to work. The manager even refused to give me my order of Sausage mcgriddle, after mistakingly giving me the bacon mcgriddle. As a result, he refunded my money and refused to serve me my correct order. Another employee got involved by calling names as I video taped his actions.

ronnie terrell
from Louisville, KY
I went to mcdonalds at 330 today and ordered chicken tenders he told me they were out of them and would not have any till tomorrow how can a multi million dollar business be out of a product at 330 in the afternoon we have some bad management or something I don't understand please explain. the location is at us 42 prospect at timber ridge dr 40059 there is no excuse I was really pissed

Sabrina Burnett
from Minneapolis, MN
I went through the drive-thru yesterday and ordered 2 other breakfast items and an egg McMuffin with no meat. I looked in the bag when I received my food, saw 3 items, and saw that one had the white sticker on the wrapper, so I drove away, believing my special order was correctly handled. When I got home and unwrapped it, however, my egg McMuffin (correctly) did not have meat, but also DID NOT HAVE ANY EGG. It was an English muffin with a slice of cheese. That's all. The sticker on it said no sausage. It did not say to hold the egg. This menu item I order ALL THE TIME at that restaurant (and receive correctly most of the time) because it is my favorite item, went out missing the key ingredient: The egg. The other menu items were correct.
This was the restaurant at 5400 West Broadway in Crystal MN. The receipt is almost useless because there was hardly any ink in the register, so I can't be sure, but it looks like it might be store number 581, or perhaps 531. I couldn't make out the phone number because the receipt was so light, so I had to google the phone number. I called the restaurant twice and it just rang and rang; I never got to speak to anyone so it was never resolved. This was not during lunch or dinner rush, this was 2:30 in the afternoon. It was a very frustrating experience.

Terry Lovato
from Montrose, CO
McDonalds here is getting worst as time goes by. First I was buying quarter-pounders then they are now letting not cook all the way. I call them had to take it back to them and was told they are suppose to leave then a little bloody the Corp told them they stated. Now tonight I went and bought fries and guess what they are pinching the cup to give us a lot less but for the same money. First time I was told to bring back the quarter pounder and which I did and they give me another one just as bloody as the first. I had to drive all the way back there just to get a bloody burger again when I call they said they could not return my money but could exchange it for another. I waste to much gas running back and forth just to get a bloody burger again. I believe the next step will be to report it to a higher office.

tara brown
from Dallas, TX
I am a very upset customer with McDonalds (2) locations i visited last
Night was very unprofessional and I will never visit those locations
Again the McDonalds on Illinois let us sit in the drive thru for 20 minutes
Only to tell us they ran out of hamburger they only had chicken, now that
Is all well and good it happens but no one came out side to announce it
They just let the lines pile up we ended up leaving and once we left we seen
Two employees coming from behind the bushes smoking weed, we then left and
went to the McDonalds on 35 and Keist it was worst all of the employees were sitting
Around talking from what we could see inside and the lines were piled up and once we finally
Got to the intercom we were then told they were out of one item we wanted so we
proceeds to order the remaining food and we stayed in line 15 min one person order a big order
So instead of them telling him to go park we had to wait and once i
Got to finally get my order the fries were threw in the bag and cold they were not in the
Holder they were just in the bottom of the bag and cold i got a soda that i did not order
And the clerk asked me several time my order saying very rudely i just got here. I am here to say I will never go to either one of those location again.

Victoria Farley
from Macon, GA
Today 8/18/2018, I came today to speak with the General Manager Mrs. Sonja of Day Shift, my daughter works there and they always having words, so I took her to talk to the General Manager, since she the only one my daughter having problem with, I asked her to come outside to have a conversion, after we talked, she didn't know that I had came in the Store behind her, everything we talked about outside she came in and was telling the other staff, that my daughter is a grown woman but she got her mother to come up her questioning me, and was repeating everything to them.
There have been many time she had words with other employee, she unprofessional, messy, and very childish, and very petty, how can you manage a store if your employees have to fuss and curse you out, then she will take the person off schedule for two week because they voice their opinion of how she do things there.
Signe is a very hard worker and she always come to work when they call her to come, but this Sonja is the only one she have problem with, today the night manager even call Signe to come back to work, after Sonja sent her home around lunch time, just because she questioning her.

Ronald Kendrick
from Gastonia, NC
I witness a shift leader berating an employee in front of customers of and her co-workers for no apparent reason. His name is Antwain Cunningham at the Mcdonalds on West Franklin Blvd Gastonia, NC. This is the second time in this Mcdonalds I have witnessed his behavior. If he is in management and behaving that way I will stop bringing my family and tell my friends not to bring their families either. He was out of control cursing, swearing. In my opinion, I think he is power happy and should not be employed until his attitude is adjusted. The management team there
must really be desperate if they allow him to continue to work. I was so intrigued I asked other employees about him and they said he has curse them and their parents. Mcdonalds surely you can do better. I own a small business and if I were to talk to my workers in front of my customers that way I'm sure my business would suffer.

kevin delong
from Fort Wayne, IN
When the alleged give away of the Big Mac coins was announced I went to 4 McDonalds in my area starting at 11 Am. I was told by all 4 stores that they were sold out. Very strange all 4 sold out 1/2 hour after the minimum start of being able to buy them at 10:30 as before that only breakfast was sold.. Found out by employees that assistant Managers and store managers were not issuing coins and holding them back to sell on ebay or trade for cash under the table. Found on ebay over 1,100 listings for MC Donalds coins. What the employees told me was absolutely true

The Hash Browns are always awefull , Taste like Fish(like never change the Grease) , ugly. Just very Rare to get a fresh Hashbrown(Mcdonalds Montgomery Village MD) at any time, maybe it is just me, bad luck???..?? Unless you wait for them to cook fresh. 10 more Minn. wait. Just wish there was another option for the Breakfast meals. I have Boycott m'c D's since i got sick on only 1- 1/2 hashbrowns . Also, $5 for a breakfast sandwitch(which i really like) is just to Much, the Meal is about .60 more. So i am out!

james wentzel
from Philadelphia, PA
in the last 2 weeks i have stop at mcdonalds#3320 and 3 out of the 4 times i ordered meals with large coffee and told them specifically NO SUGAR and they have put sugar in my coffee and the 4 th time i asked whether there was sugar in it and she said yes and then replaced it . I am diabetic ...NOW either it gets rectified quickly or i find Burger King as a good alternative. When you say NO SUGAR is that too hard to understand ? i tried to call them personally but their phone number is not recognized ..Probably i am not the only person with a problem. It can happen once in a while but when you say NO SUGAR and you get to work and take asip and it issweet as hell ...NOT ACCEPTABLE

Roberto Escobar
from Altus, OK
Today March 6, 2019 my wife and I went to your restaurant in Altus ok. We ordered two mushroom swiss burgers. Every place I've gone to for mushroom swiss burger the burgers have mushroom and swiss cheese. The ones that were given to us had old mushroom onion fries and bacon. The name on the menu is deceiving. A mushroom swiss burger is just that not that other ingredients. I was extremely disappointed.

I will start by saying that I would like to have given 0 stars but there is no option!
I and my family passed some street kids on our way to 7 Seas shopping mall in Vadodara, India, and as we entered the mall we stopped at the McDonalds ice cream kiosk just inside the entry to buy an ice cream ice for those poor street kids on what was an incredibly hot day. The kids themselves were not anywhere near McDonalds or the building, as after the pavement there are a large number of steps into the shopping mall, security etc.
My husband had a quick errand to run so he gave me Rs 500 to buy the ice creams but when we approached McDonalds ice cream kiosk the member of staff there actively prevented us from buying the ice creams for the street kids. She said she didn't have any change so couldn't serve us. I thought that was really strange as Rs 500 is a small amount and this is McDonalds in a shopping mall, how could she possibly not have change of such a small amount! I was very dubious about her story and as we stood waiting for my husband we noticed lots of shoppers going over to McDonalds to buy themselves ice creams and the member of staff was handing all of them change with no difficulty. Her story simply didn't make sense.
My husband soon returned and asked if we had finished giving out the ice creams. We told him that we hadn't even started as we had been told by McDonalds staff that they didn't have any change. My husband looked incredulous, he said there is no way that is possible and we walked over to the McDonalds ice cream kiosk where my husband challenged the staff member about her story. She said that McDonalds do not like shoppers buying ice cream for street kids because they will get used to having McDonalds ice cream and will be present on the pavement outside of the shopping mall and the staff didn't like them being there as they and shoppers will have to look at them! Apart from us being utterly shocked and outraged, this confirmed my belief that she had been lying about having no change. I am absolutely disgusted at McDonalds, who seem to have a fear of children getting used to ice cream! These poor street kids have nothing, is it too much to allow foreigners to show them a bit of kindness and buy them an ice cream? What has the world come to and especially in India, I thought India was a caring society, McDonalds itself is an American chain but their staff in India are Indian, brought up in what is supposed to be a caring society yet they seem to begrudge a child an ice cream.
I have complained to McDonalds India about this issue and have received nothing but silence from them, my emails being completely ignored. I therefore contacted McDonalds in the US, both their customer services and their CEO Steve Easterbrook, again absolutely no response from either. It seems that McDonalds now thinks it is not answerable to anyone for any situation. It is my experience of them that if there is a problem, they will just ignore it, they seem to think their size and might gives them the right to trample on anybody and their rights and get away with it and that includes poor street kids!. Shame on you McDonalds.
I would like for McDonalds to stop this discrimination. I do not however have any faith in them doing so as after this incident I researched on the internet if there had been any similar situations and I found some from a few years back in which McDonalds apologised (maybe only because it caused a media storm of protest at the time) and said it would now welcome street kids and serve them like anyone else. Well things have not improved one bit, so it looks like that statement was just lip service and in fact things have got worse because now it is not only the issue of the street kids being harassed by McDonalds but now even foreigners are being prevented from buying them anything from McDonalds. If McDonalds don't want customers, then just let the world know and we will all happily buy our fast food from elsewhere! I and my family and friends have all boycotted McDonalds until this appalling incident is rectified to our full satisfaction in the name of these street kids.

Marie Swann
from Bridgeton, NJ
McDonald's at 56 East Broad street it's getting so ridiculous. They are not open 24 hours, they close differently each day and night, prices for items are different each time, also double taxing. I have charges that I have no idea for what when asked they give different answers each time depending who's working, and other family and friends say the same thing. Some workers are very rude and disrespectful. They always say the milkshake machine is down. I rarely ever complain but this has repeatedly been going on for sometime now. Orders aren't correct and when we ask for them to fix it, workers get an attitude, so we don't even asks anymore. It's a shame because we absolutely LOVE McDonald's! When we order dinner it's always 30 or more. It's sad that we are slowly declining to get our beloved fast food that I, myself have been eating since I was little, my second word(s) were French fry when I seen that big yellow M sitting in my car seat that my mother and grandmother remind me of all the time because I would always yell French fries while kicking the back of their seat. I'm sorry for this letter but I'm just so upset about how this McDonald's is being allowed to be like tbis.

Gary
from Wisconsin Rapids, WI
I went to mcdonalds in adams wi to order 2 cheeseburgers off the dollar menu. the bill came to 2.53. I ask if the cheese burgers were still a dollar and she said no they went up. Then I ask about the dollar menu sign that said they were a dollar and the manager said to give me a discount. What about the others that ordered a cheeseburger off the dollar menu. A lot of people are poor in the adams friendship wi area. Get it right mcdonalds

D Miltenbergerfamily@geusnet.com
from New Iberia, LA
Stopped sat Greenville Texas McDonalds for donut sticks and coffee
About 2:30 p m . Waited about five minutes people dressed in white shirts black pants were caring for drive thru
Kept looking at line forming and made no effort to say someonevwill be there shortly they kept looking then we ordered and were told sticks were only served at breakfast.
About three months abgovwe ate enjoyable breakfast food, then it went to terrible food and now this
Use to brAg scout Greenville Texas McDonald's but not anymore

Kendall S. Carter
from Rochester, NY
Saturday- 3/02/19 I went to drive through at 820 Culver Road Rochester, N.Y. 14609 ordered hash brown and steak/egg cheese bagel breakfast sandwich. I paid and left arrived at work looked at breakfast sandwich and saw a had a "huge" bite out of it and realized it was not what I had ordered (bacon, lettuce and eggs)? When I returned to location. I went in furious and asked why would they have sold a sandwich with a bite taken out of it? The person who spoke to me as she continued to take orders stated I was yelling and acting as though she took bite out of the sandwich. Writer asked her was she a manager? She said, "No, the supervisor". Writer stated as far as I was concerned it was the same thing. She did not apologize or act with any sense of urgency about the situation and made me feel as though I was the one at fault. This person stated she did not apologize because writer was yelling. I continued to yell informed the cashier to place my funds back on my card and continued yelling as I walked out of store. I will take responsibility for yelling. I was furious with the lack of concern or regard for the situation. The individual in charge appeared not o know anything about customer service or defusing a "irate" customer. I did not take a picture of the sandwich-but I'm sure there is footage of event at the store.

I used to love McDonalds when I was younger. As an adult, a quick stop for a burger occasionally works from time to time. Lately, or should I say for the past 10 or so years, the service has gotten horrible. Customers have made McDonalds as well as a number of other fast food chains very successful, so I believe it is imperative that your organization give back to the customer, not the community, the customer.
It makes no sense to erect Ray Crock centers for the underprivileged, because it doesn't get our food cooked any faster. When I walk into a McDonalds, I expect to be waited on quickly, and then handed my order seconds later, not minutes.
You should have a full crew at every location all the hours you are open. Not moseying in at 7AM when some people have to be at work at 7AM. The food should be cooked and ready. It can sit under a heat lamp for up to 10 minutes before discarding. Believe me, you will be doing a lot of discarding at first, but if people can count on being able to get their food quickly, you will get to a point where there will be minimal discarding-if none at all.
If you think a Crock center is more important, give these underprivileged a job. If they think they are too good to work there, shut down the centers, or shut down the stores. Don't act like you need both. In other words, put the profits back into the stores, and not building new ones. Allow for money to be wasted in order to continue making a profit.
I was waited on first and served my food last. There is no excuse for that nonsense. People that work there are not even hustling; they are moving slow. Tell corporate to kick their teenage kids upside the head if they do not want to work there.
I cannot even rate you with even one star. My order was even cold when I received it.
One more thing. Stop trying to sell healthy food. People that want to eat healthy are idiots for stopping at McDonalds, or any fast food franchise.

Lakesha Baggett
from Chicago, IL
The McDonald's on Milwaukee and Sawyer the manager Gabriella is verrrrrrrry unprofessional she asked me for my phone number I am a married women I do uber eats she gave me a hard time I asked for her name she wouldn't give it to me that's not right I asked for corporate phone number she said no I asked a worker that works there Gabriella told him not to talk to me Gabriella made me feel very uncomfortable Gabriella called uber eats on me now this happened after i made my delivery i came back to get corporate number and she refuses to give me the number no and refused to give her name and she kept giving me thumbs down on the uber app for what and i had stop making deliveries so she didn't suppose to go back on the app all bcuz im n[t a lesbian i really need for Gabriella to apologize she told the worker dont talk to me u dont do that and you working with the public now remember i wasn't there picking up food I was there for corporate number and her name Gabriella needs to be disciplined for these actions I work with public dunkin donuts and when a customer asks for corporate or your name you supposed to tell them and also management do not suppose to tell there crew don't talk to the customer my boss would fire me i been there 12 years can someone call me 6307490384

ED HARGETT
from Arlington, TX
waited at counter for 8min for someone to take order [personel laughing and joking in prep area] finally had to ask if anyone working counter, at the same time the drive thru was backing up all the way round the bldg. had ordered 2 apple pies with order waited 15 min for order then was told the had only one apple pie. was offered cherry pie instead [do not like them they are terrible] was not offered refund, this happens often at this store as no one seems to be in charge of restocking the pies. the problem with the counter happened to at least 3 other customers while I waited. I know that these are not horrible complaints but happens to often at this store, store #17227 order 87 at 6:16PM 3/3/19 Thank you

The complaint I have is French fries. We go to McDonald's in Paris Ill.....the fries are never full.....we even tried ordering large size....and it did not matter. Anytime we get fries...they do not even come up to edge of the curve in box....so doesn't matter the size never full and the price is high for what you get!!
Please be in contact and have them take care of this...we have even got to point of not going back anymore. We spend a good amount there...with having three teenagers in the house

Kathryn A. Badgeley
from Cleveland, OH
If there was something lower than a 1 that's what your score would be. Went to the McDonald's at John Glenn Airport on 3/2/19 at 9:45om. They were suppose to be open until 10pm. All the employees were sitting in the dining area on their phones. When I pointed to my watch and told them the sign says you are open until 10pm they all started laughing. Great impression. Now I understand why your company only scored a 1 1/2 out of 5.

THE MCDONALDS AT 1551 ANN BRADEN BLVD. NEEDS A LOT OF HELP IN THE P/R DEPARTMENT , THE CREW/ LEADER OR MANAGER ON DUTY AT 1600/1700 CST 3/01/2019 NEEDS A LOT OF TRAINING OR SHE NEEDS TO BE REPLACED , THIS IS THE SECOND TIME I HAVE HAD A RUN IN WITH HER , 1ST TIME I WENT IN TO GET A BREAKFAST SANDWICH WITH YOUR APPT. THAT SAID $1.00 OFF ON A BREAKFAST SANDWICH I WAS ORDERING A SAUSAGE MUFFIN WITH EGG , SHE WOULD NOT EXCEPT THE APPT. IT HAD NOT EXPIRED NOR HAD I USED IT BEFORE. SHE JUST SAID I NEEDED TO ORDER SOMETHING I WANTED THE BREAKFAST SANDWICH , THIS WAS IN FEBRUARY LAST WEEK , THEN TODAY 3/01 I WEN IN TO GET A FLAPPEE, MEDIUM FOR A 1.00 OFF AS YOUR APPT. STATES AGAIN SHE WOULD NOT EXCEPT IT , SHE WOULDNT EVEN HONOR THE APPT. HER MACHINE WOULD SCAN IT. I KNOW THAT I AM ONE CUSTOMER " BUT I AM A CUSTOMER " SHE NEEDS TO A LOT OF TRAINING SHE WILL NOT GIVE HER NAME , THE MAINTANCE PERSON TREATS PEOPLE BETTER THAN HER.
I WOULS LIKE A RESPONCE OR SOMETHING.
THANK YOU
CURTIS HEDRICK
CURTISH4301@GMAIL.COM

The store in Lebanon, IN. For the last two years won't stock enough products to sell. That have added extra refrigeration and still won't keep stocked. I have to go to the McD in zionsville, IN to get chicken tenders

Lynn Fry
from Harrisburg, PA
I saw mcdonalds was advertising the Shamrock Shakes. Went to a mcdonalds rrstaurant, waited in line, ordered 2 shamrock shakes and was told their machine was down/not working. Being that we were already out, we went to another mcdonalds restaurant and ordered 2 shamrock shakes and AGAIN was told the shake machine was down/not working. hmmmm it seems to me mcdonalds did not have the shamrock shakes and were telling people the shake machine was not working. Maybe you shouldn't advertise something before you actually have the product. Anyway I know its no big deal but on the way home we stopped at Arbys and got our shakes.

I went through the drive-thru today for a Mocha Frappe and the Frappe was nothing but a cup of flavored ice. I couldn't even drink it through the straw. I did not go back because I had to get back to work.

location 35242 Grand River Ave,. Farmington Hills, MI 48335
THIS PLACE IS TOTALLY UNDERSTAFFED, AND WHO IS WORKING THERE FEELS THIS PRESSURE AND OFFERS POOR SERVICE.
IT WAS A NORMAL PLACE UNTIL 3 MONTHS AGO, NOW IT IS REALLY BAD AND NOT GOOD AT ALL FOR MC DONALD'S IMAGE.I SUGGEST YOU RETRAIN THOSE EMPLOYEES AND HELP THEM ADDING A FEW MORE PEOPLE ESPECIALLY IN THE MORNING.

Montgomery Village, MD : The Hashbrowns are awful , sometimes taste like dead fish, obviously never change the Greese pit. Actually got sick as a dog from eating 2 hash-browns on an empty stomach( NO Hangover). They need another Option with a Breakfast meal order, getting real old and disgusting.

Eldon Dodge
from Stoughton, WI
We were traveling back home from Siesta Key, Florida today (2-23-19) at 4:30 a.m. and needed to get breakfast on the way to the Punta Gorda airport. We saw the lights on at the Clark Road McDonalds in Sarasota and it said open 24 hours. When we pulled in - there were two people inside just standing around and talking. There were two cars ahead of us one for coffee and the other for tea. We pulled up and ordered 4 Egg White Delight sandwiches and a coffee - we were told the total amount and pulled forward. Once we were there the lady told us the total and then someone inside told her there was no food - egg sandwiches. We asked if there was anything made. She was told to close the window and then you could hear someone - the manager??? yelling at her about the order. She had closed the window and we tried to holler at her about what was going on. When we received no response we left and were very disappointed as we needed to make our flight time. This is a very bad representation of 24 hour service!! Eldon and Laurie Dodge

My track team went to the McDonald's at 4711 14th st Bradenton Fl. It took 1 hour and 6 minutes for 12 people to get their basic orders. I have never been to a poorer run fast food establishment than this. The other customers were furious as well. I could have sit down at a steak house and ordered and eaten faster! This establishments owners need to know this. I would have fired the manager and a few employees.

Its impossible to get a happy meal with no meat my grandkids are vegan and would like a happy meal but everytime i ask for a happy meal with no burger or nuggets they ack like im asking the impossible. So please come up with a vegan happy meal . Thank you Dena Walker !!!

My teenager daughter Teresa Denton is her name she's 17 she has a disability bit of autistic she started working at McDonald's in June we are very proud of her she switched to the morning shift one of the managers asked her is she had autistic in her she's going to college I guess she's working there to pay for her college when trees are said yes she started picking on tresa more than usual we moved Teresa to the night shift to see if we can get rid of her trees didn't say anything to me she keeps things inside the lady still was picking on Theresa the way she mopped and just kept hammering on her according to Theresa she doesn't do that to anyone but her and another upsetting thing is one of the employees manager offered her some booze to help calm her down I could have been wine yeah my daughter has a disability she's on pills and I'm proud of Theresa she told her no and she quit the job that's on sessional what I want done is the place checked fire them I don't care you don't offer a minor anything to drink to calm her down Teresa quick but you need to go to this McDonald's and check it out I know Teresa is imperfect she's a little bit you know but still that was wrong I'm reporting this because I don't want nobody else to go through this or you need to train your employees management Teresa was doing fine when she first started she was so proud of her and I was proud of her I want something done some kind of punishment whatever you can do this is not right her mother Laura Denton

First of all service is always excellent: friendly, cheer full and courteous !!!!
I visit My McDonalds at least 3 times a week and always get the McGriddle and a lg black coffee.
Today I decided to try the doughnut sticks, very disappointing!!
they were all miss shaped and not one grain of cinnamon sugar and they were doughy on the inside.
The young lady who took my money asked if I order with NO cheese, I told her WITH cheese please
it came with NO cheese ( I did eat it anyway and it was good but not as good as it would have been had I had my cheese).
when I got to my destination and realized my order was askew I was a little pissy at first, but then I drank my coffee and thought to myself "get over it" so venting does help!!
best regards
Mimi

I ordered a Fruit & Yogurt Parfait and received a cup of fruit with a spoon full of yogurt. I called the store to ask why there isn't any yogurt at the bottom she stated that how they make it now. I thought it was odd that they put it in a bag this is why people sit at the window and check their food. I can't even eat this smh!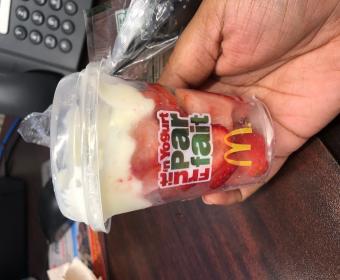 I called to see if I could use my app for $4.99 nuggets twice. The man who answered said yes he'd have to run it on two separate orders then it would be fine. I even verified it was on my iPhone app. So I went right up and did as he said on two orders and they told me they couldn't do it. I had just talked to him before getting four kids in the car to go there. I talked with Elaina Galloway as I was told she was manager and she said nothing she could do. I could have gone to Burger King for nuggets way cheaper. I called the complaint dept at corporate thinking you'd help me. I am so angry. I haven't been called back and nothing has been done to solve my complaint. What the heck? This is SO wrong. Can anyone make this right? I should have gotten what I was told less than an hour before at the same location on Howe ave #11090. PLEASE HELP ME SETTLE THIS. I've called twice. I will continue until this is settled somehow. My phone number is 330-923-3504. I have both receipts.

carmen velez
from Middletown, PA
I went today to macdonald at the harrisburg pike Middletown to buy asome cheeseburger, a quarter pound burger and let me
tell you, the burgers wee greasy, burn, the burgers look like they were old, taste like carton and look so discusting, that we have to throw it
out. This is the 3rd time this happens again. I stop buying from your restaurant but I guess I would have to leave theis place and go somewhre
else.
c armen

This is the 3rd time in 2 weeks that I have a complaint.
I go to the McDonalds at Whitaker Avenue & Hunting Park Avenue in Philadelphia, PA, at least 4 times /week, it's across from my work.
I was just in there today 2/16/2019 and I walk in, it's approx. 10 people behind the counter but no one at the cash register. I wait, the employees are looking at me but no one says, I will be with you shortly, hello, welcome, nothing. I stood there for 5 minutes until someone finally takes my order.
This McDonalds is the worst that I have been to in Philadelphia. It's always like this, even if I go in the morning before work.
There is no customer service in this store. You need to send someone in there to act like a customer so they can see how this store is run.
Order #102
4163 Whitaker Ave.
2/16/19 @12:06pm

LINDA MIDDLETON
from Cape Town, WC
Yesterday 14/02 our electricity was of from 18h00 to 20h30. we bought 4 meals at Mcdonalds - Paarl Jan van Riebeeck RD.( KFC next door was closed bcz of the load shedding). the chips of 2 meals were UNDONE, HARD, RAW, and FATTY. NOT CRISPY. We couldn't turn back as we were on the way to Cape Town.
And its the first time that I ever experience those chips.....

Husband picked food up from McDonald's on 25th in Gulfport, Ms. I stuck my hand in to get fries pulled up a NASTY smashed roach stucked to fries. Immediately, threw food everything away. Gagged , throw up a good while. Trying to wash mouth out. Talk about nasty, filthy gross! Of course, it was thrown out! We only spent $4.35 on whole order! Not trying to get something to eat in it's place. But, to be told by one manager that it probably wasn't a BUG, was quite rude, belittling as well as really saying that I was LYING! I understand your policy. I respect your Policy!! That WAS a NASTY filthy downright most horrible, horrific experience! Please reinforce the policy for them to wash hands. Cover hair and CHECK FOOD FOR BUGS! Store # 3191

Jordane avon
from Toronto, ON
I go to the same McDonalds everyday on my break for my coffee! All the employees are so nice and put a smile on my face other than this one manager at the downtown Peterborough Ontario location! Her name is Susan and to top it off she is a manager.... and the she says today as I am thinking to myself; "why are you sighing?" I respond just in thought....? she replies "Agh people like you should just not come here" As I asked her "pardon me" she basically through my coffee at me and proceeded to yell at me as I walked away about how she was going to come watch me do my job and sigh while she did? Worst and most embarrassing display of poor customer service... She should not work there let alone be a manager... All she is doing is giving them a bad name and she should be ashamed... Keep your issues at home and definitely don't take them out on random customers, specially ones you see returning day to day. Timmies here I come, maybe they will know how to pick respectful managers.

There is no changing table at the McDonald's at 2646Jamacha Blvd., El cajon, CA.
I went to change my 2 1/2 year old granddaughter. I had to balance her between the newly remodeled sinks. After a struggle I got the job done. However there was no trash can there to put it in. I told the person there that I was complaining about that and she said, we used to have one.
This place has a play structure for kids, why not put in a changing table. That is wrong. By the way, I threw the diaper inside the restaurant. I was frustrated and very upset. I could not change her on the floor, because at 73 I wouldn't be able to get up!

i had a terrible experience with one of the suspervisors named Natali at McDonalds located at 4553 HWY 7, Woodbridge, ON.
her beviour is very rude, ignorant and not professional, for the way she treated us as a regular customers, she gave a bad reputation.
i blame the company for hiring this uneducated person to deal with customoers, i am so upset and disappointed.

lina mando
from Maple, ON
I am a resident of Woodbridge, ON. my 2 daughters love to go eat in McDonald almost every week or unless every 2 weeks, well, today 02/10/19,we went to MacDonald to eat at 4535 Hwy 7,Woodbridge,ON, Store #7565, we have the worst experience ever , "the supervisor named Donna ", was very rude , and ignorant, what happened is that she came to our table said that it's not allowed to have drink in the water cup, then she took the cups while we are eating in ignorant way and left, I got so upset of her behaviour, so I went after her to tell her that this is not the good way to behave, she can explain to us in a good way to not do it again and we will accept that. But instead she yelled and screamed at me in the presence of all the customer and employers, I sked her why you yell and scream but she continues screaming and yell at me, she accused me that (I teach my kids to steal the drink). Then she said with (laughing) (goodbye), she embraced me in front all without respect, everyone was looking at me and surprised for what she is acting toward me. I got upset more, I am the constant client of this store suppose to have a great time and treat with my daughters, but I was wrong, I didn't feel safe there anymore that we ended leaving right a way without finish our food, because of her weird and unacceptable attitude. I ask one of employers to speak with the manager, she came to me again and said I am the manager, everyone was laughing supporting her. I believe if this supervisor stay at her position, your company will lose a lot customers in the future for the way she treat costumers. I blame the company for hiring this uneducated, ignorant and not qualified person for this sensitive position.
the company has to do something against her, unless I drag her and the company to court to give her a lesson of behaving and respecting others, and the company learn how and who to choose their professional employers who are willing to improve the service of the company and therefore receive more good feedbacks.

Luke Wilcox
from Defiance, OH
I went to the eastside McDonalds in Defiance ,Ohio and ordered the 2 for $4 breakfast sandwich special. I paid at the first window and went to the pickup window and was asked to pull up wait in the designated area. The previous 2 cars in front of me had also been asked to do the same. As I was waiting the next 2 cars were also asked to pull up and wait . so, a total of 5 people were waiting for their orders. After about 10 minutes none had received their order. Finally after another 5 minutes the manager came out with 2 orders for the last 2 cars that were waiting . Finally another 5 minutes and she brought the rest of the orders and I asked if the receipt was in the bag and it was not , so I asked her for my receipt and she said she would have load some paper to print it out . after another 7 minutes I had had my order with the receipt. She apologized but I do not see why it took a total of 27 minutes to get my order for an advertised special.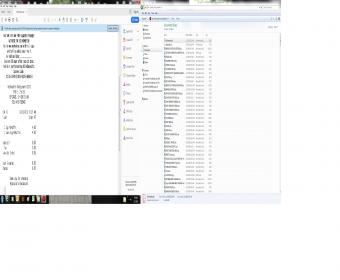 lina mando
from Maple, ON
Date: February10,2019
McDonalds
4535 HWY 7, L4L 1S6
Woodbridge, ON
RE: Complaint Against Supervisor (Donna)
To Whom It May Concern
I am writing this letter to inform you of the behavior of one of the supervisors in this company named (Donna), I am referring to the constant discrediting, use of abusive language and insulting. I have been experiencing from especially on February10,2019, at 4.05pm.
I am a resident of Woodbridge, ON. my 2 daughters love to go eat in McDonald almost every week or unless every 2 weeks, well, today 02/10/19,we went to MacDonald to eat at 4535 Hwy 7,Woodbridge,ON, Store #7565, we have the worst experience ever , "the supervisor ", was very rude , and ignorant, what happened is that she came to our table said that it's not allowed to have drink in the water cup, then she took the cups while we are eating in ignorant way and left, I got so upset of her behaviour, so I went after her to tell her that this is not the good way to behave, she can explain to us in a good way to not do it again and we will accept that. But instead she yelled and screamed at me in the presence of all the customer and employers, I sked her why you yell and scream but she continues screaming and yell at me, she accused me that (I teach my kids to steal the drink). Then she said with (laughing) (goodbye), she embraced me in front all without respect, everyone was looking at me and surprised for what she is acting toward me. I got upset more, I am the constant client of this store suppose to have a great time and treat with my daughters, but I was wrong, I didn't feel safe there anymore that we ended leaving right a way without finish our food, because of her weird and unacceptable attitude. I ask one of employers to speak with the manager, she came to me again and said I am the manager, everyone was laughing supporting her. I believe if this supervisor stay at her position, your company will lose a lot customers in the future for the way she treat costumers.
I have tried to bring this issue to your attention to no avail. It is, therefore, my wish that you try to find out what the problem is and act on it in the best way possible. I love working here, and I know that this is a company that holds true to employee wellbeing. As such, I trust that you will handle this matter amicably.
I am looking forward to a positive response.
Sincerely,

lina mando
from Maple, ON
Hi,
Today February 10,2019, on Sunday, at 4.05pm, we came me and my kids to have dinner at McDonalds store located at 4535 HWY 7,Woodbridge, ON.
after we got our order and while we are eating one of your supervisor came to me and told me that it is not allowed to have drink in the water cup, then she took the drink while we are eating in a very bad and rud behaviour. knowing that I did know that fact about the drink.
so i got upset for her behaviour, i went to speak with her for her bad attidude, insdead she yall and scream at me in front all the costumers and acused me that i teach my kids to steal and she kick me out the store and laugh and staff also, you can check the surveillance camera for what she said. how come i teach my kids to steal and i am a regular customer at this location for long time. Her bhaviour wasnt professional, she does not deserve this position as supervisor, i am so upset about your staff and the way they treat customer, will not come to this location ever, and will not recommend anyone to go there.
i hope you take incident at your highly consideration
thank your
Lina Mando

Mr Anderson
from Richmond, VA
at restaurant store #1576.... 2011 Chamberlayne ave in Richmond Va i got poor services disrespectful and profanity

che L Hoskins
from Walnut Creek, CA
On February 10th at 12:30 am I was attempting to get food at your restaurant located at 220 Bailey Rd in Bay Point ca. The young Caucasian male between the age of 18 - 22 was working the drive thru window and left me sitting at the intercom for over 5 mins making no contact nor acknowledging my presence that he was aware I was waiting. At this time I blew the horn to get their attention and the Caucasian male working the drive thru communicated to me via speaker "that is not how you get my attention so you can go get your food somewhere else." I attempted to speak with manager on duty who was a Filipino male that walked towards me holding his cell phone showing me the screen reflecting he's calling 911 and refused to hear my complaint. While the manager was standing there the Caucasian male referred to me as a nigger and he don't have to serve me. The level is customer service is unexceptionable, unprofessional and has cast this organization in negative light. If this matter is not addressed I will take further legal action to ensure patrons of the community is not subjected to that type behavior and racism, discrimination in a community that they are a guest in.

patricia gruetter
from Carmichael, CA
numerous times i have gone to mcdonalds and ordered large mango pineapple smoothies. numerous times i am being cheated on the amounts. mcdonalds restaurants are under the impression to fill to the ice line only which is about 1- 1 1/2 inch below the top. im stating that this is false advertising. i have filed many complaints and gotten no where. it is definitely false advertising. if you look at the menu the picture ashow full to the top not to the ice line. its a 4.00 item. you are already making your money why scam the customer of the full product. i demand my smoothies filled to the top so i get my acutal moneys worth. i do not like to be cheated. which is what mcdonalds is doing.
https://www.mcdonalds.com/us/en-us/product/mango-pineapple-smoothie-smal...
i purchase smoothies sometimes 3-4 times per week. i am upset that i have to continually argue. this last time. the restaurant refused. so i demanded my money back. no apology no manners by the staff. because i was not satisfied with the cheating of the customer. i realize they are told to do this but it is false advertising. i would love to know how you are going to solve this issue for me so i can get my moneys worth without having to argue. whatever happened to the customer always being right. you stick by your rules and i have proven that you are therefore cheating all the customers. my phone number 209-915-3831 i expect some answers. i am quite upset. that my previous complaints were not handled any better regarding the same issue....

Maryann L Beaulieu
from Minneapolis, MN
They forgot an item "10 piece nugget". This is not the 1st, 2nd, or 3rd time, but this is the first time I am complaining. I am unable to get a ride back to the location to pick up the item, and I have to go to work so no time neither. I am so upset!

Poor service
I Waited in line for one person working. They took my order knowing what I wanted. I than paid for it and worker came back and said they did t have that type of muffin and the apple turnovers will take 6 minutes. I got piss off when this should of been told to me before my order was complete and paid for. I then said never mind and walked out.
Location Spruce Grove Ab.

I only ordered a hot tea waited between 3-5 mins and then was asked to pull aside and wait for a hot cup of tea really I drove off with nothing

john johnson
from Frankfort, IN
I have witness drug transactions after the owner left to go home,the night mangers steal from registers and keep quarrel between employees for recreational use.Camera do not work in break room the owner is rude and mean to all the people in that place they fire and rehire a employee five times to walk out again.The owner name is Ted Williams (Fort Wayne, Indiana) South Anthony location he has been busted before for selling narcotics at his previous store here in Fort Wayne,Indiana.I would like somebody to look into this

Christina S.
from Chicago, IL
Had a very bad experience at the McDonalds Drive through which consisted of a young lady with a ponytail and a NorthFace Jacket in Drive through. When she opened the window to confirm my window I could not quite understand her and only heard a Diet Coke which I did order. When she opened the window again, I indicated that I want to make sure that it was a Southwest Salad and a Diet Coke, she then proceeded to tell me "Oh my God, I just asked you and you said a Double Cheesburger and Diet". I said, I am sorry, I could not understand you - She then closed the window and got the manager. The manager then opened the window and asked what I asked with the young lady standing in the background. The manager then closed the window again and I could hear the young lady again, make the comment why did she agree to the Double Cheeseburger. I then made eye contact with the young lady and said I could not hear and apologized. She then said you did not say that - I then indicated I am a Call Center Manager for a Call Center and you do not talk to your customers in that manner. The Manager then did not say anything else and just said we apologize. - Very upset with the lack of professionalism

Harry Beckwith
from Bedminster, NJ
I am on a road trip and stopped in at a McDonald's in Arkadelphia Arkansas and I ordered a artisan chicken sandwich meal wich they didn't have the buns for it which was fine so I said just put it on a different bun but waited 20 min for and by that time the number 3 meaI I ordered was cold. This is about the 3rd time in 3 week that I had a messed up order. Please start hiring more quilified people

This email was sent to the owner:
deanrestaurantsMcD@gmail.com on 1/25/19 and have not got a reply
Good afternoon,
I am writing you about the quality of your Double Quarter pounder with Cheese and your French fry's. Yester afternoon, I visit your location at the Loves Truck Stop. McDonald's Restaurant #35785.
I ordered the #3 Double Quarter Pounder with Cheese meal. The meat tasted like it was made around 3 hours earlier, and the fry's were cold.
I did not realize this, until I got back into my truck to get on the road. I am a truck driver, and this was my meal for the day. Needles to say, I did not eat that, it was discussing and gross. So I went with out anything to eat for the rest of the day. Because we are only allotted a 30 min break on our driving time being on E-Logs.
I suggest with you being the owner, or manager of this restaurant, that your quality control be a little better monitored.
Sincerely,
Todd Kirkpatrick
Have feedback for McDonalds?
Thanks for your feedback!
Sorry. Please try again later!