McDonalds
McDonalds Complaints Continued... (Page 1)
924+ reviews added so far. Upset? Call McDonalds corporate: 800-244-6227

Paul flint
from Manchester, ENG
Me and my family have visited this mc Donald's on two occasions and both times the food has been cold my daughter were upset because her chips and nuggets were cold my Big Mac was cold and my chips even the coffee was cold when u eat out you don't expect food to be cold me and my family was most upset we use mc Donald's almost twice a week. At different branches this Branchhas a problem with serving hot food

Ricardo Rush
from Davenport, FL
on Sunday 3/24/19 at 4:43pm I placed a mobile order at store # 38760 located at 1720 Celebration Blvd, Celebration FL 34747. Received confirmation # MN737321634. Upon arriving at the restaurant to pick up the order I was told that it had not been received. We received a confirmation number indicating that the order was ready for pick up. The manager said that this store is not on Google maps, therefore the orders are most likely being re-routed to other stores. I'm not sure if you are aware of the problem. However, it is an inconvenience and should be corrected.
I Spoke to Jessica in customer service on 3/24/19 at 5:20pm and she said she would inform management.
Thank you

Harold McCormick
from Chicago, IL
A friend an l went to McDonald's in Anamosa on Chamberlain Dr., we were there at 6 a.m. Mar 21. Then on the way home we had stopped by around 9.p.m. and it was,dark again. I didn't know that the store was closed.
I have learned that Brandon Lovell has enjoyed pinching young female employees on their buttocks. This is a clear sign of a pedophile or sex offender.

Your restaurant is fine but you app and phone Customer service stinks. I would go into it but I have spoken to Customer service twice and I not going through it again in an email. Contact me if you even care. Now the email did not go through the first time. Let's see if it goes through the second time

Diana Cronin
from Marietta, GA
Your restaurant is fine but you app and phone Customer service stinks. I would go into it but I have spoken to Customer service twice and I not going through it again in an email. Contact me if you even care.

Ken Bryant kcb881960@gmail.com
I stop at McDonald's about four nights a week in Trenton florida. Almost always close to their closing time. A Sunday night I ordered a fish sandwich, small fry and 6 nuggets from drive through and headed home while eating. My fries were Luke warm and nuggets COLD. I stopped there again a couple days later and told the drive through person what happened last time and wanted to be compensated for it. The manger told her since I didn't report it the same night she wasn't going to do anything about it. This is absolutely unacceptable

My experience doesn't get even one star and I never complain. (Kathy) at the store in Salt Lake City, Utah (500 South and apprx. 300 West)
I asked the representative to elaborate on an item in the menu, then ordered it. The item wasn't what I had ordered (or what she had described) so I asked the representative to replace it. She argued with me actively. I finally received the item I had wanted but the breakfast had sausage instead of the bacon, which I asked for specifically. I was cordial through it all... I was planning on returning the breakfast when the security guard replied to my friend and I that we had been sitting there longer than 30 min., and asked us to leave??? Really??? well yes, I was still attempting to get my order correct. I did not eat the breakfast... I spent over seven dollars on a breakfast I didn't like and didn't want to argue over. I would like a refund. BIG BREAKFAST. We should be able to enjoy our morning without this misery. I won't return to this store, and I won't suggest this store to my friends. Sincerely, Pat P.S. Andy was great though, a breath of fresh air!

Hi there! My wife and I drive almost every day thorough all boroughs of New York city and we love to go to your locations,specially, for your coffe which is the best for you us . Sadly, the personal who serve the coffee almost never get it right.
They forget add the sugar or they make it extremely sweet. For instance, moments ago my order was:
2 L. Coffee
ADD 4 Cream
ADD 2 Splenda
I got : One large black extremely sweet
One large coffee with too much
cream and not sugar at all.
At McDonald's restaurant # 13508
Grand Concourse
Bronx, NY 10451
Tel# 1718 404 8608 ( out of service)
All this is not new; it's being for log, long time.
Hope you can do something .
Have a great day!

Jose Mote
from The Bronx, NY
Hi there! My wife and I drive almost every day thorough all boroughs of New York city and we love to go to your locations,specially, for your coffe which is the best for you us . Sadly, the personal who serve the coffee almost never get it right.
They forget add the sugar or they make it extremely sweet. For instance, moments ago my order was:
2 L. Coffee
ADD 4 Cream
ADD 2 Splenda
I got : One large black extremely sweet
One large coffee with too much
cream and not sugar at all.
At McDonald's restaurant # 13508
Grand Concourse
Bronx, NY 10451
Tel# 1718 404 8608 ( out of service)
All this is not new; it's being for log, long time.
Hope you can do something .
Have a great day!

Libby ball
from Chattanooga, TN
The service was very slow didn't have apple pies. NEEED To CHANGE The Grease I ordered nuggets soo dark brown or burned it the grease. Not light brown and golden. I will never come back I spread the word change the grease.

i ordered a mushroom melt and they gave me a chicken mushroom melt instead and it was very greasy that it upset my stomach.

I visit the McDonald's store on 315 Meadow Dr., N Tonawanda at least 3/4 times a month. I have 3 grandchildren and we always go through the drive thru. This location is the closest to my home. If there was another store nearby, I would not be visiting this store any longer. My last 5 visits have been very disappointing. After speaking with manager, I advised her I would be emailing corporate. She was very nice, but I feel that the lack of detail to getting orders right is horrible. After the last 5 visits, I get home and something is missing, wrong order etc. I even check my receipt before pulling up to get my food and that is usually right. For example, I got home one evening and 3 meal order did not have the French fries! During that visit I also ordered 2 chicken nugget happy meals and 1 cheeseburger happy meal. I got 3 chicken nugget meals. My last visit, I checked my receipt which was correct, got my order and then pulled over to make sure I got everything. As usual, I did not get my 2 buffalo hot sauces which I specifically asked if they were in the bag before leaving. This is when I parked and went in to get them. I did speak to the manager. She did offer me something for my inconvenience, but I said I have kids in the car and my food is getting cold. She did say she would speak to everyone. I think something needs to come from you as well. When I got home with order after having to go in and get the sauces, my grandson had ordered a sausage egg mcmuffin. When he opened it, it was a ham mcmuffin. How do you get that wrong. Sorry so lengthy, but I am so frustrated with the service at this location. Thank you.

Hi, I had purchased a large mocha ice coffee and let me tell you 3/4 of it was ice. Nothing really to drink. I had paid $3.91 for it.
It was a location on Staten Island

Warren coker
from LaFayette, GA
I stopped at McDonald's in Lafayette ,Georgia last week, I ordered 2 filet of fish? Was not fit to eat !! Over cooked , Cheese half way on the buns, I will NOT be back at the Lafayette McDonald's ,

James Henley
from Columbus, GA
I have been a costumer for two years. I have had a costumer at the Bradley Park, Columbus, Ga. yell st me 2 months ago when she could not process my order correctly. Today as I do twice a week, I ordered a large French Latte Coffee. Twenty minutes later the Coffee was brought to me. But two minutes later the employee came out with a small latte coffee and told me it was regular coffee she brought me. I told her I ordered a large. They brought me out a large latte coffee ten minutes later. After drinking the coffee I got a mouthful of grounds, so much I had to spit it out as I could not swallow. I got it all over my clothes. The people in the booth sitting in front of me overheard me and said the same thing happened to them. I mentioned this to the manager at the restaurant. I will not eat at this restaurant any more. The manager at this restaurant is not capable of operating a restaurant. You need to find a better manager who can supervise his employees better.

dennis w beard
from Colorado Springs, CO
i have been one of your customers from 1965 - 03/15/2019 i was at this restaurant # 5767 at 01:33 27680 hwy 50 la junta co. i saw my order walk out customer brought it back in then they gave it to us smashed up sake your service is the worst your over priced hope you go under

Service was terrible,25 minute wait just to get to the pay window,I was the second car,lost my order,gave me the wrong order,had to give my receipt just so they could figure out my order and then the young lady that screwed everything was the most rude inconsiderate person I've ever encountered,she should be fired and I overheard her say to another employee to get me my food and some one else give it to me,I had both my grandkids with me and they shouldn't be around such ignorant person with a vulgar language and nasty attitude,This bar none has to be the worst McDonald's in the state of Missouri,believe me I will tell everyone I know about this McDonald's and will call on television channels in the area aware of the terrible employees and service you receive.I for a fact will not be spending another dime at any McDonald's and I also feel calling the store at 7241 Gravois Avenue at 314-351-6307 is a complete waste of time because they all play together and it never goes anywhere or hear anything from them management,personally I'm done with McDonald's,McDonald's is a disgrace to fast food service

Dawn Waggoner
from Chicago, IL
My husband and I were traveling through Colorado recently and on March 7, 2019 at 11:25 a.m., we stopped at McDonald's in Bennett, Colorado for lunch. We both ordered the Quarter Pound Cheese meal, which my husband paid for and we then found a table and sat down to wait for our order number to be called. The store was not overly busy but there were several other customers so we knew there was a possibility of a few minutes wait time. We waited for twenty minutes for our order. My husband went to the counter and picked up our food and we began eating. After taking a bite of my Quarter Pounder with Cheese, I noticed that a red greasy liquid was dripping from my sandwich. I lifted up the top bun to see what was causing the mess and it was easy to identify that the meat was uncooked; It had been on the grill but only the outside of the meat was browned-the inside was almost raw. I told my husband that I couldn't eat it because the meat was dripping blood and I was worried that I could get e-coli or food poisoning from eating it. He looked at his burger and found that it was also uncooked. He took them both back up to the counter and told the server/waitress that the meat was under-cooked. She looked at it and said "Did you want it cooked?" He told her that we would prefer that our hamburgers be cooked to a temperature somewhere in the range of 140 degrees and that they should not have any blood dripping or be red in the center of the meat. She said it would be a few minutes. My husband came back to our table and we continued eating our cold French fries for another ten minutes. He then retrieved our replacement burgers which we opened and inspected for any signs of blood. There was not any blood but after taking a bite, I was feeling a little nauseous and didn't finish eating it.
We have eaten at various McDonald's for many years and I don't believe either of us has had an experience quite like the one we had at the Bennett, Colorado McDonald's. The store itself was fairly clean but the people working there seemed to have little or no interaction with the customers. We were not greeted by any employee, and our server didn't ask or make suggestions regarding our order; she simply stood there and looked at us until my husband told her what he wanted. After waiting for twenty minutes for an under-cooked burger, I felt like maybe we should have been more specific when ordering. If there was a manager or someone in charge on the premises, they were not working with the employees as a team-leader; the employees appeared indifferent to the customers, to their jobs and there were no smiling faces to be seen - anywhere.

Stopped for a coffee this morning 3/12 no lids for the coffee cups. Last week no sugar.Very poor mgt.

I had a doctors appointment in Smithtown, NY this morning. On my way to work I went through the drive-thru in the Saint James, NY location (8:29 a.m.). I purchased the new donut sticks. After I drove away, I open the package and found the sticks to be overcooked, hard and if they ever had cinnamon/sugar on them, it was gone. I could not turn back because I was on my way to work. I thereafter stopped at your Manorville, NY (9:10 a.m.) location because it was on my way to work. I explained to them what had happened and they told me I had to drive 45 minutes back to Smithtown, NY or call them because there was nothing the Manorville, NY location could do for me. I was only looking for them to exchange the product with had a total of $2.05 with tax. I told them just to throw them away. I realize that each location is independently owned, but as a corporation I feel they could have exchanged the defective/overcooked product. I know one customer does not mean anything to you, but I will no longer purchase from any McDonalds location.

David Lane
from Stayton, OR
Today 3/9/19 at11:04 am the wife and I puchased two saugage breakfast meals and ordered them eith white cheese and egg whites. when we recieved the orders they did have white cheese but they both had whole eggs on them.this took place at store no.13829. that being said we also ordere two cups of coffee and when we were finally able to drink said coffee it turned out that one cup was a fourth of the way full of coffee grounds. No wonder ittasted bitter. The manager did apollogize for the egg fiasco and was probably unaware of the coffee issue for we did not discover the grounds untill after leaving the store. Why is it that we were not informed of the no egg white policy untill after recieving our meals and why did some body dump coffee grounds in our cups? I feel this is very digracefull and some one needs talked about these issues. Thank You. David Lane

Angie Sieger
from Princeton, IL
I understand that you are trying to serve better food by making fresh food as it's ordered, but in doing that the workers are not making sure they are giving the best quality of food. Today not only did I have to wait in line for a while in drive thru, but when I got back with my lunch I bite into my burger to find that at best it was only half cooked. I think there has to be a happy medium of getting fast food fast and hot, but also making sure it's cooked properly.
You ask why I didn't take it back....because my lunch break wasn't long enough to wait for another burger to be prepared by them.
I can't express how disappointing it is when they tell you that you can't have orange juice in the morning because the machine is down or the ice cream machine is down in the afternoon.
Thank you for allowing me to vent my complaint with you.

Themba Skomolo
from Johannesburg, GT
good day
please note that I was not happy with the service from Olifansfontein Mcdonald in Tembisa I waited almost an hour to receive my order.
I reaceved my order and went home when I open I was wasn't happy with the food its like they gave me for free please see the below attached file for more details you can contact me on 063 508 1329 and the cashier name is Moroane C order number:1950.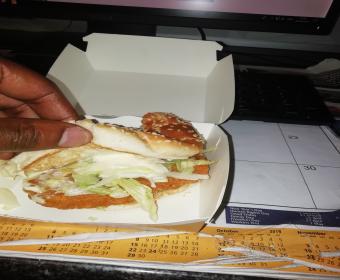 The Hash Browns are always awefull , Taste like Fish(like never change the Grease) , ugly. Just very Rare to get a fresh Hashbrown(Mcdonalds Montgomery Village MD) at any time, maybe it is just me, bad luck???..?? Unless you wait for them to cook fresh. 10 more Minn. wait. Just wish there was another option for the Breakfast meals. I have Boycott m'c D's since i got sick on only 1- 1/2 hashbrowns . Also, $5 for a breakfast sandwitch(which i really like) is just to Much, the Meal is about .60 more. So i am out!

james wentzel
from Philadelphia, PA
in the last 2 weeks i have stop at mcdonalds#3320 and 3 out of the 4 times i ordered meals with large coffee and told them specifically NO SUGAR and they have put sugar in my coffee and the 4 th time i asked whether there was sugar in it and she said yes and then replaced it . I am diabetic ...NOW either it gets rectified quickly or i find Burger King as a good alternative. When you say NO SUGAR is that too hard to understand ? i tried to call them personally but their phone number is not recognized ..Probably i am not the only person with a problem. It can happen once in a while but when you say NO SUGAR and you get to work and take asip and it issweet as hell ...NOT ACCEPTABLE

Roberto Escobar
from Altus, OK
Today March 6, 2019 my wife and I went to your restaurant in Altus ok. We ordered two mushroom swiss burgers. Every place I've gone to for mushroom swiss burger the burgers have mushroom and swiss cheese. The ones that were given to us had old mushroom onion fries and bacon. The name on the menu is deceiving. A mushroom swiss burger is just that not that other ingredients. I was extremely disappointed.

I will start by saying that I would like to have given 0 stars but there is no option!
I and my family passed some street kids on our way to 7 Seas shopping mall in Vadodara, India, and as we entered the mall we stopped at the McDonalds ice cream kiosk just inside the entry to buy an ice cream ice for those poor street kids on what was an incredibly hot day. The kids themselves were not anywhere near McDonalds or the building, as after the pavement there are a large number of steps into the shopping mall, security etc.
My husband had a quick errand to run so he gave me Rs 500 to buy the ice creams but when we approached McDonalds ice cream kiosk the member of staff there actively prevented us from buying the ice creams for the street kids. She said she didn't have any change so couldn't serve us. I thought that was really strange as Rs 500 is a small amount and this is McDonalds in a shopping mall, how could she possibly not have change of such a small amount! I was very dubious about her story and as we stood waiting for my husband we noticed lots of shoppers going over to McDonalds to buy themselves ice creams and the member of staff was handing all of them change with no difficulty. Her story simply didn't make sense.
My husband soon returned and asked if we had finished giving out the ice creams. We told him that we hadn't even started as we had been told by McDonalds staff that they didn't have any change. My husband looked incredulous, he said there is no way that is possible and we walked over to the McDonalds ice cream kiosk where my husband challenged the staff member about her story. She said that McDonalds do not like shoppers buying ice cream for street kids because they will get used to having McDonalds ice cream and will be present on the pavement outside of the shopping mall and the staff didn't like them being there as they and shoppers will have to look at them! Apart from us being utterly shocked and outraged, this confirmed my belief that she had been lying about having no change. I am absolutely disgusted at McDonalds, who seem to have a fear of children getting used to ice cream! These poor street kids have nothing, is it too much to allow foreigners to show them a bit of kindness and buy them an ice cream? What has the world come to and especially in India, I thought India was a caring society, McDonalds itself is an American chain but their staff in India are Indian, brought up in what is supposed to be a caring society yet they seem to begrudge a child an ice cream.
I have complained to McDonalds India about this issue and have received nothing but silence from them, my emails being completely ignored. I therefore contacted McDonalds in the US, both their customer services and their CEO Steve Easterbrook, again absolutely no response from either. It seems that McDonalds now thinks it is not answerable to anyone for any situation. It is my experience of them that if there is a problem, they will just ignore it, they seem to think their size and might gives them the right to trample on anybody and their rights and get away with it and that includes poor street kids!. Shame on you McDonalds.
I would like for McDonalds to stop this discrimination. I do not however have any faith in them doing so as after this incident I researched on the internet if there had been any similar situations and I found some from a few years back in which McDonalds apologised (maybe only because it caused a media storm of protest at the time) and said it would now welcome street kids and serve them like anyone else. Well things have not improved one bit, so it looks like that statement was just lip service and in fact things have got worse because now it is not only the issue of the street kids being harassed by McDonalds but now even foreigners are being prevented from buying them anything from McDonalds. If McDonalds don't want customers, then just let the world know and we will all happily buy our fast food from elsewhere! I and my family and friends have all boycotted McDonalds until this appalling incident is rectified to our full satisfaction in the name of these street kids.

Marie Swann
from Bridgeton, NJ
McDonald's at 56 East Broad street it's getting so ridiculous. They are not open 24 hours, they close differently each day and night, prices for items are different each time, also double taxing. I have charges that I have no idea for what when asked they give different answers each time depending who's working, and other family and friends say the same thing. Some workers are very rude and disrespectful. They always say the milkshake machine is down. I rarely ever complain but this has repeatedly been going on for sometime now. Orders aren't correct and when we ask for them to fix it, workers get an attitude, so we don't even asks anymore. It's a shame because we absolutely LOVE McDonald's! When we order dinner it's always 30 or more. It's sad that we are slowly declining to get our beloved fast food that I, myself have been eating since I was little, my second word(s) were French fry when I seen that big yellow M sitting in my car seat that my mother and grandmother remind me of all the time because I would always yell French fries while kicking the back of their seat. I'm sorry for this letter but I'm just so upset about how this McDonald's is being allowed to be like tbis.

Gary
from Wisconsin Rapids, WI
I went to mcdonalds in adams wi to order 2 cheeseburgers off the dollar menu. the bill came to 2.53. I ask if the cheese burgers were still a dollar and she said no they went up. Then I ask about the dollar menu sign that said they were a dollar and the manager said to give me a discount. What about the others that ordered a cheeseburger off the dollar menu. A lot of people are poor in the adams friendship wi area. Get it right mcdonalds

D Miltenbergerfamily@geusnet.com
from New Iberia, LA
Stopped sat Greenville Texas McDonalds for donut sticks and coffee
About 2:30 p m . Waited about five minutes people dressed in white shirts black pants were caring for drive thru
Kept looking at line forming and made no effort to say someonevwill be there shortly they kept looking then we ordered and were told sticks were only served at breakfast.
About three months abgovwe ate enjoyable breakfast food, then it went to terrible food and now this
Use to brAg scout Greenville Texas McDonald's but not anymore

Kendall S. Carter
from Rochester, NY
Saturday- 3/02/19 I went to drive through at 820 Culver Road Rochester, N.Y. 14609 ordered hash brown and steak/egg cheese bagel breakfast sandwich. I paid and left arrived at work looked at breakfast sandwich and saw a had a "huge" bite out of it and realized it was not what I had ordered (bacon, lettuce and eggs)? When I returned to location. I went in furious and asked why would they have sold a sandwich with a bite taken out of it? The person who spoke to me as she continued to take orders stated I was yelling and acting as though she took bite out of the sandwich. Writer asked her was she a manager? She said, "No, the supervisor". Writer stated as far as I was concerned it was the same thing. She did not apologize or act with any sense of urgency about the situation and made me feel as though I was the one at fault. This person stated she did not apologize because writer was yelling. I continued to yell informed the cashier to place my funds back on my card and continued yelling as I walked out of store. I will take responsibility for yelling. I was furious with the lack of concern or regard for the situation. The individual in charge appeared not o know anything about customer service or defusing a "irate" customer. I did not take a picture of the sandwich-but I'm sure there is footage of event at the store.

I used to love McDonalds when I was younger. As an adult, a quick stop for a burger occasionally works from time to time. Lately, or should I say for the past 10 or so years, the service has gotten horrible. Customers have made McDonalds as well as a number of other fast food chains very successful, so I believe it is imperative that your organization give back to the customer, not the community, the customer.
It makes no sense to erect Ray Crock centers for the underprivileged, because it doesn't get our food cooked any faster. When I walk into a McDonalds, I expect to be waited on quickly, and then handed my order seconds later, not minutes.
You should have a full crew at every location all the hours you are open. Not moseying in at 7AM when some people have to be at work at 7AM. The food should be cooked and ready. It can sit under a heat lamp for up to 10 minutes before discarding. Believe me, you will be doing a lot of discarding at first, but if people can count on being able to get their food quickly, you will get to a point where there will be minimal discarding-if none at all.
If you think a Crock center is more important, give these underprivileged a job. If they think they are too good to work there, shut down the centers, or shut down the stores. Don't act like you need both. In other words, put the profits back into the stores, and not building new ones. Allow for money to be wasted in order to continue making a profit.
I was waited on first and served my food last. There is no excuse for that nonsense. People that work there are not even hustling; they are moving slow. Tell corporate to kick their teenage kids upside the head if they do not want to work there.
I cannot even rate you with even one star. My order was even cold when I received it.
One more thing. Stop trying to sell healthy food. People that want to eat healthy are idiots for stopping at McDonalds, or any fast food franchise.

Lakesha Baggett
from Chicago, IL
The McDonald's on Milwaukee and Sawyer the manager Gabriella is verrrrrrrry unprofessional she asked me for my phone number I am a married women I do uber eats she gave me a hard time I asked for her name she wouldn't give it to me that's not right I asked for corporate phone number she said no I asked a worker that works there Gabriella told him not to talk to me Gabriella made me feel very uncomfortable Gabriella called uber eats on me now this happened after i made my delivery i came back to get corporate number and she refuses to give me the number no and refused to give her name and she kept giving me thumbs down on the uber app for what and i had stop making deliveries so she didn't suppose to go back on the app all bcuz im n[t a lesbian i really need for Gabriella to apologize she told the worker dont talk to me u dont do that and you working with the public now remember i wasn't there picking up food I was there for corporate number and her name Gabriella needs to be disciplined for these actions I work with public dunkin donuts and when a customer asks for corporate or your name you supposed to tell them and also management do not suppose to tell there crew don't talk to the customer my boss would fire me i been there 12 years can someone call me 6307490384

ED HARGETT
from Arlington, TX
waited at counter for 8min for someone to take order [personel laughing and joking in prep area] finally had to ask if anyone working counter, at the same time the drive thru was backing up all the way round the bldg. had ordered 2 apple pies with order waited 15 min for order then was told the had only one apple pie. was offered cherry pie instead [do not like them they are terrible] was not offered refund, this happens often at this store as no one seems to be in charge of restocking the pies. the problem with the counter happened to at least 3 other customers while I waited. I know that these are not horrible complaints but happens to often at this store, store #17227 order 87 at 6:16PM 3/3/19 Thank you

The complaint I have is French fries. We go to McDonald's in Paris Ill.....the fries are never full.....we even tried ordering large size....and it did not matter. Anytime we get fries...they do not even come up to edge of the curve in box....so doesn't matter the size never full and the price is high for what you get!!
Please be in contact and have them take care of this...we have even got to point of not going back anymore. We spend a good amount there...with having three teenagers in the house

Kathryn A. Badgeley
from Cleveland, OH
If there was something lower than a 1 that's what your score would be. Went to the McDonald's at John Glenn Airport on 3/2/19 at 9:45om. They were suppose to be open until 10pm. All the employees were sitting in the dining area on their phones. When I pointed to my watch and told them the sign says you are open until 10pm they all started laughing. Great impression. Now I understand why your company only scored a 1 1/2 out of 5.

THE MCDONALDS AT 1551 ANN BRADEN BLVD. NEEDS A LOT OF HELP IN THE P/R DEPARTMENT , THE CREW/ LEADER OR MANAGER ON DUTY AT 1600/1700 CST 3/01/2019 NEEDS A LOT OF TRAINING OR SHE NEEDS TO BE REPLACED , THIS IS THE SECOND TIME I HAVE HAD A RUN IN WITH HER , 1ST TIME I WENT IN TO GET A BREAKFAST SANDWICH WITH YOUR APPT. THAT SAID $1.00 OFF ON A BREAKFAST SANDWICH I WAS ORDERING A SAUSAGE MUFFIN WITH EGG , SHE WOULD NOT EXCEPT THE APPT. IT HAD NOT EXPIRED NOR HAD I USED IT BEFORE. SHE JUST SAID I NEEDED TO ORDER SOMETHING I WANTED THE BREAKFAST SANDWICH , THIS WAS IN FEBRUARY LAST WEEK , THEN TODAY 3/01 I WEN IN TO GET A FLAPPEE, MEDIUM FOR A 1.00 OFF AS YOUR APPT. STATES AGAIN SHE WOULD NOT EXCEPT IT , SHE WOULDNT EVEN HONOR THE APPT. HER MACHINE WOULD SCAN IT. I KNOW THAT I AM ONE CUSTOMER " BUT I AM A CUSTOMER " SHE NEEDS TO A LOT OF TRAINING SHE WILL NOT GIVE HER NAME , THE MAINTANCE PERSON TREATS PEOPLE BETTER THAN HER.
I WOULS LIKE A RESPONCE OR SOMETHING.
THANK YOU
CURTIS HEDRICK
CURTISH4301@GMAIL.COM

The store in Lebanon, IN. For the last two years won't stock enough products to sell. That have added extra refrigeration and still won't keep stocked. I have to go to the McD in zionsville, IN to get chicken tenders

Lynn Fry
from Harrisburg, PA
I saw mcdonalds was advertising the Shamrock Shakes. Went to a mcdonalds rrstaurant, waited in line, ordered 2 shamrock shakes and was told their machine was down/not working. Being that we were already out, we went to another mcdonalds restaurant and ordered 2 shamrock shakes and AGAIN was told the shake machine was down/not working. hmmmm it seems to me mcdonalds did not have the shamrock shakes and were telling people the shake machine was not working. Maybe you shouldn't advertise something before you actually have the product. Anyway I know its no big deal but on the way home we stopped at Arbys and got our shakes.

I went through the drive-thru today for a Mocha Frappe and the Frappe was nothing but a cup of flavored ice. I couldn't even drink it through the straw. I did not go back because I had to get back to work.

location 35242 Grand River Ave,. Farmington Hills, MI 48335
THIS PLACE IS TOTALLY UNDERSTAFFED, AND WHO IS WORKING THERE FEELS THIS PRESSURE AND OFFERS POOR SERVICE.
IT WAS A NORMAL PLACE UNTIL 3 MONTHS AGO, NOW IT IS REALLY BAD AND NOT GOOD AT ALL FOR MC DONALD'S IMAGE.I SUGGEST YOU RETRAIN THOSE EMPLOYEES AND HELP THEM ADDING A FEW MORE PEOPLE ESPECIALLY IN THE MORNING.

Montgomery Village, MD : The Hashbrowns are awful , sometimes taste like dead fish, obviously never change the Greese pit. Actually got sick as a dog from eating 2 hash-browns on an empty stomach( NO Hangover). They need another Option with a Breakfast meal order, getting real old and disgusting.

Eldon Dodge
from Stoughton, WI
We were traveling back home from Siesta Key, Florida today (2-23-19) at 4:30 a.m. and needed to get breakfast on the way to the Punta Gorda airport. We saw the lights on at the Clark Road McDonalds in Sarasota and it said open 24 hours. When we pulled in - there were two people inside just standing around and talking. There were two cars ahead of us one for coffee and the other for tea. We pulled up and ordered 4 Egg White Delight sandwiches and a coffee - we were told the total amount and pulled forward. Once we were there the lady told us the total and then someone inside told her there was no food - egg sandwiches. We asked if there was anything made. She was told to close the window and then you could hear someone - the manager??? yelling at her about the order. She had closed the window and we tried to holler at her about what was going on. When we received no response we left and were very disappointed as we needed to make our flight time. This is a very bad representation of 24 hour service!! Eldon and Laurie Dodge

My track team went to the McDonald's at 4711 14th st Bradenton Fl. It took 1 hour and 6 minutes for 12 people to get their basic orders. I have never been to a poorer run fast food establishment than this. The other customers were furious as well. I could have sit down at a steak house and ordered and eaten faster! This establishments owners need to know this. I would have fired the manager and a few employees.

Its impossible to get a happy meal with no meat my grandkids are vegan and would like a happy meal but everytime i ask for a happy meal with no burger or nuggets they ack like im asking the impossible. So please come up with a vegan happy meal . Thank you Dena Walker !!!

My teenager daughter Teresa Denton is her name she's 17 she has a disability bit of autistic she started working at McDonald's in June we are very proud of her she switched to the morning shift one of the managers asked her is she had autistic in her she's going to college I guess she's working there to pay for her college when trees are said yes she started picking on tresa more than usual we moved Teresa to the night shift to see if we can get rid of her trees didn't say anything to me she keeps things inside the lady still was picking on Theresa the way she mopped and just kept hammering on her according to Theresa she doesn't do that to anyone but her and another upsetting thing is one of the employees manager offered her some booze to help calm her down I could have been wine yeah my daughter has a disability she's on pills and I'm proud of Theresa she told her no and she quit the job that's on sessional what I want done is the place checked fire them I don't care you don't offer a minor anything to drink to calm her down Teresa quick but you need to go to this McDonald's and check it out I know Teresa is imperfect she's a little bit you know but still that was wrong I'm reporting this because I don't want nobody else to go through this or you need to train your employees management Teresa was doing fine when she first started she was so proud of her and I was proud of her I want something done some kind of punishment whatever you can do this is not right her mother Laura Denton

First of all service is always excellent: friendly, cheer full and courteous !!!!
I visit My McDonalds at least 3 times a week and always get the McGriddle and a lg black coffee.
Today I decided to try the doughnut sticks, very disappointing!!
they were all miss shaped and not one grain of cinnamon sugar and they were doughy on the inside.
The young lady who took my money asked if I order with NO cheese, I told her WITH cheese please
it came with NO cheese ( I did eat it anyway and it was good but not as good as it would have been had I had my cheese).
when I got to my destination and realized my order was askew I was a little pissy at first, but then I drank my coffee and thought to myself "get over it" so venting does help!!
best regards
Mimi

I ordered a Fruit & Yogurt Parfait and received a cup of fruit with a spoon full of yogurt. I called the store to ask why there isn't any yogurt at the bottom she stated that how they make it now. I thought it was odd that they put it in a bag this is why people sit at the window and check their food. I can't even eat this smh!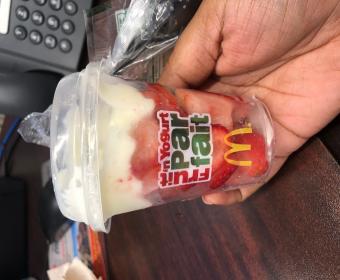 I called to see if I could use my app for $4.99 nuggets twice. The man who answered said yes he'd have to run it on two separate orders then it would be fine. I even verified it was on my iPhone app. So I went right up and did as he said on two orders and they told me they couldn't do it. I had just talked to him before getting four kids in the car to go there. I talked with Elaina Galloway as I was told she was manager and she said nothing she could do. I could have gone to Burger King for nuggets way cheaper. I called the complaint dept at corporate thinking you'd help me. I am so angry. I haven't been called back and nothing has been done to solve my complaint. What the heck? This is SO wrong. Can anyone make this right? I should have gotten what I was told less than an hour before at the same location on Howe ave #11090. PLEASE HELP ME SETTLE THIS. I've called twice. I will continue until this is settled somehow. My phone number is 330-923-3504. I have both receipts.

carmen velez
from Middletown, PA
I went today to macdonald at the harrisburg pike Middletown to buy asome cheeseburger, a quarter pound burger and let me
tell you, the burgers wee greasy, burn, the burgers look like they were old, taste like carton and look so discusting, that we have to throw it
out. This is the 3rd time this happens again. I stop buying from your restaurant but I guess I would have to leave theis place and go somewhre
else.
c armen

This is the 3rd time in 2 weeks that I have a complaint.
I go to the McDonalds at Whitaker Avenue & Hunting Park Avenue in Philadelphia, PA, at least 4 times /week, it's across from my work.
I was just in there today 2/16/2019 and I walk in, it's approx. 10 people behind the counter but no one at the cash register. I wait, the employees are looking at me but no one says, I will be with you shortly, hello, welcome, nothing. I stood there for 5 minutes until someone finally takes my order.
This McDonalds is the worst that I have been to in Philadelphia. It's always like this, even if I go in the morning before work.
There is no customer service in this store. You need to send someone in there to act like a customer so they can see how this store is run.
Order #102
4163 Whitaker Ave.
2/16/19 @12:06pm

LINDA MIDDLETON
from Cape Town, WC
Yesterday 14/02 our electricity was of from 18h00 to 20h30. we bought 4 meals at Mcdonalds - Paarl Jan van Riebeeck RD.( KFC next door was closed bcz of the load shedding). the chips of 2 meals were UNDONE, HARD, RAW, and FATTY. NOT CRISPY. We couldn't turn back as we were on the way to Cape Town.
And its the first time that I ever experience those chips.....

Husband picked food up from McDonald's on 25th in Gulfport, Ms. I stuck my hand in to get fries pulled up a NASTY smashed roach stucked to fries. Immediately, threw food everything away. Gagged , throw up a good while. Trying to wash mouth out. Talk about nasty, filthy gross! Of course, it was thrown out! We only spent $4.35 on whole order! Not trying to get something to eat in it's place. But, to be told by one manager that it probably wasn't a BUG, was quite rude, belittling as well as really saying that I was LYING! I understand your policy. I respect your Policy!! That WAS a NASTY filthy downright most horrible, horrific experience! Please reinforce the policy for them to wash hands. Cover hair and CHECK FOOD FOR BUGS! Store # 3191

Jordane avon
from Toronto, ON
I go to the same McDonalds everyday on my break for my coffee! All the employees are so nice and put a smile on my face other than this one manager at the downtown Peterborough Ontario location! Her name is Susan and to top it off she is a manager.... and the she says today as I am thinking to myself; "why are you sighing?" I respond just in thought....? she replies "Agh people like you should just not come here" As I asked her "pardon me" she basically through my coffee at me and proceeded to yell at me as I walked away about how she was going to come watch me do my job and sigh while she did? Worst and most embarrassing display of poor customer service... She should not work there let alone be a manager... All she is doing is giving them a bad name and she should be ashamed... Keep your issues at home and definitely don't take them out on random customers, specially ones you see returning day to day. Timmies here I come, maybe they will know how to pick respectful managers.

There is no changing table at the McDonald's at 2646Jamacha Blvd., El cajon, CA.
I went to change my 2 1/2 year old granddaughter. I had to balance her between the newly remodeled sinks. After a struggle I got the job done. However there was no trash can there to put it in. I told the person there that I was complaining about that and she said, we used to have one.
This place has a play structure for kids, why not put in a changing table. That is wrong. By the way, I threw the diaper inside the restaurant. I was frustrated and very upset. I could not change her on the floor, because at 73 I wouldn't be able to get up!

i had a terrible experience with one of the suspervisors named Natali at McDonalds located at 4553 HWY 7, Woodbridge, ON.
her beviour is very rude, ignorant and not professional, for the way she treated us as a regular customers, she gave a bad reputation.
i blame the company for hiring this uneducated person to deal with customoers, i am so upset and disappointed.

lina mando
from Maple, ON
I am a resident of Woodbridge, ON. my 2 daughters love to go eat in McDonald almost every week or unless every 2 weeks, well, today 02/10/19,we went to MacDonald to eat at 4535 Hwy 7,Woodbridge,ON, Store #7565, we have the worst experience ever , "the supervisor named Donna ", was very rude , and ignorant, what happened is that she came to our table said that it's not allowed to have drink in the water cup, then she took the cups while we are eating in ignorant way and left, I got so upset of her behaviour, so I went after her to tell her that this is not the good way to behave, she can explain to us in a good way to not do it again and we will accept that. But instead she yelled and screamed at me in the presence of all the customer and employers, I sked her why you yell and scream but she continues screaming and yell at me, she accused me that (I teach my kids to steal the drink). Then she said with (laughing) (goodbye), she embraced me in front all without respect, everyone was looking at me and surprised for what she is acting toward me. I got upset more, I am the constant client of this store suppose to have a great time and treat with my daughters, but I was wrong, I didn't feel safe there anymore that we ended leaving right a way without finish our food, because of her weird and unacceptable attitude. I ask one of employers to speak with the manager, she came to me again and said I am the manager, everyone was laughing supporting her. I believe if this supervisor stay at her position, your company will lose a lot customers in the future for the way she treat costumers. I blame the company for hiring this uneducated, ignorant and not qualified person for this sensitive position.
the company has to do something against her, unless I drag her and the company to court to give her a lesson of behaving and respecting others, and the company learn how and who to choose their professional employers who are willing to improve the service of the company and therefore receive more good feedbacks.

Luke Wilcox
from Defiance, OH
I went to the eastside McDonalds in Defiance ,Ohio and ordered the 2 for $4 breakfast sandwich special. I paid at the first window and went to the pickup window and was asked to pull up wait in the designated area. The previous 2 cars in front of me had also been asked to do the same. As I was waiting the next 2 cars were also asked to pull up and wait . so, a total of 5 people were waiting for their orders. After about 10 minutes none had received their order. Finally after another 5 minutes the manager came out with 2 orders for the last 2 cars that were waiting . Finally another 5 minutes and she brought the rest of the orders and I asked if the receipt was in the bag and it was not , so I asked her for my receipt and she said she would have load some paper to print it out . after another 7 minutes I had had my order with the receipt. She apologized but I do not see why it took a total of 27 minutes to get my order for an advertised special.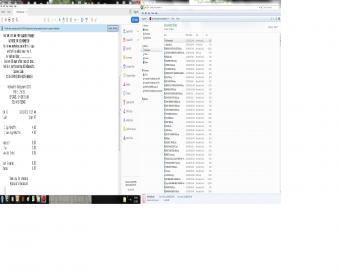 lina mando
from Maple, ON
Date: February10,2019
McDonalds
4535 HWY 7, L4L 1S6
Woodbridge, ON
RE: Complaint Against Supervisor (Donna)
To Whom It May Concern
I am writing this letter to inform you of the behavior of one of the supervisors in this company named (Donna), I am referring to the constant discrediting, use of abusive language and insulting. I have been experiencing from especially on February10,2019, at 4.05pm.
I am a resident of Woodbridge, ON. my 2 daughters love to go eat in McDonald almost every week or unless every 2 weeks, well, today 02/10/19,we went to MacDonald to eat at 4535 Hwy 7,Woodbridge,ON, Store #7565, we have the worst experience ever , "the supervisor ", was very rude , and ignorant, what happened is that she came to our table said that it's not allowed to have drink in the water cup, then she took the cups while we are eating in ignorant way and left, I got so upset of her behaviour, so I went after her to tell her that this is not the good way to behave, she can explain to us in a good way to not do it again and we will accept that. But instead she yelled and screamed at me in the presence of all the customer and employers, I sked her why you yell and scream but she continues screaming and yell at me, she accused me that (I teach my kids to steal the drink). Then she said with (laughing) (goodbye), she embraced me in front all without respect, everyone was looking at me and surprised for what she is acting toward me. I got upset more, I am the constant client of this store suppose to have a great time and treat with my daughters, but I was wrong, I didn't feel safe there anymore that we ended leaving right a way without finish our food, because of her weird and unacceptable attitude. I ask one of employers to speak with the manager, she came to me again and said I am the manager, everyone was laughing supporting her. I believe if this supervisor stay at her position, your company will lose a lot customers in the future for the way she treat costumers.
I have tried to bring this issue to your attention to no avail. It is, therefore, my wish that you try to find out what the problem is and act on it in the best way possible. I love working here, and I know that this is a company that holds true to employee wellbeing. As such, I trust that you will handle this matter amicably.
I am looking forward to a positive response.
Sincerely,

lina mando
from Maple, ON
Hi,
Today February 10,2019, on Sunday, at 4.05pm, we came me and my kids to have dinner at McDonalds store located at 4535 HWY 7,Woodbridge, ON.
after we got our order and while we are eating one of your supervisor came to me and told me that it is not allowed to have drink in the water cup, then she took the drink while we are eating in a very bad and rud behaviour. knowing that I did know that fact about the drink.
so i got upset for her behaviour, i went to speak with her for her bad attidude, insdead she yall and scream at me in front all the costumers and acused me that i teach my kids to steal and she kick me out the store and laugh and staff also, you can check the surveillance camera for what she said. how come i teach my kids to steal and i am a regular customer at this location for long time. Her bhaviour wasnt professional, she does not deserve this position as supervisor, i am so upset about your staff and the way they treat customer, will not come to this location ever, and will not recommend anyone to go there.
i hope you take incident at your highly consideration
thank your
Lina Mando

Mr Anderson
from Richmond, VA
at restaurant store #1576.... 2011 Chamberlayne ave in Richmond Va i got poor services disrespectful and profanity

che L Hoskins
from Walnut Creek, CA
On February 10th at 12:30 am I was attempting to get food at your restaurant located at 220 Bailey Rd in Bay Point ca. The young Caucasian male between the age of 18 - 22 was working the drive thru window and left me sitting at the intercom for over 5 mins making no contact nor acknowledging my presence that he was aware I was waiting. At this time I blew the horn to get their attention and the Caucasian male working the drive thru communicated to me via speaker "that is not how you get my attention so you can go get your food somewhere else." I attempted to speak with manager on duty who was a Filipino male that walked towards me holding his cell phone showing me the screen reflecting he's calling 911 and refused to hear my complaint. While the manager was standing there the Caucasian male referred to me as a nigger and he don't have to serve me. The level is customer service is unexceptionable, unprofessional and has cast this organization in negative light. If this matter is not addressed I will take further legal action to ensure patrons of the community is not subjected to that type behavior and racism, discrimination in a community that they are a guest in.

patricia gruetter
from Carmichael, CA
numerous times i have gone to mcdonalds and ordered large mango pineapple smoothies. numerous times i am being cheated on the amounts. mcdonalds restaurants are under the impression to fill to the ice line only which is about 1- 1 1/2 inch below the top. im stating that this is false advertising. i have filed many complaints and gotten no where. it is definitely false advertising. if you look at the menu the picture ashow full to the top not to the ice line. its a 4.00 item. you are already making your money why scam the customer of the full product. i demand my smoothies filled to the top so i get my acutal moneys worth. i do not like to be cheated. which is what mcdonalds is doing.
https://www.mcdonalds.com/us/en-us/product/mango-pineapple-smoothie-smal...
i purchase smoothies sometimes 3-4 times per week. i am upset that i have to continually argue. this last time. the restaurant refused. so i demanded my money back. no apology no manners by the staff. because i was not satisfied with the cheating of the customer. i realize they are told to do this but it is false advertising. i would love to know how you are going to solve this issue for me so i can get my moneys worth without having to argue. whatever happened to the customer always being right. you stick by your rules and i have proven that you are therefore cheating all the customers. my phone number 209-915-3831 i expect some answers. i am quite upset. that my previous complaints were not handled any better regarding the same issue....

Maryann L Beaulieu
from Minneapolis, MN
They forgot an item "10 piece nugget". This is not the 1st, 2nd, or 3rd time, but this is the first time I am complaining. I am unable to get a ride back to the location to pick up the item, and I have to go to work so no time neither. I am so upset!

Poor service
I Waited in line for one person working. They took my order knowing what I wanted. I than paid for it and worker came back and said they did t have that type of muffin and the apple turnovers will take 6 minutes. I got piss off when this should of been told to me before my order was complete and paid for. I then said never mind and walked out.
Location Spruce Grove Ab.

I only ordered a hot tea waited between 3-5 mins and then was asked to pull aside and wait for a hot cup of tea really I drove off with nothing

john johnson
from Frankfort, IN
I have witness drug transactions after the owner left to go home,the night mangers steal from registers and keep quarrel between employees for recreational use.Camera do not work in break room the owner is rude and mean to all the people in that place they fire and rehire a employee five times to walk out again.The owner name is Ted Williams (Fort Wayne, Indiana) South Anthony location he has been busted before for selling narcotics at his previous store here in Fort Wayne,Indiana.I would like somebody to look into this

Christina S.
from Chicago, IL
Had a very bad experience at the McDonalds Drive through which consisted of a young lady with a ponytail and a NorthFace Jacket in Drive through. When she opened the window to confirm my window I could not quite understand her and only heard a Diet Coke which I did order. When she opened the window again, I indicated that I want to make sure that it was a Southwest Salad and a Diet Coke, she then proceeded to tell me "Oh my God, I just asked you and you said a Double Cheesburger and Diet". I said, I am sorry, I could not understand you - She then closed the window and got the manager. The manager then opened the window and asked what I asked with the young lady standing in the background. The manager then closed the window again and I could hear the young lady again, make the comment why did she agree to the Double Cheeseburger. I then made eye contact with the young lady and said I could not hear and apologized. She then said you did not say that - I then indicated I am a Call Center Manager for a Call Center and you do not talk to your customers in that manner. The Manager then did not say anything else and just said we apologize. - Very upset with the lack of professionalism

Harry Beckwith
from Bedminster, NJ
I am on a road trip and stopped in at a McDonald's in Arkadelphia Arkansas and I ordered a artisan chicken sandwich meal wich they didn't have the buns for it which was fine so I said just put it on a different bun but waited 20 min for and by that time the number 3 meaI I ordered was cold. This is about the 3rd time in 3 week that I had a messed up order. Please start hiring more quilified people

This email was sent to the owner:
deanrestaurantsMcD@gmail.com on 1/25/19 and have not got a reply
Good afternoon,
I am writing you about the quality of your Double Quarter pounder with Cheese and your French fry's. Yester afternoon, I visit your location at the Loves Truck Stop. McDonald's Restaurant #35785.
I ordered the #3 Double Quarter Pounder with Cheese meal. The meat tasted like it was made around 3 hours earlier, and the fry's were cold.
I did not realize this, until I got back into my truck to get on the road. I am a truck driver, and this was my meal for the day. Needles to say, I did not eat that, it was discussing and gross. So I went with out anything to eat for the rest of the day. Because we are only allotted a 30 min break on our driving time being on E-Logs.
I suggest with you being the owner, or manager of this restaurant, that your quality control be a little better monitored.
Sincerely,
Todd Kirkpatrick

Yenkanna Sami
from Wollongong, NSW
I bought a burger from Mt Druitt Macdonald which doesn't have the whole burger the bottom part of the burger was missing. I have attached find image of the burger below.
Generally the service at Mt Druitt Macdonald is pathetic and the behavior of the staffs are unprofessional and too many teenagers working and they lack customer service experience.
I hope my compliant will be taken seriously.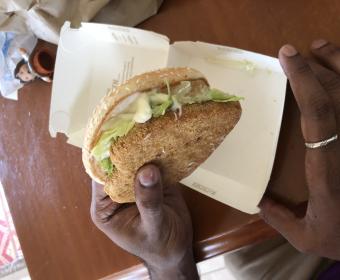 SH Madison
from Bedminster, NJ
We eat at Mc Donald's quite a bit on the road. We like to drink tea. Lately though the tea is either empty , sweet in unsweetened or old tasting. Tea is not being monitored like it should be. Don't have this problem at Chic fil a

Ricardo Marttini
from Guelph, ON
Kitchener ON , McDonalds at Ottawa St. and Alpine Rd..…..
I'm surprise how the employees handle the food with out gloves, the manager mentioned that every body wash there hands. Use of gloves should be mandatory ….I notes a guy maybe having cold wiping his nose with his back hand.....Definitely its not right and unhygienic...

Dan Cranmer
from La Veta, CO
Used your curbside app at McDonalds in Pueblo West. Co. We Ordered and waited before we knew it we had waited 45 minutes. So I went inside and told someone about the issue. Was told they would get or order ready right now. I said no we are not waiting and I wanted a refund. He said my card would not be charged because the order was not complete. So I look on my account and sure enough I was charged for the order.
Mobile Order Receipt
Dear Dan,
Thank you for using McDonald's Mobile Ordering app. Here is your detailed receipt.
Order Date: 2019-01-26T12:07:15
Order Number: 1959
Restaurant Name: PUEBLO, CO-PUEBLO WEST
Address: 1012 N MARKET PLZ
City: PUEBLO WEST
State: CO
ZIP: 81007
Country: US
Phone: 719 547 9458
Qty
Item Detail
Item Cost
2
Hash Brown
$3.38
1
Large Coffee
$1.00
2 Cream
2 Splenda
2 SME for $4.00
2 Sausage McMuffin with Egg
$4.00
Discount:
$2.00
Sub-Total:
$8.38
Tax:
$0.33
Total:
$8.71
Total Savings:
$2.00
Payment Details
Card Issuer
Visa
Authorization:
01152D - 1/26/2019 12:07:05 PM
Account/Card number:
************2024
Approved Amount:
$8.71
Merchant ID:
MO08502936002
Sequence Number:
440813
Balance:
$0.00
We hope you enjoyed your experience, and look forward to serving you again, soon!
Regards,
McDonald's

b. johnson
from Birmingham, AL
i went in today to get a gift card for my granddaughter, They did not have any?????

Judith Drew
from Docklands, VIC
Hi there,I ordered 2 double Big Macs & received the normal Big Mac & missing the nuggets,drove back to work only to find what I ordered was wrong,I drove back & got what I ordered..it's not the first time with missing something..I will not be go to Frankstom macdonalds again... So un professional ..cheers

camisha charlton
from Lynchburg, VA
I got poor service had to wait in drive thru for more than 30 min ridiculous. When I got my food it was cold, cold fries big mac had the middle section missing, it looked like it was slopped together. I'm paying for good service and quality. I received neither I will never go back money wasted. 434-665-4325

Jim McVicker 634 E. Ash Pl. Griffith, In. 46319 E mail jimsr634@sbcglobal.net
from Highland, IN
I visited my local McDonald this morning and placed my order at the drive thru. The restaurant number is 32848 on Ridge Road in Highland, In. I ordered 2 Sausage & egg Mcmuffins. I paid and advanced to the pick up window where I waited a few minutes for my order. I was driving home to the next town and took out one of my sandwiches. It was a sausage only sandwich. I pulled over to check the other sandwich and the receipt and the other sandwich was the same. my receipt showed 2 Sausage & egg Mcmuffins. I drove back and went in to the restaurant and asked to talk to the manager. I showed him my receipt and gave him the bag with the sandwices They cooked up some new ones and handed me the bag. Never apologized for the mistake or my inconvience. I asked for my receipt back since it was not in the new bag and he went back to get one. My new receipt has duplicate written on it. He was not a friendly or hospitable manager. I would think that he should have offered me a free something or other for my time, gas and inconvience. This was at 11:25 am, today 1/22/19. I am a retired senior. Thank You. Jim McVicker

Hamza Hammdani
from Dubai, DU
Just i have by some food from the( Dubai ferstival city) there is one philpine girl she have very very miss behaive she is really very bad girl i am regular cstmr of ur but i dont want to come again really i am very cry

william Ramsdell
from Machias, ME
the machias maine is serving their burgers cold.everyone is biching about ,i got a big mac sunday and it was cold again,no special sauce on it.i had to throw it away again,the next time i get it cold i wont come back,i luv mcdonalds food if its hot but not COLD!pleas get this corrected so i can continue to do business in machias maine 04654

Shirley
from Albuquerque, NM
I live in Silver City ,NM the Mcdonalds here is really getting bad. I caught one of your managers Max on 1/19/19 and a co worker (I couldn't read the name tag) doing drugs in the men"s restroom. I:m not talking smoking marijuana either. This manager was yelling at the other young ladies that were working there. He was telling them that if they didn't like the way he was doing things for them to get the hell out> Excuse me but with customers in the area that language is so unacceptable. It is not acceptable in my world for any manager, shift lead or whatever he is to talk to anyone in that way, Besides the Service itself is getting bad, no one can get an order right and then when you say anything the employees get yelled at by whomever is in charge but the manager never comes out to say anything.
I don't think the owners are even trying to correct things or even want to acknowledge what is going on in this store. My family and I used to go in every sunday for breakfast, and I would stop on my lunch break because it was quick and good. Now we go somewhere else and for me going to get lunch somewhere else is faster. Just thought you would like to know what is going on in that store when no manager is present. Or even when a manager is present. A concerned customer.

Lesley Fagan
from Liverpool, ENG
On Saturday 19th January I went to your Upton branch on the Wirral on 2 occasions first was between 6-7 pm ,I spent over £19 paid cash ,,I bought 4happhy meals 1 6 chicken nugget meal and a cheese burger meal ,I waited and was told to park up as it wasn't ready ,I waited for about 10mins then they brought the meals out ,I received the meals then left only to relize I would have to go back for the drinks k did so and received them ,then I went back with my other grandchildren at 9ish again through the drive through and was left at least 5 mins waiting to place my order while the other order point had 3 cars through,when I mentioned this to the assistant she said they had a mobile order,I use your Upton branch quite often as I have 9 grandchildren,but I was very disappointed with the service I received today,.

William D. Hand
from Colorado Springs, CO
I have traveled the world and frequented your restaurants everywhere. I would estimate the number of restaurants that I have visited to be around 400, maybe more. I do not feel any other fast food chain can compare to the product you provide to your customers. However, there have been a few that have disappointed me throughout the years.
There is one restaurant in your chain that I recommend you send someone to evaluate. That MacDonald's restaurant is the one located in Falcon, El Paso County, Colorado. I moved my family to this vicinity 2 1/2 years ago. We often stop at the restaurant when we travel to visit our daughter in Elbert, Colorado. The restaurant is about half way from where we reside to her house. I feel comfortable in saying we have frequented the restaurant at least 25 times since we moved to our home in Colorado Springs. Once in awhile the service is spot on. Most of the time not very good and more often than not, we never get the correct food order. Today was the WORST DAY EVER, any I would never recommend anyone to eat at this facility. I went through the drive through and sat in line for over forty-five minutes. My order was incorrect and the french fries were cold to the touch, They appeared to have been placed in the frier for maybe one minute because there was absolutely zero heat to them. I am confident that there was little, if any, supervision at the store because a manager would never allow such food to be served and definitely never allow anyone to wait in line for such a long time. I again emphasize someone needs to go to the Falcon MacDonald's Restsursnt to evaluate the operation of the store. The bad service I have constantly received there certainly must effect other patrons and I am sure they would share my opinion. By the way, I would say that my family and I have spent many thousands of dollars at your MacDonald's stores, so I am pretty sure I know what I am talking about. I think this is the last time I will stop at Falcon, they have disappointed me too many times and that is sad for me to say.

Bonnie Heming
from Batavia, OH
The McDonald's store in Harrison, Ohio . Has the worst ice tea I have ever had . It tastes like it has. been setting for ever never tastes fresh.
I quite going to this McDonald's. Thank you
Bonnie Heming

reva brontiu
from Elmvale, ON
I would like to know why in Elmvale Ontario the food and coffee are way more pricey than other McDonald's? a med coffee here is 2.02 vs other McDonald's at 1.75 there meals are also priced at 1.00 to 2.00 more per meal. when asking them why such a difference you get familiar answerers as this is not part of the McDonald's franchise??? how's is that!!!!! you are a McDonald's and you sell McDonald's food?? stupid answer. it is greedy managers as far as I am concerned.

George Egler
from Bedminster, NJ
My wife and I stopped by McDonalds restaurant #29955 in Fort Myers Florida to get some lunch. We got in line at the register around 1:30 in the afternoon today (1/5/19) behind another couple. We waited for well over 10 minutes with no one coming to take our order. Finally someone we presumed to be a manager yelled across the floor from behind the counter saying we had to use the KIOSK if we wanted food and then turned away. An employee standing near her echoed her comment and also turned away. The restaurant was not crowded and neither the manager or employee were doing anything and could well have taken our order.
This was nothing less than a display of ignorance and arrogance on their parts. We left and went to Burger King where they still are customer service oriented. We are not going to use a KIOSK and we sure aren't going to be bullied into using one by arrogant employees. I honestly don't believe the McDonald's corporation wants customers to be treated in this manner. I also believe that the McDonald's Corporation would want to know if people like the ones we encountered today are in their employ. Their attitude was pathetic and about as unprofessional as it could be..
Our phone number is 302-399-1625 if you would care to speak with us.

Audrey Gates
from Birmingham, AL
Good Morning,
To whom this may concern. 1st I would like to say I moved to the neighborhood 2 years ago with my now teenage son. We moved so he would be able to attend a better school and have a better success in life. Last night we went to McDonalds at 1907 CenterPoint Parkway Birmingham, AL (205)854-4362 for dinner. I purchased a Big Mac Meal, the 2 Cheeseburger Meal and a Fish Filet Meal for myself. We had another child with us. When we got home and I open my fish filet the bread was hard as a brick you could not bite through it. Now I am not a complainer I like things to run smooth. But this was the second time this has happened to me on the fish sandwich the bread was hard. So I decided to call not to get anything back in return just to let them know that what ever you are doing to the bread on the fish sandwich was not good because this was my second time and the bread was very hard. I asked for the manager when I call. I was very polite as I explained to her that this was the second time this has happened to me.She told me she was sorry in a very ugly voice and told me to bring it back. I told her that I live to far to bring it back. She rudely said what do you want me to do about it. I told her it would cost me more money in gas to come back. She hung the phone up in my face. I Called back no one answered, I called back again someone picked up the phone and then hung it up again. I called back again the phone rang for a long time someone finally answered I asked for the managers name she said Ashley and she will be here in the morning. I am sure that was not the correct name. I am not asking for a refund nor am I asking for anything free. I hope this email does not fall on deaf ears. I am just letting someone no what is going on at the McDonald's in CenterPoint. I will not go back. Who ever the manager was at 7:00pm January 4th at this location should not be in management. She handled this very poorly.
Thank you,
Audrey Gates

Barb Germain
from Sioux Falls, SD
I have been a customer of Mcdonalds for years. In Aberdeen SD they said the hazelnut iced coffee was no longer available The manager said that some flavors were discontinued. Hazelnut flavor is a very popular request by many people. I do not understand why they would make a good seller like hazelnut become not available to the customer.
Barb Germain home phone 605-225-9881

Donald coykendall
from San Jose, CA
Breckenridge tx everytime fillet o fish are on sale 2 for 5 dollars there fish fryer is broke went to eastland they sell them ok this is second or third time that this has happened this is my favorite sandwich that is sold at mcdonalds sure would be nice to get them at sale price in my own town

steve lawson
from Kingsport, TN
your store in Rogersville tn. has the laziest emplyees they are always out of salads because they are to lazy to fix them just went again to night to order a bacon ranch salad and again we are out of salads twice in one week so I ask if salads was discontinued she said no but when I drove to second window to pick up sundae it had more caramel on out side of cup than it did inside I got it all over my hands and car but I really like Mcdonalds but Im done with the one in rogersville

albert lock
from Bromley, ENG
when to one of your drive though at Downham at 5 45 on the 02 01 2019 it took 20 min to get to were you collect your order still not ready ask to wait in car park very angry

sandra newsom
from Jonesboro, AR
my husband and I went inside to get something to eat and drink and the music was so loud we couldn't hear each other talk so we walked out and went to the window

carl raska
from Kennewick, WA
Its really frustrating when I order a fish sandwich plain they always put cheese on it even when I say no cheese it don't take a rocket scientist to see when it says plain that means nothing on it I live a few miles out of town so you don't just go back to the store to fix it I have complained to the manager before usually when I stop there I'm in a hurry so I grab and go finding the screw up after I'm home I have family and friends that have told me they stopped going to mcdonalds because of the crapy service I should have taken their advise sooner I learned my lesson and will not be going back

Linda Jones
from New Iberia, LA
I went through Mcdonald on today and when I arrived at my house my food wasn't right and tried to call back they didn't answer..that's the second time I tried to them and no answer..I went back they was rude...They didn't address it at all...they did give me my food...I didn't understand my food was paid for was left out of my order...LJ

Theresa Pams
from Charlotte, NC
The restaurant was very unclean. There was trash all over the floors and counters. A broom and dustpan was lying out . One of the workers came to work and asked if a tornado had come through! The workers were using profanity and very unprofessional. An eating establishment should never look like this. I ordered my food but decided to get a refund after the workers began arguing about how understaffed and busy they had been all day. Please correct this situation immediately.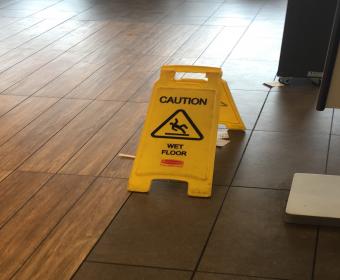 i went to mcdonalds at 5am today ordered 1-burrito meal 1-mcgriddle meal 1- big breakfast 1 extra hash brown and 2 extra burritos When i got home they was only one burrito in the bag. I not didn't get the 2 extra burritos but i never even got a full meal. and i never received my receipt for it. This is not the first time something like this has happened to me.
Thanks for listening.

Jean Vest
from Sumter, SC
Every day this week, Not receiving UNSWEET tea when that is what I request. I do NOT drink sweet tea, cannot stand the taste of it. I always order UNSWEET tea, but this week Lafayette Dr. in Sumter, SC seems to be out of it or just doesn't have it. Tell them at teh drive thru, ok, tell the first window and even tho she changes it and they "accept" it, I STILL get served Sweet tea. Once or twice I can understand but no this has been EVERY DAY THIS WEEK. And since I am going to work, I cannot come back and have it changed and furthermore I should not have to come back to have it changed. I won't be leaving the line anymore before I have tasted what they have given me. DOn't care how long it holds up the line, I won't be moving to the front to wait either. I will wait at teh window until I get my dang tea the way I ordered it. It really isn't hard....
PS: This location has been doing really great lately, until this week. I don't know if it's the person taking the order or the one's who give it to you at the pick up window, but SOMEONE needs to get it together. This afternoon at lunch, I told the order taker UNSWEET tea, she put on the screen Sweet tea, told her to change it, she said to tell the first window, I told teh first window, she told the pick up window. Got to the pick up window, she handed me a tea, I asked if it was UNSWEET, she says"Oh yes Maam! THIS is Definetely unsweet. Nope! Got back to work took a sip and SWEET tea. Wouldn't order it if I didn't want it.

Lucinda Paicely
from Noblesville, IN
This is small compared to BIG complaints but it's BIG to me. I never, and I do mean NEVER, receive good service at McDonald's anymore. Most of your employee's are rude and nasty(My experience). I don't know what has happen through the years. I called and put in this complaint. I was sent a free meal (or) doz. cookies for the offense. I didn't want anything free. There was a pack of Apple's that come in a Happy Meal thrown at me in front of my 8yr. old grandson because I asked that it not be put in the box with the hot food. This I swear on my dead mother! Location, #15571, June 13th, 7:44pm. The person's name is, Raquel. I was told someone would call but they did not. It felt like I was some kind of animal. My grandson will miss Happy Meals. I appreciate you listening if this reaches someone's ears.

Haley
from Spartanburg, SC
I went by this morning on my way to work for an iced coffee. I sat in line waiting for quite a while when there were only 2-3 cars in front of me. When I was the next in line to pay I saw the cashier at the window you pay at snatch money out of the customers hand and yell at him, and then turn and yell into the store. She stood there talking with him for 2-3 minutes before he drove off. Once I got to the window, she was short with me, on her phone, and didn't even give me a receipt.

Vanessa Mackey
from Pontiac, MI
Today at the 6876 Michigan Avenue location, I waited my entire lunch period for fries. The staff was rude and unprofessional. However, my main complaint was when I received my food by a worker with dirty hands. As she handed me my food, I noticed green phylum on her hands. I am not sure if she just got done blowing her nose or couching in her hands. I called the manager and she was abrupt and unprofessional. I am a teacher and my lunch period is scared and I wasted it patronizing at this establishment. Not only do I have nothing to eat, I was left with no time to go any place else.

harold washburn
from Waukesha, WI
I went to McDonalds to get a big breakfast i get home and i have a coffee that should be black instead i have a coffee with milk in it . then comes the breakfast, i have eggs that are over cooked because they have brown stuff in them and to top the hole thing off i couldn't eat the biscuit because the person making the food did not ware food handling gloves and handled my food with his hands so i ended up tossing the hole thing out you owe me 5.99 i do not want anything for free meals either i am done with McDonalds. you need to hire people that care about what they are serving to the public. The person that took my order look like she didn't want to be there or care about her job. I think you can do a better job at who you are hiring and screen these people better.

Jackie Sternod
from Seattle, WA
Went to the mcdonalds #7691 6:17 a.m. and I had the worst service there it took me 45 minutes to get sausage mcmuffin and a orange juice ,that is ridiculous I started out in the drive thru but that was not moving so I backed out along with several other cars I went inside and what a rude awaking there was one person waiting on the drive thru and the counter also and there were several customers in there also and that person was very slow one speed not a bit concerned about customers waiting.
This isn't the first time I have bad service at this mcdonalds the worst one I have ever been to, need to work on getting a manager that can get this place in shape other wise close this store.
Thank You
jsternod@hotmail.com

Kathy Baker
from Wilson, NC
In 6/3/2019 I went to store number 4138 which is about 4 miles from my home. This day I ordered breakfast for the entire family which was biscuits and mcmuffins and 3 big breakfasts with extra sausage. Couldn't get a receipt because the paper roll was out at register and they were so short staffed they didn't take time to replace it. When I got home there was no cheese on any mcmuffins and no extra sausage that I paid for and one big breakfast didn't even have pancakes. Needless to say it took 20 minutes to get my food that was cold and not the way I ordered. I went back to address this without printed receipt mind u took food back and because I called with the issue the had it waiting on me and it was somewhat hot. This place needs a surprise inspection. Most of them stay on the cellphone and texting or cutting up with each other. I've seen them forget people they ask to park and wait for food and the customer have to come in and get their order.
So on 6/4/19 TKT#282 I made sure I got a tkt this time. Before I placed this order the lady at the register was running her mouth at a customer because he expressed his desire no to wait on his food and wanted a refund and she told him that he needed to understand they where busy and he wasn't the only person working so I knew I was going to have a nice experience as well. My kids mcnuggets where hard and the milk warm because she sat that out first before they started on my food order, large order of fries where a old batch and I ask for a fresh dropped basket. Ive been told the last 4 times Ive been they don't have the sweet chilli sauce for the steak house burger. I could go on and on but I wont. Ive seen them sell me breakfast after telling a family of Mexican decent breakfast was order and they where trying to order the same as me.
Im bringing this to your attention because Im a business owner as well and I couldn't keep my customers treating them like this. I see the one star rating and I know why its only one star. Its in a great location but someone need to crack the whip on these workers. They think its a party in there and we are there to watch them dance or be on the phone. I do have a copy of my last receipt but I haven't been back. I enjoy your food but this place needs a wake up call.

Herb Sanabria
from McDonough, GA
The beef on all my 4 burgers was rare did not realized until arrive home.
Store: #37996. It happen to a customer while I was waiting. Thought it was an aberration. But no.

Howard Johnson
from Ashburn, VA
Monday June 3,2019 - McDonald's at Joppa Road and Old Hartford Road - 11:15pm; store advertises as to the lobby being open 24 hours but when I get there the doors are locked. The manager, who was extremely rude and unprofessional, screams through the drive thru window that she is not opening the lobby and tells me to use the drive thru. First, the lobby is supposed to be open 24 hours and that is according to store hours printed on the door. Next, I'm tired of using McDonald's drive thru because here lately I always have to pull up and wait for what is supposed to be "fast food". Lastly, the manager inconvenienced me because of her staffing issues. I understand safety but they could have posted a temporary sign stating that the lobby was going to be closed for the evening. That manager was extremely rude to the point where my family and I will no longer visit that McDonalds.

Terry Spain
from Seattle, WA
I though McDonalds had senior discount as I used to get at this store, 8201 Steilacoom BLVD WA. 98498-6156, the lady manager who has been here a sort time said McDonald's never offered a discount for seniors of Military discount...she's wrong...their ph number is 253-582-3540, store number 10678
Appreciate your looking into matter...have lived close by here for 16 years, had a discount before...now nothing??
Regards
Terry Spain

i keep going to this Mcdonalds because it is by my work and they are always out of stuff-today was no dipping sauces and no tea and some other drinks. Finally left. this is a very busy site and is kept nasty Looking and always have to pull up and park for your meal. Needs major improvements

I have attached an image of what my complaint is. I order the quarter lb. deluxe, very specific no onions. I was going from meeting to meeting had not eaten all day and now just something quick on the go. I was asked to wait since it was a special order, which I get so I drove to parking #1 and waited. When it came out and I got to my destination to quickly eat before running into another meeting I find a cold quarter lb. deluxe with onion piled on it. With the onion allergy I have it was useless to me. To stop somewhere else and pick something up was not in my time schedule.
So so upset. Wasted $5.77 and still no food until after my meeting which will be around 3:00.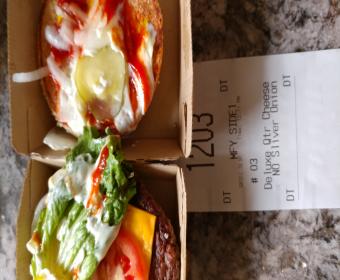 buyisiwe
from Johannesburg, GT
yesterday I bought mcfeast in mcdonalds pritchards for 70rnd medium meal,it ddidnt have those juicy source I called them & spoke with Tryfina she said I must come the following day around past 1 I went to the store waited for so long was not assisted at all I went there for nothing my problem was why tryfina couldn't assist me as per phone conversation I felt so stupid & asked if they will assist me or not they wer busy saying it looks like this coz I took a pic on my phone this lady called another person who works there to come tell me this looks fine anyway jeppe mcdonlds is the best in our store we always buy there me & my staff from sportscene weve never had a problem,i wanted to get something to eat but I thought to my self im not buying there ever 0638936545

I visited this McDonalds at this location, 615 N Federal HWY, Ft Pierce Fl 34950. I was treated very badly at this location. By a cashier name Sam on 5/29/2019 at 3:30 pm KS#2 . The manager show no interest in the problem. The cashier refused to take my order after I informed her. what she did was very disrespectful. After the cashier asked me for my order. I started given her my order, in the middle of my order. She turned away from me and started joking with a co-worker. I informed her I didn't appreciate her turning away from me in the middle of my order like that. Her response was. I know how to multitask. That's good to multitask, joking with another co-worker isn't in the middle of taking an order from a customers is not multitasking. Then the cashier refused to take my order. The cashier turned to the manager. The manager is Rosa. Rosa turned around and started taking my order. The manager was not concern about the problem. After I received my order of cold fries. I asked the manager for the cashier name and her name as well. At that point the manager wanted too know what's the problem. Due to the fact the manager (Rosa) showed no interest in the problem until i asked for her name. I chose not to tell her in front of the other customers.
I live about two miles from this location. I visit this location often. I will not return to this location until get feedback from this complaint. My name and location: General S. Platt, 1901 Barcelona Ave, Ft Pierce, Fl 34946, Phone 772-323-5538.

Lester Gideon
from Straszyn, PM
Decided to go to Mac for a good hamburger set up, they are usually just
good as in America.
But, you will not believe this one. We ordered our usual super big
hamburger, and was told it was in Pork, not beef. Did I hear right? A
hamburger from Mac made with pork? The guy said that they did not have
any beef and substituted pork for all their hamburgers. I figured that
in America, no beef meant no opening of the restaurant for that time.
We said no way, and went across the street to a new place called "Max."
They did have beef so we ordered one. Just as good as Mac's of the same
size, but will not go there again, and will return to Mac, as long as
Burger King is out of the way.

hI, I went to the Sunnyfield Morecambe outlet ordered 1 frozen strawberry lemonade, 1 small coke .1 small oasis 1 happy meal wrap 1 happy meal nuggets
cost £7.55
When I got the frozen strawberry lemonade, I noticed that it was not frozen, so handed it back, after a minute a girl said "yes, that is frozen " and handed it to the lad serving to give back to me, I still was not happy but because I had my children in the back of the car I took the drink back, as soon as I took the drink the red colour went down to the bottom of the plastic cup and mixed with the yellow lemonade, at this point it was too late to go back as we had moved car and a big queue was behind us,
When we got home the Happy meal wrap was spicy which no one said spicy and so that could not be eaten and who wants an unfrozen drink?
I feel as I already complained, while there, the staff should have looked closer and taken my word for it instead of shoving me out as for spicy wrap what kid wants that, just one last thing that I'm sure you are aware off and that's soggy straws (no nice)
Regards Stephanie Bham Date went to outlet 26/05/19 time 19.40.21 number on top of reciept 2060 12 digit code MMX-4FD9-3G6L Store 0665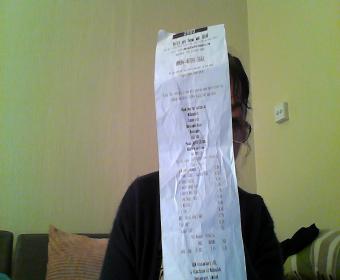 1Wny is it that your food in Parker AZ doesn't have to taste like your food everywhere else?

Terrible, unprofessional! Never will go back again!

Deann staples
from Niagara Falls, NY
I'm 5/25/19 at 730 a.m. I went through drive thru at 18th pine in Niagara falls ny. I ordered two steak bagel meals which is almost 16.00$ and to me that's expensive for three items but it's my favorite sandwich on the menu . Both the bagels were burnt to a crisp. So hard it almost broke my tooth . It felt like It was gonna. I could've played hockey with these bagels. I am disabled and had a ride I don't drive so I couldn't go back and exchange it today or even tomorrow . So please a refund would be nice . I worked at McD's on nfalls Blvd for yrs and no way would I ever let a sandwich that hard to leave my kitchen when I ran the line. Should be ashamed of themselves in pine. The bagels were black that's how burnt they were . Needless to say I threw my sandwich out . Please contact at my email or phone ty

why is McDonalds 10506 follansbee wv start charging .50 for small cup of ice or water to put in coffee to cool down have been getting ice for coffee for very long time no other fast food charges for small ice or water

I purchased Hot Cakes and Sausage, and one hash brown this am from the Mcdonalds in Colchester VT. I bit down on something while driving and eating the hash brown, and it appears to be a piece of black plastic that came out, and there was another black plastic piece in the hash brown, this was cooked right into the hash brown, as if it was mixed in during production, not from your location.
Thanks-Jennifer

Bob
from Philadelphia, PA
Last night at approx. 8pm at 9970 Bustleton Ave McDonald's Philadelphia PA I experienced the worst meal I can ever remember at Mcds. it started at the register where I asked about salads 3 times and couldn't understand the cashiers response even after asking for the 3rd time I finally just ordered a cheeseburger fries and a drink and a chicken sandwich for another guest..I tried to make the best of the situation as i was already aggravated but there was so much noise being made by the workers especially the man taking the trash out and putting in fresh bags in the cans I could barely talk to my guest . he made a n awful racket in each of the 5 receptacles. needless to say I couldn't wait to wolf down my meal and get out of there. I thought about filling out a complaint form but it wouldn't allow me to send form without my location information which I won't give for fear of retaliation so this was my best option........

People at drive thru do not know there menu
They take orders. Without knowledge of what McDonald's has to offer
Order a special
Confronted person taking money
She told me I am getting what I ordered
Asked for coffee light
Got black
Unfortunately I realized she didn't speak English well
Shouid not be taking orders

The service at the McDonald's on 933 in south bend is so bad my orders are consistently wrong have gone through the drive-thru and seen people go in and get out quicker than I'm doing going through the drive-thru being the only person in line at the drive-thru I am done going to your restaurants I'm sure there are places that would appreciate my business

Trying to get a new gift card since March to replace one that was frozen. Nobody knows why. Case No.16154686. Card # 6154 8671 8826 4716.Call many times and spoke to supervisors, cannot tell me the card was mail out. Please help, this is almost $50.00. Claudette May, 860-742-6824. Next step is the Better Business Bureau. Hope someone cares enough to look into my case. Many Thanks.

I went to store #32842 @ 6670 Tara Blvd, Jonesboro, Ga 30236, on my lunch break @ 12:55 in the afternoon, and I was there until 1:22pm. I ordered 2 of your 2 for $5 meals, 2 10 piece nuggets, a filet of fish and a quarter pounder) they were out of ice, they were out of all drinks except for diet peach sprite, the young man who makes the quarter pound patties quit in the middle of making them and so we had to wait, (plus listen to the manager and him argue) then they left the rest of my order on the counter and my food just got colder and colder. There were people waiting longer than me for their food. I had gone there earlier that morning around 6:15 for my breakfast and wanted to go in and I was told they could not open because her crew was not there and she was working (her words) damn near alone. I love McDonalds and this one is closest to my job but I am VERY upset and am going to eat elsewhere for a while, and wanted to make sure someone knew.

OMG. Not again. The last 4-5 times I have gone to this location drive thru for take out breakfast it was again wrong. I went into the store in person this time to place my order. REALLY!! wrong again and no hash brown. I requested no ice in my OJ and got a cup full of ice. I'm paying 2.79 for a cup of ice? I requested the Mgr. She actually said "we have to put ice". I said NO you don't. She insisted, was actually not backing off? REALLY. I requested the 2 for sausage egg/cheese and 1 hash brown. I got 1 sandwich correct the other w/o cheese on a biscuit? I asked her why. she said mistake. I happened to check my receipt. They actually charged me for 1 meal and a separate charge for the wrong sandwich.? I understand there is a language barrier. But I'm sorry, do not take orders at the window or reg unless you understand what the customer is saying. So in the end she actually argued with me with a raised voice in front of other customers. I ended up walking out with out my correct order and a cup full of ice that cost over 2 . I never write complaints. But this time I had enough. The folks behind me told her she was wrong. I want my money back. I'm P'd off.

I was in the 8th Street McDonalds this evening and purchased one small sundae, a small ice cream cone, and a second cone but didn't want the cone so asked to have it put in a dish. Once I paid for the order, I noticed that I was charged for two sundaes and one cone. I should have been charged for one sundae and two cones. I told the cashier but she was not able to do a refund. I am not happy that she did not do a refund.
Thank you.

Dear Mcdonalds Am writing to you, regarding a member of staff that works as a manager at rooley lane bradford. The person in question is called..Marham.... I find her very rude I went in to pick order for my customer.As I work for uber. As I approach the counter.Maraham.started questioning me saying I wasn't the person on the phone to pick customers order .As your not aware that uber has given me permission to work on behalf of my brother or any body else as long it's ok with them. When I question Maraham.I asked her do you have a problem.? First she said no. But when getting my order. She told the staff to take there time in making the order. That is not professional as she suppose to be a manger. Am very annoyed how your staff can question me about my job. please can you make sure.that any of your staff do not question me, as I work for uber and not McDonald.Regards keza

Kevin Jones
from St Louis, MO
The decision of Mcdonald's to go to double drive thru lanes and automated ordering without enough staff is absolutely ridiculous! It's no longer fast food. Twenty to thirty minutes in the drive thru is unacceptable!

STORE LOCATION: 375 CENTRAL AVE, EAST ORANGE, NJ 07018 (DRIVE-THRU CUSTOMER)
TIME AND DATE: 10:00PM ON 5/5/2018
1. THE LARGE FRIES AT $3.59- I ORDERED WERE NOT FRESH. IT ONLY TAKES 3 MINS FOR A FRESH BATCH SO, EMPLOYEE ASKED ME TO WAIT IN THE RESERVE PARKING.
2. THE NEW FRIES I RECEIVED, THE CONTAINER WAS HALF FULL & VERY BROWN (BURNT LOOKING), SO I WENT INSIDE THE STORE TO ASK FOR A NEW SET OF FRIES
3. THE EMPLOYEE JUST TOOK MY BAG FROM ME AND ADDED TO THE FRIES I GAVE HER BACK...
4. HER COMMET TO THE OTHER EMPLOYEES WERE " AM I BEING PUNKED? WE'LL JUST GIVE HERE THE SAME FRIES SHE COME IN HERE WITH TO GET HER OUT OF HER.
5. THE MANAGER ON THE SHIFT SHOULD HAVE HANDLED THE SITUATION DIRECTLY SINCE IS SPEND ABOUT $17 TOTAL...

chris koberna
from Clearwater, FL
I have been disappointed too many times at my local mcdonalds. I have finally called it quits. The drive through service is just unbelievably too slow. I went for my last try on 5-5-19 at 8:45. I placed my order and then sat for 10 minutes before I decided to leave empty handed. I guess I will stick with Chick-fil-A. They have customer service down to a consistent science and have not let me down. I am disappointed for this to have happened because I have enjoyed mcdonalds.

Elizabeth Boyd
from North Little Rock, AR
On 5-3-19 I went through the drive through and placed my order I was the only car. When I went to the pick up window they had me drive
around to the door. I set their 10 minutes waiting on my order. Mean while two cars went through the drive through. This is the second time
this has happen to me. I will not be going back. Their service is bad when 4 or 6 people are working and they can't get the food out.
this was McDonalds # 37156on 5506 McAurthor in north little rock My order was; one fish sandwich meal, one big mac, one four piece chicken tenders. $16.60

Edward Cahill
from Charlotte, NC
9725 Callabridge Ct, Charlotte mC dONALDS
05/03/2019 3:40 am CALLED THE RESTAURANT AND ASKED TO GO AHEAD AND COOK 10 APPLE PIES FOR ME, ARRIVED TO THE RESTAURANT 3:52am, ORDERED FOOD AND DID NOT EVEN MAKE IT TO THE PAY WINDOW IN 32 MIN !!!!
A FEW CUSTOMERS PULLED AWAY WITHOUT GETTING THEIR BREAKFAST. I PULLED AWAY AS WELL, WAS LATE TO WORK.
STOPED BY THE RESTAURANT ABT 10 AM AND INFORMED THE GENERAL MGR OF POOR SERVICE, SHE APOLOGISED AND DID NOT HONOR THE FOOD I INITIALY WANTED TO ORDER.
ALSO @ 3:52 AM THIS RESTAURANT DOES NOT SERVE LUNCH, JUST BREAKFAST. I WAS NOT HONORED BURGERS AT THAT TIME.
IT SEAMED ONCE CUSTOMER PAID AT DRIVE THRU, THEN MEAL WAS GETTING COOKED. NEXT IN LINE PAYS FOR FOOD AND THEN THE ORDER MAKING IS INITIATED.
ABSOLUTE DISASTER!

McDonalds' STORE 14497 5480 FOREST DRIVE COLUMBIA, SC TEL: 802-790-2645
ORDER TIME: 05/01/2019 – 1:32 PM ORDER 96 – FINALLY GOT FOOD AT 2:08 PM
ORDERED:
1 SAUSAGE EGG McMUFFIN 1 SAUSAGE McMUFFIN 2 SMALL FRENCH FRIES 1 LG PEACH SLUSHIE 1 LARGE FRUIT PUNCH SLUSHIE
I have had so many problems with this store that I have their number on speed dial on my phone. Today was nothing new, just much worse than usual.
Starting at the order window – I had to repeat the order 3 times, then had to change the fries to small from medium. This they do every time for some reason.
Paid and went to the pickup window. Waited for a few minutes and was asked if I ordered slushies? I said was and was told to go to reserve parking 1 and wait. In a few minutes a manager came out and handed me the slushies. I asked him where my food was. He looked at the receipt and said "they did not give you food?" I said no. He took my receipt and went back inside. I sat there for at least 15 minutes and called the store 3 times. Phone rang 10 times each time before I hung up. I never got an answer.
Finally drove back to where you order and asked to speak to a manager. They sent me to first window, where I was sent to the pickup window again. Finally at 2:08 I was handed food.
I have said all that to say that I have been going to McDonalds since they first opened. Today is the last time I will shop there. Guess Burger King going to pick up the money I usually spent at your store.

Your employees are thieves, I am only sending this as a courtesy but will also be reporting to the BBB and seeking an attorney, I was I do admit intoxicated in the drive thru at one of the locations, the employee took my order I dozed off while waiting for my food. My car was in park your employee including the manager took my money after they had called the police. They knew I would not be getting my food yet still took my money including keeping the change I would have gotten back. They gave the police a receipt the manager had signed to come back for my refund ( according to the office). When I went back the manager told me she was not refunding my money I should have not been drunk. Me being drunk or not does not give your employee's the right to keep my money. So if someone passes out on the curb at mc Donalds and your manager calls the police (which they should) that means they have the right to take his money before the police gets there. No it does not!

richard morrison sr
from Perry, GA
one of your employees from the fitzgerald georgia store made a threat against my son while working and has also posted pics of mcdonalds on her own personell website but she made a threat againt my son while working and manager did nothing and then days later she seen my son walking and she beet the hell out of my son and my son terminally and autistic and severely mentally handicapped an if you do nothing i will take above your head and on the streets she goes by the name ANGEL and my son has not been able to walk since the incident thank you and god bless you all!!!!!!!!!!!!!!!!!!!!!!!!!!!!!!

sandra dent
from Austin, TX
On 4/18/2019, I went to McDonald's Restaurant #25429. 7409 FM 620 North, Austin, Tx. 78726.
I was told by a lady that brought my food to the table that if I go to the website on my receipt and take a survey, that I could come back and get a sandwich for free.
I took the survey and went back to the restaurant today, 4/29/2019. A lady with an accent(appeared to be of African descent), did not identify herself as the manager, but she cancelled the order and said that it was buy one get one free. I told her okay, but I was told by another employee that after the survey, I was suppose to get a free sandwich.
I am submitting this complaint because the woman with the accent (black) was rude and did not apologize. She could have stated what the problem was, but instead she chose to cancel the order and approach me with a rude tone. She is not customer service oriented.

Ed Pisano
from Reston, VA
I went to the McDonalds on Elden Street in Herndon, VA at approx 2:30 on 4/28/19. I ordered a BigMac Meal, and when I bit into the sandwich it was cold and the bun was stale!!! I took it back to the counter and told them I did not want it, and I asked to see a manager. The young man spoke to a woman but she ignored me as I stood there. After waiting several minutes I again demanded to see the manager. The same woman to whom the boy spoke and who had ignored me came over and said, "I'll give you another one." I told her I did not want another sandwich and had lost my appetite. At that point I gathered my uneaten fries and untouched coke and went to throw them away.
The bins were overflowing and I had trouble stuffing in the fries (which I did not eat) and coke. Based on the lack of cleanliness, I'm surprised no one has gotten ill, or reported it to the Health Department.
It was a totally disgusting experience, and I honesty think it will be my last visit to a McDonalds.
I have also calledl the 800 number and spoke to a representative.

Tonight, a Sunday evening at 730pm I stopped by a McDonalds for a quick dinner. I ordered a Southwest salad with grilled chicken. After a 20 minute wait in the drive through lane, I handed over $20.31 for a 4.31 salad. When the guy returned my change I was surprised to see a handful of coins and 3 fives. I questioned him and explained that I gave him the exact coinage and should received a flat $16 back. He began to argue that I had given him some odd amount of change (2 pennies, a nickel and a dime I believe). That made no sense and I told him so but he continued to argue with me so I gave up and left with my salad. Upon arriving home I found the salad had no chicken at all. I am too tired after a long day to drive back again. This is not a isolated incident. It has happened before. I guess from now on I will need to hold up the line and check my food before I leave.
Incidentally, the last time I was inside this McDonalds, there was no one working the register but 5, count'em 5 workers clustered together looking at a schedule by the drive through window. After calling to them and making eye contact they still ignored me so I put my money on the counter and grabbed myself a cup for my drink. THIS IS A VERY POORLY RUN STORE!

hello I am writing to you this today because I have been a fan and a great customer for at least all of my life.... its been about 2 months ago that I have been having such a problem to get my breakfast at one of your Mcdonals frandicises. well its located in Athens Ga 30601 on Barnett shoals/ or some say Lexington rd. today I passed by the store was close at 3:25 am!!!!!! like WHAT??? I drove and said was the issue today because it seems theres a issue everyday.. a young man came out and say im so sorry im not able to get your coffee maam w/10 creams and 10 sugars we just had the manager say she quit and we only have 2 people staff!!!! I say WHAT???? this don't make no sense at all... as he say nobody wants to come in and work here because the manager have a don't care attitude and is always on there cell phones … please I want the problem fix!!!! I love mickey ds coffee and burgers !!! please fix this issue .im begging you I would upload the receits for the pass 3 months but would be to much... I honestly sit there and wait a good 15 minutes everymorning . I go in at 4 at walamrt that's about 5 minutes from your mcdonalds so everyday im eather rushing or have to wake up at 3:00 am to be able to get to my job on time … please fix the issue

george alvey tweedia
from Bacoor, 40
ON NUMERIOUS OCCASSIONS I HAVE COMPLAINED TO YOUR MANAGEMENT AT MACDONALDS IN REGARDS TO THERE AIR CONDITIONERS NOT WORKING AT THE AYALA MALL (DISTRICT) AT DASMARINAS BUT ALL WE GET IS THERE IS A PROBLEM,,NOW THAT
WAS OVER A MONTH AGO,THEY ARE STILL OUT OF 12 A/C ONLY 2 WORK,MY WIFE AND I WERE AT MACDONALDS TODAY SUNDAY THE
28/4/2019 AND NOW THERE IS ONLY (1) WORKING,WHICH IS A TOTAL DISGRACE IN THIS VERY HOT WEATHER PEOPLE ARE SITTING
WITH CHILDREN PERSPIRING HAVING TO USE HAND FANS AND HANKYS TO WIPE THE SWET,,I APPROACHED THE MANAGEMENT ABOUT THE ISSUE ALL I GOT WAS WOULD YOU LIKE TO CHANGE YOUR SEAT BESIDE THE ONE THATS WORKING,,,,,,I CAN Assure you thats the last time i will venture with my family to your establishment UNTIL YOU HAVE THE A/C FIXED WE WILL SPEND OUR MONEY ELSE WHERE,,,,,,,,YOURS GEORGE TWEEDIE.......

Hi,
On 4-18 I got a grilled chicken sandwich and the tomatoes were spoiled and the lettuce was black. I bit into it and gagged. I went back after my appointment and showed the manager. She did give me a credit but, the fact that they were using spoiled produce is beyond me. It had to have been sitting out for days. I do have pictures. It was store 1307 here in Tucson. I'm sure other customers received the spoiled product.
Thanks, Renee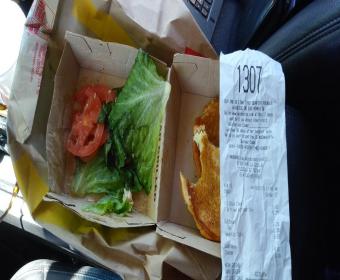 I just left store # 23827 and will not return. One of the employees was very snippy to another. The music was sooo loud you had to yell your order and ALL of the soft drinks in the machine were flat, even behind the counter. A customer brought it to the attention to one of the girls and she told him to drink tea. What kind of customer service is that. really disappointing.

no receipt unless you ask for it....the McDonald's in Madison Florida is holding my debit receipt for ransom...when I place an order and hand my debit card for payment I have not been receiving a receipt at the order window and unless you ask for it at the second window (the food window) you don't get one....I need this for general purpose. HELP!

two Months ago I filed a complaint against establishment at 18 East 42nd st NY NY in regards to the long lines and lack of agressivenss from the workers as far as taking orders between 6:30 and 7:00am. Im also not suppose to drink regular coffee but only decaf and they wouldn't make the decaf coffee so I had to default to coffee. I recieved a resposnse from the survey I conducted and an apology. So I went there today 4/25 and ran into the same situation no Decaf and the cashier was talking more to a customer as opposed to taking my order. Her name was Rosa.
This is the survey code from the receipt 25696-01810 42519 06570 00076-0. That crew is disgusting to say the least . Sorry but im venting my frustrations .
Erosado@vnsny.org
646-532-8457

Every time I come to the McDonald's restaurant # 6928 address is 7181 w Cermak rd Berwyn il 60402 Im always being harassed by the lady that cleans the lobby! I come here to enjoy my meal and i fell that I'm being rushed and being harassed. I have complained so many time and nothing has been done!! I'm getting really irritated with all this!! I will be looking for a lawyer and will go through legal proceedings by harassment!

Honestly! Do you ever wonder why your reviews are so low?? I just went thru the drive thru at the local McD's. I ordered the chicken tenders and saw that you could get a side salad instead of FF. Great idea, I thought! Well, it might have been a good thought if you would have had more than , literally 3 bites of salad in the bowl! I am attaching a picture because it is truly ridiculous! There were more tough stems than anything in it. Just don't know what else to say except how disappointing it is to go someplace that used to be proud of their product.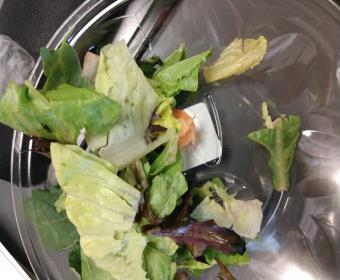 We visited McDonald's Caldermeade on Good Friday> We were there at 9.45am. I requested to have the fish fillet, but was told that it was not available until 10.30am. Most other items are available 24 hours. Good Friday happens one day a year, surely you could allow the fish burger to be available 24 hours like other products.
Have feedback for McDonalds?
Thanks for your feedback!
Sorry. Please try again later!