Maaco
Maaco Complaints Continued... (Page 1)
68+ reviews added so far. Upset? Call Maaco corporate: 1 (704) 644-8148

Alicia Clements
from Dallas, TX
I felt I had poor service cause I was a woman I keep having to call them they would not call me. They keep my car from March 22, until April 10, 2018 I paid these women over. 2,000 and the work was poor looks like paint rubbed against something and is coming off. These ladies that work here are not that attractive. Is why I knew they were not going to do a good job. And it is not right after having my Jeep Cherokee back for a day I have to take it back. I want better costumer service and a 2,000 dollar paint job no way my paint should be coming off this fast. Monique Hayes 8068 ERL Thornton FRY ph.214-381-2070 and I bet she already knows what I am complaining about. Also I will send pic.

Don Humphrey
from Vancouver, WA
I took my car (listed above) to the Maaco business location (Store #M2592) on 10/18/2016 for an estimate on body work (rust repair to body and engine bay area) and paint. On 10/25/2016, I dropped off my car at the location to have the work done (Estimate #6309; Repair type "Ovderall +") and paid $4,500. down on the overall estimate total of $7,433.50 ($2,933.50 due at delivery). Due to the rust damage in the engine area, I was told that the engine would need to be removed for repair. We agreed on a cost of $1300 to remove/install the engine (listed on estimate). Over the ensuing months, I contacted the owner (Ryan) regarding the status of my car. My car had been disassembled and left outside in the elements while newer customers cars were being given priority. It has been well over a year and Ryan will not give me any definitive date when my car will be completed. At the time I took my car to the Maaco location for repair, I lived in the State of California. Since that time, I have moved out of State (Sept. 2017). The extensive delay on repairs has created the additional burden of my having to pay for transport of my vehicle when it is finally completed. Thank you for your assistance on this matter.

Gary young
from Oklahoma City, OK
I GOT MY CAR BACK FROM MACCO 2008 HYUNDAI TIBURON ALL THE MINOR DENTS WERE TO BE REPAIRED AND CAR PAINTED BLACK . WHEN I PICK MY TIBURON UP IT WOULD NOT START IT STILL HAS SEVERAL LITTLE DENTS AND DINGS THERE ARE HAND PRINTS ETCHED INTO BOTH MY HEAD LIGHTS FROM CHEMICALS ON SOMEONES HANDS MY WINDSHIELD HAS BEEN SCRATCHED TO THE POINT YOU CAN FEEL YOUR FINGER NAILS CATCHING THE GROOVES AS YOU RUN YOUR FINGER TIPS OVER THE SCRATCHES. THE DRIVER DOOR IS NOT COMPLETLY COVERED IN PAINT ON BOTH QUARTER PANELS DENTS AND DINGS NOT REPAIRED . I ALSO REQUESTED FRONT BUMPER COVER NOT TO BE PAINTED AS A NEW ONE TO BE INSTALLED AT A LATER TIME THE QUOTE I GOT WAS 1700 AND EIGHTYFIVE DOLLARS AND TEN CENTS I GOT A CALL REQUESTING AN ADDITIONAL ONE HUNDRED AND TWENTYFIVE DOLLARS THAT TOTALED NINETEEN HUNDRED AND EIGHTYFIVE DOLLARS MY CAR LOOKS TERRIBLE HELP.

April Cline
from Buena Park, CA
I first came to Maaco 10981 boatman ave. Stanton California Nov. 26 2016. Paid $983.43 for a urethane paint. Pick it up Dec.06 2016. Beautiful, no complaints from me. I later came back to have a repair and paint done on front hood and fender from minor accident I had on 7/03/2017 and paid $491.79. When I picked up my vehicle it looked like the whole front of the car was repainted over the other paint job. It was much darker. So I complained about it and later came to a agreement to have the whole car repainted. When I picked up my car, not only was it a much lighter color it had numerous flaws thru out the vehicle. I later came to another agreement to have it repainted and flaws repaired. When I picked up my car nov.21 2017 95 % of flaws are removed but the car is not the same color it was after I had it painted the first time. It's obviously been painted a very thin coat of paint and still looks very transparent. Not the beautiful metallic gold it was originally. This company not only makes me feel embarrassed of my own vehicle but they also tried ripping me off with a much cheaper paint job than what I fisrt came for. This is not the beautiful original color it once was. I used to be able to spot my car in a crowded parking lot because of its beauty. Now the car is hard to find because I no longer recognize it.
I'm very disappointed with this company and I can never recommend it to anyone. Very bad business ethics. Unbelievable!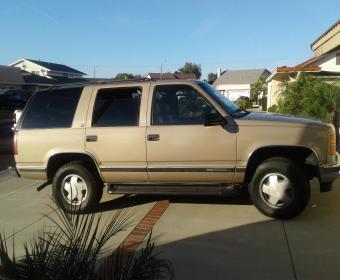 ,Patrick Broomell
from Mount Laurel, NJ
I took my car to Maple shade nj. Car got painted wrong color. They charged me 1200 to correct body work. They did nothing. I got the car back and the paint is shiny and the body work they supposedly corrected was not done. Dead battery,didn't even wash it. The worst 1850.00 I ever spent and would never recommend. The body work was done going in. They charged me to correct it. So disappointed.

Brought in 2nd car to make up for first debacle. Classic '76 MBG convertible roof was ripped and torn while being painted, paint showed cracking in 3 separate locations the day I picked it up. Rudeness from employees and lack of accountability. Maaco Brockton would NOT accept MAACO Coupon for 45% and was not given an answer why.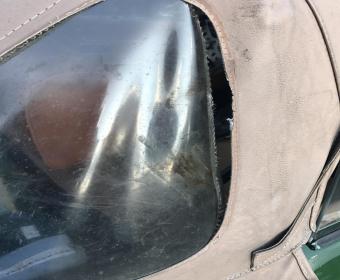 I dropped off my truck on Saturday last Saturday 3/26/17 at 11am the employee said that they was gonna repair holes dents around truck also spray the truck bed areas also doors jams. I also had to go with the original color due to employee says you can save money but I still end up paying way more. I thought nothing was repaired, they basically spray my truck without preparation never sanded or repair nothing was done. I feel robbed either you guys send me to someone who knows about really repairing my truck or refund my money. Also the paint is cracking already it's horrible experience with maaco please help me.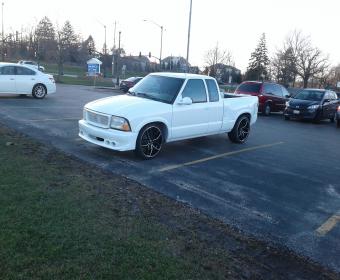 Rob Traylor
from Humble, TX
Took my parts for my 2009 Harley fatboy to the Maaco in Humble Tx to get painted. When received my parts back there scratches, fingerprints and orange peal all over. So I took it back to them and told the owner that it was not acceptable and he started to yell at me and told me that I paid $400 and I got $400 paint job, I asked if I could some of my money back that I was not satisfied. Then started yelling louder and cussing at me and threatening me and told me to leave, so I did. I hope you can help me get satisfaction or contact Maaco headquarters at the least.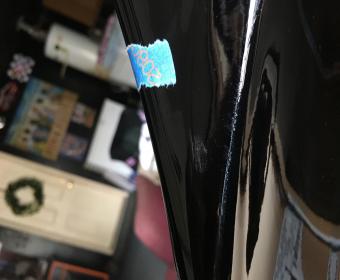 Larry Stewart
from Texas City, TX
I had a friend who told me about the Maaco paint company, how he was pleased with your service, and by observing his vehicle paint job I decided to to have your company paint my truck, I didn't question the service upon completion even after he told me he couldn't get my driver side door to match the rest of the vehicle, I let it go because you really had to be upon it to notice it. This is what upset me about your company, I paid approximately 700.00 to get my vehicle painted, it wasn't long before the paint began to peel away on the bed rails on the truck.
I misplaced my invoice and called the Pasadena, Texas paint shop to tell them what my problem was with my vehicle, and asked the young man did they have a record of when they painted the truck, he stated that they couldn't find a record of my vehicle being painted and that they're computer was not working. Well I went up there the next day and met with the manager with my invoice gave it to him and he went out and looked at my truck, returned inside the office and immediately looked up my information on the computer, advised me I was two days late on my warranty and the only thing he could do is give me a small discount, which came up to approximately 550,00 dollars another 150.00 because I had a dent in my tailgate I wanted repaired.
I was given a quote to have the same work done again which if done properly the first time I wouldn't be writing this complaint. I hope this complaint goes to the top executive who run the company because I know after watching under cover boss, he would not be happy with this branch in Pasadena,Texas cutting corners, and then making double profit. I will be waiting for your response to my complaint. I would like my vehicle repainted but I will not pay 550.00 for shabby work, and I refuse to let these guys do the work because they are not trust worthy.

Mike Merlo
from Denver, CO
Allow me to preface this complaint with the knowledge that i have had 3 vehicles painted by other Maaco's over the last few years. (2 in Wichita, Kansas, and one in Las Vegas, Nevada). The Experience was above anything i could have expected for a mid-level, color change paint job.
Complaint #1: I now live in Colorado Springs, CO. I took my car to the Maaco on Garden of the Gods Road and was told that i needed to wait over 2 months just to get an estimate.
Complaint #2: I Decided to go to the other Maaco on Chelton Road instead. I talked to a gentleman on the phone and explained my car to him. (No bodywork and very, very minor surface rust on the hood and roof) I made an appointment for the paint job at that time. When i got to the shop the estimator came out and just went crazy on marking my car up with a green marker and trying to explain to me how the hood and roof needed to be completely taken down to bare metal, how the paint was cracking, etc. I reminded him that all i was interested in was to put "lipstick on a pig" until i decided which direction to take this project.
After explaining to him that i have had several cars painted with Maaco, and that i knew the process for removing surface rust, he became very defensive and told me he was not interested in this job. I asked him to hold on and just give me an estimate for the job. He went back inside and another estimator came out and continued the process of trying to sell me on something i was not interested in.. When they finally gave me a verbal estimate, it came in at $1800 just for the bodywork alone. It only made things worse when i showed them the "half off any paint service" coupon i had. They didn't like that at all.
I hold the Maaco paint process in high regard and have recommended you to many of my car building friends. This experience, however, was the absolute worst customer service experience i have received in quite some time. (To make light of the situation, it's to bad the CEO didn't include these two stores when he did "Undercover Boss").
I still believe in the Maaco process. I don't know what, if anything, you can do about this. Please recommend a good Maaco shop close to Colorado Springs. I can supply pictures of the car if that would help. Thanks for you time.

Kailynne Johnson
from Washington, DC
I dropped my car off at Maaco, located in Upper Marlboro, MD on Saturday 11/5/16. I was told they would start my car on Monday & this will be finished on Wednesday, 11/16/16 at the latest Friday, 11/18/16. I purchased a rental car at Enterprise 11/5/16 upon leaving Maaco because i needed transportation to & from work. I purchased it until 11/18/16 just incase it took until 11/18/16. I paid $997 for that rental car.
I wasn't upset because i know that my car was getting work done. I call Maaco on 11/15/16 to ask for an update & spoke with a woman who was very polite. I ask her for an update & if my car will be ready by Friday her response was "there's no reason why it wouldn't!". So Thursday 11/17/16 i call & speak with Don & ask what time can i pick my car up, He then tells me "it wont be ready tomorrow, it will take a few more days but definitely done by Tuesday (11/22/16) maybe even Monday(11/21/16)" so i then had to call Enterprise & extend the rental for almost $400 until Tuesday.
Today(11/21/16) i call & speak with Don & ask him "what time will i be able to pick my car up tomorrow?" he says " unfortunately it will not be done by tomorrow" so i express to him my frustration & how i cannot afford a rental car any longer & how unprofessional it is that i even have to be the one to call because yet again a day before.
I should not have to figure something out a day before. This is very frustrating considering i paid $4005.000 on this repair. This is the 3rd time they are "attempting" to give me another date. I am now requesting a full refund & my car. Them changing the date for the 3rd time has been a major inconvenience to me. I have a child & other responsibilities to tend to. Please give this letter great consideration as it will result in a lawsuit otherwise.

ronald a. chapman
from Santa Maria, CA
I went to maaco of santa maria they tried to install a headlamp actuator. They were not able to, and trying to they broke my headlamp bulb. They tried to tell me it was like that. It was working before I came in to maaco. Then they charged me for labor and for the broken bulb. $136.43 is what I would like to request a refund for. This is really my only problem with them so far, and I wanted corporate to be aware of what employees are doing to customers.

Keith
from Winston-Salem, NC
I don't know where to start with my complaint about Maaco. I am not a writer so bear with me. Paint on the windows, carpet, inside the doors, tires (driver front and rear), wheel wells, brake caliper (driver front) and for the life of me I can't figure out how the door sill trim got cracked it must have been hit with something. This is a 1996 BMW Z3 painted at 1650 Silas Creek Pkwy in Winston Salem, NC. 336 939 6474 The project was wrote up by Alex Mabe. The job was to install an after-market bumper cover, address the driver side door for a dent and paint the car. I delivered the car on 1/15/2016. After 2 weeks or so (02/02/2016) I decided to call to see what was going on since I hadn't heard a word. I talked to Alex and inquired on the progress of the vehicle.
Alex said that he had called me 2 or 3 times to let me know the vehicle was ready. I never received a call from Alex. I asked him if he had left a message; Alex stated that with the type of phone that he had he was incapable of leaving a voice message. WHAT the hell is that? At that point I knew something was wrong. Alex said that the car had been ready for a few days. I asked him about the bumper cover and he said that it was ready for pick up. I told him fine I would be there shortly. I live about 20 minutes away.
I arrive at Maaco and see the car. The bumper cover was hanging off of the front of the car and had been PAINTED! I head inside to talk to Alex and the owner informed me that he had sent Alex home sick and that he would take care of the matter. So I informed the owner that I had just talked to Alex 20 minutes ago and he told me the car was ready for pickup. The owner explained to me how they tried everything to get the bumper cover on and that they could not do it. So why did you paint it? He blew up told me my vehicle was a piece of a crap only because he couldn't install the bumper cover. I did not deserve this. I did nothing wrong.
When it came to the point that there was nothing else that could be done all work should have ceased and I should have been contacted, it never happened. Now I have to find someone else to install the bumper cover hope and pray it can be done without a respray, clean the carpets, fix the cracked sill trim and clean the paint off my tires, windows and brake caliper. This was by far the most unprofessional service I have ever had. I have had vehicles painted by Maaco before and never experienced such rude and disrespectful individuals in my life. I'm 59 years old. If you guys condone this type of behavior it is really sad. I did nothing to deserve this. If you guys don't want people of color in your establishment just put up a sign. This is the only reason I can come up with for this treatment. I did not deserve this.
I will be sending a copy of this letter to the Better Business Bureau.

I turned to Maaco, because I don't like patch work and I wanted a PROFESSIONAL paint Job. They charged me $1,400 to do a paint job and some minor body work (door dings, small hood dings, and a little rust on the bottom of 2 fenders). I also paid $320 to drive a rental car which was set up by the Maaco office worker. Grand total for the worst paint job I have ever seen in my life, over $1,700!!! I have seen guys working from their driveways advertising $200 paint jobs on craigslist do a better job.
The car's original finish was still shiny and beautiful, because it was garage kept and very well maintained. I wanted the small flaws corrected, because I wanted the car mint! The Maaco estimator suggested painting and restoring the entire car, because according to him "although it's perfect in some places; if they only fix the problem areas the car will look different colors in places." I didn't want that, because of course, I wanted the car to be in mint condition. He promised me it would be AWESOME and they would work on it until it met my expectations.
He told me Maaco had a satisfaction guarantee and their technicians are the best in the industry. 8 days later I picked my car up and it was dirty and covered in what looked like grey primer dust from other cars being worked on and sanded right beside it. I could tell the paint job was flawed, but had no idea it was as bad as it turned out to be. I told the manager of Maaco THREE TIMES "they did not do a good job and I am not happy". This was on a Friday evening and he told me to take it home and rinse the dust off it (don't actually wash it for a week) and contact them with what I wasn't happy about. I was PISSED OFF when I rinsed the car off in my drive way.
You can still see the patched up ding repairs through the paint, they over sprayed the car excessively in so many places, the inside of the car smells like paint, because I had primary in the back seat area (on my leather, door handles, and in the carpet), the driver side floor mat, steering wheel, and door handle had grey primer residue on them because the workers didn't even respect my vehicle enough to avoid cross contamination and keeping it clean, the clear coat looks smeared and cloudy in some places, there are particles in the clear coat ALL OVER THE CAR because they were working on and sanding other vehicles next to mine while the clear coat was still wet.
If you run your hand across the finish of my car it isn't the silky smooth finish of getting a new paint job, it's very rough, and you can actually see dust particles and metal particles baked into the clear-coat, the hood has surface scratches where it looked like they sat tools or boxes or something on it and drug them off of the car. My car looked so much better BEFORE they touched it and they ruined a vehicle that has so much sentimental value to me, because of my grandfather who loved it, but passed recently.
The exact same day I got it home (Friday Night) I sent Maaco customer service an email explaining what a terrible job they had done. Monday morning the owner of the Maaco shop called me and assured me they don't do "professional paint jobs, they do "the best they can" and can't promise what the outcome will be. He also explained to me that "unfortunately, it's very common for particles like dust and other small debris to settle in the clear coat of freshly painted cars and they can't do anything to avoid it (which is lie if you've ever had body work done)."
He then told me I was welcome to bring it by at anytime so he could look at it, but what's done is done. Lastly, he suggested I go buy me some type of buffing kit to smooth the clear coat and try to correct the smeared uneven look. He told he it should be pretty easy and would make the car look so much better. WHAT THE HELL DO I KNOW ABOUT CORRECTING CLEAR COAT ISSUES? And why do I have to correct the issue?

Anthony Hopkins Jr.
from Raeford, NC
I have my car in to be painted back in May at Maaco with no damages, to simply be painted pearl black, which my vehicle is already black. So the insides do not have to be redone, and I find it very hard that my vehicle is still not finished, for now it is towards the end of July. I am extremely disappointed in the service of my vehicle being returned to me in a timely manner. I received unprofessional phone calls early in the morning waking me up before 8 am, with excuses of why my vehicle is not finished. Bottom line is that if that particular organization can not perform its duties in a timely manner, maybe management needs to find faster and better quality personnel for the job. This is very overwhelming financially, and stressful to the customers that trust in Maaco with their vehicles. Hope this message can make a difference, we as customers need a change in Fayettevile NC.

Am a long time hertz customer, I was returning my car at Maaco. I waited for over an hour for Maaco to check me out. Absolutely ridiculous. The staff ignored people in line and were extremely rude. Am highly considering using another car rental company. Beyond piss poor service from both Hertz and Maaco.

Couple of weeks back I had given my car for a dent repair and scratches to be painted at Maaco. You will have to believe my words. These guys have done a wonderful job on it. They follow a process out here. Firstly body repair, second surface preparation, third surface sealer and followed by paint services. This is not all... After all this, they have protection and seal process for the car. Washing and waxing is done to ensure the final finish is perfect. I have decided to give my car only at Maaco going forward. These guys are simply good at their work and know what to do perfectly. The kind of service they gave me is more than satisfactory. Overall am very happy with the way they handled and would definitely recommend this place for one and all.
Thanks for your feedback!
Sorry. Please try again later!