Lowes
Lowes Complaints Continued... (Page 8)
741+ reviews added so far. Upset? Call Lowes corporate: 1-800-445-6937

I went into Lowes yesterday and purchased an oil filter, 4 cycle oil, and 2 packs of blades for my lawnmower that I purchased in March of 2011. I purchased an extended warranty for 3 years with this mower. The warranty also states that I would receive 25% off , including sales tax on select preventative maintenance parts ( including batteries, belts, blades, filters, oil, spark plugs, and tires.) Please see section under maintenance Reimbursement benefit for riding mowers in the pamplet. When I went to purchase this and gave them my extended protection plan, they told me that they "thought" it did not cover this. This went through 7 employees of lowes before a gentleman decided to just go ahead and give the 25% for the oil and filter only. Then gave a 10% discount on the blades. Lowes gave us the pamplet to take with us. I stated that we have always used this and why are we not able to now. We never received this pamplet when purchased the lawnmower. I went to my car and read the pamplet. When I found section that stated this I went back into the store to show them this. The assisant manager, Jesse, came to the counter and said that Lowes DOES NOT reimburse for this. He said you have to call the 1-888 # and send them the receipt and they will send you the discount. He was very rude.. He said he has worked at lowes for 8 years and in all his 8 years they have never done this. I told him I just used this last year. He said no, they have never done this. He was calling me a liar. When I took the pamplet back I ask him what his name was and He said well I have worked at this lowes for a year and 1/2 , maybe they do things differently at other stores. His entire attitude changed when I asked his name. I went back to my car and called the 1-888 # and spoke with James. he said that I was correct , they were suppose to have taken it off in the store. He even spoke with his supervisor. Now I have to mail my receipt to Lowes PO Box inorder to get my money, Its not even about the money. Its about the way I was treated during the entire process. I called back to lowes this morning to speak to the manager and I got Jesse. ( the same person I spoke to yesterday.) He said he was the assistant manager which is just like the store manager and he could help me. I told him i spoke to him yesterday and I need the manager. He started again on the same thing. I told him I called the 1-888# and they told me the same thing I had told him. He still would not listen. I told him to read the pamplet. He would cut me off when I tried to talk. For him to be an assistant manager he needs more training. LOTS. I shop at lowes alot and I dont know if I will be going back after this experience. Just horrible. I am an easy going person and things don't bother me that much, but this was just ridiculous. Why after going through 7 people doesnt anybody know.. Is it lack of trainning…

Hi my name is Otto Mullen my complaint is about the newburgh store. In your plumbing dept. Your plumbing area in the store is a mess I go there all the time to get plumbing supplies. I work part time for storm king plumbing.Nothing is in the right place the pvc pipe fittings are all mixed up. we install tankless hot water heaters your display for that Is a mess. the hot water heater is displayed upside down. Well I am looking for a full time job been in the plumbing business for about 8yrs ive been in contruction for over 20yrs. I fill out online applaications at previous times at the newburgh store. no response. I am interested in helping you help your plumbing dept and your plumbing dept. but I get no response. Thank You For your time and consideration Otto Mullen Iam hoping to here something from you.

My washer broke down a month ago. I called the lowes company stating that I believed I brought the washer eight years ago, but I brought a warranty with the washer, and it had broken down and I needed there help in receiving another one. I was then told by the appliance department in lowes in Madison heights va that they only keep things for 5 months, and that you only brought a 5 year wannanty so you are out of luck. Call George's applicance and they might fix your dryer.
I felt like an idiot after that phone call so then I emailed info@lowes.com with complaints because I really need a washer, but my emails were left unattended. So then I spoke with lowes customer care yesterday, and let them know what was going on, and how no one would give me the time of day from lowes. Lowes store manager Christopher Delaney spoke with me on the phone very rudely and told me the only thing that they could do for me is 10% off another washer.
I informed them to check there receipts because I had brought a washer and dryer and the same time and when my dryer had bite the dust that I had no problems getting my money back, and it was on a receipt that I had to sign to get the money last year. And I also informed them that to call Georges applicance in Lynchburg because they had come to my home twice to try to fix the dryer that was under warranty last year. Georges applicance told me that they had come to my home Nov 2011 that lowes informed them that I had brought the washer and dryer in 2010 that it was still under warranty.
I informed Georges applicance thank you for telling the truth. I proved to lowes that I was telling the trurth. I never heard back from lowes in Madison heights. I told Georges appliance that I could take them not believing me but treating the way that they are doing is just wrong. I need a new washer. Mine is under warranty. They found out the truth, and they are still avoiding me. I wrote twice to custcare@lowes .com because they service and customer care stinks. I been treated like a liar, and like I was crap. I pay a lot of money to lowes in appliances. I am on a limited budget. Right now I am renting a washer from hometown rentals in Madison heights va because lowes will not give me the time of day. I would like the payments that I had already made to hometown rentals back. Two payments of $15.99. I would like a new washer that works. I would like someone at lowes to treat me with respect. Stop the crap my life is to short. Call George's appliance and they will tell you the truth. Lowes in Madison heights contacted George's but they never worked out anything with me. I need a washer one that works. I was not asking anything from lowes except that they help with with the piece of crap washer that does not work. I have documents in black and white that I am telling the truth. I have it were I have complained about lowes on twitter. I hope and pray that I get a washer that works for a long time from that company.
My last straw was people including the manager all I can do for you is to give you 10% OFF on a washer, and treating me like I the biggest liar in the history of the usa. I need help asap. With respect. I need a washer that works. I need my money back from where I had to rent a washer, because no one at lowes in Madison heights thinks that my business is worth the time of day, or I am worth the time of day. Let get this issue resolved quickly. Thank you.

I purchase a stove and microwave and paid full price for my merchandise to be delivered and install.First of all it did'nt arrive on the day i was promise . It was finally delivered on 04/11/13 the stove was install but they did'nt install my microwave which i paid two seperate fees for installment, I 'm very disappointed because my microwave was not properly delivered or install they left my microwave outside in the yard still boxed up my mother is 80 years of age she lives along and they left her having to get up and look out the door allnight and day to make sure no one would steal her merchandise. I'm highly upset i think that my 1100.00 dollars was not appreciated at lowes and from being in marketing my self i no people, service, profit is the number 1 rule in retail.

I bought a new refrigerator side by side,the whole side rusted, I bought a new dryer the whole top is rusting,
I bought a new storm door a year a 1/2 ago, the bottom is starting to rust. I have called and complained and I was told all that could be done is sending me a can of paint. Can Lowes not provide home improvement items that does not rust.? I hate to leave Lowes because it is so handy for me but can't do this anymore. What can be done?

Purchased the new side by side, and 5 months later the top ice maker failed. Had it fixed by the Samsung factory repair company and that night we realized we could not make any of the control buttons to work. The doors had to never-shimmed so the doors would align. This is undoubtably the biggest pike of junk we have ever paid $2500.00 for. Please be forewarned, do not purchase any Samsung refrigerators or washers. Poor quality and Hugh price

I was trying to buy a storm door on Sunday, Feb 3. The doors were located on the end of the aisle. I looked under the sign that was taped basically do not enter to see the price of the door. Leslie said "you can't come down this aisle, we are working here, can't you see the big yellow sign."
I said that is no way to address a customer…he went on to be abusive and kept saying can't I read the sign. He didn't stop yelling down the aisle for all other customers to hear. He not only didn't difuse the situation but I am not going to buy the door now.
When I went to the desk to complain he magically appeared and said he was the manager of that store. He didn't let me even say a word…yet around all the other employees he wanted to tell me off. I said to let me speak and he said "no I am going to tell you. I am astounded by his rudeness,obnoxious, and overall abusive behavior. It was a disgusting display for any employee at any level within your company. Pia the assistant manager heard the yelling and came over.
Then Greg interrupted and said Leslie was right. The policy is…Who needed him to butt in? Instead of making matters better,they made them so much worse that I was shaking when I left…obviously with no purchase. I am appalled at that he is allowed to speak to customers that way.

well i ordered window black security bars two. spoke to 3 people at the lowes on tunnel rd asheville nc to see what else i would have to purchase in order to put window bars up. nobody knew anything. so i had and email from a christine Dooley a manager there or on here she said go to millworks or ask for a manager to find out what goes with this. well low and behold the sale manager took the bars out of box no extra mounts or nutz boltz or screws so i asked and told him i was told your store would have the rest of what i would need to install these window bars and i was assured someone would make sure i had the correct mounts or screws if needed. as i spoke on chat when ordering this the customer service guy said everything you need to purchase to install is at the store. I didnt get the sales mens name i was so livid that i drove 20 milles to pick up my purchase and once again no one knew what to do at this store. so my husband told them to credit this product back to my card. good thing i lo0oked at the receipt before i left the cashier only credited one of the window bars. So now i am only going to shop at Home Depot. this is bullshit!!! your employees need to be educated. and its not just your store its this whole city!!!!!!! No one can get anything right in this city. I spend my days straightening other peoples mistakes while they get paid for it and act like it no big deal.

I purhase new Samsung Washer Machine4.7 for on Thunderbird and /17,when the nice men can and set it up and ran a test they discovered there was a problem the washing not shutting down on water go in to machine while it was washing (this means that if you dont manually stop the machine water will over flow out while washing, so i decided to call lowes and if they have another that was comparable to this one they say yes it would Whirlpool 4.6 i said i like to have that one delierved now, he check there are none in stock in his store, he said Surprise had5 in stock and told me to call them, Well i call them and i explain i have been without a washer for over 3 weeks, I need machine bad becasue we have4 small kids that live . he said they could deliver it on monday or tuesday, ( That was NOT what i wanted to hear.) so i said there any store that this Whirpool in stock and can fast deliver, he said cal l Lowe at 59thAve/Glendale, they have one, do not what their schedule, the store in surprise by was does not deliver on Sunday,
I lowes at 59th ave/Glendlae and they yes we can delilver on Sunday mornig b 10:15am I was informed that i wouldl have to buy new supply lines from the store or they will not install the washer, the previous installer who were still in my house that they had hook up my line they are fine 1 year old stainless steel and that had no problem do that, lines look brand new, Well long short story i had to buy 2 new supply line so they would install washing machine. I am seeing that company policy goes for different store it appears. I was unhappy with my adventure buying a new washing machinea as i had spent my day firday going to Home Depot who were very nice but did no the machine in stock, so i go to Lowes at Thunderbird and 101 Freeway, and a had negative experience, the went to Frys, they were nice, but lowes prices for delerivey was bet and i also like the warranty that was offer that paid for. the tunderbird and 17 freeway werevery nice to work with and the guys you brought in the samsung washing machine and said they had never install a machine that did this before.. nice guys, but thunderbird store said i would have make all calls and find the machine and make arragement, seems to me he new i need a washing machine really bad, he could call those stores for and find when they could delivery it to me, instead i the consumer who is the reason he has a JOB did his JOB for him, i am disappointed by this experince with LOWES, a new mott for ALL you employess HEY A CUSTOMER IS WHY YOU HAVE JOB We borred money and my went to store and put this on her lowes card to get me a new. I 3 small kids and i do a lot of laundry. Thank you for the experince. Joan Smith

Purchased a Whirlpool Gold Series dishwasher on 01-02-2013. Delivered and installed on 01-09-2013by Blue Water, contractor for Lowe's Portage, IN. When I thought the installation was near completion, I asked the installer, Frank, if installation was almost cvomplete, he said it was done. The dishwasher protruded from the cabinet, with large gaps on both sides. I said that that was not acceptable. He said that the hole in the tile for the water line would show if the machine were moved back into the recess. I said that would be acceptable. He then said that the board across the rear of the opening was the problem.
The old washer cleared the board, and the design change on newer washers caused the washer to strike the board, preventing it from going further. He called his superior, who told him he could not remove it. The board is apparently glued to the outside panel. On 01-10-2013 I visited the Portage store and detailed my problem to Briana, who relayed it to her manager, who told her that nothing could be done, and my $125.00 installation charge would not be refunded.
Since I have purchased several dishwashers, electric ranges, clothes washers and dryers from Lowe's, always installed and operating without problem, I felt that Lowe's would be responsive to my complaint, because:
1. If a design change caused this problem with older washers, the installer should be cognizant of that problem.
2. The board could be easily removed by an installer using a Dremel-type of tool.
3. Had the installer notified me prior to installlation that the board needed to be removed for the dishwasher to fit properly.
Now I will still require his services, at additional costs, to insure the installation is done properly. I felt it was incumbent upon me to relay this complaint to Lowe's, due to my long and satisfactory experience with your company. I would appreciate your ressponse in this matter. Although I am displeased with this installation, I must say that your sales people, Briana, and the installer, Frank. all conducted themselves professionally, and were extremely polite and pleasant to deal with.

been broke since dec 23 cant get it fixed till dec 30 i will not be buying one more thing from you people if you cant have people who can come sooner than that you need to close your doors i will make sure all i know never buy an appliance from your company i dont blame the guys you contract to do the work i blame you the company for the crappy stuff you sell to us who did use your store for so many things such as our stove our washer and now our washer …. thanks for the memories

I was redoing my sons bedroom so I went to lowes and got three gallons of paint,I am not a painter so I was telling the man what tipe of walls I have he told me what all I needed so I got everything he told meI would need.i painted it 3 days ago and now the paint is chipping of the wall I called the man and he told me I had to use primer under it ok he told me the first time the the primer was in the paint so I would not need anything else I am so mad I spent so much time and money on it for nothing

I purchased a troy built lawnmower @ 1300.00 June 1 0012. A bearing in the rear end came out of its place and the mower would not move backward/forward. The mower was returned to the Roanoke Rapids store for repair. I had to personally pay 32.10 so the service repair center would pick up the mower, fix it, and return it to the Roanoke Rapids store. My complaint is: since it was a factory defect and lowes stood behind the repair I don't feel like I should have to pay a service center to pick it up and return it. That should be another part of the business of keeping a satisfied customer. I could have carried it to the repair center and picked it up myself a whole lot cheaper. Other than that I am completely satisfied with everything else.

My 77 year old mom purchased tile from Lowes at the location off of Mansfield Rd in Shreveport, LA. Her first appointment was scheduled two weeks ago, then cancelled by the store. They setup another appointment for the following week, would you believe the manger over the tile/carpet section called an cancelled that appoint as well. I called to see what the hold up was and why they continued to cancel on my mom after she had paid all of her money. He became would, which in turned pissed me off. He said my mom did not have a installation appointment, which we knew was a lie. Also, even if she did not have an installation appointment, when you called to cancel each time, why didn't you tell her that.
No one in their right mind, should have a manager like that working for them. He was ignorant and his customer service was horrible. If this is the best Lowes can do, I will tell my entire family, which is a large one to go to Home Depot. Also, they complaint said they would called back in 24 hours, its been a whole week. Just a bunch of liars.

I have purchased several appliances from Lowes, I had no complaints until yesterday 20120210. I purchased a Bosch 500Vision series Washer and Dryer in 2009.
The pair worked fine until I had been noticing that the washer seems to make this noise when in the spin mode. At first I thought it was due to an unbalanced load but it seemed to only happen when washing large loads of clothes.
I purchased the extended warrenty just in case something went wrong . I made a call to the service center and they were very prompt in getting me scheduled for an appointment, when the technician arrived I began to explain to him what the washer was doing and what I had researched there was a possibility that the bearings were shot or the spider needed to be replaced ,after doing his analysis he was convinced that it was due to overloading.
his exact words were" you can only was 5 bath towels at a time". By this time I was furious because I didn't feel he really did a through analysis.. he called the Lowes service center and said the problem was due to overloading ..
I called Bosch and they said this model is capable of holding at least 10-12 bath towels at a time.. After talking to one of the service supervisors, If I wanted someone to come out because I wasn't satisfied with the findings of the first technician there would be a possibility that I would have to pay for the service call if the technician reported the same thing.
This to me was and is still unacceptable. I shouldn't have to constantly stand in front of my washer hoping that it doesn't shake/ dance away from the wall or that when the machine (tub) wobbles when doing a large load does more damage to the washer. Honestly if it was within the 90 return period I would have retuned it.

I recently got married to my wife and received gift cards to Lowe's to design our new kitchen. When we asked the designer what we needed to do, all he said was fill out the design brochure with measurements. We gladly complied to this and returned with the measurements. These measurements included the measurement of our appliances. He designed our kitchen and ordered it. After discounts and gift cards, we were left with about $3,200.
Four weeks later we received our cabinets. A few weeks later we got someone to install the cabinets, cheaper then what Lowe's would charge us. I gutted my kitchen; appliances, cabinets, floor and all. I installed a bran new hard wood floor and then got ready to install the new cabinets. My installer wanted to know why my fridge was 33′ wide and the over the fridge cabinet was 30′. This cabinet was supposed to be big enough for my fridge and few extra inches for a "standard size fridge", I was told by the designer. The designer said that he would order a 36″ over the fridge cabinet and replace three other cabinets now that they would stick out past the wall. He charged them to my lowes card and promised that the would come off later. I was told that he would put a rush on it for 7 to 10 days. 10 days later, no cabinets. Now told it would be three weeks. About the same time as a regular. Complained to the manager and he said that he didn't understand what the problem was and then told me that it was my fault because of my measurements. (?)
I complained to KraftMaid and the could care less.
After receiving my new set of 4 cabinets, I looked them over to find out the two out of four were correct. Two cabinets were shrunk in width and the lengthened in height. Time for another complaint. Now, these new cabinets take 5 weeks to come in. I'm told that they are customed maid in a shop by elves. (?) These two cabinets were charged to an in house Lowe's card. I am told that replacement's should be charged to an in house account.
Two and a half months later my kitchen is done and now I am over charged on my Lowe's card. Two managers and they can't figure out what the problem is after five days of working on the problem. I am told what he can take off the receipt, but that is it. He can not tell me how much the kitchen cabinets cost now and how much I owe after paying $900 to the Lowe's card.
Newton NJ Lowe's Store and Management sucks. The are retarded and don't know the left from right. You should at least know what is going on and have some sense of what is going on. I will respect what you can and can not do, but not that you are retarded and can't comprehend what the problem is. Fix the problem.
Lowe's Corportate Office just forward your emails and phone calls to the local store. Then the store manager respond's with "I don't understand and don't know what I should do."
When I tell my story to others, I am asked what the designers name is from Lowe's that desinged our cabinets. I tell them that his name is Russ and I get and oh "I have heard his name and this isn't the first time he has screwed up." This was heard from three people. One of these three people works fro KraftMaid. Other's just say that Newton NJ Lowe's screws up on cabinets all the time.
They have no back up plan for when they screw and believe that it is never them.

I had purchased a Husqvarna Chain saw Serial#577255810 at store# 2713 (now closed) on August 25/2011. I originally purchased it in the event of trees falling from hurricane Irene. There was no damage to my property, thus it sat on a shelf in my garage. This spring, I attempted to use it only to find that it didn't work (would start but would die out after a few minutes). I attempted to return it to the store of purchase (Lowes of Manchester) but the store had subsequently closed. I went to the Hookset store and it was also closed. I finally found a store open in New Hampshire (Lowes in Bedford) on March 23, 2012 but they would not except a return due to the period of time that had transpired. They did offer to send it out for service assuming it was under warrantee and I released it to them. They contacted me 2 weeks later and informed me there would be a $187 charge to fix it and that I "had tampered" with it (remember, this is a brand new chain saw). I declined the repair and asked for the customer complaint department. After 2 weeks of discussions back and forth, I received a call from Gail today stating that not only would they not replace or repair my chain saw, but it would cost me $55 to get it back (!). I informed Gail I am extremely upset to be treated so poorly by such a large retail operation, and would inform my friends, family, and employees of this unacceptable customer neglect. She was polite but dismissive felt completely abandoned.

I had purchased a Husqvarna Chain saw Serial#577255810 at store# 2713 (now closed) on August 25/2011. I originally purchased it in the event of trees falling from hurricane Irene. There was no damage to my property, thus it sat on a shelf in my garage. This spring, I attempted to use it only to find that it didn't work (would start but would die out after a few minutes). I attempted to return it to the store of purchase (Lowes of Manchester) but the store had subsequently closed. I returned it to Lowes in Bedford on March 23, 2012 but they would not except a return due to the period of time that had transpired. They did offer to send it out for service assuming it was under warantee and I released it to them. They contacted me 2 weeks later and informed me there would be a $187 charge to fix it and that I "had tampered" with it (remember, this is a brand new chain saw). I declined the repair and asked for the customer complaint department. After 2 weeks of cdiscussions back and forth, I recived a call from Gail today stating that not only would they not replace or repair my chain saw, but it would cost me $55 to get it back (!). I informed Gail I am extremely upset to be treated so poorly by such a large retail operation, and would inform my friends, family, and employees of this unexceptable customer neglect. She was polite but dismissive felt completely abandoned.

In March of 2011 we purchased 2 Larson storm doors for or lanai in or winter home in FL. We are snow birds and are only there during the months of Nov – April. The doors were special ordered due to the size. We were very happy with the doors UNTIL in rained during the first week of April. Normally, FL doesn't get very much rain during the winter mos. Subsequently, we never had witnessed much rain while we were here. We had a very rainy weekend and we were stuffing towels at the bottom of the doors to keep the water from coming in.
I went to Lowes and talked with some one in the door department and he suggested a new "sweep". We bought that but soon realized that didn't help as the water was running down the handle side and coming in from underneath. I went back to Lowes and talked to the person I was told who was in charge of installations. I was told the person who installed the doors no longer does installations for Lowes. I explained my problem as was told that my "warranty "expired in March. ( we are talking a matter of days here). I told her the brochure that was given to me said "we stand behind every installation". She said it was in my contract. 
I reminded her that the Lowes logo was on that brochure that said "we stand behind every installation" It didn't say say we stand behind every installation for a year!. She then said she would call one of their installers and have him to come out. After a 3-4 days and since I had the installers name I called the installer myself. He said he had been busy but we arranged for him to come out that afternoon. He looked at the door and said he didn't see a problem with the door or installation. The problem was the fact that the floor of the concrete lanai was such that in order for the problem to be solved the floor under the door needed to adjusted by putting something similar to "skim coat " under it. This would allow any water to flow right back out.
I asked him if he could do that. He said he would have to check with Lowes. I didn't hear from him so I called him. He told me Lowes didn't want him working on the concrete. I called the Lowes store and talked to Bob who is head of installation. Bob said that Lowe's does not do concrete work. My original doors had THRESHOLDS which were removed to install the new storm doors. Without thresholds, water can come into my lanai. If the original installer had pointed this out as a cause for a problem, or if the original installer had pointed out to me that water would come in at the time of installation, I would at least have been aware, but to remove the thresholds and then create a problem for me that Lowe's says is mine to repair, just doesn't make good business sense.
After years of doing business with Lowe's and spending thousands of dollars, I am more than just a little disappointed with Lowe's "it's not our problem" attitude. It is Lowe's problem because the problem didn't exist before new doors were installed. We live in Golf Lakes a mobile home park with 780 units a mile from Lowe's in Bradenton, FL. Trust me, we do share information in this park about the good, the bad, and the ugly. Home Depot is just blocks down the street from Lowe's and will become my new favorite place to shop without some resolution to this problem. The store is Lowe's #1813 in Bradenton, FL. The installation manager is Bob Reeve. We talked to Shannon at this store and the installer originally was a window and door specialist D'Ambrosio and more recently Brandon Risk assessed our problem.

I called the Lowe's store in Conroe, Texas about the largest BTU window air conditioner that is 110 volts. Through the automated phone service I was connected to the appliance department where NO one answered the phone for over 20 rings. I hung up, called back and and got an operator who was unable to answer my question because the informationis not on your computer, so she went looking for a person who could. After 17:22 minutes of music, I hung up and called back.
I was able to convince the person to walk over to the air conditioners and actually look at the box and tell me what the BTU size and voltage of the largest window unit in stock. Now, if you reply you are going to give me some cock and bull story about how customer service is always a priority and how you regret the terrible service I got and so on and so forth. But the absolute terrible thing is that your company will do nothing about it.
You will offer no training to your people on efficiency, you will not alter your computers to add the information and you will not install a human to answer the phones in a timely manner. So, by logic, your store and business is NOT about customer service at all, now is it?

I am disabled and on a fixed income. In November I bought a Whoorlpool Cabrio washer that with washer and extended warranty was over $700.00. I normally wait, as most of us do, to do laundry on a specific date. I usually have 10 to 11 loads at that time. I put the sheets in to wash and they would not spin out. I tried everything.
Now I have plates in my back and so does my wife so bending over and dealing with ringing wet clothes is not something we do if we can avoid it. She finally got them hand rung out enough to go in the dryer… We thought that maybe they had just been unballanced or something. The machine is about 5 months old.
Next morning I put on another load and again no matter what the load would not spin. This was Monday 4-16-2012. I called the service number at 12:30 according to thier notes. They said they could not get anyone out sooner than Wednesday or Thursday.
I told them it was urgent as the wet white towels would mildew and we did not feel we could deal with them to hand ring them like we did the sheets.We made the appointment for Wednesday and they stressed that we had to be available from 8 to 5 for the repair man. At 5:15 on Wednesday I called them back upset that no repair man showed and same customer service man said, I can't call Service Tech to find out why they did not come because they close at 4.
He said we would have to make another appointment and that there wasn't one available to Friday. I asked to speak to a supervisor and got the same story. They basiclly cold me it was my problem and they could not do anything about it. He said he would set me up for another appointment for Friday. So I hoped that maybe as the Service did not get to me Wednesday they would show up Thursday or call and I would be able to call back and cancel the friday. I waited all Thursday.
Nothing. Friday at 12:08 I called to find out when they would come. They told me I did not have a Friday appointment but that my complaint had been turned over to a suppervisor and that she could not schedule me for an appointment till Monday but with a diffrent company. I asked to speak to a supervisor and was put on hold several times, the call lasted over half an hour and I did not get to speak with anyone but the customer service clerk.

Two weeks ago I purchased a Maytag Washer from Lowe's. When the delivery men were unloading the washer from the truck The one guy leaned the washer back and water ran out. I wish I'd have told him not to bring it in my house and just take it back. That was a sure sign to me that it was previously used. but I let them set it up in my washroom anyway.
What a mistake that was. the first load I did went fine, after that, not so fine. apparently It was broke when they delivered it. and I think they knew it. I did not use it and had to go to the laundromat. Last tuesday morning before going to work I went back to lowe's right to appliances and the same salesman waited on me. I did an exchange for the maytag for a frigadare front load washer. which he said would be delivered this coming tuesday and they would pick up the maytag. the delivery date would have been tuesday march 27th.
On thursday the 22nd I called Lowe's and ask if it could be delivered on the 24th of march instead. The man that answered the phone said he would have to call me back in a couple minutes. An hour later I called lowe's again to see why he didn't call me back. another guy told me that I was first on delivery on Saturday Morning.
so this morning at 7:50am they called and said they would be here shortly. I questioned the guy about the washer coming with a pedistal and said about the one they would be picking up. he said he had no idea waht I was talking about. he said there was no pedistal and he knew nothing about picking up another one.
I told him you better find out what's going on before you get here because if you show up without my pedestal to the washer that I paid for you with be picking up the maytag and I will go elsewhere and buy a washer. he said I will call you right back. 20 minutes go by and I called the store to see what was going on. By this time I am so pissed off. this guy tells me he got it straighten out.
He's said he's talking to the delivery guy right now and he ask him what time he was bring it, and the whole time I can hear their conversation and it wasn't very nice. Then the guy tells me he said at around 11:45am. What the hell happened to first thing in the morning. I tell you one thing right now. this dam washer better be right. Iv'e never had this much trouble getting an appliance before. If this is the way Lowe's treats their customers you can be sure that I will never buy anything there again.
I pisses me off that I spent $40 dollars at the laundromat this past 10 days when If I would have got a washer that worked the first time, I would have been doing my wash at home. Very disappointed with Lowe's at this point.

We went to the lowes on Okeechobee Blvd, in West Palm Beach Fl this afternoon Store # 1962. Upon arriving we asked customer service fo help as we wanteed to buy an elctric tankless waterheater but had wuestions we were told they would have a sales person meet us in that depts we waited for 20 minutes and noone came. So we bought our water heater at home depot. While at your store we ordered wood fencing and posts to be delivered and charged $79.00 for delivery we live less than 3 miles away!
When we went to the garden center a gentlemen wrote up the item #'s for the post and the fencing and we asked about a post digger he said inside the store in isle # 27 we could not find the item when we asked another person inside the store she said go to the garden center. Again we bought the post digger at home depot!I would have preferred to buy all that we needed at one store but your employees made that impossible.

I purchased kitchen and dining room floor tile from Lowes and contracted with them for the installation. The tile was laid the wrong way and laid unevenly. I told them I wanted it taken out and reinstalled correctly. They refused to tear out the tile but said they would take out the uneven tiles and replace them. As they tore out the bad tiles they chipped the adjoining tiles. It has been over three months and the job is still not done, I have half my floor missing.
The backer board is damaged and broken down to the sub floor. There are more bad tiles that should still be torn out. I have no time of completion. I called the manager and asked for a refund. He said they are not in the business of doing free work and that I am not a professional floor installer so I don't know what I'm talking about. This job cost me over $5000.00. So much for the Lowes guarantee. I will never use Lowes for anything else again.

This is becoming the "Biggest Customer Service Improvement" in ALL stores these days. "Do you need help". The problem is…it's the biggest time wasting PR that has NOTHING to do with Customer Service. I needed to quickly pick up a couple sheets of sand paper at Lowe's the other day. I knew exactly where it was and how to get there. I was stopped no less then 5 times by employees asking me if I needed help. I don't have time to waste like these employees do. And then when I got to where the sand paper was I asked the person who worked in that department if they had any 200 grit or higher paper (none were on the shelves).
The IDIOT proceeded to hand me 180 grit. Seems that 3rd grade math is NOT a requirement to work at Lowe's. And it's NOT just Lowe's. Home Depot, Sears…They all think they are fooling the public by forcing their employees to "Ask if you need help" so it SEEMS like they are concerned about service. But for anyone with an IQ over 90….it's so obvious that Service hasn't increased..in fact it's DECREASED. Asking if you need help is not the same as actually providing the help. And asking people who Don't need help is just making their visit to the store extremely inconvenient. So much so I now DRED going to Lowe's or Home Depot.
And I know many many people who feel the same as I do. The IDIOT who thought of forcing their employees to Ask everyone customer they see if they need help should be fired for just plain stupidity.

On the Wednesday before Black Friday, my husband who is a Lowe's credit card holder and I went to the Lowe's store in North Little Rock, Arkansas for the purpose of buying a front loading washer and dryer. The sales' representative was Joe Montgomery. He told us that if we waited until Black Friday we could get 18 months interest free. Needless to say we came back on Black Friday. We ordered our washer and dryer. We were told that it would be delivered Dec. 5. We gave away our washer and dryer Saturday, Dec. 3. We called and went by Lowe's today and our washer and dryer are not in the system.
Human error is understandable, but when my husband spoke with the manager she exhibited a less than helpful attitude. I am a public servant, and all I ask is that customer care be foremost in the minds of those who too count on the public for their livlihood. All we want is what we ordered and at the price at which it was ordered.

I worked with the "kitchen designer" to assist me with my new, dream kitchen. I had a rough, sketch and I worked with the Lowe's employee to select the appropriate cabinetry. The next night I went back to the store, which is in Littleton, NH and about an hour from my house, to finalize the design. I told the "designer" that I wanted to add an end piece of cabinetry to the design, to not only complete my design but to take advantage of some sales incentives being offered at the time. The little drawing that is produced from these design layout sessions is poor and difficult to read. So I had to rely on the "expertise" of the Lowe's staff.
Now, I also purchased an oven, cooktop, refrigerator and exhaust unit as well from the store! About one month from placing this order, my cabinetry finally arrived from the KraftMaid factory. I worked with my contracor to put the cabinetry. My design included a kitchen island and after putting the cabinets together, I was ready to put the cooktop in and the oven. When I placed the 30″ cooktop in the 30″ base cabinet, the cooktop did not fit. I contacted KraftMaid and was told this should have been a 33″ base, not the 30″ that the Lowe's "designer" spec'd in.
This was on the eve of when my countertop, which I also purchased from Lowe's, was to templated, manufactured and then installed. This screw up by Lowe's has delayed my kitchen installation. When I contacted the "designer" at Lowes', she was unapolegetic for her mistakes and tried to "justify" her mistakes. The ass't manager I spoke with just booted the problem to his underling..the person who screwed up! The KraftMaid rep was of no help either. Meanwhile, I have not been able to eat at home. I am the one incurring all the expense and Lowes staff just wants to ignore me.
I understand mistakes but this arrogant attitude is too much!!

Lowes in Kailua,Kona Hawaii,had a sign saying they were hiring. I called the store and asked to speak to the Human Resource person. After trying to call 3 times, person was either not available or in an orientation meeting. I left my name and phone no. A message came on m email saying that I was not selected. I just wanted to try and get to be interviewed so that I could give a better history of myself and I would be able to give both character and job references. My previous employment does not show my full capabilities and I wanted a chance for an interview,which I feel that I can present my qualifications.
After leaving my phone no.and not getting a call back.I called back and spoke to Christine?,I explained to her about my applying online and was trying to find out the reason for being denied or whatever reason that I was not being considered, she took down my name and number and said she would go online,check on my application and call me right back!. This was in the morning,Friday Nov. 11,2011. Its Monday Nov.14 and no phone call yet. I have applied at Lowes once before and was not given an interview. I shop there often, and have dealt with people who were not as qualified as I am and the knowledge,that I have.
I've been in construction for over 25 years and have worked with many different contractors over the years. I'm a very good handyman and have never hired a plumber to do any work at my house. I worked as a general laborer in the Laborers Union, for 13 year,and 12years as a journeyman mason. I have done work in ceramic tile,painting,drywall,some basic carpentry, I am able to install ceiling fans, electrical wall plugs,but no major electrical work. I am applying for a stocking position, and have driven and operated all types of forklifts,including, Gradall. I am 59 years old,in excellent condition,don't smoke, don't drink, and will pass any drug test. I am writing this letter, just to try and get a fair shot at this position.

Lowes in Kailua,Kona Hawaii,had a sign saying they were hiring. I called the store and asked to speak to the Human Resource person. After trying to call 3 times, person was either not available or in an orientation meeting. I left my name and phone no. A message came on m email saying that I was not selected. I just wanted to try and get to be interviewed so that I could give a better history of myself and I would be able to give both character and job references. My previous employment does not show my full capabilities and I wanted a chance for an interview,which I feel that I can present my qualifications.
After leaving my phone no.and not getting a call back.I called back and spoke to Christine?,I explained to her about my applying online and was trying to find out the reason for being denied or whatever reason that I was not being considered, she took down my name and number and said she would go online,check on my application and call me right back!. This was in the morning,Friday Nov. 11,2011. Its Monday Nov.14 and no phone call yet. I have applied at Lowes once before and was not given an interview. I shop there often, and have dealt with people who were not as qualified as I am and the knowledge,that I have.
I've been in construction for over 25 years and have worked with many different contractors over the years. I'm a very good handyman and have never hired a plumber to do any work at my house. I worked as a general laborer in the Laborers Union, for 13 year,and 12years as a journeyman mason. I have done work in ceramic tile,painting,drywall,some basic carpentry, I am able to install ceiling fans, electrical wall plugs,but no major electrical work. I am applying for a stocking position, and have driven and operated all types of forklifts,including, Gradall. I am 59 years old,in excellent condition,don't smoke, don't drink, and will pass any drug test. I am writing this letter, just to try and get a fair shot at this position.

I live next door to a old couple that received a 101366-2200 psi power washer for christmas in dec-2010- that opent it up(new) for the first time last month to wash there house down. after reading all the directions and setiing up the unit they starte to use it(note it does work great)well the hose got caught under the base and the muffler and burn a small hole in it(NOTE THE MUFFLER HAS A PRTECTIVE GUARD ALL THE WAY AROUND EXCEPT FOR THR BOTTOM )-SO the wife of this couple(note:she is 72)-went back to the lowes in port huron michigan and told the manager about he stated that was there problem and charged her thrity dollars for the hose and walked away…i feel this is very POOR SERVIC.
I was surprise over all because i have shop there for years and never had a problem at all–and for a 30.oo dollar item and a 72 years old person i feel this manager could of taken a better approch to this matter.

Our service men go off and protect our country and Lowes will give some a discount and some not. MVA will put a blue V on your license for a 30.00 charge no less but Lowes will not honor this as a Military discount. You have to jump through hoops to get this V put on your license and the goverment collect this money but it's not good enough for Lowes. They have conditions on what kind of Military discount they will give. Who ever went and served our country didn't give us any conditions when they put their life on the line for us. If Lowes doesn't want to give a Military discount fine but don't ever tell this country who is worthy and who isn't when you are Honorably Discharged!!!! Shame on Lowes!!!!!

Just wondering…Why is Lowe's allowing a contractor to use Sherwin Williams paint to paint the outside of the store in Beaumont, Texas? How can they expect their customers to have confidence in the Valspar brand when they don't use it on their own building? How can they expect their employees to sell Valspar when the customers of that store are walking by buckets and buckets of paint marked Sherwin Williams? What a slap in the face for the folks in the paint department. I have no complaints about Valspar paint or the wonderful folks in the paint department of that store.
It just seems very strange that Lowe's doesn't have some sort of clause in their contracts with companies that do work on their buildings to use Lowe's products when possible. Also, why does the Lowe's website not have a place for customers to actually make complaints? Scared are they? Not really into customer service perhaps? What?

I purchased a refrigerator from one of your stores (#0482) back on 24 Oct 2009. I also purchased a 4 year extended warranty within. Back on the 14th of June 2011, the ice maker quite. I called the extended warranty number a filed a clime. As of this date the problem is still not repaired. I have records where I have contacted the warranty people and your executive support office. I was set up with an appointment date and time for them to out to repair the unit. When they contacted me to confirm the appoint, I was told that they could not come out then. This was because the appointment was set up VIA their web page and it was not current. I was told that it would have to be sometime the next week.
I call the warranty people back and provided them with this information. I requested another company to service my unit. I was never contacted by this company. Si I called them back and this time they gave Jim Whxxxxxx repair service, who I know of. This company contacted me, but took some time to come out to look at the unit. I was informed that on the 8th of July 2011 the parts were placed on order. I then was informed Mr. Whxxxxxx had received the parts on 13 July 2011. For over a week we talked his office asking when they would come out to replace the parts. We were told several times they would be there, but they never showed up. I contacted your executive support office and asked for their help. After I provided them with all of the information I had, I was told that they would get back with me using the corporate email address Exec.CustService@Lowes.com​. 
I waited until around 2pm on the 29th of July 2011 and tried to contact them back. But the phone number of 1-866-900-4750 is NOT a number for your executive support office, it belongs to another company. I found another number and called. I have since gotten rid of the refrigerator and bought another new one. In short sir I find that both your warrant service and your Executive support office are lacking in any support of good customer service!

good morning, i do not think this will do any good, but i will give it a shot! yesterday July 27th i went to lowes in meridian ms. i pulled myself and 2 employees off the job to go and get much needed tools for our profession. spent about and hour gathering items and looking at possible thing we wanted to do later like build a tool room with stainless steel cabinets. after picking out about $2000.00 worth of tools we proceeded to the check out counter. i told the lady before she started that this will be a tax exempt transaction since i have a government credit card.
she told me the transaction that i ask for could not be done due to the credit card computer for discounts and tax exempt was down. i was to say the least MAD. the next morning i called Tony, one of the store managers, and explained what had happened. he told me this system goes down all the time. you would think, since this is not the first time this has happened to me and others, this problem would be fixed. just plain bad business. the government spends alot of money at lowes in meridian ms, WHEN THEY CAN!
i would not be afraid to tell you, my next transaction if this happens again will not be at your store but instead Marvins. i plan to tell all my associates to do the same!!!

On Feb 14 2011 I purchase a stove, microwave and dishwasher. I also purchased an extended warranty for all of the appliances. In June we realized that the oven temp was lower than what the panel is reading. My husband called for service. On June 29th, Jerry from Fix-it-Now came to the house and told my husband that our new stove/oven needed a new mother board. He said it would be about 10 to 14 days before he would receive the part. The week of July 18-22 my husband called Lowes service SEVERAL times trying to find out when our oven would be fixed. He was finally PROMISED on the 22nd that a supervisor would call him on Monday the 25th.
We did not receive a call from a supervisor. I called Lowes repair AGAIN on Tuesday and spoke to a supervisor, Stephanie and she promised to call Jerry and get an update on the part. Today is the 27th and we still have not heard from ANYONE!!!!!!!

I was at the Bartow lowes, in florida yesterday. What a nice & friendly store. A employee named sue in hardware was so nice to me. She helped me with nails I needed for my roof but also help me with a drill i needed & the bits i would need. What a great help she was to me. Its nice to have a woman to help in these departments she did a great job. I will be back to see her for help, she even took me to flooring to get wood floor cleaner. I have never been treated so nice in a lowes store before. What a keeper she is. And thank you sue and Bartow LOWES, in Florida again. I will be back.

This moron who is tired of customers complaining about Lowe's hasn't acquired enough life experience to know that stores are supposed be fast with their customer service to show the customer that they appreciate an individual doing business with them. Anybody stupid enough to wait in a doctor's office longer than 15 minutes deserves what they get. ROBBED. We as consumers accept, far to easily, that being treated like we are nobody by a corporation is just the way it is. Open your mouths and SHOUT your dissatisfaction. Don't use the store anymore. Spend your money where you get what you want when you want it. Wake up people and start standing up for yourselves.

It has been 11 days and I still can get no answers as to if they can find someone to fix my washer I have been told 4 different times someone will call me and have had no one call me I had on person laugh at the problem and a manager named Cory emp # 156079 told me they will deal with it on their time as it is costing me about 150 dollars a week to get my families cloths done with no concern from lowes as to the service I paid for and they are not honoring in anyways…
Called Lowes's for service of the new washer, ok, will contact you in two days. Lowe's calls, they have found someone to service the washer, they will call in the next few days. After a week and no calls we contacted Lowe's again. We request that they find another service to come out, they kept my mother's tv for 3 months and the whole deal was unsatisfactory. Someone will contact us in two days and they will find another service place. Lowe's calls, guess what, they have talked and they will contact us in the next few days.??????
Oh they are the only ones in our area who can service the product. Well we drove to buy your product, you had no problem taking our money and now you can't service a brand new built in washer??? What is wrong here???

I purchase a refrigerator at the Lowes on military highway on April 22, 2011. The delivery was schedule for APRIL 26,2011. The warehouse manager call my wife and said that the refrigerator was damaged it had to dents on the side and did she want him to deliver it and she said yes and the warehouse say they will give you something off it because its damage. When I get home I go the store and talk to the manager and the manager say can not give you nothing off because we will send it back to the manufacturer and get another one. I said ok and the lady say we have to schedule to pick up that damage one and bring you another one.
The pick up was to b for April 27, 2011 and to deliver the new one on APRIL 28, 2011. Later that night the deliver people call and said they would be to the house at 7:00 am to pick up the damage one and bring out the new one the same time. On April 27,2011 they came to p[ick up the old one but didnot bring the new one.On april 28, 2011 they came to deliver the new one and one of the wheels was missing off. My wife ask themm to bring it back later and they know they waold have to do it the next day. My wife has stay home for 3days and still no refrigerator we only live 5 minutes from the store and they could not do that .
This was there fought not ours. So I had to take off work April 29, 200 to be home just to put a wheel on. Thats ridiculous. I should be given something for that you know. Thats bad business when its your fought you should try to correct it as soon as possible. Thoma Coffey

I work at lowe's, and I have a problem with people complaining about lowe's home improvement. Employees get sick, quit, get fired, take days off…but you need to get over it. Sometimes in life you are just going to have to wait. When you go to a Dr's appointment t and wait for 45 minutes, do you demand to speak to the chief of staff and demand they hire more doctors? I doubt it. Why should it be any different at a place like lowes? Other than that, if you're really concerned they don't have enough help, fill out an application and pitch in. People who are spoiled who obviously know everything could teach them a lot about how to run a business they have been running successfully for years. So shut up or help out. Sincerely, a lowe's employee tired of customer complaints.

I signed a contract w/Lowe's to redo my kitchen cabinets, I chose Kraftmaid Cabinets Top of the line. I requested a Light Oak Cabinet finish. I paid in advance to get order started. Received the cabinets finally at Lowe's 4wks. later. Upon opening the boxes W/ builder we found the cabinets a light oak, BUT the doors were a multiple of colors! When the second round of doors came in, the cabinet doors were 6″ to high! I finally took delivery of the correct doors from Lowe's and the colors are still a little off, but at this point I'm already done with this company. I will never recommend Kraftmaid's product to anyone! I feel like I wasted my money and my time!!

Debra Callahan
from Federal Way, WA
DISGUSTING NO EXTENDED SERVICE IT DOES NOT EXIST I HAVE HAD A WASHER (NEW BOUGHT IN STORE)
WITH THE NOT SO FABULOUS EXYENDED WARRANTY.... FOR 6 WEEKS I HAVE HAD TO WRINGING MY CLOTHES OUT IN THE BATHTUB AS MY WASHER DOES NOT SPIN!!!!!!!!! THEY KEEP RESCHEDULING ME SERVICE CALL,
WITHOUT NOTIFYING ME. I AM HOME ANTICIPATING THE SERVICE AND THEY DO NOT SHOW UP THIS HAS GONE ON TWO TIMES, NO PHONE CALL OF RE-SCHEDULING. WHILE I WRINGING OUT MY CLOTHING IN MY BATHROOM.... SERVIOUSLY.
CALL LOWES CORPORATE THEY JUST TAKE INFORMATION... DOES THE CEO WRING HIS CLOTHES OUT IN HIS BATHTUB AND WAIT FOR SEERVICE TIME AFTER TIME?????????????? I AM NOT A HOUSEWIFE,THAT HAS TIME TO SPEND WAITING. I HAVE A CAREER HOW DARE YOU LOWES PUSHING A SERVICE YOU CANNOT PROVIDE IN A COUTEOUS TIMELY MANNER.

Robert Loesch
from North East, PA
I purchased a Whirlpool range on 07/14/2018 from your Erie Peach St store. Delivery scheduled for 07/31/2018. They came and the range was damaged. They said they would deliver another one on 08/01/2018 and give me a call on the delivery time. I waited and waited for a call, no call. I then called Lowe's delivery they said that one was also damaged and they would deliver one 08/02/2018 first thing in the morning. They called 08/02 delivery would be between 2:30 and 4:30 not as promised for morning delivery. I have already made a payment on this purchase. This is the 3rd purchase from Lowe's this year and it be my LAST. Very dissatisfied with your Customer Service and Delivery departments. Please respond via Email rosemaey.loesch@yahoo.com. Thank you

John Marasovich
from Indianapolis, IN
On June 28, 2018, I purchased $12,211.48 appliances and services from you. So far I have only the carpet installed I have tried numerous times calling my production person with not one phone call returned. Finally I called customer service and they did final a complaint with the store I purchased everything from. Finally I got a call from the production person stating appliances and material will be delivered the 15 of August with installation slated for the 20th two months after order was placed and paid for. In the meantime, I have no stove, refrigerator, dishwasher, microwave etc. since I moved into recently purchase home Needless to say I am very dissatisfied with your service I will say I believe your production person is responsible for dropping the ball but thats no excuse. I would appreciate anything you can do. Hopefully I will get a answer soon.

William Godinez
from Pomona, CA
I PURCHASED A BRAND NEW G.E. WINDOW A/C MODEL 840464 BTU FROM MY LOCAL LOWES STORE LAST MONTH ON JULY 03,2018 AND THE REFRIDGERANT MUST HAVE DRAINED OUT OF THIS A/C FROM BEING ON LOWES SHELF SINCE 2016(ACCORDING TO CARTON TAGS) BECAUSE THIS A/C HAS NEVER BLOWN COLD AIR LIKE A NORMAL A/C WOULD.ANYWAY I CALLED MY LOWES AND ASKED TO TALK TO STORE MANAGER ABOUT BRINGING ME AN EXCHANGE A/C BUT NEWEST ON SHELF MODEL THERE OR ORDER IT AND DELIVER IT TO MY RESIDENCE WHEN IN BERCAUSE I AM DISABLED AND I CANT DRIVE AND I HAVE TAKEN TAXI CABS 4 TIMES OVER THIS AND I NEVER GET ANYWHERE SO I AM COMPLAINING HERE AND TO ALL NECESSARY STATE AGENCIES ABOUT THIS AND IF ANOTHER A/C IS NOT DELIVERED TO MY RESIDENCE IN 48 HOURS I AM SPENDING MY OWN MONEY TO PUT T.V. ADS AGAINST LOWES RIPOFFS AND I AM GOING TO ASK FOR BOYCOTTS OF LOWES AND LAST I AM FILING A CLASS ACTION AGAINST LOWES..BET ME AND LOSE..SIGNED WILL GODNEX 7604093183

Lowes offers price match and lowest price, however their carpet Subtle Beauty III is the exact same carpet and manufacturer as what stainmaster calls Refined Vision III.
This is a total scam that LOWES has their own name for the same exact carpet because they use it as loophole to get out of price match. I proved it is the same carpet and yet they say well the name isn't the same so we cannot match it even though I contacted the manufacturer and they said it is all the same and NOTHING is different other than they have different name for the carpet for lowes.
DECEPTIVE and WRONG. BOOO to LOWES and their FRAUD in advertising.

Martin Sessler
from Summerville, SC
Ordered four appliances on 7/10/18 and asked for delivery on 8/7/18, almost a month later. On 7/31/18 I was informed that my order would not be filled until 9/4/18. I called and asked to move the delivery date to 8/3/18 and that is when I found there was a problem. My kitchen has been torn apart and old appliances removed and some given away in prep for the new units which are now not going to be delivered as requested. I would give a zero star but the system will not allow me to.

Al Gross
from Hamilton, OH
Today at 8 am I bought material for a job using white vinyl railing. After reaching job site I discovered that 3 packs of the end connectors had been opened and three different types of connectors were in the bag. I also bought an eight feet long rail kit, but was unable to use. The plastic wrapper was almost torn off. I returned this rail kit to the store at lunch time. I gave Jennifer my receipt and she promptly asked, "are there any parts inside". I answered that all parts are there. She gave me a smirk and said since I opened it she would have to call the lumber desk and get someone to "ok" that everything was there. Approximately ten minutes later Joey arrives and looks at the wrapper on the kit. He doesn't know so he proceeds to call someone else. After ten more minutes she does the return transaction. I say all that to complain about how cold I treated and how unprofessional both were. I am purchasing materials every week for various jobs and spend upwards of $100,000 each year. I have been using this Hamilton store since it opened and have never been treated in this manner. I hope you address this poor service and call me to discuss as soon as possible.
Al Gross 513 542 5419
I have always received good service and everyone is helpful until today. The best service and help comes from Janet at the Commercial desk.

Dave Mathews
from Baytown, TX
published review 7/30/18
I've been buying material from Lowe's for decades and never been dissatisfied with them. We recently had a complete roofing job on our house performed by a Lowe's contractor and it was absolutely terrible. The roofing job was done poorly. There was damage to siding. They literally threw the satellite dish off the roof destroying it. There were nails left all over the yard and our neighbors yard. I had to buy a magnet and have cleaned up hundreds of nails. Lowes contracting manager came out and took a look at it, but she admitted she knew nothing about roofing. We asked that their roofing expert come out and take a look at it and he never showed up. The contractor refused to acknowledge that any of the damage to the house was his fault and that he had done as good a job as he could. We have vinyl siding on the house and he attempted to repair some of the vinyl siding by driving nails through the face of the vinyl siding, thereby ruining the siding. I hired a certified home Inspector to do an inspection and he agreed that the roofing was poorly done and that the damage was unacceptable. I told Lowe's contractor manager that I would accept them repairing the damaged siding, but I have received no response. I will never use Lowe's again.

Terry Vaughn
from Littleton, CO
On July 9th 2018 I purchased a toilet and paid for an installation. I had to call the local store Parker Co Lowes to reschedule the installation due to a death in the family. Upon calling the store I was transferred more that 5 TIMES, and never reached the correct person. I hung up and called back a few minutes later, asking to speak with the store manager. He was finally located (took about 5 minutes on hold) and he finally found the person that was to install the toilet. A new date and time was scheduled for July 30th at 2 PM.
On July 30th at 2:15 I called the Parker Lowes store and again, to ask about the install due to the fact that the installer was late and I had not received a call to let me know why. I was transferred 3 or 4 times and finally reached someone that said that I did Not have any installation scheduled for today. I insisted that I had and was placed on hold AGAIN. They finally came back on the line and stated that they had called the person that was to install the toilet, and he was responding to the store to pick it up and come to my house to install the unit.
Also on July 9th I paid for someone to come to my home and measure my windows for Garber Blinds. That was completed on the 17th and the gentleman gave me paperwork, stating that someone from Lowes would call me to set up an appointment to get the blinds ordered. I finally received a phone message on July 26th, stating that the person I needed to talk to would not be in the store until Monday July 30th. When I called the store today to ask if I could come in and order the blinds, the person stated that she was busy with lunch, and an appointment from 5PM to 7:30PM today, but she would be in the store tomorrow at 10AM.
My opinion of the operation of the Parker Lowes store is very low. No one in the store has any telephone skills, the calls keep being passed around until the customer gets frustrated and hangs up...The "HOLD" music is terrible. After my experience with the telephone circus and the unavailability of anyone to order blinds, I think I might order the $2000.00 worth of blinds somewhere else.
Respectfully,
Terry L. Vaughn
9641 Deer Horn Ct #156
Parker CO, 80134 Cell:303-349-8848

lova yanero
from Morgantown, WV
My husband and I started the process on installing new flooring in our kitchen. We work with a gentleman for and hour at the beginning of July. He past us on to Mick in flooring at the Lowes in Clarksburg WV. He set up out apt for the estimator came to measure he came on 7.12.18. Both sales men told us about the installation special for flooring going on the month of July. We had pick out SMARTCORE Ultra 8-Piece 5.91-in x 48.03-in Woodford Oak Locking Luxury Commercial/Residential Vinyl Plank. Thinking that this would be cover under the special for installation. I wait ed over a week before I called to check on the estimate because no one had called me. I was looking at your website and it also, says Lowes will call to let you know when to come in and complete the process. At the time we were told that there was an installation special going on for the month of July. We I spoke to Mick on 7.26.18 he inform me that the special was over and it wasn't on the product we had pick out. Plus the special was over 7.20.18. This was the day he said that the estimate had been turn in, If we had know we would have sent that day to pay for the product and installation. But, again no one call us. Come to find out that the flooring we pick out was even what the installation special was on. Need less to say we both were very disappointed. I spoke to a manage to no avail. He really did give us any consolation as to why we were given the wrong information. I told him that Lowes offer very poor customer service. I know that my sale will not effect the profit of this large company. But, I thought you should know that your employees need to be better trained. I have saved for this flooring for 2yrs and after the price of the installation and flooring which equal about the same price 2200.00 I will have to continue to save. But, I will going going elsewhere for my business. To a company that cares about there customers enough to give them correct information on the product they sell.

Roy Shaul
from Bartow, FL
My wife and I asked about veterans discount and older gentleman told us we had to go to cust. service and show DD214 then just walked away and had a young lady named Sam to take care of us. Sam helped us and was very nice, this older man was rude and disrespectful. He acted like he was her boss but a poor example of a supervisor if that's what he was. I didn't get his name but he was a senior citizen. It surprised me because we have always been well treated at Lowe's. This gentleman is not an asset to your company in my opinion. Thank you, Roy and Sandy Shaul, Bartow, Fl. 12:15 PM 7/30/18

lynn edgerton
from Wilmington, NC
My husband and I went to Lowes on College Road in Wilmington NC today to purchase material to build a large deck on our home, so it was a large quantity of boards we were needing. We are in our 60's and my husband is actually disabled, so I asked the employee named Adam in lumber dept. for help. He helped load 4 boards but left when I asked him to help load the 60 some other boards we were needing without any explanation. So I rounded him up again and told him we still needed assistance but he totally ignored me again. I finally found someone else to help us. Needless to say I was very upset with the way Adam treated us. We actually started to just leave and go to Home Depot.

Larry Warren
from Cheyenne, WY
My order was made through Lowe's website (screenshot attached). I placed the order in good faith that Lowes would stand by the terms of ofer which includes shipping. I placed the order July 17. July 19 I was informed the order was delayed. I had no other information provided until I emailed Lowes requesting a status update on July 24. July 25 I was informed the order was cancelled due to "shipping issues". This is totally unacceptable and wonder if not false advertising. Mr Jerry Hoffman Assistant Store Manager for store0657 sent an email July 28 stating they couldn't ship parcels to Wyoming.
Lowe's offered the item and shipping method. Fulfill the order.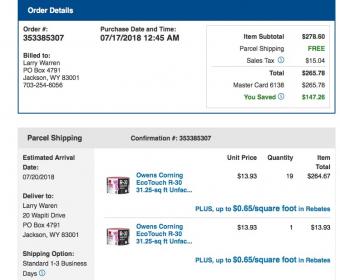 OLIVIA KELL
from Albuquerque, NM
lowe's in Union City Tennessee is the worse experience I have ever had with a Company! We paid over $4,000 for a tub and surround, over a month and a half, nothing has been completed. The people in the store do not care about much of anything. They keep sending me to someone else - I have talked to at least 7 people, and can't get any answers from anyone. I have documented all the problems in emails to Lowes, and called the District Manager with my complaints, but no one has called me - they just give me someone else's name and phone number. At this point, I'm talking directly to the contactors they hired, since I can't get Lowe's to fix any of the problems we have had for over a month and a half. We were promised a two day installation! UGH! I could have hired a handyman to finish this, without the excruciating pain of trying to get answers from Lowes. I'm at a point now that I'm talking directly to the contractor's they hired. Bottom line: DO NOT HIRE LOWES IN UNION CITY TENNESSEE TO DO ANY HOME IMPROVMENT INSTALLATIONS! SAVE YOUR MONEY AND HIRE A LOCAL PERSON TO DO IT FOR YOU!

Roberta L Davis
from Warner Robins, GA
My husband and I were in store no. 2478 Kathleen, Ga. We stopped there to get a swivel ball attachment for our shower. Once we got to the right department we asked a store employee named Jim where we could find it. He said he didn't know and that it may be on the next aisle over. End of discussion. Didn't bother to even try to help us. We went to customer service and explained to them what had just transpired. Shanitra was very kind and helpful to work on resolving this issue. Another employee Brittany who was a section manager but not sure which section went out of her way to look up what we needed and went and got it for us. She also said that Jim has be reprimanded for this other times and yet he still gets by with it. I don't want to see anyone lose their job but some of these people have be held more responsible for their actions and behavior toward customers.
I commend Brittany and Shanitra for their professionalism and kindness. They are an asset to that store.

Tonya Horton
from Holland Patent, NY
On July 25, 2018 around 5:30 p.m. my husband and children were at the Lowes Store on Erie Blvd in Rome, NY and while shopping and looking at an item a loose pallet fell from a higher shelf and struck my husband in the top right portion of his forehead causing immediate bleeding and a bump. An employee was summoned by my husband regarding the incident who was just like sorry and did nothing to help. My husband asked for a paper towel to put over his wound and was not given one. This employee in my opinion was a disgrace to the company and the unsecure pallet is just negligent behavior on the part of the person who put it on the shelf without insuring the it was secure!!

Richard Pursel
from Danville, PA
We have had several issues with a recent order from your store.
The order number is 352514644 this order is in my wife's name Gail Pursel.
First off we had problems with getting the delivery here, I had to call customer support and get their help. This should be noted somewhere on our account.
When the order did finally get here one bag of cement was ripped and the 2x4's were the worst I have ever seen. They actually still had the bark on them. I have included some pictures of the wood.
The big question that I have is we ordered these products from your Bloomsburg store and for some reason they shipped it from your Selinsgrove store. I ordered it from Bloomsburg for a very good reason. I do not like to do business with the Selinsgrove store it is all around not a very good store not very helpful and bad products.
This was totally unsatisfactory and unacceptable. In the future I will not order anything from Lowe's if it will be shipped from the Selinsgrove store.
Thank You,
Richard Pursel
570-275-6393
sugarfoot327@aol.com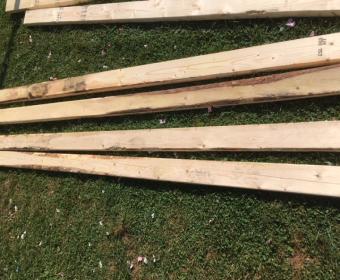 William Click
from Crossville, TN
The cowardly, unprincipled management of Lowes allows selfish individuals to park in what is clearly a no parking zone. Those parking like that are too lazy to park like the rest of us and it is a hazard. it obstructs visibility for drivers going through the parking area. (This is the east side of the building, in case anyone from Lowes reads this---which I doubt).
What about decency, concern for the safety of patrons of the store, and taking a leadership role and doing what is right?

John Wolfram
from Walnut Creek, CA
Lowe's installed a new door recently, but a 3"X2" section of the door was not stained. Contact with the local Concord store attempting to send stain to my home and attempts by myself with the manufacturer is bot getting results. The Install Manager in Concord is also not getting any cooperation from the manufacturer . Maybe we have to install a new door.
My phone number is 925-324-5385

Clementine Caudle-Wright
from Sterling, VA
SENIORS COMPLAINT. ONE AILING SENIOR.
I purchased and had a washer and dryer installed by Lowes. It was just discovered by SEARS Air Duct Cleaning on Friday, July 20, 2018 that the dryer was not connected to the outside vent (creating a possible fire hazard). I reported this finding to Lowes on Monday, July 23, 2018 and there has been no follow-up. The dryer works and this complaint is not about dryer but the hazardous improper installation/connection As seniors, we did not realize that the missed installation to the outside vent prevented the proper drying. WE THOUGHT WE HAD RECEIVED A LEMON. To dry, clothes requires 3 and 4 drying cycles to get slightly damp clothes.
SEARS DISCOVERED ON JULY 20, 2018 THAT THE DRYER AT 21325 FLATWOOD PLACE, STERLING, VA 20164 WAS NOT PROPERLY INSTALLED AND CONNECTED. THE DRYER WAS PURCHASED AND INSTALLED BY THE LOWES STORE.

Waited two weeks to get an installation date for carpeting.It is a rental unit and I explained ths critical. Now it will be 9 more days to get installed. This delay will cost me at least the month of August at $1650.00 monthly. Very disappointed in service !

ronald benoit
from Layton, UT
I do my shopping at the Clinton Utah lowes I have been a customer for over 15 years you were the first ones to honor Veterans yesterday my wife and myself went to Clinton lowes to purchase a new dryer the one we seen said on sale for 695.00 we looked for a sales rep we found a young man who said he worked there he came over to see what we had selected on top of the dryer was a card for a offer if you bought the washer and dryer you get 100 of we said we only wanted the dryer which the sign below it said 695.00 he said if you by both I said it says the dryer for 695.00 which at this time he went to the computer and said that the dryer was 999.00 I said no he keep on insiting that it was this price I said I would go to rc wileys he said go I then ask to see a manager she came over and I explained the situation and she agreed with me I have spent a great deal of money in your store and to be treated like this with your rude salesmen makes me think if I wont to deal with yous as home depot is only a couple miles away and since they have followed your lead and also offer vets 10% I might shop there

For almost a year I would use my business card to purchase materials. When I would return an item the system could not find my card info if I didn't have the receipt with me. They suggested I get there myLowes card. That's even a bigger joke. Sometimes when I use it the system will recognize it and other times it says the card doesn't exist. It's an absolute joke. It's been so frustrating I have decide to either shop with someone else at the other end of town when I'm working there or shop strictly at Home Depot. At least I never have a problem with a return. I will never set foot in another lowe's.

Nancy Jamison
from Sacramento, CA
Citrus heights CA Store. Bathroom counters ordered and installed. Counters cut too short. Deliveries not timely on more than one occasion with no calls from store. The worst customer service ever! Waiting for two bathrooms to be redone, counters removed again and correct sizes reinstalled. This is ridiculous...over two months delayed. I bought manufactured quartz and spend a great deal of $$$ with your business. I expect compensation for the difficulty I have experienced over the last two months.
Nancy Jamison
Citrus Heights Ca
9167150062

Rickey Warner
from Madison, MS
I purchased a Husqvana Zero Turn Mower from Lowes on Hwy 18 in Jackson, Mississippi. I bought the unit in 2016. When the mower was delivered, I was excited, tried to start the unit immediately after unloading it off the truck. The mower would not crank. I reported the issue to Lowes; they picked the mower up, serviced it, at least that is what they told me. They returned the mower to me. I used it one time tried to start the mower. The battery was dead. Lowes gave me a replacement battery. The mower still would not crank. Lowes referred me to a local repair shop-Revel Ace Hardware in Byram, MS. They told me, it needed a selenoid switch, what? I just purchased this mower. They said it would take quite a while to get this part, and it did. They picked the mower up in April 2018, it is now mid- July 2018. Oh yes, the selenoid switch came in, they attempted to fix the mower, but it didn't fix the issue. They said they would have to order another part and as soon as it arrives they would get in touch. In other words, don't call us, we'll call you.
The State of Mississippi has "lemon laws" and I am seeking a refund on this lawn mower because it has been in-shop for repairs more than it has been on my porperty in my back yard. Lowes store in Mississippi has been indignant and refuse to accept any responsibility for the lemon mower. The store Manager avows that this is between the manufacturer and me, but I am in disagreement. Lowes is a party to this contract, and if they want to maintain a respected reputation in the community; they should live up to their responsibility.
I trusted that I was purchasing a reliable machine from a reputable outlet chain; however, my experience has been one great big nightmare. I trust that lowes will honor its responsiblity and refund or replace the unit with a "new" mower, not a refurbished, recondition mower with a jacked-up price because that is what I feel I got out of the deal. Lowes must do right by it's customer or they will likely have a very short, uncertain future- just like Sears, an organization that has a history of mistreating and duping customers. This practice has pretty much put them completely out of business. I trust that Lowes will do the right thing.

Joy Foster
from Ithaca, NY
We ordered a whole stainless steel kitchen to be delivered, that came quick and delivery guys were great. Order came on a Fri. the dishwasher was dented in the front bottom of the door. We went to Cortland NY store on Sun. to look at display to make sure was not suppose to have a dent. We talked to a manager named Tommy and he was very helpful with getting this damaged dishwasher replaced. He called the warehouses and was told they didn't have any and didn't know when they'd have more. So he called next closest store to us Ithaca NY and they had 2 so he made arrangements to get it to Cortland NY store the next day GREAT! He talked to another manager in Ithaca named CHRIS, CHRIS became the problem. He didn't want to bring the DW to us the next day i couldn't hear the conservation from the phone but Cortland manager was arguing with Chris, sounded like Chris was being a real jerk, and Cortland manager told him to make sure DW is here tomorrow morning, and CHRIS hung up on him. So we left being told that Chris would be the manager on duty at Cortland on Mon. and that he'd call me as soon as it came in, they took my name , number and address. Tommy told us we didn't need to bring back the damaged DW that they would make arrangements for the truck to come pick it up. Tommy told us we could come pick up the DW on Mon. that would be the quickest way to get it. He was very helpful as he knew and understood how inconvenienced we have been. Tommy Assured us Chris would call. So now its Monday morning and somehow a Lowes delivery truck came with a replacement DW, i had the driver open the box to inspect it and i couldn't believe that the DW door was dented AGAIN in the same place. The driver took the 1st dented DW and left the 2nd dented DW till we decided what we wanted to do. So i knew the DW was coming from Ithaca so i wanted to see that one because we didn't buy a scratch and dent DW, we paid good money for these new appliances for our new house. So at 10am I called Cortland store and was told Chris was in a meeting and no one there knew anything about our DW? I called again around 11:30am was told same story in meeting. Each time leaving my name and number for Chris to call? Called a third time around 2:30 was told he was still in meeting, well, really a 5 hour meeting Chris must be important, NOT! He finally gets on phone and acts like whats the big deal the DW has been here since 8:15am he said, he said he didn't know my name to call, REALLY!!! So he says its here to come get it, they were too busy to deliver it. My husband who is a senior went to Cortland Lowes to pick up DW, where he meets this little cocky Chris person. Chris tells him he cant take the DW till he pays for it AGAIN! And then he tells him he cant take DW till the Warehouse people pick up the damaged DW from our home!!!!!! Told Chris this in not the arrangement we made the night before with manager Tommy! He said he didn't care about whatever Tommy said, this is the only way, his way or no way!!! Not sure who is manager over who or how long this ass Chris has been playing manager but he was totally inappropriate! I called to talk to Chris while my husband was still in store. Chris got on the phone very argumentative with his tone was yelling and wouldn't let me get a word in till I told him he needed to be quiet and LISTEN, I told him what Tommy had told us the night before that we could come pick up DW and make the arrangement for the truck to come pick up damaged DW. We already paid for appliances we didn't need to pay again. Chris was not even listening i could hear the phone being muffled like , and he kept saying, whatever, whatever, and i told him DON'T WHATEVER me! He wouldn't listen or understand how we have been inconvenienced big time, we received 2 damaged DW's, we had to make several trips to Cortland store, he said he didn't care and then said if you want to cancel your DW that would be fine. WTH kind of manager is this, to not listen or care in anyway. So since it was clear we wouldn't get our DW for like a week my husband came home again and we got the DW loaded in his truck and he returned to store AGAIN. No one would help him get it into store and of course CHRIS was no where to be found. Husband took the new DW that was there and left the damaged one, AND NO ONE helped or talked to him or did any kind of paperwork, they just watched him take it out of store!!!! We have spent thousands of our dollars building our new home and my husbands company spends thousands of dollars in this Cortland store and Chris knows this as he has seen my husband in there many many times. We are somewhat very put off by this "Cortland Hometown Store" pretty sure we will be looking elsewhere , if Cortland continues this kind of service with such a lowlife manager . I want you and Tommy and Chris to know. Tommy was great and very professional , CHRIS i cant even begin to express what an ass he is! I told Chris on phone for the way he treated us that i wouldn't just go away, i would be reporting him! Our names are Dan and Joy Foster, email: dansjoy2002@yahoo.com, phone number is 607-423-9662 our address is 302 Champlin Road, Groton NY 13073 Sincerely JOY FOSTER

Deborah McMillion
from Huntington, WV
I am writing to let you know about the poor customer service I received. On July 1st I ordered a dishwasher, refrigerator, washer and dryer and a range totalling approx. $4500.00. Not a lot for some people but for us it is. There was some mix up with the delivery dates and was decided to bring them on the 22nd of July. they showed up on the 18th and call later to inform me that they were there and I wasn't. I then learn that some of the items would be coming from Lewisburg and some from Beckley. On the 22nd I got a delivery of the range and dishwasher. We asked the delivery man and he said "not today" in broken english. I then called to find out the problem and was told that "Sterling" was down and they didn't know who was supposed to get what delivered. The girl at Lewisburg was very nice and assured me someone would call me the following day. This did not happen. I called back and the person said the refrigerator was not there and MAY be in on the truck Friday, the 27th. The third time I called Beckley and asked the question the girl said the problem was "Sterling" and that someone would call me when they got it all sorted and she hung up on me.
I have worked in retail my entire life and I find this very upsetting and totally unacceptable as I am sure you do, or should. I am trying to be understanding but there is NO excuse for rudeness. Your mistake not mine. I have spent $20000.00 with Lowes in the last 6 months but will certainly think hard before making any further purchases with you.

RONNIE R HUBBARD
from Wallace, NC
went to lowes in lewisburg wva to get some one to give me a price on a new kitchen cabinets to guy was on the phone and them was on computer then just got up and walked away just like iwas not there i left to see if any body else would help me they said somebody wasback there a women was but she was playing on the computer too nobody ever would help me ask like when i wanted to buy a generator you can not get any help all i can say is the people that work here are worthless thank you

Patricia A Coleman
from Hephzibah, GA
I have attached a email I sent to Ben in the Augusta, Ga Store on Friday 20 July, 2018 which pretty much spells out our situation. We have yet to get any response from Lowes via any means of communication to this situation. We need to find out where we stand, so can someone please call us (706) 799-1567 so we can resolve this issue.
Ben,
We've tried numerous times to speak with you or someone in reference to the fence that we received. Although we feel we specifically order a 6' spike top Providence fence with a 6X12' Gate to replace the 5' fence and 5X8' gate we presently have, we unfortunately signed a contract not verifying it indicating that we order a 5' fence. Our situation now is that we received the right gate and the wrong panels, of course which are not installed 1) because they don't match 2) the hardware received was incomplete 3) no concrete for installation was received. This material was received July 6, 2018 for a fence that was supposed to have been ordered and installed by March 1. We have tried to be patience with the process but it seems that Lowes is unable or unwilling to assist us in rectifying this problem.
What we would like is for Lowes to at least pick-up and credit back the 5X6' panels and line post so that we can move forward with our project by getting what we need from another source. So we would sincerely appreciate it if you or someone would at least call us back to discuss this with us.
Thank You,
Patricia Coleman
(706) 799-1567, (706)771-9447

Patricia Tucker
from Tampa, FL
We went to Lowes to return a faulty welding helmet. As soon as we walked in an alarm rang .Some employee pounted to the other entrance of the store and rudely asked if we had a reciept. Of course we produced our reciept.. This Lady employee treated us like we we common thieves and very rude as she said "oh im sure you do have a reciept". We asked if they might have a different helmet we could look at and the employee said. No we dont have any more like the one we purchased and before we could ask anything else he ever so rudely handed us a receiept and said our money would be refunded and we would have to leave the store. Still our money was never returned im trying to talk to someone above this manager at this lowes in lake city florida.I WILL NEVER SPEND ANOTHER NICKEL AT ANY LOWES IN ANY STATE. THANKS FOR THE HORRIBLE EXPERIENCE. LAKE CITY LOWES.I HOPE WHEN I FINISHI TODAY YOU GET TREATED THE WAY YOU TERATED ME AND MY FAMILY LIKE I SAID I WILL NEVER SHOP WITH YOU AGAIN

George Spicer Jr
from McAlester, OK
I live in McAlester, OK. To start off, We purchased a complete kitchen remodel from Lowes on 03/24/18. It is now 4 months later and we are still without a functioning kitchen. The cabinets have been installed with a process of not having some of the right parts and parts that were not ordered was sent. When the cabinets finally arrived, two months later, after the purchase, the installers did not realize it was a complete remodel, so they had to come back two days later to finish. The trim above the stove was not installed correctly and was hanging; trim on the opposite wall was poorly done and uneven in one place. We called our sales associate, Kay Chapman and provided her with pictures. On top of having to reorder the coffee cabinet (the original was the wrong size), she now had to reorder those parts also to repair the error of installation. The wrong color paint was ordered (black) instead of the color of the trim, so the cabinets still look horrible on the trim. The trim was redone with the same paint, so as I said, it still looks horrible and the coffee bar is still not correct. On the reorder we finally received the new paint, but we also had doors delivered to us, which we have no idea what they are for. She was supposed to be ordering a part to fix the coffee bar. I am upset, but can you imagine what my wife is going though trying to cook and clean dishes in the bathroom for 4 months. In her words, "THIS IS TOTALLY UNSANITARY!" And she is fed up. My wife complained to a manager week before last, and I received a call on 07/18/18 from the counter top department. They informed me that they called and found out our counter tops are now on back order and will not be in until August sometime. UNACCEPATBLE! Why wasn't this known sooner and relayed to us. They stated they will set us up with a temporary counter and install the sink so that my wife can use the kitchen. My concern is this will also take weeks to perform. There is nothing we can do but accept. I am humbly asking that your corporate office make sure the counter top is installed ASAP. Below is the amount we have spent with Lowes and it is going on 5 months without a kitchen. Thank you, George Spicer
Cabinets, counter, Labor: $9.000 (plus)
Kitchen Farm Sink, Delta Debonair SS Pullout: $511.37
Frigidaire Gallery 2 cu ft Built in microwave: $319.00 (plus tax)
Frigidaire Black/Stainless 27" Microwave Trim Kit: $129.00 (plus tax)
Backsplash: $687.88
Plus hundreds more on odds and ends. Please get our kitchen installed. Thank you.
Ms. Chapman should have pictures of the installing that had to be repaired. I do not have them on this computer to include but can mail them to you.

Martin Benning
from Oklahoma City, OK
It is unfortunately that I have to write this email. I love Lowe's and have spent countless thousands of dollars with you and choose Lowe's over Home Depot 9 out of 10 time generally. I was in your Edmond Oklahoma store at Covell and Kelly today 7/21/18 at about 5pm. I must tell you the young lady who checked me out was extremely rude. I have never logged a complaint with you before as my experience has always been very good. You generally have excessively outgoing and friendly people. I did not get her name as she was not wearing a name tag, but she had a black Rottweiler service dog with her. With this new face in my neighborhood Lowe's I will be going to Home Dept at least half of the time in the future. In the event that this young lady is there when I do go to Lowe's I will walk straight out the door and go to Home Depot. Just thought you should know. As a business owner myself I would certainly appreciate knowing.

Ashley Mallon
from Williamstown, NJ
I'd like to start out by saying you need to eliminate your slogan because it does not represent ANY division within the company. I placed an order online on 07/14. Was told my delivery date was 07/17. At the end of that day received a phone call stating there was an issue with delivery but would be delivered the following day 07/18. On 07/19 was told my order was delivered, as I was currently at my house I explained that it was not. The person on the phone then got extremely ignorant and said they'd look into it and call me back. The next day I called to check on the order since I never received a call back and they told me it was on the truck the day before and they don't know why it wasn't delivered. That person then told me the order is still on the truck and they would ask the driver when he returns at 12pm why it wasn't delivered. This time I did receive a return call at 12:30pm for him to tell me the order is still on the truck and he still doesn't know why it wasn't delivered as the driver left. Why my order couldn't have been delivered that day is a mystery. Either way he assured me it was going to be delivered 07/21 between the hours of 11:30am and 1:30pm. At 2:30pm on 07/21 I again called Customer Care which the first person acted like he was doing something to help but then put me on hold for 5 minutes for another person to pick up. That person said she called the driver(I believe that was complete BS) and said the driver was on his way to the store to pick up the order. Now this completely contradicts what I've been told for the past 3 days. She then begins to tell me for any other help on the matter or for answers about compensation for this issue I must speak with the store directly(more bs). I asked to be transferred to the store where the person working the service desk tried to help me but was unable to. That's when she transferred me to the delivery dept. but instead was placed onto a survey! It is now 3pm on 07/21, I have no answers, no clue where my order is and at this point want to close all my accounts personal and business with Lowes. This has been the worst experience I've ever had! And if I was able to take the lone star off the rating I would and make it a negative rating.

Paula carter
from Dallas, TX
This is my 3rd and last time I complain about Lowe's because as of today I won't buy there anymore. My husband n myself went in this afternoon for vinyl flooring and stood around for a bit and never saw an employee. He went all the way up front 3 times and all the way around the store and never found anybody to help. Me being a woman that handles things went to front mind you not seeing anybody to help, got to customer service and told them we had been waiting for over 20 minutes and needed help. The lady calls over the intercom that help was needed in vinyl. I get to the back and there is an employee standing there so I ask him was he our help and he said he don't know what I'm talking about. Then out help arrived and I was telling her the situation and he rudely says , we are short handed would you or anybody need a job here? Ha! My husband is a Supervisor at Citgo and surely don't need to work there! While the lady was cutting $400 worth of vinyl my husband goes to lumber and loads 2 more buggies with lumber n plywood n different thing to fix 2 room floors. We pay and he pulls our truck around and nobody is seen anywhere to load us as usual. He is a 61 yr old man that works in the plant in the heat and we spend all this money and HE HAS TO LOAD ALL OF IT IN OUR TRUCK. I have complained on rudeness and the lack of helping me as a woman loading my lumber and nothing ever gets done! I guess this is what kind of employees y'all hire and keep. I saw 3 other trucks loading themselves one lumber the other concrete. It happened this afternoon at the store in Sulphur La you can watch the videos and watch these men loading themselves. Shame shame Shame. I will be using Home Depot from now on and also putting this on social media! Tired of yalls BS!!!!!! Angry customer
Sent from my iPhone

MARGERET HUNT
from Port Arthur, TX
HI MY NAME IS MARGERET HUNT AND I AM A FORMER CUSTOMER THAT SHOPS AT THE LOWES 8383 Memorial Blvd, Port Arthur, TX 77640 . NORMALLLY I MIND MY OWN BUSINESS, BUT TO TODAY IM GOING TO SPEAK UP FOR ALL THE EMPLOYEES THAT WORK AT THAT STORE. I AM VERY DISSAPPOINTED AT MANGAEMENT AND HOW THEY TREAT AND TALK TO EMPLOYEES. WHAT I WITNESSED ON MULTIPLE OCCASIONS EMPLOYEES BEING YELLED AT FOR HELPING CUSTOMERS.LAST MONTH LEXIS WAS HELPING ME WITH BUYING A STOVE AND REFIDGEATOR AND ONE MANAGER CAME TO HER AND SAID LEXIS I NEED U IN TOOLS RIGHT NOW. LEXUS SAID I WILL BE THERE SOON AS I FINISH WITH THIS CUSTOMER. THE LADY SAID NO I NEED U OVER THERE NOW SOMEBODY ELSE CAN HELP HER, THIS NOT YOUR DEPARTMENT. ALL NASTY AND RUDE SO I SAID WELL MAAM YOUR A MANAGER CAN YOU HELP ME SHE WALKED OFF AND IGNORED ME AS IF I WASNT EVEN THERE. BUT TODAY WAS UNACCEPTABLE FOR ME. I WATCHED TWO MANAGERS PRETTY MUCH BULLY LEXIS, WHICH IS NOT RIGHT UNDER NO CIRCUMSTANCES. AND TO DO IT FRONT OF OTHER CUSTOMERS AND ASSOCIATES. I WATCHED THEM TALK TO HER LIKE SHE WAS A DOG, THEN TO THREATHEN SOMEONES JOB. I BEEN COMING IN LOWES FOR THE PAST YEAR DUE TO MY HOME BEING DAMAGED BY THE HURRICANE. ITS ALREADY HARD TO FIND HELP IN THE STORE BECAUSE ITS SO BUSY, BUT EVERY TIME I COME IN I CAN FIND LEXIS AND SHE HELPS ME FIND EVERYTHING I NEED. SO NOW WHEN I COME IN I ONLY ASK FOR HER. I HAVE SPENT THOUSANDS OF DOLLARS IN LOWES. AND DONT THINK I WILL BE BACK. IF THIS IS HOW YOU TREAT EMPLOYEES I WILL NOT BE SPENDING ANYMORE OF MY MONEY IN LOWES. SOMETHING HAS TO BE DONE. EVERYONE SHOULD BE TREATED WITH RESPECT

Catherine L. Russell
from Pamplico, SC
So very upset, purchase a gas stove and refrigerator on July 8th, deliver July 10th damage the stove, too much to type get more upset it July 19th, still don't have my replacement stove, excuse's and lies!!!!!!!!!

Carol Root
from Dallas, TX
I purchased a shadow box fence from my local Lowes (Charlotte, NC) in June 2018. Install date was scheduled for June 29, 2018. Well that day came and went and when I called Lowes I was advised they did not get the order from the "subcontractor" (aka the fence install co) in time and my fence product would not be delivered until Tuesday July the 3rd with the install date of Thursday July 5th. So the fence pieces get delivered on July 3rd. On July 5th the installer are a NO SHOW. I call and was advised there must have been a mix up and the fence installers got an extra day for the 4th of July holiday. Install now gets moved to Friday July 6,2018. Finally the fence crew shows up at 9am works till noon, takes a 2 hour lunch break, returns to my yard at 2pm. We then get a horrible thunder and lightening storm roll in at 4 pm and they leave (the weather is not their fault), the two man crew returns on Saturday at 9am, it is cloudy but not raining, they ring my doorbell at 10:30 am and tell me they are leaving for the day due to bad weather. Not raining, just cloudy out. 2 man crew shows up Sunday at 8:30 am works till 7 pm my fence is still not completed, they come back on Monday at 8:30 am with 3 men. They finally finish the job. I saw a lot of mistakes with the shadow box fence like the space between each picket were "eye balled" instead of being precisely measured and there were large gaps near the posts. I made my concerns to the workers who were more than angry with my non approval of the job. They fixed some of my complaints with haste. Still not satisfied with the install.
I call Lowes Customer service and the salesman as well as the owners of the fence install company came out to see the problems. They agreed with ME. Now I have been waiting since July 10 for the fence contractor to come back to me to "fix" the issues. I have been getting the run around about when the issues with my fence will be fixed to my satisfaction.
Yet Lowes charged my Lowes credit card and expect payment on time for the cruddy fence install. My next step is to right to Lowes Corporate about this situation to see if getting some higher ups involved will make these people move a little bit faster regarding my issues.

fred casteel
from Rogers, AR
ask for help and was told I am too busy right now ask another employee same response
as I was asking for manager another customer said to me" you having trouble getting help too"
I talked to Terry one of the managers on duty and was told that he would take care of it
but I suppose this is JUST the way the MANAGEMENT TEAM runs the store
like is said
apple don't far from tree
like manager like employee
never go back to this store

Candace Cook
from Edison, NJ
Good Afternoon = June 24 2018 I purchased a Top Mount Refridgerator/RT18M6213SR/Order-PO #76971662(51 Woodbridge Ctr Dr, Woodbridge NJ Store #1658) - Sales Associate explained 7/12 or 7/14 estimated delivery date to my residence- I called Customer Service 7/9/18 tt a "Foni" representative, told again 7/12 estimated delivery date and will be received 7/14, also if not received 7/12 then possible Sunday, 7/15 delivery date...….7/12 I called Lowes(Woodbridge NJ ), "prompt #5 for Applicance Dept, tt a Lisa, told "Refridgerator will be on Sun, 7/15 nite truck, should receive Mon, 7/16" .your delivery service, XPO Delivery calls my home phone @ 7:11am Saturday 7/14 stating "5p-7p" delivery, my husband gives his cell # for a "30 minute or less" phone call= NO Delivery, NO call from Lowes or XPO Delivery to explain.. Sunday 7/15 around 10:30a I called XPO Delivery..the "phone prompts" when utilized by me eventually "disconnected" my call, Called tt Lisa again in Store 1658- "Vendor excuse".. So much confusion still going on.....XPO Delivery called again Mon 7/16 evening, I put in my cell #- said between 5p-7p Tues 7/17...no call ever received...XPO Delivery Truck Tracker shows the refridgerator DELIVERED 7/18/18 AT 1AM!!! - I went to Store 1658, Terminal 14, Associate "Toni" @ 8:37:29 today 7/18/18 to "complain", computer showed no evidence where product is....I asked and got my credit card refund activated..I;m upset my existing fridge not broke, just old(16 yrs old)making strange noses. I did my part in good faith, truly wished Lowes did their part...very dissatisfied- I;m advising family, friends of this unnecessary experience and I still have no new refridgerator that I paid in full for. Candace Cook-28 York Dr #5A-Edison NJ 08817.

Samantha Bennett and Tami Bennett
from Modesto, CA
My wife and I purchased a washer and dryer with a sidekick pedestal and another regular pedestal. it cost over 3000.00. It was supposed to be delivered today July 17, 2018 between 01:30 pm and 03;30 pm. The delivery service never showed up. I stayed in and empty new house with nothing to do except wait for them to get there. They never called and said they would not deliver or give me a reason why they did not. We then call the store who put us in touch with the delivery co and they basically called us liars and said they were there and no one was home. That is a lie I arrived there at 01;30 pm and stayed there till 05:30 pm and they were very argumentative about it and not friendly at all. I cannot believe the service we are getting from this store and we are very sadden by this. Now they say they cannot deliver till Thursday and cannot even give us a time

BENNETT POWELL
from South Weymouth, MA
on MAY 25 I PURCHASED OVER $7000 OF APPLIANCES FOR MY CHURCH,APISON UNITED METHODIST, ALL PURCHASES WERE INCLUSIVE OF INSTALLATION. IT TOOK UNTIL EARLY JULY FOR THE STORE TO GET ALL THE APPLIANCES IN STOCK. THEN THE APPLIANCE INSTALLERS,EDWARDS ELECTRIC?, BEGAN WORK ON THURSDAY 7/12, THE JOB WAS TO COVER ANY MODIFICATIONS TO THE SURROUNDING CABINETRY. THE JOB WASN'T COMPLETED THAT DAY AS THEY HAD INDICATED, PROBABLY BECAUSE THEY DIDN'T START UNTIL THAT AFTERNON. GERALD ,INSTALLER, SAID THEY WOULD BE BACK NEXT DAY TO COMPLETE JOB.THEY NIETHER CAME BACK OR CONTACTED ME WITH ANY EXPLANATION. I CALLED THEM ON MON 7/16 AND WITHOUT ANY REASON FOR THE DELAY OR FIRM RETURN DATE. I WAS GIVEN A FLIMSY PROPOSED DATE, TUES OR WED. IT IS NOW TUES AFTERNOON AND I STILL HAVEN'T HEARD FROM THEM.
THERE ARE CABINETS AND DRAWERS STILL LAYING IN THE FLOOR, REFRIGERATOR HAS NOT BEEN PUT IN PLACE AND ICE MAKER IS NOT HOOKED UP. I WENT TO LOWE'S TO GET THIS WORK DONE IN ORDER TO AVOID THIS STANDARD CONTRACTOR SLAPSHOD, UNRELIABLE SERVICE.PRIOR TO THIS FIASCO I WAS PASSED AROUND FROM ONE LOWE'S PERSON TO ANOTHER, I THINK ABOUT 8. EACH ONE GAVE ME A VERY SINCERE PLEDGE TO TAKE CARE OF GETTING THE BALL ROLLING. THESE ASSURANCES PROVED TO BE UNTRUE. THEY WOULD PROMISE TO CONTACT ME THE FOLLOWING DAY, NONE OF THEM EVER DID SO. I REGRET THAT I DIDN'T KEEP MORE ACCURATE RECORDS BUT I NEVER THOUGHT THIS JOB WOULD DRAG ON FOR THIS LONG, BE PASSED AROUND, IGNORED AND FINALLY SET UP WITH AN UNRELIABLE INSTALLER. MY CHURCH HAS HAD AN ACCOUNT WITH LOWE''S SINCE 2006, NEEDLESE TO SAY WE WILL BE CANCELING THE ACCOUNT AND RECOMMENDING THAT ANYONE WANTING GOOD SERVICE DO THE SAME.

James Speroni
from Providence, RI
On Tuesday July 17 I attempted to purchase a Samsung 3 pack connect home Wi-Fi system for the advertised price of $99.99. After checking several local stores in my area, and unable to find it, I contacted Lowe's corporate. I spoke with a representative (Sierra) and informed her of my situation. She attempted to locate this item to no avail. I asked if there was something available along the lines of a rain check. She replied no there was nothing she could do. I then stated that the item should not be listed on line (although I realize it was a corporate move to outduel Amazon prime day) if it could not be purchased. Short of her contacting the IT department to remove this listing I was S>O>L>. As a homeowner I have been to Lowe's a lot. Based on this incident I can honestly say that I will no longer be a consumer. Same said for l my children (who each just bought a home) and as many friends and co-workers as I can pass along this to. Extremely disappointed.

paul bonner
from Chattanooga, TN
i ordered a refrigerator.they were supposed to deliver it on 07 17 2018 with a 2 hour delay they called the day before and it changed to a three hour delay.today they called and changed it to a 5 hour delay.they are making me miss an important meeting . it's a shame a big company like this one,can't plan any better than this.

PATRICIA A CONNER
from Winder, GA
I had a new ceramic floor put in back in April and paid 2392.75. As they were installing they said I needed new subfloor on part of the room. They quoted me $3646, which I thought was the total, not an additional. Also how can putting 16 sheets of plywood down cost 1.5 time the cost of the original installation including materials. I have been dealing with several managers on this but they have been blowing me off including Service Pro employees. I need someone to look into this and give me a breakdown on costs for the second charge as I feel I have been double charged. I understand an additional fee but not 1.5 times more. Service Pro made comments that were absolutely false. I need this resolved, it has been dragging on too long.
Thank you.

Jennifer Ector
from Douglasville, GA
I purchased a washer & dryer from Loew's in Douglasville, GA on 7/6/18. The store was unable to deliver appliances until on 6/16/18, On the morning of 7/16/18, received a call that the driver of the delivery truck was sick, so delivery would not take place. On 7/17/17 @ 0647, I received a call that only the washer would not be delivered because they could not find the dryer, REALLY???!!!. I was then told that dryer would have to located and delivered to the store on 6/18/19, thus the delivery of these appliances will be on Thursday 7/20/18. I understand that the truck driver was sick but the other foolishness is unacceptable.

Angela lamb
from Odessa, TX
We bought a washer from Love's in Odessa Texas or our mother who is dying and has two or three months left to live they delivered it out set it up and it did not work it all started malfunctioning we called day one got to talk to 5 different people then the We Care Center with no results this needs to be made right they're taking advantage of a 82 year old woman who's dying we need this washer they need to come get it and replace it we have been in the store I was there today talk to the assistant manager still nothing

j w gibbens
from Sikeston, MO
I purchased carpet plus installation on 5-22-18, it is scheduled to be installed on 7-24-18, four weeks is a long time to wait!

Raymond Stark
from House Springs, MO
I inquired about blinds and shutters for the interior of my home remodel project. I paid the $ 35 fee for the measurements to be taken by the installer. I asked about the $ 99 whole house installation special and was informed that since I only had 7 windows that the $ 99 would cover that.
At the time that I set up the measurement appointment I informed the sales clerk that I was interested in blinds and shutters. She was fully aware of this situation and even split the measurement ticket into two parts one for $ 35 for the blinds and $ ,01 for the shutters. After the discussion with the installer who was sent to do the measurements I decided I would go with the shutters for all 7 windows and not do any blinds When I tried to place the order for the 7 shutters I was informed that there would be an additional $ 400 over the cost of the shutters for the installation and that they would not honor their original agreement of the $ 99 installation charge because I was going with all shutters instead of a combination of shutters and blinds. The blinds were going to average about $ 50 per blind and the Large Shutter about $ 500 for a total of approximately $800. When I decided to go with all shutters the cost went up substantially, which I was willing to accept. I decided at the time of the Bait And Switch by the sales rep to not honor the $ 99 installation I told her to not order anything. I am greatly disappointed in the less than
honorable presentation and the last minute $ 400 raise in the price and in addition I am now out the $ 35 fee fir the measurement service which was to be credited back when I ordered the shutters.
This incident occurred over the last week at the Washington Mo. Lowes Store. The clerk involved was Mary Beth. The installer who took the measurements was Larry.
Disgustedly Yours,
Ray Stark 636 259 6511 223 E. Bellevue St. Pacific, MO 63069

mimi dean
from Pittsburgh, PA
ordered patio stepping stones at McCandless crossing lowes I lost my receipt got a phone call on july 5th 2018 telling me to come in for stones and now they have no record of me buying any such thing I was a good customer I know we are only talking about 40 dollars or so but its the point of them thinking I am trying to take advantage. well so at the end of year when your over this money who will get it? if I could I would return all I got from lowes thank you mrs m dean

Sally & Tim Houk
from Akron, OH
Re: Job 1397765 Lowe's Fairlawn 633 Fencing was installed on our property. The installers refused to take away the dirt that was extracted when digging the post holes. We were not told by the Lowe's sales rep that the dirt would not be taken away by the installers. We have an extremely large amount of dirt piled in our yard. The City of Fairlawn and our HOA will not tolerate this unsightly dirt pile. We need your assistance in immediately removing this dirt from our yard left behind by the installers. Sally & Tim Houk Phone: 330-670-1344
Thanks for your feedback!
Sorry. Please try again later!