Lowes
Lowes Complaints Continued... (Page 6)
493+ reviews added so far. Upset? Call Lowes corporate: 1-800-445-6937

Deatta Flota
from Centralia, IL
I hired Lowes of Mt Vernon, IL to come and install a door for me, the installer came out and looked it over and gave me an estimate on putting in a pre hung steel door and storm door, I agreed to the work. I told them we would be using the same dead bolt equipment as we have adt security and it was provided by them. He told me that was fine. He scheduled the job came out and hung the door, Not once did he call me to tell me that a strike plate was missing, I go out to check the door and find I can not lock the dead bolt as there is no strike plate and the lock does not match up with the wood. I called Lowes to set up for him to come out and finish the work. Lowes set up a work order for it. The installer (Stan) called and said he would be out on Monday to finish. He did not show and did not answer my calls, so I called Lowes to find out a time he would be there, Lowes stated between 9 and 12, I said that was fine, about 10 mins later I get a call and I am told that there should have never been a work order on this and that the installer cant afford to drive 110 miles to put in a strike plate and make sure the door locks. I was asked why I didn't have a strike plate there, I was never informed one was needed until after the fact. I was rudely talked to and then told the installer would call me, he did and said I got him in trouble with Lowes and that he would never be back out to my house ever. He also accused me of wanting something for free. I don't want any thing I only want the door done right, and had it been done right the first time we would not be having this problem. I think when a job is bid out they should tell you ever thing you need to finish the job, that is why they come out and look it over measure and tell you what is needed for it. If I knew how to install the door and what was needed I would not have had to hire Lowes to being with. I put this on my Lowes charge but feel at this time with the rudeness and incompetence of the employers I will pay this account off and then cut the card up and use Menards or Home depot from now on. I only wanted my door done right.
Thank you,
Sincerely
Dee Flota

denise williams
from Raeford, NC
contracted with Lowes to do a flooring installation. Once they got my payment in full, things went south. I have had to call Cristina Greene to get an estimate on several occasions. Once she finally gave me an estimate, she set up delivery of materials. She then told me to contact Legacy Flooring who was doing the install to be put on the installation schedule. Well after 2 days of going backwards and forwards with Legacy, I was finally put on schedule for this coming Tuesday December 19, 2017. Spoke to Johnathan @ Lowes offices who helped to get that done. Still have not heard from Cristina Greene on when the rest of my materials would be delivered to my home. Have been calling since Wednesday and today is Saturday to no avail. No one is answering the phone in flooring, nor has Cristina gotten back with me as she said she would on delivery of my shoe moldings. Piss poor customer service. Lowes is my favorite store (or was), until I encountered this. I will never deal with them on installation or prepayment of anything ever again. Took them no time whatsoever to charge my credit card, but when am I going to get service? Worst customer service of my life.

Kathy Hart
from Cassville, NJ
I will never buy another appliance at Lowe's again! Home depot is just as competitive and convenient.
My washing machine broke after 9 years,which was purchased at Lowe's along with the other 5 appliances.
I should have walked out when the salesman was rude and provided me no help at all. He said that it could be delivered the next day. That morning I the delivery was canceled because the pedestal was not available. Now delivery was promised the next day. The time slot was 3pm to 5pm. I lo work early and waited until after 5pm and call to see ww what the hold up was...I was told that the delivery was canceled and I never was contacted. I called to place a complaint and I was put on hold and cut off twice!
Finally the third day it was delivered.
Now I familiarize myself reading the book provided and tried to start a load....it was not working. After some time I realized that the man never turned the water on but he stated that he tested it and it was working. Now I had to move the machine and turn the water back on by myself!
Do you realize how heavy this Samsung front loader is?
This entire experience was a disaster from the start and I. felt that you should be informed.
As I said before, I will hesitate before shopping at Lowe's again!
Kathy Hart
31 Crater Lake Road
Howell, N.J. 07731

on Nov.18th, I ordered a refrigerator at your store in Loganville, GA. Told it would be delivered on Dec. 14th. Called on 14th to find out it was placed on back order until January. Received a call the evening of the 14th from the delivery department, informing me my refrigerator would be delivered on the following day sometime 2-4pm. As a result, I took a day off from work, emptied my old fridge, and waited for the delivery person. At 3:30 I called the delivery company and was informed that my order was not going to be delivered. I called the Loganville store and spoke with the store manager. He informed me that someone made a mistake on the delivery schedule and I just had to wait until January to get the refrigerator that I ordered in November. The only solution the store manager offered was a loaner fridge, which would involve me taking another day out of my schedule for a loaner fridge in addition to taking another day off for the replacement fridge. It seemed as if the store manager was out of touch with reality. As a result of Lowe's negligence, I lost a day of pay. Also, I purchased this item on my Lowe's account. I am paying interest on something that might arrive 2 months late, if at all.

john trimble
from Fresno, TX
I paid for a water heater on the cell phone, they had assured me that they had 3. Sent my plumber to Lowes to get it. They had none, so my guy still charged me 250 bucks, so how's that? Don't go there, and my friends will not either. They didn't even apologize and still charged me!
The staff was lazy and could care less, like I was bothering them.

zero stars..will NEVER shop there again! I arranged purchase and delivery of a washer/dryer and applied for a credit card solely to have 6 months same as cash..was directed to customer service to complete my purchase. It took a half hour of my time in appliances. But I was at customer service 2 hours. The order had not processed completely. All I had was a flimsey small paper receipt that I could have easily dropped showing I had 6k credit which I never requested. I had asked to lower the limit in appliances but he said customer service would have to do it.So they couldnt contact the man who had helped me in appliances..he was in stock room pulling items for other customers. I would say at best 10 employees were in store including cashiers. I couldn't leave with my credit in the air..and purchase in the sir. I couldnt even simply cancel the sale. Finally they had the sense to simply re-ring up all items and give another delivery date. They didnt know how to lower my credit limit and today upon calling to cancel my credit found that instead they had increased it to $13000.00 with me buying a home in just a few days wreaking havock to my credit! Then upon calling today after it taking 1 hour to wait in line to cancel my order yesterday..I was given a run around by your neverending automated phone responses. Then upon getting a human with poor english and upon telling her I wanted proof that my account was closed via email. She asked for my email which I gave and "then" was told the ptoof could only be mailed and she needed my address..I had to "prove" my address. I have a mailing and a physical. She almost hungbup on me for giving my po box first. Then I wanted to file a complaint and was directed to a complete automated system. NEVER AGAIN..AS LONG AS I LIVE!!!!!

Richard Jones
from Kalamazoo, MI
Bought Ceramic tile base board and adhesive from Lowes for tiling my kitchen. After a week adhesive the recommended is still not dry and tile is coming up. Will Not return phone call and store manager is always not there.

Leslie C Harrison / Wayne K Harrison
from Springfield, IL
We scheduled to have a deck built. The credit card information was incorrect. The wrong color was ordered. We were placed at end of line for installs once the correct color materials came in. The installer did not show and has been fired from contracting because he did not show for other jobs as well. A new installer was found. Install date is Dec4 - purchase was Aug 4 ! Materials were missing day of install. Installer did not have plans for deck. Additional pieces had to be ordered at Day 2 and then they ran out of materials on Day 3. Install completed on Dec 12. We spent over 6k for composite for the look and care and there are exposed areas from where the composite was cut to fit ! It looks horrible. Lincoln Logs look better. Through out this entire time customer service has been less than satisfactory - excuses, no follow up from the store level as well as the project manager side. I have additional details and I NEED and WANT to have my side heard and I need to know my options to have this fixed. I am tired of the lies. I am tired of not being treated like I don't matter. I have spent a lot of money in LOWES over the years and especially in the past 8 months and it may stop here. I am unable to reach a manager at the Dirksen Store in Springfield IL. I am unable to reach the General Manager at the Bloomington IL store. I am unable to reach the supervisor at the project center in Indiana. There are too many details to place in this limited format ! I need someone to contact me.

Nick Romas
from Latrobe, PA
Could you please tell me if customer service at the Latrobe pa. lowes is just for returns! Today I ask the employee working there if they had an item on stock in the store. Her matter of fact reply to me was and I quote " I cant do nothing without a item number" So if this is your policy please let me know not to waste my time asking customer service anything! I can say this isn't the first time this has happened to me. I thought she was rude and unprofessional ! So when I do go to your store I will make sure I know where the item is I'm looking for . Far be it for someone to be helpful.

susan pomerleau
from Gardiner, NY
I ordered a fridge on Nov 24 was told it would be here on Dec 2 between 9 and 11. I called the store did not have it in stock. But, did not tell me. I talked to louis from the newburgh ny store. He said they would pull one from the Kingston store and it would be here by 2. at 3 I called the trucking company. They said he canceled my order. it is no 4 and I can not get louis on the phone. I want to know why my order was canceled. I was here day waiting

Jason Burt
from Sandy, UT
Well I went to Lowe's around 7:30 PM to buy a Christmas tree. I guess maybe it must be close to closing time to experience displeasing service. There was a lady at the service desk and a whole bunch of employees standing in a group in front of the service registers. They immediately scattered off as soon as I was looking for a cash register to have someone help me. Since nobody was left to help me the lady at the service desk asked me, "Sir do you need help with your purchase?" At that point I thought she was going to get me checked out and help me. But instead she said, "There are some self check registers right ahead." Wow, talk about her stepping up for great service.

Margaret W. Kornegay
from Dudley, NC
Why is it that a cashier in Lowe's in Goldsboro told me that effective 1 Jan 2018 I will have to have a "My Lowe's Card" in order to receive a military discount?? Really , , , another credit card or more business on credit for Lowe's. Let me also say this particular cashier was not very nice about her comments - requiring that I get a card. My husband (retired Navy Captain - 0-6) served with honor for 23 and a half years. I can assure Lowe's that while we appreciate the discount it is not something we expect or a small gift to us, especially if it requires that we have a Lowe's credit card. I was a volunteer over the years at Marine Corps-Navy Relief and I saw what too. much credit did to the younger families. Besides my military ID - I always pay with my USAA issued Visa card. One credit card and the information to keep up with. Does this mean you won't be accepting a different credit card as payment??? What about cash payments?? This is very confusing and disturbing to me as a consumer. Also this cashier did not turn her light on at her station - we had to go to her and ask - are you checking out??
I look forward to your response, Thank you for your attention to this matter.
Margaret W. Kornegay

randy
from Castle Rock, CO
I purchased a washing machine less than a year ago, it has quit spinning out the load. Lowes sent out Best Service Company and that repairman said nothing wrong with machine. Very next load, did the same thing. Now Lowes wants to send out the same company 4 days from today. Lowes customer servicer supervisor, Steve, could not help. Or I should say, would not help me. This was the worse servicer I have ever received. Don't buy from Lowes, don't buy the warranty from Lowes. They take your money and will not help you. It is all the manufactures fault.

Chuck Farrell
from Augusta, GA
I am a United States Marine veteran that spends thousands of dollars at your store. I was there last night 11/22/17 went to use my military discount showed my VA medical card as proof that I am a veteran and was told by a vey young girl at the counter that she was not going to give me my discount as of January unless I get on the internet and filled out the info for a my Lowes card.
I don't want to go on the internet and jump through your hoops for a card that I don't want to carry, I have enough cards in my wallet. The fact that a little girl telling me that my service to my country that I gave blood for was NOT good enough for a discount unless I jump through your hoops is very rude and insulting. Why is the fact that I AM a veteran NOT good enough for you?
I asked to speak with the store Manager waited for 15 min. and then the assisting manager walked up, I asked where the store manager was she said he's not here? I asked for a call form the manager and district manager but as of yet nothing. If you are going to give a Military discount just give it to us ! don't make us have to jump for you we have done enough for you. ITS VERY RUDE!

Allan cooper
from Parkinson, QLD
Went into your Stockland Townsville store had catalogue in my hand stood around for 10 minutes and NOT one staff member came to approach me I buy 90% of My clothes from your stores thank you

Annette Billington
from Bloomington, IL
I bought $400 worth of glass backsplash at one store. Because that store didn't have enough I had go to a sister store to get th e rest. I paid
$9.33 at one and $10.98 at the other. I asked for the difference back to match the price. I was told "no".
I remodelled and did an add on
a few years ago. I used Lowe's materials exclusively then and was very pleased.
After this experience, I will not be utilizing Lowe's again.
Annette Billington
512 Frore r
Lincoln,Il
62656

Today, I went in the store in Hartsville, SC and the temperature was below 30 degrees & the cashier(young lady) was very nice but very cold at the same time. I think it's a bit too much to have workers outside making sales and risking their own health. There isn't any particular temperature it should be before they're place out there? If there isn't, the company should be ashame and I feel for the young lady.

Keith Schueler
from Dallas, TX
Within the last two years I've purchased all new Stainless Steel Appliances for my home and had my Master Bathroom Shower remolded along with my second Bathroom shower all Satisfactory to the "Customer". We started a project on my rental property that my Son and his Family Wife and Five Kids are living in, we are doing the Master Bathroom and the second Bathroom showers and Flooring. This project started approximately 4 weeks ago, first to go was the second Bathroom with the new shower door coming in Damaged and it took well over a week to get a new one everything else was fine.
(So much for customer service) The Master Bathroom was next and at the completion the Shower door would not close firmly so they adjusted it, BUT the Bigger issue is the POOR Tile Cut around the light that left the cut exposed after the light was installed. When they were called they came out and attempted to Caulk around the Light to cover the Cut! We called again and agreed with their recommendation and at their expense if a LED light would work when installed to cover the POOR Tile Cut then that would be acceptable BUT it only made it worse. We have been TWO WEEKS now trying to get this resolved! I'm giving this matter until this end of this week to be fixed Satisfactory to the "Customer".
Further more we have Flooring that we were planning to do five bedrooms and hallway right after the Holidays along with my Daughter's Master Shower at her home, Got News for you it won't be with LOWES based on this experience. My work has me traveling a lot and NO TIME to deal with something like this that I by the way am paying $14,000 for this particular Job.
Thanks
Keith Schueler
3137 Twilight Ct.
Middleburg, Florida 32068
904-318-8090

Stephen Patterson
from Spring, TX
You know in the old days when a store said they closed at 8:00pm you could bet they stayed open till 8:00pm. But today I fell that all the Big Boy's like Lowes and Walmart taking over now and running all the mom and pop stores out ,and the dishonesty that their is in the world it is SAD when you go to the Lowes store in Texas City, Texas at 7:05 on a Sunday evening and a lady come's out and said we are closed. The web site clearly said open on Sunday from 8:00 am till 8:00pm. But go figure for now a store can close when they want to. Sorry MOM and POP for they surely don't stand up to your standard's. Thank's Lowes but it will be Home Depoit for me NOW!!!!!!!!!

Nicole Orellana
from El Cajon, CA
10/5/2017-I went into the Lowes in Santee, CA and placed an order for a washer and dryer with my Lowes card. Associate asked me if I would like to purchase the pedestals that match but I declined for now. I was told my item would be at the store on 10/17 and would be scheduled for installation on 10/18.
10/8/2017- I check online for store availability for the pedestals they offered me. Says they have some available. I go back into the store and let an associate know that I just made a purchase for a new washer/dryer set and I would like to add on the pedestals that they originally offered me just three days before. The associate looks up the item and tells me that those pedestals for that washer and dryer, while they have one on display, have been discontinued. What?!
10/9/2017- I do some research at home, and I am able to find the pedestals available from JcPenny.com, $50 more than what they would have been at Lowes and no military discount. Disappointing, but considering I already made a $1400 purchase at Lowes for new appliances and Lowes has discontinued them, I am stuck making the purchase else where.
10/17/2017- Received automated message from DSI Logistics that my appliances would be delivered and installed the next day on 10/18 between 12:30-2:30pm.
10/18/2017- I receive a call at 10:54am from someone at the delivery call center saying "unfortunately the store pulled your order from todays delivery." Why? They did not know. I call Lowes in Santee and find out from an associate that the items still had not arrived and that they would look into it further and call me back.
10/25/2017- Still having not received a call back, I physically go into the store and speak to an associate face to face. They look it up and tell me that only the additional items (like water hose, etc) were received and that's why they pulled my order from delivery. Would of been nice to know since my husband missed a day of work to stay home. He then tells me now that the appliances will be available on 10/27 and to expect a call that same day to confirm a delivery time for the following day on 10/28.
10/27/2017- That evening I get an automated call confirming delivery for 10/28 between 10:00-12:00pm.
10/28/2017- Drivers haul up my dryer into the garage and tell me they have bad news. They show me the washer that they took off the truck and there is a very big visible dent in the front of it. He instructs me to call "Kim" at the Santee Lowes and let her know so they can arrange to deliver me a new one. The driver leaves the dryer in my garage to be installed another day/time whenever the washer is available. I call Kim and she apologizes and tells me that they should have inspected it closely before they left the store. She says she will call me "tomorrow or Monday" to arrange to have a new one sent out.
10/29/2017- Kim calls me back and lets me know that she is reordering me a new washer and will do what she can to expedite it. In the mean time, she offers to arrange to have the delivery guys deliver me the washer with the dent in it to use for the time being. She calls me later on that day again and lets me know she arranged delivery and installation for tomorrow 10/30 and to expect a confirmation call, however my replacement/new washer will not be available until November 28th! That same evening I receive an automated confirmation call saying the appliances will be delivered on Tuesday 10/31 between 10:00-12:00pm
10/31/2017- I receive a call around 9:00am from someone at the call center telling me she "just wants to make sure I got the message that they will not be delivering my order today." No, as a matter of fact I got a confirmation call the night before that they will be here between 10:00-12:00pm TODAY. What's going on? She instructs me to call the store for further information. I call the store and speak to a gentleman in appliances. He tells me that their delivery guys looked at the washer, determined they already attempted to deliver it back on 10/28 but it was damaged. So he tells me since it's damaged they did not pick up the item on their truck.....??? I told him Kim arranged to have the damaged item delivered to me today since the replacement/new washer would not be available until the end of November. "Let me make some calls to see what I can do and I'll call you back", he tells me. Fast forward three and a half hours later. I still have not received a call, so I call the store and follow up myself. I speak to a different associate in appliances, this time a lady, who puts me on hold and then comes back on the phone and tells me someone arranged yet another delivery for tomorrow 11/1 and to expect YET AGAIN, a confirmation call tonight. 8:50pm rolls around and I still have no received a confirmation call. So I call the Lowes in Santee and she tells me that they have until 9:00pm to call and confirm. Ten minutes later, no call.
11/1/2017- I get a voicemail from Karen saying apparently the delivery guys could not locate my dryer yesterday when they went to pick it up. A completely different story than what I was given yesterday. She asked that I call her back to arrange yet ANOTHER delivery since obviously they never came out yesterday. I call her back and she arranges a new delivery for tomorrow 11/2, and tells me we should be good to go since she put in the delivery request before 4:00pm unlike yesterday. But, that makes no sense since I spoke to an associate at 12:30p in the afternoon and they told me it was scheduled the next day. Anyways. I receive a confirmation call that evening confirming delivery for 11/2 between 10:30-12:30pm
11/2/2017- Delivery guys show up to deliver the washer. He asks me if the previous delivery guys checked to make sure the dryer works. I let him know they didn't plug it in or instal it. He says he only has an order to deliver and instal just the washer, but he was kind enough to do the dryer for me anyways.
This has been such a bad experience in terms of professionalism, communication and availability. While the employees and the delivery men were all kind and strived to be helpful (for the most part), this has not been a smooth transaction. It will be close to two months (estimated delivery of 11/28) I've had to wait now for these new appliances. This purchase in total was $1346.41 for washer, dryer, haul away of old appliances (two), delivery (free) and installation with 0% APR if paid in full within 18 months. I do not know how they go about the transaction to reorder the new appliance, etc, but I am really hoping now my promotional price does not get touched since she was doing a refund on the washer and reordering it after the fact. I also told the associate I was no longer having them haul my old ones since we found a new home for them. I was told she would refund me the $15x2.
Lowes has always been our number one choice for our home improvements because of the quality, value and military/veteran appreciation. I really hope that if you value your customers, you will take the time to contact me and help shed some light on what can be done to make this right.
Kindly,
Nicole Orellana
11448 Bridle Path Ln
Lakeside, CA 92040
760-485-4857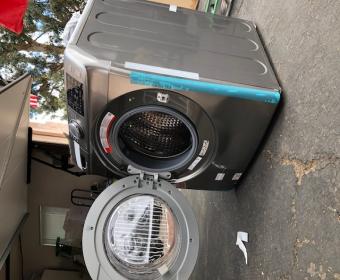 Joe Egenlauf
from Nappanee, IN
Lowes extended warranty is terrible, absolutely no help at all. I purchased a Maytag Washer and Dryer, purchased the 5 year extended warranty. 90 days later machine does not work. Called Lowes warranty dept. on 10.20 17. Lowes told me it would take up to 5 business days for service, and would contact me once service had been scheduled. I did not hear back from Lowes at all to let me know service was scheduled. I called back on 10/25 and spoke with Michael who told me they had scheduled service for 11-01-2017. I informed Michael that if they should cancel or not show up for any reason I will take the unit back to Lowes to be replaced. Michael assured my service had been scheduled.11/1 I took a day off work for service. At 4:30 pm I called Lowes Warranty Dept.Customer Service, spoke with Jasmine to inform them no one had arrived to repair my maytag washing machine, after being on hold for 40 minutes Jasmine informed me that service was scheduled with BoB's Appliance out of Southbend, IN. I was then transferred to Whirlpool. I spoke with Jackie at Whirlpool who informed me they had received no notification for service from Lowes for any service request. Jackie with Whirlpool also contacted Bobs Appliance while I was on the phone and BoB's Appliance had received no service order to service my Maytag Washing Machine. I called Lowes back and spoke with Tasha, had to explain once again the situation and asked to speak to a supervisor. After being on hold for another 30 to 40 minutes I skope with supervisor McKenzie. I explained yet again to McKenzie how Lowes Cust. Serv. had told me service was scheduled, that I had taken a day off to be home for the service call and found out from Whirlpool and BoB's Appliance that neither them had any of my information and service had never been scheduled. I explained I called on 10/25 and was assured service was scheduled and also no one from Lowes Cust Serv. ever contacted me to provide the information regarding service, that I had to call back twice to get any information. McKenzie blamed Whirlpool, I informed McKenzie Lowes Cust.Serv. reps told me this was scheduled. She would not take any responsibility for the mistakes Lowers Cust.Serv. had made. I was told I need to contact Whirlpool. I explained I took this day off work, I had been to the laundry mat 4 times in the past 2 weeks, altogether this had cost me 300.00, and asked what did I pay for with the extended warranty. I was told The 5 year extended warranty is only good for 4 years . Very disappointed, Supervisor offered no remedy, Lowes customer service is terrible. Supervisor continued to blame Whirlpool even after I told her per Lowes Cust Srv. Dept this was scheduled for service and neither BoB's Appliance or Whirlpool had any of my information or work orders / requests for service which Lowes told me was scheduled. I asked McKenzie to speak with her boss and was told she was the escalation point of contact and there was no one else I could speak with. I am VERY DISAPPOINTED with the way this has been handled by Lowes. Supervisor refused to take any responsibility for their mistakes. If this is not addressed I will contact the BBB and file a complaint. I have been a Lowes consumer for many years and will think twice about shopping at Lowes in the future if at all. I have a family of 5, laundry accumulates quickly, and I am tired of having to take laundry to the laundry matt when I just purchased new units from Lowes. As I said this has now cost me an additional 300.00 on top of the purchase of the extended warranty and will again have to go back to the laundry matt. Frustrated and disappointed. Very poor service from Lowes Cust Serv.
Please respond soon or I will file complaint with BBB.
Joe Egenlauf
574-930-6696

Robert Perry
from Woonsocket, RI
First purchase with my new Lowes credit card and my order was scheduled for a two week delivery, to be picked up on Nov.1st; but it usually arrives earlier, and we will call you when it arrives so I was told. Today, Nov 2nd and I haven't heard anything yet so I called to make sure my order was in. I do have it scheduled to be installed today. I'm told it has not arrived yet. Really, why didn't anyone call me earlier in the week to let me know it wasn't going to be here? Are there no red flags when an order isn't arriving on time? Maybe someone should implement something so the customer can be notified when there will be a problem with their order and the customer will know that the company they purchase products from really cares? And where is my order? How do I feel about that; well, I'm emailing in a complaint, what do you think? What is going to happen to this complaint is another story? Will there be any customer satisfaction with this complaint. Where I work my customers are number 1 and I spoil them and they always come back. What's your solution for this dissatisfied customer? There so many options to where one can purchase items online; I have to ask myself why did I pick Lowes? Should I attempt to try another purchase from Lowes?
Not sure if I should thank you so;
Best Regards
Robert Perry

Carlo Parrotta
from New York, NY
I have purchased a storm Door on October 7,2017 at your store 0720,and I opted to have Lowes contractor to install it.
To begin I was never called to schedule the contractor and after several attempt I was able to have a schedule to just find out today that the contractor never got the information, on the meantime I am still out of a Storm door, after a month from my purchase, and no body knows any thing.
I have paid in part the door installation and it seems Lowes was quick to cash my money but yet not Eger to provide the service they promise me.
To be honest I usually chose Home Depot for all my purchases personal and business, but sometime I like to see if some thing is different with the competition, and I must to say YOU FAILED MISERABLY.
I REALLY HOPE SOME BODY READ THIS COMPLAIT AND DOES SOME THING.
Regards
Carlo Parrotta

timothy watkins
from Fort Myers, FL
I had a salesman from lowes come out on 10/16/2017 to measure and quote a chain link replacement job at the Country club I work for.As of Oct. 30th I had not heard back from salesman. I called the store that had set estimate up for me. After being switch around several times by phone ,I spoke to a lady who took my phone number asked me a few question and then dropped my call. She had my # but she never called me back. We have a business account ending in 2905. I certainly can switch all my buying to home depot if Lowes feels they don't need Olde Hickory's business.It's now Nov. 2nd.

BILLY KENDALL SMITH
from Summit, MS
NO ONE IS EVER AVAILABLE TO CHECK ON STORE ITEM ON THE PHONE---PUT ON HOLD--RINGS AND RINGS ONLY TO COME BACK TO OPERATOR AND REPEAT THE CYCLE. WHY CANNOT SOMEONE PICK UP THE PHONE AND FIND SOMEBODY. I ASKED TO SPEAK TO MANAGER AND SHE SAID SHE WAS HELPING OUT AT THE REGISTER AND COULD NOT HELP ME AT THAT TIME. SHE WOULD TAKE A NUMBER AND CALL ME BACK LATER---NOT ACCEPTABLE. WHAT IS WRONG WITH THIS STORE???????????I LOVE TO SHOP AT MY LOCAL LOWES BUT THE ATTITUDE SUCKS!!! MAYBE SOME UNDERCOVER SHOPPING BY MANAGEMENT WOULD REVEAL THE SEVERITY OF THE CUSTOMER SERVICE BEING GIVEN AT YOUR STORE!!!!!!!!!!!!!!!!!!!!!!!!!!!!!!!!!!!!!!!!!!!

Craig Geibel
from Costa Mesa, CA
I will NEVER purchase another major appliance from Lowe's again. Everyone was all smiles when we purchased a new hot water heat, washer and dryer in one day. That's where customer service ended and the problematic and often rude service and delivery with install began.
First we were charged install on the water heater to include an expansion tank clearly on the receipt. When the water heater was installed there wasn't any. I called and the service person was rude saying we needed to purchase one. Our salesman said it was supplied by the plumbers (installers). I said it certainly was included and paid for clearly on the receipt. He said he would call me back after he checked and when he did I was told the installers said there wasn't room for an expansion tank so a release valve was put on instead. Here's where the bull began. Release valves are standard with any water heater as I told the service person. This person started getting rude and demeaning saying we needed to purchase one from the store. I once again told him it is on the receipt, the salesman said Lowes did not sell expansion tanks that it came with the installers. I said once again when he denied us we were charged by the salesperson and told it was to be installed. He then said our county didn't require one and that's why none was installed! I had to tell him we paid for one and want it or a refund. He said he would call back. Shortly after the plumber installers showed up and put the expansion tank on. That's the first fishy story of this whole mess.
Problems were only beginning. After a week I got a call and was told the washer and dryer were to be delivered. I was told by the salesperson that we had to pay $35 extra over the $110 installation fee because this was gas to have an inspector check out the gas hookup and he would disconnect and reconnect the gas line and check it and I would get a call from him when the washer and dryer was delivered so the installers could remove and replace the machines. When the washer and dryer were delivered no one knew anything about this. No one called up until the next day when I had to call install sales again. This person was very rude and acted like he knew nothing about this. Again I had to explain the sale to him as told to my wife and me by the salesperson. He knew nothing of any inspector or inspection. Then the salesperson that sold us all of the above called and said the $35 was never paid that the checkout didn't add that and if I didn't come over and pay it he would get stuck with it. Soon after the installers showed up and put in the new washer and dryer. There wasn't any inspection. When they left the washer did not take in any water. I knew the water valves were in the on position. The washer and dryer were positioned in a way that I could not access the shutoff valves and only my wife could so they also need to be moved. My wife was very upset returning home from work and called and had to get a manager who questioned her about the water shutoff then said we would get a call the next day. This manager was quite a bit shocked that we were getting charged $35 for an inspection above the install cost and said no such charge was to be paid. By this time we have a lot of laundry to do with a load sitting in the washing machine.
Today I get a call from the same salesperson again asking what the problem is this time. He said he would send somebody out. I then asked why I owed $35 for an inspector that was never here. He tried telling me it was $110 install and $35 for an inspection. I again questioned where was an inspector it was hooked up by the installers that he said wouldn't be done. He gave me a lot of double talk about this added fee. Finally he said "well don't pay it then if you don't want" very nastily. I finally said that this seems like I am getting scammed here with a bogus charge and said I refuse to pay it anyway. Something is not quite right with that and should be investigated because I am guessing I am not the only one this has happened to. Late this morning I still had no idea when someone is coming out to fix or replace this washer and had to call back again. Again I got the run around and had again several rude people to deal with like this was my fault. Well you know what it is for dealing with Lowes. This type of customer service is totally unacceptable when spending that type of many. There can be a few hiccups, but this many and then to deal with rude people is beyond anything. The installers made some mistakes, but at least they were courteous.
So not just one but two instances we were charged for items and services conveniently ignored which seems very suspicious. How many times are others charged for extras that are nonexistent? Is this a common practice with Lowes? Then to have such a disorganized and incompetency from sales to installation is appalling. I was the customer. I paid for Lowes to take responsibility for delivery and installation. I should not have to continually call to orchestrate everything and monitor what should be a reputable store. What a mess.

Linda Frank
from Huntley, MT
Billings, Montana Lowes - I was in the store a couple of weeks ago looking for lights for our shop and one for the house (light with a fan). We wandered around the light section for probably 15 minutes and not once was there clerk in that department. I finally walked over to the appliance section and he called for someone to help (no one came), so he did the best he could to answer our questions.
Today my husband was back in the store to look for chimney/flu parts to install a wood burning stove. He talked to one associate that sent him to the garden center and the associate out there wouldn't even talk to my husband!! So he finally found another associate that sent him to where he thought he should be. It wasn't there. He asked another associate who said they probably didn't have what he needed. Probably! What kind of answer is that!!??
In the past we've always had good experiences but lately its been awful!! I can understand if the associate doesn't know the answer but to act like they don't care isn't acceptable. We have done a lot of business with Lowes over the last few years but it may be time to go to Ace Hardware. The Lowes customer service could take lessons from Ace.

Louis Padula
from Huntley, IL
Sir's
I have been a loyal Lowes customer since the store in Lake In The Hill Il. opened. Ordered home carpeting 10 years ago, Air condition,
Kitchen range, Kitchen sink & dishwasher. Flooring for the Kitchen, Bathroom. Entrance way. Interior paint. On And On....
But this experience redoing the whole home, re carpeting turned into a nightmare. The project was to be done in two phases. My wife and I are in our 60s and we need to move the furniture. 1st Living Rm. Dinning Rm. Hallway. One bed room. Start Oct10th and 2nd date Oct 25th. With 2 seams in the living room. The installers came and they were going to piece meal the living room together. ( 4 seams ) Unacceptable. I stopped the installation since I already talked to the installation company and they told me that 2 seams were needed. Long story short. There estimator was incorrect on the measurements. I even gave him a print of my home with all the measurements. He never used it. He took his own measurements. You must remember , all our furniture is on the deck covered with tarps. and in the basement. The installation company said they would reorder and install as soon as it came in. That was a Tuesday Oct 3rd. They called Wednesday Oct 4th, stating they could use the last two bedroom pieces to finish the 1st phase. And they would reorder the carpeting for phase two on Oct 25th. The instillation team came on Oct 6th and finished phase one. With my wife and I moving furniture as to be able for us to use the home during this project.
Now I receive a call on Oct 24th by the sales man from Lowes saying the carpet was not in. That's 14 days that had to order and ship. He and the carpet company didn't know what happened. I went to Lowe's on Oct 27. Friday. They stated that corporate got involved because they wanted a better price from the manufacture. The store informed me that they and the carpet company were out of the loop on tracking. At that time while I was at the store the sales man called the carpet company and it had just been delivered at there location. So we re scheduled for
Monday Oct 30th. The Installers were great. Same team as before. You must remember every time something changed my wife and I had to move furniture around. The actions of the instillation estimator , and that of Lowe's corporate stepping in and not allowing the sale's man or carpeting dispatcher to track the carpeting is unacceptable. They could not give me a update as to the disposition of the carpet.
I understand construction. I was in the trades for 46 years. This was a huge fowl up.
And I at this time would like Consideration for my in convince.
Response requested.
Louis Padula
lblackwel@msn.com
Cell 708.417 5684

Kevin Patel
from Sulphur Springs, TX
Purchase flooring materials and we having a problem with it no one try to help not Lowes or manufacture never buy anything from Lowes again

Vickie pilkins
from Bluefield, WV
We purchased a LG door inside door refrigerator In March and about 4 weeks after it started dumping all the ice out into floor it would do it everyday sometimes mo re than once reported the issue and eventually they replaced the door that helped until Sept and it started again. We reported it again and have been trying to get something done for 4 weeks. They have sent 2 servicemen 1 said it couldn't be fix and they wanted to send another why I don't know. This thing dumps in the middle of night during the day and you can't stop it till it empties and then the motor keeps running. We have been patient until now. I have a cat and it's stressing her and waking us up at night. We don't want our money back we just want to try another frig. (Same) tech said it was a problem inside frig. We are good Lowes customers and the frig is paid off and we have purchased a dishwasher recently and washer and drier in past and all our home improvement needs. I'm a manager myself and I understand there's steps but enough is enough. I love the refrigerator but I can't take much more. Lowes and LG needs to make this right or we are going to return it. Like I said we want to just try another one not get a refund and for you not to keep putting us off. When good customers that pay good money for items they expect those items not to give them problems but if they do they expect to get fast service to correct the problem. We feel because we have paid in full company is in not hurry to solve this problem. We would very much appreciated this problem being corrected asap.
Thanks in advance

Moses Marcelle
from Fresno, TX
In the past 3 weeks I have visited store # 3027, both times I have came in looking for an item, I could not find myself. I have ask a store employee to page someone and on both occasions I received no help. On other visit the employee had no knowledge of the item and could not help. It seems to me that when I enter this store I am on my own when it comes to finding assistants.

Karey Torres
from Fresno, CA
Purchased refrigerator to save food. Sales person said there was one in the back that still had warranty since that was important to us. She showed us the floor model and said the one in back was just like it but had some scratches and she gave us a discounted price. We purchased it site unseen and once home we found a partial (most was ripped off) document stuck to the top of the fridge that said "Problem Description: Not cooling enough" We assumed this had been repaired since we saw other similar documents on other refrigerators in store that showed this type of issue as well as how the problem was repaired. We plugged it in and it started cooling. We transferred our food to the new fridge 3 hours later and in the morning all frozen food was defrosted and temp was only at 60 degrees. I called Lowes and they scheduled repair for next week. Service was canceled twice before someone finally came out. Tech said it needed a dryer and ordered the part. Said it would be in in 6-7 days. Called Lowes and they provided a rental. Part was still not in over a week later so I called Lowes and was told that because the refrigerator has been services we can not buy warranty. Our 30 day return period is over in 4 days and we still do not have a working refrigerator and service company got rude when I asked why they didn't call me to let me know about the delay. I spoke to service company Saturday 10/14/17 and was told since it was the weekend she wouldn't know where the part was until Monday. No call back all week, so i called Thursday to be told it will be 6-8 weeks. We lost our food, I lost work due to having to be available for multiple service appt's that didn't even happen and We were misled that we could buy the warranty and that the only issue with the refrigerator was that it had scratches. We spent $863 on this refrigerator and so far it has cost us approx. $200 in food, 1 months time, and $300 in lost work. I could have just bought a brand new refrigerator for that price and now I still have to return this one since the 30 days return period will be over before it can be repaired. We have purchased all of our major appliances from Lowe's up until this point but I have lost faith in Lowe's and the people that provide service for Lowe's appliances. Attached is the document we found on top of the refrigerator after we got home.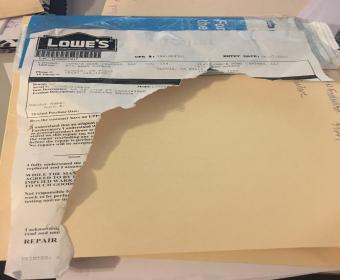 van and dalene kelly
from Phoenix, AZ
we ordered a refrigerator on line. it was scheduled for delivery today, 10/14/2017. originally we were told "some between 0800 and 1000 hours". We then received a confirmation call at 0730 hours this morning stating they would arrive in 10 minutes. By this time we were sure the refrigerator was on the truck and in the neighborhood. we proceeded to box up all our refrigerated items and cleaned up our old refrigerator for pick up. after all this communication we were then told that our refrigerator was not only not on the truck but was not going to available for quite some time. this experience makes us want to completely avoid doing any business whatsoever with this company. were I the manager of the local store I would be replacing the ordered refrigerator with an even higher priced one immediately to help prevent did-satisfied customers.

Norman Keasler
from Anderson, SC
I ordered 12 peices of vinyl siding to be delivered on Wednesday Oct.11. Today is Saturday Oct.14 no vinyl has been delivered. I have called the store several times,I get the answer , we do not have enough drivers. I will be looking for compensation for this problem. Free shipping and/or product. I has to send my workers home because of this. The store is on Clemson Blvd. in Anderson SC. Thanks

Christopher Alston
from Greensboro, NC
I purchase a troy-bilt backpack blower from the Lowes store located on Cone Blvd in Greensboro, NC about a year and a half ago. About a month ago it stopped working. I called the Lowes service advantage number and was told that it was still under warranty until 11-11-2017 and I needed to take it with my receipt to the Lowes where I made my purchase and they will send it out for repair. I took it there and the associate filled out some paperwork and told me it should be ready within 7 to 10 days. After about 3 weeks I decided to stop by the store to check on my blower. I was told that it was ready and they forgot to call me. I took it home and this morning I put gas in it and started it up. It ran for about 2 minutes and stopped. I returned to the Lowes and spoke with the manager Allen. He called a young lady Chole to the front to look at it. She asked me did I mix the oil and gas right? I explained to her that It was a 4 cycle and I did not need to mix the oil and gas. She stated that there is nothing that she could do for me and stormed off. I asked Allen did he hear how rude she was and he said that he didn't hear her although he was right in front of her. Allen then told me that it was under a manufactory warranty and there is nothing that they can do to help me but give me the troy-bilt number and I will have to contact them. I asked him could they just send it back out like they did last month to repair it and he told me that they tried to get it repaired once and could not repair it and I needed to deal with the company. He told me that they don't specialize in repairs, " WE JUST SELL THEM". So once you get the customer's money your concerned for the customers satisfaction is no longer important? In the past I have purchased mowers, hand blowers, weedeaters and a generator from this store and I have been happy with the product. Never again will I purchase any outdoor power equipment from Lowes. The rudeness of your employee and the lack of concern really amazes me. By the way, the troy-bilt customer service center rep told me because there was no service center near my home, that I needed to take my case number back to the store and have them send it out for repair. I explained to her that I would not be taking my blower back to that store and dealing with them. Having been in retail management for over 20 years, it is appalling to me that your manager was comfortable with a customer leaving the store unsatisfied. He really did not seem to want to fix the issue.

James buro
from Norristown, PA
The Oaks PA. Store is a disgrace. I have never had such terrible service. I have spent close to $13,0000.00 on kitchen renovations. No one ever answers the phone. They don,t tell you the truth about orders. The entire management team is a disgrace. People just seem to not care about helping anyone . You need to get some control over the pathetic customer service in that store

blwilsonbeat1@aol.com
from Prentiss, MS
Purchased over 3000 dollars appliances (Samsung) filed for rebate in early June. Here it is October 2 and all I get from rebate center "it's in process" they say I must wait 6-8 weeks, well it's been 4 months. Planned to use rebate to buy other remodel products, remodel is almost finished except back splash. Your rebate center is playing games. I will tell the world to avoid your stores rebates - unless they plan to wait for eternity. Shame on your company for such an apparent gimmick to get people to buy and then lie to them with any false hope!

Kathleen Gunter
from Moultrie, GA
To start with, it was my fault I forgot to pay for purchases in May. SYNCHONY called and I paid the bill on June 30. Today I get a bill with interest and late charges and the original amount of the purchase. What's up. How long does it take SYNCHRONY cash my check? That payment came in on the September statement. Please advise.
Acct#819024110836009 8

irina zhuravsky
from Plano, TX
10/1/2017 I made online order #340230590. Same day I pickup AC. When I got home, I found out it was an open box. Reefers was damaged,
no mount supplies. When i came back to the service desk, assistant manager told me :" You have to return AC, because we do not have another one ".
I am ordering a NEW AC for the same prize,what you wanted to sell - used one, I drove 30 miles (3 trips) to Lowes and back to home, i lost 3 hours of my time. IT IS BAD SERVICE, WE ARE LIKE A CUSTMERS NOT DESERVED IN AMERIKA

Zachary Parsons
from Fairmont, WV
Kitchen purchase and installation.
I have received very poor service and work during a kitchen installation job. I feel that the Lowe store and central production did no properly remedy all situations. I very precisely directed concerns about work quality from the start of the job and feel that my concerns were not taken seriously.
Also, after speaking with acquaintances regarding workmanship in my kitchen, I have concerns about the counter top installation (joint seam placement over dish washer), level/plumbn of cabinets, cracking caulk seams, and wiring integrity.
Furthermore, after asking that the initial contractor be removed from the job I received a hateful and unprofessional text message from the contractor. Lowe's did no properly address the behavior, in my opinion, leaving me feeling very unsafe and unhappy for some time after.
My kitchen job is not fully complete (finalizing a few appliance installations). As mentioned, I brought all of these issues to the attention of the central production office and my local store. I am filing this complaint due to my continued dissatisfaction with the process and product receive.
I feel as though did not receive the advertised Lowe's hassle-free service and quality. I also feel that I over-paid for the services received and that I should be monetarily compensated for the issues I've dealt with and sub-par final product.
I have multiple emails of communication with store personnel documenting all issues (with pictures) and would be happy to provide any information needed. The files are too large to attach and can email as necessary.
Zachary Parsons
1144 Avalon Road
Fairmont, WV 26554
Phone: 304.992.4005

Angela Cetorelli
from Canton, OH
went to Lowes to buy flooring, first it took 20 min. to get someone in that department to help with our needs, than we got to the register and they wouldn't give us the 5% we should get for buying from Lowes(we spent 798.00) we used a Lowes gift card but they told us only if we used our credit card we're we entitled to the 5 % off of our receipt. I felt like taking all back get the cash than rebuy what we wanted is this how you want your customers to feel. I've gotten to the point where when my husband says lets go to Lowes I usually say let's go some where else where we can get some true service.
Angela Cetorelli of Canton Ohio

David Richards
from Ocean Springs, MS
Home appliance delivery set up for Sunday 1 oct 2017 after noon. Call four times to see when they were coming said they were on their way. Never showed up!! never called!!! now it's 7:55 PM no appliance. If you're buying appliances at Lowe's I would suggest you go to Home Depot.
Help-Me Get my paid for compliance
David. Thanks

Annmarie Morales
from Brooklyn, NY
Purchased to have a fence installed in June. Still has not been installed. Lowes keeps
Promising delivery and installation and nothing. Made several complaints in store and corporate nothing got done!!

Dianne Mahoney
from Palm Coast, FL
I bought a Samsung refrigerator 4/30/16. Since than it has been nothing but problems!!!!!!! On Feb. 29th 2017 had a problem with door. Rambs fix that. On 6/20/17 my ice maker stopped working. Rambs came and told me I had to take everything out and let the refrigerator sit for 48 to 72 hours. I did that . It worked for about 1month. And again it stopped making ice. Now, on 9/25/17 the ice maker stopped working. Called Rambs and was told the same thing. At this point I have lost over 100 dollars worth of food. I CAN't KEEP SHUTTING DOWN ME 3000 dollar refrigerator!!!! This is just over a year old. The guy that was here today said there is nothing he could do. I do not want this refrigerator. I would like my money back. It is leaking from where the ice comes out and has made a mess of the front of refrigerator. This a product you should not be selling at your store. It has a problem with no fix.
Dianne Mahoney

richard barnett
from Millington, TN
your store in millington tenn is a complete wreck the cashiers are rude the product is all over the aisles on pallets workers talking on their cell phone despite this you have 5 people putting up christmas displays ITS NOT EVEN HALLOWEEN YET!!!!!!!!!!!!!!!!!
I WILL GO TO HOME DEPOT !!!!!!!!!!!!!!!!!!!!!!

georgiana bisceglio
from Mastic, NY
I have been trying to get someone on the phone for several days now. I have tried both the stonybrook and Medford stores here in n.y. the operator has disconnected me or no one answers the ringing phone. terrible customer service! I'm calling about the washer I bought and was delivered 9/11 I was given no receipt for this purchase and if I decide to return the washer how do I go about doing that? phone # 6318214233 I need to hear back via phone so I can talk to a person.

Paul Gallagher
from Apple Valley, CA
For twenty years as a small business I've spent over a quarter million dollars with Lowes. Most of the expenditures have been on kitchen remodels... cabinets, appliances, associated bathroom items etc.. The Good Lord willing, I'll continue for a while in my business. BUT....
I've a problem. Lowes has become a sponsor of Major League Football franchises, which of course is perfectly legitimate. The problem is some of these franchises allow their players to disrespect our flag, and therefore our country.
I presume therefore that Lowes has no problem with these players, nor with their employers acquiescence to their employees actions. That too is Lowe's prerogative. It is at the same time my prerogative to decide on what terms I will do business with Lowe's.
I cannot, I will not, do business with an enterprise who turns a blind eye to disrespect of our country, our flag, our unity as a nation. You of course may advertise where you deem appropriate. The advertising budget you have, and the people to whom you have given control that budget, are, I trust, aware the public continues to turn off the NFL. And please also reflect there may very well be one or two or a million small business owners who share my disdain for Lowe's behavior. And turn you off as well. Respectfully, Paul Gallagher 602 363 0441

cheryl falconio
from Delhi, NY
One star is too much. This experience has driven us to the point of never buying anything from Lowe's Oneonta ny again and letting all friends and co-workers know of our experience. On 9/16/17 we tried to purchase a new washer and dryer. This debacle started with the sales associate having less than a working knowledge of the store's sales software. It took us over 2 hours to just purchase the pair. A DELIVERY DATE WAS SET-UP FOR TODAY ,9/20/17, BETWEEN NOON AND 4PM. At 3:47pm when the delivery had not been made I called the store to be told that the delivery for today had been cancelled and was changed to Tuesday the 26th. In order to be home for the scheduled date a day off from work was taken, the old machines were removed from the laundry room to assist the delivery persons and now we have no new set or the use of our old set! To make matters worse the system at the store would not allow us to update our new e-mail address for this type of situation. This issue became pertinent when our home phone lines went out on late Saturday and are still not functional.
I was advised that the new delivery date had an "all day" time frame so now we are forced to again take another day off to "hopefully" receive our "cash purchased" goods. This is not the first time we have experienced poor service from this store but it will be the last. Home Depot is approximately 1 mile from the Lowes.
The closest laundromat to us is 12 miles away and this will become a major hardship, all over a system with systemic failures built in.

Dennis Thurmond
from Bell Buckle, TN
The only Lowes in my area is Lowes of Shelbyville, tn. The customer definitely comes last in their minds. Guses as long as they are getting paid everything is ok in their minds. Worst customer service of anyplace I have ever been. Anything to get you to shut up and out the door. Ordered quart of paint. They came back with a sample and told me to use it to see if it works. Duh. Where is quart?? On another visit?? 12 employees around front desk and no one to help. What is really depressing is this is all we have and getting dumber every single day.

Reginald V Russell SR
from Spotsylvania, VA
To whom it may concern. I purchased a refrigerator on Sept 6, 2017 . The brand was Frigidaire the model number is LFSS2612TP. the extended protection purchased plan Reference number 0070985317249083229002.The water would not dispense from water outlet on the refrigerator.I call lowes and talk to Alisha and a work order was made. I was told if would be 3 businesss days before the serviceman would contact me.This was on 09/13/2017 . a work order was placed with Hill's TV & appl. 757-653-2322. The repairman called this morning at 08:57 to set a time for to work on refrig. The address where the frig is 8033 Gates RD Suffolk,VA 23437. The repairman said he would be there between 1;00pm and 1;30 pm. I call at 2;00 pm and ask the repairman was he coming to repair the frigs, his reply was he had went to my house which was 10972 Ellis Rd Suffolk, Va 23437. the work order clearly shows the correct address on it which is 8033 Gates rd. I wasted the entire day waiting on this repairman. I am totally disgusted with this hold situation. It is unsat the way this has been done. My plan right now is pack this Refrig up, and return it where I purchased it. I might have to pay a little more but when the service is crappy I don't mind. I provided a copy of the work order for the service provider showing correct address. I am clearly unsatisfied the service or non-service provided. I will return the frig, and go somewhere else and buy. Thanks for the help. Or should I say the Non-Help.
Reginald V. Russell SR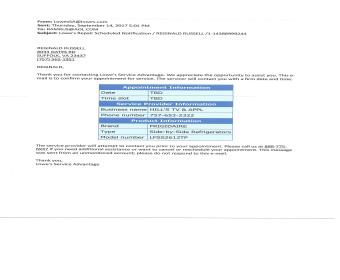 Thanks for your feedback!
Sorry. Please try again later!