Kmart
Kmart Complaints Continued... (Page 1)
60+ reviews added so far. Upset? Call Kmart corporate: 847-286-2500

Roger Michalski
from Essexville, MI
Sd cards were on sale. A San disc 32 gb card had a 14.99 sign on it. Took it and other things to checkout. Price came out 39.99. Told gal there was a sign 14.99. I walked back to the dept ( very pathetic) talked to a lady working their and we looked at the 14.99 sign and she pulled it off and said that sign doesn't belong their. They wouldn't sell it to me. Managers were almost nice but basically accused me of lying. I told them to go see the lady that pulled the sign down and talk to her, which they did not. If you ever looked at my surveys you will see I always complain about items not being priced or wrong prices or priced for other items.
I told them about a box of nails with a 2.99 sign in front of it a few weeks ago which was wrong went back in and no one changed that sign. Asked them one time why no prices on your fans. No answer and never fixed. I'm done with Kmarts. I'm probably the most honest person they will ever meet. One more thing, seen 2 young men stealing items and putting them in knapsack. Told an employee then watched the them walk out with their items a few minutes later. looking fans again pulled one out to see if I could find a price (DIDN'T) and wrappers of different products took them to the front desk and they said that happens all the time.

Anna Mitchell
from Spotsylvania, VA
I bought a Christmas tree yesterday and decided to take it back today, it has not even been opened. when I went to the service desk the lady got another lady and she told me I could not return it. She got the policy out and read it to me. it was not where anybody could read it and it is not posted on the clearance items and it is not on the receipts. So my problem is if I take this prelit tree out and the lights don't work I am out $150.00.

Audrey Bayless
from Charleston, TN
I sent Kmart a complaint last week, but have not heard anything from the corporate office. So why should I send another one. It does not appear that anything is been done about it. I know Kmart received it because they responded with in minutes, but nothing since. Horrible service!

Alan Huffman
from Poca, WV
After trying to purchase a 31" batman figure over a three day period, I elected to speak with someone in Kmart customer service. Big mistake on my part. The figure went off sale even though it was advertised on the web sights for $19.99. The agent would not match the price, ask to speak to a supervisor who was every rude. I ask to speak to her supervisor and was informed she did not have one. She does need one. I will never attempt to purchase again from the Kmart website and will send my complaint to the Kmart corporate office next.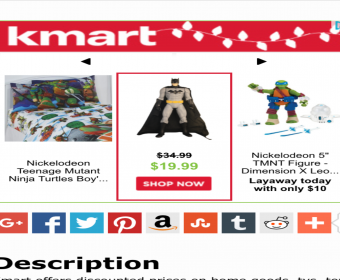 patt grougan
from Chattanooga, TN
I tried to exchange pants at Kmart at customer service. The plants were too big and I was told I would have to pay a higher price because they were on sale when I bought them. So they said I was not able to return an exchange. I complained to corporate 3 weeks ago and still have not heard from Kmart. I will shop elsewhere until I get satisfaction.

James S. Clifton
from Orangeburg, SC
I went to the only K Mart located in Orangeburg SC 29115 to purchase a refrigerator that was on sale for $499.00 plus tax on 11/11/2015 talked to the young man in charge of the appliance dept ask if it was in stock He told me to wait n he would go in the back n check He never came back up front I waited 30 minutes n left.I went back this morning same experience waited 30 minutes ask for the store manager She never came to talk to me etc etc I talked to her on the store phone n she said she would come up front She never came. I got frustrated n left K Mart. I guess K Mart does not need my business.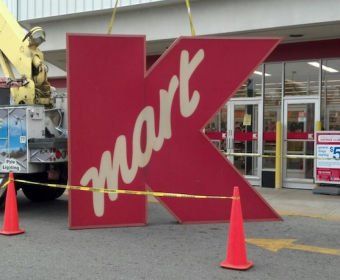 patti grougan
from Chattanooga, TN
I took 2 pairs of Kmart jeans to exchange she would not let me without paying a higher price because they were on sale. When I bought them it was the same product just different size couldn't she just put the ones back on the shelf for the higher price and exchange them for me. Now I have to wait for them to go back on sale to exchange them.

Arlene Callison
from Galesburg, IL
Kmart ran an ad today for a small electric fireplace for $119.00. I went to the store at 10:30a.m. and was told they only got 2 in. One already sold and the other was the display model. The service desk clerk showed it to me and I asked that it be turned on I could see it actually work. Had it been accomplished I would've bought the display. However I was told there was no power source hooked up to turn it on. I do believe if a customer is willing to put out $120.00 for an item they should at least see it operate. Therefore Kmart lost a $120.00 sale which I'm sure means nothing to you but I'm letting you know anyway through this complaint. I have been a Sears and K-Mart customer for many, many years however I may find it not so necessary to shop there now.

Don't have the time to go shopping. Well I found Kmart.com to be very useful. They have all what a home needs apart from beauty and health related products. I had just shifted to my new apartment and wanted to go shopping. Since I was working and found it difficult to find time, I logged into Kmart.com and found many products that suited my requirement. Great stuff on Kmart.com. I purchased bed linen, cushion covers, pillows and many more. I received my package on time and didn't have to wait much for them. I am really happy with Kmart.com and would definitely do more shopping here.
Thanks for your feedback!
Sorry. Please try again later!