Home Depot
Home Depot Complaints Continued... (Page 1)
285+ reviews added so far. Upset? Call Home Depot corporate: 1-800-430-3376

Yolande C Heijnen
from New York, NY
I ordered a stove WD42864838. I was given a call on Saturday, Dec 22 to get my delivery confirmed and I was given a number to call for a certificate of insurance. The number given was 2017588081. I have been calling that number every day since then. apparently they were open (as per their answering service ) on Monday, Dec 24, and should be open at 8 am during the day, including today, Dec 26. I have been on hold indefinitely and have reached out to Home Depot about the issue. I have been given other numbers, all useless, sa 1800 432 2737, which is only a number to order parts or to order things on line. I have called the Home depot helpline, also useless, and have been on hold since 8 am with a gentleman, who proceeded to disconnect me. I called back, and am again on hold for another 10 minutes. It seems IMPOSSIBLE or HARROWINGLY DIFFICULT to get followthrough or help from home depot with whom I placed my order. If I had known of having to deal with these run-arounds and with other companies that no one takes any responsbility over, I would have never ordered with Home Depot.
I now got a person on the phone at Home Depot, who suddenly told me that I need to email coi@homedelamerica.com. I will try that next after being on hold for another hour and 7min this morning and after having been given useless run around instructions.
It is very discouraging to deal with this level of incompetence.

Joseph J Adameck
from Boston, MA
I ordered a GE Dishwasher during Black Friday sale 2018- dishwasher was not available for delivery until 12/21/2018- right dishwasher BUT WRONG COLOR delivered. I contacted store where purchased- manager will exchange dishwasher but will not honor Black Friday price ?? Home Depot sales associate placed order for wrong color and I am expected to pay additional 100.00 for replacement ?? Store manager was useless- arrogant/rude and not willing to help at all. Appliance manager said best she could do is give refund on wrong color dishwasher. She agreed to have dishwasher picked up but could not provide pick up date ?? She told me she would email me a copy/proof of refund- she did not do ?? I am very disatisfied with what I experienced with Home Depot and will share my displeasure with other potential customers of Home Depot if this is not rectified. All of the Home Depot employees were not truthful.All 3 told me different details etc..I have never had a problem like this before with Home Depot nor for that matter with any other store. My Name- Joe Adameck-- 10104 Plum Rd. Wattsburg,Pa. 16442-- 814-572-1403-- Please respond to me as to why this situation occurred. Should have been easy fix- exchange the right color for wrong color dishwasher at SAME PRICE.
Home Depot Store Location-- Lakewood NY. 14750
Store Manager- Chris Kunkle
Appliance Manager- Kathleen Julin
Associate who place order- Phil Roche
** All 3 of these employees should be reprimanded

Teresa Richardson
from Fort Collins, CO
Ordered a package on Dec 11. I put in my full address and made my order. Realized 5 minutes after I put the order that the website cleared my apt number so I called home depot and told them. They toldeven they couldn't correct it on their side that I had to cancel the order and redo it. Well if I did that I would have to wait 3 to 5 days for the money to go back into my account to rebuy it. So contacted the shipping company the day after to update my address and they toldeven I had to get authorization from home depot..which they never did. So I have called this shipping company for the past 4 days and all they say is it is coming. Worst shipping and customer service ever.

Jean Ann Daniels
from Lake Havasu City, AZ
In October of 2018 I ordered flooring to be installed I placed the order at the Kingman Arizona store in person. The lady that took my order said she didn't work in flooring but would take the order anyway. I asked how much was charged for installation and she said she didn't know. OK. She told me someone would call to come and measure a week later I called to ask about when I could expect someone to come measure. Then they set the appointment. This is the first prompt I had to give this store to do its job. After the measuring another week went by. So I called. I could hardly hear the girl on the phone. She said she could go over the order over the phone and I said ok. Well I couldn't hear her as her phone kept going in and out. I kept telling her I couldn't hear her. Then she says "you are not being kind???". SoAll of a sudden another lady picks up another phone and then I can hear. So it was all very confusing. So then I just said ok well I will come up. When I got there about 7 hours later I was greeted by several employees in flooring. I found out they expected me to come there and yell at them or something. And I said I did not mean to be "unkind" I just couldn't hear. I should have taken my business else wear at this point. However, Home Depot is one of the only stores in town to provide this service. So I sit down with an AWESOME employee, Queenie. We get the order done and pain for. I was told that the install would be December 19 and 20th and that the flooring would need to be delivered 3 days before install to acclimate to the house. I was also told I would receive 5 transitions and the quarter round. And that the quarter round would need to be painted and dry prior to install. That was fine. So I leave. I don't hear anything AGAIN. So I call the store to find out exactly when the flooring would be delivered. They said that someone would call me. No call for a week. I call back and they tell me it will be delivered on December 15, 2018. GREAT!!! Mean while I have total hip replacement surgery. Friday December 14, 2018 I get a call from Brenda. She tells me that the guys will deliver it tomorrow and they will call before they come. She also told me they could not find the transitions. And I said thats ok as long as we get the quarter round. Because it needs to be painted and dry prior to installation day. And she told me yes the quarter round would be delivered. Saturday December 15, 2018 the guys come and deliver the flooring. NO quarter round. So I call Home Depot and explain the problem. And the girl can't figure it out. So I said you guys have white quarter round in the store. And she says "yours was special order". And I said you have quarter round in the store. Then she puts me on hold. Comes back and says "we are going to have to cut it and send it in a pickup truck" And she was fretting over it. And she asks ME "what is the longest wall you have?" And I got really frustrated at this point. And I said "you have all the measurements of my home, do your job and look it up". And I hung up. I was so annoyed. This is not rocket science. I owned rentals and I had flooring taken out and put in ALL the time and never experienced such problems. So my husband went to the store. So they figure out that they will deliver it on Sunday morning. And they do and we don't even have to paint the quarter round???? I was told on Saturday that they would have to search the store on Monday for my transition. I was fine with it. No call. The guys show up on install day and my husband has to go to Home depot to ask about the transition. He comes back and tells me it was never ordered. So now they have to order the transition and then the guys have to come back and install it. I know WAY to much about this order. I am the customer and I was expected and had to do the Home Depot employee's jobs for them. I am praying and praying for Lowes to come to Kingman. I have called their corporate offices and told them about the inferior service at the Kingman store and they are very interested now to come to Kingman. Hopefully you will be able to close this store and all its problems in the near future. So I am a very very dissatisfied customer. Especially just after surgery having to prompt your employees to do their jobs and before Christmas. I am a disabled Veteran and there have been times when the cashiers could not figure out how to give me my discount. I have other night mare stories I have experienced and heard about this store. But this time I spent $4,000. And to get treated like this is very bad customer relations. Cause you know I will tell everyone I know. The guys are here installing if that doesnt go well I write another email.
Merry Christmas and Happy New Year
Jean Ann Daniels
907-231-1974
1933 Roland Court
Kingman, AZ 86409

Thomas Smith
from Buffalo, NY
Recently went to the HD in West Seneca N Y to purchase carpet. The salesperson Sharon was very helpful and listen to all our needs and wants, we scheduled an appointment and thought we were all set. They came to measure I told them exactly what we wanted totally ignored our requests? We picked out a 15 foot wide carpet because in that room we did not want a seam they gave us a price for a 12 ft carpet with the seam in front of door(good ie of this whole experience) Told them they didn't have to remove a thing room would be empty, they put a $75.00 charge to remove a bed? I have floor area of 23 square ft and they need 37 square ft to cover it, told me a lot of waste.
I expected the price to be different than quoted at the store but a $800 more is high. If I would have known that there was such a lack of communication between each person I talked to I would have never wasted so much time.
I paid $35.00 to have HD try to get more money from me!
I would like to hear from you if have time, I am an avid HD shopper and very disappointed.
Thank you
Thomas Smith

JOHN SWEET
from Rancho Cucamonga, CA
ordered appliances from Glendora ca store was in upland store ask a question about my order was told had to go to Glendora store to get any answers ,is that right WOW,I am a pro member spend a lot of time and money in your stores I also went to the pro desk waited 15 min ask some one to call no one showed up upland store will be moving over to lowes a little more personal customer service they never once told me they were to busy to help pissed off ex customer john sweet 909-702-7350

g. skolnick
from Beverly Hills, CA
I went to the H.D. store and looked at water heaters. I was told to call a certain number they gave me to have it installed. Fast Water Heater Company came to my house, took measurements, and quoted a price. After the job took 6 hours plus 40 minutes of paperwork, I got the itemized bill showing the purchase price for the water heater was DOUBLE the price in the store, extra charge for one stair, extra charge for looking in the crawl space, and a charge for 6 ft of pipe when only 3 inches were used. They overcharged me $1,100 and are only offering to refund me only $218. When I said I was complaining to Home Depot, the repairman said Fast Water Heater IS HOME DEPOT. I was told by someone in Home Depot Corporate that this company is sub-contracted and NOT Home Depot. Home Depot is responsible for who they hired and I want the $1,100 refunded immediately.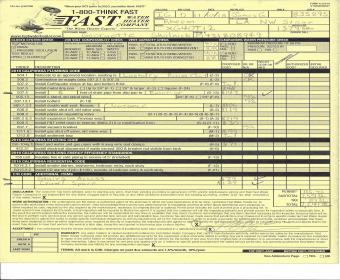 Kathy Brewis
from Pasadena, MD
On October 28 we went into the Home Depot in Pasadena MD to look for and order carpet for our basement. The girl who waited on us in the flooring section was extremely knowledgeable and helpful. We picked out the carpet and pad, she told us about the 7 day carpet rapid install. She wrote it up, explained that it would be $35 for the installers to come out and measure. Also told us that we could either make 2 payments once the installers had the measurements or pay it all in full. We said that we only wanted to make one payment. She said that was no problem. So on October 31 the installers came out to measure, we received that email the same day, and went the next day to Home Depot to pay. The young man tried to ring up the carpet for us, we made sure he was aware we were paying it in full. in the flooring section he couldn't do it, so he had us go to customer service where they rang up the carpet ( which we assumed was the full price since they had been told 3 times previously. We were still discussing the carpet and didn't pay attention that they had only rang up part of it which we didn't discover until a few days later. When the install date came, we were told that the carpet was backordered and " thought" it would be in on the 16th. Once again, the 16th came and went and heard nothing from Home Depot or Installers ( they told us we would be contacted as soon as it arrived and an immediate install date schedule. Once again, that didn't happen. So on the 20th I finally got in touch with someone saying that the carpet was in stock, but that we hadn't paid the amount in full. I was shocked, I had no idea. I immediately paid the amount on the phone to which I'm still waiting on the receipt that he said he would mail to us. We had ordered this carpet the last day of October since Home Depot offers 7 day rapid install. We were having my in-laws to our house for Thanksgiving and knew with so many people we would need to use the basement. So imagine my embarrassment when I had to come up with an excuse to eat at someone else's house since my carpet hadn't been installed and I didn't want them seeing that old worn out carpet. When I called the installers on 11-20-18 they said that someone would call on Wednesday to schedule the install. Well of course they didn't. So I had to take a day off from work just in case they showed up. Of course they called this morning at 7:55 to tell me they would be here in 15 minutes. What happened to the 4 hr window?? Nothing in this order has gone the way I expected it to. I am very upset and shocked that a company with the reputation of Home Depot lets this nonsense go on all the time. I will be waiting for a speedy reply to this. I do expect some form of compensation for this nonsense. I called the store manager twice last week ( or should I say I tried) left a message with someone both times but have never heard anything. BTW my carpet order # is H2582-92773
Waiting on your reply.
Kathy Brewis

Michael G Mulawka
from Tonawanda, NY
Incorrect parts were 'manufactured' for the thirty two inch storm door specifically made (manufactured) for my home.
I ordered through the Home Depot Store located on Niagara Falls Blvd, Amherst, New York. I prepaid just under twelve hundred dollars for two thirty six inch doors and one thirty two inch door, the cost included installation.
The installation was subcontracted to 'rfinstallations'. Contact - 'M. Barrientes @ rfinstallations.com' ! Doors were installed by Robert Simmons representing 'rfinstallations'.
The vertical side parts for the thirty two inch door were 'manufactured' (each) one inch short. It therefore leaves a small opening at the bottom of the door, on each side, through which the weather (snow) can be 'blown in'.
It was a month before the doors were (recently) installed. It begs the question 'will I have to wait another month before the incorrect parts are removed and the correct parts installed ?'
I have yet to hear from anyone associated with Home Depot regarding the 'situation' being corrected in a timely manner.
Michael G. Mulawka , Nov 16, 2018 at 5:40 PM

Sharon Gallavan
from Redlands, CA
I recently order laminate flooring and installation. First Home Depot ordered the wrong product and if I hadn't checked would have been delivered. Re-ordering took another 15 days before it was delivered to me. Once delivered, I had to call them to find out who was installing the flooring and how soon they could get it done. I stressed I had several very heavy pieces of furniture and needed more than one man. Home Depot assured me there would be more than one person as I paid extra for moving the furniture. The day the installer arrived it was one person who assured me he had done this type of work for 10 years and moving the furniture would be no problem. The whole point was that I did not want my furniture pushed across the new flooring. I must have irritated the man because after he had my floor half pulled up he did a moisture reading and said he couldn't install the flooring because my slab was too moist. It was dry as a bone. Then he proceeded to take up the rest of the flooring however, broke off the old flooring right in front of the two heaviest cabinets and TV Stand, chipping the bottom of the TV stand. He was hard to understand and said Home Depot would come out to inspect. I called for a second opinion from a professional flooring company who said Home Depot is known for this and my slab was fine. I hired them to install my product and got a refund for the installation from Home Depot. But I then get a call from Home Depot for a re-measure. When I ask what for they said it was for tile. I never ask for tile, never wanted tile and they just assumed because I was a single woman that they could charge me more for a re-measure and more expensive product. I received two more calls from Home Depot about me cancelling the re-measure. Unbelievable! I would not recommend Home Depot for any kind of installation. Their product is fine but I wouldn't have them install anything ever again. This whole experience has left a bad taste in my mouth.

Mark Wallace
from San Jose, CA
No communication . extremely poor service . just horrible service from the top down. Had a project I HAD to get done today but now its so messed up between me and contractors because of extremely poor or non exisant service from your company. And I thought you have changed. Will Never do business with Home Depot again

Jennifer Hale
from Fredericksburg, VA
Husband and I searched for an exterior door for weeks. Finally after an 1 1/2 hours with a rep in the door dept. we choose to order our $3000 door, It was supposed to be a wine color and we were told that was final price. Low and behold door came in about 3 weeks later they call and say it came in but it is white and do I still want it. I was irate because it had been like 4 weeks total and I specifically wanted a wine color. So I spoke with a very pleasant associate named Diane that handles complaints ( god bless her) and she asked what she could do to make us happy. I stated that I wanted to speak to a manager and wanted it marked way down due to the inconvenience as our door split at bottom on our existing door and we were in desperate need of a door. Needless to say she walked to the manager which I did not get their name ( sorry) but this is all in the Fredericksburg Va store and he stated that he would give me $200 off and I could paint it myself so they don't need to send it back. I told him to forget it that was an insult as I am the consumer and a Billion dollar retailer should make it right as we spend thousands of dollars in that store every year. I knew it had to be put on floor marked way down as it was a special order and was a mistake. Needless to say Miss Diane took amazing care of us ordered the correct door and we had to pay $600 more because we wanted it wine color which we were told with first rate that was with it being painted. So after being very disappointed we left store waiting on new door o come in. Few weeks later Diane called us the door was in and we went in to look to make sure right color etc. and it was all crated up. Needless to say she let them know we had accepted the new door to go ahead and schedule an install. We received a call to do that and they could not get it done for 3 weeks. I felt that was ridiculous but truly there was nothing I could do about it as we had already paid cash for all this and wasted about 8 weeks by now. So a week before door comes in I start to get excited as I am anxious to see what new door is going to look like in a week. Well, the day has come and it is install day between 1-4 well we receive a call from wonderful rep Diane and I could tell by the tone in her voice she didn't sound chipper as always. So here we go again she starts to explain to me that they didn't send the brick molding to go with it or it wasn't the right size. By then I handed the phone to my spouse and she explained it to him and apologized as I am sure she was embarrassed at this point. But all jokes aside when the installer sets an appointment up 3 weeks before install date would it not be more reasonable for them to check the merchandise when it comes in to make sure that they have everything instead of waiting until the day of. I am really totally disgusted at this time and I will share with friends and family the experience I went through to get a door in the first place. I never complain but when it gets to a point where I need my voice heard I am not afraid to speak up as I truly feel sorry for people that go thru this day in and day out. I was never compensated, called by management to apologize for all my grief etc. Running a huge corporation like this with the economy the way it is runs businesses in the ground. So once and when I ever get this door and get it installed that will be my last visit as well as my family and spouses family. Kudos to Diane for dealing with this fiasco but as far as I am concerned the management sucks and I truly mean that. Its sad that when she asked for a mark down , she comes back to us with the " he will take $200 off " its pretty piss poor that he didn't walk down the isle apologize , or do anything to make it right. Pretty damn sad for the Fredericksburg store. I am sure this wont get to who it needs to but I certainly wanted to voice my opinion

Josie Pruitt
from Shepherdsville, KY
Order # W932398406. Hampton Bay White Open 5-shelf bookcase. Store SKU #1001703645. Part "L" missing!
Last Wednesday we ordered a bookcase online with 2day delivery. It came right on time. Good impression for Home Depot, right? Box was neat, no dings, no damage. My husband and I are both senior citizens and both disabled. Everything was going well. We needed it that day. We had 2 of our sons over Saturday morning to assemble this for us. They both had busy schedules, but took their time. They had it nearly put together when they discovered that one of two identical pieces was missing. If they had noticed it before they started they would not have put it together. The one piece was not marked but they figured it would work out. Turns out there should have been two. It is the trim on the bottom side front of the bookcase. We called immediately and the representative said she would notify the warehouse to get us another piece. Of course, they weren't open and she said she would call back Monday, which is today. I just got off the phone and I am so disappointed in Home Depot. I trusted that I would get what I paid for, but that trust is misplaced. The warehouse has no replacement parts and these are not carried in the stores.
So, we can bring this back and they will send us another!?! Not an acceptable resolution!!! Who is going to put it together?! It took about 2 hours to assemble. Not at all acceptable. We have no way to transport it! No interest in asking anyone to spend another 2 hours on it. Why would we believe all the parts are in the next box? Either open a box and find the part & ship it to us or send us another box and we will open it and find it and they can take the rest back or just send us another bookcase. They sent us a $25 e-gift card and when I asked where I can buy this replacement part for $25...no where!
I am furious. Our sons are shocked & furious!. The first thing everybody notices is the missing part. Now I must call everyone and tell them I was wrong when I told them Home Depot was taking care of it! I will spend the gift card, but it's the last time I will spend anything at Home Depot...we have bought the last Home Depot gift cards for our sons' birthdays & Christmas gifts. If your reputation means so little to you I don't need to deal or cause anyone else to deal with Home Depot again.
PS. I was checking your site today for wainscoting we are getting ready to have installed in our foyer. Never mind!!!

David Lopez
from Tampa, FL
!. Your policy returns is 90 days on some items. I purchased a white stove on line and due to some errors by the online orders and a store I was not able to get the delivery when I was going to be in Byron Ga- I live in Tampa Fl --350 miles away. It was installed 09/17/18 in a vacant house being prepared or sale on the market and never used.
2. Due to concerns from a realtor, as well as a lady - I had to change the white stove to a stainless steel type, since microwave and dishwasher (which I purchased on line from Home Depot) were stainless steel, for a better possibility of the property being sold.
3. When I tried to exchange the stove on 10/17/18 I was informed that it could not be returned because it was more than 48 hrs-- I ended up purchasing a stove more expensive than what I wanted. The 2 that were on the floor were not in stock and was informed they could not sell them.
4. A free delivery sign in the appliance section on items over $300.00 was posted but was not honored, because, it was a local delivery and not a special order. There is no restriction on the sign that indicates that, so I was charged a delivery charge. Maybe you need to change the wording of the sign.
5. Wanting to talk someone at the Home Depot home office kept referring me to major appliances. I would like to talk to someone about this my home ph is 813-972-1024--land line -no texts only a voice recorder. I use a flip phone when travelling and when dealing with businesses in the travel. When you call me, if the machine answers, please leave me a message with a phone no, extension number and person to contact.
Thank you
David Lopez

ordered a shower door 10/9/18 said between 10/16-10-19 delivery to store no product updates . finally on 10/19 told probably at store but not unloaded yet.

Robert Giraud
from Hackensack, NJ
We need your assistance in the following matter. This issue is in reference to order No. H0932-63610. The appliance was delivered with a damaged and missing part on the right side. This information was given to us by the GE Technician no.109 140157. He came to our home on 10/15/2018.
The appliance tilts to the right side. We called home depot three times and we are still awaiting an answer if we are going to receive a replacement. We are concerned that the situation will get worse.
Please respond to us.

Julie Boatright
from Louisville, KY
My husband and I ordered a custom door early July, The door arrived to the store early Aug. We scheduled the door for installation mid-Sept. The day of the install the store called and said there was an issue with how the door was ordered and that they would need to send someone back out early the next week to measure and look at the space again.
After a few back and forths my husband went to the store - looked at the door to understand what it was going to look like installed. All agreed we are good to go and we still have no date for installation. Today's date is 10/16.
My ask is for a date to install the door. Thank you!

0n Sept28 I ordered a cub cadet snow blower 28 inch 3 stage And so far have not recieved it.I keep getting the runaround from Estes trucking co..
from Hazleton, PA
Then I find out its 100.00 cheaper as of Oct 1 I am not A happry person the way this is going.What can we do about this problem. If it does not come by Oct 22. can I cancel my order and pick it up at the store. From gingerisle83@yahoo.com. Thank you Alan Isler

David Yankee
from Chicopee, MA
Bought new roof with 50 year warranty in 2006. Roof leaked on 10/09/18. Called local depot early am 10/10. Was told I would hear in 24-48 hours. Called 10/12 and was told by MOD that work order had been filed, but no other information was available. Got number for Scotty Lee who called me back with number for Ray. Called Ray, left message. Got call from Ray that night saying crew would be at my house at 9am 10/13. Called and left messages for both Ray and Scotty Lee at 10:30 am wondering where crew was. Ray called back at 11:15 saying crew would be here at noon. Crew arrived around 1:15 and addressed issue. Spoke with Ray, thanked him, and encouraged better follow-up and communication in future.
Rained hard on 10/11.Noticed small leak in same area. Called and left messages for both Scotty Lee and Ray at 3:00pm. Heard nothing.
Called Ray at 9:00am 10/12. He told me he had been in meetings, and was too busy to get back to me. He also said he never heard of asphalt shingles lasting 50 years (irrelevant), and that problem probably wasn't roof ( did not instill me with confidence, as he has never seen the roof, and I heard the cursory report the crew had given him earlier). I was a bit frustrated, and asked Ray to get someone here as soon as possible. Ray called me back between noon and one pm on 10/12, saying the roofer would call me in an hour.
It is now 11:20am on 10/14 and I have heard nothing from anyone. Called Ray, but his mailbox is full.
This roof cost $17,000 dollars, and I went with Home Depot largely because I trusted the stability of the corporation- that you would be there, standing behind your warranty, should problems arise ten or more years down the road.
I feel compelled to bring what I feel is a lack of attention to detail, and failure to communicate and follow-up which results in poor customer service in the Chicopee,Mass store.
I have 30 years experience as a vendor for pressure-treated lumber for Home Depot stores in Massachusetts, Connecticut,Maine, and New York, and am familiar with how tight a ship you run, so felt you would want to know about this situation. Thank you.

Michaelene Bohac
from Burbank, IL
Ordered a fridge. $2000.00 Never got call for delivery time. Called the store. No record of my order. Spent an hour back and forth next day with store, each time was told "we'll call right back" Never happened. I had to call three times. Each time they said they would call the number I was calling from. One sales person called my cell even though I was told by the previous person they would call land line I was calling from. Turns out order was never placed and they wanted me to come back in to do whole process over. They blamed a "computer glitch" (really?) least they could have done was own their mistake. Guess what? I did not go back and went to Lowes and saved $500 in the process.
Guess it worked out for me.
Dave Bohac

Phil Krull
from Melbourne, FL
Ask for a quote to install a 30 gallon shirt electric water heater. Received a response within the hour from a Lee Heating & Cooling in Fort Walton Beach for $2500 discounted price. The quote was way too high, so I called two other plumbing companies in the area and got quotes for $1000 for the same water heater. Please see the attached quote from Lee.
Just to let you know of this problem that is causing you to lose business as I deal with Home Depot often.
Sincerely,
Phil Krull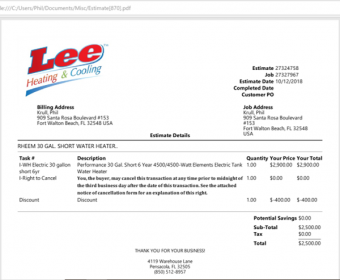 Robert Byrn
from Spanaway, WA
Oct. 8, 2018. Dear Sirs,I am a Vietnam Vet. Today at Home Depot of Tacoma, WA on Military Rd & Pacific.
At check out a "Very Rude female" DENIED accepting my Military Veteran ID card . She was NOT Consumer Friendly
At all.....She implied my ID was FAKE...I insist she be reprimanded for how I was treated....I have been a LOYAL
Customer my entire Adult life and I am 72...Before leaving I spoke to another Employee at Customer Service desk and She told me that MY CARD SHOULD HAVE BEEN ACCEPTED. Evidently the Staff is not Up to Date ???
The words she said, and HOW she said them were "Humiliating". I became so upset, that my wife had to drive us home...
In the past, your Staff has always been very professional....
Please do something about this matter.
Thank you,
Mr. Robert Byrn / 21105 47th Ave. East, Spanaway, WA 98387 / Tel (253) 375-7661

Etta Zeigler
from Pensacola, FL
RE: Job # 1808073094
On August 7, 2018 I contracted with Home Depot for a roof replacement. Today is 9/22/2018. I was told by the sales person that I wound hear from someone to schedule an installation within 2 to 4 weeks. The job is at step 5 and has been for several weeks. I have called the team leaders # at least 3 times and emailed one time. This is my second email concerning this matter. My next complaint is the fact that I financed the project with Home Depot. As of now, per the Loan Agreement I am making payments for a service that I don't have. At this point I don't even have the option to cancel the project.
Thank you for any help you can provide to get this job completed,
Etta Zeigler

Virgil Lund
from Summerville, SC
went to purchase new water filter, they refused to give me my military discount. Gave them my VA medical card because I did not have my original ID card.
They refused me, since I have my DD-214 discharge paper and my VA medical card how do use refuse as not being a vet. Not much respect local vets.
When I go to Lowes they recognize my DD214 and they give my discount. What is Lowes doing that you can not.
This was done at the Home Depot store at your Summerville SC, address 190 marymeade dr.

Harold L. Carter III
from Saco, ME
I purchased the Worx 110 mph 600 CFM Turbine electric leaf blower in November 2017. About 1 week ago I was blowing leaves, pine needles and dirt off my deck and the unit slowly lost power and then completely quit. That was followed by the ever present smell of a burnt motor. So, on 9/19/18 I returned to the Home Depot in Biddeford, Maine where I purchased the blower just 10 months ago. I had already ordered a new one on line as the store had none on hand. I went to the store with the blower to return it and have the money refunded to my credit card I made the purchase with. Much to my surprise I was told that because it was past 30 days they could not refund the money to my card. I was told I would have to contact the manufacturer to see what they would do. I was not pleased and cannot believe that Home Depot wouldn't and supposedly couldn't refund my money for an item only 10 months old. Definitely not the best customer service. Also, I know this to be an outright lie as I worked for Lowe's for five years and numerous times I had to approve refunds of purchases past 30 days as I was the sales manager for my store. Lowe's always puts the customer first and refunds or provides the customer with a new product. Also, Lowe's has never suspended or changed anything with the 10% discount given to the military. It has been a constant privilege to those, including myself, who served their country with honor. Home Depot has stopped it in the past and now limits your total to $500 total over a year span. Clearly, Home Depot is missing the boat when it comes to customer service. What happened today was unacceptable, but standard for Home Depot in my experiences. Maybe it is just the store or caliber of employees at the Home Depot in Biddeford, but I doubt it. So, now I am left to deal with the manufacturer instead of the Home Depot backing their products, refunding my money and then dealing with the manufacturer themselves to get retribution for the failed blower. So, as of today I will never purchase another item from Home Depot and I will be sharing this story with anyone who will listen. It is sad and pathetic that Home Depot wouldn't do the right thing by me (the customer) by refunding my money instead of giving me the lame corporate line about 30 days. That is why Lowe's is #1 and Home Depot is a very distant 2nd!!!!!

Rose Bokavich
from Scituate, MA
On or about July 20, 2018, I purchased a GE washer and Dryer as advertised in your newspaper insert via the internet. I was told that the items were on backorder and would be in
August 15th. The Delivery was made but I was not told nor did I have a "safety Kit"., The dryer and washer were unpacked and left in my dining room to await the "kit" a period of 10 additional days. On or about August 25th the servicemen came to install both appliances however, they said the washer was damaged and call for a new washer. At the time of the call, I was told that the washer would be delivered on Thursday, September 6. 2018. On Thursday I called because I did not hear from them only to learn that the washer was "not in." to The manager tried to reschedule the delivery for Saturday, September 8, 2018, but I have commitments. The next available date is Tuesday, September 11, 2018, which I can accommodate but she said: "it was all Booked." Can you imagine? I can't. As it stands right now the delivery date is set for Saturday September 14, 2018. This delivery was and is nothing short of a complete disaster. Can you help me?
Rose Bokavich
100 Old Wharf Road
Dennisport, Ma
508-524-2744

Carol Witherspoon
from Lincoln, NE
I got a Homelite 2-Cycle Gas Trimmer for my birthday (July 2017) at the Home Depot, 27th Street location Lincoln, NE. I am very disappointed in the customer service received. First of all, they didn't offer to look at it, try to fix it or give me a replacement. Any new product should last longer than a year, especially when you don't use it all the time. It would not start! I even took it to a small engine repair shop and was told it was of poor quality and they could not fix it. I have not looked at the reviews but I can imagine other people that purchased them had the same problem as myself. The trimmer was on sale for I believe $139 and my brother got it for me as a birthday gift. It was charged to his credit card (Aaron Witherspoon, 301 Penny Lane #6, Ruston, LA 21270). He bought the trimmer, string and gas mixture. I am very disappointed in the service received and the product itself. It make me not want to shop at any Home Depot stores and I certainly will not recommend any Homelite products to anyone I come in contact with that need outdoor lawn equipment.

Joseph Meier/ Cathy Meier
from Henderson, KY
Purchased a Samsung washer/dryer set in May 2016. I have SIX (6) service calls on this TERRIBLE dryer!!!! Home Depot has been NO help and neither have the extended warranty people!!!!! I am planning on putting on Facebook about the HORRIBLE service and product this is and has been!!!! 12/21/17, 02/07/18, 9/4/18 service calls not counting the 3 prior service calls!!! This is UNACCEPTABLE for any appliance!!!

Eton Bigby
from Port Saint Lucie, FL
Be advice I own multiple card with home depot I also shop there very often and spend hundred of dollars My last purchase I bought 5 Gallons of paint to paint my house No one explain to me that if I do not used them I cannot make a return my point I did buy too many so few days later I take back one gallon and they refuse to take it back the associate tell me they change the return policy my opinion I don't think it fair they should verbally explain to the customer the return pol

wilbert reed
from Monroe, LA
on or about June 8, 2016 Home Depot delivered purchased merchandise to my home. The truck knocked over my mailbox of which I was told by the onsite manager that hey would get it fixed and for me not to worry. After several days I contacted the local Home depot Store to file an official claim. I was told that they would look into it. again after several days I decided to research the matter.my attempt to contact the Claims adjuster with Sedgwick was unsuccessful and voice mail stated they were out of office until a later date and referred me to another number of which I was unable to reach but left voice message. I sent text msg to the person present when the damage was done and he stated that he has advised his boss at which time a requested he send me his photos of the damaged mailbox to corroborate with mine as I began to distrust the process. I received a text 7/6/2018 from Mr. Muller who advised me that my claim has been approved and a check should arrive in about 2-3 weeks. On 8/7 I began to inquire again and made contact with Keith Taylor - claims rep with Sedgwick, Taylor was very dry and unprofessional, he told me to contact Jennifer with XBO as they would be sending out a check for the claim. I immediately contacted Jenifer who advise me that they had not received a claim # for my case but she would look into it. Jennifer called me about 4 hours later an stated that she was to approve the claim in the amount of $366.00 I told her it was $366.25. she agreed. I asked her how long would this take of which she stated she was unsure. About 6:30 pm that evening I received a call from the owner of the delivery company who stated that they had sent check for $361.00 to the wrong address and that he did not have any contact info on me. this sounded very strange in that I had previously given my info to his employee and that he should have been the first person to call me to resolve the issue. I told his that I would be filing a formal complaint against Home Depot, and Sedwick. and with the BBB

Joni Mosher
from Dalton, MN
we purchased carpet at the Home Depot in Fergus Falls Minnesota. We have done business there for a number of years. The deal on the carpet was that the installers would remove existing and dispose of it. Also would move all furniture except our piano.. We took care of that. very poor communication between installer and store, first installer arrived , refused to move anything or remove carpet When I called the store they said they would take care of the problem. the installer left, I waited to hear from the store did not and called them back 4 hours later to see what they were going to do about it. Could not get any answers. 1 Week later they sent 2 guys out again , they refused to abide by the contract. Finally someone came they completed the job. Only after they had broken a plate that was on the wall, there are staples sticking up on the steps from the tackstrip the poke our feet. they left there garbage in our driveway. We were treated so poorly through this whole transaction, by staff at the store and insurance agent, and company that installed the carpet. We were reimbursed for a tear in a carpet in another room. which they wanted to super glue together. I will never recommend this store to anyone again now will I ever spend another cent there. So very disappointed in the whole ordeal. Very stressful.

I purchased a stove from home depot back in 9/2015, we paid for the extended warranty so if anything happens we would not have to pay to replace either exspensive parts or a whole new stove. Well on July 14, 2018 while using my oven there was a load pop and a flash of flames and my stove completely shut down. So i called that warranty company for Home Depot, and put in my claim. On July 16th we got a call from the service provider to come out and look at our stove on July 19th they came and informed by husband what was wrong and they would need to order parts, and he would be back the following week to repair it. So they placed the parts order on July 20th, on July 27th we still had not heard anything from the service provider, so I emailed them and asked for a status, At this time they informed me that they were still waiting on the parts to come, and they would try to expedite the order. On Saturday July 28th I called Home Depot Warranty department again and was told yes the part where shipped and received. So on Tuesday July 31st, I called the service provider yet again to see what was going on. They told me they received only one part out of the three they order and they did not have a time frame when the other parts would be in. He thought maybe next Monday or Tuesday and they could possibly get out to fix my stove by the end of next week, depending if the parts where in or not.
I then called the Home Depot Warranty department again, and got a young lady on the phone whom all she kept telling me is she could not find a tracking number for the parts that were missing and all she could tell me is the service provider did get the light bulb they ordered. She must have told me this 8-10 times, at which I asked speak to her supervisor. I was put on hold for about 10 minutes, before Abby got on the phone, and I had to go through my whole story again and when I asked her why no one could tell me when my stove would be fixed she said should understood my 'frustration', but she could not give me a definite time when my parts would be in or when I would have a working oven again. She said she tried calling the service provider and got voicemail and she left a message. When I requested for someone to call me back on Wednesday August 1st with a status she told me that she could say that would happen. At which time I told this whole situation was unacceptable. She was nice enough to tell me that usually the warranty process only take 3-5 business days for parts to come in. THAT HELPED A WHOLE LOT!!! NOT!!!!
After hanging up on her as she as no help I called the regular customer service dept for home depot and told them my complaint and got put through to another person in the resolution department whom then called the warranty department and suddenly they told me my parts would be in by Thursday August 2nd. Which then MIGHT get me an appointment to have my stove fixed sometime next week. Which at this time would be three weeks without and oven!!!!! I can say the warranty and home depot sucks at this point, no one should have to deal with this. They charge you enough for the extra warranty coverage and you have to jump through circus hoops to get anything fixed and then there is no guarantee. My husband and I planned on getting our new washer, dryer and dishwasher through home depot, but not anymore there is a Lowes right down the street. it sucks though as we got a gift card for our anniversary so now have to shop there.!!!!!!
So baking cake for my two sons birthdays will be out and my sisters 25th anniversary cake is probably an no go to!!!!
THANKS SO MUCH FOR NOTHING HOME DEPOT!!!!!

Betty J SCHMIDT
from Glenvil, NE
Order H3208--31520 placed June 26, 2018 which apparently became lost in California. I even received a tracking system which didn't work since the items were not shipped for delivery on July 22, 2018. I called on Thursday with the complaint "where did you lose my order?" I was told that it had never been shipped from California, was found there, and would arrive on August 9? I am sure that was another "maybe?"
I have never had a complaint with Home Depot in all my business with them nor has my son, Dennis Schmidt who is a home contractor in Wyoming. He had now had to change his vacation for the 2nd time to come and install my cubboards.
This is certainly creating a problem all the way around and a real problem for me to have NO KITCHEN for almost 3 months when I planned this all so carefully.
I certainly will not be recommending your company to any one in the future with the screwups that have occurred this time.

gary brockman
from Murphysboro, IL
case no.11902645 I have had the runaround from many people from HomeDepo please feel free to call me. I cannot do this in less tha100 words. but, you are going to make me a Menards customer
Gary Brockman
314-277-0941

Anthony Pendleton
from Pearland, TX
I recently completed a customer service notice to you on your store in Orange, TX. In it I complimented 3 of your staff. Mr. Larry Bradley, Ms. Theresa Griffin and Ms. Anita Smith (now at the Hillcroft store in Houston. I have shopped in nearly 2 dozen HD stores in CA, AR, MI, NJ, LA, OK, TX, and enjoyed the service etc. The best of these stores is the Orange, TX store - best by far.
After taking the time to file the compliments I learned that no feed back has been provided, but if my comments had been negative I would guess that feed back would have been immediatel
Let's try to be leaders instead of managers, and treat our people with respect and at least acknowledge customer Kudos.

frank carvelli
from Carrollton, GA
I purchased a framing nailer about 6 weeks ago. I paid cash and no longer have the sales slip. It stopped working and I tried to return it for a new one. I was told that they would not do that but if I paid a fee it would be repaired for me. I deal also with Lowe's and NEVER had this problem with defective goods when dealing with them. I have had other problems with your store in the past but will not go into it at this time. You may rest assured that I will no longer make ANY purchases from your business. The service and quality is just not there.
Frank Carvelli
603 Old Carrollton Rd
Roopville, Ga 30170

Bonnie Mallo
from Sanford, FL
Went to the store in Casselberry Florida on 1792 in Publix plaza to buy a lawn mower weed eater and eddger, a cash sale. My husband is a veteren and asked for the veterens discount. We are normally a Home Depot customer and have used to discout previously. The cashier told him he was not eligible because his VA identification did not indicate service related. She was rude and condasending. We told her we shopped there often and had never had this response before. My husband asked for the manager. Another staff member called for the manager. The manager came to speak with us. He did not seem to understand what the problem was. He asked the cashier what to do. She said we were not entitled to the discount. This was the same cashier who started the discussion. She said smugly "I already told him no" as if to say I told you so. We told the manager you have just lost a cash sale of At least six hundred dollars we will go to Lowe's they honor veterens. I will be passing this experience on to our veterens friends at church and let them know how Home Depot does not honor their service. This cashier was very rude and seemed to be proud of her attitude. We will not be shopping at Home again. Thank you. Bonnie Mallo 3307 S. Park Ave. Sanford, Florida 32773. 407-496-5717 cell phone.

Daniel Anavy MDdanavy501@aol.com
from Tucson, AZ
After the reported news of firing one of your African American employee in Albany ,I am boycotting your company stores until he is reinstated ,with an apology.To day,on my way to your store in Tucson Arizona,I went straight ti ACE hardware to buy plumbing supplies.I will continue to do so ,until I hear from you,and will communicate my decision on Face Book and with all my friends and family.Shameful ,decision on your part Racism is not acceptable.

John Grace
from Lady Lake, FL
I do not like the self service check out why can't you have more cashier like it use to be. If you say it is cost savings then you need to lower your prices. I will be using ACE Hardware and Lowes more.

Gloria Bwy
from San Diego, CA
Ordered a Washer & Dryer. delivered on Thurs. 7/14/18. Installed broke my water valve shut off valve. Left washer & dryer in my garage.
No one returns my calls. No one gives a dam that I cant do laundry. Claim adjuster never returns calls. How long do I have to be without
a washer because of your installer messing up? It's almost one week now. If I get no results I will get a plumber to fix my valve & dispute
the cost on my Home Depot Credit Card bill. This is the worse customer service I ever experienced with any company. I have been
doing business with home depot for years but after this experience I will be purchasing from your competitor.

T and k smith
from Auburn, AL
Having missed the date to put in a fence they showed up 2 weeks later to install everything was marked out and after having to leave for work took my 6 ft level out to check because the next morning I could see one fence pole off well there were 4 they also installed damaged gate frame which is also not even where they come together at top they hit and on bottom there gapped properly that goes the same with my walk thru gate not even close to square what beats all I'm still picking up cigarette butts talked with Dennis Henderson yesterday asked him to let me know if he received all my pictures uts the second day haven't ears from him I'll give him one more day and then I will seek alternative satisfaction

David Martensen
from Clanton, AL
Went to Home Depot yesterday and found out they are no longer giving discounts to Veterans unless you meet certain criteria. Retired, disabled or a "Dependent"
So a "Dependent" who has never served can get a veteran discount but not an actual veteran.
Countless Veterans have served in combat and were fortunate enough not to get wounded....but they are not eligible for a lousy 10% discount.
Home Depot has put "Capitalism" before "Patriotism" . This is not an American company. This is a company that touts the fact that they help veterans, but in truth,it is lip service and when it actually comes down to supporting the veteran they turn their heads.
Go to Lowe's, they still give ALL Veterans the respect they deserve.

JOHN B. HARRIS JR.
from Manteca, CA
IN APRIL OR MAY I CONTACTED HOME DEPOT ABOUT INSTALLING NEW WINDOWS TO MY HOME. A MAN CAME OUT FOR THE ORDER AND MESUREMENTS. UPON INSTALLING THE WINDOW, ONE WINDOW WAS LEFT OFF THE ORDER. I WAS TOLD BY GARY HALE IT WOULD BE REORDERED. 2 TO 3 WEEKS LATER I WAS TOLD THE NEW WINDOWS WAS IN AND I NEEDED TO BE SCHEDULED FOR INSTALLATION. IT TOOK MORE THAN A WEEK TO GET ME RESCHEDULED. ON THE DAY FOR INSTALLATION OF THE REORDERED WINDOW I RECEIVE A CALL FROM HOME DEPOT THAT THEY COULD NOT FIND THE WINDOW IN THE WAREHOUSE AND ONCE AGAIN IT WOULD HAVE TO BE REORDERED AS OF JULY 16, 2018.
IN ADDITION WITH REGARDS TO THE ORINGINAL ORDER, THE INSTALLERS INSTALL 2 WINDOWS IN MY BATH ROOM THAT I DID NOT OREDER (2 WINDOWS WITHOUT ANY INSULATION) I WAS TOLD THESE WOULD HAVE TO BE REORDERED ALSO. I WAS ALSO TOLD I WOULD BE RECEIVING A CALL FROM SOMEONE ABOUT THESE WINDOWS AND THE SITUATION. AS OF THIS DAY I HAVE YET TO RECEIVE A CALL ABOUT THE STATUS OF THESE (2) WINDOWS.
I WOULD APPRECIATE SOME RESPONSE TO RESOLVING THESE MATTERS. I CAN BE REACHED AT:
510-282-9608
9601 LAS VEGAS AVE
OAKLAND CA. 94605
THANK YOU
JOHN B. HARRIS JR.

my complain was filed with a chat person about one of your rude worker name Tandy at the Mansfield tx store. called at her for some help a few time. she finally turned around. she seemed to get frustrated and pointed to the item I needed which was far and I couldn't see where it was. Got upset and walked over to the item and pointed and walked off again. the item was at the top shelf. and I couldn't reach it. I had breast surgery and not able to lift my hands too high yet. she finally turned around and hand it to me. she is at least 5'9" I thanked her and she just walked away in a rude manner. she must've been having a bad day which is no excuse for rudeness. I'm 76 yrs old and have been your customer for at least 20 yrs.

andrew d upton
from Orlando, FL
The online purchase that I made on June 7th was the worst experience I have ever had. The customer service was horrible and it got even worse after it was escalated to the resolution department. I can promise you I will never use home depot for another online purchase again and I would tell anyone that's even thinking about using them not too. My story is way to long to get into but I am serious when I say they have no clue what good customer service even is.

ROBERT K SMITH
from Nottingham, MD
I know this will probably go no where but, I have to let you know how I feel. On 7/14/18 I started looking for a dryer. I had just left two stores that had employees with bad attitudes and went into the Home Depot. I was treated great and was not ready to buy yet but, I did' I figure when ever I need an appliance I could come here. Then came the delivery, I will never buy another appliance from Home Depot because the delivery service was the pits. I do not want to deal with people like that ever again. Ken No. H2506-90911

Linda Capriola
from Hyde Park, NY
I am writing about an issue we recently had at your Store in Poughkeepsie, NY 12601. We went in to purchase a new patio door and have it installed. We spoke to a very nice gentlemen who explained the different doors and how the installation process works. We set up an schedule to have someone call us and come out to measure.We were told this would cost 30.00 and if we went ahead with the install it would be taken off the price of the install.We were told installation starts around 450-500 depending on how much has to be done during install. We were told a few days after the person comes to measure we would receive a call letting us know how much the install would cost. A few days later person came and measured,he said everything looked good and should be just a simple install.Waited for over a week ,no call.Went back to store and was told have been trying to call us but there was no option on our phone to leave a message...NOT correct as have been getting messages all along from others just nothing from Home Depot. Well he then looks it up and tellls us the install will cost almost 900.00...There is NO WAY I am going to pay 900.00 to install a door that costs less than that..We looked at 2 doors previously one for almost 500.00 and one for 700.00...I do understand there is a cost involved to install the door as you are using outside contractors but this is absolutely insane that you would expect people to pay almost 1000.00 to install a door....We have been Home Depot customers for many many years but this has really made us think if this is how your customers are treating how many other times have we been ripped of over the years. Not Home Depot fans any longer.Thank you for your time

Robert Cameron
from Secaucus, NJ
Zero not 1 I just spent on 7-5-18 1400.00 on appliances and set a delivery date 7-12-18 my card was charged by Home Depot when the delivery did not take place, The store told me that they did not have control as the delivery was paid for by the manufacturer. The driver called and could not find my new home so he would not stop at the sales center to get directions. The Staff at the store said it was beyond hthere control as the delivery was a third party, But I bought the appliances from Home Depot.
I was not nice and said the next time they delivered would they send a smarter moron.
The thing is I did not buy the appliances from a third party Home Depot cannot get anything right.

VARISH PANIGRAHI
from East Brunswick, NJ
I ordered vinyl siding for my house April 18, 2018 and paid $8000 advance that day. On 24th April, there was a personnel from Home
Depot who inspected the house and gave me sheets to prepare for the project. The project was to be completed in the first weeks of June at the latest. It is already middle of July and I do not have even the schedule and no one has been able to give me an update for the last one month.
I had planned to put this house on sale after the siding work by June 15th and finished all other work needed by May 15th., I have been misled by your company and has kept me to stay ready for the project since end of April. Last three weeks, I have been frantically contacting
the manager and service co-ordinator for the update and they have promised and kept mum. I have been caused mental anguish and financial damage and still there is no schedule or estimated time of arrival (ETA) of materials. Please help resolve whatever bottleneck in your organization, This is the worst experience I ever had.
Sincerely,
Varish Panigrahi

Darren Canny
from Los Angeles, CA
The Home Depot on Jefferson in Culver City . Every day there are more and more dogs in the store , not service dogs just people with dogs 10 to 15 at a time it's out of control , manager does nothing .
Piss on the floors not acceptable in any place! Shelves rarly stocked , no doors for weeks , I was told they were turned away because there were two deliveries at once! This place is a joke , I spend an average of 60to70 thousand s year in there! Now looking for an alternative store shocking! Staff very nice manager doesn't know what he's doing!!
Have feedback for Home Depot?
Thanks for your feedback!
Sorry. Please try again later!