Google
Google Complaints Continued... (Page 6)
425+ reviews added so far. Upset? Call Google corporate: 650-253-0000

Euripides Billis
from Athens, I
I am a retired university professor and I communicate with approximately 500 recipients of my list, all over the world. Because, As perhaps you know, Greece is enslaved under occupation by the EU, I send messages to MEPs of EU, on the plight of the enslaved Greece. My sending was, according to the guidelines of google. Maximum 500 recipients per message through your website and 100 through the reduction in outlook. Obviously whenever there is a requirement for remission from my list, is done immediately.
Without mentioning any specific to me and asking me to find the reason by myself, Google Greece, disconnected first my email. Before they allowed me only two emails per day. Next they disconnected and my second email, then they connected it, asking every time the password to log in. Given the situation of enslavement of Greece, please check whether my suffering comes from actions to google Greece, from EU. Or from the obedient servant of EU, "Greek" government.

Shivakumar
from Bengaluru, KA
Someone at Google HQ has misused my contact information and put the wrong ads in for my websites. I already contact all of these websites as well as Google. But if anyone searches online they see the wrong information. I have been told there is nothing Google can do about this, even after submitting a complaint on the Google support website. How can I contact the Google CEO and fix this for good? I am getting hundreds of incorrect calls each month now.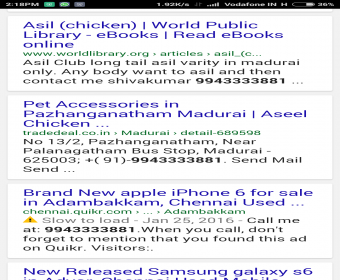 Kim Anthony Polonczyk
from New York, NY
I have complained before and I have reached the end of my rope with Google. I will remove (in the process ) my files,notify those I need to of the new address and leave Google forever this time. Google seen fit to remove the compose email link from my inbox so I cannot send any emails. Then because I am severely disabled they made sure there was no way that I could recover it.
I spent over two hours this morning looking for the compose email button and a way to recover it or at least get back to the conventional or basic standard setup for the inbox which I am told I can no longer use. I have complained at least ten times that because of the brain hemorrhage I had in 1990 I cannot use the new inbox because the new set up with the different colors and all the distractions is too much for me to handle. It is like moving furniture in a sightless persons house, you just cannot do that. I cannot deal with a bunch of distractions, I need things KISS, Keep It Simple Stupid. This is why I am disabled.
I'll give you another option pay for a young pretty girl to sit here and help me out on the computer and I will agree to use your complicated inbox. Give me a week or two to remove all the files I need to get off of here and notify all the people I have to of my new address and I will delete the account.

Cannot verify my Google account. I know the problem is that I am outside the US. Yes, I was able to get the foreign computer on the list of my devices. Have searched and searched and I know my username and password. I even tried changing my password to get in and still cannot. The only forum suggestion is to delete the account and start over.

Mommy Deede
from Phoenix, AZ
I'm originally from San Francisco and relocated to another state. I heard about Google express from family members. I wanted to see what all the talk was about so I signed up for the trial membership and excited to use the $15 off and my order was rejected. Second attempt, rejected. I have money in my account so it couldn't of been my card that was being declined. Third attempt of the same thing. I used my bank card and still canceled my order and didn't even allow me to enjoy the benefits of Google express.
I called customer service which happened to be a waste of time because nothing was resolved after she said that she looked into the problem which was stopping me from being serviced. So I gave up. It says that it delivers to my area, but clearly it doesn't. They are false advertising and to me I think it's only to obtain credit card information and billing addresses of customers. They not once delivered any of my orders and trust me I tried about ten times. I finally went to Walmart and got everything I needed.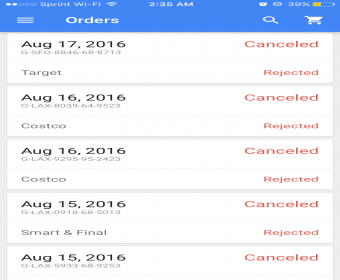 Keith Phillips
from Luton, ENG
I have an ongoing issue with Google Apps for Work. I raised a case some time back after realizing that Google did not invoice my company with the correct company name. I have shared a number of conversations, mostly with seemingly inept individuals based in an office in Bulgaria. Seemingly there is no management escalation process. Hapless individuals repeatedly close my case even though my issue is not remedied - it has been going-on for months now.
The latest advisor informed me of the following:
"I've heard back from our specialist regarding this issue and found that you're Google Apps for Work account was affected by an issue, during our migration to our new billing system, which updated your previous payment receipts with your current billing profile information. This was not expected behavior and I apologize for any inconvenience this has caused.
Unfortunately, as my colleagues have previously mentioned, it will not be possible to update your previous invoices with your new billing information. However, I can assure you that all future invoices will display the current information in your billing profile."
This is not good enough. Clearly Google does not realize that they have a legal obligation to supply me with VAT invoices - MY VAT invoices with MY company details on them. With no way of reaching anyone credible at Google, today I have taken the disappointing action of reporting Google to the Financial Conduct Authority.

Diboneng mothibi
from Narberth, WLS
I own a dental practice. I had a patient contact us yesterday very relieved that we are still here as when he searched in Google, it came up with a short list of which we were on but next to our business in red it stated that we are permanently closed. This information is incorrect and could cost my business money and put our patients through un-necessary worry. We are currently going through a transition at the moment as we are no longer a NHS practice and this incorrect information could be very damaging.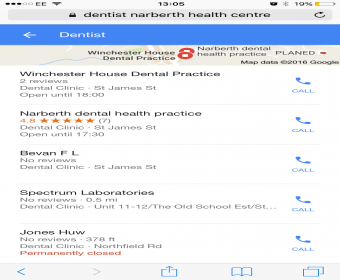 Freda
from Orange Springs, FL
I have a complaint, ever since I stopped using google it just seems like my iPhone sometimes gets redirected to something not related to my search. I search on yahoo or bing, and believe me the results suck, and I do believe that google has something to do with it.

Kevin Dineen
from Manorville, NY
I read a NY Times open piece about Cooper and his DC Blog. I find it shocking that Google assumed the power to shut down the blog with its archives as well as his e-mail account. According to what I understand, you did this in direct violation of your own Terms of Service. In this day when vindictiveness is used as a political tool, you appear to have hoisted on your own petard. My additional reading on the subject finds that you are the only arbiter in many situations and Google corporate headquarters the CEO wield absolute power in a wide variety of cases. Again, not wishing to overstate my case, your actions fall inline with the all powerful Donald Trump. Obviously I am in no position to part ways with Google services, but to say that I am both disappointed and angry would be an understatement. If I have not reached the 100 word requirement and this precludes me from being heard, I see this as another instance of your cavalier attitude.

garry cochrane
from Brighton, ENG
I registered my account in France and now moved back to the uk. I cannot access apps on play and am not downloading anything more till I can revolve this issue. The issue lays around my banking app, refuses to let me access it and is informing my that its not permitted in your country. Find this strange as people these days live in more than one country and have bank accounts in these. Not so globally friendly after all.

Christina Crane
from Corona, CA
Google charged my account without my permission and told me to contact the app developer for a refund. After confirmation that the developer never received funds from these purchases Google still will not refund me. So what did I buy exactly! $600 total was charged illegality. To make it worse my bank closed my fraud claim against Google before the developer confirmed they never received these transactions and will not allow me to reopen my claim without a police report with a suspect named. So who do I contact for this situation? I am in disbelief the way I've been treated and how can Google get away with this?

Stella gauthier
from La Broquerie, MB
Went on Zuuvu [dot] com through a Google search. Told it was free to subscribe. Just wanted info. They took over $300.00 from my master car. I do not play these kinds of games. Want to unsubscribe and get my money back! No answer from them. This website is a total scam!

Fidencio Mateo
from San Francisco, CA
I have no problem with Google employee. My problem is SPAM. How can I get rid of spam. Sometimes the spam is too sexual and also money. Spammers think they can trick me. I got so mad and I threaten this user that I am going to the Police in my area. Help me please, I am 78 years old I do not need this kind of email.

Lou Callaghan
from Tallahassee, FL
When I open google Chrome to do a search the following appears. Be who you are. Love who you love. #prideforeveryone. I want to use a service without having to mentally deal with someones agenda, political, social or otherwise. Please remove this and just let me use your search engine without extraneous sayings.

Lenore Will
from San Bernardino, CA
If you 'google' "Wildlife Rehab in Yucaipa, CA", a site comes up with my name and home phone number. I would like this removed immediately as I am retired from the hobby of rehabilitating wildlife for nearly three years. Both wildlife groups mentioned on this site say that this is not their problem. Can you help me, please?

The Google doodle today is celebrating "black supremacy". By celebrating a woman that they refer to as a "human rights activist". Yuri Kochiama was not an activist! If she was an activist for white supremacy she would be far from celebrated! No race should have supremacy! The world doesn't work well with one supreme race! There are a number of races on this earth and we are all equal. Google has the nerve to spell out "equality" in the back ground. Any supremacy is far from equality! This is either ignorance or just plain stupidity! Why is google trying to cause division among the users?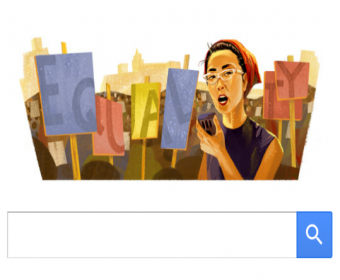 Natasha Louw
from Pretoria, GP
I was on Facebook opening video that was posted. Then all of sudden site throw me to "Google " saying that I did win with my tablet an iPhone 6 for download an specific app. I don't trust had to answer 4 questions then add bank details and address. It looks same as Google symbol but i am scared to put bank details. Did took screen shot for you to see. This is not Google, it's a hack! Please be aware of the site Zuuvu.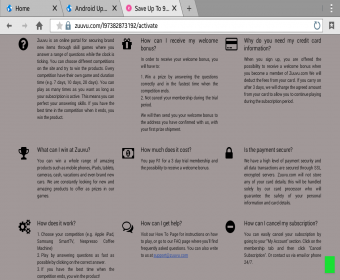 Gary Flynn
from Clermont, FL
I am a business owner, however I am not the page owner of the Google Business page. The page owner is a former employee who I fired for stealing from me. As page owner he has been putting incorrect information on the Google page to disrupt my business. He puts the incorrect phone number, hours of operation, website etc etc.
Every time he does this I request an amendment from Google, and the error is usually corrected within a couple of days. By such time the page owner has again changed the information. I have spoken to Google about this and have had numerous email exchanges. Firstly, they said their policy was to request the page owner to give up that position which he obviously didn't do.
After several weeks and emails Google advised there is nothing they can do!!! They suggested I resolve the matter directly with the page owner. I am reluctant to do this, as when I fired him, he tried to assault me. Only a couple of days ago eh tried to extort money from me by asking me to pay him for the rights to the Google page!
Surely Google must be able to see how wrong their policy is? I am flabbergasted they cannot help me, and yet they help a page owner who is no longer an employee who was fired for stealing!

On my personal Google page they are carrying an item distorting my views, and wrongly and inaccurately attributing words and views to me which I did not use. At no time did I ever say, as you assert, that the North was 'desolate'. Kindly remove this highly misleading item from the Google website under my name if you can. Or give me the UK contact info for Google corporate.

Lynda Humes
from Toronto, ON
Every time I go on the internet using Google I am soon bombarded with adds to places or things I have looked at. It is creepy and makes me angry and extremely uncomfortable to the point I don't even want to use the internet anymore as I feel I have no privacy and that I am being monitored so closely. I find it very offensive and wish it would stop but if it does not I will no longer want to use the Internet for pleasure or curiosity anymore. I would say my experience is dropping to a 2.

Terry Agliers
from Epsom, ENG
During web searches from Google I am being led to explicit bad websites in which I am NOT in the least bit interested. I find this disgusting and intrusive and disruptive to what I am actually interested in. I will appreciate it if something is done to avoid such practices.

Ian Latter
from Annandale, NSW
At least one week ago I attempted to set up an account for Google gmail, but for some reason the account was disabled and is still so. No explanation or request for info has been made. If Googles policy is ti ignore problems hoping they will go away it is highly likely you will not reply to this complaint.

Rick Allen
from North Port, FL
My name is Rick Allen. I am 71 years old and in poor health. I rely on my computer to keep in touch with my friends and family. However about a year ago I got locked out of email and have tried ever since to get someone to help me get back into my gmail email as I am sure the slowdown in my computer is due to multiple emails stacking up. I have tried to access the CEO for help to no avail. Can anyone please help me reset my access to my email.

Graham Cooper
from Halstead, ENG
Despite three weeks of constant calls emails chats, in order to remove an old telephone number from an old duplicate account at a closed business address Google simply do not edit the number or remove the site address. This is costing my business thousands through many lost calls. Why can they not do what I ask and simply remove the incorrect number? Getting desperate now. I may need to resort to legal action if no resolution. Disgusting non existent service.

James dorman
from London, ENG
Somebody has posted a very bad review on my company on google and I want it removed it is affecting my business. Yet Google will not respond to my calls to their customer service department. Well, guess what, now my complaint is about Google!

The complaint is about the appalling condition the Google search engine is and the problems it causes me when I am using it. Nearly everyday when I use Google, the screen freezes or disconnects from the Google server and sometimes the server is unavailable to be used. The Internet now has been around for at least 40 years now and with it being 2016, we should have technology now, which stops these from occurring.
I am surprised to see the state of the Internet be like this still in this day an age. I think the Internet will become much worse as time goes on, because it seems to me that no lessons have been learned from the mistakes you have made. When people such as myself looses connection I then loose everything I was working on.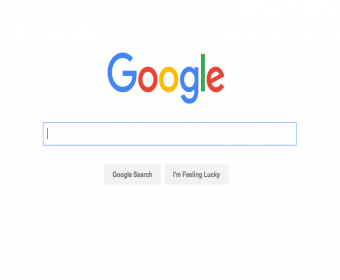 Rene
from Olivebridge, NY
As a small business owner I could not help but notice business has slowed down a lot. So I looked on my google page and was shocked to see something right under my site on google saying complaint board. I read the complaint it was a total lie. However then I noticed below somewhat page another disgusting bogus site called ripoff report. Then another one all repeating the same comment from this woman who is complaining because she was called a name when she called to annoy us. Business is gone no orders are coming in and the fake phoney Complaint Board site is nailed to the top and bottom of MY google page. Thanks for destroying my business Google!

We requested Google to remove outdated content as this content is deformatory and to date Google did nothing. Their customer service does not exist!

leon huppe
from Lac La Biche, AB
I was sent an email by some one posing as google saying I have won a google lottery asking for in formation I sent it back and then another person emailed me with confirmation number and I have tried to email them back it tells me unable delivery failed. Please let me know whats happening with this if its a scam then I think you should know about gmail scams?

john peek
from Invercargill, STL
I took Google's advise and upgraded to google windows 10 and my computer did not function properly as it has cost me $120 new zealand to revert it back. I took advise offered by Google and I think the corporate office should credit my account I spent on this faulty product. If not I will call the customer service number again to complain.

I can't find customer service for Hangouts so I'm trying a complaint through here. I tried sending a photo through Hangouts and chose my Hangouts contact, but it sent the message via MMS without warning me it was going to do so. As a result I have been charged. I know it's only 35 pence, but if I hadn't have noticed I could have been charged much more. I've also wasted my time trying to find some way to talk to a human being at Google but I can't see a clear way. I thought they would like to hear from their customers but I guess they don't care.

Matthew
from Hubbards, NS
People have been stealing products like gmod off of the internet! Please stop this because i am getting really annoyed with Google not doing a thing about it! it is very annoying and these people think they can do whatever they want. I don't understand why they insist on stealing things, but please do something about it.

Aaron Miller
from London, ENG
I used Google flight to book a Ryanair flight for the day after it was booked. During the booking process, Google flight changed the date of the flight to the day after and was not made clear until confirmation of this booking. This is an issue as flights are being marketed on wrong dates of departure.

Ann Mumley
from Fairfax, VA
We have thousand of calls a day from Google. Say to update our listing. But the Listing is for another company. They will only speak to the owner. If I called Google and asked to speak with the owner, How far would I get. We need these scam calls to stop ASAP.

David West
from Southampton, ENG
I have a 2012 nexus 7 tablet which worked just fine before successive "upgrades" turned it into an unresponsive piece of junk. I complained before and the reboot, clear unused apps etc suggestions were a total waste of time. Basically, if your geeks had bothered to test the lollipop and successive upgrades against the 2012 nexus 7 they would have very quickly seen that anything beyond KitKat was a waste of time. If this was a cynical marketing ploy to force customers to go out and upgrade to the latest ñexus you got it wrong with me. I will not be purchasing another Google product again and will not be recommending them to anyone either. In order to retain my custom I would recommend that you offer a "downgrade" path back to KitKat so that I can use my tablet again and not go out and purchase an opposition product. I look forward to getting a useable reply from you other than the usual corporate fob off.

Claudia Harms
from Arlington, TX
I would rate my Google customer service experience as a -10! I have tried to call several times and have spoken with multiple agents and NONE of them EVER do what they say. I have been trying to access our business online reviews for one month now. I have spoken with so many different agents (Mandeep, Ashis, Ksure, and Ceva just the last 4 names I started keeping up with) I have a business account that has reviews. I know that google likes for you to reply to your reviews and that communication is what helps your "online presence" as well as where you come up when someone "googles" you.
I have not been able to access our google reviews for over a month now. I would LOVE to respond to the reviews we have but because google's employees don't want to fix this. I am still not able to access our business reviews. Everyone tells me the same thing "we will escalate the problem". This has been escalated so many times the head of google should be working on it by now. Thank you google for damaging my online reputation and keeping me from being able to do a thing about it.

I am the head of an organization called Anthropological Survey of India (under the Ministry of Culture, Government of India) located at Bogadi 2nd Stage in Mysore. Our office land line telephone no. But this number has been notified in Google as the telephone number of BSNL which is wrong. Due to this mistake committed by Google, several calls are received everyday from people, mistaking our number as BSNL number. It is a great nuisance caused to us. Please immediately rectify this by removing the following notification.

Will Mills
from Kokomo, IN
I don't appreciate you pushing your evolutionary views on me on your opening web page. I will be using another search engine.

I notice someone hacked into my Google account and change my recovery password information. I took snapshot of the contact info. of this hacker. How can Google help in taking legal action?

Jivan Bansi
from Guelph, ON
I Googled that site and alarms went off and I got a bad virus that took 6 hours to fix and my computer has never been right way too slow. Please shut them down. that is octavemusic that I'm talking about it wouldn't let me type it in the company name space but Google needs a better way to report websites that contain a virus!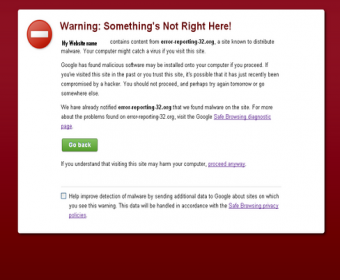 Shelia Anderson
from Worcester, MA
I have a smartphone but it cant load anything, it jumps around to different pages, i had to unsubscribe from games i paid for but couldn't play, its so slow, pictures messages and sites wont load because that red star comes on and freezes everything.

Carrie Dinsmore
from Rochester, MN
Someone with an email address has been stealing from my credit card to buy Google games and whatever from Google. Also I have been getting emails for this person at my email address. I have sent messages to Google informing them about this for quite some time and for a few days I quit getting emails for this person now I got it again today showing fraud. I would suggest that you contact this person and stop them from doing what they're doing and also stop sending her emails are his emails to my address. The last email that I got for that person I can not do anything with so sorry I can't send you the info unless you can call me and help me give it to you. Google's customer service seems to be a bit off for such a large corporation, there is no complaint line or anything.

Carol Rogers
from Ottumwa, IA
On Nov 9, 2015 over $90 of unauthorized charges from your Google Social went to my card without my permission. I want the backed and disconnect from my Google social account. I have called my bank which is a federally run debit account for social security recipients. My telephone number has been given to Google with no help yet. I am expecting to hear by phone within two days or I will take legal steps. I have already called the child's father (boy is 14) too young to be on your sites anyway and he will deal with the boy. If he doesn't I will file charges and get help to retrieve my money.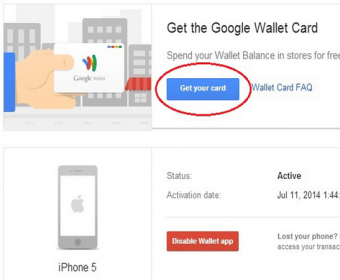 Brynn Helfrich
from St Louis, MO
All right. First of all, my sister thought it would be funny if I wasn't able to make a Google email account so she took my iPod and made it to my birthday. I'm 14 and you have to be 13 to make an account so she said I was 10. She made it all the way to the end and then hit 'done' and it took her to the 'you are under aged' page. Now I try to make an actual Google account and it always goes back to that page and I can't get anyone to delete it. So much for Google customer service!
Have feedback for Google?
Thanks for your feedback!
Sorry. Please try again later!