Facebook
Facebook Complaints Continued... (Page 7)
697+ reviews added so far. Upset? Call Facebook corporate: 650-543-4800

Somebody hacked my Facebook account and posted adult videos to my timeline, and they also tagged my friends in it. I do not know what exactly happened. Some posts appeared in my Facebook account. I logged in from Google chrome. I doubt somebody hacked my account.

Dave KryKey
from London, ENG
Page stolen, tried to use the help section, and its useless, sent emails and tried other ways and all I get back is the link to the useless help section - the page has 280K+ likes on it and I have had it since 2009. No help from Facebook at all!

Ayesha Farha
from Chennai, TN
My facebook profile has been replicated by someone with my photos, details and same profile name as mine. I want to know who the person is and also i want this profile to be removed from facebook. I have changed the privacy settings of my photos like it can be seen only by me. The fake profiler has my photos. Please find the profile details.

M. Piper
from Wichita, KS
I have very constant drop downs and interruptions pushing me to take your surveys. Some of which will not allow me to cancel. I have already taken your survey, this needs to stop! I cannot trust Facebook any more to provide a great experience for me.

Robert Lantz
from Sparrows Point, MD
On my facebook page I cannot any messages unless ask for friends and I do not want. Please put my page back to normal. Thank you!

Chris McClure
from Kirkcaldy, SCT
Myself on my account set up my dog a facebook and she has now passed away. It was an upset enough to myself and my son Christopher McClure who is also linked to this account. I need access to this account as my ex partner may have access I want to get in print off all my dogs pictures then close it down. The account is in the name Mitsy MiClure and it is a Staffordshire bull terrior that I am holding whilst under a duvet, that is her profile pic and I have no recollection of email address, password or security questions. I have had no problems with facebook so far so could you please email me details to sort this out ASAP please!

Hillary Barrows
from London, ENG
Facebook has locked me out of my account because they do not recognize the location. I have sent them identification such as passport but STILL they say they do not have enough information. I have sent them emails from the email account linked to my FB account. I have changed the password. I cannot verify the account because I do not recognize the pictures of the people they show me and I did not use my right birth date for security reasons. I have told them where the account was opened. I am using the same computer. The account is for a private investigator (me) and I send them emails from the private investigator account that matches the name on FB. There is NO other Hillary Anne Barrows from Shadow Investigations in France on FB but still I can't get them to unlock the account. They say that it will remain locked and their decision is final. They are incompetent and frustrating and useless.

Dee Dee Stephens
from Angier, NC
I was saying happy easter and they and they stopped publishing my posts. I have been discriminated against. I want to sue Facebook for bias against my religion.

I'm emailing you to complaint about a facebook company. when I want to check my email on facebook I found out that someone was hacking my facebook account and I've been trying to log in to my account but I wasn't able to do that. and also I've been trying to tell them that I don't feel to have my photo be shown on facebook. and yet they keep emailing me asking me in order to recover your facebook account we would need an state ID and passbook No. I already explain I'm not allowed to down load any personal information about myself. SO please be sure that Face book people does not bug me to down load any personal information about myself Thank you!

Some has created a fake account with my name with all abused words and vulgar photo pics. Please help me in deleting those accounts and please take a action by them and respond to requests. I cannot get any help from Facebook customer service departments. These two fake accounts were created and nobody is taking action. Please do the right thing and help, I really need someone to show me how to block these two face book IDs.

felix stansfield
from Conroe, TX
I have had a facebook account for six months, #17133025896 and now it is blocked, I have uploaded a picture I.D. as requested ,only to be told the web site is down, I have done this at lease ten (x10) time's. I have been texted a reset code several time's, and filled out the stupid guest what letter is in the box. I have tried to reach a human-being to explain the problem but to my surprise there is no number ,I might be old-school but these young techies need to learn if the wheel isn't broke ,don't fix it. CUSTOMER SERVICE IS WHAT MAKE'S OR BREAK'S a company, I would like to retrieve picture's and video's of my family kids, could anyone at facebook put down their latte for long enough to fix my account so I can down load these important pictures . Thank-you

Linda Sadler Cheema
from Las Cruces, NM
I received a friend request from my friend Sherlene Simpson. I thought it odd but assumed she had accidently unfriended me. So I accepted the request, and in a matter of seconds I received a Facebook message from her, or so I thought it was from her. It said, "Have you heard the news?" I answered, "No, I haven't." Then she or he asked if I had received my money from some government entity. She or he told me that they had received thousands of dollars. I felt funny about this whole thing. This did not sound like my friend Sherlene. So I went to my facebook account and pulled up her page. On that page she had left a notice that she had been hacked and please do not accept friend requests from her. Then I was scared and tried removing Sherlene from my list but could not. There seemed to be multiple accounts for her. Weird! So, I immediately deactivated my account. I would like to reactivate my account but want to make sure it is safe. I would like Sherlene to be removed from my friends list.

On a facebook page Radcon jimmy conrad is a police interview of a 8yr old boy who gives his full name and the school he attends. He is being interviewed as a victim of sexual abuse and the content is detailed and upsetting. I have reported the video to face book but their selection for why the report is not flexible and does not allow u to expand on your limited reason for complaint. I believe it is illegal to to show this video as it is publishing a minor's identity on a social site but facebook do not agree. Are facebook breaking the law?

I had filed a complaint for Mary Carmen Lopez (parrots as profile pic)for using my photos without my permission and listing false comments a couple of weeks ago. She was stopped for while but she is back. Hi I see that this young lady keeps going in and out of Facebook but again on 3/30/15 she posted my photo again with another note. What's going on... the police wanted me to contact you first before filing a complaint with them. I just the picture deleted from her Facebook account so she can stop using it. Attached you will find the one she just sent last night with a new comment.  Please delete the 2 photos she has of me.  Please advise.

My Facebook won't accept any messages because there something on my page. Is said that I have to add more friends and don't won't to add new friends. Please remove it now!

LaKeshia Jolly
from Lubbock, TX
Facebook blocked my account because of a picture that was reported and they said I had to upload a picture of my ID! Well i did all that and my account is still blocked! I just want my pictures off the page and they can shut it down I dont care!

I go by Holiday Misfit Sweets in many games and in real life. Someone keeps reporting a name that I have had for many years on my Facebook page.. I am not protending to be someone I am not. It is a name I choose to go by. I do not think it is far that I am being me and I am being blocked out my page cause I am getting reported over the fact I will not pay someone attention. I feel this is unjustified and unfair cause I have had Holiday Misfit Sweets up for at least 2 years and because people decide to catfish and play with people's minds is wrong. I am not one of those people I have had my Facebook page for about 5 years now..

Rhian Grove
from Canterbury, ENG
I ordered 7 items of jewellery from Florence Scovell in early February. I paid through Paypall at that time. I am still waiting for delivery of the order! They don't even reply to my messages. How do I get my order or my money returned. Many thanks.

Lee Wright
from Niceville, FL
I noticed about 2 weeks ago i have no elite I'mmissing all my benefits and i can't understand why it can't be my credit card because you still allow me to charge my chips if there is a problem. I think you should have me a email to the facts every time i go in there to get this statement that i can't access my account because of errors to it. Well this is what i say i buy all chips on a regular base but to pay for something and you can't even call or leave a message so i could get this fixed!

Fake account as been created and adult photos are been posted with my account. I need it shut down immediately!

Gadhave Pratik
from Ashburn, VA
My Facebook account was hacked by another person and he told me 400rs deposit my bank account. The person change password i cant not use my Facebook account please request to i need help.

Lester Dorsey
from Duluth, GA
I have been locked out of my account and someone has been using it for a couple of weeks now and i cant get any support on how to get back in it because it because they changed my password and email address.

Michael Anzalone
from Roslyn Heights, NY
You allow people having sex showing sex organs and sex acts on facebook if the are public young kids can see them this is considered child pornography I will contact the fcc and also complain and other govt officials about this why do u allow this its against the law and sooner or later there will b a lawsuit children do not deserve to be exposed to this kind of disgusting pics u have to do something about this a lot of people feel this way or is it about the almighty dollar u must stop this now it is mostly from foreign countries please eliminate those people from facebook for the sake of our children it is not in the first amendment of freedom of speech its child pornography even though its between adults our children are exposed to this.

John Chaplis
from Shrewsbury, MA
if John Chaplis can't log in to Face Book, I want my name & everything else deactivated now.

Kirsty H
from Portsmouth, ENG
A "person" from Lancashire (who I do not know) accessed my photos and sent me a pm of my 2 year old daughter calling her a mongrel (which she isn't & who cares if she was anyway). Said vile person then blocked me so I can't report her. This is after a disagreement on another site. How sick to involve a 2 year old child. She needs banning from facebook. Also she has a photography page. Google her reviews, they just about sum her up!! She is sick in the head.

Jackie Mcclellon
from Middletown, IA
Authorized withdraws from checking account would like to talk to some one from facebook customer service please call after 5:30 to see either if it is possible to have that stopped and to have my money returned. Thanks!

Have been trying to get in touch, but, that's right no one can get in touch with Facebook, only cause you don't want to listen to what peoples complaints are about, you make it so hard for people just to ask a simple question, don't worry I found the answer myself.

Richard Safford
from Edgewood, NM
I do not like having the posts skip back to an earlier spot when I am reading, then having to scroll through many already read posts to get back to where I waa. How Do I Stop this?

Brian Tuman
from Campbellsville, KY
I have filed page complaints against 8 pages which are all manned by unknown individuals using fake names and profiles. These profiles keep changing their names and all have me blocked from the sites and all of these profiles are posting slanderous, malicious and untrue posts directly naming me. Many of my friends who can see the content are screen shooting the posts and sending them to me ( I have over 250 pages of these pictures and comments) and they are also reporting the content as well, a few have been removed, but recently it seems all we get is a computerized reply that it does not violate Face Book policy - correct me if I am wrong, but fake profiles is a violation of face book policy.....
Just 2 weeks ago they opened a closed group called "Tumanoligy 101" and it too is all devoted to me and I am blocked from seeing or joining. They have stolen pictures from my personal Facebook page and from my business Facebook page "Fast Lane Farms" and posted them on these fake profiles and the fake profiles have also posted poor reviews to my business page. How can I find out who is behind these pages so I can have EPO's issued, I have filed police reports for harassment, but no one seems to be able to help me stop this. I have been told to take my personal pages down, but that will not stop them from continuing the behavior on the fake pages. Please contact me at the email above I can electronically submit to you the screen shots and the page names and would welcome the opportunity to discuss this and how it has affected my business. Nothing like being accused of being a drug addict, alcoholic, thief, transvestite, liar, homosexual, and low life to have a detrimental affect on my livelihood.

Mohammed Hasan
from Mumbai, MH
Sir, my account was not opening it show make your identity but i cannot recognize all photos this id is mine please resolve my problem.

Too whom it May concern. I'm emailing to express my concern about the Facebook company. Sometime ago I receive an noticed from Face book that my account had been hacked and facebook had asked me that if they want to recover my account I would need to down load a photo Id to sent to them to verify that that is me. But I had already explain to them that I don't feel comfortable to email or down my Photo ID because I've been warn that I may not give out any personal information about myself. I had told them that many times and I'm getting little frustrated with this whole thing from Facebook. I would like it very much if Facebook people would please stop emailing me asking for my Photo ID. if this continues then I will report to my local police department along with the note thank you sincerely.

Mudji Versteeg
from Hilo, HI
Too whom it May concern. I would like to complaint about Facebook people. what my concern is is that facebook team had kept on emailing me to submit my picture ID and I don't feel comfortable to do that. I've been hearing a lot on the news about people posting photo and personal information on facebook which people should learn to be careful because you just never know what facebook can do. they can sometimes do funny thing like look up where you live and find out all about you. I've been explaining to facebook that I'm not allowed to post any photo or personal information and yet they keep on emailing me about it. I would like it very much if they would not ask me to download photo ID. I was trying to recover my facebook account when I noticed that someone hacked my facebook account please be sure that facebook don't email me anymore Thank you and Aloha.

Dayanand Pandey
from Lucknow, UP
Some one is tagging virus at my timeline even though I have restricted my tagging option and even it is sharing the same virus post to other friends of my list.

Ajay Upadhyay
from Mumbai, MH
May account deactivated for some mistakes between sending a message for friends. I want to get enabled and login back to my account so please let me back in Facebook. I am sorry for mistakes!

Habib Kareh
from Tripoli, TB
Some one changed my Facebook account name. They added his name to my account the name added is Ahmed Bayet so when I tried to enter my account a message occurred says this account removed from Facebook how this happened. I really want my Facebook account back soon

abdul mateen
from Lahore, PB
I have to tell you that somebody trying to put my pics in bad news which is completely fake. Like religious disobedience with my pictures on Facebook. She has a good following so people get started to share it. I want her account blocked and take a serious action.

lauren mcdonald
from Sydney, NSW
Why is it so god impossible to get back on my facebook when I have forgot all of passwords to every thing you are asking me for. Why cant you keep the test where I have to name the people in my photos on my account?

Arturo Zuniga Arriaga
from Tinley Park, IL
There is s women downloading my pictures and sharing them with wrongful information. I do not know this women and I asked her to stop but she continues. How do I stop her. Her Facebook name is Mary Carmen Lopez profile is picture of parrots. I have blocked her but she continues to use my pictures. How do I get her to stop.

Facebook has stop my account for security check but for confirming they asked me for unknown pic as my friend I could nt recognise them so facebook doesn't log in my account plz help me to log in again.

My 13 yr old son has recently contacted you to ask you to remove a facebook account that a bunch of school bullies have set up in his name to make fun of and write nasty thing about him. fb support have came back saying they will not remove profile as these people are following fb community standard!!! Can you explain to me how online bullying is ok? you write about how serious you take online bullying but when you are asked to help you do nothing. who do i need to go to to get help with this??

Facebook would not accept my normal password so I changed it and answered the secret question. They said in 24 hours I could log back in. When I try they tell me my email is already in use. No kidding, it's mine. I tried again, another 24 hours and same story!!! My facebook is blocked after changing my password. Who do I call???

I'm upset because someone has shared my photo and I do not know them. A random person who was suppose to be my friend has shared a photo of mine with an inappropriate tagline. i want to report about that person. he has also sent me harassing messages from couple of his fake ID's. I would like Facebook to kindly take some steps against this and also know what you are doing to prevent this kind of problem in the future?

sir
ther is a fake account of my friend name REKHA RAWAT,
that account is using the abusing language to everyone...
that is creating a big problem to me
so, please delete that account,so that i will have no problem in future.
https://www.facebook.com/rekha.rawat.5095110
this is the address of that fake account
thank you

My name is Ogonna Tyna Innocent-Nwaubor,a nigerian. About six weeks ago,I tried logging into my facebook account and discovered that I have been temporarily blocked, reasons is that I am using fake account and ID. They requested for any form of identification and my husband forwarded a copy of my international passport twice which they acknowleged that they recieved and said I will recieve a mail soon from them. That soon is becoming eternity. I have written to them through a link in the mail and they never replied.I have messages and notifications pending. It is affecting me negatively because there are some link that it is only facebook that connected us. I will really appreciate if the account is activated. Eager to hear from you.

I am Facebook user. But my Facebook account is block. I am try every think but I can't unblock it. Please help me. Also, someone is using my Facebook account by changing password and contact no. I want to deactivate this account please help me before it gets blocked again.
Last week someone has made a profile using my name my date of birth and even my photo and has sent a friend request to me I wondered this a terrible thing and of course it would be simply because:
(1) someone else is making or using my name
(2) If it is a Facebook account there could be some serious information that is being exposed about me that is not true
(3) Whatever is being written in this account could cause me to lose my job or not be able to obtain a new job.
So I ask and am very concerned how does one stop the false accounts being made and destroying privacy and embarrassment. I need to unblock this profile and stop people from creating these fake accounts.

Dear Sir / Mam,
my name is Tarannum Naziya. There is one guy who is using my photo and my name on facebook and he is male person. He has made fake id of my name (Shaikh Tarannum ) and using it. he has also mentioned my college name which is SNDT University.
Please let me know what should i do to remove the fake id of my name. As i do not want my photo on facebook where everybody is commenting.
Kindly help as soon as possible..
Regards,
Tarannum

I just noticed on my facebook account of scratchz padz a whole section of my photos containing my graphic art work has disappeared it had est around 600 posts, I did nothing, didnot remove or delete so where are my pics they belong to me put them back now, you need to fix your facebook programing allso it hasnt let me do a down load in a few months first and now my art work that I made is gone, oh come on guys fix it, bring my photos back and let me do down loads agsin..

I have been receiving emails from Facebook every 10 minutes for the past 3 days after inadvertently clicking on an ad to join. This is harrassment. I have tried using the Facebook website to fix this situation but the seemingly correct option to submit a request to stop receiving correspondence from them does not produce any results - it just sends me back to the previous page without allowing me to actually log a complaint and have my email removed from their database...although my email should not even be there! Please help!!

I bought a facebook game card and loaded it to use as cash on farmville 2. I had 211 dollars on my game. I logged out and came back an hour later and it was down to 72? WTH It cost me $25.00 to buy that card and now its all gone. I will not buy another one and may stop playing the game, this is the 2 time it has happen.

I'm not on Facebook and consider myself anti Facebook . You keep emailing me every week to tell me about activity on my page. When you try to click on the Link to 'my so called ' page it says it doesn't exist. However you still bombard me with info about the activity on this ghost page. I've reported you as spam but it still keeps getting through . I've also clicked through all your Facebook relevant links or unsubscribe (I've never subscribed!) links and this is as infective .

I grew up around many country musicians. A couple friends of mine were in bands that opened up for big acts in smaller towns. I have met a lot of famous musicians. A couple of years ago my buddy asks me to go to Fanfest in Nashville with him and his uncle. His uncle was some big shot and introduced us to everyone. Carrie Underwood, Miranda Lambert, Taylor Swift, Alan Jackson, Kenny Chesney, the list goes on and on.
My friend kept asking everyone we met if him and I could send them friend requests on Facebook. At the time I didn't even Know what he was talking about. I managed a big printing company and had no spare time. Since then from the stress from management I came down with acute anxiety syndrome and extreme depression. It's like I couldn't do all the things that I loved to do in the past like play the guitar.
I am getting help but basically all I do right now is watch TV, play CDs, or go on the computer. That's when I remembered the Facebook thing. The first day I sent friend requests to the guys I grew up with. Then I remembered the country stars giving permission to send them friend requests. I wrote them little messages telling them my story and sent a lot of them out. Then Facebook steps in and puts a hold on my doing friend requests and blocks the ones I sent.
For two days I have been trying to get this cleared up but their customer support is a joke. Isn't it illegal to block my personal messages to people without looking into if I know them more? It's just ridiculous that I have their permission and am being blocked for two days now. What can I do?

i have reported this facebook insident a few times but just found this sight my daughter as had to move away from her x as hes arrassing her slandering her and her new partner, he as made a false profile under the name of zoe will he as sent messages to everyone on facebook accusing him of being a prdofile i think its discusting we have involved police they told me to complain to you as they no its this michael nicolas and his mum mandy bower i have already blocked that family and deleted them of my face book but earlier this year i had to add another letter to my email as someone tried to hack it now hes slandring my daughter of and will not give up i no its this person and police agree but we need real evidence so they adviced me to contack you to sort it out as they dont have control of facebook and you do its getting very scary for my daughter which i think is well rong she shouldnt have to come of facebook because he can harrasse her please help us to avoid this zoe will to be able to contact people for this is so bad to accuse people of things that is not true the the reson we no its him and his mum is because messages were sent to zoe will privately and suddenly the family are asking questines about what we put theres other evidence as well but as your good in facebook i no you will be able to read what she said and our reply please help us thank you so much for your time

This is the worst online poker that I've ever played! It's not close to realistic. It seems as if one or two people are the only ones at a table that always have good enough hands to play. I played at a table and never got a hand that I could play or let alone win. That is terrible!
You have no choice but to try to play when you're in the blinds and half the time you don't get a hand that you can play or even think about winning on. It's horrible. I think that Facebook needs to take the poker off and just be a network that people can only talk on. I've come to the conclusion that if I'm going to play, I'd much rather get full tilt poker.
It is much more realistic than this bullshit you have on Facebook. Plus you get to play with players who know what their doing and actually know how to play. You also don't have to worry about hardly ever getting descent hands to play. You have a better chance of winning on full tilt and it's closer to playing real tables.

Every time when i log into my facebook account & share some pictures suddenly that capatcha popup box appears. Its a warning to message that am using some others account. How do these facebook people know that am using others account??? Why are these people giving trouble using the facebook. Where should I complain to get my problem solved? Will anybody help me in this regard

I have begged and begged for customer support to help. They give absolutely no help. They will not even put my quest items in so I can move forward. It was working fine then one day it stopped. They now will no longer respond to my emails. They make me feel like this is something I did or my fault. I've been playing since 2009 and this is the worst i've seen. The customer support team used to be so much better. I am assuming they've gotten new support or outsourced it because the team they have now does nothing.

I understand that you (Facebook people) are always doing something new to upgrade the business but i am so tired of you changing things in such a way that's suppose to help make facebook better yet it is driving us looney trying to keep up with all of the different changes. You give a lot of information that is so confusing till it's defeating the whole purpose! I am so confused as to what's going on with this privacy setting till i just want to get off of facebook altogether. It's like a love/hate relationship.
You explain the changes but yet you don't explain it thoroughly enough for everybody. I need for you to explain to ME SPECIFICALLY how to fix MY SITUATION! 2 days ago something happened to my account & i don't know how to fix it. None of my friends/neighbors for CW ONLY can see any of my posts. I don't think that any of my other friends that play on any of my other games are experiencing this problem. It just seems to be only CW. Can you please help me figure out how to fix this issue.
Playing the games on facebook are really the main reason why i get on facebook in the first place. So if i can't play the games there's really no other reason for me to stay on facebook. Please advise me as to what to do now! Hopefully i will hear from you real soon. Thank You!

I,m very tired of getting blocked for 30 from adding friend when i try to add friends to have new friends to talk to i wish u would change this im very tired of getting unblock them add a few then right back blocked from adding for another 30 days.
This is to inform you that i have no commercial transactions with my facebook friends in and out of the country,and also that if i do send a friend request, i am aware of my responsibilities as a good citizen of this country to fully abide by the rules,laid down by you.
The friend request i send,are to those whom i have met i in some of our church functions or are friends of my F/BK friends,nothing more and nothing less. Therefore i request, that my particulars be verified, and immediate action be taken to rectify the error. Thanking you, and awaiting your kind response.

Facebook is now a magnet for child abusers, sadists, bullies and other predators, and their code of practice does nothing to prevent this from happening. It is frightening to know that a web site that is supposed to be a social tool to connect family and friends have owners who do not do enough to protect the innocent. It seems the rights of the immoral are higher than the rights of the innocent and moral people who use it. it either needs closing down or have very strict rules in place to rid FB of this content.

I'm getting real tired of facebook flashing a note and then making me type in some leeters to continue. I have a face book page called the ERA card which is set up to hel fund Veterans for America and support our veterans and our troops. I have people sending me messages and I have to write back, I have to thank people when they send something to me. What the hell are you doing, you have a facebook that you keep pushing to add friends, then you say you must know the friend you invite. Are you people that clueless that work for facebook? Cut the crap.

Dear sir,
My account has blocked by some users which is very unfair. It is my real account and i am using it with very genuine information. but now a days it has blocked by some other users only to give mental harassment. please recover my account because i loss some photo and messages.
I need some help from you. Look forward to your positive response.

Hi, my language is missing in the website facebook, and I would like to report a complaint about it. All other languages are there to use in facebook, but my language, the Kannada language, is not present from India. Please add this Kannada language so that users from Bengaluru can use the website worldwide. It is a language in karnataka, which is one of the old languages of India. Bengaluru is a number 1 place for software known as silicon city of India, but still facebook is not having Kannada language.

There is an entry on facebook under my facebook photo that I did not put there. The entry asks for donations for Hurricane Sandy Relief. The entry names Ronni Watkins, Angelo Santiago and Cindy Bell as supporting my request for donations. I'm sure these people do not know that they are on this facebook entry. I did notify them, though. We all "liked" a cite called Characters Unite recently. The Character Unite name was on the entry also. Please eliminate this posting and investigate this Hacking. Please take the steps necessary to clear up this violation.
Thank you, Charlene Van Cott

#2052015 my credit card barred on facebook
i was waiting for my wages to go in my bank,so i was trying to buy gold to see if my money had gone in, they took this as suspected fraudulent activity, and have banned me from payment methods.I have paid alot of real money to Facebook for games and such any help sorting this matter wud be greatly appreciated.

I am a player who has loss chips being hacked on Facebook . I don't know why you guys can't catch these people when all you have to do is let us talk to a live agent when it happen and you should be able to catch them. On my buddies list is a person name Monique who is asking for friend request on Facebook and then players chips or taken. She is leading in chips on my buddies list and claim she is from London but she has hacked players Facebook accounts from New York. It seem that you could put a stop to this which make me think you do not care that your site using Facebook is not secure. I would hope you would shut down your site until this problem is taken care of. We are paying players using your site. I do think the right thing to do is give us back our money and shut down your site until you make this site secure.

Good day, somehow the load of crap thats been circulating the facebook comunity is constantly been broadcast from "me" to all my contacts, then Im not even on-line, this is pissing me off, the crap about "the bloodiest fight between John Cena and Undertaker" is being sent to all my contacts and this is annoying me as I dont broadcast untruths like this, how the hell does this happen when I'm not even on line? Can this be sorted out please and that crap be taken off?

for about two tears now i have been playing a game on face book called battle pirates yes the game has had a few problems and everyone has made kykly aware of them but all they do is fob you off saying its your pc, not the case it costs money to play the game or should i say to buy things to make the game play better but its not better i have spent about $250 dollers but there not giving you what you pay for it ether locks you out crashes or does not load all the time your said fleet is being damaged and it costs to repair it at this present time there doing a game on there where you win things but as soon as i started it then problems started i got on to them but all they done was sent long emails about problems on my P.c funny that the said same emails were sent to other players i have lists . i asked for my money back but they refuse to address the problem or even give me a dirrect answer can someone help me please

My facebook account is temproraly blocked. When i m trying to Sign In is always shows an error message shows-your account temproray blocked. It is always asking to recognise picture who were tagged in but i cant memorise the same.
Please provide me some other procedure so I can get back my facebook account. From 8 Dec'12 I am facing this problem. I will be very thankful to you when I get my facebook account unblocked.
A week ago I received a message from Facebook that someone had tried to get into my account on Facebook. First I thought it was a scam. Then my site was hidden and I could not log on. The instructions said my account had been hidden due to a security threat to my account and I had to complete steps to identify myself, have my identity reviewed and verified.
I did this 2 times scanning my government ID, drivers license as required with my number blocked and sent messages asking for explanations and to unblock my account. I checked any financial account I had and saw no problems, my Pay Pal account has not been used in years and is deactivated, also I changed passcodes on everything.
Next I get a email supposedly from Gus at Facebook telling me a payments functionality key has been disabled. I do not know what that is. I was also told I HAD RECEIVED PAYMENTS WHICH I HAVE NOT AND PURCHASED SOMETHING, WHICH I HAVE NOT AND HAVE NO IDEA WHAT THIS PERSON IS REFERRING TO. I HAVE ASK FOR AN EXPLANATION.
Facebook is a social media outlet not a shopping mall to my understanding. So the bottom line is first my account was threatened, then disabled, then I am told I have purchased and received payment for something from somewhere, have no idea what but this is suppose to constitute my not using Facebook because myself and others are being protected.
I would really like some answers here and to talk to a human being. Getting back with me with some explanations and the truth would be great.

I am very addicted and love the price is right game on facebook I believe it is an adult fun game. However, I dislike the chat box which is provided as other players may not be as mature as the others and they would slander, abuse and swear at each other because one may bid a dollar over the other, I have had people call me stupid, use swearwords and all sorts of stuff said to me in this chat box. My 9 year old wanted to try it and due to this I was afraid to even allow her to watch me play and it was so that the game I won myself along with the other show case contestant bid the same amount.
Apparently because my bid was locked in first i was given the win and the other contestant was very NASTY TO ME, I believe this should be monitored and removed just as the other games. There would be hate threats about the president and so many useless conversations going on in this chat box. Last week I was forced to report a player who privately inboxed me asking for online sex. Please try to keep us players safe!!!!
Someone tried to change my password at 4:45 AM via fake email. I am the one who actually has a facebook account, which has been since the first time I use facebook to create an account. I am today Wednesday, at 23:24 to restore my facebook account, for that I desperately need help from the management of facebook. since 15th October 2011, I can not access facebook account, because a hakcers has paved my facebook account by adding an email, for that I ask for aid management of facebook to remove the fake email, which hackers use to access my facebook account is. for aid management of facebook I say many thanks.

I've been blocked because of friend requests, recently I went to a Vinalhaven site and saw some folks I used to hang w/my ex-husband. I've worked at a factory for 13 years, or it's an old friend that accepts my friend request and I go through their friends to see if I know anyone. What is w/this. It's totally wrong! FB already kicked me out of my first profile and I can't access it and I had to make a new one. I also requested to be in a couple of groups and a lady in Australia a couple years back asked if I was related to so and so Isbister. She also happens to be a rescuer of animals. What if she couldn't have FR me? I'd have never known such a wonderful lady that deserves the hand of God on her. I repost stuff from her too. So why can they do that yet you cannot get to a real person to talk to. FB sucks.

hi, I got some problem in my game Facebook, it's Farmville2, I complete all the task which is come from barbara... I got that last thing she is givig when the task is complete and barbara gone...then I go back to my home page and when I come back to play I saw barbara is there and my last task is not complete,, but I throw ll the feast so I cant get it now... what can I do??/ please help me..I am so dasparate to complete that task but I can't....Please help me please with Farmville2 for Facebook.

I was blocked from sending friends request and some of the people on the list were family, including my daughters and grandson. A couple of them even carried my last name. One of my daughters never responded because she has no means for getting on Facebook. So there reason for blocking me is all wrong because my family do "Know Me!" - I work in music so the other people I sent request to were musicians to connect with to sponsor them.

Why do you allow people to post hate speeches, photo's of dead babies, nudity, pornogrophy, threats, allow peoples photo's to be posted on another page edited with slurred speech and ridiculed and when asked to remove them you won't? I have seen all these and reported them along with 1000's of other facebook users but you do nothing. Your terms and conditions are being ignored and complaints and reports of these issues are also ignored by you. How do you allow obscene images of children and babies on a page called Controversial Dead Baby Jokes ? I have taken screenshots as proof and wrote to MP's the police have been informed too. Facebook this is your problem and instead of ignoring this you should be doing something about it. We wrote to your advertisers and you have now taken the adverts of the worse sites and we thank you for that. You will be losing business and a good amount of Facebook users are closing their accounts on the 1st Jan 2013. I'm afraid your social Facebook is becoming very anti social. I await your response. Regards Pauline

Today is my birthday and because of some arbitrary decision of Facebook, I am blocked and cannot ready any birthday wishes I might receive.
Without a doubt, there has to be a change to the way Facebook decides who can friend who. I'm blocked for responding to friend requests not because I sent out thousands of requests. It makes me really, really mad. I want to know who has complained about me and I want an answer to my email messages.

i found out from my sons friend that someone is using my son christopher hibner and his picture on your website. my son has NEVER had an account on your website. i would like you to close that account. we cant even get facebook because are computer is in safe mode and will not allow us to do that. i just tried to open an account to make a complaint and would not allow me to because i am in safe mode on my computer. PLEASE do something about this. i dont know maybe one of my sons friends did this or what please investigate this. thank you charmayne hibner

i have recently reported a group that has been set up with the sole aim of targeting one individual with horrible abusive comments,photos,lies being spread over facebook.I know for a fact that i am not the only person who has reported this and so far nothing has been done to prevent these people from targeting this girl.its disgusting and shamefull that facebook is allowing this to happen,and i am appauled at the length of time this group has been allowed to continue with these attacks.I have e-mailed the support dashboard with no reply,surprise surprise,Whats more i cannot view my status of the report as stated in you help section and neither can i find any other way of making contact with anyone from facebook to discuss the matter.It would be much appreciated if someone could contact me regarding this matter as i fully intend to continue with my complaints until the matter is resolved.

My facebook account was suspended without worning are reason.i have been treated very unfair and i am a decent person i have followed all tule never a complain against me the i get on and said locked down due to spam and fake account i followed all procedures to prove who i was a gov id was sent a bill with my name and add.i find this very unprofessinal especial when i see porn all time on there.i have been on facebook for years and have pics and friends i cant replace and games i even paid tp play.everything was taken everytime i try to file a complaint it says accont not disabled .but it is loced i have had no respnse form not even a single person and that is very wrong plz check this out i did make another account but i have lost it all and dont see it right.

Hello, I apologize for complaining, but the game Country Life on Facebook...has been "apparently" removed. It is not the fact that it has been removed, (2 days now)... there just was no "warning", or any kind of explanation! Which keeps some of us wondering exactly, who we are even dealing with!
People have asked, no replies...is there really anyone there working on this? Or will it be removed permanently?? Some of us, has worked so hard with these little guys, and have actually felt like we were farmers! Could you maybe post an explanation on Facebook itself? It would sure help!
You guys have great games! It helps when there are those of us who can't find a job because of out age, mostly! Keep up the good work, but please work on your communication!! Thank you...Merry Christmas and Happy New Year! :)

tmoney from creditcard and i didnt get products you are holding my money and i cant get any response from you at all its been nearly a week and not a word from you and you havent released my money .my bank gave me this code 018503 addie maxwell credit card number 4250320020676632 please release my money and please contact me about this matter thank you.addie maxwell

I need someone accountable from FB to contact me, as i have been discriminated and have been misstreated. i want someone from this organization to contact me so i don't have to file a law suit against Facebook, i would rather get it resolve. They keep blocking me for making friend requests to people i know. What i find funny is that they keep putting people's pictures in front of me that i know and i friend them and there i go again, i'm accused of friending someone i don't know.
Where do they get there information? if someone is complaining i can't help that if they went nuts in this world and don't want friends. i want to talk to someone at fb to find out what there story is to block people. I'm even block currently to send messages. I didn't do anything by sending a message. If someone can give me a answer about this, i could figure out why i keep getting blocked. I don't know whether if it is becasue a action from me or someone else. All i know is if i make friends requests i get blocked.
This has to stop. If i have to hire a lawyer to sue Facebook i need someone who has done this before, to get a message to them that they need to stop harrasing people for using this social media for what it was meant to be used for. if they don't want me to make friends they need to stop running people in front of my screen. i know there are hundreds of other people being block for non offensive reasons. i don't know if it is a mistake or malfunction from FB or what. I am very upset about this..

When you go to purchases list the last one is 4/3/2013 which is correct. On 4/10/13 my bank took $476.31 for facebook. I filed report with them and no response. Can't talk to a live person. They know I didn't make these charges cause I wasn't online. I want my money back and I can't wait days for it

Facebook is down for required maintenance right now, but you should be able to get back on within a few minutes. In the meantime, read more about why you're seeing this message. Thanks for your patience as we improve the site.
After nearly 3 weeks Facebook facebook have still not rectified the issue. All I get is an automated email, no contact phone even at a premium rate.
Company is utterly incompetent when it comes to dealing with customer reviews and complaints about their website being down. I use Facebook all the time and this needs to change immediately or they risk losing more membership.

zynga robbed me of all of my chips almost 22 million worth.. i have read that they're taking chips from good players. i started with 20k in chips. i put a lot of time in doing so..
it's part of my past time i believe it's terrible they can just take your chips away as they please cause you're a solid player.. they want you to buy chips.. that's what it's all about..
Zynga owes me almost 22 million in chips.. can i please get them back??

Hey facebook here is my review of you, my page with the new timeline has been having trouble being viewed by other people. These are her words after she was banned from one of my Facebook pages when the new timeline rolled out last week. At this point I think I'm going to have to hire hackers to even get my own Facebook page to work correctly! Your new timeline sucks, and I don't get why you have to change a good thing to make it bad. Well the part about getting in trouble with Facebook was why I was going to bring in actual bad hackers that wouldn't care regardless. Then I'm free and clear. Its just a matter of placing a link to the page on a hit list by more people who hate the Facebook timeline review.
Those types of hackers don't care why, they're just looking for a place to hit. As for karma and all that i prefer to settle debts myself, and Facebook doesn't seem to care about me or anybody else anymore. Especially in these kinds of cases where I'll probably never hear of the people again to get the satisfaction of them having been dealt with. When it's somebody closer then I just let it go and let life deal them sour cards then laugh when they're crying about misfortune. But these cases it's a large company like Facebook, who gets a new timeline, and doesn't care to settle customer complaints about their product. Well to explain what happened would take a long time as it's been going on for days.
What I posted above is as short as it gets. I've been back and forth on moving on and forgetting them or giving Facebook what they deserve. What I think only a few of you know is I'm a hacker. The benevolent type though, not malevolent. Though I could hire on a malevolent type to do the dirty work so as not to dirty my own hands. Once I get her next response though depending on what is said I think I'm gonna remove the Facebook page. They deserve it, Facebook is so arrogant and cocky with their new timeline. They're elitist yet call me out for being "an arrogant, self absorbed, bitch. She was involved in a scavenger hunt on my page and was very rude to the other contestants and the administrator running it. I gave her a warning and told her to please be polite. She kept the matter going, so I talked with two other admin and I decided as head admin to delete her from the page.
Then I found out she had posted this stuff about killing my page on another Facebook page with the new timeline. I also own another page where a scavenger hunt is being run, and she again broke the rules. She seems to think she can do whatever she likes. I would like to delete her from this Facebook page also, but I am dealing with a hacker. She alleges we continued to make nasty remarks about her, which is just not true, (you can check my page). The warning and the post saying she was being deleted were the only two posts regarding her. Any advice you can give me would be greatly appreciated. I run three Facebook pages in all with no problems.

Hello I want to complain that my Facebook account is now blocked. I just want to hear what kind of misbehaving I did to deserve this, but I cannot get anyone at Facebook to respond to me. I'm a genuine player and I love zynga. And you blocked my 2,800,000 in chips. Please see all my games and the you can make the right decision. If it's my fault then please continue blocking me, if not then give my chips back. I hope you make the right decision.

I have proof that Facebook attempted and failed to access my email account. I believe that this is the reason why my email account was later hacked, due to all the Facebook connect applications currently running on it. If you have had Facebook and email hacked before what did you do about it? Should I hire a lawyer to help me resolve and sue Facebook for attempted hacking of my account? Anyone? Thanks for reading and the help.

Shaun
from Skelmersdale, ENG
Hi, I was in a relationship with someone on facebook. She lives in a different country than me and i thought we had something special. It was great at first, people were congratulating us and happy for us. But things went down hill after a while. One day we would be close online and the next day she would push me away for simple excuses. I admitted i cheated on her because she was picking fights with people over simple comments and posts and i was tired of being caught in the middle. There is no excuse for what i did i admit my wrongs publicly for everyone to see. But it was never enough for her. I tried to make her happy, giving her access to my accounts, letting her control who i can add and message. Things like that.We kept on breaking up, getting together often. I broke up with her finally on Xmas eve because she was told i was cheating on her with 4 women, accusing them of sex vidchatting them on facebook. She then went on to verbally abuse them but will not take responsibility of being wrong there.
I know i never did and those mentioned to her never did too. I did wrong in the past but i need advice. People are messaging me then sending her partial messages saying i sex chatted them. She has posted on her facebook page the partial messages sent to her. She also accuses me of being in love with a paedophile in another country. A few days ago, she sent me messages telling me she was going to jump off a bridge. She is constantly getting lies fed to her and believing them. She never jumped off a bridge (I admit i did say after the event on Xmas eve because i was angry. There is no excuse for that). But is wanting revenge on me for things i never did but is being told i did. She said there is evidence of me vid chatting women on facebook behind her back. I never did but apparently there is evidence saying i did. She is getting facebook admins on me along with other people. I have taken screen shots of her messages and posts in the event i need to prove i am telling the truth. Since then things got even more worse.
She has threatened people and when i warned them about her threats, my account was shut down and i can't prove my identity. Apparently she has been gloating that she has facebook admin on her side, my ip address has been flagged by facebook and one of the admins has been apparently getting women to friend me and set me up to gather evidence against me. I admit my mistakes and have fell for some of the set ups. She is now harassing other people on facebook and getting away with it. She has many accounts, mostly by the name Jaimie cousins. You need to set this right facebook as u have set a scene where she is now intimidating, threatening and harassing people and getting away with it. She says there is a conspiracy against her but there is non other than what she creates. All i want to do is post and make friends, not be accused of things i never did.

I have the honour to once agian request you that below complaint so far not resolved by the facebook please take action agianst facebook for giving tention in the matter. Please read the below complaint. Thanks. Dear Sir, I am using facebook for some years now facebook I want to complaint that this error came to me every time which is incorrect. "Subscription Limit Reached You can only have a maximum of 50 status update subscriptions. You currently have 50 subscriptions". I have only 30 and every time this above error came and I am disturbed with this all please rectify my error I will be thankful to you as facebook support team dont reply any email or complaint.

I've seen my email but there is no notice why my facebook account is blocked. Facebook is where I communicate with friends and family, also with my colleagues. I hope my facebook account reactivated. So far, I always write lots of good reviews about facebook in my own webs many is often accessed by the Indonesia. I can only guess maybe my mistake why my facebook account is blocked because I always confirm every friend recommended to me. If it was my fault then I will not repeat it again and more selective in adding friends. Forgive my limitations in speaking English.
Hopefully you will receive an explanation and my apology and willing to open my facebook account again because facebook very important for the continuity of my communication with friends and family. Greetings from Indonesia.

I still cant upload videos,videos that are of my own creation not someone elses. I have a You Tube account that has over 35 of my own videos. I cant even get on my facebook account and have done nothing wrong that facebook should not allow me to upload my own videos.i think Im going to delete my account forever if this issue is not resolved. i have already went to You Tube as the results of facebooks actions against me.I DID NOTHING WRONG! So why has facebook screwed up my facebook account. Guess you just want to mess with someone.
Im trying to create a musicians page but there is no point because facebook will not let me upload my original song videos…i guess I will Delete my account altogether since facebook is ignoring my complaint…Explain what i did to deserve this treatment?

I cant get on my facebook,everytime it says aborted. i have deactivated my account this morning…I would like to know why facebook has my page messed up where i cant even get on.I would like everything on my account deleted or this problem fixed. i was accused wrongfully of a copyright infringement over a month ago and my facebook has not worked right since…I did nothing wrong, everyone shares videos from You Tube ect….I would like to be able to put up a new facebook account, something is wrong with the one I just deactivated. Ive since went to You Tube and created an account for my music.
I am a songwriter musician and i made videos for my facebook friends to watch all the videos were my material. I could not even get on my facebook it kept aborting it!

In the last couple of days, my Facebook account has been acting funny. Certain statuses are acting strange…. My Facebook "profile" is completely missing– my Facebook "Friends" are present on moment and then I have none the next, though I continue to read their posts — And my notifications are there and then they are not. On occasion I note that a post I submitted is not posted. Also…. After having moved out of my Facebook profile I sometimes find myself back there again. I need to know if I'm being hacked — or is there another cause for these uncomfortable interruptions.

I can not able to access my facebook account because I have been blocked for 30 days for sending friend requests. By logging this problems shows on the login screen. Final Warning – Friend Requests Blocked for 30 Days. Your friend requests and facebook messages have been blocked for 30 days because you've been contacting people against their wishes. If you continue to ignore these warnings, you will permanently lose the ability to send facebook friend requests. Please help in this regards, I would like the ability back to send facebook friend requests on the website soon.

There are a shocking amount of blasphemous groups on facebook that are really disrespectful and say horrible things about Christianity. I find it very upsetting that facebook would allow these groups and I am asking them to remove any blasphemous groups from facebook that say bad things about religious groups. It really is shocking what these blasphemous groups on facebook say about Christianity and other religions.

Dear sir. I can not able to access my facebook account. By logging this problems shows. Final Warning – Friend Requests Blocked for 30 Days. Your friend requests and facebook messages have been blocked for 30 days because you've been contacting people against their wishes. If you continue to ignore these warnings, you will permanently lose the ability to send facebook friend requests. Pls hepl in this regards

How to delete my account in facebook now being used by someone and made a statement against me using that account? my facebook account Borgs Borja (choy_borja@yahoo.com) and Rolando Borja (asshleybrahms@yahoo.com) These two account were controlled by the hacker who always post messages against me. With your help I think this person who hacked my facebook account be stop. Hope you can answer my query on the matter.

I am hissed off. People support you until you get laid off. Than they ignore you totally on Facebook. They are just a bunch of Hissys.

On facebook the games from game duell are a pain to load. They don't come in and you have to hit refresh, sometimes when you do it will refresh OK and other times you just loose a "life" then have to wait 30 minutes to play. I go on facebook to read what everyone is up to and play a game to relax but this nonsense with the refresh thing is not relaxing at all

king james NKUM
from Lagos, LA
My account seem to have been blocked as i can't log in. However, I am unable to retrieve the account because the code is not being sent to my number +2348065319125

Since yesterday, my account was suspended for i.d. so I uploaded my Drivers Licence, my account activated, then it was DISABLED. AND I OPENED 3 MORE ACCOUNTS FOR THE EXACT SAME THING TO HAPPEN.
I ONLY WANT MY ORIGINAL ACCOUNT, CONNECTED TO smcooky1202@gmail.com FIXED as I am disabled and have a number of SUPPORT GROUPS I NEED.
I would APPRECIATE SOMETHING BEING DONE TO RECTIFY THIS ASAP., thank you, Shane Cook.

Manish kumar
from Monrovia, CA
Mujhse koie bhi friend chat nahi karta hai

ahshi kuki haokip
from Gurgaon, HR
my account was inactive for the past 3-4 years..now that i have recover my email whenever i log in to my facebook account.security check. i could no longer identify those photo...and the alternative security check where i am being asked to text the security code through phone no. i have lost my cell phone along with the no. kindly help me fixed my problem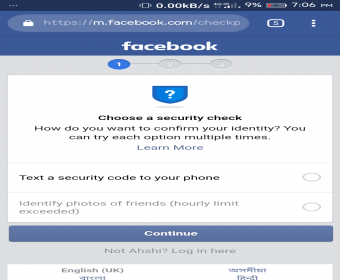 About Facebook it won't let log out and you change me money to think a take this to court of do things it

Facebook is keeping a close eye on my Facebook account. I received two 30-day blocks and other blocks for posting things that they say go against their Community standards ?? This started about a year ago when I tried to start a business and pay Facebook for advertising. They said my business goes against Community standards and then they blocked me. Ever since then I've been constantly blocked. I've seen people posting nudity, obscenities and violence on Facebook and they don't get blocked. Facebook is becoming a joke.

James Russo
from Detroit, MI
I have been contacted about a promotion from fb .that I won 250,000$.the lady ,Sarah maxwell.i was to send money to a .Marie Reyna in texas.79603..i also called a number you have on file and a guy answered and,said yes I did.he wanted me to send 480$ To collect.the phone number was on your page..and he called me..you have a big scamm going on.im out nothing..please investigate

After a few years of membership I have decided to withdraw from Facebook. Facebook has restricted me from posing any and all pictures. I tried to post Valentine Snoopy pictures and could not. I do not like being restricted from exercising my First Amendment Rights. .

Kenneth wayne Littrell
from Pasig, 00
facebook was o.k. until just recently it seems facebook disregarded fact I use fbp to block ALL adds I am getting slammed with political adds here in the Philippines posted as if they are my "friend" or I "liked" their page. Please look into this, it is ridiculous how many political adds there is. I am thinking about discontinuing usage because of it.

I tried calling and had no help. it was all automated systems that 100% of the time tell you to go online which Is the worst possible thing when you actually need help with fradulent charges. I found a number that sent me to people who bairly speak English and don't want to help me because "he doesn't feel like it" the guys name was Peter brown which was 100% not his real name. he refused to help in any way shape or form. it was the complaints department that I called and I don't even know what to do from there. when the complaints department says they literally don't feel like helping I feel the company is inherently flawed and a scam. if I could in any way express my displeasure with the company but the one place you are supposed to be able to call for help or ways to improve the service literally said to me "I don't feel like telling you my name". if I could involve the police I would in a second. The individual asked me to buy a prepaid card and give him the number which is exactly what a scam would be. worst possible experience. never have I been treated so badly in my entire life. I would never recommend this service to anyone for the rest of my existence and I will do everything possible to let people know and help people avoid the dehumanizing treatment that I have had to endure. If I could give less than 1 star I would.

Tanisha shipman
from Hartford, CT
My page was hacked and no one has resolved the issue my page is now contacting all my friends asking for money I u look on my old page my friends also noticed that it's not me you can find me by the phone number 8609226147 is it even possible to close my page indefinitely so my friends can stop getting harassed it's also under tanishashipman@yandex.com which is not my email...I've asked my friends at work to report the page I've had this page for years until a couple of days ago

Iam very disgusted with what you allow people to say about people and the bullying, that I am learning about! I would really appreciate a response to this matte ,before I have no other choice than to contact the better business bureau! I have written you twice already with no response that is showing me you think it is okay to call people fing retarde and fing C`s! that really makes me soooo happy I am not on facebook and never will be when you allow this! My email is anniewalline3@outlook,com I really hope to hear from you soon!

ads that you put on here for sales of merchandise need to be screened by someone as some of these retailers have a horrible reputation with customer service and very poor merchandise as well as no way to contact the retailer as they refuse to answer all calls made as well as emails one retailer in particular is Edgewater Direct as they have thousands of complaints filed against them as poor quality merchandise poor customer service months to receive items and no way to return them and some who never have received there items . These people need to be forbidden to advertise on here and should be shut down and taken out of business !

The app and online version is continuously creating problems for posting and editing. Would like to create a business page or group but crashing prevents this. Unable to keep up communication with sellers I've shopped with, creating a huge financial issue.

Facebook keeps banning me for 30 days, now they say I am banned again for 30 days for something I posted almost a year ago. I think Facebook is targeting some people to be banned for no reason except for our views on things. Why else would they dig back a year to find something, anything to ban someone.

When I opened my Facebook page this morning, a picture of my great granddaughter popped up from a year ago, Facebook wanted to know if I wanted to share it again, which I did share it again. Everyone else saw this::
Attachment Unavailable
This attachment may have been removed or the person who shared it, may not have permission to share it with you
What the Hell! It was my picture and your company brought it to my attention that it was last shared by me a year ago and would I like to share it again! My picture..my Facebook page! I am totally confused by this! I would like to know what is wrong???
Patricia Montgomery

My Facebook page has been closed Can you tell why you are doing this? While there was no such thing in my page that someone's feelings are hurtful, there is a lot of porn page running on Facebook, why are not they shut down? Facebook's policies for India are complete biopsy: India's people should boycott Facebook's whole boycotting against it. The freedom of expression, we all have data thieves Mark Zuckerberg Shame for You

Robert Rumbold
from Detroit, MI
Hi my name is ROBERT RUMBOLD..I am tired of you guys pulling my account off fb with no reason. None. I have complied did what you want use my name and you keep pulling me off. I am tired of being treated like a criminal. I have been on fb 8 years no trouble till december 2018. I was hacked reported it you guys have been given pics of myself. I am a military veteran.i demand a reason why i am being taken off. You violate peoples privacy. I like fb. But since december you dont follow your own rules. I demand a reason why i am being pulled ofg. If i get another account pulled off and i dont get a reason for this my attorney will be in contact with you and trust me ill proceed with a class sction lawsuit against fb for privacy violations. And i will get others to join me and ill sue you for everything you own. I am a veteran and you treat good people like criminals. I am being nice . i demand a reason and quit hiding behind your computers. You need a staff of live phone staff and you have no support staff. I demand a readon. Next time my account gets pulled a. Lawsuit will follow.

John Bruns
from Lake Forest, CA
my account was hacked and cannot log in Facebook sucks, they have no live service, please fix the dam issue, I had a two security feature on and they still hacked my information and got my ID theft, I am very pissed off, you need to compensate me for damages

I am being locked down on Facebook for alleged bullying of a false account. I shouldn't be punished for calling out a troll.

David Dodt
from Defiance, OH
I'm restricted now because of Community Standards. (POST) I wrote a couple of years ago about the asteroid that caused the mass extinction. It hit the earth causing the Mexico and Texas coastline. That, that would, because of the Issac Newton 3rd Law of Motion, would cause the volcanoes to erupt worldwide. Then later I showed how the true North was shifting South and East according to US Navy charts. Last year I wrote about an earthquake event taking place worldwide. It was of a 6.2 magnitude but only found at a ocean depth of 1200 feet. But I didn't know about the 12,000 year cycle,. Interesting. (WOW, THIS IS REALLY SCARY, YOU MUST PUT ME INTO FACEBOOK JAIL FOR THIS.) STOP THIS NONSENSE IMMEDIATELY. This so STUPID on so many levels.

Facebook is full of Liberal biased trashy
Anti American camel jockey loving bastards.

I can't open my account because someone reported me or I don't know exactly why, help me to reopen my id because my friends and my girlfriend is waiting for me there, it's been years that I cannot open it, for the sake of her open it for me then I'll edit it and change everything to my identity details
Thank you

Lena lednick
from Washington D.C., DC
I have tried to fix my password and entering the code many different times and days and get the samessahe that I have entered to many times come back later by now I am really tired of this now all I want to do is close my account and come off this crazy site. Please fix this o I will contact the bbb and see if they can't help

John Angastiniotis
from Aurora, ON
I wanted to let you know that a number of advertisers are running a number of scam ads for products where they charge credit cards, but do not deliver product to the customer.
I have recently run into 3 of these scams, and I have had to contact my credit card company to have the charges reversed.
The vendors are:
1) Touch Screen Coffee Table, ad ran December 3rd. Credit Card charged, no product ever sent out. No e-mail confirmation was ever received for placing an order with them.
2) Folding Clothes Robot, ad ran January 6th. 2019 (www.shopmybest.com). Credit Card charged, no product sent out. No e-mail confirmation was ever received for placing with order. No response from vendor (I sent an inquiry to their support e-mail pertaining to my order) and the phone number listed on the website (1-626-456-6688) is disconnected.
3) Multi-Function Mobile Cabinet, ad ran January 18th (www.onlinebookgoods.icu). Credit card charged, no product sent out. No response from the vendor (I sent an inquiry to their support e-mail pertaining to my order) and the phone number listed on the website is the same as the one above.
I thought you should be aware because you are approving & running their ads and exposing your customers to fraudulent claims.
Sincerely,
John Angastiniotis
C 647-808-4597

Corey Lyons
from Fond du Lac, WI
Facebook is allowing Sexual/Religious hate/harassment on their site. All the messages have been reported to Facebook, but its their customarily "Doesnt violate our community standards" when it obviously does. Theres over 2 dozen not only against me, but other people as well.
His term "Incel" is defined as such:
Incels (a portmanteau of involuntary celibates) are members of an online subculture[1][2] who define themselves as unable to find a romantic or sexual partner despite desiring one, a state they describe as inceldom.[3] Self-identified incels are largely white and are almost exclusively male heterosexuals.[4][5][6][7][8][9]
https://en.wikipedia.org/wiki/Incel
Facebook doesnt police their own platform anymore, and allows the bullies and harassers more power than the people they abuse.

Gina Dauphin
from Downers Grove, IL
It is kind of bizarre my friend was looking for me on face book on the search bar on face book ,when they put my name Gina Dauphin a another Gina Dauphin appear , but different picture a baby pic and and adult pic , I do not think people can have the same name spell the same . I think hacker use my name to get on face book . In i remenber i was try to make an account face book advice someone using my in my photo was disable hmmm.. Please make investigation so that gina is fake i believe that hacker using my identity to use face book.ASAP People might think is me send goog inf o that hacker my held. Urgent matter

Jeanne hollar
from Washington D.C., DC
For the last 2 week's I have seen the same things everyday. Also when looking at Facebook there have been many stories that contain pictures and sayings and they are all blank. This has been going on for at least 2 weeks. You can also be on there reading all the things then the pages won't go any further you just see a circle going around and around. After waiting a while I got out and then went right back only to see the same stuff I just saw. When will this be corrected. Very frustrating

Cheri Taubin
from Marietta, GA
How dare you Facebook refuse an ad for volunteers for special needs children in Georgia or, for that matter, any place. My grandson has a rare genetic disorder called CDKL5. He can not speak, see, walk or talk. He only gets food through a feeding tube. Besides all these disabilities., he has extreme epilepsy. And you, Facebook, will not post any ads for volunteers or support because you think it is discriminatory. You should be ashamed of yourself. I get multitudes of Facebook ads for recipes. rejuvenation products, jewelry, vacations, clothes and a load of unnecessary garbage, but to something as important as this. you turn your back. How dare you. I am saddened by your lack of compassion and concern for those who can not speak for themselves. Your actions are deplorable. We will never stop fighting for our sweet boy. You have no heart for anything besides that which will make you a profit!!! You are a total disgrace to the human race.

Robert Rumbold
from Detroit, MI
Your whole company. I am a usa military veteran. Since december 1st you have treated me like dog crap. You block my original account no warning. You dont tell me whay i did . i tried to put up new accounts you keep pulling them off. I confirmed my phone email pics. Whst more do you want. Huh i used to think you guys were good. Your shady and i have showef my lawyer and i have been advised to take you to court and ill sue you for invasiom of privacy emotional stress and i will humiliate your company. All i want is my old account back an apology and you guys to lesve me the f alone. I am very pissed . and i am also joining others in a class action lawsuit.i wont thank you bevause i did everything you asked and i have reported.you to my congressman.

Beth Strack
from San Francisco, CA
Years ago, my daughter's father-in-law ("Bud") signed up for Facebook using MY EMAIL ADDRESS. I don't know how he was able to do that, and I didn't know about it until too late, and he was dead. His wife wants to get rid of his account, but she doesn't know his password. I have been trying since October of 2017 to delete all of his information from the account, so that I can have my own Facebook with my address It is impossible.
When I open my Facebook with each of my three accounts (plus even my husband's email account, which is associated with my account), it welcomes me with "Hi, Bud." I was able to change the photo, and that was all. I can't change the name, and I can't delete any of the photos or messages from it. Facebook asks for the password. That is good security by Facebook, but they refuse to help me with my problem.
Since any other new email account that I create will be associated with my computer, the only solution is for Facebook to DELETE THE WHOLE ACCOUNT, and then allow me to create a Facebook account of my own with my own email address.

janet omelia
from Huddersfield, ENG
why has my account been disabled first they were checking my photo now its disabled could not of been anything I have done.Im 61 years old disabled lady I don't go out facebook is my only way of socialising.I am always polite and sensitive to other peoples feelings not like a lot on there.And I am who I say if you need more proof let me know my tel number 01484361196 my mob no 07555479062.my address is 6 maple close kirkheaton Huddersfield w Yorkshire uk I have tried to get back on face book I notice my web address had a fault a comma as occured between yahoo.com instead a full stop so I tried changing my account details

I tried asking facebook to take down (report) plus I asked them some questions which in the end, got no response. This posts was bothering a buddy of mine. It feels like facebook doesnt care about people posting things. That's why people tend to complain allot about it.

João Barbosa
from Sao Mamede de Infesta, 13
Hello,
Please help me! My personal page (http://www.facebook.com/jbar6) that manages 3 pages (2 artists and one record label) was hacked on 6/01/2018 while i was logged in someone got access of my account and removed from Admin on verified page http://www.facebook.com/djoder please facebook at least give me back access to this verified page as this is my main business where i spent and invested the last 10 years of my life and never had any infringement notification.
The IP address and Operating System used to remove me from Admin is not mine, please see the attached images sent by facebook where this can be proved, the profile image was hacked with terrorist propaganda that i never ever posted and have absolute no relation.
It is very frustrating that facebook is treating me like I'm the hacker when I'm the victim, i sent appeals, sent ID card to prove it is me and not some hacker and 2 weeks have passed and still nothing.
http://www.facebook.com/jbar6 (personal page that manages all the above pages)
http://www.facebook.com/djoder (verified page that i was removed without consent)
http://www.facebook.com/drtsknkbts (another musical project i have)
http://www.facebook.com/kultureklashrecords (my record label)
Please reply.
Best Regards
João Barbosa

Ted Lieb
from Arlington, TX
On Christmas Day I was watching President Trumps address to our US Military. I was "liking" his talking points as he made them. When President Trump began talking about the "WALL" and I was liking his statements my Facebook account suddenly logged out. Thinking it was just a glitch I tried to log back in. A message popped up saying I was abusing a Facebook feature so I guess "liking" President Trump is abusing a feature. This censorship is ridiculous! I haven't even tried to log back in to see if I'm still banned and I don't know if I will ever bother with Facebook again.

James Muma (McKenzie)
from Grosse Pointe, MI
You don't have a ZERO in your rate your experience. I've sent a number of messages about my issue, and have received no reply. My problem is: Whenever I delete a person's post, it returns as soon as I refresh the page. I've tried this on a number of different posts, and it's the same with all of them. What is wrong? How do I fix it? I would appreciate a response with a remedy to this issue.

TREVOR DAVIS
from Cape Town, WC
My Post your server sates I boosted a post with R500 000.00 which is impossible and we have stopped the card but cannot get hold of anyone to rectify
appreciated
TREVOR DAVIS

John Phoenix
from Bidwell, OH
on jan 2,2019 $80.00 was taken out of my bank account by blackstone for a 36" griddle that was advertised on facebook. to this day we have not received our grill or our money back. the ad said that there was a 7 day delivery. guess what we have no griddle, no money and the telephone # given is no longer in service. imagine that!!!!! what are the steps for me to take to get my money back

spike zona
from Rupert, ID
everytime I sign up for a new account you guys think I am a robot, delete the fucking account you guys are nothing but a fucking scam delete the account

Ifeoma Favour Simon
from Kyiv, 30
My Facebook was locked for security reason because someone was trying to log into my account. I have tried to change my password. I can log in but having problem at https://www.facebook.com/checkpoint/?next=https%3A%2F%2Fwww.facebook.com.... I need a code to my phone so I can use to confirm my Facebook account and get it back. No code for me and am not receiving any code to get my Facebook account back. I need a code.

Natosha Monego
from Everett, WA
A friend had reached out to me via the Facebook Messenger app out of concern for my safety and wellbeing due to a domestic-abuse situation. Shortly thereafter, I found myself blocked from Facebook Messenger for a post I shared earlier regarding racial discrimination on myself as a child. The post was not threatening, abusive, or offensive, and simply detailed information about my experiences. Their algorithm blocked posts, replies, instant messaging, and the ability to report a complaint or post on the public boards because I had allegedly violated community standards. This is not the first time they have blocked my account for flagrant reasons. There have been other sensitive or controversial topics I've posted about, non-abusive, in which there has been no good reason for them being blocked other than they might have been unappealing to some people. As a result of their extraneous blocking, I've lost contact for several days with friends whom I've been in contact with, providing support and help regarding my domestic situation.

Dr. Sonny Stark
from Running Springs, CA
Someone is using my name Sonny Stark and my two pictures on a fictitious duplicate account. They ask for money. Please take care of this or I will close my three accounts.

Nina Ribena
from Worcester, ENG
I have had my Facebook account cloned and despite reporting it to Facebook numerous times and providing proof that the account is fake, Facebook are refusing to do anything about it. The fake account is using my name and has stolen my artwork to use as their profile picture. I have even provided a link to my YouTube video showing me creating the picture that they have stolen from me.
I've attached a copy of the fake profile below.
I welcome any advice regarding getting this account removed.
Many thanks
Nina Ribena
Worcester UK

janeen charles
from Shingletown, CA
Please help I have bee blocked twice this week because "I am misusing by going too fast." Could you please remove my block, it is not fair that I type fast.

Leo E Hanko
from Cazenovia, WI
I posted something off the internet on muslims on why they hate dogs and how cruel they are to them,i wrote muslims are evil for doing evil things to dogs which everyone knows but fb blocked me for 30 days how is that worse that the muslim in michigan saying and posting we are going to impeach the mother fucker and that ok says fb .thats completly ass backwards unless as we all know fb discriminates against conservatives.This is America and if muslims dont like how we do things in America they dont belong here and people like in the fb corp. protecring the muslims that want to come here and kill Americans and destroy our country.I guess fb is filled with communist people that hate America too.If this block isnt fixed i will contact fox news so it can be aired for the whole country to see what kind of garbage is running fb.You keep doing this shit and we will shut your muslim loving communist org. down and if you think it wont happen wait and see !

Rebecca Arvin
from Irvine, KY
FB should screen people who sell things on the site... i ordered from Amelia quilts and have never received. as have many others. The company was a christmas scam and is not even open anymore..they do not respond. They now go by Ecrafta. Do these people have to show any kind of documentation before opening a business on FB? really bad business.. FB is making it EASY to take advantage of people.

Shamseer thazhe veettil
from Dubai, DU
My facebook account shamseerthazhe@yahoo.in is disabled
Pleas enabled my facebook account
I apologize my mistake
My post any person distubed iam realy sory my mistake I apologize my mistake
Pleas enabled my facebook account shamseerthazhe@yahoo.in pleas
Have feedback for Facebook?
Thanks for your feedback!
Sorry. Please try again later!