Facebook
Facebook Complaints Continued... (Page 4)
565+ reviews added so far. Upset? Call Facebook corporate: 650-543-4800

Linda Leffler
from Hibbing, MN
Facebook has locked me out due to someone trying to hack my account. I even sent them a new password. Birchtree1939 uu you cannot resolve this then cancel facebook .

roger parkes
from Hinckley, ENG
You disabled my account some weeks ago for no apparent reason. I do not use obscene language or post any controversial comments.
I use facebook to keep in contact with many authors to discuss marketing. I also use it to contact a small number of friends. But my main concern is being unable to contact authors and author groups in the US and Europe to discus my publications and marketing techniques. Social media is a powerful marketing tool for me, now i am being virtually wiped out since my colleagues are unable to make any contact with me.
Why? what have I done to prevent me having any accounts on facebook? I respectfully ask that you address my complaint and tell me what it is you think I have done to deserve your treatment.
Thank you,
Roger Parkes.

Linda Skovira
from Harwich, MA
I can'recover a facebook page that I have deactivate

I want to get off Facebook. I have been hacked 2 times already and when I try to go to Facebook it tells me I have the wrong password. GET ME OFF.
Theadora Huttmeyer

Jesse Delcourt
from Minneapolis, MN
Dear Facebook team I have been trying to have a Facebook account to contact family one of my family members are dieing but you keep asking for me to upload photo of my self that clearly shows my face book ever time I try to keep a account it's refreshes the page and comes to check point within every hour to half an hour then when I submit photo you disable the account with no giving reason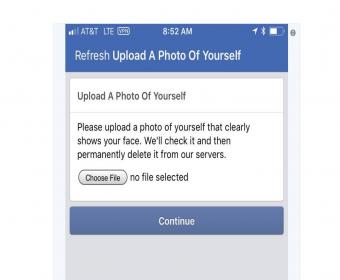 I've been complaining and sending numerous messages to Facebook on the behalf of thw everyday blocking me from liking my family members post. Now its to me as an harassment; and im almost to the point of going full throttle hiring a lawyer like Morgan & Morgan if this keeps up. I can't send my mom a heart on her page. I feel they need to be more strict on people killing people post; and posting stuff not cool. Rather then bothering us people who does nothing to people.

When I click on "see 13 more comments" nothing happens.
When I click on "see more replies" nothing happens.
Is this problem fixable?
Thanks in anticipation.
John Patterson

Sidney Anthony
from Johannesburg, GT
Facebook does not come back to me about the fact that they system deactivated my account.i have gone to all they sides to complain and they are not coming back to me. My business account is connected to this account and I have tried very much to fix this as it relates to my business account and could ruin everything for me.

Rickey Barker
from Shaw, ENG
Facebook have taken funds out of my account without authority on eleven separate occasions, my bank has recouped some of the funds, however, there is still a significant amount to be addressed, therefore I would like the funds to be reinstated into my bank account. Thank you.

id like to report facebook please. for interfering with democracy. and deleting a valid mep's election campaign video. with no explanation as to why! facebook is actually interfering with the will of the people. id like to see facebook prosecuted. i look forward to your reply. thanks

i cannot open my facebook........i was hacked......this has happen before.......done nothing wrong.....not my fault........i have tried to open my facebook..but cannot do it.........please help and open my facebook..........facebook is the best site on here,,,,,,i enjoy it alot..........please help me with this matter........thank you so much............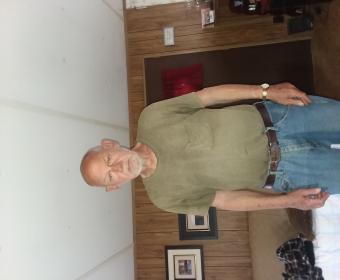 i was hacked,,,,,,,,please open my facebook,,,,,,,,have been hacked before,,,,,,,,i have done nothing wrong.....not my fault...please open my facebook........i enjoy it alot......it is the best sight on here...........thanks so much,,,,,,,,,,,,

You locked me out because you don't think it is me. I tried to change password, you refused so now I have uninstalled both facebook & messenger
I am a Christain, a Republican, wife,mother & grandparent so I will be vocal about your services.

Sai Reniit group
from Bengaluru, KA
This is a complain about Mr siyafat Mansoor who often misuse Social media for his entertainment,
He has worked in our company as a sales manager from 19/9/2015 to 2017 and we were paying salary of Rs 25,000 and other incentive too.
We terminate him from the job during 2017, now after lack of 2 years he is making false and baseless
allegation in facebook. Which will damage our reputation and business in real estate. All the false allegation made by mr siyafat mansoor against our company with a malfield intention to damage our reputation and growth in real estate business. Some of them are given below,
1 - He has misused the company personal benefit and information without the knowledge of our company.
2- company fixed the one price and he was collecting more amount from customers without company knowledge
3 - Often he used to divert our customer for his personal benefit and also he was collecting money from customers for khatta without the knowledge of our company.
once it comes to our knowledge immediately we removed him from our company.
so we want to stop or block him and his his wrong comments and post to be stopped by reviewing his time line and all baseless post so that we not get any harm from him in our real state business.

Andy Wallace
from Lanark, SCT
Why am I getting the attached message? I have enough friends on facebook, I like to see their posts, I don't want to be prevented from doing that for Facebook's own devious reasons. I want to use Facebook as I want to use it, not the way that Facebook wants me to use it, and if I can't there is no point being on Facebook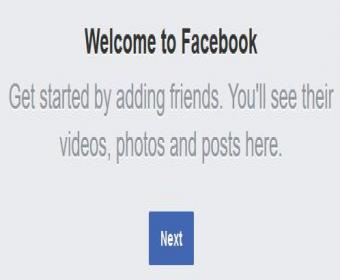 Wanda Jackson
from Dallas, TX
Can't get an account, someone hacked my account, also disabled my phone number. Y'all need to help.

For the love of God, can you please tell me how to remove the Emojis at the bottom of my reply line?!? I get so tired of this crap. Please DO NOT highlight my words to emojis in my texts and remove them from the bottom of my reply line. If I wanted the, I would use the!

I believe on March 31, i reposted an image that was a quote from history. It was in response to a post that was a blatant lie by a facebook troll that travels between Trump supporter sites posting nasty insults and lies. I subsequently got banned from posting for a week. Reason posted to me was it was against community standards. Is it Facebooks intended mission to convert or banish history as it occurred to suit their agenda. I demand my account be reinstated immediately and that facebook re-train their community standard employees to allow both parties to voice their opinions equally.

STUPID PASSWORD JUNGLE MAKES SERVICE OBSOLETE BY JUNE 2019--JUST IN TIME FOR PRIDE!

Arunyadav
from New Delhi, DL
Dear team my fb acount in the name of arunyadav.wich has been hack by someon using his name on my fb id change tha paswrd also.so kindly help me to retari my fb acunt and insure that hi will not miss use tha contain in my fb id.kiny du the action as soon as posible.

Donald Haynes
from Portland, OR
They put me in Facebook jail for 7 days over a post i made a couple months ago, ok i understand. And then just yesterday. The same exact post i made at the same time as the first one surfaced and they put me in Facebook jail again for 30 days this time! I already got in trouble for it once and i have been complying with the Facebook standards. Im really getting tired and irritated with how they are running it. Ready to delete my account! Along with several other people I know.

Griffith Gina
from Saint Albans, WV
can I please have zero stars? A friend has had her account hacked and some unknown person is using her account to solicit donations and money. I have tried to file a complaint online but the process is tedious and whenever I finish explaining the complaint instead of excepting my input all the information is deleted. And of course you have a phone number but you're not talking to anybody at the moment. So first of all the friend of mine whose account has been hacked is named joyce Tonkins from .st. Albans WV. Some unknown persona is soliciting money at least it's far as I'm concerned on Facebook messenger. Second it has become so difficult for me to file this complaint – which I am doing because my friend Joyce cannot figure out how to file a complaint – that my next call is to my two senators telling them a story as a reason why Facebook must be government regulated. This is ridiculous. I am trying to report a crime and you do not make this report feasible

andrew katchusky
from Grand Island, FL
im tired of having my account blocked for 30 days for expressing my freedom of speech.i want my account unblocked.30 days is unfair and i want my account to be unblocked immediately .i have the soul right to express my freedom of speech and not have my comments i make on friends post be removed nor blocked .its highly annoying and i want my account on facebook to be unblocked NOW.facebook has NO standards .please unblocked my account on facebook.

when I try to sign up you request a mobile phone number I do not have a mobile phone

john knox
from Prescot, ENG
you are shadowing me. I can see my posts and shares. but none of my friends can see them. this is my 4th complaint in 4 months

Ryan Albanese
from Pasadena, TX
Facebook is actively suppressing my 1st amendment rights. The statement "I commemorated the event by buying an ar 15 and a couple pounds of bacon" is in no way racist, illegal, bigotry or discrimination. Continuing to do so needs to lead to charges be filed against facebook.

Naawwii Rashaad
from Addis Ababa, AA

Facebook, bring back the "new posts" topic in friendlist now!! We can't do without since we hardly see any friends-feeds nowadays. Facebook becomes totally worthless this way!

mY COMPLAINT IS WITH FACEBOOK
I boosted a post and tried to get it boosted to Maribyrnong Australia to Liberal Party of Australia people aged over 35 in a radius of about 12 km but it was boosted to Malang, Indonesia. Will you help make sure the $30 credit now owed to me goes where i intended the first boost to go?
I CANT FIND OUT HOW TO GET THIS COMPLAINT THRU TO FACEBOOK

Piera Maria Alexandra Verri
from Slough, ENG
Kindly reactivate my other account I have been trying to manage my own friends so I have 3 accounts. One old I cannot even access because of the same problem for the last 3 years. Consequently , I had to make another account years ago with other 1500 friends and you have blocked me from my second account again. Please understand I do not need your security if every time you are closing my own account. Unfortunately,I have webinars to attend which I have already paid for and this is now too much inconvenience. I am writing from my new account which you also bloked one month ago because someone thought it was not me. Kindly please unblock my account now blocked and make sure you leave this one the way it is. I would be very grateful thanks piera

One of my friend nisar kuchay is not able to send me friend request coz i have blocked him once..now he z nt able to send d request so u r requested not to block this option for him n enable him this option so that he can send the request n make sure in future u should not block this option for people..resolve this as early as possible

Rashmi Kumari
from Navi Mumbai, MH

bruce b rolff
from Whiting, NJ
I have been locked out of my accounts on multiple devices for 3 months! I have contacted them and sent them my ID at least a dozen times with no resolution. I use facebook to help promote my business. I mean what company today in the USA does not have resolution to a customers problem after THREE MONTHS?!! I have tried multiple avenues to try to resolve this myself including trying to change my password. WHEN I TRY TO RESET MY PASSWORD, IT ASKS FOR MY PASSWORD!! I mean WT*?

said doing maintance been over an hour still cant log on wow some company how about fixing the problem ?????

CW Garrow
from Redcliffe, QLD
I cannot place a comment without a red window appearing and I have to delete my comment, even though there is nothing wrong with my wording. Secondly , I cannot delete certain unwanted posts on my home page.

Ierei Kirill
from Minneapolis, MN
Facebook become an instant place for abuse and bigotry orchestrated by Russian speaking administrators, mostly from Ukraine. In Russian speaking group I published an excerpt from historical chronicle ( https://en.wikipedia.org/wiki/Primary_Chronicle ) and someone from Facebook team with anti-historical agenda blocked it in a way that when I asked from review it give me an error message with promise to fix it, but I can't progress anywhere further. Any complaint directed to Facebook support left unanswered. Beware of Facebook, it has it's own agenda different from values of American Constitution.

Greendot has put a block on my card. It's been nearly three weeks now. You can't get anyone on the phone. The voice machine tells you the card will remain blocked until I send in the infomation that was requested. I was never notified to send in any iinformation. I went online to see how to unblock my card. I sent that to them. Some one called me and said headquarters would be calling me and to keep my phone line open. She couldn't tell me why my card was blocked.This is a con man business. People of the United States, don't deal with greendot.They will block your card. A means to get your money. I left voicemail telling them I don't care how long it takes,am going to get my money from them.

Blaine prest
from Halifax, NS
Friend requests,,how come some like Matthew Bonnerhave 5000 and some. Are cut off at 2000,This is very incovient.especialy if you need one and they. Have 5000or 2000'1d apppreciate a reply

king james NKUM
from Lagos, LA
My account seem to have been blocked as i can't log in. However, I am unable to retrieve the account because the code is not being sent to my number +2348065319125

Manish kumar
from Monrovia, CA
Mujhse koie bhi friend chat nahi karta hai

ahshi kuki haokip
from Gurgaon, HR
my account was inactive for the past 3-4 years..now that i have recover my email whenever i log in to my facebook account.security check. i could no longer identify those photo...and the alternative security check where i am being asked to text the security code through phone no. i have lost my cell phone along with the no. kindly help me fixed my problem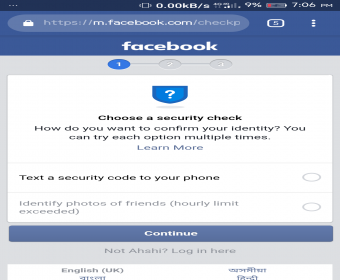 About Facebook it won't let log out and you change me money to think a take this to court of do things it

Facebook is keeping a close eye on my Facebook account. I received two 30-day blocks and other blocks for posting things that they say go against their Community standards ?? This started about a year ago when I tried to start a business and pay Facebook for advertising. They said my business goes against Community standards and then they blocked me. Ever since then I've been constantly blocked. I've seen people posting nudity, obscenities and violence on Facebook and they don't get blocked. Facebook is becoming a joke.

James Russo
from Detroit, MI
I have been contacted about a promotion from fb .that I won 250,000$.the lady ,Sarah maxwell.i was to send money to a .Marie Reyna in texas.79603..i also called a number you have on file and a guy answered and,said yes I did.he wanted me to send 480$ To collect.the phone number was on your page..and he called me..you have a big scamm going on.im out nothing..please investigate

After a few years of membership I have decided to withdraw from Facebook. Facebook has restricted me from posing any and all pictures. I tried to post Valentine Snoopy pictures and could not. I do not like being restricted from exercising my First Amendment Rights. .

Kenneth wayne Littrell
from Pasig, 00
facebook was o.k. until just recently it seems facebook disregarded fact I use fbp to block ALL adds I am getting slammed with political adds here in the Philippines posted as if they are my "friend" or I "liked" their page. Please look into this, it is ridiculous how many political adds there is. I am thinking about discontinuing usage because of it.

I tried calling and had no help. it was all automated systems that 100% of the time tell you to go online which Is the worst possible thing when you actually need help with fradulent charges. I found a number that sent me to people who bairly speak English and don't want to help me because "he doesn't feel like it" the guys name was Peter brown which was 100% not his real name. he refused to help in any way shape or form. it was the complaints department that I called and I don't even know what to do from there. when the complaints department says they literally don't feel like helping I feel the company is inherently flawed and a scam. if I could in any way express my displeasure with the company but the one place you are supposed to be able to call for help or ways to improve the service literally said to me "I don't feel like telling you my name". if I could involve the police I would in a second. The individual asked me to buy a prepaid card and give him the number which is exactly what a scam would be. worst possible experience. never have I been treated so badly in my entire life. I would never recommend this service to anyone for the rest of my existence and I will do everything possible to let people know and help people avoid the dehumanizing treatment that I have had to endure. If I could give less than 1 star I would.

ads that you put on here for sales of merchandise need to be screened by someone as some of these retailers have a horrible reputation with customer service and very poor merchandise as well as no way to contact the retailer as they refuse to answer all calls made as well as emails one retailer in particular is Edgewater Direct as they have thousands of complaints filed against them as poor quality merchandise poor customer service months to receive items and no way to return them and some who never have received there items . These people need to be forbidden to advertise on here and should be shut down and taken out of business !
Have feedback for Facebook?
Thanks for your feedback!
Sorry. Please try again later!