Facebook
Facebook Complaints Continued... (Page 1)
433+ reviews added so far. Upset? Call Facebook corporate: 650-543-4800

One of my friend nisar kuchay is not able to send me friend request coz i have blocked him once..now he z nt able to send d request so u r requested not to block this option for him n enable him this option so that he can send the request n make sure in future u should not block this option for people..resolve this as early as possible

DARRELL E SNOW
from New Iberia, LA
I am complaining about being banned off of Facebook for 7 days. Which is totally unfair. I made a statement that I felt was a true statement about Muslims. This is called Freedom of Speech. Did us Americans lose that right????

Rashmi Kumari
from Navi Mumbai, MH

Steven Heaton
from Blackpool, ENG
Hello I have been trying to access my account for 3 days. Every time I request an approval SMS nothing comes through. I get as message saying I have requested too many videos try later. Even waiting some considerable time can no longer get log in from any browser. What is the problem this so irritating. Please reply to my email asap steveheaton@blueyonder.co.uk

bruce b rolff
from Whiting, NJ
I have been locked out of my accounts on multiple devices for 3 months! I have contacted them and sent them my ID at least a dozen times with no resolution. I use facebook to help promote my business. I mean what company today in the USA does not have resolution to a customers problem after THREE MONTHS?!! I have tried multiple avenues to try to resolve this myself including trying to change my password. WHEN I TRY TO RESET MY PASSWORD, IT ASKS FOR MY PASSWORD!! I mean WT*?

said doing maintance been over an hour still cant log on wow some company how about fixing the problem ?????

CW Garrow
from Redcliffe, QLD
I cannot place a comment without a red window appearing and I have to delete my comment, even though there is nothing wrong with my wording. Secondly , I cannot delete certain unwanted posts on my home page.

Ierei Kirill
from Minneapolis, MN
Facebook become an instant place for abuse and bigotry orchestrated by Russian speaking administrators, mostly from Ukraine. In Russian speaking group I published an excerpt from historical chronicle ( https://en.wikipedia.org/wiki/Primary_Chronicle ) and someone from Facebook team with anti-historical agenda blocked it in a way that when I asked from review it give me an error message with promise to fix it, but I can't progress anywhere further. Any complaint directed to Facebook support left unanswered. Beware of Facebook, it has it's own agenda different from values of American Constitution.

richard everhart
from Rochester, NY
Read 1 Previous Message
Thanks for your feedback
Today
Thanks for letting us know about this. We looked over the post, and though it doesn't go against one of our specific Community Standards, you did the right thing by letting us know about it. We understand that it may still be offensive or distasteful to you, so we want to help you see less of things like it in the future.
From the list above, you can block Shared directly, or you may be able to unfriend or unfollow them. We also recommend visiting the Help Center to learn more about how to control what you see in your News Feed. If you find that a person, group or Page consistently posts things you don't want to see, you may want to limit how often you see their posts or remove them from your Facebook experience.
We know these options may not apply to every situation, so please let us know if you see something else you think we should take a look at. You can also learn more about our specific standards on nudity and the kinds of images allowed on Facebook.
OTHER MESSAGES
You anonymously reported Stephanie Sharpstene's video for displaying nudity.
IN REVIEW
WHAT YOU CAN DO
Delete Report
Unfriend Stephanie
You'll no longer be friends on Facebook.
here has been nudity and they say its with in community standerds it is not they refuse to get back to me and yes face book is racist if you have a picture with a muslim infront of the twin towers burning they lock you out cause its not within standards but its different when they show a beheading and hanging of americans and they say its with in community standards this is very wrong and yes FACEBOOK IS A RACIST SITE
Unfollow Stephanie
You won't see posts from Stephanie Sharpstene in News Feed anymore.
Block Stephanie
You won't be able to see or contact each other.
ACTIVITY
Your report
Yesterday
You anonymously reported Stephanie Sharpstene's video for displaying

Greendot has put a block on my card. It's been nearly three weeks now. You can't get anyone on the phone. The voice machine tells you the card will remain blocked until I send in the infomation that was requested. I was never notified to send in any iinformation. I went online to see how to unblock my card. I sent that to them. Some one called me and said headquarters would be calling me and to keep my phone line open. She couldn't tell me why my card was blocked.This is a con man business. People of the United States, don't deal with greendot.They will block your card. A means to get your money. I left voicemail telling them I don't care how long it takes,am going to get my money from them.

Blaine prest
from Halifax, NS
Friend requests,,how come some like Matthew Bonnerhave 5000 and some. Are cut off at 2000,This is very incovient.especialy if you need one and they. Have 5000or 2000'1d apppreciate a reply

king james NKUM
from Lagos, LA
My account seem to have been blocked as i can't log in. However, I am unable to retrieve the account because the code is not being sent to my number +2348065319125

Since yesterday, my account was suspended for i.d. so I uploaded my Drivers Licence, my account activated, then it was DISABLED. AND I OPENED 3 MORE ACCOUNTS FOR THE EXACT SAME THING TO HAPPEN.
I ONLY WANT MY ORIGINAL ACCOUNT, CONNECTED TO smcooky1202@gmail.com FIXED as I am disabled and have a number of SUPPORT GROUPS I NEED.
I would APPRECIATE SOMETHING BEING DONE TO RECTIFY THIS ASAP., thank you, Shane Cook.

Manish kumar
from Monrovia, CA
Mujhse koie bhi friend chat nahi karta hai

ahshi kuki haokip
from Gurgaon, HR
my account was inactive for the past 3-4 years..now that i have recover my email whenever i log in to my facebook account.security check. i could no longer identify those photo...and the alternative security check where i am being asked to text the security code through phone no. i have lost my cell phone along with the no. kindly help me fixed my problem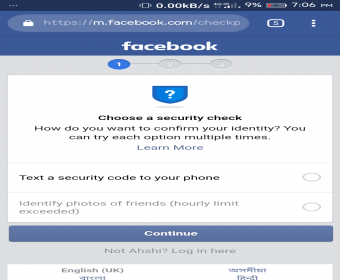 About Facebook it won't let log out and you change me money to think a take this to court of do things it

Facebook is keeping a close eye on my Facebook account. I received two 30-day blocks and other blocks for posting things that they say go against their Community standards ?? This started about a year ago when I tried to start a business and pay Facebook for advertising. They said my business goes against Community standards and then they blocked me. Ever since then I've been constantly blocked. I've seen people posting nudity, obscenities and violence on Facebook and they don't get blocked. Facebook is becoming a joke.

James Russo
from Detroit, MI
I have been contacted about a promotion from fb .that I won 250,000$.the lady ,Sarah maxwell.i was to send money to a .Marie Reyna in texas.79603..i also called a number you have on file and a guy answered and,said yes I did.he wanted me to send 480$ To collect.the phone number was on your page..and he called me..you have a big scamm going on.im out nothing..please investigate

After a few years of membership I have decided to withdraw from Facebook. Facebook has restricted me from posing any and all pictures. I tried to post Valentine Snoopy pictures and could not. I do not like being restricted from exercising my First Amendment Rights. .

Kenneth wayne Littrell
from Pasig, 00
facebook was o.k. until just recently it seems facebook disregarded fact I use fbp to block ALL adds I am getting slammed with political adds here in the Philippines posted as if they are my "friend" or I "liked" their page. Please look into this, it is ridiculous how many political adds there is. I am thinking about discontinuing usage because of it.

I tried calling and had no help. it was all automated systems that 100% of the time tell you to go online which Is the worst possible thing when you actually need help with fradulent charges. I found a number that sent me to people who bairly speak English and don't want to help me because "he doesn't feel like it" the guys name was Peter brown which was 100% not his real name. he refused to help in any way shape or form. it was the complaints department that I called and I don't even know what to do from there. when the complaints department says they literally don't feel like helping I feel the company is inherently flawed and a scam. if I could in any way express my displeasure with the company but the one place you are supposed to be able to call for help or ways to improve the service literally said to me "I don't feel like telling you my name". if I could involve the police I would in a second. The individual asked me to buy a prepaid card and give him the number which is exactly what a scam would be. worst possible experience. never have I been treated so badly in my entire life. I would never recommend this service to anyone for the rest of my existence and I will do everything possible to let people know and help people avoid the dehumanizing treatment that I have had to endure. If I could give less than 1 star I would.

Tanisha shipman
from Hartford, CT
My page was hacked and no one has resolved the issue my page is now contacting all my friends asking for money I u look on my old page my friends also noticed that it's not me you can find me by the phone number 8609226147 is it even possible to close my page indefinitely so my friends can stop getting harassed it's also under tanishashipman@yandex.com which is not my email...I've asked my friends at work to report the page I've had this page for years until a couple of days ago

Iam very disgusted with what you allow people to say about people and the bullying, that I am learning about! I would really appreciate a response to this matte ,before I have no other choice than to contact the better business bureau! I have written you twice already with no response that is showing me you think it is okay to call people fing retarde and fing C`s! that really makes me soooo happy I am not on facebook and never will be when you allow this! My email is anniewalline3@outlook,com I really hope to hear from you soon!

ads that you put on here for sales of merchandise need to be screened by someone as some of these retailers have a horrible reputation with customer service and very poor merchandise as well as no way to contact the retailer as they refuse to answer all calls made as well as emails one retailer in particular is Edgewater Direct as they have thousands of complaints filed against them as poor quality merchandise poor customer service months to receive items and no way to return them and some who never have received there items . These people need to be forbidden to advertise on here and should be shut down and taken out of business !

The app and online version is continuously creating problems for posting and editing. Would like to create a business page or group but crashing prevents this. Unable to keep up communication with sellers I've shopped with, creating a huge financial issue.

Facebook keeps banning me for 30 days, now they say I am banned again for 30 days for something I posted almost a year ago. I think Facebook is targeting some people to be banned for no reason except for our views on things. Why else would they dig back a year to find something, anything to ban someone.

When I opened my Facebook page this morning, a picture of my great granddaughter popped up from a year ago, Facebook wanted to know if I wanted to share it again, which I did share it again. Everyone else saw this::
Attachment Unavailable
This attachment may have been removed or the person who shared it, may not have permission to share it with you
What the Hell! It was my picture and your company brought it to my attention that it was last shared by me a year ago and would I like to share it again! My picture..my Facebook page! I am totally confused by this! I would like to know what is wrong???
Patricia Montgomery

My Facebook page has been closed Can you tell why you are doing this? While there was no such thing in my page that someone's feelings are hurtful, there is a lot of porn page running on Facebook, why are not they shut down? Facebook's policies for India are complete biopsy: India's people should boycott Facebook's whole boycotting against it. The freedom of expression, we all have data thieves Mark Zuckerberg Shame for You

Robert Rumbold
from Detroit, MI
Hi my name is ROBERT RUMBOLD..I am tired of you guys pulling my account off fb with no reason. None. I have complied did what you want use my name and you keep pulling me off. I am tired of being treated like a criminal. I have been on fb 8 years no trouble till december 2018. I was hacked reported it you guys have been given pics of myself. I am a military veteran.i demand a reason why i am being taken off. You violate peoples privacy. I like fb. But since december you dont follow your own rules. I demand a reason why i am being pulled ofg. If i get another account pulled off and i dont get a reason for this my attorney will be in contact with you and trust me ill proceed with a class sction lawsuit against fb for privacy violations. And i will get others to join me and ill sue you for everything you own. I am a veteran and you treat good people like criminals. I am being nice . i demand a reason and quit hiding behind your computers. You need a staff of live phone staff and you have no support staff. I demand a readon. Next time my account gets pulled a. Lawsuit will follow.

John Bruns
from Lake Forest, CA
my account was hacked and cannot log in Facebook sucks, they have no live service, please fix the dam issue, I had a two security feature on and they still hacked my information and got my ID theft, I am very pissed off, you need to compensate me for damages

I am being locked down on Facebook for alleged bullying of a false account. I shouldn't be punished for calling out a troll.

David Dodt
from Defiance, OH
I'm restricted now because of Community Standards. (POST) I wrote a couple of years ago about the asteroid that caused the mass extinction. It hit the earth causing the Mexico and Texas coastline. That, that would, because of the Issac Newton 3rd Law of Motion, would cause the volcanoes to erupt worldwide. Then later I showed how the true North was shifting South and East according to US Navy charts. Last year I wrote about an earthquake event taking place worldwide. It was of a 6.2 magnitude but only found at a ocean depth of 1200 feet. But I didn't know about the 12,000 year cycle,. Interesting. (WOW, THIS IS REALLY SCARY, YOU MUST PUT ME INTO FACEBOOK JAIL FOR THIS.) STOP THIS NONSENSE IMMEDIATELY. This so STUPID on so many levels.

Facebook is full of Liberal biased trashy
Anti American camel jockey loving bastards.

I can't open my account because someone reported me or I don't know exactly why, help me to reopen my id because my friends and my girlfriend is waiting for me there, it's been years that I cannot open it, for the sake of her open it for me then I'll edit it and change everything to my identity details
Thank you

Lena lednick
from Washington D.C., DC
I have tried to fix my password and entering the code many different times and days and get the samessahe that I have entered to many times come back later by now I am really tired of this now all I want to do is close my account and come off this crazy site. Please fix this o I will contact the bbb and see if they can't help

John Angastiniotis
from Aurora, ON
I wanted to let you know that a number of advertisers are running a number of scam ads for products where they charge credit cards, but do not deliver product to the customer.
I have recently run into 3 of these scams, and I have had to contact my credit card company to have the charges reversed.
The vendors are:
1) Touch Screen Coffee Table, ad ran December 3rd. Credit Card charged, no product ever sent out. No e-mail confirmation was ever received for placing an order with them.
2) Folding Clothes Robot, ad ran January 6th. 2019 (www.shopmybest.com). Credit Card charged, no product sent out. No e-mail confirmation was ever received for placing with order. No response from vendor (I sent an inquiry to their support e-mail pertaining to my order) and the phone number listed on the website (1-626-456-6688) is disconnected.
3) Multi-Function Mobile Cabinet, ad ran January 18th (www.onlinebookgoods.icu). Credit card charged, no product sent out. No response from the vendor (I sent an inquiry to their support e-mail pertaining to my order) and the phone number listed on the website is the same as the one above.
I thought you should be aware because you are approving & running their ads and exposing your customers to fraudulent claims.
Sincerely,
John Angastiniotis
C 647-808-4597

Corey Lyons
from Fond du Lac, WI
Facebook is allowing Sexual/Religious hate/harassment on their site. All the messages have been reported to Facebook, but its their customarily "Doesnt violate our community standards" when it obviously does. Theres over 2 dozen not only against me, but other people as well.
His term "Incel" is defined as such:
Incels (a portmanteau of involuntary celibates) are members of an online subculture[1][2] who define themselves as unable to find a romantic or sexual partner despite desiring one, a state they describe as inceldom.[3] Self-identified incels are largely white and are almost exclusively male heterosexuals.[4][5][6][7][8][9]
https://en.wikipedia.org/wiki/Incel
Facebook doesnt police their own platform anymore, and allows the bullies and harassers more power than the people they abuse.

Gina Dauphin
from Downers Grove, IL
It is kind of bizarre my friend was looking for me on face book on the search bar on face book ,when they put my name Gina Dauphin a another Gina Dauphin appear , but different picture a baby pic and and adult pic , I do not think people can have the same name spell the same . I think hacker use my name to get on face book . In i remenber i was try to make an account face book advice someone using my in my photo was disable hmmm.. Please make investigation so that gina is fake i believe that hacker using my identity to use face book.ASAP People might think is me send goog inf o that hacker my held. Urgent matter

Jeanne hollar
from Washington D.C., DC
For the last 2 week's I have seen the same things everyday. Also when looking at Facebook there have been many stories that contain pictures and sayings and they are all blank. This has been going on for at least 2 weeks. You can also be on there reading all the things then the pages won't go any further you just see a circle going around and around. After waiting a while I got out and then went right back only to see the same stuff I just saw. When will this be corrected. Very frustrating

Cheri Taubin
from Marietta, GA
How dare you Facebook refuse an ad for volunteers for special needs children in Georgia or, for that matter, any place. My grandson has a rare genetic disorder called CDKL5. He can not speak, see, walk or talk. He only gets food through a feeding tube. Besides all these disabilities., he has extreme epilepsy. And you, Facebook, will not post any ads for volunteers or support because you think it is discriminatory. You should be ashamed of yourself. I get multitudes of Facebook ads for recipes. rejuvenation products, jewelry, vacations, clothes and a load of unnecessary garbage, but to something as important as this. you turn your back. How dare you. I am saddened by your lack of compassion and concern for those who can not speak for themselves. Your actions are deplorable. We will never stop fighting for our sweet boy. You have no heart for anything besides that which will make you a profit!!! You are a total disgrace to the human race.

Robert Rumbold
from Detroit, MI
Your whole company. I am a usa military veteran. Since december 1st you have treated me like dog crap. You block my original account no warning. You dont tell me whay i did . i tried to put up new accounts you keep pulling them off. I confirmed my phone email pics. Whst more do you want. Huh i used to think you guys were good. Your shady and i have showef my lawyer and i have been advised to take you to court and ill sue you for invasiom of privacy emotional stress and i will humiliate your company. All i want is my old account back an apology and you guys to lesve me the f alone. I am very pissed . and i am also joining others in a class action lawsuit.i wont thank you bevause i did everything you asked and i have reported.you to my congressman.

Beth Strack
from San Francisco, CA
Years ago, my daughter's father-in-law ("Bud") signed up for Facebook using MY EMAIL ADDRESS. I don't know how he was able to do that, and I didn't know about it until too late, and he was dead. His wife wants to get rid of his account, but she doesn't know his password. I have been trying since October of 2017 to delete all of his information from the account, so that I can have my own Facebook with my address It is impossible.
When I open my Facebook with each of my three accounts (plus even my husband's email account, which is associated with my account), it welcomes me with "Hi, Bud." I was able to change the photo, and that was all. I can't change the name, and I can't delete any of the photos or messages from it. Facebook asks for the password. That is good security by Facebook, but they refuse to help me with my problem.
Since any other new email account that I create will be associated with my computer, the only solution is for Facebook to DELETE THE WHOLE ACCOUNT, and then allow me to create a Facebook account of my own with my own email address.

janet omelia
from Huddersfield, ENG
why has my account been disabled first they were checking my photo now its disabled could not of been anything I have done.Im 61 years old disabled lady I don't go out facebook is my only way of socialising.I am always polite and sensitive to other peoples feelings not like a lot on there.And I am who I say if you need more proof let me know my tel number 01484361196 my mob no 07555479062.my address is 6 maple close kirkheaton Huddersfield w Yorkshire uk I have tried to get back on face book I notice my web address had a fault a comma as occured between yahoo.com instead a full stop so I tried changing my account details

I tried asking facebook to take down (report) plus I asked them some questions which in the end, got no response. This posts was bothering a buddy of mine. It feels like facebook doesnt care about people posting things. That's why people tend to complain allot about it.

João Barbosa
from Sao Mamede de Infesta, 13
Hello,
Please help me! My personal page (http://www.facebook.com/jbar6) that manages 3 pages (2 artists and one record label) was hacked on 6/01/2018 while i was logged in someone got access of my account and removed from Admin on verified page http://www.facebook.com/djoder please facebook at least give me back access to this verified page as this is my main business where i spent and invested the last 10 years of my life and never had any infringement notification.
The IP address and Operating System used to remove me from Admin is not mine, please see the attached images sent by facebook where this can be proved, the profile image was hacked with terrorist propaganda that i never ever posted and have absolute no relation.
It is very frustrating that facebook is treating me like I'm the hacker when I'm the victim, i sent appeals, sent ID card to prove it is me and not some hacker and 2 weeks have passed and still nothing.
http://www.facebook.com/jbar6 (personal page that manages all the above pages)
http://www.facebook.com/djoder (verified page that i was removed without consent)
http://www.facebook.com/drtsknkbts (another musical project i have)
http://www.facebook.com/kultureklashrecords (my record label)
Please reply.
Best Regards
João Barbosa

Ted Lieb
from Arlington, TX
On Christmas Day I was watching President Trumps address to our US Military. I was "liking" his talking points as he made them. When President Trump began talking about the "WALL" and I was liking his statements my Facebook account suddenly logged out. Thinking it was just a glitch I tried to log back in. A message popped up saying I was abusing a Facebook feature so I guess "liking" President Trump is abusing a feature. This censorship is ridiculous! I haven't even tried to log back in to see if I'm still banned and I don't know if I will ever bother with Facebook again.

James Muma (McKenzie)
from Grosse Pointe, MI
You don't have a ZERO in your rate your experience. I've sent a number of messages about my issue, and have received no reply. My problem is: Whenever I delete a person's post, it returns as soon as I refresh the page. I've tried this on a number of different posts, and it's the same with all of them. What is wrong? How do I fix it? I would appreciate a response with a remedy to this issue.
Have feedback for Facebook?
Thanks for your feedback!
Sorry. Please try again later!