ESPN
ESPN Complaints Continued... (Page 6)
326+ reviews added so far. Upset? Call ESPN corporate: 1-888-549-3776

I cannot believe you have chosen not to fire Britt McHenry. She is a bully in the truest meaning of the word. You slapped her on the wrist, which tells me that ESPN approves of bullying. She is so full of herself and knew that she could bully and do anything she wanted to do and would still have a job. What would you have done it it had been a male employee who bullied a female? Shame on ESPN. Until she is fired, l will no longer watch ESPN. After all, We now have SEC to watch.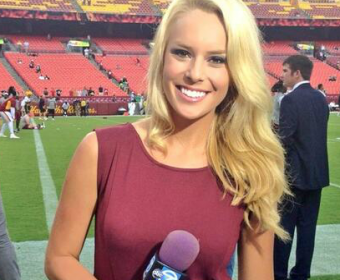 Billie Jeanne Passer
from Raleigh, NC
I am once again very disappointed in your decision to have "Britt McHenry" hosting your programs. I am truly saddened by your support of your employee's behavior. I am not interested in having this "Bully" review any games or sporting events! I do not agree that this woman has had enough time to think about being a professional and redeem the consequences.
I know so many more talented women who would NEVER consider being so CRUDE!! Please reconsider this plea, and give her a better, more respectable sanction.

william
from Hackettstown, NJ
Its absurd that mature adults have to watch a baseball game with a box to let us know where the pitch goes!we don't need it we don't want it its a distraction and it should be removed! Never to be seen again during a baseball game!it's useless technology that doesn't help the viewer see the ball go over the plate with that box there! Please remove it.

Angie Jones
from Lenoir, NC
Britt McHenry should be fired. She was mean and horrible. She bullied, berated, and belittled that woman. She was even told she was being filmed and that didn't stop her. She has been exposed for what she is, and she needs to be held accountable for her actions. I don't wish her physical harm. I just hope that you reconsider her employment. I am sure there are plenty of nice "college educated" women and men out there who would be happy to take her place. Please start interviewing them...

Kevin chance
from Columbus, OH
I'm certainly not the fjrst....and I won't be the last, but I'm begging you to give your loyal customers a classic website option. I'm not sure what prompted the change from the old layout, but this new unveil has me completely baffled. I wouldn't be commenting if this didn't truly affect the way I've browsed online sports. This new website layout I've tried for a couple of weeks to adapt to, but the old layout was by far superior

The new website is worse than the old one. Things are too hard to find instantaneously like before. Go back to the previous website.

Michael Dolan
from City of Saint Peters, MO
This balls and strikes square on the screen has to go !! I'm from St. Louis where we have very knowledgeable fans, and I talked to a lot of my friends, and customers at the casino I work at, and not one of them likes it, in fact they hate it to the point of not watching it when ESPN broadcast, and listening to the radio with Mike Shannon, and John Rooney! This is worse than the red line following the puck in hockey. When on the air why not have fans call in and vote on it, and post the results in the 7th inning or so? I know I'm just speaking for St. Louis, but I'm pretty certain that the whole country will feel the same way! Thank you for your consideration in this matter. Go Redbirds !!!!

Parker Davis
from Wilmington, NC
As a long time loyal viewer, I have never seen an ESPN employee get so much deserved hate. Britt McHenry shows such poor character and only gets a one week suspension? After hammering down on Stephen A Smith for saying something that was nothing more than wise words about women not provoking or escalating a fight if your in a domestic dispute. He got two weeks for something that you should tell your own children: Not to provoke a fight or escalate a situation. I hope you make the right decision and let her go. I do believe in second chances, but I for one, and many others I know, will not view any programming that involves her after this tirade. It is one of those things that will not be erased from viewers memories and will always be associated when she is seen.

Tom Rice
from Bentonville, AR
Why does ESPN support Tony Kornheiser as he uses his ESPN radio show to further his political views and agends, rather than only report and and share his opinions about sports. Friday, Tony chose not to discuss one candidate because they were low hanging fruit. Instead, he chose to slander another candidate. In fact, he accused a United States Senator of lying. He also pased judgement on how that candidate's family chose to deal with a child's physical handicap, and how an eight year handicapped boy would / could / should find encouragement and inner strength.

Neil Mc
from Victoria, BC
As a long term viewer of your network I feel it is my duty to provide you with my feedback. The recent events involving Britt McHenry have really struck a cord with me. She came off as a self-entitled brat who is full of hate. It is unfortunate that the video was leaked but there is no going back now. I feel that if you do not cut ties with her, ESPN will be associated with this disgusting behaviour. As a public figure she should of known better and its time for you at ESPN to do the right thing.

Fire Britt McHenry! For a person to get mad at a company is one thing but to attack a person concerning his/her ability's shows a clear lack of respect on her part. McHenry is just a sorry individual .....no integrity.

April Sorbonne
from Salt Lake City, UT
ESPN shame on you for slapping Britt's hand instead of where it would hurt, her wallet! Fire the girl. If somebody signed me up for ESPN magazine I will refuse payment, should it arrive.

James E. White
from Saint Petersburg, FL
Keith Oberlander - inept, incompetent, is not familiar with his topic, dated appearance, rude and an embarrassment to ESPN and the sports world. Now fast forward to your long standing joke, Kornhowisier or however you spell it, who got fired from Monday Night Football (what took them so long) Another political agenda brought to a sports show with no integrity or credibility. Just get rid of them - I spoke to several groups today referencing these fakes (never played high school anything) and fully exposed ESPN and their apparent new agenda for what it is. Sometimes if it looks and appears to be pathetic it is. Get rid of them.

carl strange
from Rogers, AR
A longtime arena football fan, I tuned in to ESPN2 to watch the Arizona Las Vegas game on Sat. 4 April. The game was a very exciting and enjoyable event, however, the broadcasting coverage, if you want to loosely call it coverage, was the worst I've ever seen over my many years of sports viewing!!! It was plain terrible, to say the least. All you could hear was the Arena and crowd noise with occasional audible words from what was suppose to be an announcer!!! This only got worse as the event progressed and when it was over, there were no "sign-off words or comments" from anyone and the programming just meshed right into basketball! Never seen anything like it before and hope not to in the future. It was the worst broadcasting I've ever seen anywhere. Please look into this situation and make it right by doing whatever it takes to bring reasonable broadcasting back to this programming.

Jack Omohundro
from Colorado Springs, CO
I am currently watching the April 12th 2015 Boston/Yankee game. The broadcasters in the booth are talking just to talk. The drivel they put out is inane. None of them knows how to call a ballgame. They are always trying to get their opinion in, talking over each other. I will probably follow my brother-in-laws example, just mute the sound. When want to watch a game, that's all I want to do: watch. I grab a beer, some snacks, and put my feet up ready to relax for the next few hours. Only, it's not relaxing when you have commentators talking over each other. I understand that baseball games have a lot of "down time" but that time should not be spent with grown men arguing over asinine opinions. ESPN, get some qualified commentators for your sports broadcasting and not just ex-players that like to commemorate about the good ol' days.

Dennis Toscano
from Woodside, NY
Please for the love of Zhod get rid of that Damn strike box on your ESPN broadcast. This is the worst and the second week in a row. Please do your viewers this common courtesy!

I put on a baseball game and your stupid K Zone was up. I am a fanatic fan and watch as much about baseball in general as i can. I have been an ESPN fan since you started on TV. I will never watch ESPN or a baseball game again on your broadcast. You ruined the pitch, the swing or not and the umpires choice for numerous reasons. You ruined fans debating and arguing which has been going on since baseball started about strikes and balls called by the ump Simple as that. I have many friends who are following me or stopped before me. Goodbye ESPN. Someday you'll actually care about us fans.

Your new format on you web page sucks. The old one (red) was fine and easy to use and find information. I am switching to foxsports.com

James Lowell Reynolds
from Tallahassee, FL
I have just watched the Florida State - Notre Dame baseball game on ESPN 3 and the televising was terrible. The picture was blurred to start with and the whole game was televised thru the net which made it awful. The camera was shaky to the point it hurt our eyes. If you didn't know the player you couldn't see who it was. The game never showed the angle from the pitcher to the plate. Always thru the net and couldn't see the pitch. To say the least I was very disappointed with ESPN 3.

Could your reporting of the NCAA Frozen Four game between Boston University and North Dakota be more one sided? Let's see, you shown the Boston pregame message from their coach, interviewed the coach during the first period, interviewed a parent of one of the BU players and then interviewed the BU player. Gee, I thought you were a national sports media outlet, but your reporting seems to indicate you're not. Hopefully, you correct this error in the remaining two periods.

I don't know what you've done to your website. It used to be fairly cumbersome to navigate but eventually you could get to items of interest. Now your site is just a bunch of useless garbage. I for one will no longer be using your useless site.

Bob modeski
from Dover, NH
I opened my espn app and found a new format. I don't recall ESPN ever advertising a new format so I was a little excited to see what it was all about but my excitement was immediately squashed with utter frustration and disappointment. I don't like having to sign in to see what's going on in the sports world but even more frustrating is the fact my screen constantly freezes up. This never happened with your old format so I'm convinced this new format was never tested before it was forced upon the public. It's time for me to find a new sports venue until you work out the bugs with this piece of garbage!

Mike Tirico should not be on TV during the events you have him on because he doesn't have a clue. All he does is read stats that's pumped in his headset. When you have any event you always put someone who is knowledgeable about the event he is doing because he doesn't have a clue. He can't do basketball, football, and for God's sake please get him off golf. All he is a stat man.

ESPN denying a 12 year old boy from receiving the bracket challenge winnings despite his winning bracket ... Booo bad move both espn and best buy!

Richard Stopinski
from Naperville, IL
The new mobile format for espn nfl is just bad. I cannot get to insider info very easily and when I do it sends me to a different article. I pay monthly for insider, if things don't change I will cancel. I have not watched espn on tv for years and now instead of trying to navagate your 1980 style website I will look for another one. Your site was by far the best for football not it just sucks and is truly a waste of my time. This is sad and your site was a big part of my daily research. Why change something that was great into a pile of you know what.

Grace Kennedy
from Statesville, NC
I am so fed up with the Duke " lovefest" that has been continuous since the NCAA basketball tournament started. They have a great coach and a great program, but for goodness sake, stop the adulation, PLEASE! Do all announcers have to be from Duke to work for ESPN? Enough IS enough!

Linda viehmann
from Greenwood, IN
Watching opening night of 2015 baseball season on ESPN 2, and commentators are not even calling the game. They sound like they are sitting in a bar having a private conversation. Awful! the game!

ESPN2...softball game...does the person who runs the TV scoreboard even watch the softball game?...they are doing a terrible job...sometimes there is no scoreboard available...they are slow on pitch count...are often off on position of runners on base...and very slow even when they get it right...it is as if they are not even with the game...or don't care...

I didn't know ESPN was a bigoted network. I was watching Sportsnation and they were covering blooper and other humorous clips, when Michelle Beadle started to make fun of a red head, calling him Ginger like a player intentionally hated his teammate and through a pass off of his face. I would hate to see her say, chink, or N***** on national television and get away with it. She is instigating hate towards a specific group of people and finds it funny. I am disturbed when I see a network support hate so openly.

Kevin Owens
from Kirkland, WA
The new ESPN.com website does not support IE 11 which is the newest version.

August Miller
from West Haven, CT
NHRA is not on, suppossed to be on 2,00 pm like always never on time. If you don't want to show it, just say so, why NHRA even keeps crawling back to this crap is beyond me. And the nhra wants to know why there rating are down.

As a huge fan of Colin Cowherd and ESPN it was really shocking to hear his insensitive remarks regarding how he liked Oregon because it has white peoples . Then today it was even more insensitive to hear him say that people from Middle East flew planes into the building because they thought God wanted them to do so so they can't get the virgins they are promised . Not only is this insensitive to those who died because of terrorists but it's also inaccurate and not the . Islam isn't the only religion in the middle east , Judaism and Catholicism and Christianity both are in the Middle East and they don't believe that . Muslims don't believe that either . It's a lie and misconception that was put out there by uneducated people . Now the fact Colin used his platform on the radio on the radio to spread misconceptions and lies about Islam and people from the Middle East , people can believe and say well Colin said it .

Luke Barber
from St Louis, MO
Tournament center march madness. Technical glitch occurred, causing an inability to participate. There customer service is of no help. They refused to trouble shoot. They need to fix this issue or get a new system

At halftime of the Ohio State-Penn State football game and while reviewing earlier concluded NCAA football games on October 27, 2012, Mr. Holtz referred to the Kent State University football team as the "Kent State fishes" on ESPN after they had just upset #18 Rutgers. As a former Kent State University athlete I was enraged at this unwarranted and misplaced comment from Holtz who is a KSU alumnus and who has been honored by the University and it's athletic department in years past. Quite frankly it is time for this man to be retired because he quite frankly does not know enough about the KSU program and it's comeback to be allowed to speak about the program on national or even local sports coverage television. Whatever benefit he provided to ESPN or for that matter anyone else in years past is now history. His misplaced comments cannot be overlooked any longer.

ESPN's Stuart Scott mentioned that Jay Cutler was "baptized" on an illegal hit that resulted in a concussion on this past Sun. night game. Fellow viewers and I noticed racial and religious references made by Mr. Scott in the past that are really offensive, and make no sense. He should really stop trying to be hip and clever with ebonics and religious insults. If Stuart wants to be offensive that's fine, just don't do it on ESPN.

Just wondering why were going to have to watch a killer on espn (Ray Lewis) What does it take to work for espn? Was wondering are you in management going to have Ray over for dinner with your kids? Just had to vent im amazed how espn will suck up to a killer, but what the heck it was not your kids who he stuck the knife in.

Rob Parkers comments on First take were very out of line and in no way was that remotely close to being sports jornalism. He needs to be fired for his staements he made towards RG3. If he is allowed back onto the show i will no longer support ESPN. As a black person I am very disappointed and ashamed of the comments made by Rob Parker and I hope this matter is taken seriously.

I was watching the NCAAB Wisconsin vs Marquette game on ESPN2 and your commentators made a very unprofessional comment. There was a foul called and fans were not happy and one of the commentators said something to the likes of The rich guys in the front row are complaining.
As a Marquette alumni, I resent the fact that they stereotyped Marquette fans as rich guys. We work hard to get where we are and show a lot of devotion to our basketball team and that comment was just offensive. Please be professional next time!

I am shocked!!!! That you had the nerve to fire Hank Jr. He is an institutation for, country music fans and Monday Night Football fans!!!! Does he not have the same rights as the rest of us...to say what he thinks. Yes he does have a flair for words!!!. But take a good look at Just how many ethics groups poke fun at us or just threaten. Us individually or as a nation...so are you saying that's OK for the all minorities to do?...get a grip ..we true Americans say just what we think.and we belive in our country...( get your heads out of the sand)and remember we are a great nation..where freedon of speech is our god given right!!!!

The Masters is the greatest sporting of the year to many fans. The coverage ESPN is providing is lackluster. The commentary is terrific but how to you only show Toger Woods shots from the 15th-18th? Fans should be able to see every shot the greatest golfer of all time makes for every round. Take some hints from the coverage of CBS, NBC, or ABC do for the other majors. You see every shot of all the big time players. This is disrespectful to all of us who love golf because your company is a powerhouse in sports coverage and we have no choice but to watch it. But for once show the actual tournament. The centimental, historical stuff is nice but we do not need two hours of coverage on it. I will appreciate any feedback on the reasons for the coverage. I am not in the television business and do not know the rating system, but I am sure you get great numbers for the Masters. Trust me its not because you do a great job, it's because we have no other choice to watch it elsewhere. Please show more golf, show every shot. 

You have taken every big bowl game off of regular television and left us with the crap bowls. Believe it or not there are some people in this country who cannot aford the cable companys outragis rates, but still love watching the bowl games on New Years Day. I guess that the mighty ESPN does not really care about things like that or about the people it hurts. I think that you should go back to the old system and give all of us the chance to watch the big bowl games, But I know that will never happen. All ESPN cares about is the BIG BUCKS, and they don't give a damn about the people who cant afford to pay for cable.

Your half coverage of the NHRA countdown race was interrupted by a nascar race,because of that I was not able to watch the NHRA race to the countdown because someones stupid decision to think that nascar race was more important then the scheduled program.With nascar you only need to watch the last 2 laps to see who takes someone out to win, thats why its lost its fan base. ESPN is getting worse at keeping programing on time. Why, I now need to add at least 30 to 60 mins of record time. Sorry to vent but I was looking forward to the nhra race,not every one is on your time frame.

Watching ESPN on Saturday night around 9 and 10 pm you had a commercial about a dating site for farmers. I was very upset the way you portrayed the American farmer. You portrayed them as being as being ignorant. Farmers have the most important job in this country. If it wasn't for the farmer people wouldn't have food to eat. We should all be thankful for all the hard worker the farmer does. From the mother of an American farmer.

Rece Davis is constantly critical of Clemson football and I feel he lacks class when doing so. It is obvious he has a dislike for Clemson when he does their games and on the BCS final showing, he said their victories were "hollow" and later, they all praised Florida State which basically played the same schedule as Clemson. I am not saying Clemson is a great team, but I do think some commentators can do better than be classless in their comments. ESPN does have some commentators with class but a couple of them could use a session on learning to describe events without being disrespectful to a group of young men that are fighting with all their heart to win and sometimes make mistakes. Could you please tell me where Mr. Davis played his high level of football? I know where most of them played and their resumes but I cannot remember a Rece Davis being a great football player.

I am writing to complain about the past two articles she has written. I have been a customer for many years and her past two articles were the worst I have read. The Ray Lewis article was in extremely poor taste. I decided not to complain even though I was miffed by the article . She painted him as criminal and didn't focus on his: what he means to the city, impact on the nfl charity work, or leadership in the Raven organization.
This past article where she claims ray Lewis's career is over and ravens shouldn't even go to Denver is plan stupid and the why I decided to complain. Twice blatant cheap shot articles, I am of course partial , however lines were crossed and or just dumb articles lacking in validity . I will no longer read her articles and ask ESPN to review these articles better as the last two were trash. Even Bronco fans in the posts thought article was horrid.

Was watching the Berwick rangers v Rangers game on sunday 24th of febuary on espn along with my grandchild and also a young member of my family . From the first minute off this game the chanting and singing from sections off the rangers fans was nothing short off disgraceful it got that bad that even espn commentatiors on more than one occassion had to opoligise about the chants. Ive already made complaint to rangers which no doubt will be swept under the carpet as it has been by most media ill be sending complaint to uefa and fifa as this was tottally over the top sectarian chantting . Now its down to you as the media and was on your football channel the match was on to at least make a statement condeminng these chants surley thats the least that yous can do. Ive supscribbed to espn for a while now and enjoy the sport on it surley you must see these actions off rangers fans as WRONG thanking you david weir

Homophobia is akin to anti-semitism? The Jewish community is well represented in Hollywood, the media etc. Yet to say such a thing is insulting. I think any peoples would find it such. It is more than insulting a non-blacks like Rick Riley to relate the homosexual movement to the Civil Rights movement!! At the very least due to his not being African American- he has no right to do so. I call for a public recant and apology for his blatant ignorance, and for the privileged arrogance of your employee Rick Riley and ESPN.

ESPN's decision to run chainsaw movie commercials during college football games is really sad, low and sickening. I have been up with one of our children for the past two nights with nightmares and I have had several discussions with friends that they have had similar issues from their children seeing this commercial. Aren't we supposed to be promotions sports and especially collegiate sports as something for our kids to aspire towards? There are lots of inappropriate commercials on lots of ESPN's programming but this one is inexcusable. Going on a campaign against your decision and writing a letter to our newspaper and liking all the Facebook comments I have already seen about this. So sad...

I have had enough of blow hard, publicity seeking, egomaniacs like merrill hodge! His outrageous comments about Tim Tebow and others reveals what a small minded person he is! I have just had it with preening, narcisstic, loud mouths that ESPN seems to admire! Hodge likes to be noticed. Well, I hope he gets noticed in the unemployment line! Get him and others like him off the air! His agenda is tiresome! Hodge is dispicable!

I noticed several months ago that if you go to the ESPN Dallas site and say anything bad about Mark Cuban or the Dallas Mavericks that the ESPN police/monitors immediately bash you and delete your posts. As a die hard Dallas Maverick fan, any time I or anyone else on the comments section said something about the Mavericks, our accounts were disabled.
I intentionally asked some negative questions about the Mavericks to make sure that it was not an aberration and sure enough, after about 4 posts, my account was disabled. There was no profanity in the posts, or anything that violated your rules of conduct. Several other people who commented mentioned that they noticed it before that the moderators would disabled any accounts that were negative to Mark Cuban or the Mavericks.
I have purchased an Insider account and I cannot even access those pages because I am not able to get into my account. I am also contacting an attorney and anyone else who will listen that your comments sections are only for positive comments about the teams. If that is so, you should market the site as an advertisement for the Dallas Mavericks instead of a comment section on their team. I
have bought many tickets to Maverick games in the last 10 years and I have a right to voice my opinion on them whether it's negative or positive.
Thanks for your feedback!
Sorry. Please try again later!