Domino's Pizza
Domino's Pizza Complaints Continued... (Page 1)
227+ reviews added so far. Upset? Call Domino's Pizza corporate: 734-930-3030

michele hearon
from Chicago, IL
I placed an order on 12/13/17 for total of 4 pizzas brownies and beverage online. after I placed order I called the store and requested my second order be delivered to the same main address the female I spoke with said sure no problem. after almost 2 hours I called the store to see what happened to my order, I was told by a manager that they were backed up and my order should be up soon I verified delivery address again. After another 45minutes the driver showed up with 3 ice cold pizzas and 1 pop. I asked where the other order was and he said 'I only have what's written on box and left it at that. he had no customer service skills what so ever. I called the store and again spoke with a manager , told him about the cold pizzas and the missing order, he said he would personally remake the pizzas and find the missing order. (these were already paid for online). After another hour and 15 minutes I called the store and spoke with a different manager who knew nothing about the situation and said the manager I spoke with was gone! She offered no resolution so I told them to refund my money! by this time it was 9p that's 4 + hours, I had to get something else to feed my kids . Nobody at the store has any skills for keeping customers. This is by far the worse experience I have ever had .

Linda owen
from Northampton, ENG
Just had mixed pizza it's the worst I have ever had from dominos I have had better from Aldi or lidl

Chad coyne
from Dearborn, MI
Hi I work at the Monroeville store up on William Penn highway Im only filing this complicate because I had one day left on my 2 week notice and he told me He don't need me anymore because I got a new job and I wanted to finish my 2 weeks and he told me no and for the time I worked there he called me fat to my face and I'm German and he made racist comments on me saying that I should do the Hitler salute to the inspector and say welcome to domino's I felt so disrespected when he did that and at the time I didn't want to have problems at the work place plus he picks on everyone up there if they don't do what he wants he cuts there hours he'll send them home early take away days and make sure they get the worst deliveries thank you for your time and I no nothing is probably going to be done with the GM mozi but he doesn't deserve to have his job all I can say is when Kevin was in charge the store ran perfect.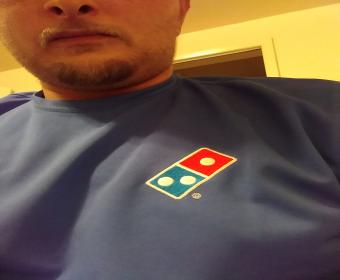 I ordered a pizza and boneless chicken nuggets about 830 pm. Pretty sure it was 8:33. At 9:54 no delivery yet. Called several times. Was told the last time there was only 1 delivery person and she left the store with 10 orders. Crazy thing is I was only about 2 miles from the store. The man I spoke to the last time informed me that his delivery time was around 3 hrs. That would have been nice to know upfront. The overall score for dominos is a 1. Something. It would be lower if people could give a 0. Its not the food. Its the service. If you don't correct this problem. Your business will eventually close. Do you care? People are taking the time to tell you. What are you going to do about it? I won't order from you ever again. Sorry if I have typos my vision is bad, and I still sent this to you. PLEASE do something to correct this! Is customer service a thing of the past? Surely not.

Mario campos
from Mission, TX
I placed an order at 12:20 and was waiting for the food: pizza and pasta. It was already 1:30 and called the store and food was still at the store. The reason they gave was that they didn't have enough drivers and that it will take them 30 minutes to deliver the food. I cancelled the food, very poor service. Store number is 6585 in Mission, Texas. My order: 1088421 under Mario Campos.

While back it took over 3 hours for a very rude delivery driver to bring our pizzas so I asked that he not deliver to me again. This evening I tried to order from the wellston store again. The manager tells me that the rude guy is the only driver. So I said he could deliver my 3 pizzas if he could be on time and not rude. I was then basically told NO. She told me I would have to come pick them up. Since that's not possible I asked 4 him 2 deliver 2 b told NO. Lost the business of a family of 14.

Sameitha
from Las Vegas, NV
I irder a large cheese extra cheese they charge me eighteen dollara an brought me a mediyn cheese pizza qith no extra cheese . i ask the delivery guy qhata this. He replied i dnt kno i aint a cook. Rude. I gave him 20 bucks for a med cheese pizza qhen i turn around he was runnun to hus car. No change. He kniws a med pizza is 6$. No change an he didnt ask me did i need change. I am so disgusted.

rosie enriquez
from Los Angeles, CA
I got a text on my phone 3days ago.telling me I had enough points for free twist bread.Today I ordered 2 med pizzas on line,i called and explained about my free twist breads the worker said ok we will have them ready when I pick up my pizzas.i went to pick them up and the worker said he didn't know what I was talking about. another female worker ask me questions I explain AGAIN she looks on her register and she says well I guess if you say so you can have them but it will 20min.i told her what the other worker said about them being ready and she said well like I said it will be 20min I was very upset if your not going to honor the free bread then stop sending me text.i am very disappointed..been a regular customer but not happy with service lately.

Candace williams
from Schenectady, NY
Girl at the counter was sarcastic and rude when I asked if the crust style was correct. I was missing toppings and the pizza was soggy. I haven't ordered from Dominos in years and I should've kept it that way. Tried to call the store and kept getting put on hold. Horrible food and service.

navneet gupta
from Jaipur, RJ
today at 20-10-17 at kalwar road jhotwar jaipur
my order no is 287 time evening 9:11 but till 9:45 we not delivered pizza
4-5 time i request for pizza but he si not responsible for pizza in your store
i literally very upset for this kind of your store
gentalman name is mr ganshayam
he did not give us that bill
so please resolve this case
navneet
9314647722
j

Liandro martinez
from Overland Park, KS
I went in to order my pizza at 10 pm to be delivered at midnight., at 12:30 am the pizza was still not here. I tried calkungband no answer. Finally at 12:45 am they answered and told me my pizza was on the way. . Yes I was upset because the manager said sorry there's other customers not just you but I specially went in to store to have my pizza delivered at midnight. Then she said I was being rude and she was the one being rude. So I told her well just refund my money and she said ok and hung up. This is bullshit how they treat customers because they don't have enough staff on hand . And I never got my money back.

Pamelalynn75@verizon.net
from Parkville, MD
When Domino's came out 30 or 40 years ago Or whenever,That was the best pizza that I think I've ever ate .I stopped at 1 of your locations on 10/ 12 17 I Got one of your specials for $7 99 1 large pizza With 3 toppings .I was able to eat 1 slice, could Not eat anymore due to the fact it was nasty .I tried giving it to my daughter and she couldn't eat it either remind up on a pizza away. When you guys 1st staredt out the sauce Is what made your pizza .Somewhere Throw the years you changed your Sauce Which in my opinion is just nasty I will never buy another pizza from Domino's. PS trust me I know my pizza .

base was not baked properly
seasonings and chilli flakes were not provided
very very poor service.

larry lane
from Alexandria, NSW
The thin and crispy base was tough and rubbery. As it went cold the tougher it got also lacked flavour. You had the best base WHY CHANGE a GOOD thing . Sorry but we were very disappointed.

Sean O'Brien
from San Bernardino, CA
We ordered our pizzas and were told it was going to be 45minutes for the order to be delivered. After an hour and half we still had no delivery we called and were told it would be arriving any minute after another 45 minutes we called again and were told it had not left the store when the pizza finally arrived it was the wrong style. Please make this right. Thank you for your time

Ordered by phone .GOT to Domino's in Webster Massachusetts pizza was not how I ordered over the phone mistakes happen happens all the time I get it!!! NOW I'm tired after working all day have to wait for another Pizza Tony didn't say sorry didn't care !!!! that speaks volumes to me !!!!ASK the employer Tony if he would add Winsconsin cheese on my pizza without charge because now I have to wait for another Pizza. Tony told me I'm only paying 7.99 for this pizza it's going to cost me MORE. I said are you serious I have to wait for you to make another pizza that you guys messed up and now you want to charge me more !!!!Tony told me to Exit the Pizza shop ! !!!AFTER I already had paid for the pizza before I even got it. they messed up on !!!! I'm WAITING for !!!!VERY rude and very disappointed!!! and which I don't order from this Pizzeria !!!I've been in Webster 17 years. I probably ordered Domino's three times in my life.I thought I would try it and this was my experience never again he does not need to tell me to Exit the store !!!! When I left Tony told me not to come back. No worries Because I will not be back .
.ME as a customer representative for 30 years,I would have gladly gave Wisconsin cheese and my apologies!!! someone that waiting because I messed up .Tony I don't know the last name very rude and not should be representing this establishment. Too bad that's how you lose customers that's how you go out of business. I did Express to him I will make a review and complain to corporate because ,this man was very nasty and all he cared about was the pizza was 7.99 !!!!!!that's not the POINT. I will not even ggive one star.:-(:'(

Bo Gibson
from Fort Myers, FL
Every time I order extra toppings most the time double toppings I never get it but yet I get charge for it ! I just started ordering from Domino's again this year and the reason I stopped in to begin with is because you could never get extra items but we're always being charged for it. I was giving it a second chance and now I'm fed up again every time I order extra toppings it's the same ol story . I Think maybe this is how they make a profit by ripping their customers off . There is plenty of pizza places around I just use dominoes to try to save money since I have kids but I give up I will not order from Domino's anymore. A bit of of advice to whoever reads this if you order from Domino's don't order extra toppings or double toppings because you'll get the same amount as the normal portion so save your money!

Debbie Geremia
from Fairfield, CA
First of all DO NOT TELL ME TO COMPLAIN TO THE STORE THAT SERVED ME,cause it doesn't do NO GOOD!! 2) I'VE been a valued customer for over 3 years.But...the past 3 orders,my company n I thought the pizza tasted old,n cold!! 3 frickin times! You don't value your good customers,then fine,I will order else where.If you do value good cust.service,than show me!! Completely fed up!!

william poe
from Cleveland, OH
was put on hold many times, went to the the Berea ohio store to voice complaint , was told that's just the way there system runs. found this to be unsatisfactory ,do not know if we will ever use this service again

Steve Toomey
from Jacksonville, FL
I ordered my 2 pizzas 6:30 Pm on line September 9, 2017, and wanted to pick it up at 7:15. When I got to the store, the customer service rep, said it was not put in yet. I said I ordered it 45 minutes ago and asked for a 7:15 pick up. I ordered on line. She told me they would not put the order in till 7PM, it was already 715, I told her that is why I ordered it online. She said they were "busy" and it would be another 20-25 minutes. I went back in 25 minutes and the pizza was ready, but I only received 2 toppings, instead of 3, and hardly any sauce and cheese, or peperoni. It was put together too fast and mostly bread. we did not eat but about half the pizza and threw the other one away. I want a refund of $17.10 as the pizza or service was NOT up to standard. The rep said we have a hurricane coming, I said then you should close rather than treat your customers poorly. She just said, there is nothing I can do about it, then asked me if I had any quarters as they were low. Please fix this or I will be forced to go to Pizza Hut or Little Caesars. . Thank you

Joseph donald
from Manassas, VA
I ordered pizza online for pick up and after 10 minutes got to the store and they hadn't started it yet and told me it would be 8 minutes. Ok, they were busy so I sat and waited. The board said after 8 minutes that my order was ready so I stepped up to the counter and no one acknowledged me, so I asked to all there could I get my pizza order. The employee closest to me looked at me and then walked over and started making pizzas. I asked again and a fellow told the guy that ignored me to get my order that was just sitting ready to go. I asked him why he ignored me the first time and he ignored my question again and walked over to make pizzas again. I asked him his name and told him I was lodging a complaint. He said his name was Nick,I asked for his last name and he said Nick again. I Said your name is Nick Nick and he ignored me and went back to work. I told him in a calm voice he needed to work on customer relations but he sneered and ignored me.
We eat here a lot but there are plenty other pizza stores here.

Brian Trott
from Portsmouth, NH
I was hold for 20 min to find out the we to2 had to wait hrs out.my entire bible class went hungry.that makes me believe that cant believe in dominos .Im not sure what else to say but disappointed Brian Trott

Ahmed abdelkerrim
from London, ENG
After 2 hours waiting the delivery the pizza just arrived cold and no response from the branch when i called them !

Friday, Sept. 1st I placed order over the phone to be delivered, 2 pizza and wings at 4:39pm. Was told 45mins by female voice. Dominoes Pizza, Clarkson branch, Brooklyn, NY. At 5:45pm I called back it was over 1hr. Female voice was very rude and hang the phone up while I was talking. I called back for manager, the same female voice answered. The pizza came @ 6:15pm. Service is poor.

Vera Barnes
from Washington, DC
Loyal Domino's customer.. On 8/29/17 I placed an order totaling $25.58, unfortunately I was charged twice on a debit card. Returned to the store of purchase and show them my online bank statement with two purchases in the same amount from the store. On their end NOBODY knows what's going on but my bank statement says it all. This will be my final time coming to this store. I've had to even call the bank to let them talk to them.. I'm a very unsatisfied customer right now

Seemore Johnson
from Angier, NC
I purchased a large 2 toppings pizza from Domino's Pizza 705 Grove St Ste 100, Fayetteville NC 28301. I've always had excellent service and pizza from Dominos until today. My family dinner was ruined they deserve negative stars and should be ashamed of themselves for serving a pizza like this to the public. This is the worst pizza I've ever tasted. My family wouldn't eat a single bite as the appearance was sauceless, and dry. I ate one slice and could not eat another.
I called the manager Mandy is her name and explained my situation. She said I should have checked it before leaving the store and with and negative attitude. She was very short with me as I expressed to her my disappointment of this substandard pizza. I informed her I will be bringing this pizza back tomorrow on my way to work.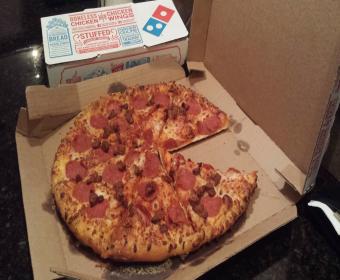 Natasha Allen
from Charlotte, NC
I ordered chicken Alfredo w/extra chicken & sauce. It didn't have extra chicken out sauce. I got a free pasta after I spoke with April. The next pasta was also incorrect. When I called the store, the manager (Deandra?) put Amanda on the phone, who fixed the pasta. April's voice & tone were RUDE & she implied that I was a thief & liar, saying 'this is the last free pasta you will get'. If it was correct the 1st time, I NEVER would have called & complained! I was never RUDE, but Dominos staff was Very RUDE! I asked for a refund & was told to contact 1-800 DOMINOS.

Benjar m
from Hayward, CA
The location on sanjose ca on tully rd a guy on Sunday night wasn't using a proper uniform not hat he's long hair touching it frequently and the worst of all he's spitting many times on sink... And wasn't identified bacause not wearing a name tag.

Nabil
from Yorba Linda, CA
On April, 05 2016 at 12:00pm I called Domino's Pizza at 714-6376111 located at 5595 E Santa Ana canyon rd Anaheim, CA. I spoke with the manager and i ask for large pizza W/ Pepperoni black olive & Jalapeno Peppers he said it will cost $15.31 for pick up. I ask him about large 3 topping for $7.99 he said it's $8.63 and will be ready between 25-30 mints for carry out after I picked up my pizza it looked very bad all my toppings were at the center, not to mention how rude was the manager.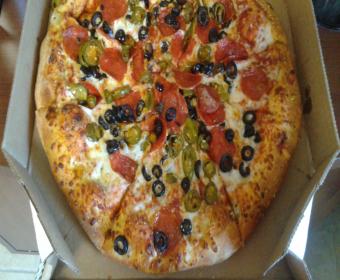 Guadalupe Campos
from Fullerton, CA
On March 29, 2016 at 5:40 pm I called Dominos Pizza at 714-525-5811 located at 122 W. Commonwealth Ave. Fullerton, CA and actually I asked my son to place the order. He is 16 years old. He spoke with Joanna and she hung up on him. He called again and when he asked her to repeat the specials, she hung up again on him. This was absolutely rude. I called for the third time and asked her why she hung up twice, she replied that she couldn't hear anything, which it is a lie.
Then I said I want to order for delivery and she put me on hold for about 5 minutes then hung up on me. I called again and I asked her not to put me on hold but she not only put me on hold but transferred me to another incompetent employee named Jose. He placed the order and kept repeating the order wrongly, at the end he said I would get the pizza in 30 minutes and he was going to hang up when I asked him, "are you going to ask me how am I going to pay for the pizza and wings?"
I gave him my credit card number and he couldn't write the right numbers. I was very frustrated so finally he charged my credit card. my sons and I waited for 45 minutes and called again, Joanna put me on hold again, made me wait like 5 minutes and I have to call again, I asked her again not to put me on hold I just wanted to know when I was going to get the food and she said 'I DON'T KNOW" can you call the driver?
I asked, she responded HE DOESN'T HAVE A CELL PHONE, I couldn't believe what she was saying and I told her that I was having a really bad service and she was being so rude I was going to complain with the manager, she says go ahead his name is Jose. I hung up and then I called again to cancel my order but another lady named Leslie answered. When I asked her for Joanna she said Joanna was in the back. She asked me why I was canceling and I explained, she apologized and she told me she would call the driver. I thought he doesn't have a cell phone, I told her, then she put me on hold, again, and later she said "oh yes, he doesn't have a cell phone." Who in the world doesn't have a cell phone working as deliverer? that is NOT credible. Then Leslie apologized and said I could keep the food since the driver was lost somewhere and that they were going to give me a credit for $5.00 dollars.
Today in the morning, I called to speak to the manager Juan and the lady on the phone said he wasn't there and he will come in the afternoon, then she asked my name, when I told her my name she asked me in a way rude, "what do you want?' why do you want to talk to him?" I asked her "are you the manager?" no right? she said no, but I need to know why are you looking for him, she replied. That was very rude? What kind of employees does this store have? I told her I did not need to tell her anything that I was going to call back in the afternoon. I did, and the incompetent same employee Jose said that Juan the manager is not there and when I asked for the manager last name he said why? we are busy and he hung up.
By the way, the pizza and wings that I was supposed to get, NEVER ARRIVED. This means that indeed they contacted the driver to cancel the delivery. Please I am very upset and frustrated for the horrible service, rude employees and an imaginary "manager" this STORE #7846 has and for the BAD experience my kids and I had when we were expecting to have a nice family time waiting for the food that NEVER ARRIVED.

Charnita Fance
from San Jose, CA
On March 11, 2016, at 7:57 AM CST, I was sent an email telling me that my Domino's Pizza Profile had been successfully updated (even though I did not update it). Someone hacked into my account and changed my email address. Here is issue number one: If someone knows or guesses your password, they can log into your account and change your email without any type of verification. This is a HUGE security issue! It should not be that easy to change your account email.
I tried to log into my account with my current password and using this new email and, of course, they changed my password as well; I wasn't able to log in. I called Domino's customer service number (provided in the email) and reported the issue. I had to give all types of personal information (oh, NOW they try to care about security). They said that I would receive a notification once the issue was resolved, letting me know that my account had been fixed.
I can't remember if they said my account would be reset or closed but either way, here I am 12 days later, and I still have not been notified; the issue still remains. Here is issue number two: I have personal information on my account (address, phone number) as well as three credit cards attached to the account. That is enough for someone to do some real damage! Yet they could care less about that and are taking their sweet time to resolve this issue.
In the meantime, I've been contacting them and sending out warning messages to other customers on Twitter. Twice, I've received the same, generic copy and pasted response from them in a tweet. They can't even give me a personal response to such a serious issue?
Three times, they've told me to contact them via a form on their website and they attach this link: http://bit.ly/dpz_cares. How ironic that it ends with "dpz_cares" because obviously, corporate does NOT care. Here is issue number three: The first time, I did fill out the "Contact Us" form (via that bit.ly link) (that was on March 11, as well). However, I have NOT received a response to THAT inquiry either. All I received was a generic "Thank you for contacting the Domino's Pizza Customer Care Team. We have received your additional comments and have reported them to the appropriate person." This was at 8:47 AM CST on March 11.
I replied to the auto-response email received on the 11th and received another auto-response on March 12, 2016, 5:29 PM CST, "Thank you for contacting us at our World Resource Center. As one of our valued customers, your concern is extremely important to us. I have reported your comments to the appropriate department for review and I am requesting that you are followed up with as quickly as possible."
Apparently, they're very confused regarding the meaning of "as quickly as possible." What does it take to get a response or to get help from this company? Their customer service is a joke. Their website security is a joke. Their social media managers are a joke. To top it ALL off, I had a free pizza on my account (probably why it was hacked in the first place) and I'm sure that is gone and will not be given back to me.
I've also searched for others on Twitter who may have had a similar issue with a hacked account and indeed, I found MANY others with the same issue. Some people said it took weeks to get help with their hacked account and others never got help at all. You, Domino's, should no longer be in business!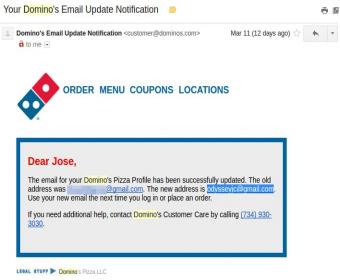 My nieces (15yrs old) ordered pizza on Monday, 2/8/15 from the Wheatland store - Dallas, TX via phone. They asked about the specials and were told there was a special for 2 or 3 toppings 2 pizzas for $12.92. Honestly, the toppings are not the concern. The order was placed but when the driver arrived the order was wrong. The driver called back and informed the clerk on the phone that the order was wrong and he offered to bring back 2 replacement pizzas. He accepted the money (cash) and left. (During this conversation I was in the home but he did not see me. Yes, I am an adult over the age of 21 year old.)
Thinking we had enough time before the delivery of the pizza we attempted to leave and go to the store however we met the driver a female a few houses down. The delivery was for 7510 Ashcrest Ln. Dallas, TX 75249. I turned around and two of the girls got out of the car. The driver had the pizza and requested additional money. The girls informed her that the pizza was paid for. She stated " I was told you were going to say the pizza was paid for" at that time I informed her that yes the pizza was paid for and she gave one of the girls the pizza. We discovered that the second order was also wrong. She wanted to know if they wanted to place another order at that time I informed her to just let it go. She then stated she is just the driver.
The next day one of the girls received a text stating the money was owed and if it was not paid Dominoes would be calling the Police. Several calls were made to the location by their grandmother Rose Henderson. She spoke with the manager on duty and was told to call back and speak with the GM after 4 PM the next day. She called back and after a lengthy conversation and disagreement of the details and happens the manager said he would just credit the amount. He did admit to sending the text and that if the driver does not collect the money, all monies are taken out of the drivers pay. Question why would a driver deliver pizza without the customer paying?
In my opinion was very un-professional due to no name or number was left. However nothing was received in writing that this issue has been resolved. I believe the drivers are attempting to scam teenagers but this time they made a mistake a legal adult heard the call. heard the conversation when the order was place, over heard the driver when he call back to the store and talked to the second driver. If the pizza was not paid for why would the first driver leave it. Better yet why did the second driver leave the second pizza without taking any money. I wanted to bring this to your attention. Hopefully this will not happen to another family.

Janet Hames
from Hillsboro, OR
I'm writing this complaint in reference to a unpleasant experience I received from one of your franchise location 10081 SW Nimbus Ave Beaverton Oregon 503 626-3030. I call placed a direct order with one of the associates who said it would take 30 to 40mins for delivery. After over a hour I call back only to speak with someone who was very disrespectful and after a few words she hung up on me stating I was being rude, not true! At that point I was up set and decided to stop by the store a visit to discuss with the manager my concern of that conversation with the young lady who hung up on me the manager. I spoke was Hannah whom unfortunately appeared to be irritated of my complaint. I deal with unhappy customers all the time and there's way to handle escalated unhappy people I do hope that in the future.

Tremain Addison
from Chicago, IL
My sister called an order in at 6:16. They said they deliver to our address. They took the money off of her debit card, then told her that they don't deliver to our address. I caled back to speak with manager at the teutonia location in Milwaukee, WI. I asked his name, which he didn't give me an had a unprofessional attitude.

Garry Frater
from Doonside, NSW
I have been waiting for two phone calls from Domino's Pizza Morisset store one was a year ago the last time was two weeks ago. My complaint is about your thin and crispy. When I contacted your Morisset store I was told that's the way they come and that's that. So could you tell me why do you call it crispy when they are floppy and tasteless. Could you not the Morisset store please contact me I have had no customer service from that branch.

Jeremiah enochs
from Fort Worth, TX
I called dominos on 1/19/2016 at 11:10 p.m. They told me their ovens are down the exact same thing happen last week. Last week they told me they were closed at 11:20 p.m. on a Friday. I believe your employees are getting paid for sitting on their ass and I would like for it to stop. I also had your manager phone number I called him he told me he would do something about it when I called him last week. Obviously he didn't.

jack mcqueen
from Brunswick, GA
This is my fifth instance from the hyde park location in Brunswick Ga. The owner doesn't see fit to hire or have available help. The managers and remaining staff here have repeatedly been apologetic for their carryout's or deliveries (both over 2 hrs) shortcoming's. One situation with the manager only working was with 36 orders outstanding on a Wednesday. I realize good help is hard to find but this owner (also owns other dominoes franchises) obviously doesn't care about your image and this has been continuing for several weeks now. Please straighten out his franchises or withdraw them from his oversight. Its killing the customers and your name.

John Zhang
from West Jordan, UT
This is a kind of dishonest practice happing at Domino's Pizza LLC (Store #7519 Address. 2129 E 9400 S, Sandy, UT). I bought a carry out pizza on 12/23/2015 in store. As it was a special sale so it was sold at $7.99. I was charged on my credit card with this amount plus tax (total $8.62). I have the receipt showing it right. But I got my monthly statement from my credit card company showing they actually charged $16.62. Is it a kind of cheating and dishonest? Good thing is I am keeping the receipt to show who want to see it. Please let me know how you are going to deal with such dishonest behavior.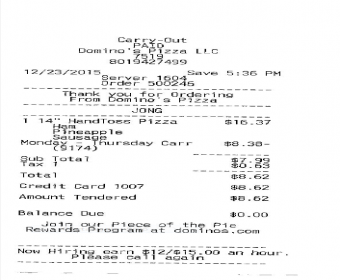 Jennifer
from New York, NY
I ordered my pizza 6:19pm in the Bronx ny white plains Rd location and never received my order it's my sons birthday and wanted to order his favorite pizza and wings but now he is disappointed I tryed calling the location but no answer for the past 2 hrs I just want my money back this is unacceptable! Next call is going to Domino's corporate offices!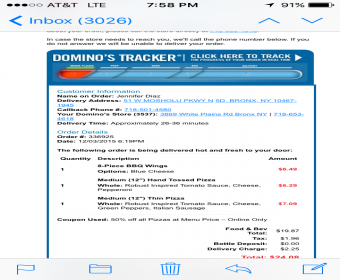 Saialala Tigafua
from Brisbane, QLD
28/11/12 friday @ 21:30 pm, I made phone call to Ipswich dominos store for a pick up order where I spoke to a male staff, who was very unhelpful and not clearly spoken and hug up on me twice. I then drove down to store and spoke to manger ( jimmy ) and explain what had happen. That same time a young male Indian spoke out and said I was the one who hug up on you and would not listen and I couldn't under stand his language. He was rude again in front off other customers and soon manager ( jimmy ) replied sorry for what his staff had done and if I wanted any pizza of drinks.
I have said no because, of the rude service that your staff gave me over the phone I will go some where else, And I will make a complaint about the service over the phone to the Domino's Pizza corporate headquarters. This has never happen to me ever, I hope that the Indian staff member who refuse to give his name (male) and manager jimmy make sure this will never happen again or process for a English course or people skills training program to better the service in Ipswich store.

Vincent Longo
from Watertown, CT
The pizza was delivered on time and everything on that end was good. The pizza was so spicy that my lips are swollen. I ordered 2 large pizzas, the first one was cheese and half sweet green peppers. The second one was cheese and all sausage. Its the sauce. As I was eating the cheese would fall off in spots exposing just the bare pizza slice with sauce. I saw a bunch of little spices all over the pizza, like it was mixed in with the sauce. It was hot pepper. I remember this because my dad used to use it all the time on his pizza slices when we would all go out for pizza when I was younger. I have a very sensitive stomach and can only eat sweet sauce or it upsets my stomach for 2 or 3 days following when I eat. So I called back the domino's in Watertown, CT. 860-274-0808.
I asked to speak to a manager just to see what happened, and the young man on the phone said "umm I can't do that, what is the problem cause I can help you.." I said really? Ok. The sauce is very spicy and my lips are numb. Did someone screw up something or did someone do this as a joke? So he puts me on hold for awhile, comes back and says. Get this. "Maybe you have chapped lips because it was cold out today" ... I said kid can you put a manager on, I can't talk to you anymore. So he goes yup and starts to laugh as he puts me on hold. So after a few minutes a young girl picks up the phone and goes Hello? I said who am I speaking to? She said" who am I speaking to?" I said look at the caller id and it will tell you who this is.. I then said how come you are a manager and you sound just like the girl that delivered my pizza? And she was 16 maybe 17 if that? She had nothing to say because it was the girl who delivered my pizza.
And then they hung up on me. Quite a fun night. I got ripped off for 30 bucks because my pizza sucks and can't eat it and now I may have to go to the ER because my lips are swollen and red as hell. WTF! All cause some young kids thought it was funny. Nice. I am 39 yrs old. I don't need this crap..stay away from this store Domino's in Watertown, CT.

Amber sweeney
from Worcester, MA
When I first called for a delivery they told me they weren't delivering at the moment because they were too busy. Then he asked if that was really a segment. They said well we deliver but it will be an hour. I said OK I'll walk down and get it placed my order. I logged 20 minutes out of my way to get the pizza I wanted a pineapple and jalapeño pizza. Got home open the pizza there's just jalapeños on it when I walked out of my way there and walked home to get the pizza because they own it went. I called to complain and the kids said oh did I forget to put the pineapple on it. I'll refund you your money this is happened before. I ordered from the old colony Road in South Boston Mass.they are not running in place correctly.

Johanna Williams
from Cape Town, WC
Last week Friday 13 November 2015, I ordered 2 large take way pizza's from Domino's Fishoek. I was asked to choose a free pizza as part of the deal. I choose a Fiery Hawaii, the lady read back my order and confirmed. The delivery guy arrived, I paid, he left. When I bit into the pizza I found it to be a normal Hawaiian. I called the Fishoek branch the lady said sorry, but cam we bring back the pizza then she will let them make the right one. I said no, she then said, she will send the driver back with the correct pizza. Today I went into the store. I asked her about whay happened last Friday, she knew immediately what I was talking about and lied straight to my face asking if he never delivered. I said in order for him to have delivered, she would have had to send him, which she clearly never did. She then just shrugged he shoulders and ignored the subject. Suffice to say I will never order take out from this Fishoek Domino branch. After being lied to by her to my face then ignored I also refuse to be serviced by her again. I hate poor service.

Cassie Bishop
from Littlehampton, ENG
Order Number 128389287 date 19.10.15. I ordered a takeaway Vegetable Volcano stuffed crust pizza,potato wedges and a garlic and herb dip from Dominos 9, Wick Parade, Littlehampton, BN17 7JQ and found a black hair imbedded in the pizza. I have phoned twice for a refund of £18.17 which was agreed by the manager Matt but to date no refund has been forthcoming. In view of the the lapse of time i require the refund as soon as possible together with suitable compensation.

Rowan sayer
from Prahran, VIC
Last night I placed an order at around 1 am in the morning with the box hill domino's shop.i was charged $32.85 for my order which Included 1 garlic bread 1 pepperoni pizza and 1 BBQ meatlovers. My order arrived promptly however I received the following: 1 garlic bread 1 mediocre pepperoni which only had 2 piece s of pepperoni on each slice and a Margarita pizza that I did nt order or want and guess what? No BBQ meatlovers pizza which I was charged $19.95 for.I rang the store as soon as I opened the box.first I was told rudely i was wrong and that's what I ordered he made the order himself : lie number 1 then I was told I must have received a BBQ meatlovers pizza by the same guy as he made it himself lie number 2 then I was told there must have been a mix up and that he would call me back once he spoke to the driver.I waited for 2 HOURS until 3 AM in the morning and guess what? No call back. Not impressed would be an understatement.fix it!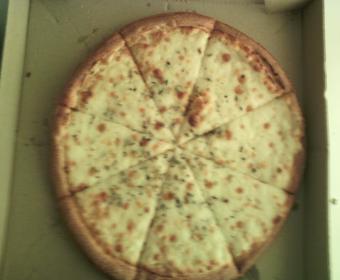 Victor De Jesus
from Methuen, MA
I received a pizza that was burned. I called the store I was told that the guy that cut the pizza said it wasn't burned. I explained to her that it was burned and it tasted like it's burned. she said to bring the pizza over. I explained to her I only have a 1/2 hour break if the pizza can be deliver she said no, I had to bring it over. it was really the worse experience I ever had buying pizza from Dominoes. I placed the order under my phone number 8572182646. I was a little ticked because she kept telling me that the guy that cut the pizza said it was not burn, but if you look at the attachment photo you can clearly see that the pizza is burned.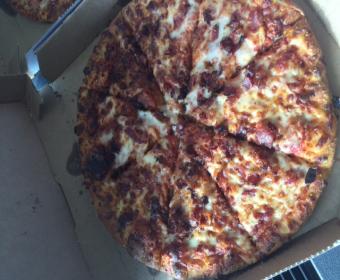 Kellie osullivan
from Brisbane, QLD
I purchased a pizza on 11 November at 9.50. The Brassall store does not answer phone calls after nine and just leave people on hold a never answer this has happened on 7 occasions and happened last night so I drove to store to order in which I watched the staff ignore the phone the worst part of this was being served by someone who wasn't wearing any shoes and then having them make my pizza this is a health and safety concern I am totally disgusted that a company such as dominos would be so unprofessional and ignore health department regulations. To make the matter worse I have called the complaints number twice and no one has bothered to return my calls.

Sharon white
from Greystanes, NSW
Last night at around 11 pm I ordered 3 home delivered pizzas in a super meal deal to be home delivered. When I went to have one of my pizzas for lunch today the whole pizza wasn't cut. I then called Emerton dominoes and spoke to the manager Birju and he said I needed to bring the whole pizza back to the shop in order to get a new one. I said to him that I paid for home delivery and I have recently had spinal Surgery so I can't get out. So now I cannot get a replacement pizza as I can't get out. I am very disappointed with the service and if this cannot be resolved I will be switching over to Pizza Hut. Next and final step is calling the complaint line, but good luck with that.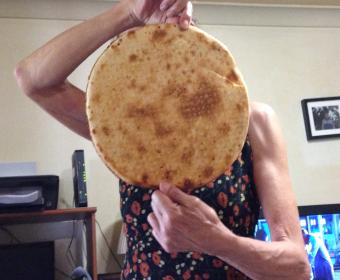 O Villarreal
from San Antonio, TX
This is a complaint against the GM at my son's place of employment. Evelyn is the GM at the south cross and Pleasanton location she a very bad GM my son had been working there since 2014 and was written up for a insubordination in a situation that never should have happened. He had already finished his work and was told by a manager Nicole to just wait and she would clock him out. Nicole did not back up my son when asked then was told to sign paper work stating he did this. Your GM Evelyn saw he was on the phone waiting to be clocked out and wrote him up not knowing that Nicole had told him to wait. Now my son gave his two weeks notice and long behold when he gave this in writing now he was given extra hours... Now after he had been asking for more than one day of work. This manager should not be in this field of work she does not have the skills or lack of skills to run this place. I believe Evelyn should be fired. She is a very unprofessional person.

A. Carvajal
from Collierville, TN
On Tuesday, September 29, 2015 I placed order #685920 at 6:53 p.m. using the Dominos app. The app provided a estimated delivery time of 41 to 51 minutes. I called at about 1.5 hrs after placing the order to find out the status and was told that the app was wrong that my order would take more than likely 2 hrs to be delivered because that was the estimated time provided to customers that place their order by phone. I waited the over two hours and called again to find out that because I had complained about the service during my initial phone call they thought I had cancelled my order. I believe my order was cancelled in retaliation to my initial complaining that it was the second time I placed an order and the delivery time was over two hours.
The first time it happened the app stated 2 hours; it took 2.5 hrs. and this second time well my order was just cancelled. I advised your personnel that I would never place an order at this location ever again. I just moved to this neighborhood and this is our local Dominos (Store # 3801) but their service is horrible, to say the least. I had to call a second time to ask if my card had been reimbursed, turns out it had not. I had to request reimbursement for an order they cancelled and charged me for...never again.

Ryan Cowley
from Burton-on-Trent, ENG
I order a pizza at 22:10, still waiting around at 00:00 still nothing, so I rang them up and said where is the pizza I order 2 hours ago, they then said it's on it's way, we'll give you the pizza and we'll refund the money! Now I have to wait till Tuesday to go back in my account and the pizza never turned up.. I'm gutted that one they have no communication skills and two that they promise you a free pizza to compensate and don't deliver!

Janet Moore
from Lancaster, TX
On 05/20/15 my nephew placed an order online. We picked up the order from the location in Lancaster, Texas, at Pleasant Run and Bluegrove. When we arrived, I advised that the pizza ordered need to be paid separately. I was not aware it would be an issue to pay separately. The person that handled our order continued to state it could be done but it would be the exact amount. It appeared he was more concerned with being inconvenienanced.
Prior to dealing with him, we entered and stood at the counter without being greeted. Once he came over, he still did not greet us, appeared bothered he had to stop what he was doing. While we waited for him to figure things out, one of the young men making dough used profanity and nothing was said even though the person working with us identified himself as the general manager.
Due to what appeared a lack of knowledge in separating the order, I had requested to speak with a manager. I have yet to have a pleasant experience at this location. Each time is excessive and there are times when off duty employees hang out around the counter as well as behind the counter. Seems to be a lack of structure or taking customer service serious.

Dr Ron Manclaw
from Fort Lauderdale, FL
At 1:30 pm on Saturday, May 16th at 1:30PM, I went to the Domino's at 500 S Federal Highway - here in Fort Lauderdale, FL. I purchased two medium deep dish pizza's for Dinner later on. Both had Peperoni and 1 had Sausage and 1 had Mushrooms. The Pepperoni on the Sausage Pizza was rancid and I got sick. I still have the other Pizza and I called the lady manager to let her know I had had a quality problem with the meat and asked her did she want me to bring it back or what she wanted to do.
She said I had waited too long to complain to her and she will not discuss the problem and just repeatedly hangs up on me. Should I call Broward county to complain. I actually went to Broward Medical Health Center on Saturday. When I called her, I gave her my phone number as I have been your loyal customer for maybe 20+ years.
Only one time before, many years ago did I have a quality problem - it was at the same store (area) and the manager was extremely kind, cared about providing excellent customer service and we've sent many people to you and to the SR#7 (441 Store) - when you're federal hwy store really too busy. The most that I really want is for Domino's to check your supplies at your store on 500 S. Federal Hwy to check to make sure no one else gets sick. After all I am a Doctor. I think this manager is not seeing the big picture and if anyone else gets sick - it will be on Domino's. Please advise.

Susan Perkins
from Madison, AL
Ordered pizzas for our family from Lenior city Tn. Dominos, we receieved our order, and 1 cheese pizza was missing. We called, and the manager stated they would send one right out. 45 minutes later, we receive another wrong pizza... it was a pepperoni. The driver states " sorry it took so long, my manager told me I had to make 2 other deliveries first." My son cannot have pepperonis..that is why we ordered a cheese pizza in the first place.
Our family night was ruined. We are very suprised that a company could have this lack of organization, and that the management would be so unhelpful. When we called back, the manager Jesse gave the excuse that they only have one driver as the problem..we never even received the cheese pizza. I will never recommend anyone eating at Dominos.

Charity Fox
from Batavia, IL
36 minutes for 2 orders of parm bites? ARE YOU KIDDING ME? I could understand a little longer wait time if the store was busy, but with the driver's cars parked out front and no one in the store, 36 minutes was WAY TOO LONG! My son walked in to pick up our order as he has done every other week for the better part of the year, only to watch the person manning the pizza oven not able to handle pulling our order from the oven. She even asked the crew lead for help and was told she could do it herself. She dropped the order all over the floor!
To top off the wait time, the crew lead's idea of 'making it right for the customer' was to tell my son "just give me ten and keep the 80 cents for your trouble. He did not ring the order in the register." NO CUSTOMER SERVICE equals NO BUSINESS!
I am SO totally disgusted by the treatment my son received (just because he was a kid?) that everyone we know will hear about this. I cannot believe that your management level staff did nothing to make this right. Is that really how you run your business? I don't know at this point if there is anything you could do to make it right for my family.

Richad K Adams
from Springfield, MA
Yesterday, I experienced the worst customer service I ever received. I ordered a LG pepperoni, a medium bacon and a medium bacon with a cinnistix and mozzarella bread an boneless chicken. The order was easy online. We tracked and waited, no one came. The tracker said the driver, Samuel was here.
No one came so me and my wife called the Roslindale, MA store. It took 8 mins for the store to answer, it was 9:12pm when someone answered. We told the young lady can you please help us, we placed an order and it says we received the order but no one came. I've spent over 50$ this. Is unacceptable customer service! The lady said that they only have one driver please can you be patient he has like 6 orders, so me and my wife waited another hr. I even went outside waited to give the store a break.
Another 45 minutes passes by my wife and I are saying this has never, happened before, so we call an it takes 10 minutes for anyone to answer. We ask for the manager and asked where is our order? did the driver get lost? our food is going to be cold and she says the driver said he came to 12 American Legion Highway but he never showed. He said we said we wanted to cancel and none of this was true.
The manager sounded frustrated and promised he was on his way. I said wouldn't the food be cold? she said next time you order it will be free if you order this same order and she will make us a new order. I thought that would be the end of it, the manager had corrected the situation. She called at 11pm to let us know he had left. My sons were up cause they were starving waiting for pizza and the driver arrives exactly at 12am and when he gets there he seems high and he says sorry bro and chuckles. The computer crashed.
I told him Its been 3 hrs and he's like I'm sorry he had another person with him eating dominos pizza so he gives me the order one of the medium pizza is missing, the bacon medium pizza, and I'm thinking he probably got high and ate our food. His response for the missing box was the store is closed call my manager they'll give you free stuff you have a nice night and bro sorry again. My wife didn't want to eat cause it was her pizza she wanted.
The most disappointing experience ever with Domino's!! Will never use them again! I'll take my services to Papa John's since I never had problems with their deliveries.

Self ordered for a Non Veg Combo along with a non veg Pasta online. Transaction was done online and got a confirmation also. Same was ordered around 1700 hrs and had requested for a delivery time of 1830hrs. On calling up the Dominos local store at 1829hrs, I was initially told that the order was not received.
Immediately, was again, told that the order was received and would take another 20 mins time i.e. at 1850hrs. Moreover, was also told that, I would get a discount at the time of delivery because of the delay in processing. To my surprise at 1859hrs, my order was delivered. Delayed by 29 mins. no sorry .. no coupon .. sad experience.

Cleo Haggard
from Wichita, KS
I am sick and tired of the Domino's Pizza located at 2417 S. Seneca St. Suite A Wichita, Ks 67217 giving me the run around on there delivery's. They are suppose to delivery as long as you place you're order by 12:00 A.M. That's a lie! The last 3 times I have tried to order from this store after 11:00 P.M. They have some bull excuse of why they can't deliver. We use to order from this store at least twice a week. I don't know if you have new management or what, but I have had enough. I will never buy anything from Domino's Pizza again. You probably will not post this for people to see but this is why your customer rating is 1 out of 5.

I was employed at Pizza Hut. When I put in my two weeks notice and applied as a delivery driver at the Dominos Pizza on 35th Ave and Bell Rd in Phoenix Arizona. After being told I was hired and was awaiting a mvd and criminal background check three weeks have passed. I could have submitted a state mvd in under two hours yet three weeks later I find myself facing eviction because I've been unemployed a month due to waiting on dominos response. Thinking I would soon be employed I have turned down many interviews and potential employers.
Today, on Monday April 27th, when I attempted to make my situation and urgency known to the assistant manager Aaron. I was told by Aaron (theres nothing I can do to help you sorry.) now it sounds like not only did Dominos Pizza waste three weeks of my life. It sounds like now Aaron has chosen not to hire me because I applied urgency to his task.
I'm ashamed your company would be so dysfunctional and unsympathetic to new employees financial needs. I can't imagine any responsible adult that would be able to patiently wait a whole month while their bills are unpaid for their new employer to finish their lengthy hiring process. This situation your management has contributed to me being in has tarnished my family, friends and personal view of your company and as a result as a consumer we have all determined dominos is NOT the restaurant we will be choosing to frequent.

Joyland fischer
from Ipswich, QLD
We ordered a large pizza and got a medium ordered pepperoni. It was spicy, too spicy. Was not asked if we wanted thick or thin. Then took 10 tries to spell the name of my street to them, then they got someone else to get the address which they still got wrong. If they can't understand what is spelled out to them why have them answer the phone. Very angry since I spent over $22 for this pizza where if I went to another store would have only paid $9.99. What a rip off! I will never order from them ever again.

On the 8th of April I ordered a pizza deal on the phone I paid by Debit card the delivery man brought a machine so he did it once and said it hasn't worked Soo he did it again how ever I went shopping with my boy by card was declined when I've searched on line you had infact taken the payment twice taken me over my limit which I then recieved charges by my bank I'm very distressed and up set by this a treat of £20 has cost me £70 when I spoke to the store they were rude hung up said call back did not I am very upset as this is not fair to me.

Katina Brooks
from Redmond, WA
I placed a delivery order at 4:26pm on Sunday 4/19 to the location on Elgin in Houston Tx. The estimated time for my delivery stated 24-34mins. After I looked at the time, it was 5:16pm in which I contacted the location to get the ETA on my delivery since it had been well over 45min and I live only a few minutes away from the store. When contacting Dominos Pizza, I requested to speak with a manager. The manager Erica got on the line I asked about the order, and she said it was on the way. I explained it had been almost an hour at that time. She then got rude with me and said it can take up to 2 hours. I asked for the corporate number she said "call corporate they don't do deliveries" and hung up. My delivery did not arrive until 5:36pm and was cold. I am very displeased about my order and customer service, I will never order from that location again.

Brooke
from Las Vegas, NV
I tried to place an order online but I could not get the order to go through, so I called the dominos on Eastern Ave and Serene in Las Vegas Nevada and placed my order for 1 large pepperoni pizza a Large Cheese pizza an order of cheese bread sticks 1 cookie and 16 wings along with 10 ranch dressing. When the gentleman asked me if I was paying cash or card I told him cash he read me my total at $73.00. When I hung up the phone I told my fiancé the total when he brought it to my attention that seemed very high so I called back . The gentleman who took my order originally answered I asked to speak to a manager. Daniel answered the phone instead of him asking me what the issue was he told me he ran a discount and my new total was now $61.00.
I asked him if he cared to hear what the issue was and he didn't want to hear, then corrected his words by asking what the issue was. At that point I clearly knew I was speaking to someone unprofessional and I didn't care to explain to him what the issue was. When my order arrived the total was $73.00. I didn't want to make the delivery guy feel uncomfortable so I payed him and immediately called the store. I asked to speak to Daniel and told him what happened then he proceeded to tell me he had no idea who I was and started laughing at everything I had to say. I asked him for the General mangers name and number and he didn't want to give me that information. I then called the dominos in anthem village and spoke with who I believes name was Dave and he gave me all the information I was looking for as well as ringing up my order because I explained to him how over priced I thought it was and sure enough my order should have been no more than $61.00 which was the amount that Daniel the manager was suppose to "discount" my order to.
I can not believe the amount of unprofessional I had to deal with from someone who is suppose to be a manager and representing your name. Not only was the food disgusting but my order was not even correct I would be ashamed if I had someone working for my business treat a paying guest such way.

Larry mazza
from Mount Laurel, NJ
I ordered pizza on 4/17/15 at 7:53pm from store #4710. As of now (9:18pm) it is STILL not here! I called the store st 8:50 and was told it was on its way. I called back at 9:05pm and after one RUDE staff member and a 10 minute wait on hold for a manager, I was told they were "busy" and its on its way. I ordered thru the app which never told me how long it would be for delivery. Currently, the app says its "deivered" yet I have no pizza. I will NOT be ordering from here again!!! This is ridiculous! Not to mention the rude staff on the phone. And since the pizza has left the store over 35 minutes ago (according to my first call) it will be nice and cold when it arrives, if it ever does! I WAS a frequent customer.

I placed an online order for collection from the shop in Wath upon Dearne - Rotherham and the total order came to £37. I rang up to ask if I got my NHS discount and the lady said yes no problem. I went back to my order and ordered a pizza legend pizza and also a meal deal which consisted of pizza 2 sides and a bottle of pop. I rang back up again and explained what I had ordered and asked if I still received my discount and they still said yes.
My daughter went for the order and because she also works for the NHS she took proof of her NHS card. When she went to collect the order it came to a lot more than what was specifed online.
She said that she had her NHS discount and they said she couldnt have more than 1 discount per order. She explained that she was told on the phone that she could have the discount but they argued and said no she couldnt and that they would not say that. She came home with 1 pizza legend and 1 other pizza but no sides, which were cold by the time she got home, because of the delay of the conversation in the shop.
I rang up the shop and explained what had gone off. They put the manager on who I must say was the rudest person I have ever spoken to. He said that I should be grateful at what I received and that I was practically a liar and no one in the shop would tell me that I would receive the discount. After around a 10 minute discussion he hung up the phone on me. I have never known customer service like it, plus I paid £25 for 2 pizzas which were cold and the toppings were not even what I ordered. The shop is placed in Wath upon Dearne - Rotherham.

Matt Griffiths
from Toronto, ON
I was ordering a pizza at the domino"s pizza at #ueen and Berkely st. On Camera. The supervisor on duty pocketed the money I gave him for my pizza. I asked him why he was putting it in his pocket as opposed to the cash register. This created quite a bit of controversy. At that point it got out of hand. I asked for my money back and it was given. However his employees started to insult me. It included giving me hand gestures of the inappropriate manner. Later on, the supervisor shoved me off premises. This was all caught on your survellience camera's. I called the police and their is a reference. I am going to retain a lawyer to this matter and will eventually be making a formal assault charge against the supervisor and your company. This incident was all on your video footage. What has upset me the most is that the local authorities made this out to be petty. The camera will tell the story however in a different light. Tomorrow morning I will be making a formal complaint to the toronto police department.

karen cope
from Lansdowne, PA
They burnt my bread stick's my pizza wasn't made right I asked for extra pepproni and didn't receive my extra and I called to tell them they preceed to argue with me I order once a week from dominos I know exactly what my pizza should be I order the same pizza each time I'm so angry and disappointed! This was Saturday April 10th at 8:00 pm in Elkins West Virgina.

Absolutely disgusted. WILL NEVER order Dominos again. Ordered online and order did not go through so was charged.......THEN ordered AGAIN and charged AGAIN. Phoned local Burleigh store and told it would take over 30 days to get money back. MONEY TAKEN AND NO PIZZA total of $95.70. 3 kids to feed and EASTER LONG WEEKEND!!!!! Who can afford to just throw money away. Store manager could not even understand him...no customer service. PIZZA HUT and PIZZA CAPERS you now have new customers. I am also taking this to the OMBUDSMAN. Thieves!!!! As you can see I'm THOUROUGHLY DISGUSTED. Thinking of going to the media about this too.

Ordered food then made another order for nachos. First order came stone cold pizza was hard every thing was disgusting i always order from Domino's and this time really disappointed still waiting for my nachos would like my money back will not be ordering from there again!

My daughter placed an order on line . After 35 to 45 min she called the Dominos West where we live . They told her it must have went to the East store . She proceeded to contact that store by phone and was told it was there . She ask when it was going to be delivered and was told she could either come and get it or it would be two hours before they would bring it. I drove 16 miles round trip to pick it up. When I walked in a young person was sitting on the counter where Pizza is made in the back . I ask and got the Pizza telling them I would not be purchasing anymore Pizza's from Dominoes. The two hour delivery was ridiculous . I do have a problem with someone sitting on a counter top where Pizza is made.

As a working mum, ordering a pizza at 8.14 in the evening and then, 45 mins later having to call to be told it would be an extra hour, its not acceptable. Nearly £ 22 pounds later, and with 2 kids to feed this is a joke. I don't mean to be rude or anything, but its one of those, when you really feel let down after having to tell the kids ( as they're falling asleep on the sofa!) that they cant eat just yet!! How am i supposed to keep two 4 year olds up, long enough to get dinner!!

walked into the store located in west frankfort Illinois and witnessed the manager, who i learned was named Brian Carter, screaming at the employees and calling them "retarded" and "fucking idiots" and just being an all around nasty person. i will definatley not be a returning customer.

Robert DelConte
from Lufkin, TX
States on the Online website that the Dominoes Located in Huntsville Texas Store Number 6632 Closes at 1230am on Sundays. I Called and they stated they have never closed at 1230 its always been 1200. I believe this is false advertisement and want something done. I would like to find out why i was denied the opportunity to order food during regular business hours. Store Manger that would not talk to me was Justin O'Mara.

My husband went inside to order a pizza and some wings and the lady named Courtney Prescott cursed at him started talking loudly among co workers about my husband and continuously cursing. No truly unacceptable I would like something asap!

Kimberly Brown
from Houston, TX
The staff was not wearing gloves while preparing food. On March 28, 2015 at 9pm, I went to pick up my carryout order and i observed the staff walking around with dough on their natural hands, tossing it. Another employee was putting toppings on dough, and she too was not wearing gloves. I asked for the manager and was told that she had left for the day. I asked the same female employee "Why wasn't anyone wearing gloves?" She proceeds to tell me that , "They are not required to wear gloves"! I don't understand! I thought all food preparations required the use of gloves and hair nets! This is very NASTY and UNHEALTHY!

Shirline Mitchell
from Provo, UT
At 6:15 pm mountain time I went online and ordered a Hawaiian and stuffed bread sticks. This was the first time I have ever ordered on line so I was interested in the time line that came up on the website. I tracked the making and baking of my pizza, according to the time line my pizza left the store at 6:45, at 7:30 I called the store (#7501) (801-418-1100) and talked to the manager on shift. I asked where my pizza was, he informed me that the driver was also delivering another order at the same time as it was on the way to my house. I live less then 5 minutes away from the store. When I asked how much longer I would have to wait he could not tell me. When I asked about the fact that the website said my pizza would be there in 31 to 45 minutes from the time I ordered it, He told me that Corporate could not tell them what they could do in their store. When the pizza was finally delivered it was COLD and the driver had the nerve to ask why we were not tipping him. I do not think that I will ever order online with Domino's again

Sherri Wood
from Roanoke, VA
We have always since moving here ordered from your Peters creek location. We live 3.2 miles away. We were told we now live where no one delivers! We have not moved our home in the year we have lived here! And they said Corporate would FIRE them if they delivered after 5. On a SATURDAY Night at 6:00 and the sun is shining! What exactly is the problem? You should not advertise delivery if 3.2 miles is to far for your drivers on a sunny evening! VERY VERY dissatisfied person. My childcare center will never be on your order form again do believe me when I tell all my employees and friends about this! What a sad day when a delivery place stops delivering, are you planning on remodeling your parking lots for dine out?.

Nathan Pretlow
from Brooklyn, NY
Domino's has block me from ordering online with any of my credit cards.Why is this ? Is my fault that your delivery people on three separate occasion forgot to bring my credit card receipt for me to sign.They left me with my order and said they would be back.Which none of them ever return to me with a receipt for me to sign.So why should I get block or penalize for your Domino's delivery people incompetence. Plus the Domino's store manager should make sure that there delivery people have the credit card receipt when they leave to deliver the orders.The Domino's store who responsible for this incompetence is Store #3646 1111 Pennsylvania Ave Brooklyn, NY 11236 (718) 272-1212 Reply back at Ngp590@yahoo.com

Nathano Pretlow
from Brooklyn, NY
Domino's has block me from ordering online with any of my credit cards.Why is this ? Is my fault that your delivery people on three separate occasion forgot to bring my credit card receipt for me to sign. They left me with my order and said they would be back. Which none of them ever return to me with a receipt for me to sign. So why should I get block or penalize for your Domino's delivery people incompetence. Plus the Domino's store manager should make sure that there delivery people have the credit card receipt when they leave to deliver the orders. The Domino's store who responsible for this incompetence is Store #3646 1111 Pennsylvania Ave Brooklyn, NY 11236.

Saul Fuchs
from Roswell, GA
I became a new fan of Domino's pizza. Today is the 2nd time I have ordered from Domino's pizza. The first time I ordered pizza my wife and I were satisfied. However, today we were not quite satisfied. I ordered two large pizzas. One of them was thin crust. The server did not mention that we are able to get 3 toppings. With the thin crust pizza we ordered banana peppers and green olives. However, what we got was banana peppers and black olives. In addition to our surprise one slice of pizza was missing. The one thing I should have done was check the order if everything was ok. I am afraid that from now before leaving the store I will double check if no slices are missing or the correct toppings. Needless to say we were not happy. The store we ordered our pizza was in Marietta on Lower Roswell. The telephone number there is 770-641-7020. Order number 222933. Server 7028.

M.M. Buffington
from Pevely, MO
As I sat waiting for my order of 2 pizzas, I watched the young lady working the dough. She was using her bare hands and periodically would touch her hair, forehead, cap & even her nose as she worked. She also would go to other areas of the kitchen & touch various items, then go back to making the pizza crusts. there was a young man working with her, ??her supervisor??, & as they socialized he never once said anything to her about her actions. I think this method of working with food is unsanitary, she should be better instructed & supervised. This is a shame for your Co., esp as we enjoy your pizzas very much. Thank you for the opportunity to voice my concern.

Tanner
from Pittsburgh, PA
Delivery took 2 hours for our pizza. When we finally got it the pizza was cold. Asked for our money back because we didn't want the pizza anymore and we were promised the driver would return with it. Never heard from them again

Mcarthur Mayfield
from Bunnlevel, NC
Dominos pizza has been delivering to my area for years,an now all of the sudden they say they cant deliver to my area anymore. I have ordered from them on a frequent basis! I think it was wrong! They should have told me in advance of the change..i am very upset!! We are only 13 miles apart. Dominos pizza of tarboro nc, my location is pinetops nc. I would like you to tell them to start back the delivery to specific customers.

Ken Konias
from Pittsburgh, PA
Rates -0. I ordered a pizza 2 weeks ago and it was so bad, the frozen pizza's in the store taste better. I telephoned Domino's in Dravosburg, PA and they said there was nothing they could. I asked for a different crust pizza or something, nothing. I'm requesting a refund for a different pizza. They can pull up my phone # to double check my order, which i also ordered wings that order and another wing order last week. I've always ordered from this domino's as it's at the end of my street and convenient. I also noticed for the past 2 weeks they have brown paper covering all their windows which makes it look like the store is closed. this is not welcoming and makes us wonder why the windows & door is all covered up.

Richard Mininger
from Santa Maria, CA
I received a pizza on Mar.20 2015 that had a diabetic test strip in it. Have contacted store manager who misled me giving me wrong number to file complaint.By end conversation have no choice they say until Monday morning to get to the bottom of this.Meanwhile,been advised to seek medical testing for tetnis, hepatitis, aids,etc.This foreiegn object which could carry anything basically, has been in my mouth when I bit into pizza,how do I speak to a person of authoritynow, before going to the local news and or newspaper?

Kaylah Cooper
from Cochranville, PA
I placed a order on the night of March 1st, 2015 at 11:46pm. At first I called the store which is located on 1 Berlin Rd, Clementon, NJ, 08021 and asked them can I still order considering it was late and they would be closing in less then 15 minutes. The guy told me yes I could. I hung up and then ordered my pizza and breadsticks online. It said a guy named Nick was making and preparing my food. As they the website said they were making my food maybe a little after 12 a guy called me. Never stated his name and told me that he couldn't deliver to my apartment complex because of " security reasons" he then said he's going to void the order and my money will be back on my card in 2-3 days. It's now March 18th and still I haven't gotten my money back on my card. I made attempts to call the store and have gotten no answer and the one time I did call they said I would have to call back tomorrow when the general manager is in. I called that day and no one answered. I called several times throughout the day and still no answer. All I want is the money refunded and no one ever refunded it. Never made a compliant at a store till now. I love the dominos experience until this one. This deserve one star. It deserves none ! Very pissed off !

I ordered a pizza for delivery online.. Paid in advance. Waited an hour (delivery within 40 mins apparently). Tried to ring blackwood shop ringing no reply or engaged for 40 mins..when I got through was advised they were very busy and delivery waiting time was 2 and a half hours. Complained online got a ref no and now nothing. This happened on 14th Feb.

William Mallory
from Brooklyn, NY
I am a long time customer, but was treated like a drive by for a special. I ordered the carryout large, 2 toppings for 7.99. I got to dominos and they had made 2 large with 1 topping each. I was given a choice, pay 7.99 for the 1 choice or wait there 20-30 minutes for a complete redo of my original order, 1 large with extra cheese and bacon. I simply paid the full amount for the extra cheese 1 topping. I felt treatment was like it was my first order and a gotcha. Never will I do business there. In fact, the 1 topping extra cheese did not have extra cheese.

Dawn taft
from Manchester, ENG
We have just ordered 2 large 10 slice pizzas from dominos Oldham they sent us medium 2 8 slice pizzas so we phoned dominos Oldham I spoke to a young lady first that admitted that they had sent the wrong ones out then passed me over to the assistant manager (Chris) which was very rude to myself and saying that he checked the order and it was right I hope that dominos monitor the telephone call and record them Im not happy with the service that I got and think this Chris needs retraining or moving off customers service

I called a total of 7 times before getting an answer that was at 6:30 it is now 8:46 and I have still not receive my food.

rosalinda d lozano
from Beaumont, TX
I ordered a pizza at 8:11 pm on 2/24/15 to 4545 Detroit St. Beaumont, Tx 77703 and the Pregnant women and 2 year old child did not receive it until 9:44 pm . could you please explain Why? I was doing a kind gesture without informing the receiver but i am really upset she is 6 months pregnant and her baby is 2 that is unacceptable . you probably do not care but i do want you to know . It was the Dominoes on Lucas in Beaumont , Tx honestly about 6 blocks from delivery address . and i was a kind gesture i was doing or i would have dropped it off myself!

Susan rollbusch
from Brisbane, QLD
Tonight I tried to order a ham and pineapple pizza from your value pizza range, along with 3 others. We have a voucher that is valid until 8/3/15. Even the manager could not honor this code 506581. I find this appalling and false advertising. He tried to explain that you have the right to change at any time. This is disgusting practice and you have just lost a family of pizza lovers who have been buying dominoes for many years from the Kedron store in Brisbane. We live close to several other outlets who will honor their advertised prices. It is reprehensible that your company would stoop to such low level behavior. This very poor attitude negates all the good that we have experienced. Yes, the price is still only $5.95 - allowed under the extra value code, but it is the principal and belies belief that this would happen at all, let alone for a $1 difference.

I placed my order online, like i always do as i travel the southeast frequently, from store number 5250 in baton rouge LA and i ordered a pasta and bread sticks with extra sauces. my delivery time was to be 28-38 minutes. i placed my order at 7:18 order number 425537 i had to call them an hour later to see if something had gone wrong. After waiting through the ridiculously long recording a male answered the phone and when i asked him if they were running behind or if maybe my order had a problem his response was " ya.... i guess we are haha" then when my order did arrive it was cold and had no silverware - no sauces - so i called back in and got a lady this time. i was obviously upset and all she kept telling was the number you are calling from is no the number for any order we have.
finally she stated she would have someone bring me my stuff but if it takes another hour to get here it wont be worth it. I know these people only make about 8 dollars and hour but when i was working in the food industry as a young man i had pride in my work and respect for other and i also this little thing called common sense i guess that is just to much to ask for in this day and age. i would not recommend this store to anyone and suggest everyone else stay away from it. i am an avid lover of pizza and pasta but i will be getting it from somewhere else from now on...

I ordered my pizza at 9:00 spoke to plenty employees and the manager he didn't even want to spell his name! The driver was very rude he called and wasn't even outside, he came minutes after 10:30 I find it ridiculous that this is my fourth time that they could not get it things right the manager hung up the phone on me claimed his name was M.D the store number is 3668! All I asked for was the store number and the manager replied go ahead and make the complaint the driver cell phone number is (347) 652-5504 NY, USA and their address is 241 Rockaway, Brooklyn New York. They honestly didn't handle this manner properly at all! My number is 678 770 3997 I am very upset and so are my children because manners did not get resolved! The number to this store is (718) 756-5666 NY, USA. You can call them and see how they speak to your customers who constantly order pizza in such a rude manner is very distrspectful on their part. I love Domino's and so do my kids but, if the manager is accepting these poor acts it's really not fair to me as a customer the driver replied this lady was crazy and never seen me a day in his life please have these employees trained the right way very inappropriate and not responsible on the managers part!

I order a pizza at 5.15pm and waited in the shop and at 5.55pm I go to the front counter and ask where my pizza is. The girl looks in the hotbox part and grabs the pizza there Which was mine and it has been sitting there for about For 10-15 mins so I wasn't impressed at all. Also the pizza was just warm. Mean while I was waiting the staff was just standing and chatting away which I was not impressed As one of the was the one who cut it and put it in the box So my question is why didn't she call my name and Take the money. I do hope this does make sense. Also I hope the shop gets told to watch what is going on and be a good team if someone is busy on the phone taking orders there should Be someone to help out.

I want personally to orderfor regular country special +garlic bread+mouse cake frompowai dominos as I am regular customer for dominos they told it will take 15. Minutes itold ok after 15 minutesthe told only pizza is ready for garlicbread it will take more 15 monutes do after my order the despatch garlicbread to takeaway so why the did like these I refuse to take order mr rakesh in powai was handling so request you nt to kept search staff as it felt a bad impression on ur dominos due to staff prblm and also I told I want complain form they told they don't have atleast u should have a complaint form

Went to the winston churchill and argentia location. I placed an order for 2 med pan pizzas, went after 15 mins to see it it was ready, had to wait 45 min until they told me they made a mistake and gave me my money back. They didn't issue me a receipt, i had my daughter with me who got really cranky. This is really bad customer service, i wanted to talk to the manager but he wasn't there. We had to come home hungry. This location had all teens working there.

adam grayson
from Jacksonville, FL
Was fired for not showing up on a day that i never worked . Plus the GM is dating one of the insiders and she gets the special treatment over the other works. I don't think that is allowed or permitted in the domino handbook

Marlys Galler
from Port Saint Lucie, FL
Went to pick up a pizza today and the guy making the pizza was putting all
the items on all the pizzas with bare hands. This is unsanitary. I question this
and they told me the government gave them these instructions. Then he went
from making pizza to bringing supplies out from the cooler and then back
to making pizzas. Being a former owner of a fast food usually the Health
Department is involved in this. thank you!

Chip P
from Greenville, SC
Complaint for Dominos Pizza 356 W Main st Hendersonville Tn
This location in the last month has just got worse. The wait times have got longer, the attitudes of the employees are bad and it is easy to see why. The new manager is talking down to white employees and running them off and appears to be replacing them with black employees. I hate Racism of any kind and I will not support it. Sorry this location has lost a customer until this changes.

Incomaptant staff members and arrogant managers

Teddy mason
from San Antonio (North Central), TX
Dominos 15502 huebner rd. Two times it his I order on line pay never get pizza.Have to drive to store to get refund waited 2 1/2 hours on Monday had to go get refund and tonight same thing Going to get refund went order on line 35 mins going on 2 hours I am sick of it.

Kim A. Driscoll
from Needham, MA
On 12/4/18 I ordered a pizza with my phone to pick up at 271 County Street Attleboro, MA 02703. i picked up my pizza and drove home. When my son opened the pizza it was not the cheese pizza I had ordered it was a pizza made with a white sauce which we didn't like. So I called the store and ask if they could bring me the right one. First they said yes and then they realize I lived in South Attleboro and couldn't deliver there. I said okay what can you do for me then. The gentleman on the phone told me that he would put a note in the computer to give me a free pizza next time I came. To just let them know when I came in so they could look it up. I said fine and called the Domino's at 250 Mendon Road in Cumblerland, RI 02864 and had them deliver me another pizza. I usually order there on the weekend all the time it's a good store. Today 12/18/18 I placed an order at the County Street store on my way home. I had my points for a free medium pizza so i used that and order another pizza that should have been in the computer as a free pizza. The manager said it wasn't in there computer and I would have to pay for it. I said no I will just take my free pizza and I walked out. This store on County Street is always making mistakes on peoples orders. Last week I was in there forgot about free pizza but i ordered cinnamon twist and they made me cheese twist instead they did catch this mistake but I had to wait for them to remake it. While I was waiting 2 other ordered where also wrong that they had to fix. I order from Domino's once or twice a week sometimes 3 times a week because my son only eat pizza but if they can't keep there promises I'll go to Papa John's, Papa Gino's or Pizza Hut there all very close and it make no difference to me. I would like a response back from you.
Yours truly,
Kim A. Driscoll

HRUDYA DATTATREYA
from Hyderabad (Charminar), TG
This is the worst response from your end that i have ever seen before, earlier you only called me for the delays that happened before that complaint.and now you are not answering my call & rejecting my call.
coming to delivery i have ordered a pizza before 45 mins . the delivery have been done now.
Coming to taste of pizza, it's worse even .you have sprinkled the salt too much.

Nazmun nahar
from New York, NY
I work in dominos pizza store is03656.its a worst experience.they behave so worst.they don't accept new anyone.they treat so bad.a guy assult with me.i did complain to general manager he didn't took any action now he didn't put any schedule on mine.

Zavia Otey
from Roanoke, VA
I ordered a pizza and never received it , when I called dominos back the worker gave me a nasty attitude

ROBERT HOBOCAN
from Palmertown, CT
my son ordered some items at moes in dayville,ct He was told price and then asked if it would be more to add mushrooms to pan pizza. He was told it would be $20.47, he told them to skip. When I went there I was told it was $24.97- I said how could it be that if he was told $20.47 with mushrooms and he didn't get them. THE MANAGER THERE CURTIS GAVE THE WORST CUSTOMER SERVICE AND INSISTED THAT WAS IMPOSSIBLE.
I go there 2-3 times a week and have never had a bad experience like this at Dominoes. Curtis doesn;t believe that the customer is right and even though they made a mistake- insisted it was impossible.

Peggy Walton
from Rocky Mount, NC
I had a 50% off offer. It took almost an hour for the pizza to be delivered. Needless to say, the pizza was cold. Also, the pizza had so much garlic, it was barely edible.
At this time I am not sure if I will order again.
I am requesting a full refund of my money.
The Domino's store number is 8956 and the Order number is 286743.
Sincerely,
Peggy Walton

Shannon Recker
from Baltimore, MD
I ordered from Store #4603 (Pasadena, MD) today, December 1, 2018. The tracker showed our food was quality checked at 4:37 p.m. However, our food didn't leave the store until 5:04 p.m. (approx. 25 minutes later). Our food arrived approx. 25 minutes after that. The food was cold and dry. I spent approximately $40.00 on cold, dry food. I called the store to speak to the manager and he refused to speak to me. He told the young lady that answered the phone to tell me that he was too busy to speak to me. The GM's name is Jack Peddrois. The young lady apologized and told me that she asked him to please speak to me and he again refused. I don't know what kind of managers Domino's wants in their stores but this is absolutely unacceptable. Part of a manager's job is to deal with customers, good or bad, hear feedback and make changes if things aren't working. I have never called a store for a manager and have them refuse to speak to me. Mr. Peddrois has terrible manager skills. My children and I love Domino's, however, this store will never get my business again. I am just blown away that this manager would have total disregard for a customer.

Michael Miller
from Pittsburgh, PA
If using the Domino's app or website, if the company is going to advertise 50% off of online orders, it should be automatically taken off of the bill. You shouldn't have to search for a code when the order was obviously made online. I was charged full price for my order on 11/28/18 by the new Tyrone, Pa Domino's.

Vivian
from Fort Bragg, NC
The Dominos on Pope (Fort Bragg, NC) restaurant, Upon opening my Chicken alfredo pasta their wasn't adequate amount of food in there. It looked as if I had a half cup of noodles, only a few pieces of bite size chicken and burnt cheese. The dish didn't even make it halfway up the tin. I paid full menu price for half of a dish. I now see the below for the attachment, I didn't think to take a picture, hopefully this doesn't happen again but if so I will know to take a picture and make a complaint. I would like for you all to make the employees aware that they need to put together the full amount of food when they prepare food.
V/r
Vivian Pullen

beatrice sharp
from Mountain Home, AR
ordered online out of state when the delivery did not happen called to see why pizza was not delivered to my 10-year grandson's house sent pizza as a gift for him. the person answered the phone at the Santa Cruz domino pizza on mission street 831-429-9955 ask about the pizza he stated no one answered the door when it was delivered I asked him if they would go back he said he was charging me anyway and would throw the pizza away. everyone was home the pizza must have been delivered to the wrong house or it was never delivered at all he charged my card 3 times said he cancelled the charge but it still on my account. he was rude to me and my family when they called about the fact they were home at the time of delivery. rude, disrespectful did not offer to correct the situation.NOT that it matters to you but we have order pizza in the past but NEVER again!

Robert Spinner
from Jonesboro, AR
I live in Ridgecrest nursing home in Jonesboro Arkansas. We normally order 4-5 pizza's each week. I ordered 2 medium pizzas last night that were never delivered. I personally waited 45 minutes in the driveway reception area and nobody came down the drive; not one car. It took me 10 minutes to walk back to the nursing station and call the Domino's on 3000 blk of Johnson ave, zip 74201 spoke to Josh who said we weren't there so the driver came back. He said they called the Nurses desk at 2 different phone numbers and nobody answered, even though 4 people were at the desk. The people who were monitoring the phones said nobody called. Their jobs are also riding on their word. Th asst. mgr was going to charge me an additional $7 delivery fee and send me my cold pizza's They never delivered in the first place. It is impossible for a car to enter our 1/2 mile drive at night without being seen. 4 people swear the phone never rang. The driver lied. odometers should be checked on each delivery. In the old days pizza was free when later than 30minutes, The Domino's store didn't even try to deliver my pizza's; they should be free. By the way, $7 for a delivery charge is pretty high when the driver only needs go a few blocks. This was never solved. Josh and the assistant manager tried hard not to let me get a word in. Domino's is out as of now until this dispute has ended. Papa Johns deliver to us for less money; we will use them for now. Thank you for you're attention

Cindy Fournier
from Barre, VT
My husband and I was at the Domino's Pizza in ST J VT #3231 while waiting for our pizza and cinn twist. we was very unhappy about the workers. There was a lot of fooling around and complaining going on one male was complaining about how many hours he had to work to get a good pay check and the other two was throwing pizza crust to each other and when making someone's pizza with it then we was watching the board when our pizza would be ready and it had finished and went off the board for about 5 min's we had to go up a find out about our pizza and the person behind us had to go ask about his pizza after waiting about 5 to 7 min's for his after it went off the board

Darko
from Greenacre, NSW
I had ordered a pizza , garlic bread and churros by phone went to pick up items at fairfield heights dominoes , pizzas were ready 4 minutes after arriving which was good concidering i had only ordered only 10 minutes earlier . I noticed staff wearing gloves while handling food except for 1 person which ended up being a delivery driver helping the person cutting pizzas pack items while waiting for my churros i noticed as they came out of the oven he grabed them with his bare unwashed dirty hands and put them in the box and just clapped them clean and went to do a delivery , i made them make new ones i was absolutely discusted on seeing that let alone he is driving , handling moneys and then handling food without washing hands or wearing gloves

James Lewis
from Lake Saint Louis, MO
We order 2 pizzas ...1 hand tossed and one thin crust....the thin crust was supposed to have x sauce x cheese onion green pepper bacon and pineapple. Well the thin one arrived with sausage green pepper ham onion pepperoni mushrooms. Not exactly what I ordered. No one seems to care at the store, oh sorry.....great customer service. 6366974745. Gave one star none lower. And to think we order from this location all the time. I am thinking of checking out Papa Johns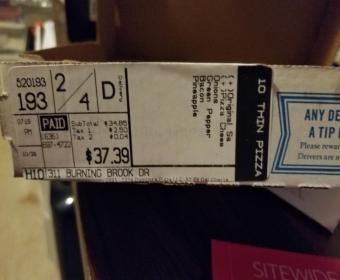 michele Bloise
from Albuquerque, NM
I received my med. pizzas and they were burnt so I called and had them bring me new ones - they were awful - crust was burnt and ham and pepperoni were over cooked and tasted old :-( --- they moved from Indian School to 12th st. and now it's not any good - wish I didn't have kids to feed when I was sick - wouldn't have had such awful food to feed them :-(. they are over cooking the pizzas - please let them know how disappointed me and the kids were - thanks .

Roxann Cheeney
from Minneapolis, MN
Your service is HORRIBLE! I ordered a pizza and it took 3 hours to get to my house and was stone cold. I live 1 mile from the location, it is a 4 minute drive and the pizza was out for delivery for over 2 hours. I received a credit, but haven't been able to use it , because you get put on hold for over 30 minutes to just try to order. How can I get my $25.00 credit returned to me in cash. I am through with this company.

Mark Harris
from Oaklands, SA
I went into Blackwood store in South Australia to order pizza and garlic bread for my sons 6th birthday party.I ordered 25 $5 pizzas and 10 garlic bread which came to $170.Then asked how much to deliver and was told $320.i think $150 delivery fee is a bit exhorbitant as it is only 3 minutes down the road.So now I will collect them myself and will no longer use Dominos for my corporate or private events.I hope this is an error on your part as am most disappointed with this service
Mark Harris

Maureen McDade
from Lancaster, CA
Ordered online 2 large pizzas with light sauce..
When pizzas arrived, there was no sauce or so little sauce it was not noticeable visually not taste wise. Called the Dominos at 4606 E Ave S. Palmdale, Ca 661 265-7400. To complain.
I asked the employee if I needed to return the pizzas and was told no. MARCOS the Manager confirmed they would replace the pizzas and to give my phone number when ready to pick up. Tried to pick up pizzas and was told they could only replace 1. Gave me corporates 800 number which says to call where we ordered and ask for Manager to complain. I guess Dominos has all ends covered.. How soon they forget that not to long ago they were a dying breed. With this kind of service, can be back in that position again..

wafi akbary
from Arlington, VA
this complain is for the location of 4811 Lee Hwy , arlington va 22201 .
i order by phone 2 pizza one plain and 2nd one veggie but i received that in 45 min with peperoni instate and i am alergic with peperoni and
i called ask for the manager and no one comes to the phone to assist me , then i drive over and they are not busy at all was 3:30 pm and
i am very hungry due to type 2 , and manger very rude and telling me ya i remember you that you repeat 3 times and ask for the receipt .
then he given me running a round and i ask my money back and i will never order pizza from domino at all ...
i will never recomend any one to go or order pizza from 4811 lee hwy , arlington va .. thank you wafi

Bernadette Cawthorne
from Hesperia, CA
I live in Adelanto, Dominos is in Adelanto yet they live not deliver where i live, when i asked why not was told they only deliver up to Air express way, this is so friggen unreal yet your ad on tv shows where you deliver anywhere, some thing needs to change Thanks

Charles Clolinger
from Greenville, MS
My problem is I placed a delivery order at 11:23 pm on 08 30 2018 they get to me at 12:39 am pizza cold without my extras i paid for they wouldn't answer when i tried calling after the delivery left or before he got here i buy alot of pizza from them and if you pay for something that what you want right so if they don't like their job then they should close the business and stop taking people's money for something they don't stand by it really upset me to know that they think they can get away with this it is unethical and not honest see the delivery guy said he would bring back the thinks i didn't get but hasn't shown and gave him tip anyway something should be done
THANK
Reconsidering Customer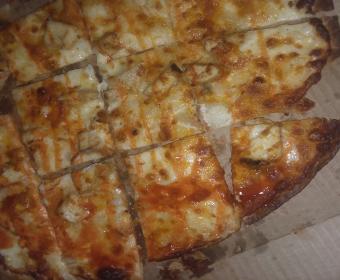 I called to place an order - they answered and then put me on hold for 10 minutes. I hung up and called back, they answered and then put me on hold again. After another couple of minutes - they finally took my order. I spoke to the manager about the hold time. The manager was not too concerned about it, she gave no apology and then tells me the hold time was justified because they were really busy and the fact they only had 3 phones and all were busy taking orders. The manager also said that the corporate office would agree with that 10 minute hold times on the phone is acceptable if really busy is the reason. The manager is basically saying it is ok to give bad customer service and not make it a priority if too busy is the reason or perhaps it never existed in the first place regardless of the time of day or how busy. I am very disappointed in this message, in the experience, in the leadersip or lack there of and in Domino's overall. In closing, I am a weekly customer and spend approximately $70 dollars and deserve better - all customers do. Hopefully, this complaint will create positive change for the better and prevent it from occurring again.

mark ashdown
from Carole Park, QLD
The service at your tannum sands store is terrible, on a number times when going to store for a pick-up either the order is wrong or has not been cooked. Tonight was it for me , after ordering on-line and tracking it on my phone I go to the store to pick up and pay and am confronted with the young girl behind the counter on the phone trying to explain an order for what seemed like minutes,then when she serves me she cant find my order and tells me that there must have been a mistake and I would have to wait for another one.Noone in the store would be over the age of 21, you have kids under pressure trying to run a store.Disgraceful. And by the way I did leave the money on the counter.Not happy.........

Garry Thurman
from Coshocton, OH
brought enough Domino's to get a free 12" pizza called ordered 3 extra toppings and a root beer plus delivery they said it was $7.02 more when it got here the price was $20.48 I told the delivery driver they said $7.02 he said that was okay I said wait a minute while I called them they said they didn't put it was a free pizza and if I only had the $7.02 for the order this young man would of took it on his self to cover the $20.48 price I paid the full price but I live on a limited income I don't want your coupons or anything else but if you let them keep doing this you won't be doing much bussiness cause you lost min

dan45@yahoo.com
from Peoria, IL
you have a rather nasty person working in your Pekin Illinos store Lori not very clean has rotton teeth and a foul moth will not buy anything from that place Hi pizza hut

Bruno Bruner
from Monahans, TX
so I ordered a pizza tonight from monahans texas location online, I put in what I wanted and even went thru your online menu to delete peppers and asked for my pizza to be square cut and my pizza showed up with peppers and was not square cut, why do you give us options if your not going to follow them?The only reason I complain today is that I eat quite often at dominos and lately have been having multiple small issues, I am a paying customer and deserve to receive exactly what im ordering. its to late to fix as im on a busy schedule and don't have time to wait for another pizza tonight. today is 7-26-18, 9287 is store I guess, order number 211518

Maribel M Menjivar
from Peachtree City, GA
at 6:49pm I called the Atlanta Hwy store (706 354-1179) and asked them if they will delivered to 345 Hollow Ridge Dr. Athens 30607 & they said yes so I placed the order for 10 large pizzas to be delivered at 8:55 as my party was going to be over at 9 O'clok, at 8:36 I got a call from the Baxter store telling me that they got my order transferred to their store and will take 30 to 35 minutes to be delivered I told them it was still OK as I couldn't do anything else because i had my party going on already. I called @ 9:04 & the guy told me my order left the store 10 minutes ago, called @ 9:15 and the guy told me my order was on its way and told me they got my order @ 8:40 & basically was not their fault because I ordered to the wrong store. they delivered my order @ 9:40pm, they gave me some cinnamon bread twist for free for the inconvenience but some guests had left already.

Darlene Daniels
from The Bronx, NY
I started this complaint by telephone but my phone is dying so I will submit my complaint here. On Saturday night 7/14/2018 around 9pm, I went to the Dominos at 3484 Boston Rd. in the Bronx. I ordered the 2 large pizza for $10.99, I ordered 4 pizzas, thats $22.00. The cashier told me the total was $40.00, I said that's impossible the tax is almost the same amount as the bill. He was nasty did not know what he was doing, could not tell me why the tax was so much, kept sucking his teeth and saying well that's what the computer says, I don't know, your bill is $40.00, over and over. I told him there is only a 8.25% sales tax in nyc and there's no way a $22.00 bill is going to be almost the same amount in taxes. Eventually someone else came over and rang it up and said it was $32.00. I complained to the manager about the first cashier arguing back and forth with me, that cashier even gave me the finger, and when the manager told him to stop arguing with me and go in the back he had a back and forth with the manager before he would go in the back. He acted like he was outside and able to argue with someone if he chose to.
After I left and got home I realized they did not give me a receipt. I was so angered over something so basic for a business which is to be able tell you what you are being charged for including the tax, and for any employee to know something is not right when they see taxes that almost totally a person bill, that's just common sense. They should know to ask for assistance rather than stand there and argue with someone over what obviously is a problem. When I realized they did not give me a receipt I was even more annoyed. If you have some kind of dispute with a customer about what you are charging them for that would seem to be the one thing you would want them to get a RECEIPT. I feel that the $10.00 in taxes I paid was to much, and I don't trust them because they had to deliberately not give me a receipt, doesn't the computer automatically print a receipt. What kind of deal is it to buy something for $22.00 and have to pay $10.00 in taxes. I want to make sure I was not over charged.

On July 11th at approximately 7:23 pm I went to pick up my order from Dominos Pizza located at 2002 Nickerson Blvd., Hampton, VA 23663. While paying for my order, I observed 3 employees preparing pizza without any gloves on which alarmed me due to sanitary concerns. Further, one of these same employees tapped the other on his back bare handed, then returned to preparing the pizza.
Please take the appropriate measures to ensure staff are wearing the proper protective gear while preparing food.
Thank you.

Lynda Chavez
from Bartlesville, OK
Last night(july 6th,2018) I ordered a pizza and sandwich. The problem was the pizza dough and sandwich dough was gooey. After cutting away some of the crust, I was able to get 1/2 of the sandwich down. Same for the pizza. This use to be my favorite place to buy pizza. I need to go back to pizza hut.

Cynthia DAvis
from Atlanta, GA
5819 Campbellton Rd SW Atlanta GA The service is terrible the customer service is terrible the pizza is terrible

Tangeria Spencer
from Oak Park, IL
Why is it so hard to order on line this has been happen alot. That's why I stop order on line period. I also try to order on line on cell phone still I was not able to order. So forget you also Domino's pizza forever good bye

Yani
from Philadelphia, PA
Dominos never want to take orders after 12 am and if they do the waiting time is OVER AN HOUR even if you going to pickup! Ridiculous.

Chris Westerfield
from Atlanta, GA
A driver comes past my house at least 2 times a wk delivering to a house past me but store says they have to meet me 2 miles away further in town because I'm out of area.

Jo-Ann Caron
from Dunnellon, FL
First time ordering from our new Dominos in Dunnellon, FL What a mess,, no system, lost orders, my pizzas over an hour later were found & COLD. . They had to remake my Dads sandwich again as they could not find it. Where were the apologies? Gift Card? Even a Manager? They made sure they got the delivery orders out. What was the Problem? They need training....Customers First!!! What was their issue??

Mae
from Santa Monica, CA
To Whom it may concern:
We ordered from the Dominos on 500 North Henry St. in Alexandria, Va. last night.
It arrived burnt and cold and slicers were piled on top of each other. It was inedible! Order # 294828
In California when I order it's usually delicious!
I would like to be compensated someway!
Dissatisfied customer
Mae

I just ordered a pizza and wings from Dominos today. When the order got here I found the pizza was lukewarm well I am used to that about now as every pizza place usually delivers it this way so you have to re heat it.
What bothered me was the chicken wings. I ordered via phone and told them mild sauce this was that Buffalo hot sauce put on the chicken wings instead! I had to rinse off the chicken and recook it with my own BBQ mild sauce which he should have come with in the first place or no sauce whatsoever just not that buffalo hot sauce hate that and it is bad on my stomach as well.
Other then that was ok just not the lukewarm pizza and the hot sauce on the wings!
Thanks.

danscotty@hotmail.co.uk
from Northampton, ENG
Order number 225106821 was placed with Domino's and PAID for by my direct debit card. Food NEVER DELIVERED, despite phone calls to my local outlet. I visited my local Penrith outlet the following day and was met by rude member of staff who would not issue refund. Referred my complaint to the website. I have done this and so far have only received one voucher for a free pizza, considering my order was for £23+ this hardly amounts to half the value of my order. Plus the experience of your most unhelpful member at your local staff and various emails via resolver website, I am disgusted with your service and customer care.

MY WIFE AND I ORDERED 2 SANDWICHES AND A L PIZZA. WE ATE HALF OF THE SANDWICHES AND MY WIFE WHICH SHE HAS THE CHICKEN SANDWICH FOUND A PLASTIC GLASS ON THE EDGE . I CAN'T BELIEVE THE PERSON WHO PREPARE IT DIDN'T SEE . VERY SCARE IT . WE THROW THE REST OF THE SANDWICHES AND THE PIZZA ON THE TRASH. WHO KNOWS HOW MANY PIECES OF PLASTIC GLASSES SOLD TO YOUR CUSTOMERS :(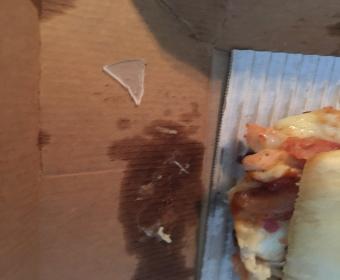 david corns
from Auburn, NSW
DOMINOS DECIDED I WAS A CHILD MOLESTOR AND PUT SHIT LOADS OF SALT IN MY PIZZA AS WELL AS DELIVERING ONE THAT WOULD FEED A DWAFTH STYLE STEREO TYPE ASS . FALSE ADVERTISING AFTER REFUSING TO DELIVER, YEP........................................................................................SHLO

Cory Walton
from Norcross, GA
I order 2 pizza on lunch break and never received my pizza so I call the store back they say my phone number wasn't a working number ,I waited my whole break and didn't have any food

Barbara Newton
from Concord, NC
The last two pizzas I ordered came dry hard and Luke warm. I called and spoke with the manager about my concern and she wasn't sure how to handle my concern. At the end of our conversation she ask if I would like a credit for a future pizza and I state that would be very nice of her. She said she would put a credit under my phone number so when I called to order my pizza just tell them the credit would be under my phone number. I called today 3/16/18 to order my pizza and the manager said she didn't remember my conversation and she is good about putting in credits that she could give me a 5.00 credit that's all she could do because the credit wasn't put in the computer. The Dominos in question is located in Mt Pleasant, NC 704-436-1117. The manager I spoke with was working on 3/16/18 at 6:30p as I didn't get her name. Customer Service is less than satisfactory. Thank you for your help.
Barbara Newton, Concord, NC 28025

Rafael Hernandez
from Lake Worth, FL
My name is Rafael Hernandez. I chose Dominos tonight over pizza hut because is closer to my home. I feel I made the worst decision today just for driving closer. I ordered a pizza with extra bacon and pineapple. When I went in to pick it up the bacon was almost unseen. I paid extra, and this happened 2 weeks ago when I ordered. I thought maybe it was just a mistake. The young man who helped me at the time was friendly and apologized. Today was a difference experience. The young lady who stepped to talk to me, was very bold. I asked her, " If this is considered extra bacon which I am paying for, what would it look like without bacon? HER REPLY WAS , WELL LESS BACON. SHUT MY BOX OF PIZZA CLOSE AND SAID, HAVE A GOOD DAY, AND WALKED AWAY. I am very disappointed how I was treated. I am a Retail Store Manager and this is not the type of customer service you give. This was at store in Lantana and congress. In florida. Just east of I-95. I believe is Store# 5169. Phone number is 561-533-0905. Order number # 331966. I ordered the pizza under my nickname Tony Hernandez.
I would like some to reach out to me ASAP. My number is 561-907-0151.

STEPHANIE SHACKELFORD
from Mountain Pine, AR
On the night of 2/15/2018 I used the dominos in Hope Arkansas and used a fund raiser card that was a buy one get one free , I understand that the way the card works is that I pay for the higher of the 2 pizzas I order . I ordered a large meat lovers add mushrooms and onions and a plain pepperoni , I was told the price was 23.88 and when I showed my card I was told the same order was 28.00 something . So I was lead to belief that it was cheaper to not use my card . I have never paid this much for this order in all the years I have been using these cards. but we were hungry and we live a hour drive away so we placed the order and waited our time when we picked up our order we were in a hurry and did not think to check so I made my hour drive home to find my pizza was raw and I had to recook it. this morning I called the store and reported this and was told yes I was charged to much and that this was not the first time it has happed with this employee. But was not offered any help on the fact that it was raw and over charged . I just felt this was something that you might want check in to , because this is the only pizza we eat .
thank you for taking the time to read this
Stephanie Shackelford
Have feedback for Domino's Pizza?
Thanks for your feedback!
Sorry. Please try again later!