Costco
Costco Complaints Continued... (Page 1)
226+ reviews added so far. Upset? Call Costco corporate: 425-313-8100

Tim and Dianne Rice (Membership #: 111847582297)
We have a problem with the Primus bills that I have been receiving since upgrading my internet connection and adding a digital phone on April 24 2019. I have had
this service for 5 weeks and so far have been billed for $719.36.
I purchased both the digital phone adaptor and the internet gateway outright so that should be added to my first bill. The bundle I signed up for was agreed to at
$70.55 per month. The phone adapter was $50.00 and the Gateway was $190.00.
Please review the statements that we received dated April 28 2019 & May 28 2019.
Also note that we sent a payment of $300.00 before we even received a statement as we were anticipating the extra cost associated with the phone adaptor and
the gateway.
When I called the customer service number to speak with somebody about this, I was treated in a very rude and unprofessional manner. I asked to have the
charges itemized and was not given satisfactory answers. When I asked to speak with the persons manager, I was hung up on. Further attempts to call back were
unsuccessful because the representative I was talking to blocked my phone number instead of getting me her manager. On top of being very unprofessional, I
think that this may be illegal as well.
I appreciate that the representatives are trained to carry the conversation and control the customer but there comes a point where she must listen to the customer
and provide satisfactory answers to the customers questions. I see no reason for her to not get me her supervisor as she was not providing satisfactory service.
I need somebody to look into my issue and get it resolved before I am forced to file an official complaint with the governing bodies that oversee this service.
My name is Tim Rice and our account is under my wife's name which is Dianne Rice.
Our phone number is 519-631-6863 and the Acct. No. Is 110778040.
I have been a Primus Customer for at least 10 years and I am appalled by the treatment that I was subjected to by your customer care representative.
Your prompt attention and quick resolution to my billing issues would be greatly appreciated. Figuring out my internet & phone bill should not be a difficult thing to
do but it seems to me that even the Primus Customer Care Representatives are unable to itemize or explain the charges on my bill.
Thank You in advance for your prompt attention to my bill.
Tim and Dianne Rice

There is NO WAY I left the store with my Bounty paper towels. I spent over $500 on the store... they don't allow you to pack your own items, slamming items into cart - the store doesn't accept Mastercard only Visa... it wasn't until I got home that I realized I didn't have the paper towels (that I paid for). Totally frustrated - I would not even be debating $15 item except for principle. Costco did not make right of this situation.

At approximatly 1300 hours today (22 May 2019), my wife and I were purchasing some items at Costco in the city of Washington the county of Washington in the state of Utah. The store was particularly busy at this time the cash registers we're full our particular cash register operator was calling for change from the service desk directly in front of her she was ignored four separate times. When our time came I requested that they also bring change and then went to ask them personally because it seemed apparent that they could not hear the request being made. When I made the request an employee by the name of Robert who was standing on the customer side of the platform said that they had heard us ! At which I then inquired as to why didn't you answer us or indicate that you had? this is when the service manager Anthony said we were busy talking to an employee who had just returned from being hit by a car. I had observed the employee coming back prior to our ever getting to the cash register and how they were laughing about how he had already returned and he was showing him his crutches which he had in one hand as he walked to them laughing. As the three of them were discussing this. The cash register attendant was requesting change . they did not acknowledge her request and continued to ignore her need for assistance when I approached them they said they had heard us, I asked why they did not acknowledge our request ? Anthony then stated that they were concerned about this employee who had just returned because he had been hit by a vehicle in the parking lot I told him I had watched their interaction and that I agree that being concerned is admirable but, It was apparent that their concern for his injuries was minor based on the laughter and the comments. I asked if I could file a complaint for the rude Behavior that was being exhibited by not answering their cashier or myself as a customer with the request for change. Customers were still waiting in line behind me. I was sarcastically told to have a good day by Anthony who indicated he was a manager I promptly went to the customer service desk to file the complaint spoke with Rachel who said to send the complaint to her and that she would forward it to the warehouse manager via email. This is a follow up to that complaint. I look forward to your reply my email number is lifeline4me@ hotmail.com thank you for your time D. Young

I purchased a Samsung phone from your cell phone centre April 11
My brother was with me and we were verbally told we had 30 days to return
I went to return the phone May 5 and was told I had missed the cutoff as it was 15 days. 15 days had never been mentioned We asked for a manager for the cellphone area and the person working would not provide nor would he give his name
We went to Costco complaints and a person went to the cellphone area and was given the managers card
We came home and I phoned and asked for a call back. None came
I sent an email the ne t day Monday may 5 and no response
I sent the complaint to
Waqas.ahmed@wirelessetc.ca
I feel you should not provide space to cellphone pro if they treat people shoddily. Unfortunately I leave for vacation May 9 so cannot go and further my complaint in person at their kiosk. The store is in Calgary at 99 heritage gate se
Thank you
Marilyn Shaw.
Costco member 804357923000

I have been a member of Costco for years and have never had a complaint until now. My 80 year old husband has dementia and requires a wheelchair in able to get around in a store as large as Costco. At the specific Costco where we shop there are only two manual wheelchairs for the whole store available and one of them has no foot rests. My husband cannot operate an electric wheelchair. Without a wheelchair available for him I can't shop at Costco. I can't understand why you don't provide more wheelchairs for your customers that need them.

Last year, we bought several curtains for several rooms for our new home through a Costco vendor named Graco (I think that is how it is spelled). The large curtain (15 feet tall ) has had several problems from day one. With the first problem, they returned to somewhat fix it. The cord to open the curtains broke within the first few days. They replaced it with a thicker one. Still it is hard to pull on to open the curtain. I had another vendor adding shutters to our house and I asked him if he could fix the large Costco curtain. He noticed right away that the curtain rod was not mounted straight and that was the reason pulling it open was like hauling in a tuna fish. He also pointed out that in one area the screws holding the mounting into the wall are coming out as they are not secured to anything solid. he opined that It is a matter of time before it falls. Anyway he refused to fix it and advised to contact Costco to fix it.
Javier Alcala
18715 Alta Ventura Court, Morgan Hill CA
408-334-3480 (cell)

NAOMIE GANTHIER
from Long Beach, NY
My name is Naomie Ganthier Member id # 111825525175
On 4/26/19, I purchase the Lorex ITEM # 1257310 LNR826 4K Ultra HD IP NVR System with 6 Active Deterrence Security Cameras, 130ft Night Vision at the Costco Long beach Ocean side NY for $749 because I did not know that the box come with 8 camera. Online I just saw same Lorex 4 K with 8 active cam for $799 item 1272315 Model LNR828KXB and the promotion will end 5/12/19
That makes no sense because I needed 8 camera and was looking to purchase, I chatted with one representative The reference number for this chat is 190505-005366., she told me to disconnect the camera and take them back, that is absurd I paid $ 900 to have them install. I certainly do not want to purchase to camera for $ 300, will be glad to pay for the difference. I spoke with Manager Damien at the Oceanside Warehouse, and was on the phone for 40 minutes, he listened to the situation but could not help since they do not carry 1272315 Model LNR828KXB or the 1304Model LNB8105X Single Lorex 4 K and the only solution is to disconnect the whole unit and bring it back.
To me that is a loss for Costco, because it will be sent back as a use unit. As a manager myself, the best way is to reach out and see if unit can be retrieve and sell it to the customer. My question to you as Costco Headquarter can that be done. Disconnecting it is a convenience to me since I already paid professional install $ 900 and as per my installer, I will be charged to disconnect and to reconnect and the unit. I went online for the single unit is $ 149.99 1304Model LNB8105X but the promotion online will end 5/12/19, how can you help without disconnecting it. Please let me know
Lorex 4K Ultra HD IP NVR System with 8 Active Deterrence Security Cameras, 130ft Night Vision
Item 1272315
Model LNR828KXB
Online Price 999.99 $
Less 200.00 $ -
Your Price 799.99$
$799.99 After $200 OFF $200 manufacturer's savings** is valid 4/4/19 through 5/12/19. While supplies last.Shipping & Handling Included*

butler black
from Atlanta, GA
I live close to and buy a lot of goods at your brookhaven store--always received good experiences with products and people.wewere at the store a couple days ago went to check out gave the woman my card and she looked at it and called out my name in a loud voice---i looked at her to see what was wrong and people behind me werelooking nothing else was said and she proceededto check my groceries out i then started to give her a check and she said i hope you have your phone number on it i said nothing just looked at her i dont know what she was trying to do but thought it to be very unprofessional--will never get in her line again --her name on sales ticket is -Marrisena---

MARTHA ALVAREZ
from Seattle, WA
Today I was shoping at costco 4401 4th Ave South Seattle, Wa 98134
I was getting about 20 ROTISSERIE CHICKEN when a men told me that I need to call firs, then I when to ask to a cash register ask for the manager , so he did come but he was agree with the Asian men,, he was cooking the chicken,, I ask the manager to show me the policy
To understand about store policy,, and manager Michel was on duty, say that I leaves other's member's with out CHICKEN,, so look is race to me I'm a member pay my card and as well a purchase,,,, that looks really bad for me on this issue twice on this estare same manager to
Las issue happening on January 20, 2019.
And today April 28, 2019 at 10.06
Maybe because I'm Spanish lady I feel descriminetion
Phone 206 -465-1320
Last complaint didn't do anything

Ebony Ternes/Leslie Guidera
On 4/27/19, my friend Leslie (who is 70 yrs old) and I drove to Sparks, NV from Susanville, CA to go shopping at Costco where I could help her shop for her groceries. The day before on 4/26/19, Leslie got stung on the hand by a wasp and was noticing as we were driving to Sparks that her hand was swelling,painful, red, and warm to touch so we went to the ER instead of grocery shopping. Once she was settled in her room, I left to go Costco to buy groceries for her since we had to drive 1 1/2 hours to the closest Costco and I needed to get back home to work that night. I proceeded to get her groceries for her and went to the check out lane. It was at this time that I was asked by the cashier (Marsha K.) for my Costco card. Since my friend Leslie was paying for her groceries and was unexpectedly in the ER, she gave me her Costco card as well as her credit card to present (even though I too have a Costco card). After handing it to Marsha the cashier, I was abruptly reapproached and was loudly being told that this "was unacceptable" and that "the card clearly states that its non-transferrable". She continued to cause a great seen as many other customers looked on as she continued to belittle and demean me for using someone else's card. I attempted on two occasions to explain to Marsha why it was that I was using Leslies card rather than my own but she was bent on making her point to not only me but to all other customers that were in proximity. She continually interrupted me and refused to hear my explanation. I was totally embarrassed, humiliated, and hurt that she purposely caused a seen and was so head strung as to not present it in a more professional manner. At one point during this interaction, she proceeded to whisper to her assistant who was helping bag groceries something referring to me because it was VERY evident when he looked right at me. I was so embarrassed and just handed her my Costco card and credit card so as to keep her from causing more of a seen. Her actions, lack of professionalism and intolerance was in my opinion very uncalled for. After the groceries were paid for and I was turning to leave, I clearly overheard her say to the next customer behind me, "I can't believe some people would try to use someone else's card." I am a nurse and I too deal with many different types of people but never would I go as far as to humiliate and purposely hurt/intimidate my patients especially after refusing to hear them out as to why they are doing what they're doing. My membership is up in July and as of today I am seriously considering not renewing my card at Costco and giving my business to Sam's Club. The treatment given (especially under the circumstances) was unreal. I am writing and taking time out of my life to address this with you so that this employee does not have the chance or opportunity to hopefully treat another customer in such a disrespectful way. I thank you in advance for reading this and doing with it as you see fit. Having this women as one of your team members really misrepresents the Costco name. Again thank you and have a great work day.
(775) 250-5761

Hello Customer Service,
My name is David and yesterday, I purchased a box of apple strudels. This morning, when I opened the box and had a bite of one, it tasted strange. So, I opened the strudel and found it was filled with mold. So, I opened the rest of them and found they were also filled with mold.
It's not so easy for me to take them back to the Costco branch where I purchased them because the location is a few times more than the cost of the strudels.
I have always told people that Costco has great quality food. I am SO DISAPPOINTED that I can no longer say that. I am disgusted that you would sell this to customers for their consumption.
I have attached pictures so you can see what I am talking about. If you zoom in, it should be easy to see the mold. I have also sent you a picture of the receipt to show that I purchased these 24 hours ago.
Dejectedly,
David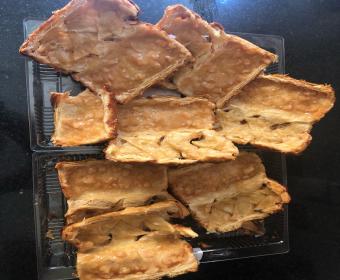 shucri stephan
from Millbrae, CA
I took the survey for your Company, and you promised to give me a free man watch, which I need to give to my
grand son, he is graduating from college. I am 83 years old and my only income is social security and this man watch will be very helpful to make me feel good to help my grand son. I chose the watch and then the watch company said they needed $5.99 for shipping and they insisted on credit card payment, I told them I don't use credit cards I will send them a check they said no, only credit card, I told them I will contact you to help me, they said it is ok. I will come to your local store and I will pay for it cash, or check. Can you please tell me what to do. contact me by email my email address
Is shucrinahla@aol.com

i went to Costco in Chantilly Virginia 20151,The manger Ceaser was very nasty with me front of all the customer who were standing behind me.Costco has one of the best customer service in the USA , it is sham Costco let Somebody like this manger to work for them.i am a Costco member since 1990,i have never seen any body like him,i also noticed he was talking to some of his employee very bad,it looks like everybody afraid of him.

Scott Warren
from Columbia, SC
Bought tires elsewhere and requested Costco to install them. Costco Tire personnel immediately began saying we may not install them, we need to see them in person. Never offered another method of confirming the correct tire except for me to bring them in to the store in person. Limped into the store on a flat tire just to have the very aggressive and rude tire tech to tell me that they will not install my tires due to a law that stated my car needed runflat tires and the tires I purchased were not runflats. I asked to see Costco policy that states they cannot install my tires. Never did get to see it but managers got involved and eventually said they will install the tire. Tire techs installed the tires INSIDE OUT even though I told them beforehand that the tires have an inner and an outer side. I had to go back to Costco yesterday to get the tires installed correctly, but I wasn't treated as an important customer, they still made me wait an hour to get the tires fixed. I know those tires could have been installed in 15-20 minutes since I used to be a tire tech myself. What I want to know is why doesn't Costco try their very best to please the customer. If the customer doesn't want runflat tires, then PLEASE the customer by DOING what they want! Don't make the customer drive to Costco on a flat tire for 10 miles just to tell them that you don't WANT to install the tire. HELP the customer! I feel as though I should have been refunded the cost fo the tire installation due to the whole hassle of having to spend so many hours there just to get 4 tires installed, but nobody mentioned that possibility. They also never apologized for their ignorance. The whole lot of tire techs at Costco should be let go and get some decent human beings in there. The store I went to was Piney Grove Road store in Columbia, SC. COSTCO, you NEED to do better. I am considering cancelling my membership at Costco because it feels like Costco doesn't care about me.

Caetano Demello
from Farmington, MI
I have been a Costco member since 1998 and have never had any complaints. I have a complaint now and am very disappointed, I visited Costco on 4/4/19 and was asked by a representative, Michael McKinney, account # 293692332, regarding my cable service and how much I paid pre month. I advised that I pay $136.00 a month including tax for cable, internet and telephone. He said that I would have to pay $59.00 per month until the end of this year and then pay not more than $117 per month there after. We signed up and then I had to call AT&T to cancel my U Verse service. At that time I was notified by the AT&T representative that my contract with Costco was only for direct TV and did not include internet and phone. I was shocked to hear this. I would like to cancel the service with Costco as it is going to be very expensive for us. Your representative was very misleading for me being a senior. To make matters worse the TV has not been working well and have had to call the repair service twice as there was no cable connection. If I don not hear from you then I will have to contact the CEO of Costco

I don't know if I can use 100 words to describe the horrible customer service!! I am trying to get someone to deal with fraudulent vendor... SunRun.I signed up for solar because I saw it at Costco....panels were installed several months ago....solar panels were never activated. Shabby workmanship...damaged my property...went on neighbors property without permission. Electric components were left exposed to elements. Last straw.....two inch screws scattered on my law....one such screw propelled like a bullet while dethatching my lawn...hit me in face and missed my eye by a fraction...could have blinded of killed me. I am a 72 yr old disabled combat veteran...I filed a complaint with the Mass Attorney Generals. Solar company keeps stalling and stalling...blaming electric company for delays. Solar company rep left msg saying I would be compensated with rebates...giving no details....staying vague and elusive. I have been a Costco customer for many yrs...…I hope this is taken seriously and action is taken on your customers (me) behave. Thank you. John Russell......413-355-0165

Casey
from Los Angeles, CA
Needs to Educate their employees. I was outta town last couple months I had a bag of the Tyson chicken nuggets from 12/19 recall an just Finally decided to return it so the sandy Draper store, an the guy at the desk acted like there was never a recall. Pretty much acted like I didn't know what I was talking about. Even got papers to return it. Oh well though I was so irritated just tossed it in the trash. Definitely won't be renewing. Sam's is best!

Cecilia Neal
from Twin Falls, ID
Costco employees totally lying as I returned and product with receipt and two more that was explained That they were bought at about same time for which receipt was not found .They told me they had looked at records all the way back to Jan.2017 and so no refund Well I return with the receipt proof of ny purchase (Now how soon they found it !) Disappointing Costco is no longer a trust worthy dependable store as I just noticed I found many other complaints I am also a long time costumer 2003 Not sure if its worth being one .

At checkout the older woman boxing groceries was rude. She didn't put my items in a box so I asked her to. She replies, "I asked you if you wanted a box and you just ignored me so....." I apologized and told her I didn't hear her.
This lady is mid 50's so she's old enough to know better. Typically if a customer doesn't respond to a question then you say, "Mam would you like a box?: 3/15/19 Kennewick, Wa.
OP# 29 cashier Laura Mc was friendly

William Hopper
from Lake Oswego, OR
I am fed up with employees at checkout, not cashiers, who think what is on their minds is more important than customers. They walk around yelling at each other about what appears to be "inside" information. Their radios blast away at the same time! Please tell them the customer doesn't care about the internal conversation topics. All they want is a quick checkout so they can be on their way! Stop yelling at other employees who are nearby just to hear your voice! Without customers, there is no need for employees!

Hello
I went to Costco at 1900 Cyrville Rd Ottawa K1B 1A5, on March 6, 2019, spent over $1000 , bought a 55" TV and a full cart of groceries , when I got to the cash there were no boxes to pack my items , the cashier packed my items loosely in the cart , I asked if I could get some boxes and I was told I had to go to produce to get the boxes . No one offered help . I had to put all the items I bought loose in the trunk and in the back seat , it is very DANGEROUS to have loose items in the car . I mentioned this to the person that handled the delivery of the 55" TV I bought , and he stated that they are trying to train the employees better etc... it has nothing to do with training ...
its only COMMON SENSE to need boxes to carry the items.

gimma molinelli
from Lomita, CA
To whome it may concern.
I went shooping last Friday and I was the cashier Name YESENIA A.. I AND MY MOTHER EXPLAIN TO YESENIA THAT WE HAVE TWO TRANSACTION. YESENIA WAS VERY RUDE. AND IF SHE IS TIRED BECAUSE SHE'S WORKING FOR THE WHOLE DAY. I UNDERSTAND THAT BUT SHE SHOULD BE NICE TO THE COSTOMERS. NEXT TIME IF I SEE HER I AM NOT GOING TO HER AND ON THAT NIGHT I WAS VERY UPSET.I HOPE SHE DIDN'T DO THAT AGAIN TO ANOTHER PEOPLE.
THANK YOU

I was at Costco optical yesterday at HEART LAND Mississauga location to buy contacts for my life. I am a Costco member since 2013
never had this kind of poor experience shopping at Costco I was shocked with the behavior of the lady who was dealing with us.
No manners do how to deal with costumer, we know what we need and we order the contacts and left but It was a very bad experience will never go there at again.

I am a regular customer of Costco at 50 Thermos Rd Scarborough, ON. One of the casher,Pamie P was extremely rude to me and my wife. She even gave us eye rolls,we did not even say anything to her besides thank you and receive our receipt and member ship card. Maybe we are African and broken English. She treat us like we are stealing something. please as a customer treat everyone equally regardless of colour, languaeg, religion.
Thank you.
Seyoum Woldeselassie
Mbr# 111857821092

John Gassett
from Canton, GA
Horrible experience and too many issues, the problem of even a WRONG membership number of a card after I even PAID for another year.

Catherine Messiah
from Herndon, VA
I am experiencing yet again an issue with my Samsung four door refrigerator. I purchased a French door fridge from Samsung five years ago and was shocked to find the entire front panel rusted out due to water apparently leaking in between door panel where I saw no indication until I found the rust oozing out the panel. My customer service experience with you was horrible to say the least. I was told that my refrigerator was old and that I should just get over it. Like most people I don't have the funds to just replace defective merchandise every couple of years and I surely don't expect to be spoken to that way. I had no choice but to purchase another refrigerator and I really love the look and functions that you have to offer. I was hesitant yet excited to get the new four door stainless black and I'm sure you know the rest of the story. The dimples and the scratches where the black has peeled are so exasperating....It is just my husband and myself and we treat the fridge with kid gloves. Six months and I cant imagine what it will look like in five years. You apparently are aware of these issues as I see not only posts online but can see in all the store displays that this is a major issue. Please please help me resolve this problem. I would like a refund and would like for Samsung to acknowledge a flaw instead of allowing customers to spend money on a beautiful product that does not stand up to daily use.

On Feb 7, 2019 I purchased 2 tires from Costco Fullerton, Ca. I was told it would take 2 hours, I went into the store walked around, went back outside to food court purchased lunch and ate. I wait the two went tack and was told about 30 minutes longer, I stayed inside the store and around 50 minutes later one of the service techs, said he would check, he came back and said car was done, I could collect.
That is first problem, 2 TIRES,OVER 3 HOURS, that is a little long
Second, paperwork states: "Read and follow all tire maintence requirements outlined in the TIre Manufacturers' Warranty booklet provided..."
I RECEIVED NOTHING, and no instructions were told to me or written on the paperwork provided. I feel it you are going to base warranty on instructins you should provde something.
INVOICE # 4180253795
Very disappointed.

Long-time loyal Costco customer. I was delighted when the Ukiah Ca. store opened near me. All is well except for the quality of your beef. All other meats seem fine with the exception of any beef steaks I have purchased since the store opening. Cannot chew on stringy meat. You can do better. Where is the quality beef going?.....certainly not to Ukiah Costco. Will continue to shop your store but will buy beef elsewhere.
member # 111749320279

Andrea Hammond
from Dallas, TX
The tire department, one of the workers who worked on my tire broke my glub box in my car,trying to find the bolts for my tire

peter griffis
from Pompano Beach, FL
just signed up for new card in coral springs and what terrible people u have there if this is what it will be in the new store I will never go there and it better be better the the experience better train your people better that we are not the perfect people but do have a say

Benjamin Charles Rajak
from Brookline, MA
My wife went in to Costco in Dedham, MA with our kids to get groceries for our house and she was turned away because I was not present. My wife has my last name. She was treated like she was a criminal. I think that this is extremely poor customer service. I would like to receive a call back and I would also like to speak to the manager of this Costco personally and have him apologize to my wife. My phone number is 617-827-9479, this is my cell. Please call me back.

Danny Beeson
from Spring, TX
Ordered window blinds and wood shutters in early October 2018 via Costco on line. It is now January and we still have yet to receive all window blinds and none of the wood shutters have arrived.
Window blinds arrived mid-December but 4 blinds were missing. So were are still waiting for 4 window blinds...after paying full amount for all blinds back in October 2018.
Wood shutters have yet to arrive. Promised to be delivered and installed in December, but we have no expectation they will be delivered any time soon.
We have been working with Costco customer service but we keep getting promises that never are kept.
I recommend that Costco get out of offering these items and services. It is ruining their reputation. We certainly will never use Costco for this type of product and have told all our friends of the nightmare.

Anna candeloro
from Philadelphia, PA
I was at the Warminster store shopping I was going to the ladies room with my cart.I didn't see any notice stating I wasn't allowed to do so. A cashier stop me by yelling at me to stop that I wasn't allow to go with my cart I told him I was going to the ladies room and he continued to yell at me like I was a shoplifter. Another man a cashier also start to say the same thing. All the customers up front were staring at me. I had about $300.00 worth of food and merchandise in my cart. I spent 1300.00 for tire for my two cars this year .I walk out of the store not purchasing anything. I should of been talk to with respect and dignity.I left your store and went to By and spent 400.00. These men should have said excuse me Ms you can't take the cart with you and not make a scene and embarrassed me a good customer and I have taken the cart with me to the bathroom before.I was in the store Friday 1/4/19
Thank you Anna Candeloro

timothy hodson
from Casselberry, FL
i have been buying the kirkland brand complete nutrition shake chocolate for years unfortunatly i was alarmed to see a packaging change. i hoped thats all it was. i was wrong. it tastes watered down. i still had 1 left of the blue package and compared the two. there is a definate taste and texture differance. for as much as the product costs i am very unhappy. tim hodson

Ann Sharp
from Norfolk, VA
I purchased a new I phone from Costco in Norfolk, VA. It took 4 hours to accomplish the paperwork. They were not trained on what to do if you were turning in a leased pone and purchasing a new one. I had to jump through a lot of hoops to get this done myself.
The store did not have the phone I wanted in stock. It had to be ordered. The time involved to get the phone was longer than it is anywhere else. If it were not for the $200 gift card, I would never have purchased from Costco.
In order to keep my current number, I had to turn off my phone and wait for the new phone to arrive. Know it is Christmas but I was hoping to get my new phone quickly. It has now been more than a week and no phone. I purchased a very expensive phone. I was hoping to get a little e trap service. No such luck.
There is no good excuse for not having the merchandise available. If it has to be ordered the delivery time needs to be faster. I am very disappointed in the service I have gotten from Costco. I have been a Costco member, even before it was Costco, and this is by far the worst service I have ever had..

WAHAKEN VANOYAN
from Germantown, MD
AFTER NUMEROUS TRIALS TO RESOLVE MY ISSUE WITH COSTCO VISA CREDIT CARD I FINALLY END UP CLOSING MY ACCOUNT.
HERE IS WHY:
A: I RESIDE IN NEAR SHAVER LAKES AREA AND I HAVE HUGHES SATELLITE INTERNET, SIGNALS COMING FROM SATELLITE MY IP POINTS TO MY LOCATION TO BE IN GREEN BAY, WISCONSIN, MY ADDRESS IS IN AUBERRY CALIFORNIA. EVERY TIME I TRY TO LOGIN MY VISA ACCOUNT I DO GET REJECTED, I END UP GIVING ALL MY INFORMATION ALL OVER AGAIN AND AGAIN, MY SSI, MY ADDRESS, MY BIRTH DAY, MY SECURITY WARD, ALL KINDS OF QUESTIONS AGAIN BEING REJECTED I WOULD CALL CITIBANK FOR HELP, I EXPLAINED THE SITUATION, AFTER SEVERAL TRIALS WITH THE TECH ON-LINE FINALLY I WILL BE ABLE TO LOGIN, TIME SPENT WITH A MINIMUM OF ONE TO TWO HOURS ON MY CELL. THE FOLLOWING DAY I TRY AGAIN WITH THE SAME STORY.
B: DUE TO MY LIMITED CREDIT WHICH I LIKE, I MAKE PAYMENTS EVERY TWO WEEKS OR SO DEPENDS HOW MUCH I HAVE CHARGED.
ON DECEMBER 12TH I MADE A PAYMENT OF $610.47, MY BANK SHOWS THE MONEY WAS TRANSFERRED DEC. 13TH
ON DECEMBER 17TH I MADE ANOTHER PAYMENT OF $592.54 THE MONEY WAS TRANSFERRED ON DEC. 19TH.
ON DECEMBER 25TH I WAS IN COSTCO WITH A FRIEND TO BUY FEW ITEMS, WHEN I WENT TO PAY WITH MY VISA CREDIT CARD AFTER 3 TRIALS MY CARD WAS REJECTED AS IF I HAVE EXCEEDED MY LIMIT, CUSTOMERS WERE WAITING IN LINE WHILE MY FRIEND WAITING FOR ME ALL STARING AT ME. ALL MY LIFE I HAVE NEVER PAID ANY LATE CHARGES TO ANY BANK OR CREDIT CARD CO. I CAN NOT DESCRIBE MY EMBARRASSMENT, I AM 85 YEARS OLD MAN, A RETIRED MATH TEACHER WITH IMPECCABLE RECORD.
LAST NIGHT I TRY TO LOGIN JUT TO PAY MY COSTCO VISA ONLINE, AFTER SEVERAL TRIALS THE SAME STORY, I WAS FRUSTRATED I CALLED ONCE AGAIN FOR HELP WITH THE SAME USUAL ROUTINE WHEN FINALLY HELP CAME, I TOLD THE PERSON THAT I WANT TO PAY ALL THE CHARGES THAT WERE ON MY ACCOUNT, AND CLOSE MY COSTCO VISA ACCOUNT PERMANENTLY.
I AM EXTREMELY DISAPPOINTED, IF IT WAS NOT FOR MY MEMBERSHIP THAT I PAID FEW MONTH AGO I WOULD HAVE CANCELLED MY MEMBERSHIP ALSO, I CAN'T WAIT TO FINISH THE YEAR,
WAHAKEN VANOYAN (559)885-3910 EMAIL wv007@comcast.net

robert bakas
from Raleigh, NC
Apparently Costco no longer carries the Kirkland brand bacon package. This package had a zip lock feature which is necessary for such a large package. The new substitute Fully Cooked Bacon package is devoid of a zip lock.
Please re-institute the Kirkland brand or have the new supplier add a zip lock feature to their package.
Regards
R

Gabriela Guzman
from Fontana, CA
I would like to complain about a visit I had to your store at Rancho Cucamonga location #678 on Tuesday the 27th of November 2018.
A cashier by the name Sabina OP# 332 she was really rude, mean, disrespectful to me, and my 2 autistic kids and a very active toddler, I never felt so humiliated and embarrassed. Yes, I know my kids can be a hand full but as a mom I didn't appreciated the way she talked to us or the way she treated us it was very unprofessional of her.
I talked to a female supervisor, she was understanding and she apologized for how the cashier had treated us and offered me to do a follow up with me and that's what I want please. Then she called a manager to help me, he came right after said that: he was very sorry about the bad experience that I had at that store but didn't care to get my information.
I only take the time to do this because as a mom I wouldn't want other mom's to go through what I experienced with that cashier.
thank you for your time! you can contact me at 626-554-6820

Cheryl judge
from Chino Hills, CA
My families Thanksgiving was ruined when it came time to have dessert we went to eat our Costco pumpkin pie and found out it was mushy and undercooked. One of my sons said it tasted like baby food. No one ate it after that. It's happened at least one other time I've bought one. My family originally wanted me to order pies from Coco's but I said no Costco's are better and cheaper boy was I wrong. I'm really disappointed and embarrassed I was responsible for bringing the pies. I brought them last year from Costco one pumpkin and one apple. I couldn't get an apple pie I went Tuesday but they didn't have anymore. Never again bringing a pumpkin pie from Costco.

Judy Wislocki
from Tustin, CA
11/15/2018 Picked up prescription for my husband (Bydureon) was suppost to have given the pen form of medication but was given the syringe and vile, it wasnt until we opened the box to discover it wasnt what he was suppost to get. I addressed this with the Pharmacist (dong) was told this was not covered by our insurance and they couldnt not take the medication back due to it being opened.
We left and i called the doctors office and explained situation to Joanne, she called insurance and was to Costco pharmacy put in the wrong code and it had been authorized months before and the wrong code was put in. Today 11/16/2018 i went into the Tustin Ranch pharmacy again and spoke to Tommy T, not only was he incredibly RUDE! he basically laughed in my face when i agrued the facts that had happened. I had asked for a refund of our co-pay of $42.00 from the pharmacy manager which he denied being able to give us. On 11/14/2018 when I checked in to make sure the Bydureon had been called into phamacy from what our doctor told us they had done, the Gentleman that assisted us told us it hadnt been called in which later found out it had and had 11 refills. We were having lunch and eating when he came out and said oh yes i have it but we dont have it in stock. I left very frustrated to say the least, told them i would be contacting corporate to make another complaint.
The last several weeks i have less than satifactory customer service, just Thursday 11/15 i took my car in to have tires rotated per agreement that your suppost to do when you buy new tires, when picking up my car black dust from the service person left on my drivers side panel door, Nick was unable to get it off so i'll have to go back and make arrangements to have it cleaned.
I can go on and on with the RUDE cashier experiences i've had as well.
I dont know what has happened to this store, but seems like all employees are not happy. Is there a change in management?

BarbaraJa.Liliana HernandezMillanes
from La Quinta, CA
A few weeks ago I bought some ribs at Costco La Quinta, they were delicious and today I went to Costco Palm Desert, CA. and buy other ribs . I had to take pills to avoid the throw up.
I bought the ribs with mi daughter membership 111829829850
total #of items sold 1
10/26/2018 15:53 441 9 322 108
QP#:108 name:Candace V.
My membership #111882235869
I `m Request reimbursement of ribs money.and and an investigation of you and the health department .
mi name is if you need more information: BarbaraJnLilianaHernandezMillanes

Marcel Massa
from Visalia, CA
I went this morning to the Visalia store #1017 on 1405 w Cameron ave ,purchased a box of 50pk hangers # 1193759, went home, took one stack out the box and put it on my white counter, a good amount of black fine powder came out the hangers, took me about 10 min to clean it up,,I had to use rubbing alcohol to clean it up, I even took pictures, went back to Costco to return them, showed the lady at the return counter the pictures, and complaint to her about the product and the inconvenience as a result, I was expecting at least for her to say Sorry about what happened, , not a word beside how you want your refund?really??? That's to me is a bad customer service, very disappointing, been a Costco customer for over 20 years, It showed me that Costco does not care about their customers...

Colville David Pereira - membership number 111817584411 Executive 07/2012. Address: 1051 Charminster Crescent, Mississauga, Ontario L5V 1R1
from Brooklyn, NY
I visit the Costco store located at Heartland, Mississauga, Ontario Canada. The service in the general shopping area is always very satisfactory, but if need services at Costco tire center it is a absolute nightmare. I seek to change the tires on my Nissan Murano, but wanted some information from their system about my previous tire change, the pricing of tires, and to make an appointment for the tire change. For this reason I called them at 905-828-3346 at least about 20 times today and several times yesterday as well, but nobody answers the phone and one cannot leave a voice message. Then I called the Admin office to explain my plight and they response was the ire shop is very busy and that if I wanted an appointment to change tires, I should come in to make an appointment, and then come in for the actual tire change. This means one has to make two trips (taking time from office) for this purpose. This happened the last time I changed tires too. In day and age I feel so frustrated and a member that we can't get a simple service like answering the phone. Many industries like banks etc. are busy, but at some point they answer the phone, but not here at Costco. Appreciate some help. Thank you and apologies for this long note. Hopefully things will get better.

John Rossi
from Lake Worth, FL
I am unable to place an online order. For two days i attempted to place an online order for two mens dress shirts. and every time I try to go to the place order status I get a message that I am not authorized to do this from this server. I have been placing orders from this server for a very long time. I have talked to several Customer service people over the last two days and I have tried several things to correct the situation. yesterday i found a very nice person who placed my order manually so that I would not lose out on a time restrictive sale. She also suggested that i UNPLUG all my equipment and reset my computer wait overnight before retrying. This also resulted in no correction. My membership number is111886363102 my Costco card ends with number 2378 i have been a long time member and I would like to continue buying items online so please try to have someone contact me to resolve this problem.

greg williams
from Fairfax, CA
This is the 4th time the cashier missed an item this time it was a case of pepsi in about 5yrs its bad when you leave the store and the empoyee checking your basket acts like your trying to steal it in front of about a dozen people waiting behind you I"ve been with costco since 1978 and its getting worse at least at the fairfield store dont know if i want to stay with this store or move on

clair hicks
from Houston, TX
Very frustrated customer - we purchased our tires at Costco because it seemed like such a great deal and we are at Costco almost every week so rotating the tires would be easy. We were sooo wrong! even with an appointment we need to set aside hours (during the week or on the weekend) to accomplish this one task. I do not plan to buy tires at Costco again.

Tafida elsherif
from Los Angeles, CA
The service very bad rude arrogant never say thank you or please with no help and I was with a friend try to get started to get membership and they won't let me pay separately plus it is crowded line every where it took you longer to purchase not organized

Nanci Bradford
from West Palm Beach, FL

JERRY LONDON
from San Marcos, CA
I bought blinds through Costco who farms it out to a company called 3 Blind Mice, t took approxi 4 weeks for them to respond. Finally they sent a salesman to my house. After discussing what I needed I bought a shade for my slider. It took them 6 weeks to make this shade. It's been approx 3-4 weeks and the shade has is dropping on the floor as well as hard to open. I have been in contact with 3 Blind Mice and all you get is voice mail I can't get anyone to respond. I would like a total refund. This experience has been a nightmare as well as costing me over $1100.00 I loo/k forward to your response.

Antoinette Wisowaty
from Spokane, WA
Our new Costco store here in Spokane has ONLY four scooters for the handicapped. There.are many handicapped residents living in this area and shop at Costco, the handicapped parking needs improvement also.
Costco needs to meet the needs of the Senior community.
Have feedback for Costco?
Thanks for your feedback!
Sorry. Please try again later!