Chase Bank
Contact Chase Bank Corporate
Toll free phone number: 1-877-242-7372
---
Chase Bank is a personal, business and commercial banking institution under the parent company of JP Morgan. With over 5,000 branches and 16,000 ATM internationally Chase Bank is one of the four big banks in the United States. In 2012 employees numbered 260,000, with branches in over 85 countries and assets reported at US 2.6 trillion.
If you have a problem with your existing Chase account you may call the complaint line at 1-877-242-7372 from the US. There is a separate support number for military 1-877-469-1001 and eight other contact numbers for Chase listed. The overseas customer service number is 1-318-340-3308. These numbers are all conveniently located at their website, En Espanol support is available.
If you want to write to the CEO, James Dimon you may write your complaint to him at 270 Park Avenue, Manhattan, New York 10017. If your problem is more retail and commercial in nature, address your letter to Chase Tower, The Loop 10, Dearborn Street, Chicago, IL 60603. Call 1-800-432-3117 for credit card support.
Chase Bank was founded in1799 by the third Vice President of the United States, Aaron Burr and was originally located at 40 Wall Street in New York City. At that time it was called the Manhattan Company. At one time the largest shareholder was the Rockefeller family.  Chase Bank has social media presence to monitor complaints on Facebook, Twitter, and LinkedIn.
Chase Bank Contact Information
Report complaints to corporate and get satisfaction
Chase Bank headquarters address

270 Park Avenue,
Manhattan
NY 10017

Company website

1-800 phone number

1-877-242-7372

Support email address

customer.service@chase.com

Better Business Bureau rating

A

Customer service hours

Most services available 24 hours a day
Browse reviews of other Banks
Top Chase Bank Complaints
Browse more than 183 reviews submitted so far

Several years ago, we received a check which we deposited into our agency's corporate account at the Chase Bank on 63rd and Western. We did not know that the check was fraudulent. We were told by the bank that the check had to be referred to the Maker. Chase Bank normally clears check like the one we deposited in seven (7) busines days. For some reason, they cleared the check within 48 hours. We had written post dated checks on the account.
Some of our employees took the checks to the local currency exchange to cash their checks. After the 2nd day, we found that Chase had "cleared" the check - so - we wrote checks to cover our agency's gas, electric rent, casble and such other normal business debts. Never once did we seek to take a substantital amount of money from the bank. We assumed that the check had cleared and that everything was okay until the 5th day when Chase stopped the checks. As it were, out of a $15,000 check, we only paid out $6,000.
For four years, we have been without a checking account because of this matter. Haven't we been punished enough? Chase Bank also turned the account over to the collection agency. We need someone from Chase Bank to look into this matter and bring this matter to a close. We desperately need a corporate checking account. We are writing proposals and there is an excellent chance that we will receive a $50,000 grant within the next three months. Additionally, we pay extra fees at the local curency exchange for cashing our corporae checks.
Is there someone that can help resolve this mattter? Chase Bank nevr formally accused us of defrauding the Bank. To this day, we simply deposited a check that we received for what we thought was a donation - nothing more and nothing less. If we were attempting to defraud the bank, we clearly did a piss poor job of doing that as we paid bills and did not draw down any major money and run with it. This should tell Chase Bank something.

Henry J Glees
from Chicago Heights, IL
I have banked at Chase for several years and I have also complained for several years about not being able to receive a bank statement. That's all. Just a simple bank statement. What is so hard about receiving a bank statement?
$1700 of my money goes into that bank but I can't get a recite, statement. What can, if anything, I do about this? I feel that I'm being completely ignored.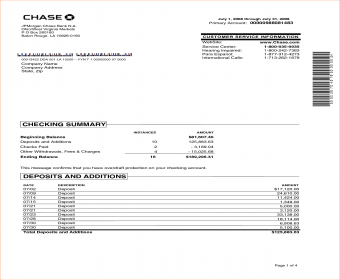 Edna Tims
from Chandler, AZ
I had a form to be notarized for a fraud attempt on a Citi Bank card. I was at the bank when it opened at 9 this morning. I inquired about a notary and the lady said she was the only notary and would be busy until 11 so I made an appointment for 11. I arrived about 10:40 and finally the representative showed up. Then she took my paperwork and disappeared for about 10 minutes. When she came back she said she couldn't notarize it because I didn't have a witness. She said the employees can't witness for notary and there were no other customers. Why didn't the representative tell me that I would need to supply a witness when I was there face-to-face earlier this morning? Why don't they have an extra notary instead of just one? Such lax people. If there was a Bank of America in this town, I'd transfer my account! Of course, it probably wouldn't matter to the Chase.

Linda Isaacs
from Louisville, KY
Went to pay on my credit cards (6/6/16) at Richmond, KY. Big Hill Avenue location (as I have for many past years) and was told by lady that she couldn't accept my money without an ID.?? Don't understand this! I wasn't withdrawing $, I was paying money! What if I sent my daughter to pay my bill for me? This was/is idiotic to me! Explain this rule she said was implemented 2 years ago!?! Wasn't happy at this inconvenience!

Marilyn Bloch
from Boca Raton, FL
Chase put an illegal lien on my bank account. They told me IRS wanted it but they are refusing to give me my money and according to the law if a person is on SSI. They have no right to tie up their money but they have a lien on it. IRS said today they are not sure they did put a lien on it, so Chase should be forced to give me my SSI checks of $1950 or I will starve until next month's check of SSI. I only get $488.00 a month and now cannot pay my rent and food bills.

Patricia Smith
from Dodgewood, NY
The employees that work at this Bank are all i find very nice. My complaint is the Filthy Dirty Front Door you enter. I have complain at the desk and made phone calls . Everyone said the same thing , that the bank is on a list and the company hasn't got to that bank yet to clean the Door and windows. I have never heard of this before , This is New York City, Chase, i am sure has a company to mop and clean the floors everyday. It has been this way for months your customers or employes should not have to touch that Door. The other Chase Branches... I go their doors and windows are being clean.

My husband and I bought a home in north Carolina, the loan was in my husbands name as he didn't need me to qualify because I was unemployed and a care giver for my mother. We always made our payments on time and in fact we usually paid a month in advance. My husband died and I notified the mortgage dept but they would not talk to me or give me any information because I was not on the loan. I sent 4 death certificates, sent many letters trying to get them to help me but they refused to talk to me for confidentiality reasons. I faxed the death certificate and mailed the other copies to multipal depts. but they still would not respond. At that time Chase offered financial assistance and sent an application addressed to my deceased husband. They would not accept it from, still because I was not on the loan. I was so frustrated and angry because NONE of the parties answering the phone would forward me to a manager or supervisor. It was a slam dunk, you are not on the loan, we won't give you any information. The idiots were not able to figure out that talking to my husband was impossible and offered no help what so ever. In the meantime I had the house listed with a realtor who had a potential buyer and chase foreclosed on my house.
In the state of north Carolina if a spouse dies it automatically goes to the survivor and I was on the deed and they still would not talk to me. They had a "canned" rehearsed statement about the privacy act which in my case was carried way to far. It was my retirement money that was applied to the loan and we paid on the house for 7 years so I lossed all of my money in addition to the years of payments. Six months after my husband died I was hospitalized and was sick for 2 yrs and I gave up and never received any money from the sale of the house.
Chase is very unprofessional, lacks common sense and as far as I'm concerned failed to do their duty in assisting me. Yesterday I was in a chase branch and told the employee what happened and he made a stupid comment that maybe my husband didn't want me to have the house. That was the ultimate insult. I hate Chase and I'm glad they got sued for illegal foreclosures and hope they that continue.
When did people start loosing "common sense"?

Ann
from Fort Lauderdale, FL
I have been trying to refinance my mortgage with Chase Bank for six months now and cannot get an answer. Chase sends me e-mails day after day asking for paper work. I have provided them paper work establishing my employment and financial reports, but that is not sufficient. I was not aware that an application for refinancing would take six months. To make matters worse my present mortgage is with Chase and I never missed a payment for seven years.

andrew griffice
from Orange, CA
I have been a chase member ever since I was born. The fact that you are making chase inexcessable to windows phones really irks me. You are really giving in to the man, and frankly that sucks.

This Has been happening for the past 4 day Zoom.Com.Is taking 974.99 each day.And Chase is no doing NOTHING about it.I have been to Chase 3 times this weeek.And they Have NOT done nothing about it.And my Money keep disapearing from my account.Please HELP.

I opened Chase account for the sole purpose of depositing funds into my out of town student's account. This account was approved by Chase Bank customer service for our plans. That was just 2 years ago now a new Chase Bank rule no cash deposit unless a signer. If ever there was a Bank rule that caused unnecessary delay in available funds for our student it is this rule. I guess they don't need our business. Smart of a business to cause hardship for us working people.

Tellers like Angel at the east farmingdale branch in NY need to be better educated on receiving customers. He does not greet the customers just a simple "NEXT" and as he is helping customers he is very chatty and laughing with his co-workers. 2nd - he asked me in front of a bunch of stranger for my social and they are not supposed to do that. they are supposed to ask you to write down your social, not blurring it out in front of a bunch of strangers. you never know who is listening and retaining your information and bam identity theft.

jack Gray
from Bedminster, NJ
Today I visited Chase at 13621 N. US Hwy 441 Lady Lake Florida to do two wire transfers to China. Ms Ana Arango took me to her desk. The first transfer went well. Before starting the 2nd transfer I asked her to get the TRN after she was done. She did not comment on that. When it was time to sign I asked about the TRN. She showed me the transaction number (contract ID) and said that is all I needed. I told her that I send many wire transfers and this supplier requires the TRN to get their money. She continued to say it isn't necessary and we got the manager Ashley Earles involved
Neither of them had heard of the TRN. After a long discussion I called my Ohio bank that does this all the time and they told her to call the Bankers assist number and use opt#4. She still insisted that it wasn't necessary. Eventually she agreed to call but she did not get the number (I don't know why), she offered to call another number and I told her don't bother that I will get it from my Ohio branch. As I stood up the Manager Ashley Earles was behind me and I began to complain about the treatment by Ana.
Ashey told me I was getting too loud (I was upset about the way I was treated and the time took and that they had no idea what a TRN is. I asked Ana if she would please learn how to get the TRN because I do a couple of transfers per month and will need this in the future. The manager Ashley said to0 me hat she doesn't have to do anything of the sort because my request was unreasonable and that no one ever asked for this before. I told her is is nit unreasonable but it was unusual. She told me to take my business to a different bank in the future and asked me to leave.
I have been a Private Client for many years and have dealt with many branches and have never been denied the TRN or even questioned about it
The fact that I explanied that I do these transfers all the time and referenced my Ohio bank and the Florida bank in Mount Dora having given me the TRN should have convinced them it is real.
FYI, We winter in Florida and that is why we are banking at Chase here
As a final note, both my wire and I have done wire transfers before at this bank and we always got the TRN in the past. I don't know who we dealt with those times
Jack Gray
440-476-5285

Alexander karnauch
from Los Angeles, CA
To whom it may concern
With the high regards we had for Chase, we decided that your bank would be the best choice for a business account. After much deliberation, my business partner and I decided to proceed with the procedures to open a business account with your bank. My first concern began during the initial account set up. Our first appointment was set for October 10, 2018 at the Chase bank located at 18320 Preston Rd, Texas 75252. In that appointment, we opened the business account and filled out the merchant services application. Iris Santamaria was the agent from the merchant services that handled our merchant service account but during the account opening process, we encountered multiple issues with Ms. Santamaria in which we had to speak to her manager. Since October 10, I called daily to ensure that the account was opened because we were losing lots of customers with the delay of the account/merchant services. The process took 19 days and the account was eventually opened on October 29, 2018. It was crucial for the business account to be set up before we left for a business trip. Before we left, Ms. Santamaria informed us that the business account was opened and that we would not have any issues. We left for our trip on November 5, 2018 and returned on November 30, 2018. From December 1, 2018 to December 8, 2018 we promoted our business to inform clients about our new credit card payment option. One December 8, 2018, we had our first customer who needed to pay with a credit card. Our employee wanted to complete the payment process but encountered a technical issue. We reached out to chase customer service and was informed that our account was closed and that they did not know the reason. We were in shock because we had lots of customers that needed to pay with credit card but canceled because of this issue. Unfortunately, we lost many of our customers to our competitors and lost a total of more than $10,000 from customers that wanted to pay with credit card. On the same day, we received the contact information of Ms. Santamaria managers whom I reached out to. I called and texted Ms. Santamaria manager and she informed me that the account was closed but that she did not know the reason. In the text messages, she stated that the account may have been closed because of missing paper work from the credit team and that I should reach back to the sales person. No one reached out to us and our merchant services did not work. On December 10, 2018 I went to the Chase located at 18320 Preston Rd, Texas 75252. I asked for help regarding our issue and have spent 3 hours at the Chase location and was then told that Jesse Anderson would take care the issue. Mr. Anderson contacted me via phone call and informed me that there was additional paperwork that needed to be signed for the account to be reopened. He said that the process will take 24hours. The next day, December11, 2018 we set up an appointment for the evening time to use our merchant service for client's credit card payments, but it did not work. After trying to reach Jesse all day on December 11, 2018, he finally got back to us at 4:30pm and told us that it was all set up and that the merchant service was working. When we attempted to collect a client's payment via credit card, it did not work. We called technical support and they said that the account was closed. Due to the technical difficulty that occurred on December 11, 2018 we lost 2 of our customers. The next day, we went to the chase branch located at 18320 Preston Rd, TX 75252 and we were promised that the issue will be fixed. Finally, on December 12, 2018 the issue was fixed. Sadly, it took more than 2 months from the day we opened our merchant account up until today December 27, 2018. No one has reached out to us regarding our horrible loss from our business. Honestly, we are utterly disappointed and deeply saddened. We do not think that this is acceptable and would like to be compensated for our huge loss. Thanks,
Alexander Karnauch
Your Home Expert
469 777 8834

Kerrith Eckert
from Davison, MI
A couple of weeks ago I spoke with Citibank regarding $2116.97 balance I had and wanted to get rid of the interest so I could better afford the monthly payments, they said they would send me a check for that amount and I should deposit it and then go online and send them the payment thereby getting rid of the interest. I received some checks, filled one out for the $2,116.97 and deposited it, I then went home and was looking closer at the paperwork and realized I had signed up for a bank transfer thru Chase and thought it was the check I was expecting from Citibank. I went to Chasse with my issue and explained that I needed this reversed I did not want their bank transfer, I am 72, and a low income senior and struggling with the bill I have now, she said "it's not that easy", she wanted me to deposit my check I did get for $2116.97 with chase which I have until 1-11-19 to do. Now my chase slate has a balance due of $2599.31 and the prior balance due on it was $397.66 and there is a $84.68 fee included in the amount, I get $1143.00/month, none of this should have gone this far and now I owe Citibank $2,116.97 and Chase $2,599.31, why did they just not stop this transfer like I asked in the first place? Now everything is a mess and I am stressed every day over this. I live in Davison Michigan.

kathleen zamorski
from Chesterton, IN
opened our account less than two weeks ago. TWO unauthorized withdrawals on our savings account required speaking with 9 different people/departments. One amount redeposited. Still working on the second one. Have asked to have account restricted from withdrawals and now have to call back at 8:00 a.m. - it's a SUNDAY so no branch is open. We returned to Chase and are now regretting it. No one seems to be able to help and the last person this morning - Mohamed - just kept repeating what he was saying (call back at 8, call back at 8, not listening to me or offering a decent phone number other than the regular customer service number I'd have to start all over on. He finally just disconnected while I was trying to ask him to stop repeating and answer something. Only got 2 stars because we like the woman at our branch in Chesterton IN - but we've also not heard back from them. 219-877-7205

Priscilla
from Dallas, TX
The teller machine froze and did not give me my cash $880 and when I told the employee he treated me as if I did not know how to use my card as I explained to him he said I had to call the 1800 number I explained I am deaf ! And this was not my card at fault it was the teller machine, he repeated it's your card I put the card in as he said the teller machine said there was 20 cents in my account!where did my money go?! He got the branch manager she ask me step away from the machine she would not listen to me as I explained the teller machine froze and now it says I have no money in my account she insisted! No it's okay and treated me as if I was retarded and did not k ow what was going on and chase took my money and now they will not give me my money my account reads withdraw! $880 as if I took the money and chase employee and branch manager treated me as if I was retarded and I have no commen sense and branch manager said as I explained to her this is not right she replied well this is not how things work on this end - sounds crazy it is I like to know where is my money ? Why did chase steel my money?

Kathleen R. Eoff
from Mesa, AZ
In September I went to the Chase bank in Camp Verde, AZ. My step dad had pasted away and I was trying to close his accounts with his death certificate. He had a checking with my mothers name on it and she had a checking with his name on hers. I was told by Michelle M. Frisch the personal banker that there was nothing I could do unless I brought my mother into the bank. She is an invalid and that was an impossibility.
Two days later, I returned to the bank and a teller gave me "power of attorney papers" and a list of mobile notaries. I was thrilled since now I had a way to accomplish my goal, even though Michelle should have given me the papers in the first place.
I got the papers notarized and returned to the bank. Michelle told me I needed two forms of ID for my mom which I didn't have. I had been told I needed two forms of ID for myself which I did have. So I left and bank and drove home and returned with my mothers IDs. Then Michelle told me there was a mistake on the papers and I would have to have new papers notarized. I said, "can't we just cross the mistake off and initial it". She said no.
I left the bank and called the notary and she said that's "bullshit". Anyway, I got the new papers notarized and retuned to the bank.
Michelle was out sick and there was someone taking her place. I said please have the branch manager (Char Robinson) come so I only have to tell my story ONCE. Everything was then taken care of, after 5 trips to the bank. Char admitted that Michelle should have given me the paperwork in the first place and that the notary was correct in saying we could have initialed the mistake without going through having papers re-notarized.
I've been with your bank for over 55 years. (Valley Bank, Bank One, and Chase) I feel like I really got the unnecessary run-around. Char acted like something would be done about the situation, but I doubt that ever happened. I even made the statement that I have over $75,000 in your bank and could withdraw it because of the way I was treated!

robert johnson
from Chiang Mai, 50
I am overseas trying for 3 mo, to get a new card i get conflicting information as what to do i send message after message each time something different ..different person replies ..can they not read previous emails ..yesterday oct 12 i got a reply every 4 hours all telling me something different
this has gone on way to long...last email was same info got before I am in Thailand I can not go to the nearest branch is 4000mies...chae bank has destroyed my trip

Brenda Pendleton
from Denton, TX
I have had my Business acct. with a Premier Plus checking acct. linked to it for 7 years. Because the accounts were/are linked I am exempt from being charged a monthly fee. In July of this year I realized they charged my business acct. a $15.00 service fee. I pointed out that I have the linked accounts, they realized their mistake & refunded the $15.00. It happened again in July. I looked at my account more closely and realized they have charged 2 more months, it actually started in June. Again I point out the accounts are linked, they apologize and refund the $30.00. Now it has happened again in September. Obviously you have someone working for Chase that is either dishonest or incompetent. Why after 7 years are me or my account targeted? How many people are charged that don't look as closely to their accounts as I do and don't realize it? Why do I have to go through this every month, again AFTER 7 YEARS? I want this fixed! I want everybody working for your company to be on the same page! Stop trying to take/steal my money! I have been happy with Chase for years, approximately 18 years. Why this nonsense now? Please do something and leave my accounts alone or I will have to go to another bank!

Rudolph Cordeiro
from 'Ewa Beach, HI
Hi. I have a serious complaint. I been having a hard time Sighing in on my Freedom Chase. Everyday I sign in. your chase says they do not accept my sign in. Everyday I have to change my pass word every day to sign in and get there. This should not happen on your part. Why is this is happen. Need a reply to correct this problem I am having. Rudolph Cordeiro. rudy_cordeiro@hawaii.rr.com

Nora L Sheridan
from Milwaukee, WI
At 4:55 P.M. on 8/7/2018 I arrived at Chase Bank located on 210 W Capitol Drive in Milwaukee, WI to pay my mortgage of $957.10. I gave the teller $970 cash and my payment slip. She pulled up my account, she manually counted $970, put the $970 in the machine, asked for my identification and then informed me the amount Chase was requesting was $667.56. She took the money out of the machine, gave me back $200 dollars and said the system wouldn't allow her to accept the payment. After checking several times why and not being able to process my payment she gave me $600 back and told me to go speak to an consultant. The consultant inform me that the bank cannot accept payments from me at any branch but I can make a payment by mail or over the phone with a representative. Once I got home and counted my money I then realized she only gave me $870 back instead of $970. Is there anyway I can get my $100 back? Her cash drawer should be at least $100 over.
Sincerely,
Nora Sheridan

La Tonya Howard
from Detroit, MI
August 1, 2018
To whom it may concern:
On June 1, 2017 my mother Bettie Treasvant gave me a check from her Chase Freedom account #4357 8754 3047 5364. The check was for 14,000 to do some repairs on her home. I deposited the check into my Chase checking account #000215001291024. Around mid June, I was told that my account was closed and that the check would not be cashed. They would send me what I had previously in the account. That did happen and I assumed the transaction was over. I was told that the account was closed because the check could not be verified by my mother at the time of the transaction. We then began to get billed for the 14,000. Why was the check cashed prior to verification. I have went to Chase Branch offices and spoke with Managers, I have disputed the transaction twice. I have called several times and was told to call back in a month they would look into it. Needless to say, now a lot of time has passed. In my last dispute, I documented that last bank Manager with her contact information so she could verify that the money is still in the closed account.
On July 28, 2018, I spoke with a James Wood in the dispute department. I wanted to know why my last dispute was denied. He said that the reason why the money is being held is still unknown. I thought that would have been established during the investigation. He said I could owe the bank money and that could be the reason why it is being held. This has frustrated me to no end. I sent in paperwork indicating that I am the Guardian and Conservator for my mother. The money was needed for her house and the account would have been paid by me because I assure that all of her finances are handled. The account has been up to date to this point. Even though, we are paying for a transaction that we never received. It is difficult for me to take of my mother who was diagnosed with Alzheimer's. She is legally incapacitated and that is hard enough without all of this the past year. It has been over a year and my mother will defiantly not remember anything from last for verification. This is a violation of Fair Credit Billing Act for this to have gone on for so long. It is all Chase not another company. I had my Chase account for a long time and now I just want this to be over and to close my mother's Freedom Account as well.
Can you please look into this situation and get the 14,000 out of my account payoff the credit card and let of move on from here. I appreciate your held with this matter and hope that it will be resolved soon.
Sincerely,
La Tonya Howard

Debra Wells Re: Ryan Linden
from Phoenix, AZ
Chase Bank Complaint Department.
I am writing this email for my son, Ryan Linden whom was a customer with your bank. First, my son suffers a severe mental illness and the way he was treated at your bank was to say the least was appalling. Second, if he didn't have me in his life he would be homeless now and living on the streets due to the inconsiderate and most unprofessional error your bank made. I feel he was treated in this manner due to his illness.
In June the Chase Bank located at 3880 W Happy Valley Glendale AZ closed his account because he had deposited a check that was returned for insufficient funds. Unknowingly Ryan was taken advantage of by 2 people who wrote him a bad check and in return he gave them cash thru an ATM. This was understandable that Chase closed his account but what happened next is inexcusable. When he walked to the bank to try and figure out why his ATM card was denied this is when he discovered his account was closed. At this time the manager at that bank told him as a courtesy the bank would allow his July SSI check to go thru. This was the middle of June. When July 1st came I brought him to the bank to get his money and at that time we were both told the check had cleared and that Chase would be issuing him a check in 7 to 10 days for the full amount. The customer service agent even called the department that handles this kind of situation to verify that the check was received and my son will have his money in the next 10 business days. On the 11th business day we planned on heading to the bank to figure out what happened to his only income my son received a letter from Social Security stating his benefits were cancelled due to getting his July payment returned. I had to cover his rent for July or he would of been evicted.
This nightmare for my son started in the middle of June and today July 22nd he is still without his money. We had plenty of time to either open another bank account that could of had his July payment direct deposited into or had his payment sent to his home via check. Now I have to take a day off of work this week so we can spend a day at the Social Security office to try and get his benefits reinstated all due to the error Chase Bank made. I strongly feel he was treated poorly because of his illness. I also believe he is due a huge apology for this error. The stress of this might even put him in the hospital because he has been extremely sick since this happened. Mental illness is a cruel disease and I find it disturbing when someone so sick can be treated so horrible. Thank you for taking the time reading this letter that was wrote in honor of my son Ryan. Please feel free to contact me at the number below.
Sincerely
Debra Wells
623-349-2292

Maria amador
from Rosemead, CA
I try to check my account to see my balance and couldn't get in so they told me to go in person and when I did the bank teller told me to talk to someone about my account and as I was sitting waiting the associate told me that I no longer welcome in that bank because someone wrote a alter check on my name and it was returned and I no longer welcome on that bank and they charged me 12 dollars for the unpaid fee. I told them so someone hack on my account or try to commit fraud on me and I'm getting punished?and he said yes Your no longer welcome on this bank and i told him at least cash my check so i can pay you the darn 12 bucks before it goes to collections and he said what for your account is already close. And he walked me to the door like if I had just stolen something I felt hurt and humiliated.

Haytham F. Jabre
from Querétaro City, QUE
I had an account with Washington Mutual before Chase bought it after the banking collapse. Since then I have been with Chase. I have a checking account and a credit card with them and in very good standing for both. 12 years ago, I moved to Mexico and since then I have been banking and doing transactions online for obvious reasons: there aren't any Chase branches in Mexico. I have never had a problem with security clearances or removing temporary holds on my account imposed for my protection. 4 days ago, another hold was placed. However, this time, they said that the process cannot be done over the phone. I either had to personally go to a Chase branch or contact my designated banker to remove it. The problem is, as I have explained incessantly to them for the last 4 days, is that I live in Mexico. And in Mexico there aren't Chase branches. I cannot just get into a car or take a plane to the USA to do that. Also, I explained that I do not have a designated banker. I never had one nor was one assigned to me. I have spoken to several supervisors over the phone regarding the matter and their response has always been the same: either go to a branch or contact the designated banker. I tried to work with them asking what can be done that fulfills their security protocols in protecting my account with something that I can actually do to solve the issue under the circumstances. To no avail. No one is interested in helping me or is willing to find a way that both fulfills their security standards and that allows me to provide what is required. I explained to them that I use that account to pay my credits cards bills (Chase and Citibank) and USA Federal taxes. And the fact that as long as I cannot access my account will seriously damage and jeopardize my credit rating I have worked very hard in building for almost 3 decades. Being unreasonable and uncooperative in this matter will hinder my ability to sustain my responsibility as a debt holder in paying my dues. I do not know what to do. I just need someone to help me to get the bank to be reasonable and assist me to get to a fair and reasonable resolution.

Debbie Smith
from Sacramento, CA
I had fraud on my debit card, which has happen so many times since coming to chase.
I am waiting for my new card to arrive by snail mail according to chase.
I ask where this is being mailed from, no one can tell me not fraud not the branch.
I ask to talk to someone in open accts about this and they redirected me without coming back on the line to forewarn me.
I called back and the second girl was worse then the first so rude.
I ask her where it was coming from she wouldn't tell me.
So if your card never comes , how is it tracked.
When is it considered lost?
Two weeks, three weeks, a month.
I have my cell threaten turn off service due they couldn't withdraw my funds.
So if that happens I will turn off this account.
Can anyone give me any kind of customer service.
Debbie smith

Trina Perkins
from Round Rock, TX
I had to have a card replaced and it was at my new address within 5 days. My daughter lost her wallet and tried to have her card replaced to the same address and they told her at the bank (Chase, Round Rock, Tx) to go home and call the hot line. We called and they said she can't get a new card for 30 days because our address just changed. I can't understand how I got one and she can't.

Mr. Carruthers
from Millburn, NJ
While assisting my 83 year old father with his finances, I felt as though we were racially profiled while trying to cash a check that was issued by the bank and given the run around, and the only reason we were finally satisfied is because I contacted the powers that be to determine what was our options, that were much different than the ones provided by the bank manager (Gladys David) Branch Manager Vice President NMLS ID:1259623 @ Chase Bank 1480 Forest Avenue, Staten Island, NY 10302, who suggested that we go to a check cashing institution with the same IDs that she said was flagged only to find out that his license wasn't flagged, but they stated that his veterans ID was(which was false apon checking with the department of veterans affairs), after leaving the bank and contacting TDameritrade, who assisted us in our efforts and spoke with Ms.David on our behalf we we're told we could use a credit card as a second form of ID, which was never an offer during our initial visit to the bank. I feel that we were racially profiled during our initial visit to chase bank, and for someone elderly who has served their country to be treated in such a manner is atrocious.

JASON CRESS
from Idaho Falls, ID
I had filed a claim and it came back on me the number I was told to call is invalid when I called the claims department they wouldn't do anything. My account is now in the hole this is bullshit, whoever handles the claims should have called the number and verified it before reversing my claim and leaving me to deal with it. I have no legal recourse now apparently because of this. I cannot reach the vendor I did business with, you guys won't reverse it I am ready to find another bank and up until now I have liked you.
I don't understand how you can accept or deny a claim and not fully investigate just because "I did business" with them if you can't get ahold of them at the number they provide shouldn't that be a red flag that says maybe this isn't legit you need to have better checks and balances to protect your customers because the way I see it before you came back and said it in their favor you should have atleast verified the number. I have googled them and called the number I have found they have no info on me the numbers you guys gave me are no good

Ruth COffey
from Park Ridge, IL
I used an ATM machine in the Bel Air Collection Hotel in Cancun, Mexico on 4/28/2018. I wanted $80.00 in cash plus the fee of $13.75, total $93.75. The ATM DID NOT give me any money at all, I waited at least 20 minutes to make sure the ATM was just show at giving me the money. but I did not receive the money. My daughter was with me. Since my phone was not working, that day I called Chase the next day. They did 2 investigations supposedly and claimed the owner of the ATM, said the funds were taken from the ATM. No money came out of the broken machine. The hotel was not any help, there was no number to call. I was on the phone this morning (6/8/2018) with Chase for 30 minutes, to no avail. I am just out of luck., no $93.75. I work 2 jobs and the money is so important. I feel Chase it TOO large to worry about me and my $93.75. I am highly upset and Chase is a company that does not care about it's customers. Mike at Chase told me this morning that the customer is not always right. What a bad thing to say. Tomorrow I am closing all my Chase accounts.

Lynn Schoenfeld
from Canton, OH
I have had the worst customer service I have ever experienced thru Chase Bank, North Canton, Ohio, in particular Jeff Keefer and his assistant Tina. They are the most incompetent people and dishonest people I have ever met. I have been trying to get court ordered funds transferred since February and it is now May 10 and it still has not been done with no real reason what the delay is. These funds were ordered transferred within 30 days and all paperwork is in order. For what ever reason, these two individuals believe they are above the law and have not done their jobs or made sure transactions were made. It is my opinion that they should be stripped of their credentials and dismissed from their jobs. It is clear they have no regard for their clients or the court of law. . . . I have been a loyal Chase customer for many years and have never experienced this kind of incompetence. . . When and if this is ever settled, I will be moving my investments and assets to another institution and will never again recommend Chase to anyone. I urge you to check into my issues and resolve this issue immediately.

robert johnson
from Bangkok, 10
12days chase still holding money hostage .....they are now not answering my emails this is not rocket science just transfer the money so i can eat
i hope someday someone is 4000 miles away and somebody screws with there money and they have to sit on a street with hand out so so they can eat

Carla cecile palmisano
from Long Beach, CA
I used the deposit tube on 59th ave and camelback in Glendale az. I sent the tube in and it got stuck at 11 AM, after a 25 min wait they said go home and we'll call you. But they said a technician is on the way. I said call before 2 so I can come back and get acknowlgement of my bank card, drivers licsence( I need!) and my paycheck. I go home and start calling bank at 145. No answer!! So I go in at 150 pm they acted like they didn't even know what I was talking about. Oh, they say it's still broken. I said fine write something and acknowledge my lose of items til mon!!!! I mean I am livid no one called!!! Had I not left my house when I did front doors would be locked. I have been waiting now for 20 min and no one has come out to apologize or write a statement of my stuck items!!!! Assholes!!! Still waiting,!!!

Nikhil V Shah
from Piscataway, NJ
i have opened my Chase Savings account 3616658952 with 10000$ as per my wife who is Chase Bank Preferred Customer ......1997, same email ID ,
When i gone in South plain-field branch to close my this account,on Saturday 01/16/2018 around 9.30 am , The Branch manager gave me very bad service and charged me $ 8 for my savings account proceeds ., i ask to withdraw for $ 5000 cash , she said Account now already closed, you need cash or check ? and charge me $ 8 .I am preffered customer in Bank of America ,since 10 years, I never face such problem .
Please returned my $ 8 ,wrongly charged me and do some thing to improve Branch manager attitude.
Waiting for your reply

Rodeo Z. Arceo
from Los Angeles, CA
The branch where I opened my direct deposit screwed up my checks two times:
1. Way back 2016 when I issued a check in the amount of $50.00 but it was rejected although sufficiently funded since I have two direct deposits in my account. The bank reason was it looks like 20.00 to them though I wrote it in the check clearly as Fifty Only. I know in the banking procedure that when there is doubt as to the amount the amount written in words will prevail or will be referred to in honoring the check.
2. Recently I purchased a brand new checkbook , since I lost my last chase checkbook and reported it to chase. Chase immediately cancelled all those checks which I declared lost and put a stop payment to prevent any unauthorized used, (This transpired way back 2016). The new chase checkbook I purchased recently was in 2017 and numbered 201 to 225. The check I issued was $320.00 which was fully funded from my direct deposit. However, Chase dishonored it and returned it to my wife's bank which is US Bank with the explanation that it is stopped. Chase included the new checkbook no. with the last checkbook on 2016 which was stopped.
This is unacceptable, since the checkbook which started 201 was only purchased recently and it is in 2017.!
I complained it to the branch manager in Glencoe and Washington Blvd. branch, LA CA 90292 thru the phone and told me to see him personally in the branch but when I went there he looks very adamant, reluctant and indifferent to the complaint which made me frustrated and humiliated my wife.
This is a stuation which cannot be expected from a big bank as Chase with multifarious branches in California and where I put most of my direct deposit and other deposit in trust.
I will be looking forward to your immediate action on this matter and will reimburse all the bank charges imposed on my wife's account by US Bank due to the error made by Chase. All the blame is imputed to Chase and this is apparent since this thing happed two times already.
I demand therefore that Chase coordinate with US Bank and explain the error that was done on their part and eventually pay the bank charges or make an arrangement with US Bank regarding the charges that were imposed due to this costly error.
With my warmest regards and sincere appreciation to your help and immediate action. I remain.....
Respectfully yours,
RODEO Z. ARCEO
Account No.583963310206
Routing No. 322271627

JOANNA FARRIER
from New Rochelle, NY
I have a problem with calling customer service and not being able to get any where. I called in regards to getting an $35.00 over draft fee for 5.00 which is absurd , I explained to the service rep that there were transactions that were processed days after the charge and i refuse to be charged over draft fees when i have no control over that. I simply asked if i can get it waived as i already know I've reached my max of over draft fees for the year apparently but it is not at my control . i had my direct deposit also come in a few hours after you guys charged me an over draft fee. it is real inconvenient to be charged an over draft fee for $5.00 when your pinching money to make sure your child eats and has papers . no one thinks how much $35.00 is alot to someone who doesn't have it to just throw away. i find it to be horrible that you guys continue to use the excuse that you guys just cant do anything about it because its the max amount etc. I'm pretty sure for customers who has millions of dollars coming into your bank every week ...i'm pretty sure they will be assisted with any over ride or be granted all the exceptions possible.the strength of customer service satisfaction for chase is extremely poor. i had two over drafts and i only asked for one to be considered as it is ridiculous for the amount i was charged for and overdraft fee. I will never recommend chase to anyone ever again . extremely pissed off.

Allison L.Turner
from Cleveland, OH
I got married on Friday Oct.37,2017. We received many checks in my married name and with his name on them,being that I was unsure how to proceed I went to the chase bank in Beachwood Ohio on Chagrin Blvd. No one was in the bank at that time . I asked the teller how should they be deposited. She seemed not to know and told my husband to sign the all and for me to sign them. The teller next to her told her to have me go over to where the employee that open up account and whatever else they do
to have me change my banking info. We sat down over there for maybe five minutes there were 6 people working over there only one employee was working with someone. (He is very nice and always helpful. Two men walked in and they were guided to
Whom I would later find out the investors office . Don't know why the other man went in front of us. One employee walked by said someone will
be with you after we had waiting about 15 minutes. Mind you he had been walking around talking to different employees all during this time but never seen him actually doing any work!!!The straw broke the camels back, when he went in one of the offices,chatted with the employee, had his hands down on the desk then proceeded to put his foot in a chair, pull up his pants leg and begin scratching his leg!!!!!!! I was livid!!!!' I got up ,put my checkes in the air and ask WAS OUR MONEY ANY GOOD FOR
THEIR BANK!!!Everyone ran out of their offices wanted to no the problem then!!!' The leg scratcher got a attitude with us saying I CAN TAKE CARE OF YOU!!! I told him he had been playing around the whole time scratching his leg!!! The investor said he was a investor but asked the employee in a joking matter "You was scratching your leg??? We did not feel it was funny, in any manner!!! I told them they all should be ashamed of their selves by totally blowing us off and paying us NO ATTENTION!!! Except for the one young man !!' We walked out and the next day I took my business to the Cedar branch. Explained the same thing the teller took all my checks and deposited them!!! Told me when I get my marriage license back,change my ID come back and change my banking info!!!! I want to know why I couldn't get that wonderful customer service at the Chagrin store!!!!! I was very very upset!!
I

I did an online balance transfer for 3000.00 from my account in Chase to my account in Citibank.
The money never made it to Citibank, I own Chase 3000.00 now.
I've called and called and called. They told me to wait. Waited and waited.
On October 26 they told me the money made it to a payee and I need to work with Citibank if the payee is not me.
Citibank says it's up to Chase to straighten this out, they initiated the transfer.
I finally get a letter from Chase (image attached). As you can see, the letter says the money were given to a payee whose account ends with 3027 and if I have a problem I should talk to the payee.
The payee, the 3027 account, I need to find him and confront him about my money.
That's what Chase did with my 3000.00. They're done now, and I owe them 3000.00.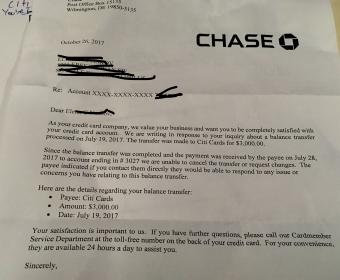 Davion Sandifer
from Fort Worth, TX
My name is Davion Deshay Sandifer. I am currently banking with you guys, I have had a direct deposit check submitted. The check was placed under hold. I had contacted the 24 Customer Service hotline. They told me to contact the holding services during their normal business hours. So therefor I did. They went on to tell me that my account is not linked with the bank who the check was corresponding with, they would follow threw. Sir, I do not know what happened I called them back, They stated the bank decided to restrictive my account without giving any explanations. They also said i would no longer be allowed to bank with chase. They still have not given a reason why or how this even happened. My money is in the account and i have to wait until Nov.14-17 to be able to receive my money at all.
I am taking the time to email you to see if you could help me or address these concerns.
If you could help me and anyway possible please let me know.
my father has been with you guys for years he even donates millions of dollars to chases properties/charities.
Please give me conformation.

rejected wouldbe customer
from Yuma, AZ
I arrived as quickly as humanly possible from work with a $6000+ check issued by JP Morgan Chase Bank for Apollo Education Group, I was greeted with a delayed "Hey" about ten steps into the nearly empty branch, that said "Im put out" rather than "hello" or "welcome". I quickly explained my need to open an account, mind you, there was 39 minutes before closing. Before I finished speaking the young lady was speaking over me to tell me that she could not do that she needed 6 more minutes than I had. I told her "well we better hurry" she rolled her eyes and speaking as she walked away said something about a branch manager. I stood and remembering services from my account several years ago and in another city felt sure I would be assisted. The branch manager aproached, took the check from me, gave it a glance, shook her head and said no there wouldnt be any way they could help me. At this time two counter girls stared at one another while a man finished up with the couple at his desk, I was the only customer, with over 30 minutes before closing and four employees, one of whom was branch manager, all refusing to do commerce with me. I asked the manager if she would help me and as I tried to explaine my circumstances she spoke over me to say" Im already out." I assume that ment "out of here" stunned, embarrassed, humiliated, and confused I asked her who her supervisor was, she said after a moment of looking me in the eye with her jaw slack, in an exagerated accent that I could barely make out something Salsido. I was so insulted, at the lack of professionalism I went back out to my car. As I began to look for Ms. Salsito's contact information I found that she does not oversee the branch I was at in the Yuma Foothills, but rather in California somewhere. It was not untill well past the closing time that the manager departed, before her workers, and she had the ill manors to further damage me by looking directly at me with a challanging squinted glare as I attempted to composed myself in my car. I have banked with Chase previously and from that experiance had looked forward to doing business again with the Chase team. I dont understand how a woman lacking even the simple ettiquette to not interupt when someone asked of her assistance in her employeed position, but to add the dismissive curt tone and challenging hostile eye contact...well I dare say, she was extremely unprofessional if not down right low class. Perhaps Chase would do well to train thier managers to show a minimum of respect to the clientelle in the representation of JP Morgan Chase, as well as the ability to convey fundamental norms of etiquette for their inferiors to adhear to. Refusal to pay on their own instrument UCC §3-411 ? Branch Manager: Yuma Arizona Foothills Branch on 10/02/2017 from 5:21 pm to 6:06 pm

Tracy Hurst
from Medford, OR
Thank you for sucking all of the fun out of paying off my mortgage. I called on Friday the 15th to ask why my last payment had not been taken out of my account and was told it would be transferred over the weekend, not to worry. Then on Monday after being put on hold several times for 54 minutes I had to hang up. When I called back I was told it couldn't be taken out of my account I would have to go to the bank to make the final payment. I spent over an hour of my day only to be given such poor customer service that any joy or celebration in paying off my home is gone. I can't believe I wasn't told this on Friday or any of the time in between my 54 minutes on the phone. I hate the way this went down and I am not a happy customer.
What are you going to do about it?

Kenneth Schick
from Canton, TX
Extreamly poor trained personell. Automated systems that are not designed to answer any real problems. If you do manage to get a human on the line they are not capable of answering any of your concerns, all they can do is recomend you go to a bank branch and sit for an hour or more with other disgruntled customers only to be told they are busy and it might be better if you go to another branch and try there. I have been a customer for close to 20 yrs and I don't know what happened to your bank's management but it is far from an improvement from the old days of customer service. I have so many things wrong with your service I can not discribe them in this 100 word format.

Crystal Corbins
from Sulphur, LA
To Whom It May Concern:
On August 29, 2017 I called in to let your company know that my debit card was ran twice at Americas Best Inn hotel for $70.22. At that point, the costumer service person told me that he will credit my account of $70.22. I was NEVER told that is was temporary. Now mind you, I check my account statement on a daily to make sure I am not overdrawing my account. On September 12, 2017, I looked at me account and it was overdrawn. So, I called customer service to ask why my account was overdrawn and I was told that I was credit it twice for the $70.22. I told Anne that no I was NOT!!!! She states that the merchant gave me a credit on August 29, 2017 and Chase (your customer service rep) also credited me account. I So, responded to her, No they didn't cause that credit was not on my statement at time. So, I asked, if the merchant supposedly gave me a credit on August 29, 2017, why would you give me another credit on September 1, 2017? If that credit was already on my account you would a notice that credit on the day? And she (ANNE) YES!!! If the credit your account on August 29, 2917 we would have NOT gave you another credit. After Anne said, that, Anne refuse for me to talk to her supervisor. I am very upset on how this situation was handled. I never know for a bank to treat their customer this was especially the ones that were effected by the storm. I also, have proof that the refund was not progress from the hotel until August 31, 2017 because it could not be done until the manger was back in the office and she didn't not get back in the office until August 31, 2017.This was handle in a VERY POOR MATTER!!!!!!

dhixon7@yahoo.com
from Powder Springs, GA
MY FAMILY AND I HAVE BEEN BANKING WITH CHASE FOR YEARS. THE SERVICE AND THE BANKS SYTEM OF KEEPING CUSTOMERS IS NOT UP TO STANDARD. I HAVE TAKEN LARGE AMOUINTS OF MONEY OUT OF MY ACCOUNT FROM CHASE AND ENTRUSTED ALL MY BANKING NEEDS WITH A BANK THAT SURPASSES CHASE BY 110 PERCENT. MY FAMILY HAS TAKEN THEIR FUNDS ELSEWHERE AND CLOSED THEIR ACCOUNTS WITH CHASE. CHASE BANK IS A LEECHING ORGANIZATION AND WILL NEVER GET ANOTHER DIME FROM ME. I TRANSFERRED FUNDS INTO MY CHASE ACCOUNT TO COVER SOME BILL PAY. THE NEXT DAY I WAS HIT WITH THREE 34.00 OVERDRAFT FEES. THIS IS RIDICULOUS AND I EXPLAINED THE SITUATION TO A CHASE REP BUT OF COURSE NOTHING CHANGED AS USUAL. I'M APALLED BY THIS ACTION AND I WILL NEVER DO BUSINESS WITH THIS LEECHING INSTITUTION AGAIN. CHASE IS FILLED WITH BLOODSUCKERS AND WE WORK TOO HARD TO ALLOW CHASE TO TAKE ADVANTAGE OF US. GOODBYE AND GOOD RIDANCE.

Marcia Brewer
from San Francisco, CA
I applied this am for an Amazon visa to get a 70.00 gift card...I IMMEDIATELY realized I would not receive rapid on line approval which occurred...Then indicated further review of application would be required...I absolutely do not want a further evaluation and certainly do not need another credit card! I then called a chase representative and supervisor and told this process could not be deleted..really?? And why not...Chase has all my pertinent info and when "further evaluated" by an analyst why can't it be deleted by request of customer at that time?? I do not want a negative mark on my credit report and cannot fathom why this is not doable..I am a retired veteran with a fixed income and of course I will be denied..I made a mistake and am asking for assistance in rectifying this problem. Certainly SOMEONE can intervene and eliminate a negative remark in my credit report!! Would appreciate assistance, Marcia Brewer

Marcia Brewer
from San Francisco, CA
I applied this am for an Amazon visa to get a 70.00 gift card...I IMMEDIATELY realized I would not receive rapid on line approval which occurred...Then indicated further review of application would be required...I absolutely do not want a further evaluation and certainly do not need another credit card! I then called a chase representative and supervisor and told this process could not be deleted..really?? And why not...Chase has all my pertinent info and when "further evaluated" by an analyst why can't it be deleted by request of customer at that time?? I do not want a negative mark on my credit report and cannot fathom why this is not doable..I am a retired veteran with a fixed income and of course I will be denied..I made a mistake and am asking for assistance in rectifying this problem. Certainly SOMEONE can intervene and eliminate a negative remark in my credit report!! Would appreciate assistance, Marcia Brewer

Lydia Odunsi
from Wingdale, NY
On 9/1/2017, my employee went to make a deposit at JPMorgan Chase Bank, N.A. Patterson Acme Branch 000223; New York as usual.
Transaction # 168 & 170.
Rocio said to my employee ( you have a lot of money in your account, do you want your balance ?)
My employee answered, no, no, no----
Chase bank has put my life in danger.
This system of asking customers if they want to know their balance must stop immediately. I have been with this bank for years both personal and business accounts.

peter mellios
from Sterling Heights, MI
I been trying to get a release of lien on my title everyone giving a different answer I wish they get there stuff together there I have a checking and saving account with you i would think it should be no problem getting the lien off since its been pay in nov2003 if i do not hear back on Tuesday i am getting my attorney involved because i need this release of lien of to get my home equity loan to pay for my dad funeral home bill i have the funeral home on my case if my credit get wreck i will sue chase for taking to long to release the second mortgage lien of my property since 2033 that's holding up my loan
Have feedback for Chase Bank?
Thanks for your feedback!
Sorry. Please try again later!