Canadian Tire
Contact Canadian Tire Corporate
Toll free phone number: 1-800-387-8803
---
Over 90% of Canadians live within 15 miles of a Canadian Tire outlet and over 80% of Canadians visit a Canadian Tire outlet each year. If you need to contact customer service, you will find their website offers help in both English and French. They even have an anti-phishing guarantee. By phone you may call 1-800-387-8803 for help in English or 1-800-565-3356 for French customer service.
You may also write a letter to their headquarters at 2180 Yonge Street, P.O. Box 770, Station K, Toronto ON M4P 2V8. Their website has a very informative "fast facts" tab and their social media presence includes Facebook, Twitter, YouTube, Google+ and Pinterest. Canadian Tire lists several charitable investments, one of which invested over $56 million into the youth of Canada.
Founded by Alfred J. and J. William Billes and called Hamilton Tire and Garage, Ltd, at the height of distribution over 9 million catalogs were delivered into Canadian homes. Canadian Tire, Ltd has been a Canadian icon since 1922 with more than 1700 retail and petroleum outlets. They specialize in automotive, sports, leisure and home products. With 58,000 employees, this publicly owned corporation grossed more than 12.9 billion in sales during 2013.
Its subsidiaries include: Part Source, Forzani Group, Canadian Tire Financial Services, MARKS and Canadian Tire Petroleum. Their motto is "tested for life in Canada". Their CEO, Michael B. Medline, was brought on board recently to bring Canadian Tire into the digital age.
Canadian Tire Contact Information
Report complaints to corporate and get satisfaction
Canadian Tire headquarters address

2180 Yonge Street, P.O. Box 770
Station K, Toronto
ON M4P 2V8
Canada

Company website

1-800 phone number

1-800-387-8803

Support email address

customerservice@canadiantire.ca

Better Business Bureau rating

B
Browse reviews of other Auto Repair
Top Canadian Tire Complaints
Browse more than 137 reviews submitted so far

Today I went to plaza cote des neiges canadian tire and purchased $91 through canadian tire option credit card asked the counter lady to remade my points with the bill. I saw she did only $4.63 where I have $40.63. I gently ask her how much you deduct then she reply in rudely "can you read it, it is written here". I was that surprised to protes. I just told her that I have $40. She says "I don't no system says that you have $4.63". Again I said in confidence that I have $40.63 then she said "I have to cencel the order and do it again to check do I want that" and i said yes and I was right because I saw her to type only $4.63. She didn't sorry also.
The lady was too rude all togather and I was too surprised with this type of behavior. In this branch I find this lady don't like my brown skin as she is brown. The point is I am a customer I need a smile with good customer service. But got rude attitude which surprised me and hurt my feelings for canadian tire. I didn't complain to the manager why she is behaving like that. Even I didn't ask that lay why she is rude. I was so surprised. Now I'm thinking avoiding that store or even canadian tire and tell everyone beaware of their customer service.

Kerry Chelsea
from Williams Lake, BC
I entered Canadian Tire with my 3 children to pick up a couple of things as I always do. I always loved the atmosphere of the store. My children and I looked through some of the Halloween decorations and proceeded through the store to purchase an indoor wood storage shelf. We found exactly what we were looking for, grabbed a couple of snacks for the kids then, on to the till to pay for our items. We had to wait in line for out turn. When our turn came I placed my items on the tray and reached in my side bag to grab my wallet.
It was then I was asked to open my bag so that the employee could see inside. I was shocked and offended by his request but, I worked in retail through college and understood the job. As soon as I opened my bag I believe the employee could sense my frustration. To calm things the employee said " It's just that we have had a lot of thefts here". He then said "Some Indian snuck a chainsaw out in his bag, so we have been checking everyone".
My children and I are first Nations. I had to spend the next 30 minutes explaining to my children that ignorance and injustice is still in the hearts of some people. This bigot staffed by the Canadian tire corporation tore down in seconds an idea of pleasant human nature that my family and I have been building for my children.
I am a counselor for a local Indian Band, I run and own an ICBC approved driving school; I sit on several boards within my community and work with children and families in my community. Not only will I never shop in that Canadian Tire again, but I will be sharing my story with whomever will listen(Including local and Provincial newspapers) so that they will never have to go through the same experience as me and my children.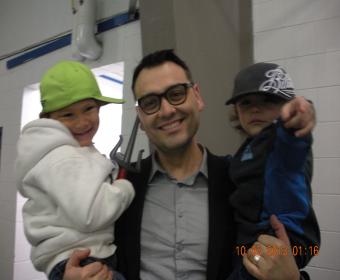 Allan Richards
from Timmins, ON
I have had two bad experiences at the Canadian Tire store in Timmins Ontario in the last three months with your ignorant and rude associates who do not seem to care about customer satisfaction, they are rude, and know nothing about your products and do not seem to really care. The last time I reported to the store manager, the first time I was so frustrated I had to lave the store. This location needs to have some training in customer service, after all we pay your bills. Both times I walked out and drove to Home Depot which is beside your store and the customer service was amazing, having everything that I planned to purchase in your store so I purchased all that I needed, spending over $ 1000.00 at Home Depot. I always went to Canadian Tire first as it used to be a habit but after the last two visits to your store it is going to Home Depot.

Canadian Tire
from Ottawa, ON
I would like you to investigate what happened to all the CD's that were in my car (roughly 35 of them) there were 6 in the cd player which requires a key to remove them and it is a slow player and it requires time to remove them all, i had a case full of approximately 30 cd's in it and I had about 5 in the slots. I cleaned the car one week prior to bringing the car in for servicing as I was getting ready for our trip to St. Catharines, Ontario. We did not notice the missing cd's until we were at a location where the radio add good reception. My husband then noticed that all his cd's were missing he was pretty upset about it.
We brought our GM Equinox for servicing on December 12th at the Ogilvie location in Ottawa and on December 15th I had to bring the car back for tire replacement and I took the car to the Canadian Tire on Innes Road in Orleans as it was closer for me to bring it there. At both time the car was left for someone to repair it, they had the key at all times. We would like some answers to our missing Cd's, I had to purchase some new ones (5 of them cost me $70), so loosing all those 35 or so cd's is very upsetting. We are thinking of filing a police report about this theft. I hope we can find a resolution for this incident. With that in mind we will never bring on of our cars for servicing at another Canadian Tire.

Shawn Stoyles
from Sainte-Anne-des-Monts, QC
I live 100 kms from the Canadian tire but I am a regular customer, I have in the last 2 years I bought over 4000 plus worth of Canadian tire products. I like to call to see if they have my parts before making an hour drive. On this day, Jan 16 2016 I called and 6 times, and I could get no one at parts ,,so I pushed 0 to get customer svc to let them know. That it was 6 times I tried parts and got no answer. Her response was a very snarky. Well they are not glued to the phone or anything sir. I will check in a pretty snotty tone, and then I got someone right away. Funny how when they do their job we get a response, and you get business. The service at this brand new store is awful, and the staff is snotty and disrespectful.
This is not my first incident and its pretty soon going to be my last,. This particular store has got to be having problems, the parking lot is near empty all the time. For a brand new store? Maybe the poor way customers are dealt with is part of the problem. Maybe it would do your business well to staff your customer service department with people who enjoy dealing with the public. Or at least don't act like your asking them to move mountains when you ask them to do their job. There are plenty of alternatives to Canadian tire in the area and many match price as well.

Rahim Khan
from Montreal, QC
I bought an Audi a4 2002 front brake disk April 2nd 2015. When the sales guy brought two boxes and put on the counter both boxes were open. So one box he taped in front of me and second was left. I did not mind and took both boxes paid at the cash and came home was around 5:00pm. The next afternoon when I went outside to change the brake disc for my car, I prepared all tools and was taking discs from my car when I noticed the disc is old. I opened another box, the one taped in front of me is new.
I was surprised and went back to Canadian tire. They did not agree and said we did not give me and old one. I told them to check your camera but they did not agree. Unfortunately, I called police and waited for two hours for them to come. They made a claim for me and said to call civil court and file a claim but before that send them a 10 days legal notice but still I am looking for justice from Canadian tire if you check your camera and find out where is the mistake so it will be good for both of us. Otherwise I am going to civil court because I have proof. No matter how big a company Canadian tire is, humans make mistakes and that i will prove at the court. They did insult me which I will not forget ever.

Well, the staff at the Angrignon store (Canadian Tire Lasalle #230, 2221 boul.Angrignon, Lasalle QC) was rude and extremely unfriendly as always. I went with a couple of items and two coupons to the cash and, once I paid for the first item, I gently asked the cashier to pass the second one. Note that on the back of the coupon was not stated "one transaction per day", only one coupon per transaction per person. She refused. I asked again and pointed out at the fine prints.
She refused again and called the manager. She could not even read English and told me that in French it was written "par jour" (per day). Well, it was, but I insisted on the English version. The manager came right away. (This is very unusual, because I've had problems with this store other times and had to wait for the manager for a while). The manager bluntly told me to leave the second item and leave store because he was not happy that I was trying to use two coupons. I did not want to escalate the conflict and said, "OK, fine…", and left the store.
Then I re-entered the store thinking of going through another cash. Then my wife arrived, and I when I was telling her the story a security guard approached us and told to both of us to leave the store because we were not allowed to "split the purchase" and escorted us out! Can you believe it.  It means the manager called the security while I was talking to him, the the security tracked me for no reason. Never ever I'll go to this store and tomorrow I'm filing a complaint.

I went to have my tires installed at a Canadian tire in Quebec, Longueuil. The technician started undoing my lock nuts, he took out one, then on the second he noticed it was tight and decided to use a 3 foot bar to unscrew it, didn't put the lock nut socket in correctly and broke it. Now almost impossible to take the lock nuts out, so they sent me to the last mechanic saying that it's his fault cause he screwed them too tight. They broke it, there technician should not have used a pry bar without asking me first. I wen't back the next day to see the director and he told me that the socket was probably already broken and he brushed me off. I filed a complaint at the head office, after 2 weeks still no news.

I started working at canadian tire in vegreville ab, when i started i made it clear that i have to answer my phone because of medical i have been witing for dr.app and my daughter has eplispy and my dad has brain damage so i have to answer my phone so thats what i did today, so the manager demanded my phone i told her no, she told the boss john upstairs, i get called up stairs and he started with a very intimadating attitude and voise and sais to me "who do i think i am, so i tried to explain to him about the medical situation i have he said to me to get rid of my combative attitude and that he does not care about any medicale situation.
To change my attitude or walk so i walked feeling very upset to the point i walked out shaking so im laying this complaint in hopes that something will be done about this because no one should be intimiadated at work.

I understand now why Canadian Tire is called Crappy Tire. The Service Department at this Canadian Tire is crap. The customer service from the bottom right up to the manager, Ken is crap! I took my Ford Explorer in to have the Power Steering Pump replaced because my truck was making a squealing noise. I even brought the part in. The service advisor agreed that it was probably the power steering pump making the noise. When my husband picked the truck it was still squealing. He was livid. Their excuse was, get this – "We did exactly what you said sir! We replaced the power steering pump."
I guess if we told them to jump off a bridge, they would do that too. We did find a really good local mechanic in Ranchlands. They fixed the squealing noise which was just a belt tensioner and a pulley that needed to be replaced. It cost a $150 less than Crappy Tire charged to not even fix the problem. I wouldn't suggest this Crappy Tire to my worst enemy. The staff is verbally abusive and very unprofessional.

Car issue 1, car shakes while idle. Car issue 2, car misfires when starting. The diagnostic 1, approx $1000: replace spark plugs, wires, and valve cover gasket. The diagnostic 2, approx $1700: diagnostic 1 + a $700 timing belt replacement. The car is a "well maintained" (followed all subaru maintenance guidelines) 2005 subaru impreza. I told Lee (the Canadian tire manager) I would not spend $1700 and if that is what was required I'd walk away from the car. I tell him I'd like to take the car to another garage to get it fixed. He aggressively recommends diagnostic 1 quoting his 20 years of experience and confidence in his diagnostic. I authorize the $1000 diagnostic with the expectation that our 2 car issues would be fixed. After performing $700 of work, a new diagnostic is made that would require $2000 to fix. The diagnostic 3, approx $2000 to replace head gasket (i.e. $3000 to resolve car issue 1 and 2).
The problem is Canadian Tire gave a diagnostic that was incomplete and therefor wrong. Even after the fact, Lee says he was in the right, and that his diagnostic was correct and complete. I told him it obviously wasn't because they were missing the scenario where the head gasket needs replacing. He said this head gasket is a "common problem". I told him I'd expect him with 20 years of experience to be able to account for a "common problem". He said no one can, and stood by that his diagnostic was 100% correct. Car issue 1 remains and car issue 2 remains. $800 ($100 rental for 3 days, $250 diagnostic, $550 work) has been spent to essentially diagnose a "common problem" that would require more than the car is worth.

I would like to complain about trying to reach the West End Store, I called on and off for 2 hours and all that happened is that it rang and rang and rang. You have no idea how frustrating it was to not be able to reach anyone from that store. I wanted to buy 2 items from that store but since no one was available I have gone else where. I am so disappointed in the customer service, please fix this problem so no one else has to go through the same thing.

I went to Canadian Tire to duplicate the key of my door yesterday, but the new key was too thick and it did not work well. Then, I went to the key maker in Canadian Tire again this morning, the key maker still made a wrong key to me, and refused to repair it. Such time consuming event happens several times, and the attitude of the market staff is extremely poor.

June 20, 2011 we wanted to purchase a 10'x10′ garden shed from Canadian Tire Prince George.We asked the sales associate if they had an example or a display model up so we could see for ourselves if the shed would work for us and see how the construction or quality was as well. The sales associate told us they did NOT have that shed on display for us to see.So we went with his word that it was a good shed and that we should not have any problems with it. So we proceeded to purchase the shed and take it home to assemble it. The next day we started by opening the box that had the #1 on it, there was 4 box's in total, to try and locate the instructions.
We finally found them in box #4 and started to read them. When we where done reading we found that the shed would not support the kind of snow load we get here in Prince George. We put all the piece's back in their box's and because the box's where stapled we had to tape the corners together to hold the shed parts in the box's. We then brought the shed back to the store and we where honest to tell them that we could not fit one piece back in the one box and they told us we actually did pretty good putting it all back in the right box's. Then because of the price of it at least that is what we assume, the manager was called , he told us that because we opened the box's we do NOT get our money refunded back to us.
He also made the comment that he would have to sell it at reduced price and that whatever they sell it for that would be our refund. So today July22, 2011 we decided to see the manager to inquire what was going on because he made no attempt to keep in touch with us since June22, 2011 and that we received our Visa statement and there was still no credit. He was called behind closed doors and we where told that they where unable to reach him and to go home and he will give us a call.We also discovered that the shed was put up as their display model. We where under the impression that it would stay in their box's to be sold.
Now the shed that we returned is not in it's original new condition and now we noticed it is damaged due to weather and people. how is it supposed to be sold? This is not how we gave the shed back to them. It was in it's original packaging and in it's original condition and we returned it within 90 days with our receipt. So how is it possible that they take the shed and NOT give us ANY of our money back!? Is that legal what they are doing?

I spent $1132.49 to have my van repaired in London. I called the shop to tell them my address is wrong, my postal code is wrong, my telephone number is wrong and why am I charged for 5.20 hours of labour when I was there just under 4 hours. This is double charging. I have been overcharged approximately $100. The shop said it is alright. Is this the way Canadian Tire treats all their customers? It is very inappropriate to overcharge. If I don't get any satisfaction from your complaint office, I will carry this further. We pay our bill on time and expect good customer service. Is this how you treat a great customer? Waiting for your reply. Also our bill is time stamped at approx. 4 hours labour.

My wife purchased a Solar Garden Light from the Canadian Tire store in Dryden, ON on February 24, 2011, with the intention to use it after spring arrived and the snow was gone. She removed it from the box and it would not take a charge. She tried new batteries, and it still would not work. We took it back to the store, with a copy of the credit card statement showing the purchase. The original receipt being thermal paper faded and could not be read. She wanted to trade it for one that worked. The "customer service associate" (a term that did not appropriately describe this person's (Jocelyne) attitude) denied that she ever purchased the product at their store.
Essentially called called her a liar. Needless to say, a vicious argument followed and the "on duty" manager's (Gary) attitude was no better. We left without a product that worked or a refund. Our advice is to avoid the Canadian Tire Store in Dryden, Ontario. Not one single cent of our money will ever be spent at this store with such deplorable service and anti-social employees.

Crappy Tire is a complete Rip Off. From extra fees, to poor installation, to rude management, I don't even want to think about it again. Again, I can't really put the entire experience into words. Worst experience ever and I am a proud Canadian and literally shopped at Canadian Tire on a weekly basis, stopping on the way home from work to pick up paint or car supplies. I WILL NEVER SHOP AT CANADIAN TIRE AGAIN. There is nothing at Crappy Tire you can't get anywhere else. By the way this happened in Milton, Ontario at the Steeles and James Snow location. You will recognize the service manager. Just look for a fat Al Borlan!

I went to Canadian tire and inquired about purchase of 4 rims and these tires mounted and balanced. The clerk said that there were plenty of rims in stock, but the tires would take 2 weeks to arrive. Two weeks later back at Canadian tire more delays, now they were on back order! I come back a month later, and now they won't sell them to me because they aren't "speed rated". I suppose if this Canadian tire was located anywhere near the Autobahn I could maybe understand, as it stands I learned my lesson again about NOT shopping at Canadian tire ever again!!!

Anonymous
from Calgary, AB
My sister and Brother-in-law, received a new Ford Escape from his parents, and from Sask! They took this into Canadian Tire to have an outta province inspection done on the Escape that they had just received. Well Canadian Tire did the "inspection" and told my sister that they have 2700 dollars in repairs that needed to be done. They told them that their muffler was all messed up and that they would have to take it to a muffler place. So they spent the money and took it to the Muffler place. The muffler place told them that there was absolutely nothing wrong with the exhaust and or muffler!!! So my sister called Canadian Tire back and spoke with the Manager of the Auto parts servicing, and told him what they had found out. The Manager said nope i trust my guys work and hung up. My sister felt like a complete idiot after speaking with this so called "manager". So then they decided to take it somewhere else. And they did the out of province inspection for them, and brought along the invoice that Canadian Tire had provided them. This other place told them that they did not even write down the VPN correctly. So this other location did the out of province inspection for them and any corrections that needed to be made for $500 dollars!!!!!!!! Thats like 2000 dollars less than what CT had quoted!!!
So my sister called CT customer Service and told them what had happened....only to be told that it happened to long ago and that they trust the work that is being done!!!!!!!!!!!!!!!!!!!! They RIPPED off my sister!!!!!!!!!!!!!! Completely! I cannot believe that this is the type of "customer Service" that they provide!

Robbie Thompson
from Charlottetown, PE
To whom this may concern ..Three years ago I took a pair of brake pads without paying which I take full responsibility.. When confronted I returned the part and paid restitution...At the time my marriage was a shambles as I was depressed and wasn't working ..I hit rock bottom ..I decided to change my life so I upgraded my education an got a gov job working with disabled adults . My wife and kids are proud of me . I will never let them down again..The LPO officer said I was banned for 1 year but asked me to leave entering a few weeks ago .. I reached out to Cameron Beach of Charlottetown,P.e .. He will not return my calls ..I also talked with Ian Cox and he asked me to write to Cameron but I heard nothing..I really hoped for a 2nd chance .. Is this a lost cause for me ? Thanks for listening ...Sincerely Robbie .... Robbie Thompson , Charlottetown, P.e , email , robcindy69@hotmail.com

Jagmeet Kaur
from Surrey, BC
Bought a microwave on May04 for $129.06 and because of some reason o went back to return the item back on May28th at customer service desk and the lady helped named Rupinder as best as i remember but not quit sure, told me that she can't do the refund eventually i asked why so?! She never explained and did refund of $124. Microwave was never used but just opened the box! Still wondering what did she has done?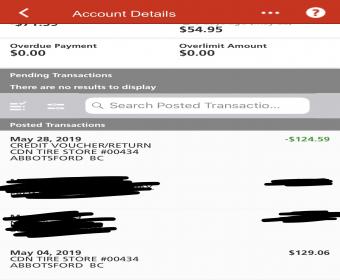 I bought a wood chipper shedder from your company on May 11 2019 and its been a nightmare from day one. The machine will not chip branches up properly, it stalls on one or 2 inch branches. Its been a problem not put together properly and I demand a new machine and you take this lemon back. please contact myself at 807-738-7800

Jason dipietro
from Toronto, ON
I bought a dura max shed 10x8 on sale for $844 and then paid install and delivery on april.25 it was set for may 8th to get done install calls me says he on way i said you have to go get shed cause i pay delivery he said i do not deliver call quick contractors they give me the run around for a week about we put an investagation in to were your shed is in other words means they cant find it i got mad and call canadian tire upper jasmes in hamilton got manager on phone she was great they come today finally to put it together and it missing 3 pieces it is just 1 thing after the other with problems with you guys now shed is half up and good knows hiw long i have to wait for the parts now your stores are nothing but bullshit and wasting peoples time i will make sure all my friends know never to shop canadain tire as i am so feed up almost 5 weeks a.run around to get my shed put up and delivered to my house bullshit just give my a straight answer not a run around never ever shopping canadian tire again

On May 16/2019 I bought a Canvas Conversation patio set and I received it the next day. When I was looking at the boxes , they were all opened and inside the boxes some of the plastics that were covering the cushions were torn, the screws were out of the package and in another little bag tied with a string. I asked the delivery person why were the boxes opened and he replied that the store opened the boxes to check if everything was inside .I assumed that this patio set was already once returned to the store. I decided to call Canadian Tire to explain , but there was no customer service,I tried several times. My husband and I then went to Canadian Tire and explained that I was not satisfied. They said that they would deliver us another one May 20 or May 21 and take the other one back , ... we agreed. By May 22 I still did not receive the new patio set . Again tried calling the store again and again..... could not get any service, transferred all over , the voicemail was full , the manger not there , telling me that the manger would call me the next day and he never did . Finally we received the brand new patio set May 23. All this could have been avoided with just one phone call to customer service. The employees need to be trained better. With all this said unfortunately will will not be returning to Canadian Tire again and I will definitely NOT recommend to anyone. My kids bought houses and needed patio sets and because of the bad experience that I had to deal with, they will go elsewhere.

I received a $30.00 promo card when I spent over $150.00 at your Sylvan Lake Store on April 25, 2019. At the same time the cashier also enrolled me in your rewards program and gave me a triangle card. The promo card was put in with the triangle card in a folder. I never looked at it until today May 07, 2019 when I went to this store to make a purchase with the card. I was surprised to learn that it had an expiry date of May 05, 2019. The cashier had never mentioned that the card had an expiry date and as gift cards are not allowed an expiry I assumed that I could use the card at my leasure.
I explained the situation to the woman at customer service. She was very assertive with a too bad for you type of attitude. I asked if maybe a manager would be able to help me. The manager came and was open to trying to help me by calling the GM. All the while he was on the phone the customer service rep kept on talking to him saying it is a promo card it has expired. She was just not very understanding and not open to helping in anyway. The manager explained that there was nothing he could do as the card had expired. I said ok I do understand but I want to make a suggestion that at your staff meetings when you have promotions going on that it would be a good idea to insist that your cashiers let the customers know about the expiry. As I was trying to talk with the manager the customer service rep kept interjecting her opinion. I finally had to explain to her that I was speaking with the manager and not her. She was not very customer friendly while chewing on her gum and insisting on getting her point across.
So now I have two suggestions for your company. Training you customer service reps that once a manager is on the scene he/she is the one that should be dealing with the customer and the rep should return to her duties rather than leaving other customers wait while she expresses her opinion and that all cashier should be informed of the importance of telling customers about expirey dates.
Thank you for taking the time to read this email and any remedies you may have.

Jagjit Sehdev
from Brampton, ON
My car 2004 Grand Prix was towed by Canadian tire roadside size assistance to Canadian tire ,499 Main Street south on May 3rd 2019 for Repair due to one of the one of the brake line was ruptured ,brake line fluid was leaking and it was not in drive able condition.
Car was examined by one of the mechanic and he determined and was adamant he will loose his license because he sees a rust spots on the other line as well and other brake parts as well to be replaced . Just because he was not interested in replacing line he created a repair order as fast as he could of $3032. Even myself is an Aerospace Engineer i saw in the the facility resources were very minimum and not competent to handle that kind of repair. Mechanic didn't even put a brake line fluid in the reservoir to test the leak even i did it at home to see the leak. So then i called the Canadian Tire Roadside Assistance to be towed back to my residence. Even though i was a member he said i will be charged by $65 +Tax. Good experience though .
So i ended up paying to Canadian Tire Total: 62.15 + 73...= $135.00 .

Charlene
from Newmarket, ON
I went to get my tires switched from winters to summers at the Newmarket location.
I made an appointment for 2pm on a Monday and had me waiting for 2 hours as still had not gotten to my car.
I had to leave to get my children from school, so my car tires did not get done.
What is the point of appointment bookings if still making the customer wait for that long.
The representative was also very rude and inconsiderate.
Worst customer service ever. Will not be going back.

2 weeks ago I was driving to Sarnia to visit my Mom. I was driving from Brantford to Sarnia. As I was approaching Sarnia in the rental car my right tire was loosing air. I was very nervous but managed to get to Sarnia and filled the tire with air.
When I was leaving to drive back the tire was worse so I went to Canadian Tire on London Road, Sarnia Ont.
It was 4.50 and they were closing at 5,00. I wasn't sure how to get in so I tapped on the window. The young lady glanced looked away and pointed to a.door . As I came in I was already irked by the rudeness , the young lady did not really acknowledge me until I was literally standing in front of her and even that took time. I explained my situation and her answer was no we are closing. I again stressed to her that I had to drive back and needed a solution. Could they change the tire something. The answer was no and she suggested to me that I go in the store and buy a patch kit. I was rather shocked and again said to her so there is nothing you will do because you are closing in 10 minutes. I walked out and she actually said to me have a nice day really,,,, I went to a gas station and the attendant fixed the puncture in 5 minutes with the best service. It takes a lot for me to talk about customer service as I have been in the industry for over 45 yrs. I would not have any customers if I acted like your employee. I was very disappointed in the NO customer service I did not get. I'm not sure if you care I just felt I should say something.

Terry Miller
from Stayner, ON
Me and my son took his 2007 Ford Edge to the Canadian Tire in Collingwood Ontario on Monday April 29 2019 for a summer tire changeover . Upon inspection, the service dept. told us that we needed a front steering linkage and this required a front end alignment. When work was completed, my son drove home. When driving to work on Thursday May 2 2019 my son could hear strange noises coming from the rear of his car. He knew a mechanic at his workplace who checked the car over and was shocked at what he found. The tire lugnuts on all 4 tires were all loose. The mechanic tightened and torqued the wheels. My son had been driving with these loose lugnuts for 3 days..A very bad situation certainly could have happened.
I will never do business with this store again. The mechanics, except for a couple are young and irresponsible.
Please comment on this matter. I do not feel that I owe Canadian Tire any money ($209.94) for this poor work.
Terry Miller

I went to the cashier and she had to own me 15 cents canadian tire money.didnt even ask me if i had the point card and she just closed her till and started to walk away. I said to her dont i get my ct money and shes like i dont got 15cents. But when i asked her again she only gave me 10cents and she had the 5cents in her till.. But she told me they dont give out anymore. And started to walk away again so i just lefted

First off went to pick up my new tires that i bought online Canadian Tires website, and when i got to the store a older man working decided to tell me i had to pay for the tires even though i already paid online with my CC. I told him i already paid but he insisted i didnt and was giving me attitude to the point i would of ripped him a new one. After settle the arguement i got my tires and left. Today i decide to call the same store after seeing canadian tire page saying walk in or book appointment to get tires change so i did. I call the same store i picked up my tires and was told they dont do appointments. Wtf are these workers on, im a very busy person and this is why i need to book an appointment. I cant sit in your store all day waiting for the one moment your store can change them. This is honestly unacceptable. As much as id like to get my tires installed at CT and starting to give up and give my business to another company who cares.

Canadian Tire triangle credit card and department, Recently I had to get a replacement card as there had been fraudulent use and charges on my card, at that time the lady was helpful, actually don't use my card regularly but, In Feb. I had to do an online course and also had to purchase security update on my computer , so I used the card , then when I got my statemen I realized there kept on being charges on my card so in March I called , they reversed them and said the only way was to re issue a new card. At that time she did not explain that the charges would be carried over , and I waited to see my next months statement. I have always paid more than my minimum sometimes paid over what I owed . so in April 10 I tried to renew my office 365 and my card did not work . I had received new card but had not activated it . I activated it online so I thought and proceeded to try and buy 365, however it still did not work I called the # for Canadian tire and they said the system was down and try online . I thought ok I've done that and I should be good to go . I only have a $300 limit . and the balance said $129.90 and when I had not received the statement Today . April 16th ( March' s Statement...) and said differently , and that it was due on the 16th . today . Yesterday when I called it said I had not made a payment since Nov. 2018 at that Time I had only used it 1 or2 times for small amount and had not used it till Feb. … and they said until the $129 was paid It would be blocked I tried to explain the situation and they did not help only restating policy, I tried to explain that I had contact with Canadian tire re the fraud . so not Like I did not communicate, and that I was waiting for the statement first . for the new card to see all was well as and charges had been removed . they didn't care so I went directly to a Canadian Tire Store to make Payment in Full for $130. and thinking with this day in computers it should be quick and almost immediate. however not the case the card would not today work and when I looked online the credit payment had not been applied , and when I spoke to someone again today I was told it will take 2-3 business days .. and yesterday I was not told that .

I have been like most Canadians doing business with Canadian tire, as a proud Canadian to support our Canadian business Unfortunately I was not happy with the experience of walking in buying a new tire, finding out that they will not put the tire on for you. They say due to policy, what happened to simply buying a tire and having them take your old tire off putting a new one on. This is friendly Canadian tire good service and be happy with the purchase and drive away. Why sale tires and call yourself Canadian tire if you can not offer the simple care free service of changing the tire. Recommendation change your name to "we sale tires see you later bud". This is the most unpleasant experience of having to go home take tire off and taking it there paying them for new tire $190.00 plus $24.99 shop charges and shop supplies $2.50 to put tire on rim roll it out go home and put the tire on yourself. How are you suppose to want to go back knowing every time you have to go through this. The staff member was excellent, but he has to follow policy which we respect, leading to writing this letter hoping for us poor Canadians to be heard, this is not the first time that I have complained about this same store, other time I stood in line for almost a hour just to get any kind of service, to give my money to your business to buy your tires. Something is seriously wrong here, I hope the board of Directors can look at changing policy or do something to simplify buying a new tire and changing it for you, with out all the red tape. I will in the time being look for other sources to buy my tires and a more stress free business transaction until things improve with "we sale tires see you later bud"!!!!

Apr.,5th 2019. Visited C.T. to have 4 new tires installed, young lady at the service desk was very knowledgeable and helped me select the new tires.
When work was complete, my car was delivered outside. Upon looking at the tires, and at first checking them, I thought they were the same old tires. Closer examination found that it was the Sealing Solution ( Rim to Tire sealant ) that had stained the side wall. Upon returning to the store, I was told that " we don't clean tires".
i said " Surely a new product should look its new, and a customer not have to ask for it to be clean " ? When I arrived home I called the Store Mgr, but got an assistant,( Travis ) who put me through to the service Mgr., ( Amire ?) the same individual who said ( " we don't clean tires" ) All it would have taken was a sorry and have the worker wash down the tires clean before installing them, and the solution dried in. I would not be writing to you except for the fact that I experienced a certain attitude, there was no sorry or have someone make the tires look as if they were a brand new product . Not a very good immage for C.T. customer relationship. Now I'll have to attempt to clean them, if possible. I have photos. How can I recommend C.T. service to my friends. Will I receive a satisfactory response ?

Lisa Boyle
from Delta, BC
Upon checking out I specifically asked the cashier which card to use to ensure I received Canadian Tire money. I had my VISA and Debit Card both available. She barked back that she doesn't decide how much money to give me the computer tells her. I repeated my request. Again she repeated her response. Finally I got thru to her and she said it didn't matter how I paid - the computer told her how much money to give me back. So I used my VISA. Her face dropped and she mumbled oh it didn't tell me how much to give you so she gave me 10 cents. I spent $42.36 before tax and 10 cents didn't seem correct. So I went over to the service counter. Immediately the girl said oh its your fault you used your VISA. I explained the situation and she cut me off saying that cashier was new. I kept my cool and said that it was fine that she was new, we were all new at one point. I told her I was just asking for the Canadian Tire money as compensation since I specifically asked which card to use to pay. She huffed and puffed and finally gave me a $1.00. She then took two second to speak to the cashier in line and that was it. Both girls were very young and I get that is who you hire part time. But my gosh, some training in customer complaints and resolution is needed. All the cashier had to say was this: "Oh I am new and am not sure but I would be pleased to go and check for you. Do you mind waiting a moment while I do so?". A perfectly acceptable response and we would not have had any of these issues. Training is always the first thing to be cut. But your store in Tsawwassen (Canoe Way) is in desperate need of some.
My receipt information for you: Purchase made on March 31 at 3:23 pm. Operator #33 Float: 001 Transaction #105

William Bell
from Scotsburn, NS
The ctc store in Antigonish n.s. Is a dis raise to your logo . If you go there you can be sure of a long wait at the checkout ,That being accepted ., them you don't know what you will be charged . Display showers a price then at the cash full price .l have been a support of your co for years, I was a employee in Toronto at distribution centre , alwalles very proud of ctc ,the owner of Antigonish told me when he took over it would be much better experience shopping there , but it is worse . I use your card for all my purchases for years .But no more l will not buy at this store ,or use your card ,.l know you don't care I an only one person , but you should hear what I hear when waiting to check you ! Good Buy CTC

A yes I was accused and kicked out of canadian tire for 2 years in moncton nb and there wasnt even product or any items on me that where stolen is there a way to get that lifted cause I do spend alot theet

On Feb 19/19 I took my 2008 Chev. express van into Canadian Tire west in Saskatoon to get a tire repaired, I had reinflated it and matched the pressure to the rt front tire. both valve caps removed in the process. I was contacted that the tire was not repairable and asked my direction. I told them to replace both front tires as I wanted a match for handling. I then went to the store and was advised that a sensor valve had been seized and broke when the valve cap was removed with plyers. I had just put it on with my fingers. I tried to explain that to the service manager who walked away from me, I was then told the overhead door had been dropped on my van damaging the rear corner of it on the right hand side. I looked at the damage and asked how it was possible for a falling door to cause 2 gouges running horizontal across the back of the van door after breaking the fiberglass corner piece, paint photo graphed by myself at the time shows the damage puseerd horizontally from right to left of the vehicle. The service manage told me he would give me the tires free and I could fix the van myself. I refused the offer, knowing the damage was more than the tire. I was then told by the manager to take the vehicle to Lazer autobody in Saskatoon and the store would pay for the repair. I took the van on the 20th to Lazer for an appraisal, which came out to 919.92. I took two copies from them one for myself and the other for Canadian Tire. I have also confirmed that Laze autobody also sent them a copy. I went to the service manager, Curtis and gave him a copy which he thought was too high I pointed out Lazer had given them a discount because of being a regular customer. He authorized the repair and I made an appointment for this morning Mar 11 to get the vehicle repaired. When I arrived at Lazer they said Curtis had not authorized the repair and called him. He denied sending me to them and said for me to take the vehicle to Funn autobody. I spoke to him on the phone and he called me a liar when I said I had been sent there by him. Lazer is not a company I had ever dealt with before as I have a friend that runs a body shop which he had refused. He further stated they had never dealt with Lazer in the past. The owner and bodyman at Lazer said they had done many jobs for Canadian tire. He basically called them liars too I proceeded to The Canadian tire store and asked to speak to him. I asked to have the store manager present which he refused. I repeated he had sent me to Lazer he again denied it he also denied calling lazer to arrange a loaner vehicle for me, which they confirmed. He began shouting at me that I would take it where he told me or it wouldn't get fixed. I wish to file a complaint regarding his abuse and conduct but mostly his lying. There is much more detail which I don't have room here for. The store manager arranged for the repairs to be made but I have had days of my time wasted. been lied too about the whole process. I expect to hear from your company in regards to this issue. I would have contacted the store owner direct but apparently that is impossible.

I have four Cooper Discover A/TW tires on my truck that after 2.5 years and 50,000km the rear tires are completely worn out and the front still have a year or two left. I called the local store to inquire about having two tires installed and was told to bring it in. I use the truck for plowing so I dropped the plow and headed over. I was told by the lady at the counter that they would have to install four tires as this was Canadian Tires policy, I explained I only needed two and didn't want to pay for four when the fronts were still good. She couldn't show me this policy in writing, so I called head office and they had not heard of this. Makes me wonder what would happen if I had one tire blow would they make me buy four? As a business owner in Sudbury who spends over $10,000 a year at these stores I will now have to reconsider where I shop if this is the type of service I get from this store. Very disappointed.

There was a basket of extension cords which had a sale display sign saying $36... So my husband and I grabbed one thinking, that's a great deal. Purchased it on 02/09/2019, went home, opened it, used it. Then on 02/16/2019 I took out my bill because I wanted to return another item. I noticed we were billed $59.98 for the extension cord!! When I went to Canadian Tire, I explained the situation and the manager told me that they cannot honour the price because the extension cord I got wasn't the one on sale. I explained that I got it right out of the bin with the sale price. She rudely told me that it was different and there isn't anything they can do. I asked if I could switch it to get the sale price but I don't have the packaging so her response was no. I expressed how based on the circumstances, that the item was in the sale basket, it's a mastercraft yellow 50' extension cord. The only difference was mine didn't come with a button to lock it, which is actually better. Please, I begged with her that $20 is a lot for me and based on the situation, that if someone put the wrong product in the basket, why would I be penalized for that, is completely unfair and as a dedicated customer I am very disappointed that they would not give me a $20 refund. I asked to speak to another manager and she said sure, so she call another one and on the phone, gave all the details (whispering while I was there watching her). So needless to say the other manager said no as well. NEVER in my time shopping at Canadian tire, have I been so disgusted with the way I was treated. For $20, I spent over 30 minutes pleading my case to which I was rudely turned away. I know that if I was at Home depot, they would NEVER treat me like that. They would have honoured the price based on my situation and circumstances. After all, it was mastercraft, a CANADIAN TIRE BRAND!! I can understand if it was 2 totally different products, but the only difference was a little button on the end that locked the cord together. UNBELIEVABLE!! This is my last attempt to ask that I be refunded for the mistake that was no fault of my own. I have provided the bill for your review. Keep in mind, I just bought a $1500 snow blower from you which I could have easily purchased elsewhere.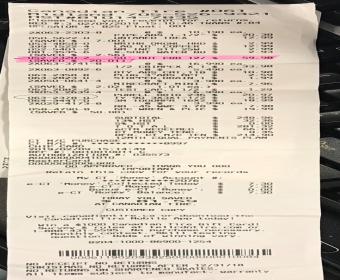 *Always advertised items not in stock. Many times wasted with trips to this store and "not in stock" on 1st day of flyer sale
(typical excuses, late delivery, shortage at warehouse, etc.)
* Never any assistance from staff
(hunting staff down, then sent to wrong aisle or ignored when obviously seeking items... wasted time in unhelpful store)
* Useless to call before going, most times NO ONE answers phone and if able to leave message, manager ignores the voice message!
* Don't bother buying here if there's question of returning (for refund, exchange or even a gift card) No flexible at all for customer. Lousy return with a receipt, absolutely NO allowances without, even though positively Cdn. Tire item.
***All in all, worse experiences with every visit! Will not return ever, will go further to a more compliant, amicable customer friendly outlet

J'ai acheté un matelas pneumatique WOOS Nro de série BWNTHO 7736S /2017/05/09 chez vous au printemps 2018 .
Après un usage raisonnable de week-end ce matelas réclame SIX Pièces collantes pour boucher des trous qui se trouvent tous dans les alvéoles et présentes des marques de faiblesse du matériau défectueux. Je dois ajouter, à votre attention, que j'ai acheté des matelas tel que celui,là de marque COLEMAN depuis vingt ans CHEZ VOUS , à votre succursale de St.Jérôme dont j'ai toujours été satisfait dans l'usage similaire c'est-à-dire trois fois par semaine.
Je dois ajouter que les personnes qui l'utilisaient pèsent chacune 48 et 58 kilos et sont octogénaire ? Vous pensez bien que nous ne sautons pas dessus du deuxième étage "pour le fun" ! Je m'attends à ce que vous fassiez le nécessaire auprès de la compagnie WOODS pour que ce malencontreux "citron" soit remplacé par un bon item semblable.
Je dois ajouter que je regrette beaucoup de ne plus trouver le nom de COLEMAN sur vos étagères ?
Bien sûre j'ai essayé en vain de trouver un bureau de plainte à la clientèle sur le site de WOODS SPORT.?
J'attends maintenant votre réponse et vous assure de ma fidèle clientèle...je n'en dirais pas autant de WOODS ! Jean-Pierre Lequéret
tél. 4502282170

Julia Mazur
from Theodore, SK
On Sept 21 2018 i was going to pick up steer manure I needed 8 bags so wanted to get a price before I would purchase I asked a employee the price (Leo he said $2.98 but than asked a another employee she confirmed on $2.98 the fella went to get them while I went to the checkout paid for 8 bags which than the employer delivered to my vehicle . When I got home I noticed I was charged $3.49 I am 82 years old and a 40 minute drive to Yorkton and could not return to the store till two weeks later . Before I went to customer service I asked an employee the price which he said $ 2.98, I than complained to customer service the lady in charge was very brief "Oh no these were not $2.98 for some time " She said I can bring them back. I had to get someone to remove them from my vehicle you don't want steer manure in your vehicle for two weeks the lady in charge was not friendly and I feel she could have refunded me I was told by three employee price $2.98. this is a late complaint but because of some health issues I prolonged this complaint. please look into this matter . julia mazur 306 563 6642

I have 2 complaints about 2 different CTC stores. 1) Chatham store - took my 2003 GMC Sierra in to have the serpentine belt replaced almost 1.5 ago, 2 months ago there was a loud squeaking under the hood. Took the truck in for an oil change (NOT AT CTC), and they found the old serpentine belt wedged inside under the engine. YOUR employees just left the old belt in there. I did not call the store, because there is no point, nothing every gets done. 2) Took our 2015 Sonata in to CTC in Blenheim for an oil change, pretty simple stuff. They tore my skid plate off and then told me it was damaged and they couldn't put it back on, took over one hour for an oil change. Didn't look at the sticker they gave me for the next oil change but it was 15,000 KM over what it should have been. Took the car in for another oil change at a different location, they CHECKED EVERYTHING and found that the skid plate had been torn away from the car, they were able to put it back with a lot of work, but it saved us over 300.00 because CTC said we needed a new one. The older gentleman that does the oil changes in Blenheim needs to retire, he has no clue about newer vehicles and instead of taking the bolts out of the skid plate he just ripped it off. I am beyond angered at your service in these two locations. We will never use your service department again. They are the most uncaring, uneducated so called mechanics that I have ever seen. I'm sure nothing will get done as we have complained to CTC in Chatham before, but nothing changes. I don't want anything but an apology and for you to finally educate your mechanics on the proper way of checking to make sure they know what they are doing. This could have been a very expensive oil change had another place would not have fixed the problem with the skid plat
John Mailhiot

Robert Miller
from Regina (Al Ritchie), SK
Was At Swift current yesterday, stopped at Canadian tire to see about an ice auger? received very good service from employee in the department! Stopped a bought a few more items. On the way out a gentlemen stopped me and told me I would get a discount on my purchase, turns out it was a credit card push!!! He followed and perstered me even after me telling him I was not interested! finally got fed up and gave him my info and signed up! Went to check out and lady told me I couldn't use my card because I gave this ass my number! I have only one crd and no other way to pay? AT the till this women and this man tried to embarrass me! bullied me and created a stir! I will not go into another Canadian tire store ever again! The 600 dollars

Bert Rieti
from Burlington, ON
I have never made a complaint to Canadian Tire as it has always been one of our favourite stores.
On 2018 November 29 at approx 8.00 pm, my wife and I attended Canadian Tire on Tecumseh Rd E in Windsor Ontario in order to purchase two different Bissell vacuum cleaners for Xmas gifts. We located an employee who was near the area (later learned to be Sabrina) who advised us she would attend and had us wait in that isle. We waited for approx 15 minutes and realized she was not returning therefore, we attended the service desk to request someone assist us and they paged an employee. After some time the same employee (Sabina) attended rather reluctantly and it appeared that we were bothering her. We remained polite throughout. We purchased one and let the matter rest.
Tonight, 2018 Dec 06, I returned with another family member to purchase another more expensive Vacuum that was on sale from $350.00 but could not locate one. A.young man approx 17 yrs was near the same isle as observed that we needed assistance. He was polite, helpful and called for an employee. The same employee who works that section (Sabina) attended the isle and I politely asked if she could assist me in locating one. She advised me to wait in the isle once more. Again it appeared as if she was annoyed at having to do so. Approx 15-20 min had passed and it was obvious that she was not returning. The same young man was still near the isle and I advised him that she had not returned. He looked surprised. He again called for an employee. After several minutes, the same employee (Sabina) attended with a very sour look on her face. When we realized it was the same employee with the same poor attitude, I refused to be helped by her and advised her that I would do it on my own since I waited 20 minutes for her again.. I subsequently - with difficulty, found the vacuum and purchased one. I located that same fine young man and thanked him repeatedly for his help. I also advised him what had transpired because I overheard Sabina bullying him and making excuses stating that we did not need her.
I am 57 yrs old and respect that stress can affect us all but, please recognize that the store was practically empty. I remain so offended by this woman that I have resorted to submitting a complaint like this. I understand that we all are taught to take a cool down period before acting on our impulses but, I cannot help myself on this one. I have been a loyal customer of Canadian Tire since I was a teenager and have always been more than happy with the service I received in the past. I have always been respectful to your employees and received that respect in return.
I thank you in advance. Respectfully,
Mr. Bert Rieti
1622 Chornoby Crescent
Tecumseh, Ontario, Canada
N8N-4W3
(519)818-6058

Lauradrexler@hotmail.com
from Toronto (Old Toronto), ON
I was injured at a Canadian Tire store December 2nd the Store ignored it customer care has escalated and they continue to ignore. It was even caught on their cameras but they continue to ignore I have medical bills in time off work is the next step legal... they refused to pick up the phone
289 851 8402

Rivelino Mondesir
from Toronto, ON
It's been 30 days am waiting for my credit card in my mail box am getting tired and fed up about the bullshit lies 1st overall I didn't ask for a credit card u guys offered it to me my card is a 8000$ credit card when I start it it was 2000 something now it's at 8000 cause I take care it good now they cancelled my card with out me asking to cancel it by saying they notice that my card has been flagged by other people tried to used and they gonna send me another 1 ok kool
Now it's been 30 days am waiting for a stupid credit card I called to asking to talk to a supervisor same bullshit answer oh my card have been mailed it take 7 to 10 days to receive it now 30 days still no fucking card in my mailbox I need to know if they gonna give my card back or no that all I need to know

Michael Salzman
from Kanata, ON
I am a frequent customer at the Canadian Tire store at 8181 Campeau Drive Kanata, ON K2T 1B7.
Staff is generally friendly and competent. On Black Friday (Nov, 23, 2018) I was served at the cash by a young lady called Maria and I decided to write this note because it is rare to receive such a great service. She was quick, decisive, and very helpful, considering how crowded the cashes were. I signed up for a Triangle card and gentlemen who took my info was suppose to meet me at the cash to apply my discount but he did not show up. Maria, with no hesitation, locked her cash and within seconds came back with the man and finalized the transaction without a glitch. All that with smile and efficiency. She made me feel special. Thank you Maria!

PaulMcDonald
from London, ON
I was in your store today 1975 Dundas St. East London Ontario my purchase was $1018.12 + tax used my Ontario Status card the cashier put it through but did not know how to fill out form asked for help and my card was then rejected after I already payed. I used my status card in August and it accepted then in September it was rejected. Just used it on Friday November 23/18 and it was accepted with supervisors ok now today Sunday November 25/18 it was rejected. I was told just because it looks like an Alberta card they cannot accept it. My card is from the Algonquin area here in Ontario not from Alberta. This is BULL SHIT and I will NOT be shopping at any off your locations ever again. not even really sure if the money was put back on my credit card after being rejected. May have been double charged but won't know for 3 - 15 business days.
Attached is photos of my friday receipt sunday receipt sunday void and both sides of my status card.
As you can see on the top of my card it says Algonquin First Nation witch again is in Ontario not Alberta so my card should be accepted in all your stores.
Employees need to get their SHIT together on these things.
Just pissed off a customer twice over this since September
Hope something will be done about this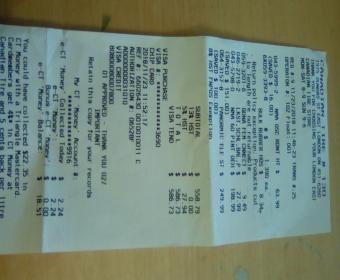 Have feedback for Canadian Tire?
Thanks for your feedback!
Sorry. Please try again later!