Burger King
Burger King Complaints Continued... (Page 6)
659+ reviews added so far. Upset? Call Burger King corporate: 1-866-394-2493

Elena Camacho
from Port Saint Lucie, FL
On 2/9/2015 My daughter and I were driving home to Port Saint Lucie from North Port Florida. We stopped at store number 6400. An employee by the name of Carlos was acting very unprofessional. He took a fried and threw it to the back where the cooks were. He went to the soda machines and when he went back behind the counter he didn't go through the door he went over the counter, this he did two more times. He was yelling at other employees "in a playful manner" I will never make a stop at this location. Every now and then managers should take a look at the videos of the daily course of the day. They will be surprised at the many things their employees do while on duty.

Randal Hyde
from Springfield, MO
I was in the Burger King store on North Glenstone in Springfield Mo today, Feb. 4, 2015 at 12:30 when I heard the manager make what he thought was a joke in front of his workers. I assume he is the manager, he dresses differently than the rest and is always telling everyone what to do. I will mention that he is Afro American only so that you can better identify who the offender was. Today I was waiting for my meal when a very short girl came in with two tall young men. The main cashier is an older, very friendly guy and he said something to the rest of the workers about how short the girl was and how tall the two young men were. At that the manager loudly stated, "Well at least her knees won't get tired, if you know what I mean." Then one of the women working stated in a disgusted voice, "Oh we don't have any idea what you mean." I thought his comments were totally inappropriate and in especially poor taste given how very young people often work in there. I know that this Burger King is independently owned but hoped you might be able to have some control over such behavior.

Elizabeth Fuller
from Rugby, ENG
On Tuesday 27/01/15 I took my 6 year old nephew to Burger King as a treat, on entering the store I noticed it was very untidy, there were wrappers and food all over the floor and there was not one clean table, We waited in the queue for a while which was not a long queue but it was taking a very long time to get served, during this time there were at least 3 people behind the counter but only one seemed to be serving. While we were waiting no one attempted to go and clear the tables so I asked who appeared to be the more senior member of staff if anyone was going to clean the tables, this was not received very well by the staff member who made me feel as I was wrong to ask, she grudgingly said she would clear the tables. We waited another 5 minutes or so and still the tables were not cleared and there was no sign of getting served. So we left. I appreciate that this is a new store and the staff may not be fully trained but basic cleaning is a must in any eating establishment.As is Politeness and good customer service, non of which were evident in this store.And to top it all my nephew was disappointed as he had been looking forward to his treat. i would like to have removed the one star on the rating but this wasn't possible !!

Linda Dilling
from Spring Hill, FL
I ordered a 10-piece nugget from the Burger King on Commercial Way (Highway 19) Spring Hill, Florida. The service was fine, but the 2 sauces (1 honey mustard and 1 ranch) were each served in a one ounce circular plastic container with a lid. Each container was less than 1/2 full (1 tablespoon, not one ounce) per container. That was not enough sauce to dip all 10 nuggets. A posted sign said that additional (1 tablespoon) sauce would cost an additional 25 cents. The taste was good, but not served with the amount of sauce that I discovered online should have been served with the nuggets, which would have been plenty.

Stephanie Roby
from Memphis, TN
The burger king #11934 is not a good place. Employees have bad attitude in the last two weeks I have got wrong order and I buy it daily. Spoke with manager who was just as bad after explaining my experience she said okay and nothing has changed. Each time I ordered a icee and was told it was not working at drive thru after wrong order went inside and the icee machine was working, today I ordered it and got same response from Chitara not working I asked her to check due to day before it was working. Each time I was on break had to take 20-25 to correct a order. I will not shop there anymore due to lack of customer service. I don't know manager's name this happened today and yesterday and many other times. Today was just enough!!!!!!

I went to the burger king in Bessemer Alabama. And plainly said no mayo on all 6 of my chicken sandwiches and got halfway down the road and started passing food out and there was mayo on my sandwiches. Not happy at all. If I r one of my kids was allergic. To something n I said no whatever n they do it and me r my kids ate. It n died it would be there fault.

Brenda L. Markley
from Wooster, OH
I am a regular customer about 2 to 3 times a week for 2 plus years for lunch at your Burger King on Cleveland Road in Wooster Ohio. I was given a $20.00 Gift Card by my Supervisor at work. I tried to use my gift card today (1/15/14) and apparently the internet was down and the card would not work so the manager asked me for another form of payment. I did not have enough money on me to pay for this. Thank goodness a friend was with me and had the money.
My problem with this is - why did you not just give me the cash off the gift card and once the internet was back up and running then they could have run the card or the other option since I am a regular customer the meal should have been for free.
The manager was very rude and not understanding at all. Just keep repeating not her fault the internet down but you need some sort of other payment. I do not know the manager's name but we ate in there around 11:10 a.m. The lady at the register was much nicer than the manager and kept repeating how sorry she was. Your Manager never said she was sorry.
After this incident I will never ask for another gift card for Burger King for Christmas as a present. I am also reconsidering whether to eat there anymore. I felt very humiliated in front of the other customers like I was trying to not pay for my meal.
Very unhappy customer - Brenda L. Markley

I now know why McDonalds has such customer loyalty. At the very least their product is consistent, Burger King's is not. I visited the Jerseyville location via drive thru today and it was far from fast, convenient, and satisfying. It was rather, a waste of both my time and money.
In the drive thru I ordered a double Whopper sandwich, a bacon cheeseburger, onion rings, and sweet tea. Upon receiving my order from the drive thru I began to pull out of the parking lot taking a bite of my bacon cheeseburger and could not taste any burger. When I opened the bun I saw a slice of cheese with 2 strips of bacon and no burger. I turned around parked and went in. I informed the young woman working that my bacon cheeseburger had no burger and showed her my sandwich. She took it laughing loudly threw it away and hollered to the cooks "I need another bacon cheeseburger, this one has no burger". I stood waiting, after a few minutes a man (looked like a supervisor or manager) grabbed a sandwich from the warmer tossed it on the counter at me and said "here you go". I took the sandwich and left, amazed at the lack of empathy and apologies.
When I got into my car I opened the sandwich to look at it, this time it had a burger and I guess you could say it had bacon. It had a piece of bacon that was about an inch long, it was as long as it was wide. I should have gone back in but by this time my sanity and time were worth more to me than this sandwich. The onion rings were undercooked and cold by the time I got back in my car. My family member told me (who loves McDonalds and never wants to go to BK, now I know why) that the sandwich had meat unlike mine, but lacked any flavor at all and was @ $5, so not worth it.On a bright note, I can report to you that the sweet tea was good.

There was a pile of dirt on the floor and instead of picking it up they stacked chairs to block off the area beside the pop machine. Rude and crappie service,asked for two whopper Jr and the guy rang up two whopper Jr meals then I order a kids meal for my kid obviously and he asked if I wanted to get anything for my baby as if I was neglecting her. Then to top it off my wife orders hers and he looked at her and just rang up a large when she said something he said I just assumed that you would want that, implying that she was just large. Crappie service and that is being polite.

I purchased food from the Burger King #7252 at Maplewood Plaza, Coral Springs, Florida 33071 and brought it home. My four year old granddaughter took three bites of a chicken sandwich and we noticed it was raw. I went back to the restaurant and all the manager could say was he was sorry. I have pictures of the sandwich and it is in my freezer. I am done with Burger King other than contacting my lawyer and posting the pictures on facebook.

On April 4 ,2014 I went to the Burger King in Imperial Beach, CA 91932. I ordered 2 Angry Whopper Combos, when we got the order I had my passenger check to see if we had 2 orders. When I got home we preceded to eat our burgers when we noticed it was just a regular double whopper. Fast food is notorious for leaving out items in the bag but this is ridiculous that I have to open the box to check my order too. There wasn't any cheese, the burgers were watery. I was very excited to have a Burger King back in our neighborhood but this experience has left me questioning my enthusiasm. I would appreciate some feedback.
Thank you,
Pamela Craver

Every Friday I treat myself to a breakfast on the way to work, and usually stop by this store before 07:00 am. They never get my drink correct and I can usually catch it and have it made correct, this morning my total order was over $12.00, and no receipt and when I ask for one there is always an excuse. When I stopped by the store later to talk to them, the manager in the afternoon only wanted to know where my receipt was. I brought back the original cup and he told me it was a small cup, when I told him I always get a medium he only wanted to know where my receipt was. When I tried to tell him the person in the morning never gives a receipt, he just kept repeating "where is your receipt". I now wonder what is being charged for my order, and not knowing what I am being charged I suggest you may want to audit their accounting on what is being charged to customers. The other big problem there is usually someone who cannot speak clear English and getting the order incorrect. I will not go back to this store and the owner needs to make some big changes because it is terrible, and the lack of manager ability is really bad and this is not a way to run a business. I am very unhappy with this Burger King in Chantilly, Virginia and I suggest no one go there. You may want the health department check it out as well.
I would suggest the health department check this place out, and make it mandatory to get a receipt, and find people who know how to manage the store and knowledge of good customer service as well. Not getting a receipt even when you ask for sends up red flags for me. Not a place I plan to every go back to, you would think Burger King would be upset with these actions and try to make corrections.

This complaint is being sent as a result of one of you Brooklyn Franchises not having satisfries. I arrived at the store around noon today and was told by the sales clerk that no more satisfries were being made today. I told her it was only noon. I was in the drivethrough so I could not understand her reply but never the less, I left with no satisfries. This is the second time in three months I have had this same problem with this particular store. Is this a problem with this store or a company wide issue?

I went in to Burger King this past Friday morning, which is located in Rittman, OH and it was a dirty mess. The counters were not cleaned and pop machine area was a mess. The elder lady behind the counter, her clothes were so dirty to look at, that I almost walked out. Apparently, the people that work at this Burger King does not take pride in their restaurant or themselves.

Just went to Burger King, store #1621, at 13721 N. Cleveland Ave. N. Ft. Myers, FL 33903. The girl at the register didn't know how to ring up my order, got the "manager" who said I could not use a buy one/get one coupon with a value meal. I said this place has always done it.
She rang everything separately, DID NOT give the extra large fries nor the extra Big King burger that was buy one/get one. She charged me for each item separately then did not give all I had ordered which was for my grandson. When I got home, we went through the bags and not everything was there, as is what happens a lot. They were not busy at all. I was there at 3:03pm. Since I have been sickly this week.
I did not feel well enough to go back to the store since it is a ways from where I live. If Burger King cannot get people who can do the job properly, I will not be going back there no matter how many coupons come in the mail. It's not right to charge those higher prices and then not get what I ordered. I worked at Burger Chef many years ago and would have fired on the spot if I didn't get an order right the first time. These days, no one knows what they are doing and they still work! It's not right. I was charged almost $6.00 for food I didn't get.

Went to lunch today with a co-worker along with multply orders from coworkers. I was told I could not order more than two orders per car. Why? If all your odres have to have names on them and they are numbered as they are taken. So what does it matter how many orders are in one car? Any way I was shorted my drinks on the inside lobby area because we couldn't order thru the drive-thru. So not only was iI inconvienced I was shorted my items that I ordered and paid for. So How do I get my money back without recepits they also forgot to hand out. Asked for a carrier for the drinks I did and was able to order thru the drive thru and was told they didn't have any. Who's the owner of this place I'd be glad to offer to turn your business around for you. and be more effienent with the lack of staff for the volume your doing.

My partner and I took my daughter to this Burger King on the 6th of march at aprox 5pm. Pretty much straight away I was made to feel uncomfortable by a member of staff who kept looking at me funny. After placing the order I decided to add cheese bites, as the rest of our food was ready and the place was very quiet (no wonder really) we took a seat thinking someone would kindly bring them over once they had been prepared. A little while after was aware of the cheese bites being ready and could see the member of staff looking at them and picking them up n putting them down and then returning to moping about. A couple of times she sent another member of staff out on to the floor and each time I thought he would perhaps be bringing them over on his route but no.
She finally proceeded to put the bites back in the kitchen and then came out on to the shop floor herself….my partner and I were baffled as to why she didn't just bring them with her also. It was clear she was trying to be awkward and it was very petty as well as rude. Enough was enough and my partner went up to the counter to complain to a manager who had now appeared only to be point blank ignored for what felt a very long time as he stood right infront of her! I couldn't believe was I was seeing. We wont be back in this Burger King as it was one of the most uncomfortable meals I have had anywhere. It all sounds a bit silly now I am writing it down but there was just no need for any of it at all.

I have been to numerous Burger King locations in several states the past ten years. I normally get an order to go either through the drive thru or in store. More times than not the order is not correct when I get home. Locations are Marietta, GA; Warren MI; Indianapolis, IN. I am not trying to get anything for free. I think your regional managers should step up the training. It's like the person making the hamburgers just ignores the order. I like the taste of Burger King more than McD's or Wendy's but if I get too aggravated I'll stop choosing Burger King altogether. Just FYI.

Today marks my 4th and last trip to your store on Nashville Pike in Gallatin, TN. I went to this location to order satisfries(which I had gotten in Alabama and was delicious). The satisfries that I recieved in Gallatin, TN were very greasey and tasted terrible. I thought maybe they were having a bad day and decided to cook them in regular oil. So today, marks the 3rd time I have gotten them since the 1st time, today an extra manager was there so I am assuming they baked the fries, which were undercooked and still cold in the middle. The chicken crisp that I had ordered turned out to be the regular chicken sandwich so I was charged more for my meal. I normally do not complain about anything I recieve that is bad, I just dont go back. Today I am writing this and I will not go back to Burger King. Sorry for this negative but truthful complaint.

I'm writing in regards to the ancient cashier whom received my party's order. She seemed as though she has been working for too long and was in a complete panic when a group of polite, yet traveled musicians made a single filed line in her empty establishment. We took a few minutes to work out what special value we wanted, and how we wanted it, which, to my surprise, completely unnerved this cashier. During the first order I tried to calmly explain to this woman that this was going to be a lengthy order, full of changes, and that she please be patient as we just want it our way, or so the slogan has been for Burger King as far as I've known. She did not take well to this request to take the order slowly for some reason despite the atmosphere being much like a western ghost town, no activity and no need for panic.
After a few orders, naturally, someone realized they didn't want mayonnaise, and another decided on spicy "chicken" instead of bland "chicken" and this sent the poor dinosaur into another panic, shouting order changes and clear excuses to her staff that it is our fault and surely not hers for being impatient. I can see where fault gets confusing for her, as no doubt, early stages of Alzheimer's is beginning to set in due to the fact she chose to work at your establishment during the same hours that the remake of Dallas is on TV. Have you seen that show? I'm not talking about the old version, even though I really like Mac Davis. He was an actor and musician, he knew how to have it his way. No, I mean the current one, my grandmother watches it and considers anyone who doesn't, a fool.
Anyway, now I can get to my point of this complaint, my issue is not all with this poor woman trying to earn a hard dollar but with your training for such situations. My suggestion is that maybe you guys practice breathing exercises for times of apparent stress. You could maybe pair up with a planned parenthood organization, which I'm told offer not only help to women in search of a way out of parenthood but also offer help to expecting mothers and how to have a better birthing experience. This partnership may even gain an edge on those filthy bigots over at Chic-Fil-A.
Not that I personally feel strongly about pro-life or pro-choice issues or think you guys should have any stance in the situation, but I feel this could be a good pair. Much like a woman who chooses not to be with child, a customer may feel much safer in an establishment that allows them to not to have onions on a sandwich if they choose without discrimination or judgement. It's the whole philosophy behind "have it your way".

My husband and I had lunch at Burger King in Ames on Saturday. Between the two of us we had two sandwiches….all 3 had dry buns and hamburger patties that were not even warm. The fries were hot and that is the ONLY positive thing that can be said for the meal.

After a long day at work stopped at daycare to get my daughter, stopped to get gas, and final stop was BK's drive thru. Order placed was 2 whopper jr. meals, but I think if I had ordered kids meals I would've got more food. Once at home got the food out of the bag I was in such a a shock and very disappointed, the whopper jr. was soooo small, the beef patty was as big as a dollar coin, a tiny piece of lettuce, two half strips of onion, half of a tomato round and a tiny pickle. fries the box was huge for the amount of fries in it. Overall I was very disappointed with the food, paying $10.13 was not worth it. I thank you for your time and attention to this matter.

I purchased breakfast on Saturday morning March, 8 at the Haleyville Store and it cost 4.56. All I had was a 100 dollar bill. I handed it to the girl working the window and she looked at the lady next to her and stated that she did not think she had change for that big bill. The lady which I think was the manager on duty and I think her name is Linda. "Linda" stated that she didn't have time for that and then the drive through window closed. At that time, Linda stated that it is ridiculous to bring a 100 dollar bill up there and that anyone that does should be shot.
I do not appreciate the fact that she was so rude. She thought that I couldn't hear what she said but I did. I guess I will take my 100 dollar bills elsewhere from now on and I will pass the word around that some of the staff is rude. I have already filled out a form online and have heard nothing from it. I haven't found a phone number to actually speak to a person.

On 3/7/14 area had bad ice storm. We arrived at Burger King at 11:30 am. The placed had a lot of customers in line. We stood in line1 hour and ten minutes. While standing in line we observed the following: Only one cashier on duty , four employees tending the drive-thru. Cashier stopping line talking on phone. Cashier turns out to be manager. A woman comes into restaurant and stands at the counter. About 15 minutes later two bags of food was handed to her by another employee. The woman goes to her car the comes back in.
A man comes in and sits in dinning room. The man says he doesn't feel well. Cashier stops line and goes to man. She say she is calling 911. No other employee jumped on register Man was fine, he walked out with a paramedic. After about six minutes, I went to her and reminded her the line stopped and she needed to go back to the register. We the customers would have called 911, if she hadn't intervened. This was the worst customer service I ever received. I told the manager that I was going to file a complaint about the service. After all that time, we went to dinning area to eat. Then we found that our food was cold.

Went through drive thur in Webster Ma. to order a meal place the meal get to the window to pay go to hand the manager the money it was a 50.00 dollar bill she proceeds to say this company doesn't except 50.00 dollar bills
I say ok its all I have give me a second I have a lot of change I will see if I have enough to pay in change and she gives attitude walks away and has someone else stand there and wait. I hand the man the change he hands me the bag then my drink and when I don't drive away he was rude and says well are you all set, I look at him and say yes if I can have a straw so my son can drink his drink. So needless to say I will not be going back there and I will make sure I let all my friends know what kind of people work there.

This is the second time I am filing this complaint from over a week ago to no avail Your restaurant did not have change for a 50.oo dollar bill and I was with my daughter grandaughter and husband and we were spending over 20.00. They did not go out of the way to get change and I left with no food and was told by a woman named Jocelyn to have a blessed day in a sarcastic manner. We than proceed to go to Wendys with no problem getting change from our money. I since have not stepped foot at your restaurant nor do I plan to until this complaint is answered in a favorable manner.

I live at 2834 14 Lane in Kenosha Wisconsin. There is a Burger King restaurant on 22nd ave and 18th street. This location is horrible. I have lived here for 8 years and can not think of a good or even normal service from this location. If a customer goes threw the drive threw no matter what you order you have to pull ahead and wait for someone to bring your food out. The minimum time in the drive thru is 5 mins. This is unacceptable for a fast food restaurant.
So trying to give your company the benefit of the doubt we tried going into the restaurant thinking maybe the problem lyes in the drive threw. But we were once again let down by Burger King. Slow service poor attitude and equipment that is constantly broken (milkshake machine). Please keep in mind that this is not one experience. This has occurred over dozen of visits and everytime I was disappointed. I have spoken to several managers over the years and in most cases they were just as unperfessional as the staff before them. I do not want free food or anything like that. I am simply bringing this bad location to your attention since it is giving your company a bad name. For example even when I'm in another town I don't even consider going to Burger King to eat. I just assume that I will get the same bad experience.

This morning on 04/10/2013 at 6:15 am went trough drive true some body asked me about menu specials than turn off lights waited no answer drive trough window and was open lights off at kitchen drove around saw Laddy inside , so i went to HEB store and came back lights were on so drive trough and they turn off lights again so i had to make another stop at another restaurant that make me to be late to work tanks to Burger King employes when all they had to tell me that they couldn't help me so that I could find me another place fast enough so that way could make on time to work . So you need to teach your employees that no matters what is the reason " Burger King" employees need to let customer know reason for why customer can't be help at that moment. Same reason people stop going to Burger King at Old Pearsall Road.

I work at a burger King In Dilley, TX. It is a fairly new restraint, and receives a lot of business. Although I know my customers do not always get satisfied with our performance, I try my best. I am complaining about a manager, elida samudia. She is always on Facebook, and expects me, an 18y.o. high school senior to do her job. I told her Monday April 1st, to go home, because I said I would not put up with her on Facebook, while I ran the front cashier and drive thru position. She got mad and sent me home. On April 2nd, I was told I didn't have to go in because she would be working. That Thursday and Friday I wasn't put to work because she worked the night shift. Then I was told Friday night that I had to be at work at 5 Saturday morning. Not only was that a late notice since prom was Saturday, but the schedule for the week was never created on Monday as its supposed to. I'm fed up, since I've worked for them, for 2 years, and I still get treated unfairly.

I was ezshausted agter work and chose to get a sweet tea and water at Bruger King. I got a tea no sugar and water .I paid with a twenty and I drove off and realize she didnt give me my change and was already at Walmart so i shop and went back. She said they had no sweet tea and would not give me money back or count the cashier door until 10:00pm, So now I made two trips with bad service both times and have to make another one to see if I get my money back or if she just ripped me off. I told her check the cameras they would confirm since she acted like I was lieing. My ten year old witness all this. I would appreciate a little better customer service and treatment then what I got . this was at Lebanon Mo. Burger King. Thank You for your time.

Hello, I was recently at the store in Indianapolis Indiana off of 96th street and Keystone area on Wednesday April 3, 2013 between 5:30 and 6:30 in the dine in area. We walked in and what looked like could possibly be the manager but she had no name tag, was off to the side and talking on the cordless work phone.
She walked up to the register and stayed on the phone, then walked back to the back and was still just talking on the phone and it was definitely a personal phone call because she asked what the person on the other line was doing and wanted to know if they wanted to go out. Once she finally got back up to the register she said hold on to the person on the phone and laid the phone on her shoulder, and just looked at us.
Not can I help you or nothing. As soon as we were done ordering she picked that phone right back up and was on it most of the time we were there. When we were walking out which was at around 6:30pm the girl who took our order and also the boy who was working the drive through which I am quessing is Eric because that was the name on my receipt were both leaning on the fry machine texting away.
I dont know about anyone else but I dont sit on the plates I eat off for a reason, that is very unsanitary. My favorite fast food restaurant is Burger King but a lot of the Burger Kings in Indianapolis are not properly taken care of. The ONLY one I will go to around my area is off of 82nd street in Castleton.
The one on Shadeland needs to be checked out also. If you have any questions feel free to email me.

I went to burger last saturday march 30 in salt lake city, utah. i was hoping to get a free product by purchasing a whopper. I was told that the bk cards are no longer being used. There was no notice of this on the internet or at the store. I could use my points, but I had 974 points. I talked to the manager. He was very cold and unapologetic, as was the cashier.
I needed 1000 points to get a free product. The manager said that his hands were tied and there was nothing he could do. Then, I went to purchase some chicken nuggets and I was two cents short. The cashier wouldn't help me out, so I had to break a $20 bill. I had cut out many coupons for Burger King, but I won't come back unless I am treated better.

This store is close to my home so the wife and I stop at least three times a week. Each time we go thru the drive up they totally mess the orde up. Lately we go inside and every time they are out of something( onion rings, ice cream,chicken nuggets ) I have seen a number of customers just walk out. I've spoken to severaal people at this store and they do not seem to care so maybe I'll take my business to your compitition who does seem to care

I ordered a value burrito and double sausage crossanwich, burrito was fine, crossandwich was sausage and bacon, beard was burnt so bad you could smell it without even seeing it. Also was in drive thru , never received a receipt, or any napkins. Honestly only went to the sulphur , la location on cities service hwy cause McDonald's wasn't open yet. I do not, I repeat, do not have any intentions to visit any burger kings again due to such horrible food quality, in attentive employees, and overall, extremely slow service. This appears to be the company policy, cause multiple people I know have complained about this actions at Burger King. Next time I will gladly wait the extra 15 minutes till McDonald's opens.

The menu and structure of the Burger King on South College in Auburn Al are really good, but the service is below poor and the kid's area had all the tables filthy (thank goodness I had brought some wipes with me.) Also, three different customers at three different times had to wait and wait for someone to come to the reigster. Several times we could see her in the back chatting. When she did arrive, she was not happy to be waiting on her customers–we were an inconvenience! This was Sunday, January 20 between 4 and 5 p.m. We also use the Burger King on 2nd in Opelika Al and have not found this depth of poor service or uncleanliness, but an upgrade in customer relations would be recommended.
I looked for a number to call to issue a complaint locally but found none. Both of these Burger Kings need accountability!

We called in at around 6pm last Friday evening to Burger King on the Boucher road in belfast, 1 customer was eating so it wasn't busy, we got to the counter to find the employee leaning over the counter on his mobile phone, when he saw us coming he actually tutted, we were then told by a member of staff in the clothing department downstairs that they were trying to get closed early to get home because of the bad weather(snow) which is fair enough but we couldn't relax as every bite was being watched as to say hurry up!! We ended up putting my 2year old sons food back in the bag for him to finish in the car. I couldn't complain about the food as it was good infact find it to be the best fast food outlet I just think some staff should get more training in dealing with customers. I work in a hotel myself and although its not the same if I saw one of my employees on their mobile or even slouching in front of paying customers they would have a lot to answer for.

The other day I came into the store in Pueblo, cO that is located on Vinewood Ln. A tall african american male, who appeared to be the manager on duty was getting ready to take the order of a woman in front on me, and she asked him if she could have just a moment to look over the menu, and he told her :"Aren't you ever going to order before your'e dead?" That comment really upset me and I decided not to order, and ended up going to another place to eat. I believe something something needs to be done about this man.

On Sunday Jan. 13, 2013 I went to the River Road in Keizer, OR, Burger King. I placed my order and paid at the drive thru window. I was asked to pull around to the side to wait for my order. I followed the instructions. Then waited and waited……….. Finally I went inside and inquired about my order. They had forgotten me and my order. (I had used the drive thru as I had been painting I was tired and didn't want to be seen.) There was no apology, nothing. Needless to say I was disappointed in the service. Just thought you should know.
Debra

I am a youth pastor in Tiffin, Ohio and I took my youth group to New York for a ski trip and stopped in austinburg  ohio at BK # 7305 for supper and received the most horrible service I've ever had anywhere.  Not only did my co-youth pastor here the manager say the F word in front of my youth kids, but I ordered a number 7 with cheesy tots and after pretty much everyone after me had been given their food and literally 38 minutes after I ordered I got mine.  I hope you can take care of that.  I was given a hershey pie for my wait, but i still felt a bit ripped off, not to mention we added an extra 38 minutes on to our already 4 hour trip. Thanks.

Upon entering the restaurant, my family and i had to wait 20 minutes before being served, the restaurant was not busy and neither was the drive through, there were several members of staff on duty although only a couple appeared to be working, the rest were just standing about. When we were finally served by the only person on the till, whose English was not very good and he also appeared to not know how to work the till as he asked a couple of people what buttons to push. After ordering the food, we had a further 10 minute wait for our food, during which the manager asked if we were ok as we were waiting for a while, the order was completely wrong and was quite cold. I then took the burgers back to change for new ones, it was a furthe 10-15 minutes and I still didn't have the burgers, I went back up to till and due to lack of communication through the staff my fresh burgers had went to another person, by this point I had had enough and just left, while all this was happening, there was a number of people complaining within the restaurant and also some complaining from the drive thru, this was at the Burger King in Aberdeen at queens links on the beach boulevard, I can easily say this was the worst experience I have had in a fast food restaurant and can easily say that I won't be returning any time soon!!

Since we always cook at home, my kids have asked me to get some fast food last night (01/03/2013), so we drove to the closest BK and ordered four whoppers to take out. Then drove back home (few blocks away) and ate what appears to be very strange looking whoppers with unusually cold meat. The very next morning most of my family, including me, have had really bad food poisoning. I am planning to contact the local health department on Monday to prevent such happening to other people. Lesson learned.

Wednesday 2nd January 2013 my husband,my granddaughter and myself stopped at Castlebellingham Apple Green station and visited the burgerking to have a meal, everything about it was awful, first there was only 2 staff members, 1 serving & 1 cooking, neither had any hairnets or hats to cover their heads, the girl that was cooking had red shoulder length hair and it hung around her face as she cooked, when we got the food it was digusting the fries had been reheated over & over and the chicken royale meals that we got were cold & like rubber, in all my years eating at burgerking I have never come across this, when I went to complain to the girl(Niamoi) who served me it wasnt possible as she was struggeling to deal with a lot of people on her own & we had to continue with our journey.

When Burger King first placed the Whopper on their menu, it took two hand to hold this sandwich. Now, where is the meat? Your your own worst enemy. Place your menu back the way is was and prepare your sandwiches the way it was originally planed. The other fast food style restaurant can not prepare a burger as the old style Whopper!

I went to get food from the store number 16622. I went for my wife and she had to leave my 12:45 in order to get to work. I went to the store, ordered a kids chicken nugget meal. I ordered at 12:25 and didn't receive my food until 12:48. I went inside because there was a huge line outside. Inside there were 7 people waiting. The kid at the register Don said they were short staffed. The drive thru lady was standing there, the huge guy in the back was staring at the monitors then making something without gloves, the other two employees were also moving incredibly slow. I work at a bank and under our rushes we don't move as slow as these people, we do something at least, and we always say sorry or explain the problem. No one seemed concerned, all the guests were angry, and it took so long my wife had to leave without eating lunch. I don't plan on going back, and will further my story on to others, even though it's not as if anyone says "Let's go to BK, their service and food is excellent."

I have wrote to you as we'll about Romford branch I brought 3 meals from you I ordered normal coke and diet coke and fanta well I was watching your staff she half filled the diet coke with diet coke then add normal coke to it and brought them over to the tray none of them was marked when I asked her which was which she didn't know then just picked one lucky I was watching I asked her to change. Them she. Wouldn't I am a diabetic so I can't have sugar so it is very dangerous to have to much sugar I was with my kids so I didn't want to kick up a fuss the way your staff treated me was disgusting you are lucky I didn't take the drink for testing your suppose to be friendly to your paying customers yet I was treated badly from vikki Johnson

What the hell man. I was angry when you first got rid of the spicey chicken. And now, you put out a plan chicken patty with buff. Sauce and call it a spicey chicken? When I saw the sign saying, "One dollar spicey chicken everyday" I was so happy you brought it back. Then I went through the drive-thru, and I was smart enough to get only 1 because I knew there was a chance you guys did some stupid thing like this. It is not bad, the sauce is good but it is not the spicey chicken. So don't call it that. Buffalo chicken, hot chicken, kick'n chick'n, whatever. But spicey chicken is very misleading to the people who loved the origonal.

I was hired at a Burger King here in Houston, Tx (3009 Collingsworth St.) and was given the Assistant Managers position with no experience,but was expected to perform Asst. Manager functions without training or pay for the position. I was told before hiring I would eventually get paid and trained as a full-time Assistant Manager. I was given part time hours,expected to lead a store with no prior fast food experience and was going to be terminated for not fulfilling those expectations from the General Manager. was also not given full time hours, so I had to voluntary terminate because of lack of training,hours,pay,and discrimination on the part of the General Manager. Please look into this.

I walked in to your location located in Prairieville La and was treated as though I was not there and I was the only one in line. I waited 10 min to make an order while waitnig on the manager and the waitress to quit playing around and talking and laughing and when she did finally came back to take my order and I ordered one whopper and had a coupon for free whopper with purchase of one that would expire at the end of the day this was about 1:00 pm and she told me that she could not accept this turned around and left again, finally I got tired and pissed off and left. I eat at burger king a good bit and to be treated like this is uncalled for. I hope that I hear back from you soon because I will not leave this alone. It is a damn shame for a 55 yr old man to be treated this way. Today is 12/24/2012

To start off, my girlfriend and I were at the window trying to make a decision on something to order since they changed their menu outlook and we were trying to find our normal order. The young girl who was taking our order would NOT give us a minute and was being completely rude and kept asking us in an annoying tone if we were ready yet. There was no line behind us we were the only ones in the drive thru. After being asked for the fourth time I we were ready we finally ordered the 10 chicken strip box, a small fry, and a small jr whopper meal. We go to the first window, pay our food. Second window, we had only gotten one fry so we sat there for almost 10 minutes waiting for someone to come back so we can get the food we ordered, then when we told the woman who had been ignoring us that all our food wasn't in the bag she apparently didn't understand. This woman who was probably older than my girlfriend and i did not understand us saying "you didn't give us our extra fry." After we finally got our extra fry, she took out receipt and never gave it back. Now that we're home, our 10 chicken strip piece are chicken nuggets. Needless to say, I'm furious at the ignorance and rude behavior of your establishment on J. Clyde Morris Blvd in Newport News, VA.

For the past two evenings, my family and I have tried to order dinner from Burger King (400 Highway 53 W. Dawsonville, GA 30534) through the drive thru. Each time we were advised "the credit card machine was down and we only except cash and that you will have to come inside and order." Needless to say we do not always carry cash and went elsewhere.
Also, what's the point of having a drive thru if you HAVE to go inside and order? Seemed rather fishy or either they just didn't want to deal with customers at drive thru and why is it the credit card machine is constantly "out of order" just at night? The service at night is horrible! Need a better night crew and from the looks/sound of it better equipment too!

strongly disappointed on the service I received in Lexington, Nc (290 N Talbert Blvd) I work in Lexington, NC and I select different places to eat on my lunch break. Had some nice coupons for BK, so I thought I'll check thim out. I wanted the chicken strips for 4.99 and I get a small fries & a drink. it take me 6 mins to get there so I placed my order and I strongly understand how you can be new and have problems with new promotions.
( so I calmly waited) Well the lady Kare are Kare was working the register beside her taken walk-in customer and taken drive-throw order aswell. Being patient , I asked Ms. K could she place help the lady with my order. Well to give you a picture she looked like a gold tooth , sewed in blonde and black hair, colorful long nail all that was missing from this black young lady is the fake blue eyes) well she act as if she had everything under control but leak of customer service and looking for any man to come in.
She stated the girl was new so she took over and did't know how to enter the promotion code correctly, herself ( I waited ) finally 10-15 more mins, I finaly paid for my strips and waited. Finally went back to the front to asked how long and Ms. K said it will take 10 more mins.
NOw I have given BK 25mins of my time, 10 more might be mins added then have to eat & return to work ( Now come on) So, I wanted them to cancel my order and she rudely said something being rude and pointed to the manager and said let him handle it. NOw Now NOw he had to be her boo because he showed no concern but he did credit my -4.99 back to my account. I asked for the young lady name and he wrote it down on the receipt. No 800 number or website given so I found this website.
I missed my lunch and just don't understand were is the customer service are to make it right service. will not return to that location!!!

I NEVER post things like this, and very rarely even complain to the restaurants when there is an issue because I don't want to complain about FOOD…but I have had it. There is a location in Tampa near the stadium that cannot EVER get my order right. The last 4 times I have gone there I have gotten to work or home and it's been wrong and the fries are notoriously COLD and nasty after 6 PM.
The first of the 4 times (this is not including other times I have not kept track of) I ordered a whopper and chicken sandwich with extra cheese. Got no cheese. The second time, ordered a large cherry sprite. Sat in line 17 minutes, got to the window, was still asked to pay for the drink and got half way down the street and it was a fruit punch HI-C.
The third time, asked for chicken sandwich and whopper again but with bacon, got cold hard fries, no mayo on my chicken sandwich, no bacon on my whopper. Then the following week go for breakfast and order a double croissanwich with extra bacon. Now … for the life of me i can't understand why this is so hard to understand for these people, but EXTRA BACON means, add EXTRA bacon to what it already comes with. If I wanted extra bacon to replace the sausage..
.I would say "croissanwich no sausage w/ extra bacon" they take it upon themselves to leave the sausage off and this is not the first time. I have worked in fast food and so i never want to feel like fast food workers are dumb…but seriously this is not rocket science. if you cant get the orders right…you shouldn't work there.
Does no good to complain because the managers do nothing and sometimes, it's the managers that work the windows. Now if the managers cant get an order right…then there really is no point in me wasting my money paying for stuff i didn't order at that location.

Today March 9 my husband and I ate lunch at the Burger King in Kalkaska, Michigan. Somehow my phone was put on our tray and thrown away in the garbage. I did not miss it til 2 hrs. later when we were on our way back to Owosso, Michigan . We stopped at the Burger King in Grayling and asked if they would be so kind as to call Burger King in Kalkaska and ask them to see if they could find my phone.
They would NOT call for me so I went next door to Taco Bell and they loaned me a cell phone to call back to Owosso so they could look up the phone # of Burger King in Kalkaska and call for me. My son-in-law who is Chief of police down state called them at Burger King and asked them to look in the garbage for me…they said NO..it had already been taken out.
I am very unhappy with Burger King as we(about) 22 snowmobilers have patronized Burger King in Kalkaska many many time and also in the summer as we have a cabin up there…They will Not get my business anymore nor will any Burger King!! AND I will advertise how you treat your customers. Please look into this and advise your employees how to treat their customers. An answer would be nice to have from you! Betty Bailey

In the last 30 days I have been to the burger king in excelsior springs, missouri 5 times, all 5 times my experience has been less than desirable. I went there 3 times in one 7 day period for hot cakes and sausage..all 3 times they didn't have any syrup! The first time the girl baged up the order, handed it over the counter, and said I'm really sorry but we don't have any syrup. The nxt two times I asked if they had any syrup and they just said nope. The very same day as my first visit I went back for lunch, and ordered a chicken tendercrisp with NO tomato. It came with two tomatoes.
This morning I went in for one more try, I thought hell with the syrup, I ordered biscuits and gravy and a coffee. I paid and was putting sugar in my coffee, and the kid leaned over the counter and said I'm sorry he only has one bicuit ready would you like something else instead? I said no I will wait. Ok it will be about 10 minutes. 22 minutes later I got my biscuits and gravy. DAMN!!! One of the times I went in, there was a guy and a girl sitting on the counter just swinging their feet. The same counter they eventually serve me my food on.

I visited the #09708 Burger King in Natchez, MS on February 10, 2012 Order #512 at approximately 6:36PM and I witnessed some very unprofessionalism between one of the older co-workers toward a newer emplpoyee. The newer employee that was taking the orders at the drive thru was having some problems pulling up the order once the customer (me) had arrived to pay and called on the lady at the pick up window for assistance. She made loud outbursts about the young lady incompentence to catch on and understand what needed to be done. The order was indeed correct just as I had requested.
After leaving the newer employee and moving to the pick up window I observed the older employee complaining and talking about the newer employee to the other workers and lastly the older employee (lady at pickup window) hollowed something back to the girl at the first window (i.e. you better do something) in a very nonprofessional manner. People need to understand that everyone is not capable of learning things at the same rate as you and although you probabaly have more experience. I am sure someone had patience with her (pickup window employee) upon her arrival as a new employee.
If the newer employee was having problems at the assigned task why wasn't she place at the pickup window rather than the taking order window until a little later on the job? This matter needs to be addressed immediately for future practice and professionalism.

While on our way out of town on a trip the wife and I decided to stop at Burger King in Grand Prairie on Great Southwest/I-20 for a couple of Whoppers. When we received them, my wife ate her whopper without a problem but after a couple of bites from mine, I noticed a distinct burned taste. I seperated the buns and noticed the top bun was charred. I immediately called the store on my cell and requested a manager. After telling her the story, I requested that she list my name for a credit equal to the value of the sandwich. She said she could only do that if I brought the sandwich back because customers pull this scam all the time for a free sandwich.
Given our time constraints and the fact that we had traveled some distance from the restaurant the manager's request was not practical or reasonable. After the repulsive act of eating charred bread, the last thing I won't to hear is a manager's excuse why they can not resolve a simple error (at least I hope it was) If she has such a dim view of her customers maybe she belongs in another industry (i.e. department of corrections)

(1;28pm sat visit)I know nothing ever will come of this complaint, but maybe others have had teh same experience. I went to the Burger King located in Smyrna Ga on spring street for a burger and a shake off the dollar menu on . when the cashier rang me up it came up to more that 2 bucks and some change and I asked why, she ran down the total and the issue came up the shake for 2.29 and not the $1.29 price that is listed on the dollar menu and teh cashier just stood there with a blank stare on her face, so I had to ask for the manager on duty and when she came over she just said that the price of tehir shakes, as i thought, the cashier told her the issue and then the manager proceeded to walk away.
I said to say excuse me, and aske her to come back and showeed her the sign that the store had displayed. she said that the corporate issue on the price and they cant do nothng about the wrong price. Dont get me wrong, its not teh price, its the whole nasty attitude I got and that Burger King just lost my business. Mcdonalds across the street is my new place. At least if there are problems, they explain it and talk to you like a person and not dismiss me. I hope someone gets back with me on the policy of if its liste on the menus, do they have to honor it. Oh 1 more thing. she could not remember the name of the store manager when I asked her and told me to go to the web site.
How is it the GM can be 3 hours late and not one word said to them but when a crew member is a few minutes late they get wrote up for it? Or I had to call off for my back and they expected me to rush to the ER to get them a doctors note but it has to be a specific doctor my note comes from and that doctor is not at the ER then I get put on 30 day probation for that??? I dont understand how they can stay open due to them firing all the good workers and bringing in people who have no clue how to do their job, or due to them picking "favorites" to work and giving the other crew members sucky hours (ex. 3 hours a week)..their burgers are never done take a look sometime theyre pink!
I ordered a Burger King Jr. Whopper with fries and the coke meal and ate in. I have a horrible stomach ache that won't stop, and realize that I have food poisoning. I feel nauseous, and pain seems like it roams over the walls of my stomach. This restaurant is located in Oneonta, New York. I tried to call to complain, but their phone is out of order. I tried to call the other location in Sidney, but their phone is also out of order. I wanted to give Burger King a chance, since I hadn't been a customer in a few years. I normally go to McDonalds, where I never, incidentally, got sick from their food.
I don't know how long this stomach ache and nausea is going to last. If it doesn't end soon, I'm going to a doctor. The worst management/cashier service ever at Burger king on spring road in Smyrna Ga. The cashier at about 1:13pm sat 1/28 was the worst ever when I questioned the price on the menu, Her answer was thats the way it is and nothing she can do about it. The manager on duty was no better that Coprorate set the prices and they cant do anything if its wrong on the menu. Hugh miststake ! Cover it up, apologize to me, acknoledge the error.
I asked for the owner name and the manager on duty did not know and gave me the web site to make a complaint and kept baggging fries and talking to me with her back to me. I just walked out and will never eat at that place anagi and told everyone that I know of the service and will blog about that location and the service. I know nothing will ever come of this and theyare lucky there was not a suggestion box..other wise it woul dbe gammed.
At 10:20 am this morning we ordered 4 each bacon egg wraps plus some other items. We waited 20 minutes , finally arrived at the window and a woman told us they were out of the breakfast wraps. After waiting 20mins, why werent we notified sooner. I know they werent out, it was too close to lunch time and they didn't want to fix them. When I told the woman that she said you are going to have to order something else. I told her to forget it and left. After loosing all of my excess time, I stopped at Caseys mini mart. I will go there from now on. No more burger king for me. Breakfast , lunch or any time.

I just got back from the Burger King on Nine mILE rOAD IN rICHMOND va, AND HAD ONE OF THE WORST EXPERIENCES ever!! I sat in the drive through foir 4 minutes with not one response from Inside. I wondered if they were open. Then I went inside and the person with the head set on her head was chatting with a guy and not paying attention to the customers. Even then, when I ordered a Whopper without mayonnaise, guess what? It, of course, had mayo!! If the lady behind the counter would pay as much attention to the customers as she did the young man, I'm sure there wouldn't be any problems.
We were traveling from Florida to South Carolina and stopped in one of your Burger kings stores for our last meal before home. The store is located at 185 Dungeness Road, Brunswick,GA 31523 Store # 16006. I ordered a Tender Crisp Fil A VM. This is supposed to be tender crisp chicken.What I received I could not even bite. It was obvious it had been maybe even triple fried. It was awful, it tasted old and very dry. My husband ordered med Bacon cheeseburger VM. With our order were two different orders of fries. One was hot with no salt the other was cold with massive salt. Our meal was horrible.
The restaurant had only one customer ahead of us. So being busy was no excuse. The employee who helped was just polite enough like she was being forced to read the lines from a book. Our total was 18.00 which was not a deal for horrible food. I will never eat with your company again and advise all my friends and family the same.

Hello, I recently flew from Luton airport and was shocked at the price of cup of tea, £3.78 for 2 cups.[I will take a flask from now on] I regularly take my five grandchildren to Burger King after taking them for a swim, but I can guarantee you I will never step foot in one of your establishments again. I would also like to point out it was not even a big cup of tea, It would have helped if it was a large cup, I would have liked another as I was thirsty, but it would have cost £7.56 in all.
Its little better than daylight robbery and I was disgusted by the extortionate price. I await your comment.  I was at this Burger King ….. But while I was there, There was poor service…. And there was i believe she was a new girl. She had blonde hair, And she just seemed new. But I waitched how What looked like her manger, just kept getting on to her, kept sending her out to clean an already, well what seemed to me to be a clean dinning room.
Plus after waiting a while before one of the mangers helped us, the girl with blonde hair came up to help, but then was told to go clean.. Mind you we had been standing there for about maybe 2-3 minutes while the manager was just standing there, Then the girl with the blonde hair came back from what looked like she was picking up trays and cleaning the dinning room..But I just thought i would let you know.. I felt bad for the girl.

I have been to this Burger King 4 times in the five years that I have lived here . the straw that broke the camels back was today last time I was there couple of weeks back walked in seen 2 people waiting on there food . two people in front of me in line . there were 3 people working in the back of the store food prep. 2 people working the drive thru window. which by the way no one was in the drive thru.and one person working the front cash regester. the person at the front took the order of the first person in line.
and walked in the back behind the drive through window looked to be some kind of a office no door on it…. the employees at the drive thru. followed him …. no one in the back was cooking anything just talking to eachother and bull shi**ing the the two people that were waiting on there food when I came in . told the people in the back they wanted there money back everyone else was still in the office could see them standing there but they would not even make eye contact oh they could hear us.
with no one out front still… after a good 15 mins. I said loudly hey is this place even open….. got a rude remark from the cooking area…. and I left . Today went there on my way to work ps. the MCdonalds next door lines were all the way out the door this is 11:00 am saturday once again no one at Burger King went in seen the Manager was there and thought service would not be so bad Wrong…
Im done with this place…………… Good Location, great city, place could make a killing But no one is ever there.. AND I SEE WHY …… PLEASE GET US A GOOD BURGER KING HERE
This Burger King is on Goodman Rd. In Olive Branch, Mississippi.38654

whats up with your chains in Egypt? Why do they SUCK? Is it that hard to get a whopper with no ketchup,is it that hard to comprehend? IS IT ? Is it that hard to ask for a Chicken Whopper and not get it confused with a chicken Royale? This is bullshit you got incompetent managers that their only excuse is that the employee is new ..SCREW DAT. The training you give to these morons are given by morons. 5 times at different locations – twice at City Stars Mall( lower level food court), once at Tivoli and twice at New Cairo.

We went to a Burger King in Oxnard, CA on Oxnard Blvd and we cannot believe what we saw! We were eating our food when we seen a worker behind the counter put some hamburger patties on the grill and walk away. We seen 2 patties fall on the floor. We kept watching to see what she was going to do when she came back. To our surprise, SHE PICKED THEM UP FROM THE FLOOR AND PUT THEM BACK ON THE GRILL!!!! WE WERE SHOCKED!!!! When we were leaving I was undecided as to whether or not we should tell the manager or not. I could not leave without telling her. When I proceded to tell her she looked at me as if I was crazy and said "they would NEVER do that", "we have a trash can for that".
I said "ok, well my daughter and I seen and I just wanted to let you know." That will be the last time we ever go there again! 3 or 4 times we have visited the Burger King in Storm Lake, Iowa. The first time service was awful, we wanted a cup of coffee as we were waiting to go to a funeral visitation. We paid for 2 cups of coffee and then waited 20 minutes, went and asked if the coffee was ready and they said they did not have any decaf coffee, gave one of us a half cup and that was cold so we asked for our money to be returned. Another time there was no decaf coffee and the same kind of service.
Today my husband stopped and it was the same thing, no decaf and what they gave him of regular was barely warm. We visit one of the Burger Kings here in Sioux City and get wonderful service. What is the problem with the Storm Lake place? that should be taken care of if they want to maintain a decent place of business.

So here's what happened : We went to Burger King to have dinner for the first time in a long time because we've had a problem with this location before. So we go through the drive thru and got a four burgers and an order of fries and onion rings. We didn't have any problem until the lady at the drive thru told us that our burgers would be a few more minutes. (That's fine, I don't have a problem waiting for my food, but not for this long!!!) We pulled up as she asked and sat there waiting for almost 15 minutes.
We were still not angry, but after about 10 minutes of waiting my boyfriend went in to ask how much longer our food was going to be and asked if there were any reason that our burgers were taking so long to get! The Manager (who we've had problems with before because he has terrible customer service and isn't interested in his customers at all) told my boyfriend that the burgers we ordered each take about 5 minutes to cook. I'm just curious shouldn't that be something they tell you over the intercom after you order them??? When we order something somewhere else they tell us if it's going to be a few extra minutes!!!
After thinking about this, how is it that they take 5 minutes each to cook and somehow they can only make 1 hamburger at a time. Isn't that why most fast food restaurants have large industrial cook tops??? I'm not sure why this manager thought that his argument was valid, but to be perfectly honest I'm not sure that we'll ever visit another Burger King again, and I know we will NEVER USE THIS ONE AGAIN!!!!

Yeah that is a Joke!!! I have gone to the Burger King near me (Davison Rd, Burton, MI) Numerous Times, and they don't have what I want. Like today at 10:00am I ordered 3 Breakfast Bowls, they told me they had only 2, and I would have to get something else. About a month ago I ordered 4 Breakfast bowls. They acted disgusted and proceeded to tell the customers behind me that they would have to wait on they're orders because the car ahead of the ordered 4 bowls. My Wife & I have visited numerous Burger Kings, and they have told her that Company Policy was you could get a Whopper anytime during they day, even at opening.
Well the one day at this one I ordered a Whopper at 9:55am, and they proceeded to tell me that they don't start serving Burgers till 10:00am. By the time I got to the window to pay, it was 10:02am so I asked again if I could that Whopper. Again withe the disgusted looks & head shaking!!!

Ok, I have a few complaints about this BK. It is brand new, just completely rebuilt. The first crappy move they made was demolishing the A1 Steakhouse burger. Second the are now eliminating the Breakfast Bowl. My two favorite things on the menu. So last week I ordered a cup of coffee, large i believe. Either way I got my food and Joe, went home just a mile up the road. As soon as I got home I opened my coffee to add some sugar and the stuff was cold. Literally ice cold. Not warm, not even cool. ICE FREAKIN COLD! And just 4 days ago I stopped with my kids after picking them up from school. O ordered 3 medium fries and a large coke.
The coke was diet. Not marked on the lid. It was hot out and I was dying of thirst. As driving down the road I drank a good bit of it before realizing it was diet. This is a huge huge problem for me. I am highly allergic to saccharin which is used in Diet Coke to extend shelf life. Almost immediately my body rejected it and I started to get light headed and shake. I came within about 2 inches of colliding head on with on coming traffic. My disorientation and trembling body caused me to nearly lose control.
I made it to a gas station where I bought a bottle of water and was ok after about 20 minutes. I was so pissed I wanted to go back over there but knowing my temper I resisted. My kids for horrified for me, as was I. Imagine the headlines… Man dies from BK screw up. Even though this Burger King is less than a mile from my house and I pass it several times a day. I now drive the 7 miles to McDonalds. BK can kiss my grits.

Poor Manager, she was cursing at her employee at the counter, dropped the F bomb a couple of times during her battery of insults directed at a new employee. How do you allow her to remain in a management position after a few other customers complained as well. No quality of leadership there. I wont ever go back to burger king. I have been in mgt. all of my employed life, I have never berated an employee in this manner. Very sad that Bk does'nt think more of the quality in thier mgt team. Burger King location, Springfield, Ga. just over the 21 bypass.

I went to Burger King here in Houston,Tx on Veterans Memorial and Beltway 8 and I sat at the actual window for 15 minutes while the cashier took five more orders behind me. Finally I placed my order at the window. While waiting I asked for a supervisor to report the negative attitude from the cashier and the poor service that was givin. The supervisor came to the window saying she don't have time to find out what I want because she had othe customer's and if I could give her my receit she could write down the area manager phone number.The problem with that was I never got a receit from the cashier in the first place.
I stayed at the window waiting on a reciet and the supervisor came back to the window saying she is going to call the police if I did not leave. With that being said I parked and went inside to get my money back the supervisor was constantly being rude, she returned the money back still no receit. I asked for the receit again for my records, and she told me the receit was her copy. I helped myself with the receit and left the store. My experience there was horrible will never go back there agan. For the record there are people in America that has great customer service and can't get jobs,but the people that can't speak english do. What's wrong with that picture?

I was at the Greenwood and Jewella location in Shreveport, LA on 11/04/2011 and the entire restaurant had an awful smell. The floors were nasty as if a mop was allowed in the store. One of your drink machines was broken, but the drain tray was filthy with old juice stains and straw wrappers lying inside it. A simple bucket of hot water would have easily fixed the problem. The manager of the facility was not professional at all wearing his shirt and sagging. Some employees were talking on their cell phone instead of assisting customers. I personally was not one of the victims but the feeling is mutual.
I work at the Calumet Gas Plant which is located maybe two minutes from your restaurant and a lot of employees like to go to this location for lunch. You also have a College Bowl Game that will be played in the area around January which will draw a large crowd. The individuals that work at this location is in the process of ruining your companies name. I would hate to have to travel an extra 10 minutes to go to the location on Mansfield Road just to enjoy your 2 for $3.00 Whopper special.

I just came home from taking my child to the ER because the Manager told her that she needed proof of her sickness. This would not of been a problem but the Manager did not use professional tactics towards my child. She ordered her to do this or else be fired. Is this a normal tactic for BK? My child has been working for your company for the last 7 months while purseing a full time college career which now will be Business. My child has now made a choice not to work for your co. You have a high turnover rate at her store.I was the one who told her not to work at BK because they treat their wrks. like cattle.The store is in Orange Park, Fl on wells rd. The manager is Janice and from I know is she is new.

The manager at Burger King store number 10739 in Bossier City, La. should be fired. Her name and her bad behavior happened today November 5, 2011. She admitted to me she called my wife a "Fat Bitch" when we were going into IHOP to eat, today. After we finished eating at IHOP, I confronted her about this and she refused to apologize and said my wife called her a "Bitch" first. I asked her full name and she said "None of your business" I then told her "You haven't heard the last of me!" Her response in front of her own customers was "F#$%k You!!" and threatened to call police. The Bossier City District-Manager will receive an official complaint from us Monday.
We arrived at Butger King drive up window-Gallup New Mexico. As we waited to be helped, it appeared no one seemed to be manning this window. We waited 3 minutes and still no one answered. We began to drive forward to the first window and it appeared with employee there as well and we had a car waiting there as well. We looked behind us and another car appeared to the drive window, we then saw an employee at the second drive up window take their order. Still waiting for the car in front of us to drive forward. They then drove up to the second window.
It took about 5 minutes Each for the two cars in front of us to receive their orders. We waited to long to even make an order once we had the chance to get out of the drive up area we left and went down the street MCDONALD and recived prompt attention.

I pulled into the drive thru this evening at my local Burger King here in Whiting,Indiana which my husband ALWAYS tells me not to go to by the way,Anyway,I had coupons that came in the leaflets so I did it anyway.I was sorta rushed so I took the Drive Thru and placed my order for my "buy one chicken tendercrisp get one free" and 2 tacos and a value chicken sandwich.The 2 Tendercrisps were for my husband.After waiting for 8 minutes and watching the gentleman working "with his pants hanging off" and walking like he was on break or that he just didn't want to be there,I was LIVID.
After the 8 minute disappointment of waiting and looking at this workers drawers,I received my food.The female handed it to me and said "have a nice day".I stated rudely,Not now that my husband is late for work!I came home,handed my husband his tendercrisps and he ate one immediately while I hurriedly ate the tacos.While driving to work my husband exclaimed "I AM GETTING A TERRIBLE STOMACH ACHE".I brushed it off and said that he ate too fast.I had taken MY value Chicken sandwich along to drive him to work so I could eat it as we were plenty rushed for time.
I finally dug into the bag and took a bite of MY chicken value sandwich and literally SPIT IT OUT…it tasted like SOUR MILK…I now knew we had a problem.It is aprx half hour later and I just tried to call CORPORATE HEADQUARTERS AND CONSUMER SERVICES…"THERE CLOSED"…
Who do you report this to?Possible salmonella???I called the local Burger King and was PUT ON HOLD for the manager who never found time to come to the phone…Now I'm trying to warn BURGER KING that their chicken sandwiches are possibly poison and THERE'S NO AFTER HOURS NUMBER?This is not the first disappointment as there have been many and I'm getting the feeling that all of the HOOPLA that they want to hear our voice is just that,,,HOOPLA,,,,.They can keep their ROTTEN MAYONAISE AND EXPIRED CHICKEN.Just saying,WATCH WHAT YOU EAT,,,,LITERALLY AT BURGER KING…..
I got my husband to work on time and now I await the call that he's gotta come home…That's $40.00 hourly lost because he ate bad BURGER KING.Not to mention the potential HOSPITAL VISIT.I shpuld have taken his advice and never went there.I only did because their within blocks of my residence.I NEVER WILL AGAIN.SUBWAY,HERE WE COME,LOL…..

I have never had WORSE service at a Burger King than I did tonight. The Burger King I visited was 8093 San Miguel Canyon Road Salinas, CA 93907-1214 at 5:32pm. I started to place my order at the drive thru & was told to hold on & then slow down by the employee taking my order. Then I only got to the first item when the employee told me the amount due. I sat for a minute then informed the employee that I wasn't done with my order yet. No apology for the error, but she had to start over with a new order because she had already sent my 1 item order to be cooked.
Then she proceeded to tell me over & over again to slow down as I placed the order 1 item at a time. When I told her that I was done with my order, she rattled off a price & I drove around to the window. When I pulled up to the window, the guy who was supposedly the manager quickly took our money & then started counting the cash in the drawer. He did this 3 times before he looked up at us & asked if he had given us our change yet. which he had not. Strike 1
He finally moved out of the way of the window & we received our food, which was incorrect & no receipt was given either. We handed the bag back & said that there were 3 hamburgers missing that we had ordered. We then explained to the person at the window what had taken place when we placed our order. The response we got was a shrug of their shoulders & told this is NOT what we had ordered. We handed the employee the piece of paper that we had written down what our family wanted & said that this is what we had ordered off of.
We were then told that the 3 hamburgers were not on any of the receipts (which we had yet to see because they weren't on the bags we had) & we were then asked to pay for them. Strike 2 After we paid for them, they handed us a bag that had been sitting on the other side of the register. We can't say for sure whether it was our freshly made missing 3 hamburgers or not because (again) there was no receipt on it.
We finally got the right food & asked to speak to the manager. The guy who had been counting the cash drawer came back to the window with a "yea what" attitude & we (again) explained what we had just spent the last 20 minutes dealing with. His response to us was, "You got what you wanted, right?" & he closed the window. Strike 3. We pulled away from the window at 6:12pm – 40 minutes after placing our 1 item order. By the time we got home, EVERYTHING was cold & the Oreo BK Sundae Shakes had melted down to just shakes.
The first line in your corporate responsibility is The better job we do at being responsible today, the better our business will be in the future. Well, that is apparently not very well understood at THIS Burger King. In that same paragraph it is written that We also know that it must be a way of thinking before it becomes a way of acting. I feel that the employees of this Burger King need to re-read your corporate responsibility statement & IF we were dealing with the manager tonight, he is a BAD example for his employees.
The last few lines in this same paragraph are That is why our approach is stakeholder-driven, focused on four key areas – Food, People, Environment and Corporate Governance. Well, after what I went through tonight, this Burger King has FAILED at the first two.

Burger king advertise a toy that they dont have in stock. Its not fare for us the parents that goes there with our kids to order them the kids meal just to get the toys that they see on the showcase. It is so disappointed that when they open their bag they see another toy. My boy started crying went to ask them for the toy they have in the show case which it was sponge bob. They say that doesnt start now it start next week. Don't but something that you are not ready to give out. Very disappointed with the company. Never again. Going to McDonald to take my boys to eat.

After leaving my Hunting Club with my family we stop at Burger King to eat. This was the third time stopping in one month at this location.We ordered 4 value meals and a girls happy meal. The order was placed at 12:43pm and in front of me was a truck pulled up waiting for them to bring it to them in the front. There was also a car waiting in parking, also for there order. After paying for it the lady told me to pull up. I told her there is nobody behind me so im gonna wait here by the PICK UP WINDOW!! She told me i have to pull up cause she is on a timer to get people threw the PICK UP WINDOW fast.
After i pulled up she takes the order with the people behind me. She told him to go park in parking lot and she will bring it to him.It took 20 minutes for us to get our order. While waiting we notice that there was only one person eating inside.They didn't care if they had to bring your food threw a waiting room with people. Just as long as it looks like they served you fast. My family loves Burger King and this was the third time this place did this but this one was the worst. After leaving and getting back on the hwy,we notice sandwiches that didnt have cheese.
One with no lettuce. And mine had one piece of lettuce with two tomatoes stacked on top it self and enough onions on a no onion sandwich for 4 more sandwiches. It suppose to be "have it your way"!! Sorry to all managers,"I'll NEVER pull up again at a PICK UP WINDOW!!! I might get my fast service after all.I never had to pull up at a McDonald window!!!!

I was traveling through Virginia from Atlanta on 10/24. My parents and I stopped for dinner at Burger King store #07865 6406 Dann Bell Lane, Thornburg, VA 22565 at 5:30pm. No one was in restaurant. When we walked in, a man was leaning on counter talking with the guy that took my parents order. Later I believed he was manager on duty. He never moved a muscle from leaning on counter, from the customer side. I ordered a whopper w/cheese, no tomato, heavy pickle from a young girl. I got it in 2 minutes flat. I started to eat after sitting in lounge area.
After my parents received their order, the entire BK staff, the black guy leaning, the albino, the young latin girl and older black woman and one other all came out to lobby area right behind us and started a personal conversation, Shit this, shit that, hell this and f**K that. Just like no one was in restaurant. The latino girl was not sitting with them, but sitting at another table in front of us. My Burger King whopper was the worst I've ever eatten. Cheese was not melted, cause meat was barely warm, no extra pickles besides the 2 it comes with and you could tell tomato had just been taken off.
Lettuce was on 1 side of sandwich and pickles on other. Moms sandwich made her sick and their language made her very uncomfortable. Fries were hot, probably because they were eating on them. I didn't get to do the survey in time of the deadline to complain, which really sucks on BK's part. I have to call corp. to complain because they don't care unless it happens withing 48 hours. Oh, by the way, I suppose the better prepared food went out the front door to the mini van that pulled up to front door and had curb service delivered to them. I suppose a realtive and stolen food. This location SUCKS!!

On Oct.29th my husband and I visited Burger King #12323 located at 81 SE. Wyoming Blvd in Casper, Wyoming. We went through the DT and ordered a chicken tendercrisp large value meal and a Bk big fish and large fry. When we get to the window and pay the employee proceeds to let us know the chicken sand. is gonna be a minute or two so we needed to pull around and park, they would bring it out asap. So as we sit there and wait we notice we placed our order at 12:22 and it was now 12:37 and no food yet. I waited a few more minutes and was getting very mad. I took the receipt and went inside.
The DT had 3 cars in it and there was 2 customers at the front so I waited my turn hoping I would see my food be taken outside. Well that didn't happen. I get to the counter and ask for a manager. The gal tells me he is busy at the DT window. I show her my receipt, tell her we have been waiting over 20 minutes for our order and I want a refund. So she yells out "customer complaint" to the manager and he ignores her. Another gal bagging orders asks what number is the order and starts bringing my food to me.
The Gal on the front counter says "she wants a refund" and the other lady grabs the bag back and tosses it aside. Brings back a key she got from the general manager, refunds my money and slams it on the counter. I asked for my food to go along with the refund…only right after I continued to wait. I get back to the car and the order is wrong! Ok so I got a refund, no big deal and a free meal out of it. Good thing I did ask for both otherwise I would have had to go back in to get the right food!…I called the store when I got home and talked to the general manager, the same person who took our order, and he tells me that I was not entitled to the refund and the food.
That they were just too busy to get the food brought out and what did I want him to do about it? I asked for the name of the owners and he refused to give me any info. "Charlie" said "I don't know who you are and I refuse to give that info out in fear that you might do something bad to them"…REALLY!!!??? This is not how you treat your customers!! BAD BAD SERVICE!! Your customers are the ones that make your store successful!!! Without them you have NOTHING!!! Mistakes happen, but you ALWAYS make it right in every way you can NO MATTER WHAT!!
Little does "Charlie" know, I called one of the other stores here in town and the manager there took all my info down, apologized for something that was not her fault, and gave me the info on the owners that I asked for. I applaud "Spring" for being a good manager and listening to a complaint that wasn't hers to begin with. To bad other managers can't be like her!!

Since it opened a couple of years ago as a 24 hour BK, I would get good service and food and the BK at 28644 Sw 137 Av in Homestead, Florida. Since I am a Musician, it was convenient after midnight, 2 to 3 times a week. However, the past two months has been a major disappointment. It's either no food, no power, cash registers down, computer down or something else. What happened? I hate Wendy's… don't make me go there…my husband and I have been going to your burger king located at 28644 SW 137th Avenue in Homestead since it opened at least 3 times a week.
Over the last two months it has been really bad. We usually go between 2 and 4 am, my husband is a musican and we stop by on ur way home. You advertise to be opened 24 hours, however lately we cannot order, your computers are down, you are out of fries, no sodas, sorry no cones as you advertise we can get with a meal, sorry we can not serve you….. I am very disappointed, we really like Burger King, when you opened, service ws great, now it is not…… I truly hope you do read this and try to do something…

I stopped in burger king In Saluda S.C we ordered but what we order we didnt get so we ordered the other sandwiches while we were waiting for the other food the same girl that took our order pick up our order and threw it in the garbage we were there over an hour . waing because they didnt know what they were doing. it took a long time for someone to come up and take orders again this was an unorganized work force .and a sorry one i will promise one thing i want buy nothing from that store ever and its up in the air about any of your stores since seen alot of the complaints against burger king ??
depends on how and what you all do to get this mess solved ????i use to be a waitress for years and i never seen anything like that mainly when you were not even bussy on Saturday Oct/22/2011 around 3or 4 pm we got our money back and left !!!!! just no excuse in the world for this poor excuse for your help !!!!!

I went to Burger King in Rio Grande NJ on Oct. 17, 2011 at 2:00 PM. I was at the drive through. I ordered 3 side salads. I was told that they only had one left. I told her that I would take the one and I also wanted 2 Garden Salads. I was told that they only had one of them also. So I ordered just the two of them. When I pulled around to pay I had to wait for about 5 minutes for them to bring me my salad. I thought just by chance that they were making me the other salad's that I requested but I was wrong. It actually took them that long to get me two salads. The car behind me ordered coffee and was told they were out of coffee and it would take about 15 minutes to make.
He said never mind and ordered a coke he was told they were all out of cokes. He then asked what they did have and the girl had to let him know of 3 choices he could choose from. He ordered a sandwich which contained of mushroom and was told that they were all out of mushrooms. The manager then told the girl at the window that she told her earlier that day that they were out of mushrooms. The two of them were yelling back and forth at each other in front of customers that is very unprofessional. They need to get there act together. We use to have another burger king about 6 miles up the road and they closed up.
They should have kept that one open and closed up this one. I will never ever go back to this burger king again. McDonalds here I come. At least they have better customer service and when they are out of salads they are willing to make one, which only takes a few minutes. Way to go BK you suck.

I went to the burger king in lady lake, fl tonight. First thing I see when I walkedin was a messy and dirty dinning room. The manager (natalie) looked like she just crawled out of bed. Look like she had two open wounds on her left arm. A friend that was there with me said it could have been a tattoo. If it was a tattoo, it should have been covered up. Then as we ordered our meals, it was like talking to a robot. For a manager to be on the front counter. But as I said, not very friendly. She noticed a burning smell Natlie walked in the back to take care of it and find out what was burning. When another employee came up to the front I ordered a Double Stacker without chesse.
Both my friend's order and mine came up so we grabbed it and went to sit down. My Double Stacker had chesse on it. My friend's onion rings were cold, and her fish sticks could be used as hockey pucks. Now we know what the burning smell was. So, I bring my sandwich back up to the counter and speak with Natalie. I tell her I make sure that I can't have cheese because I am allergic to it. My friend's and two other customer's said they heard me ask for it with no cheese. Natalie did replace the sandwich about 20 minutes later.
Also when I was at the counter there was an older couple, that had ordered a cup of coffee.
I saw Natalie explain how to brew a pot of coffee. which did no good, because Natalie had to go over and make it herself. I can understand have to make a new pot of coffee, but what i couldn't understand was the way she(natalie) was talking to the older couple. Natalie asked them what they were waiting for and told then that she had to make a new pot, but the man didn't hear her(remember old man in the old age center of florida), she turned and looked at and said she had to brew another pot like he was 2 years old. And then not so politely told them that they could go sit down and she would bring it out to them. The older couple was so upset over that, they didn't even wait to get there coffee. Just walked out.
Customer Service was and always is number 1 in the fast food industry. I know for a fact that I will not go back there again. And, I would even venture to say that the older couple will not go back there. And, this is coming from a former emloyee of yours.

I went to BK w/granddaughter to get dinner and free Sundae(free coupon). I needed to buy a "value meal" to get the free sundae. There was nothing on the overhead menu that said "value meal" so I asked the cashier where it was. He pointed to to the sign that said "value menu" so I placed my order from that. 2 orders of tenders and 1 onion ring, gave him my coupon for free sundae. He could not get the free sundae price to be subtracted from total. I think a manager (red shirt) came over to help and could not do it either. She finally said I had to buy a "value meal" in order to get the free sundae. So instead of letting me reorder from the "value meal" menu she just handed back my coupon and said I could use it next time.
So I paid for the food and sundae, threw coupon away and left. The tenders and onion rings were cold sundae was strawberry, not caramel that I had ordered. Now I know why I never go to BK. As I was waiting for my food a lady came in complaining that her order was wrong. Bad food bad service.

Hi, my husband I went to the Burger King in Ocala Florida. There was only one other car ahead of us in drive-thru. So, when we got up to the mirocphone we sat there and sat there. It,wasnt until my husband said "hello excuse " (and my husband wasnt rude)then we got an employee to answer us. But, she did even greet us. All, she said to us was to us was "go ahead" and nothing else. Now, I have been working with the public since I was 16. I could never ever speak to a customer the way this young girl did. And, the one thing that you ALWAYS do is greet a customer.
We, got to the Burger King at 8:05/our order number was 25/ an this happened on October 2,2011. At, the Burger King store # 6095/the address is 2900 S.E. 36th Ave Ocala Fl 34471 Someone needs to speak to this young lady about her customer service skills or lack there of!!! We, just wanted this brought to your attention. Thank you very much
Kim and Tom Land.

I was attending a business conference the week of 09/25/2011 in Elizabethtown,Pa. On the evening of said day,I stopped at Burger King and ordered a California Hamburger without cheese, french fries and a beverage and was served a California Hamburger with cheese. I have severe allergies to cheese and requested my order be corrected. The response was quite loud "it only comes with cheese…can'you read". The response was so unprofessional and uncalled for the Manager, Tracy, came to my aid and refunded my money. Tracy tried to reason with this employee to no avail as I was leaving.
This happened a week earlier through the drive through and I wasn't aware until I returned to the Holiday Express and losing the money I purchased the meal with. I don't think I'll be returning to Burger King for anything after that treatment…thank goodness you have an employee such as Tracy.
Sincerely.
Donald Miller

We called in to your Pease Pottage outlet at 0926. The "service" was apalling,the two behind the counter one called Ryan Norris, the other,wearing a rather sad looking grey T Shirt, were most incompetent and it was very hard to make them understand our order.I was asked three times what sort of burger I wanted until,finally,I got through to him my request. I also asked for a small coffee only to be told that I would have to wait for the machine to fire up.I would have thought that by 0926 in the morning all should be up and running.
I then asked for tea instead but was told the same,so I had to settle for some wretched cold drink.I finally got my "meal", got to the table only to be disappointed further as the fries were cold.This is the second time it has happened as we called in approx.a year ago on our way to London and the service was the same.I thought that, after a year, things would improve but I was wrong.My brother was with me and his experience was the same.He ordered a Whopper and large fries,got to the table,opened the bag and they had forgotten the Whopper.Crass!
Also,the prices were steep too. £2.19 for fries,£6.29 for Whopper and £3.24 for a little Cheeseburger is over the top.Then,at the bottom of the receipt, it tells me that "The Value Meal Savings" were £2.18. which means that the gross would have been £11.71.All for a Whopper,fries,regular Cheese burger and cold drink. Are the prices loaded for the position of the site,i.e. near the motorway thereby you have a captive trade as I've never paid these prices at other outlets?
My receipt number was #8020 and the outlet number is 10106. We were definitely not impressed and there was no one to complain to at the time,hence this letter of complaint. I've added a copy of our receipts for your perusal and proof of our visit.We will,in future,unless you can assure us that things will change,use McDonalds,as in the past we've always had good service,hot food and reasonable prices.

I went to the Burger King off 820 and N. Beach St. I ordered the #11: BK Double Stacker Meal(Medium). when I rushed back to school, which was less than a few miles I opened the burger wrapper and realized I couldn't see the meat or the bacon. The buns dwarfed the two meat patties and I had one bacon slice bent in half to look like two slices. The cheese was also cut in half to fit the meat patties. They look like kids meal meat patties. I also got watered down sprite and my fries were half full. I was thinking they fell out in the bag, but I was sadly mistaken.
I took a picture but I don't know what to do with it. Imagine the length of a ketchup packet and that's the diameter of the meat patties.

I stopped at Burger king store number 12033 located on 1670 Eastchase Prky, Fort Worth, TX, 761112 phone number 817-226-1447 to have a Dinner with my Fiancee at 9:33pm on Sept/15/2011 soon I got to the door that was locked, there was customers inside eating but doors was locked, I knocked but nobody came to attend us, so I got back into my car me and my Fiancee, and went to drive through once we got to place our order ANOTHER SURPRISE. We had a coupon for to complete our order and enjoy our meal when they said we couldn't use that coupon.
When we start to complain about they closed earlier and we were allowed to use the coupon they said they closed earlier because they manager Mr Gabriel said so. Also he said not to accept the coupon because were two coupon and we were driving one car, so then I asked to talk to the manager he came abusive and rude saying that he didn't have time to argue with us and also asked us to live from the window.
So I asked them to give the store number and the manager name suddenly Mr David came from behind his manager and verbal abusing closed the drive through window locking my arm between the two parts and started pushing my arm out so he could close completely and tell me to leave. So now is this the type of customer service Burger King train they stuff to do?
Please I would like to have some feedback on this Employees attitude.

Burger King Janesville WI, Mistakes and pissed off customers on every order. I was there on a day when my order took 20 minutes, the employees were fighting with each other complaining how much they hated their jobs. Every customer had a mistake. Our order they left out the cheese on a cheeseburger. Drive-through customers had to come back to get the right order. The restaurant was filthy and had flies. Another customer had to wait ten minutes for coffee. There were no napkins anywhere in the restaurant. This was a nightmare and surprisingly typical of other visits to Burger King locations, like the one that went out of business by my work.
When nobody wants to come back, the King becomes a distant and horrible memory that nobody wants to remember.

Why is the Sheppard AFB BK the slowest I have ever seen. The drive through is rarely open. The service is very slow and I have yet to see more the 3 people working there. I had to walk I with two toddlers to order their meal because as I said the drive through wad closed. No biggie needed the exercise. But I placed my order at 635 pm (according to the receipt) an they it took them 23 min just to get me 2 hamburger kids meals. The total number of people in the BK ordering food was 3 both of them ordered on meal each and I was the third.

I had orderd through the drive thru at BurgerKing, at the Port Orange, FL location. I had ordered two number sevens (clasic chicken with cheese)The Bill turned out to be $5 less then what the original price should have been so I asked the employee why the price was so cheap. Come to find out I had recieved two spicy chicken sandwhichs' with cheese instead. I Kindly asked the employee to exchange the Two wrong sandwhich's for the two correct ones. he did not charge me the diference for the two sandwhich's. As I arrived home and checked to see if the order was correct.
Their was no cheese on either sandwhich, and I had noticed their was a large amount of saliva on one of the sandwiches. I will Never Return to that location again. I am severly disgusted and I would appreciate it if one of your associates would take care of this.

I have been to BK 3 times in the last 2 months. Figued after the first time or 2, it was just a fluke, and would get better NOT!!! The first 2 times were fairly late evening, no one in the store, and the order took inordinately long — like someone was out back slaughtering the beef. Today my son cleaned a table for us, and afterward I asked the manager to clean the soda station (completely fouled with spilled sodas and straws and sloppy ketchup–ick). Also every table in the place needed cleaning. No one in their right mind would want to eat in this place. Unfortunately for you people, this is not at all what patrons want to see, or how they expect to get served in a FAST FOOD place.
Next door at McDonalds, they have it down pat. Take note.

I stopped at the store at 6240 highway 287 in Arlington Texas today Sept 3–about 12 noon. I only had a couple of bucks in my pocket so I thought I would order the bk single stacker off the value menu. I went thru the drive thru and picked up my food–opened it and took a bite and it was COLD. I turned around and went thru the drive thru again and told them my food was cold and wanted a replacement burger–the person on the other end didn't undersstand and said that will be 1.08–got to the window and told the young man my problem so he just replaced the cold burger. I left and took a bite of the replacement burger and It was not only COLD it tasted old.
I was afraid to eat it so I threw it away. The purpose for the complaint is to tell you that you have a store out here selling garbage and someone is going to get sick eating their food.

I don't generally get up in a tizzy about the occassional foul up at a fast food place, it goes with the territory so to speak. However, if Burger King is trying to get more business, it appears they may be taking one step forward and two back. My wife and I are senior citizens, and we like to find a coupon or bargain as much or more than most. We got a coupon booklet from BURGER KING in the mail today, and were excited to see a new "california whopper" and the coupon for buy one get one free made it even more appealing. We had pretty much quit our local BK as they were slow, and often got the order wrong, but thought – hey they need the business – lets try again.
So I go and order 2 California Whoppers, a BK Single Stacker, and a fry (after a fair wait in line). By the time I get to the window my son calls to say he wants one also. I had handed the girl my debit card and the coupon and she had gone off to who knows where. I waited there at the first window for a good 5 minutes then she returns and says the coupon is for whoppers only – not California Whoppers. I explained that it was on an advert for California Whoppers, and showed her the picture on the back of the coupon… no. Did I still want the two California Whoppers ? Yes.. actually now I need three of them. Ok..
I gave her my card again and she gave it back to me and walked off again. I assumed we were done and pulled up to the food window. A minute or two later she came with a ticket for me to sign. Shortly after, the girl working the drive thru window handed me the order. I quickly checked it and found only two of the green boxes that said CALIFORNIA WHOPPER. I mentioned this to her, and she said my ticket only shows 2. I said check with the fellow in the black shirt – on order #97 they had a change. (I had heard him shout that out when I added the 3rd sandwich). 8 minutes and lots of hunting around and they "found" the 3rd sandwich.. sitting on the counter near the girl all along.
The girl had pulled my copy of the reciept from the bag to go looking – but did not put it or any other updated receipt on the bag. When I got home with the sandwiches I found no receipt – and instead of the single BK stacker I had a whopper with cheese and a standard whopper – and of course the 3 California Whoppers. I called to see if I could find out more about what happened – but got a generic cheap telephone answering machine message "theres no one here to answer you call" and click.
I ate the sandwich – which was advertised to have Swiss cheese, guacamole, bacon on a whopper.. none of them had the Swiss or any cheese. and the two my wife and I had had only one strip of bacon – covering only half the sandwich. The guacamole was applied more like a person would apply butter to bread with a knife.. a thin layer on most of the sandwich and a dab or two that was thicker. You could taste it – but it was pushing credibility to say it was more than 2 teaspoons total.
If you are having trouble staying afloat BK, it would make sense to deliver something close to the picture when you serve it – taking half the bacon, half or more of the guacamole, and all of the cheese off may impact profits a bit initially but the lack of return business and no way to send an email complaint to either the store or corporate does not bode well for those who expect to have it their way or at least be able to complain if not. Sending a coupon book advertising 30 plus dollars of savings and free items does no good if you can't use it.
And if I find that I got charged for two whoppers that I did not order… well thats really pushing the limits of understanding. I have taught classes on customer support matters and I always tell folks that in a market where you sell the same things as the other competitors – what makes you stand out is how you handle mistakes. Burger King Hobbs NM left me with some serious worries about how long they can stay open. I will think seriously twice before pulling in there again – and we have been here over 30 years.

Me and my kids were outside shopping and the kids said they were hungry and I asked the kids where they want to go and they said Burger King at 20430 Germantown Road, Germantown, MD 20874 and we went there and the cashier had an adittude (like she didn't want to work.) and we ordered food (chicken tenders, four mini burgers and two larger fries.) And we took the food home and we only saw the burgers and the fries without the chicken tenders and I had to drive back to Burger King and I explain to the cashier that I'm missing the chicken tenders and she just gave me the chicken tenders without saying anything I will never ever go to take my kids to that Burger King again.

Kelly M.Less than a minute ago. I saw the add for the California Whopper and was so excited to try it. I live in Downtown and there are very few Burger Kings close to me. I found one on Lemmon Ave. store # 542 and couldn't wait to try one. Well I went to try one. When I got there I asked about the price for just the burgers, no one knew. They had to go ask someone? After finally getting the price, I ordered two! I thought this will be so good! I get home and not only was there no guacamole on either of them, but they put so much mayonnaise on them we couldn't eat them. We were charged for the Cali Whopper and got mayonnaise and lettuce sandwiches!
I tried to call and no one would answer the phone. My next avenue was to contact you all, this was no easy feat! I don't think I should have to drive all the way back over there seeing how gas is $ 4.00 + a gallon these days! So much for " Have it your way" huh! I think you should change it to "Take it like you get it! & we'll charge you for whatever we want sucker!" I will NEVER eat there again! I will go to McDonalds, Wendys, or even the local roach coach! They probably have better service & food! VERY VERY disappointed!
Kelly M.

I have always said if you will not eat the food yourself then don't serve it to your customers. Burger King has a habit of serving bad food the sandwich itself or the toppings just doesn't work. In the 70's they were probably the best burger place to go now I see why they are closing them down. Extruded fries, thin burger meat, plastic like onions with skins, no lettuce on the sandwich, ground onion rings, many different sandwiches that no one would order. Think about the KISS theory get back to keeping it simple and forget the stupid king and all the silly food selections nobody wants..

I went to the Burger King on Austin Bluffs in Colorado Springs tonight and tried to place and order. I told the girl 2 mini burgers and 2 mini chicken sandwiches. She rudely tells me that "you can't do that". (no explanation that they come in packs and they can not be seperated or anything) I repeated my order more clearly 2 8 packs of hamburgers and 2 8 packs of chicken sandwiches. She does not repeat the order back but the screen is showing only one order of each. When I try to tell her that I want 2 orders of each I hear nothing on her end to indicate that she has heard me or that she is changing my order. The screen remains the same.
My daughter in the car calls out that the customer service sucks. She tells me that she will not take my order "good bye"! I have had multiple problems with this particular location and never seem to get any satisfaction. Its a shame because this location is closest to my house. Burger King did not get my money tonight Taco Bell did. Their customer service is always impecable! The employees are glad to have a job as opposed to Burger King where we are just interuptions to their day.

I made a purchase of 3 dbl.cheeseburgers, 1 small coffee and a 4 pc.tenders. that order came to 5.87 plus 47 cents tax. They did not give me the coffee so I went back to exchange the item I did not receive for another dbl cheeseburger. BK charged me .39 cents as the tax would have made the item 1.39 cents. I asked them why they were taxing me .39 cents when they never refunded the tax they put on the coffee.They told mre that the coffee had no tax. I told them that the burgers were 3.87 cents, the coffee was 1.00 the tenders were 1.00. the subtotal came to 5.87.The tax was .47 cents and that all items were taxed according toPa. law of 8%.
Devlyn and Jessica, the person who snatched the receipt from my hand did not refund the tax I had already paid, were sarcastic and rude in dealing with my situation and furthermore stated"Go ahead call the corporate office, I will give you the number. They are always rude here and inadequately staff.The icee machine as usual was not working. They have lost me as a customer.

First off, No receipt through the drive thru. I ordered the number 6 breakfast. Potatoes were barely warm, so I skipped them. The bottom half of the english muffin was as hard as a rock. I mean it. It was so hard I would have broken a tooth. I turned around and went back. I walked in and nobody was working the counter. After a minute I asked for help. A male employee with a black eye comes out and I tell him my story. He blandly asks if I want another one, no interest no care at all. At this point I cut my losses and ask for my money back. Without a word he tosses the food in a garbage can, gives my money back and walks away. That was awful.
6767 N.E. 84th Street
Vancouver, WA 98665-0000
(360) 574-3000

The award goes to the Burger King on route 219 in Ellicotville NY. I am used to high traffic washrooms at rest stops along the interstate but never have i entered a washroom in a burger king that was so disgusting i was afraid to buy food there. The stench upon entering was overpower (and it wasn't from a previous customer) They must be on a septic system that is overdue for empyting and have no water in the drain trap. the floors and walls were sticky with grime. It reminded me of the filthy bathroom used in the movie SAW. I didn't even want to touch the taps to wash my own hands.
I did not purchase food in fear they might have the same standard of hygene for food preparation. If someone from head office is reading this-you need to get down there and rectify the problem ASAP !!!!!!!!!!!!!!!!!!!!!!!

Burger King located @ 2626 S 108th, West Allis, WI. I went to the above location after 8am and found the doors were locked. I then went to the drive-thru, and was informed it would be another 30 minutes before they would open. I then mentioned that the hours on the front door showed 6am as opening time. The response was "we won't open for another 30 mins". When I asked what the problem was, I was told "sir, I don't have to explain anything to you." Please be assured that this creates doubt of ever returning to Burger King. Your reply would be appreciated.

Tina smith
from La Grange, GA
I always go the Burger King on parkway in Lagrange. One lady who always smiles,Charlene she had me laughiing, I was in s bad mood but when i left there I was in a better mood, theses people are tthe ones Burger King on the parkway needs not the one who does not smile or act crazy. Thank you, Tina smith

I ordered the 2 for 6 and received two cold poorly made sandwiches forty minutes later. You lost two families as customers today and I personally believe Burger King would be better off if the store on 544 in Wylie Texas didn't exist.

Linda and Roger Neff
from Saint Marys, OH
On 6-25-18 went to Burger King in Celina,Ohio. It was around dinner time. There was an employee that was cleaning the bathroom . He went in with gloves on he came out of the mens room with toliet brush in his hand. He proceeded to put his gloved hand on the counter walked back into the food preparation area and came back from there into the womens bathroom.Came out the door carrying the tb in hand. Once again gloved hand was placed on the counter ,behind the counter touching everything. It made me sick. Hep A can be spread . He should know better than contaminate counters and everything else he touched. He should have taken off dirty gloves and replaced them. Just want to keep people from getting sick. We enjoyed eating there but can't get that out of my mind. Thank You for listening.

Arthur Hughes
from Haddonfield, NJ
Due to your La. Burger King refusing to serve Police, I will never shop Burger King again.
You do not even get the one star low review.
Arthur Hughes

George Smith
from Prairieville, LA
On Tue. June 25, 2018. I stopped at a BK and went inside to order. 2 locations - Prairieville,La, Airline Hwy and Duchtown, La Hwy 73, about 3 -4 miles apart. Prairieville One kid at the inside order counter. No one else in sight, not at drive thru, no one cooking. no one in sight. I left, No reason to stay.
Drove to the Dutchtown location. Went inside. One girl hosing out a sink in the back. No cooking, no one waiting on customers,.Again I left. No one to talk too. This was all between 6:30 - 7:00.
I have never seen anything like this before. You have lost me as a customer. I am just dunbfounded.
Good by BK.

will rogers
from Kinston, NC
am very disappointed in burger king the reason why is for refusing to serve police officers very disappointed will never eat at a burger king again

Debra Shamaly
from Houston, TX
I live in houston, Texas and just ate Burger King with my family today. I am extremely disappointed in hearing the story of the Louisiana location that refused to serve police officers and then the audacity of the owner to demand an apology from the police. I will not hope for bad fortune to fall on this store but this is a very bad precedent to set. Officers will be needed one day and maybe they will decide THEY do not want to serve these pathetic individuals.
No comments from Burger King, no more visits from my family of five. We have been 3 times in last 10 days.

Eddie Pereira
from Miami, FL
I am complaining about a child who works at the Burger King in Lake Placid Florida on Highway 27, the childs name is Caleb Roberts he is 17 years old male and was fired a few weeks ago for threatening and grabbing another employee. He was later given his job back cause his aunt is the manager of another Burger King in Highlands County his aunts name is Sam and she works at Burger King in Sebring. This child Caleb Roberts should have never got his job back at the Lake Placid Burger King or any other Burger King. The manager of this Burger King i believe does not even want him working there, but his aunt named Sam maybe also a district type manager who has gotten many complaints also. Caleb Roberts has been seen spitting in food by other employees and taking money. If he continues to work there i will have this matter taken up with health inspectors and other authorities to look into the matter and possibly have this Burger King shut down, his Aunt and Uncle also need to be investigated for their actions at the Burger King in Sebring, not sure if they have the same last name but the Lake Placid female manager who is not named Sam knows who they are. I hope this gets taken care of soon before you get further complaints or people getting sick. Again this child name is Caleb Roberts who is a 17 year old male who works at the Lake Placid Florida Burger King on Highway 27. Who was already fired and should of never got his job back and his aunt Sam is also the blame. This has become a problem for this Burger King and it's continued business.

Gary Howerton
from Richardson, TX
I just went to store # 4599 i placed my order to go and wanted the bugers plain and no cheese and they got it wrong i checked before i left they took them back and gave me two other bugers when i got back to work they still wasnt plain i dont get it that they cant even get it right the second time.

Kimberly Tanner
from Logan, OH
Hillsboro, Ohio restaurant. First they gave us the wrong food. They had no ice. No ketchup. We were the only customers so they had plenty of free time to take care of that. They knew it was empty because she asked us if we wanted ice in our cups. And the play area was still closed for maintenance. This has been the last two visits. Someone is not doing their job!

Thomas Heimburger
from Clearwater, FL
On Thursday 06-14-2018 at 9:48 pm I entered the drive thru at Burger King store #2646 in Dunedin ,Florida and was asked to wait a minute before placing my order. At 9:59 pm I was allowed to place my order of the 2 for 6.00 crispy chicken , whopper sandwich , large fry, and an order of pretzel chicken fries and was told to proceed to the window for payment. At 10:06 pm I was told the broiler was down and they could not make the whopper sandwich so I changed my order to two chicken sandwiches, large fry and pretzel chicken fries. At 10;18 pm I was informed that they could not complete my order at all and was told that they had planned on closing at 10:00 pm because they could not cook any food at all. I then asked for the corporate phone number to lodge a complaint for being kept in the drive through for 29 minutes. At that time Kyle employee # 552 gave me my original receipt and told me the corporate number 727-216-6704 was listed at the top under the address. When I called the number Kyle answered to take my complaint so I guess we all know how far my complaint was going to go after that.
sincerely Thomas Heimburger
1275 Belcher Rd. lot # 67
Dunedin, Florida
34698

doug lowers
from Fargo, ND
my complaint is in Wadena mn I went for breakfast ordered couple bacon egg cheese crosants meals started off when they got my order wrong and the lady at drive thru tells me I should've made myself more clear to her then rolls her eyes tells me pull ahead there were no cars behind me so I asked for what she tells me there on timer don't wamt bad review times I made it very clear I would not move ahead if she did her job right she wouldn't have to be trying to fool her employer she goes and begins swearing at me and calling me few other names I tell her stop right there give me my money back now she slams window shut and goes over and gets bag ready and wait for food I slid window open told her again she can stop waiting for food and get my money now she still ignores me gets food then goes with food into back again for about 60 secends then sends cook -manager to window and trys to give me my food by now im pissed fourth time I said want my money back now the other mgr mubbles something rolls her eyes leaves for about 2 minutes gets my money opens windows to give me money and drops it on ground I told her this is far from over there response was good bring it on dick I didn't even give a shit about $ 430 cents I left money on ground drove away this bullshit will be addressed or you can damn well bet well make it public over these 2 smart ass bitchs you can contact me at 2186393856

Debbie Frichette
from Auburn, WA
Yesterday I went to do laundry on 72nd St in Tacoma Washington. I had clipped a coupon for 2 cheese burgers w/ bacon etc. Figured I would treat myself and enjoy while doing my laundry as I hadn't been to a fast food place in a couple years. After what was done to my food I'm still sick and I doubt that I could ever ever eat there again. One of the burgers had a regular sesame seed bun and the other I have no clue what the bun was. No sesame seed and the bottom had weird markings and black Mars everywhere. I stood there speechless. But that's not the worst .The bacon looked like it was set on the grill for one sec. It was almost completely raw. I only wish I had thought to take pictures cause seeing is believing. My stomach is still sick. Needless to say it went in the garbage. All of it. I worked in fast food at McdMcDonal fir 14 yrs and I'm not one to take the food back and cause a seen. But I also know that's not how the bacon is supposed to look. Something needs to be said before people get really sick. I tried contacting through a survey but the store number they gave me 12886 isn't working. I can't call cause I'm hearing impaired so you were my next option and hopefully some how some way this will reach the corporate office. Sincerely Debra Frichette. I don't have a receipt to look for a survey number because the food was unacceptable for human consumption. That bad.

WHY IS THIS BK 9310,VICTORVILLE LOCATION, SERVING PRE COOKED BUGER'S AGAIN. ORDERED 2 F 6 WHOPPERS, IT ONLY TOOK ABOUT 1 MIN AND ORDER WAS READY. COMMIT FROM MGR, WE DON'I HAVE TIME TO COOK AS YOU ORDER BECAUSE I'M SHORT PEOPLE. YOU COULD SEE BURGER'S AND ITEM'S ALREADY PRE COOK IN THERE READY FOR ORDES TRAY. BURGER WHERE NOT EVEN HOT OR WARM.

At drive thru they didn't get both sandwiches I ordered. I repeated & still was wrong. A man gets on so I tell him.
He told me to drive up. Took my card swipes it & refused to give me food telling me to l leave.
Very rude & then got phone & spoke like he was talking To police!
This was so rude to refuse me after they swiped my card.
E 1st st Ankeny ia

MICHELLE KING
from Las Vegas, NV
The food wasn't fresh cold, old fries and still bread!!!
Drive-thru @ 05:32 pm 05/11/2018 total $17.73 money wasted for still food cold fries need order REPLACE. Order 3 2 whop chs, 2LG FRY 2lg coke. If further action needs to be taken please on my part about my food don't hesitate to let me know whom to contact. Since that was money wasted. Do I need to place my order and ask for my food Hot and Fresh? Let me know what should I do on my part to assist Burger King employees. The young man customers service was acceptable nice and polite on the drive-thru window. If this not the area for a complaint please let me know whom to contact the food was UNACCEPTABLE, NOT FRESH FRIES COLD. Please have management speak to the employees contact me about my complaint and when will my order get REPLACE Hot and Fresh.
burger king 820 N. Rancho
702-648-7820

Marva Williams
from Baton Rouge, LA
Approximately 1:15pm 05/11/2018 the supervisor on duty at your 10130 Coursey Blvd location in Baton Rouge, LA 70816 berated an employee in front of customers and then got into a shouting match with me, the customer when I suggested that it was not what she was saying to the employee but how she was saying it that matters The supervisor then spoke to me in a loud tone that if I (the customer) knew what was going on "on the back end" then I would not be telling her that she should not be speaking to the employee in that tone. WRONG!!! The employee was "obviously" challenged with performing the tasks at the drive-thru and the supervisor exacerbated the problem by "belittling" the employee in front of her co-workers and customers. She offered to give my husband and I our money back when my husband asked where his order was but we declined and instead again told the supervisor that she needed to learn how to speak to her employees. This supervisor needs some additional training on how to communicate with people to include her employees and customers. She totally disrespected the young employee and behaved in an unprofessional manner with me, the customer, by thinking she could engage in a "tit for tat" shouting match with me. We left your establishment with the supervisor holding steadfast to her justification that she could and would continue to talk to the employee in the inappropriate tone because of "what the employee was doing wrong on the back end." (her words) Terrible experience. I hope the young lady decides not to return to an establishment where she was not valued or respected; and, hopefully the other young workers will follow suit.

Karen Jones
from Dallas, TX
On 5/11/18@12:35pm. Burger King 6510 at Sam Rayburn Tollway, McKinney, Texas
At Drive Thru window I asked for a Kids Meal Hamburger with only pickles and mustard due to ketchup allergies. I repeated again to ensure the order was correct, and was told my amount came up to approximately $5.89. I asked the young lady to repeat the order and was told to drive up to the window. Once at the window, I asked why was the order that amount and was told that I also ordered an additional burger, which I did not. I understand that sometimes the intercom systems can be difficult to give and receive information. So I informed her that I would go ahead and pay for the order, but make sure each burger had only mustard and pickles. She then puffed up and snatched the sandwich out of the bag. I informed her that I did not want the order due to her rudeness. I walked in and asked the man at the register if I could talk to the manager, and he informed me that he was the manager. I explained to him what happened above and asked for the number at corporate. He informed me that it wouldn't do any good to call the office. He gave me a phone number 512-818-8172. I called the number and got a voicemail of Alturo Garcia. I walked back in and informed the gentleman at the cash register that this was not a number for the corporate office. This gentleman then stated it was his district manager. He then stated he would talk to the lady about her rudeness and he would not fire her over this. I informed him I just would like to be heard as a customer in regards to my concerns and I was not requesting anyone be fired. I asked his name and pointing to the lady that I interacted with at the window. He stated his name was Julio and her name was Rosalee.
This situation could have been handled differently without a problem if I would have been given the common decency of being heard with respect, which is what was lacking in this situation. We need more human kindness, respectfulness, accountability, integrity and generosity in this world today. I would love to sit down with all involved and make this a productive and teachable moment.
Karen

nitu
from Pleasant Hill, CA
BG#6841,604 BAILEY ROAD ,PITTSBURG,CA Location,this is not my first time visiting his location,forget about poor and rude service but does BG pay money to the health officers to keep this location in business,its a FAST FOOD location the service is the opposite the manager is as RUDE as she can be everyone talks in Spanish.This location does not deserve a 1 star, deserves nothing.I am not sure how the corporate will take this complaint but i have listed my email address so hopefully other customers will see a difference.
Hire happy people , these employees are grumpy because they don't have enough workers and they are tired .

ELLA HOUSTON
from Philadelphia, PA
UNHAPPY WITH SERVICE,WHOPPER WASN'T WHAT I EXPECTED, PLUS ONE OF YOUR WORKERS WAS BELLIGERENT TO MY WIFE. Her NAME IS LAURA. 2300 HUNDRED BLOCK OF OREGON AVE.

Sherry Hall Shelton
from Lake Jackson, TX
At BK #17892...my usual order is fish sandwich w/LITTLE sauce, NO pickles and ADD tomato ...and...LARGE frozen Coke. The Coke is my "cheat treat". I'm known there and the manager of chefs is Phillip. He sees me come in and immediately hands me the Coke. Today was different. New lady took my order. Whomever made it put lots of sauce, pickles (which is easy for me to remove) but no tomato. Young lady gave me a small Coke even when I asked for "El Grande" size. She said that's their only size. (Not so) I've been given five different sizes in the times I've been there to eat. ???What gives?~! I said I'd be back for a refill.....and sat down to eat. She later brought an "El Grande" cup of Coke to me saying she didn't want to get in trouble with her manager (who was NOT Phillip). Manager is a woman today. In all the time I've eaten there...no one has gotten my order right...except when Phillip was working. I quit going to the other BK near the mall (#8574) because their Coke machine is always broken (more than three years now) and their fish sandwich patties are tough and half the thickness of BK # 17892.~!!! Feel free to call me anytime.
979-265-2690

Charlotte Wilson
from Centre, AL
No complaint with service. It was OK.
My complaint is that I visited Burger King store 469 on Thursday, 4/19/2018 at 05:13 PM and the receipt said on the back that if I responded to a survey within 48 hours and told about my experience in the store, I would receive a free whopper on my next visit. I went to the site within the 48 hours as it is still not up at this time as it is only 3:17 on 4/21/2018 and was told that they already had all the information they need and the survey was closed. I did my part according to the receipt and I expect my whopper. The survey code is: 16304-31011-19414-080901.

Dan Weidner
from Freeland, PA
On 4/16/18 i went to Burger King located in Ames Plaza Carbondale Pa Rt 6 Upon entering i went to mens room my girlfriend went to ladies room both were dirty and disgusting (tp on floor urine on floor ) The lobby was dirty also (dirty tables not cleaned ) we ordered our meals that were barely warm ! Upon eating my girlfriend bit into her whooper pulling out a piece of PLASTIC WRAP witch was almost as big as burger We went to the counter to complain an employee offered to re place burger and refunded cost of burger THE half dressed manger was to busy watching TV to take care of customer complaint What a dirty disgusting restaurant !!!!!

MRS PATRICIA GISLER
from Sacramento, CA
I went to drive thru window and ordered a chicken sandwich meal. When I arrived at the drive thru window I was reprimanded by the sales person for not mentioning I had a coupon. Then I received my order which the chicken sandwich was very cold and so were the fries. I paid for my order and was not given a receipt. I am upset with the way I was treated and with the quality of the chicken sandwich which was served cold also the chicken was Very Chewy/tough,
Not a very good meal at all. I went to the 5300 folsom blvd location ( I was on the 59th street in Sacramento)

Allan Richardson
from Shenyang, LN
Very unusually, I have had an unpleasant experience at one of your restaurants, specifically the one in Shenyang, China, at Taiyuan Beijie. My burger was adequate, the fries were cool when served, so they were cold before I had finished eating them. However, my main complaint was of a young Chinese couple sitting at a table and kissing passionately. They were doing this when I arrived, and still doing it when I left. Even in my countries - the UK and Germany - this would have been unacceptable, and the staff would not tolerate such behaviour. In China, demonstrations of affection in public are taboo, yet all this took place for at least 15 minutes and in full view of your staff, who ignored the pair. I was not the only person who was embarrassed. Of course, I will continue to eat at your restaurants, as in general I prefer your products.

I went through drive thru, employee misunderstood about a taco and took it off my order, that's understandable I also had a happy meal a 10pc nugget and cheesy tots I left had to come back and told them the forgot some things in my order the employee was rude and tried to recharge me I ask to speak with management and she rudely said she was the manager said her name was jazmin but the receipt reads TC not sure if that the same person or what but I'm highly dissatisfied .

chamblee tucker
from Norcross, GA
Burger King Indian trail Norcross ga no working phone number listed

Delilah Porter
from Jackson, MS
This morning I went to Burger King, store#12137, located in Jackson, Mississippi. I was charged $9.81 and did not received the correct. I tried talking to the Manager and explained I was at work and could not come back. I called the one 1-800 number and spoke to Jacqueline and everyone was in a meeting at 7:40 am. I WANT MY MONEY BACK AND YOU AND HAVE WHAT YOU GAVE ME BACK. I TRIED CALLING THE MANAGER, THE YOUNG LADY WOULD NOT GIVE HER NAME AND DID NOT TAKE MY NAME BECAUSE THEY DO NOT HAVE A INK PEN. THIS CONVERSATION WAS RECORDED!!! YOU HAVE YOUR PRODUCT AND MY MONEY. I GUESS STEALING FROM THE CONSUMER IS HOW YOU MAKE IT IN THIS WORK. Delilah Porter 601-826-4988

Deanna Ganss
from New Kensington, PA
I visited the Natrona Heights, Pa store and when I pulled in I seen 2 managers outside taking a break and smoking a cigarette. As I placed my order I went around to pay for it and as I waited for my food I seen the 2 managers coming in from outside and ONLY ONE of these managers went right to the sink to wash her hands named Sandy, the other one named John went right to a ordering screen and took an order, then he went over to the sink and I thought he was gonna wash but NO HE DID NOT. he grabbed some paper towels and blew his nose and wiped his face (which he has some infection going on on his face.... looked like infatego) threw the paper towel away and started bagging my food. I took my food and tossed it in the garbage because he touched the fries I was gonna eat with his hands that he did not wash nor had a glove on. Very upsetting that a grown man and manager would not set an example for the rest of his crew.
Thank You for your time.
Ms. Deanna

Kila Clements
from Victorville, CA
Chicken nuggets - cold
All 4 cheeseburgers bread and cheese we're hard.
Overall everything was nasty

Michael masseri
from Paterson, NJ
The complaint I have is with Burger King on Mclean Boulevard in Paterson New Jersey all right they have a man renting out the parking lot to sell stolen some of it stolen cuz he told me so toys and carpets and fake Timberland boots he told me he pays the manager is $3,000 a month and I don't like the way he acts with little children especially little females rubbing their legs and their back he's just a weird guy it's illegal to rent out a parking lot for someone the pedal and I want them shut down I want to shut down and I want to know where the money is going that they're paying this manager for him to use the parking lot

Abraham
from Federal Way, WA
I had to most horrible customer service at your tukwila store.. first they took a long time to get my order, then they asked us to park and they will bring our food. After a long wait they bring out food and it's missing an tiem(French fries) so I get out of my car and explain what's missing. I get to he item and the cashier lashaya in tukwila gives me an attitude( like I made a mistake and forgot to put an item in my bag) and is super rude.. so I leave then realize after I got home that a burger was missing then I had to drive all the way back and explain that I wa missing yet another item. The manager try to help and re do my Oder ,but the workers were so rude and unprofessional. The manager had no control on his employees. After they re did my order they still forgot one of my item..( this is ha fast food place, not a hospital or a customer service oriented place) but still how hard is it to get an order right? Yet you charged me the right way. During hat same time 3 over customer came how an complain that they were missing items. This is so unexpecteble.. I need feed back from corporate ASAP I have all the store info and cashier Ifo( the cashier did refused to give me her and cover her name tag and said "fuck youn lot giving you my name" I will not stop till I have N answer

Tanya George
from Cherokee, IA
I went to the Burger King on Joliet Ave. Missouri Valley, Iowa STORE BK10219. I was VERY disappointed in the quality of the food and the slowness of the service! My husband ordered a double whopper and received a king double hamburger without the right condiments. The catsup dispenser was empty the whole time we was there, even after we asked for catsup and other customers doing the same! My husband ordered a med combo and received small fries. A couple behind us ordered their food after us and was still waiting for their meal even after we was almost finished eating ours. They finally left, without food after paying for it. Tired of waiting! The tables were sticky from not being wiped off! Burger King should be ashamed permitting such a store with their name! Order 255 03/14/2018 12:41p.m. total bill $16.23 try to do survey on the back of the receipt but ink on the receipt was too faded. (needed new ink)

Barbara Montgomery
from Sanford, FL
I rarely eat fast food, but when I do, it is always burger king because I crave the onion rings with the zesty sauce. I stopped in on my way to work and ordered a number 1..whopper with cheese meal large with a coke and requested onion rings. I failed to look in my bag. I get to work and we were extremely busy so I had to wait awhile. When I finally had a minute to eat, I found a double whopper with jalapenos and French fries. I cant eat spicy food and I don't like the fries. so in a nutshell, it was a whole meal that went into the trash. I am an emergency dispatcher , so I could not leave room to call or go exchange.

Jose Rivera
from Orlando, FL
I go to Burguer King number #16278 address-728 S Alafaya Trail
Orlando, FL 32828 and I was eating at the restaurant with my children and a group of people arrive and 2 of them identify themselves as employees in a defiant way talking with GM Miguel Baez. Suddenly a brunette woman named Tanya arrives and identifies herself as an employee of the restaurant without saying a word. they begin to beat and fight all the clients we retire from the restaurant and we leave until the food we feel threatened several clients we refer to the GM he identified himself as Miguel Baez and we asked him why he allowed this and that the man identified as Joseph and another william They beat a woman and he did not call the police. He did not do anything. We also asked him how he could have these violent people as employees. He just smiled and said goodbye to us. I hope that the top management of this aforementioned restaurant will fire those people I think there was also a person identified as Sandra and another Bryan in the store I hope that the corporation responds to ste complaint and do not have those people working in any of its restaurants and that GM Miguel Baez can not use them thanks for your attention

Thomas C. Royer
from Pineville, LA
first of all the people at the burger king on Monroe highway pineville La are very rude and lazy since bk has had the cinnamon toast crunch shake every time I order it no matter how early or late the never have shakes or ice cream never but when u go in you can see the machines running also i haven't yet had one correct order from then in the last 2 years every order has been messed up from wrong burger to no burger i have already have been giving no meal at all in drive thrue went inside and they give me additude telling me i have it and i show them the order and they still argue with me and i get burgers that look like they have been thrown on floor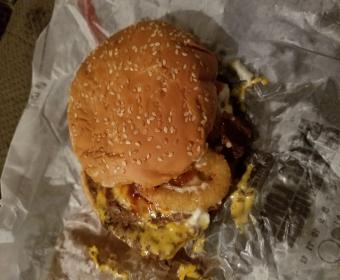 alberta roux
from Glen Mills, PA
aston,pa...ordered 2 whopper jrs & fries...one jr. with no onion & cheese...one with no sauce ,onion or tomato...# 2 they left the onion & took off the lettuce...the wait was 10 min or more...which isn't that bad during lunch...but during my wait...I heard her tell the guy...what was on the whopper jr....few minutes later....told him again.....later told him again...really.....special orders do upset you...a 5 yr old could probably get it right...im assuming its an adult working and shouldn't have to be told that many times...as I was standing right there waiting ...she was able to fill other orders behind me...and the burgers were way overdone...I think maybe that person filling the orders should take another burger king course...anyway...very disappointed

Shirley
from Campbellsville, KY
I went to bk in Albany ky today and first thing the food was nasty the ff were hard as rocks cold they don't get it order right and the girl working the window had a problem I didn't get my change when got home order was wrong i called back and she was rude as hell I won't ever be back and I will tell everybody I know it's only got a 3 rating so what does that tell u new help or new management talked to me like I was stupid don't think so I couldn't fill out survey because I don't get a receipt

Dennis P FitzGerald
from Roswell, GA
Berger King Market Square Roswell GA is beyond a shadow of a doubt the worst experience I've ever had at a "fast food" - that's a joke - store.
Approached the counter to a Hugh Black woman who looked at me with such distdain I felt dirty. Stood sideways with her hand on her hip as she shouted out instructions for me to give her my order. Crispy Chicken Sandwich with Onion Rings "WHAT SIZE"? Medium. punched it into the register then ripped off the tape and threw it on the counter as she walked away. Never looked back at me once.
I waited and waited while car after car was served at the drive up window. Finally I asked another Black young woman not in uniform with Pink Hair braided when I was going to get my order. She SHOUTS OUT "You go this guy's order?" It's produced on a tray with onion rings strewn all over the tray out of the box and a wrapped sandwich. I went to my table then realized there was no onion ring sauce. Went back and politely asked for the sauce. I get the look of death from her, she grabs one and flings it on the counter and turns her back to me. I go back to my table proceed to put the rings back into the container when I see it's about half filled. Unwrap the Sandwich and find "Crispy Chicken" is a soggy mess of fat dripping half cooked whatever that's completely inedible. I tray an onion ring it literally drips of fat as I bit into it. I put everything back on the tray walk up to the waste bin and as I'm putting it inside the Hugh woman behind the counter notices what I'm doing. I said to her this is disgusting. I exit the building.
I get in my car and start to back up when the door flings open and a small black woman comes out with a Mad as Hell look on her face and she's shouting "Get back in here" and starts walking to my car. She gestures for me to get back and park while shouting "Get back in here" I waved good by and drove off with her walking after my car. Thank god she wasn't armed.
We have few fast food stores in East Roswell. It's a shame your unit is here and should be closed. You need to send in secret corporate personal to experience "Fine Dining" at Burger King in Market Square in East Roswell GA 30076. An experience you will never forget. My wife said she won't go back there ever again.
I failed to mention the time. It was 2:30 PM. The place, floor, counters, tables were disgustingly filthy. While I was waiting two tall black men came in. The entire counter staff started whooping it up - jive talk - high fives all around talking all at once very loud. Everyone was looking for "some sugar" what ever that means. All food prep stopped and it was talk time. Everyone behind the counter with a uniform looked like they hadn't washed them in a week. Stained - filthy. Disgusting

Storme Smith
from Boiling Springs, SC
No receipt, bought 14.43 dollars worth of food from store #12668 2 stone cold croissanwiches one was hot of the three. Ripped me off hiding them at bottom of bag, cold no like refrigerated cold. I need a response or a refund.

We opted for Burger King today as we wanted a burger and didn't feel like a sit down restaurant. I have been a B K customer since the late 60's; spent my career in restaurant management. WE went to the BK on the Roseville Parkway, in Roseville, CA, where CNN was blaring. We asked if it could be changed to a more upbeat program. Olympics? The cashier asked the manager, who said it had to stay on CNN. He tried to turn the volume down, but could not. The manager looked right at me, but didn't acknowledge. Why would we eat a fun burger, listening to the week's tragedies??? Told we could sit in a big empty room, no booths. We were the only customers. Wonder why.

Linda Pernini
from Cumberland, RI
On Wednesday morning (2/7/18) I went to the drive up window at the Social Street location in Woonsocket Rhode Island. I ordered 2 egg and cheese sandwiches on biscuits and a large hash brown. When they handed me the bag I noticed it looked a bit "wet" on the side. Didn't think much of it then but when I got home and picked up the bag there was a "wet" stain on my passenger side seat. Upon further investigation I realized it was grease! I opened the bag "lots of grease" unwrapped a sandwich. I immediately threw the piece in my mouth as well as the entire contents in the bag. I always go to The Burger King on Eddie Dowling Hwy in North Smithfield, Rhode Island and have never ever had any kind of problem. The staff were very courteous and fast but the food was just horrible!

Antoinette
from Glendale Heights, IL
i went to the Burger King located at 1021 E. Saint Charles Rd, Lombard Illinois. I arrived at the location 8:00 p.m. there were approximately 4 to 5 people in the dinning area. When I went to the front counter there was no one at the front counter and I smelled an odor of marijuana, I dismissed it and looked to the back of the store in the kitchen area and noticed that the back door was open. Finally the employee walked to the front to take my order and never stop to wash her hands, I gave her my order and the smell of marijuana became noticeable again so I asked her if she had been smoking? She admitted to me that she had been smoking cigarettes and I than told her that she doesn't smell like cigarettes but marijuana and cancelled my order and walked out. This was only my second time visiting this Burger King. I'm so angry with what took place here and so shocked with what I saw, smelled and witnessed I will never go there again and will tell others about my visit. Thant entire shift of employees needs to be disciplined.

vickie abel
from Fairfield, OH
I recently purchased 2 bacon/egg/cheese croissants from your Fairfield OH location#3466---after getting back to work with them, we discovered the were sausage/egg/cheese. I called the manager--Katrina and she issued a credit for 2 sandwiches made correctly. I went this morning and asked to redeem my credit---which I was greeted quite rudely. She shoved 2 sandwiches in a bag and walked away. Again upon arriving at work with them, we discovered they were FLAT, thin, the croissants were hard on the bottom and soggy on the top. the whole sandwich is about 3/4 of an inch thick. What is going to be done about this? I am severely disappointed in my whole experience. Please respond

Norma Newman
from Erie, PA
My husband and I are frequent visitors to Burger King. Why are the burgers coming out of a steam table all watery and nasty. The fries are given to us old . Been sitting around for a few hours. Food is terrible any more and service half the time we are missing food from our orders. Also I got a secret Santa Gift Card for Christmas and cant use it cause a scratch on the bar code. I was trying to get this resolved since Christmas when we went to use it and it was declined. I checked to make sure money is on the card and there is but cant use it. What kind of business is this? Burger King has really gone down hill. Need to correct this problem. Thank you!!

Matthew Prowker
from Salisbury, NC
Me and my wife stopped to pick up dinner and the king here in Salisbury has bend pour for a long time but new face lift was done so we stopped in anyway. Ordered 4 whoppers in drive through. Had to pull up and wait which was fine got order drove 1mile up the road and check the order and they were stone cold very very pour service

bill johnson
from Barstow, CA
(over salting or not salting fries)I have had great consistent service at the Burger King 1540 East Main, Barstow; however the store in Walmart doesn't meet the same standards. On one occasion, I informed the cashier that he forgot to salt the fries. His answer was that there was salt in the bin warmer. Not So!! On other occasions I observed the cashier just lacing too much salt on the fries which caused me and my wife to throw them in the trash because we couldn't eat them. We live close to Walmart and frequent it often. We would like to have Burger King there live up to the same high quality standards as other stores. We love the store at 1540 E. Main; but why should we be forced to go there for good food?

david barber
from Grand Rapids, MI
I ordered and original chicken sandwich, add cheese, plus onion, light mayo. 4 pm on Tuesday afternoon. I waited in line about 10 minutes behind 2 cars.i got home took a bite and it was completely flat, it had been under the light or the heater for many many hours. I cant believe they served that anyone. I don't have the address but I talked to the district manager laura and she apologized and offered me food or money back, I drove back down there and wanted to talk to her they told me she was gone. I did get a refund I don't have the address but the phone number is 616 531 6353. I would never complain, but the sandwich was unedible, I will never eat at "that" burger king again and in my opinion the manager should be fired.

The Burger King on 184th and Halsted has the worst managers ever. I have been a faithful and loyal company and is just amazed at how poorly and how rudely they are to their own employees. There are new people working in there and are learning and they are very rude to them and talk to them like they are dogs. Some of the customers are horrible as well to the employees and the Managers chimes right in with the customers and are talking and treating their workers bad and siding with these customers that are often wrong, don't ever seem to know what they want in line and changes their orders constantly and then gets an attitude with the workers who I have seen ALL who have done outstanding jobs in dealing with customers. There is one new girl that stands out and her name is Deja, I believe and she is a very pretty girl and is almost pleasant to her customers and the customers gives her a hard time and I have even seen the managers talk to her rudely and nasty. Have given her major attitude and I see her almost all the time I go in there she is always polite, she smiles. I would not allow my child(ren) to work there just because of how I see them treat their workers. Something needs to be done. You would think them moving into a new facility, they would have new attitudes.
Very Disappointed customer and will NOT be going back there. Cannot understand how these managers get away with treating especially some of these young adults like this.

Stephanie Powell
from Navarre, FL
On 1/29/2018 at 11:50am I went into the Burger King location at 8590 Navarre Parkway, Navarre, FL. Store #7736 I had previously completed a survey and had the receipt with the code on it for a "free sandwich". I was the only customer in the building at the time I entered. I was greeted by a employee and I presented the receipt and started to tell the young woman my order. She quickly told me that she did not "know how to do that". I stopped and then waited for another woman to come to assist. At this time, I was not aware she was the Manager on duty. Again I repeated my order, which was a Whopper, add cheese, bacon and extra onion, small fries, medium drink and a cheeseburger. I told her that I know I will have to pay for the "extras". Once again, the "Manager" could not ring up the order. She and the first employee stood at the register and tried several times. Finally, they gave me a total of $10.83. I snickered and said "that's not correct". The Manager looked at me and said, yes it is. I pointed at the board above her and said, there's no way that a cheeseburger ($1.00), a Medium drink (2.39) and a 1.99 fry is $10.83. Even with the bacon and cheese, its not 10.83.
She became really angry and said, HOLD ON. Finally a 3rd employee came from the back and showed the "MANAGER" how to ring up the order so that the sandwich would come up with the PROMO price. I then said, don't forget that I owe you for the extras. She said, yes ok. Finally the 3rd employee, gave me a total of $5.76. I did not argue because at this point I had already been there 15 minutes of a hour lunch break dealing with this. My order came up and I asked for ketchup, 1 zesty sauce and some pepper. No pepper in the building I was told, so I took my order and left.
When I got to my office to eat my lunch, I opened the bag to find a whopper, no cheese, no bacon and no onion. the burger hardly had any lettuce on it and so much mayo that it was running off the sides. The cheeseburger we ordered was so cold that the cheese did not even melt and the mustard was all over the paper. I packed it up and went back to the store. Upon entering the store, there was a line of about 8-9 people. The Manager was at the front counter taking orders. As I walked up, she said in a loud voice, OH GOD, now what?? Everyone turned to look at me. I was already angry and it got worse. When it was my turn, I explained that what I received and it wasnt what I ordered. She and the other (3rd employee from earlier) both stood there and argued about my order instead of just fixing the order. I am personally an Administrator of a Home Health Agency and deal with the public everyday, I could not believe this was happening in front of the entire restuarant and people behind me in line. She finally (very rudely) shouted to the guys on the line to make another sandwich. When it was done she shoved it into the bag and slid it across the counter at me. Never even looked up. No offer to give me fresh fries (which I returned in the bag) or even a apology.(Not even a napkin in the bag !) The employee that stated she was "The Manager" had on a teal colored hoodie over her uniform top and no name tag. She was very unprofessional in her actions as well as appearance. Her hair was pulled up and you could see that she had many " hickies" on her neck. None of the employees on the front line had on name tags, which I found odd, as it makes it very hard to address them. I do not normally complain, I am usually every easy going and will just take what I get, but this is the 3rd or 4th bad experience I have had in this particular location in less than a month and will probably not be visiting this location again in the near future. My office which has 15-20 employees have all had similiar problems with this location and I just felt someone needed to be aware of why Burger King is losing so much business in our area. This BK is in a prime location (Beaches) and if has good staff, it could really grow.
My order number was 131 at 11:50am, Host: Lisa
Have feedback for Burger King?
Thanks for your feedback!
Sorry. Please try again later!