Burger King
Burger King Complaints Continued... (Page 3)
526+ reviews added so far. Upset? Call Burger King corporate: 1-866-394-2493

The burger King on E Mullan in Post Falls, ID. The order was wrong and the staff rude, and ordered a large fry, and came only half full. No apologies, nothing. They said they were busy, but that is not an excuse. Also, every time we have gone their coke ice machine is not working.

Jennifer
from San Antonio, TX
I bought my food from burger king and as I proceeded through the drive through I noticed that my fries weren't in the bag. Not only that but there was mold on the lining of the drive through window.was old. When I mentioned it to the staff they shut me down and said that the restaurant was old. I then noticed that my drink cup had ants dead and alive on it. So I checked the inside of the fruit punch I was drinking and saw that there were ants on the inside also. that in itself was enough to make me want them shut down. I will never go here again.

Jerome Ancrum
from Summerville, SC
On 7/1/2015 at 9:15 pm I went to the Burger King on 1117 Central ave, in Summerville SC. I drove up to the restaurant and there was an employee outside and I asked him (a male about 5'10", white with a mustache and wearing glasses) what time the dining room closed and he said it was already closed and that I would have to go thru the drive thru. I pulled my car around to the drive thru and after about 15 min I got my order and I asked the female employee working at the drive thru (white with long dark hair) what time the dining room closed. She said she did not know and then looked at the clock and said now and it was 9:30 pm. I feel like one I was lied to by the employees in the front because he said the dining room was closed, and she first said she did not know when the dining room closed and two she just looked at the clock and said now. I feel this needs to be addressed by the management at that store that Burger King is being represented this way.

Ilene Robinson
from Brandon, MS
I think it's sad that Burger King charges over $2 for a large cup of ice. The cup can't cost more than 30 cents and how much could ice possible cost. It's summer time and it's very hot in Mississippi. I can go to McDonalds and get a large cup of ice for 50 cents and that's where I'll be going from now on along with all my friends & family. We won't be back there ever again.

Went to burger king on highway 6 and beechnut 8404 highway 6 south Houston tx the employee female was rude to me refused to serve ne spit in my fiod and ask me not to come to burgerjing again. Sge slamed the window. At me, I asked for her name she refused to tell me yelling and screening at me. I complained to the manager he did nothing. It happened today 6-12-15 at 3:54pm. This is not the first time said emploee is doibg such to me.

Scott Thurlby
from Eureka, CA
My wife and I ordered 2 whoppers w/ fries and onion rings. They switched the buns (turtle shell type) without informing us. The franchise is in Fortuna Calif. The burgers were greasy and tasted terrible. The onion rings and fries tasted like rancid oil. I have always been a patron of Burger King vs. McDonald's. I asked for a refund, was told i could apply it to another order. I do not like this franchise. I will never eat at a burger king again. I will never recommend burger king to anyone, and i will tell them how bad it was..

Mark O Malley
from Lancaster, PA
The wifi at the Phoenixville pa store has not worked in over two weeks. I was a frequent patron, but now I go to McDonalds. I will not return until I am assured that Burger King in Phoenixville pa has a working wifi.

Natalie Jacoby
from Ellwood City, PA
I made a complaint about the Burger King in Ellwood City, Pa just a few weeks ago and today I received a coupon for a free whopper. I just went to use the coupon and they wanted to charge me tax. I think that is absolutely ridiculous! There is NO WAY anyone can charge tax on something that is free! I definitely will NOT be ordering anything from Burger King again! This has been nothing but a hassle. These people are extremely rude and they should not be working in public if they are going to be so ignorant. I do not understand why coupons are sent out for "free" whoppers to make up for the previous incident when they are trying to charge me.

Larry Buroccki
from Grand Rapids, MI
Ordered my food at the drive through window at the Grand Rapids, Mich. at the Plainfield Ave and Cannonsburg Road location. I ordered two woppers, 2 vanilla shakes and 1 water. I told them I had a coupon for buy one get one free. I got to the window, got my woppers and the water drove out. I realized I had forgotten the shakes, got back In the drive through line, ordered 2 chocolate chip cookies for a dollar, drove up to the window again said.... you forgot my vanilla shakes, and handed her the receipt.
Her response was can I please have a dollar 6 I gave her the dollar 6, she rudely hands me one shake, then says here's the other one. I was very offended by her attitude. No "I'm sorry" or any thing. I momentarily paused in the drive through line and looked at her wanting to say something to her but I held back. She looked out the drive through window and said sarcastically "do you need anything else?" I responded, "No" rather perturbed. Then she sarcastically waved her hand at me and said "Ok Good Bye."
This is not accepable behavior for someone who deals with customers on a daily basis If I were her manager. I would give her some well needed training or possibly the manager could use some also. I almost went back to that location and confronted the manager about it but decided to vent this way may be more productive. I am going to mention this to anyone who asks me about Burger King. If the subject ever arises. I am discusted .

Carol Ramos
from Miami, FL
My husband had ordered, in English, 2 croisandwiches through the drive way at this Burger King on 1701 SW 8th Street in Miami, FL at 7:30 AM today on 05/20/2015. When we got to the window he was given only one. He said he had ordered 2 and the employee started arguing that he had ordered only one. My husband again replied that he asked for 2, then she replied "if you do not speak English do not order in English but in Spanish" in a very disrespectful and rude manner. My husband had ordered in English was our reply, while she continued arguing in Spanish.
I asked for the manager and another male employee answered that "she is the manager." We both feel discriminated, and it is intolerable that this employee pointed out that my husband has an accent when the right way would have been an apology and supply the extra sandwich.
Finally we expressed our desire to complain about the incident and she cared less. It is obvious that the behavior of this employee is unacceptable and that hurts the Franchise's good reputation. I will not return to this store. I would appreciate that this incident is investigated and the Manager is retrained in customer service knowledge at least.

Denis Lee
from Pinckney, MI
The whopper has always been my favorite sandwich for over 20 yrs. I often stop at Burger King, #11248, after shopping in the area. BK is located on Zeeb road near Ann Arbor, Mi. Recently, I have noticed staff problems, often no cashier and a constant change in employees. Today I stopped at noon. There was a long delay in taking my order, no cashier and a long line of cars waiting for their orders. When I finally got to the pick-up window, I paid for my whopper. There seemed to be a lot of confusion inside and after 20 minutes, I just left. I think you need a new manager there. I'm sure you are losing a lot of customers there. I usually never complain about this type of thing but it was my favorite restaurant.
I will have to drive into downtown Ann Arbor for my whopper from now on.

Dennis johnson
from Englewood, CO
I have visited the new Burger King in South Holland and it is very nice, but the service is terrible! I was in their on 5/7/15 and ordered two whoppers and two fries and it took over thirty minutes to get my order and their was only two other people in the whole restaurant.
I love Burger King and was happy when they built the one in South Holland because I live their. I eat at other Burger Kings all the time but this one is the worst when it comes to service. I find it sad that they would build such a beautiful restaurant and not monitor the service. Those people who were working that evening acted like they just did not care about the customers. This has happened to me both times that I went in there. I hope this complaint makes it to the right person because it is such a nice facility but needs management attention badly.

Sharon
from Grand Forks, ND
We went thru drive thru for breakfast and it took them almost 10 min to get us our order then we didn't even get a sort for the long wait time! Had we not have already paid for our food we would have pulled out!! That was senseless considering we were the only ones in drive thru!!!!; not very professional since they represent burger king!!! Not a happy customer!!!

Shirla Cutler
from Rich Hill, MO
After my son's baseball game, we went to Burger King in Nevada, MO. It was a horrible experience. It took 24 minutes to get our food, 5 people walked out, and they quit taking orders for over 10 minutes! When our food finally came out without the frozen treats, I brought it to the managers attention the time on my receipt, and how long we had been waiting. He yelled at me saying they had done over $2,000 dollars in sales with 5 people and that is just the way it goes. Our team will be going somewhere else during tournament times.

Anne Roberts
from Wilmington, DE
I am complaining about the so-called coupons you give out. I always buy the double whopper meal when I patronize Burger King, so when I received some coupons for a whopper meal, I took them to my favorite Burger King restaurant.
Unfortunately, what I thought was a reward for buying so many whopper and patronizing Burger King (you are the only fast food burger joint I go to), turned out to be a false advertisement for the whopper. Instead, I got a very small burger that resembled nothing like the whopper.
I got all the way home and went all the way back to the store to tell them they gave me the wrong sandwich (silly me was actually expecting the double whopper I always buy that was advertised on the coupon. The manager told me I had the right sandwich and just to prove it he painstakingly pried the two sheets of burgers apart to prove it was a "double" burger sandwich, nothing like the picture of the sandwich on the coupon. I will never use your coupons again. Very disappointed.

Robert Volkman
from Corpus Christi, TX
Went through drive through at the Burger King in Corpus Christi, Texas on Waldron road, and through the window I saw drinking cups that were being served with trash on top of the once clean cups. I took pictures of the overflowing trash that was on the cups being served. This was disgusting and unsanitary and putting people's health at risk. I would be more than happy to share these pictures with you and would like this to be corrected and not to let this happen again. 5-3-15 3:00 PM

Robert Call
from Kernersville, NC
My Mother and I ate at a store in Kernersville NC today, Sunday May 3rd around 12:00 noon. I don't know the store number, I just didn't want to even talk to the manager at all. There was a family in front of us and we waited patiently before our order was taken. When we were ready to have our order taken, we gave the lady at the register a coupon. She took off the one sandwich that was free, with a buy on get one free coupon.
Upon waiting for our order, people behind us kept piling in. We waited and waited and waited. My Mother has a very bad back so she went and sat down. Our food was kept in the warming bin for a few minutes then put on a tray. The manager on duty was waiting on all sort of food from the grill area. We waited almost 20 minutes before we got our food. By the time we got it, it was cold. It sat on a tray for over 5 minutes.
I'm boycotting that restaurant from now on. We've been coming here for years. It has gotten slower and slower and the tables are hardly ever wiped off. I work at Macdonald's. You think that a Macdonald's restaurant would have that kind of sorry service. It's just pathetic how sorry that store has gotten. I'm sorry to give you this message, but I'm not eating at this store ever again. The rating system for today, was a minus 3

Debra Shearer
from Grinnell, IA
We were at the Burger King on Delaware Street in Ankeny, Iowa, today. We waited in line over 30 minutes and then ordered, and waited some more. The older couple in front of us was upset and told the manager, "We have waited for over 30 minutes" the manager smiled and thanked the older couple..... only smiled and said, thank you, to them.
Then I knew I had to talk to someone else. I hope that is you. We go into the Des Moines area, at least once a month. We will NEVER eat there again. The slowest, rudest people I've ever seen. They may have been short handed, but it was obvious the manager was micromanaging. It looked bad, and was awful to experience.

jeff
from Kings Mills, OH
I tried to use your feed back at mybkexperience.com. It said that your don't need my feedback since you reach your limit (Paraphrased). My suggestion is to either do the surveys or not. Don't limit them. This was my first survey that I tried to fill out. I eat at BK once a week or more and this really is a bad marketing if you go at it half hearted. I guess I can go to McDs for the next couple of weeks until I crave a Whooper again.

Rebecca Hunter 8235 E. Ridge Dr. Houston, Texas 77040
from Houston, TX
A Burger King on Ella Blvd in Houston, Texas (77008) just re-opened after remodeling. I've been by there twice within a two week period for breakfast. Both times I was told to move up and they would bring my food, however, there was no one behind me...I thought it strange the 1st time, but this morning when the same thing happened I asked "Why!, there is no one behind me." The nice worker working the drive-thru window said that they're on a timer and she need me to move up to stop the timer.
First, if there is a timer it is to time the delivery of the food to the customer; which is not happening correctly because you don't get your food when pulling away from the drive thru. I just think its ridiculous that they depend on those timers to get the food to the customer in a certain amount of time. So....I conclude that your wasting your time on the timers because your managers\employee's have manager to figure a way to beat the system and report the wrong stats! Well played franchises, well played. score 1 franchise score 0 The Real BK.. Fix it or get out of the business.

I went to Burger King 8238 N. Oak Traffic Way Kansas City Mo. this morning. The young lady in the drive thru was extremely rude. I told her that I wanted the sausage croissant meal with coffee. She stated, "you want the number one," in a very rude tone. I said no I don't want bacon, cheese, or eggs on the sandwich. So I repeated it. She stated the price and said pull up to the window.
When I got up to the window, there was no smile, just a disgusted look as if I was getting on her nerves. Well, I guess I set her off, because when I saw how small the coffee was, (still trying to be nice to her), I said "I'm sorry can you make that a large coffee please". She slammed the drive thru window shut, rolled her eyes and put the small coffee down and got a large cup. She then opened the window back up and took my money and handed me the coffee all the while with this mean look on her face.
I asked her when she gave me back my change, "What's your name?", that changed everything, she goes "Marissa, can I get you anymore creams or sugars?" I said nope and drove off. She didn't even give me a receipt. I was too out done to even go back to get it. And the food was cold. this was at about 6:50 in the morning. Everything should have been hot. This is unacceptable, not trying to get her fired, just some training on how to treat your customers. If she doesn't like what she does, there are hundreds who would love the opportunity.

Brad Schneider
from Richmond, CA
Order my food, Drove up to window, Gave the woman debit card. She gave me my card back. Then held my drink and bag out of the window. I took my bag first. Then reached back for my drink. And she said and I quote. I DONT LIKE PEOPLE SNATCHING THINGS FROM MY HAND. Looked to a girl standing behind her and said, REMEMBER THE LAST TIME THAT HAPPEND? I have been working in town for three months. I have been going to the same Burger King everyday. She has no right snapping at me that way. She was rude and very mean. In the 35 plus years of buying food at drive ups, I have never been treated like that.

Sheri
from Marksville, LA
Burger King in Mansura, Louisiana is sad and, its been horrible for years now. Manager is very rude yells on speaker at people while ordering she surly is not happy to be there at its very well known. if any one even answers the speaker at all you can see cars drive up for hours sit 5 - 10 minutes then drive off cus nobody even answered them. If any one is answering the speaker that day boy are you lucky because they still take forever and all the cars get backed up in the line most get frustrated and drive off. If your lucky enough to actually place an order when you get to window to pay they ask each customer to back up to reset their clocks then your stuck forever at the window waiting to pay and get your food. Better check your food while there cus if you drive off your screwed if you have to wait in line again till they answer you and chances are your order is wrong or they shorted you some thing.
I went there recently for a cup of coffee not a one car in line waited 5 minutes to place order manager yells we aint got no coffee made I said ok then just give me a large coke i pull up at window they did not even have change for a 10 ten dollar bill waited another 5 minutes for change and for some one to fix a coke. The place either needs a major employee change or shut it down cus its loosing business. I honestly quit going last year and now we in 2015 this was first time trying to again still aint nothing changed. Some one with the corp of bk needs to drive up there and surprise them all my advise go at night that is when its worse.

Angela Thompson
from Hope Mills, NC
I went to the drive thru and a employee, Jabreya, was so rude. First, She acted like she didn't want to take my order at the speaker. Then when I got to the window she didn't greet me, she just opened up and stared. After I let her swipe my card, she let doors slam. My daughter asked "why is she mad mom?" I thought it was the most disgusting behavior. then she brought my food and just handed it out the window with out a word. I am used to bad service from this location but this by far is the worst. This happened around 10:30pm

Hogan LeBlanc
from Westlake, LA
Ordered 2 sausage and egg biscuits W/cheese and two sausage and egg w/out cheese. Didn't check the price which is my fault, but it was $13.07 which is outrageous in itself. Check to make sure I had 4 biscuits. When I got home I had two sausage, egg and cheese and two sausage only (no eggs). Not only was the price terrible, but the order was wrong. Paid for more than I got. Last trip to the old BK! With that kind of pricing everything should be perfect.

Barbara Palombo
from Lafayette, LA
It's time someone needs to act like they care about this stores the store on miss street in lafayette, louisiana is about the most dirty store I've seen the workers are so dam lazy you go in and it's looks like no one cares and they look at you like a botheration you'll must be using this places as a tax cut just close the dam thing down shame on you'll we work hard for our money to go spend it in a nasty place if you don't care we so in the hell don't care.

Carolyn Blust
from Orlando, FL
I just got out of Winter Garden West Colonial Drive location where I was stuck in line for over 10 minutes honking my car horn, due to the fact that my two boys got sick & had to go to the bathroom-It was an emergency!!! My boys were forced to pee and throw up in a paper cup in the car line! Once I got up to the window, I was so upset & expressed in words what had happened. The young girl employee laughed and argued with me that they had to wait on French fries! What I can not even begin to explain how wronged we were. We never got food and then after a young man said he was sorry he went to take someone's order inside and laughed and had a wonderful time at our expense!! We were humiliated, disrespected, laughed at, and treated worse than animals! I will be contacting my attorney tomorrow!

Margie Martin
from Dearborn, MI
I was at the Burger King on Trumbull St. and Lafayette Detroit, Michigan on Friday April 10, 2015 around 4pm waiting on my order with 3 other customers. When a tall white guy started yelling at another staff member about her washing dishes and not being on the floor, he was cuzzing her out walking back and forth using the F word and being extremely foul I was in shock that was taking place in front of so many customers, so I asked who is the manager so that I could speak to them when she pointed to the same guy that was yelling and cuzzing. I couldn't believe my eyes that is was the manager, I'm not sure if this will even get to the appropriate hands but this type of behavior should not be tolerated and the staff there should not have to put up with cuzzing and foul language. Please do an investigation, I know I will never go back there.

I am very disappointment and upset for my experience few minutes ago at the location show on this email. This store is a very busy store normally the waiting time is longer than the average BBK, that's okay I go there for the convenience, but today after waiting for 15 min in line, of my 30 min for lunch, I realized that the store was out of patty for your signature dish, the Whooper, no whopper jr either. Where is the manager?, why don't tell the customers before the wasted their time on a line?, Why not closed the store or put a sign at the door, or even better have respect for your customers and have some employ informing people of the situation.
But not only is the aggravation of the waiting and not having what I was looking for, is the attitude of the cashier, very rude and very unsympathetic. Please train the manager of this store, if you have a situation like that put your best employ on the front, the faster taking order, the most accommodating. I think what trigger me sending this letter is the fact that she did not have any respect or consideration for other people's time, no customer service experience and very unacceptable attitude, rude and making faces like she was doing me a favor. Please I hope you can correct and train better your employees.

The bathroom is nasty at the Burger King on 23rd street, Chattanooga Tn. The paper towels were sitting on top of holder instead of in it, and the floor was soaking wet, full of urine. The most disgusting thing about the bathroom experience is that I almost slipped and fell. In the urine! The walls were covered in grime and the sink where I'm supposed to wash my hands is the dirtiest part of the bathroom. The place I'm supposed to get CLEAN is the DIRTIEST!?!? That doesn't make any sense! I was so nauseated from the experience that I left, not even bothering eating at the gross establishment. Just for proof, I took a picture of it.

Jeff Drinnan
from Austin, TX
This morning, after my girlfriend and I got breakfast, my girlfriend was harassed by one of your managers. When Sandi went to get her coffee refill, this manager, a somewhat chubby black woman with blond hair (I don't she's a natural blond) told her, out of the blue, that "you can't hang out here" and said she would be loitering. We have been frequenting this Burger King, at Beaver Dam Road and Bristol Pike for a few weeks, and never had a problem. Sandi is homeless, and sometimes when I have errands to do, I leave her here with some money to buy coffee or something. Today, like other days, we came in and quietly ate our meal and sipped our coffee. The problem is not that Sandi would be taken someone's seat when it's crowded, just that, evidently, this manager is discriminating against the homeless. Oh, and this manager said another manager complained about Sandi loitering (a dubious story). Why would this other manager not tell Sandi directly?
Sandi and I generally are quiet when we visit Burger King and don't bother other guests. In fact, we've gotten to know some of the regular guests here and enjoy talking with them. And we always clean up after ourselves, leaving the place the way we found it. Other customers have been extremely loud and leave trash on the table and the floor. Last night, three older teenagers almost blocked the way as they played their "music" loud and danced around. Another customer's little boy bounced a basketball around, almost knocking the ball and himself into customers. Sandi is undergoing chemo therapy and always wares a "cat hat", even inside as she has lost most of her hair. She doesn't cause problems like others have and cleans up after herself. This is clearly a case of discrimination and harassment of the homeless. The manager just coming out of the blue when Sandi got her coffee refill and telling her she can't stay long, while we were still eating breakfast, is arbitrary and capricious. Other people hang around and socialize and other managers don't have a problem with this. I've only seen this manager two or three times in the past couple weeks Sandi and I have been coming to this Burger King, and this incident has left a bad taste in my mouth (pun intended). Sandi is going through stress, with the cancer and being homeless. Burger King should not add insult to injury by harassing and discriminating against her. Please do something about this discrimination and harassment.

dirty floors, dirty around the drink fountain, and dirty tables. The food was not hot. This store was in Canton, Ga.
It was around 9 at night and it should be cleaner that that. I was very disappointed since I had eaten at the one in Acworth, ga the day before, and it was delicious and the food was hot and it was clean there.

I ordered 2 extra long cheese burgers and a fish sandwich and a small smoothie. I asked the cashier to explain why my order was 22.00 and she walked off and left me at the window. She started doing something and walked off frown on face like she did not want to help me. I stayed at the window puzzled and finally another employee asked if they could help. They went through the order and found I was being charged for a meal I didn't ask for. The cashier was very unprofessional and acted as if she did not care. I had to wait for a few minutes till my meal was re cooked. When I received my order, it was cooked to a crisp, black and hard. I have no intentions on going back. Burger King restaurant in blytheville, Arkansas!

Mavis Jones
from Akron, OH
Ordered my food, paid and was told (we will get that for you as soon as we can). I was waiting for my food when I looked up and saw the manager pick up a tray of food off the counter and put it back in the warmer. I walked up and ask if that was my food. She answered yes that my name was called by one of the girls. I responded no ma'am I was waiting and listening for my name and it was not called. She raised her voice and started to argue with me that yes she did. I am positive my name was not called. This was at 994 high st Wadsworth, Ohio. 4/10/15 at 4:59 pm.

Hi Paknik
from Atlanta, GA
I went through the drive through as I do each morning at 7:22 AM. The young lady that took my debit card swiped it then laid it face up, numbers exposed on the register while she went to make my coffee. I immediately called out to the girl to give me my card back. She tilted her head as to acknowledge my sounds but then ignored me, when she turned to give me my coffee I asked if she did not hear me. She then looked at me with a disgusted look and closed the window in my face. In todays climate with cameras and all sorts of tricks it is very dangerous to leave your card exposed. All the other times after the card is swiped they give it directly back to me. Not this girl. I did get a chance to speak with the manager, she did apologize but the issue is not with the manager, it's with the young lady that served me and possibly the training Burger King gives it' employees, both about how to handle cards, and secondly how to provide a paid for service.

Betty Lien
from Post Falls, ID
Several weeks ago, I was at a meeting listening to several women talk about their favorite take out restaurant. Several of them stated that they would not go to Burger King anymore because it was so dirty and the dining room was seriously neglected. I disregarded the comments, as my husband and I enjoy a whopper and a senior coffee there occasionally, but had not been in for a little while. Several days later we decided to go for a hamburger and ended up at Burger King in Post Falls, Idaho on Mullen Ave.( where we live). Entering the store, I noticed that the windows were very dirty,( first thing your customer sees and should be kept sparkling). We sat down at the table with a game machine, and proceeded to look it over for a game to play. It was so dirty, food in the crevices and screens were obscene. I asked for a bar towel to wash the machine, but the clerk was kind enough to come and wash it for me. I noticed that the windows were dirty, and the sills were dirty along with the chairs, floors walls. I used to work in fast food, and if our store was this dirty, we would have been fired. The next day I decided to stop by to get a senior coffee at the drive up window, and it was also disgusting along with the ledge in front of it. The clerk said she would take care of it. Yesterday we went to Spokane Valley, Washington, and stopped at a Burger King there. I used the bathroom, and it was terrible and obviously not cleaned recently. The counters, floors etc were also just as dirty as the ones at the store in Post Falls. I know you are thinking that it could be attributed to rush hour, but what I was noticing was not just recent occurrences. We would hate to give up our habit of selecting Burger King for our take out, but if something doesn't improve, it will happen.

John Johnson
from Connersville, IN
On 4/6/2015 at 9 am i was traveling for business and stopped at your store off exit 76(10385 N us 31). I was craving a burger,and im so glad you offer them early. I pulled into the drive thru ordered a double whopper meal, took a little while but I understand that.My food came out, I drove off ready to pull out onto 13 north, I opened the bag to find 2 tater tots,2 breakfast sandwiches. I was running late and almost went on, but as I said, I was really craving a burger,so I turned around. I waited through the drive thru again. The girl gave me a new bag, and told me to keep the other. I said what am I going to do with that,and she replied she cant take it back.I argued the point and told her to throw it away then, she reluctantly took it.I get back out on the interstate,and I don't know how, but I get hot fries, and a cold burger!

Sally room
from Oxford, ENG
On Monday 6th April at about 4pm my husband, I and my three children went to bk in cowley retail park. We were waiting in the quee at the tills when the man in front if us raised his voice to the girl serving, he was telling her that he spoke her language and what she said was very rude and she should think about what she said before she spoke. I took my children to find a seat leaving my husband to order. While waiting the man who spoke to the girl serving told my husband that the girl had told a co worker that I was fat. This lead to my husband having a word with the manager after he had spoke to my husband and I and said he would talk to the girl. He apologised and nothing else was said or done. I'm very disappointed as what was ment to be a treat for the children turned into an uncomfortable meal.

John Donaldson
from Hampton, NH
Your usual site not taking info - I want you to know that this morning's experience (04/05/15 at 10:20 am - Store 11659) was way below par. Unusual for the place - maybe the cat was away this Sunday! It took 9 and one half minutes to receive two croissants. I was the only one in the drive up lane - and there appeared to be 1 person at the counter. Caitlin never in that interim appeared at the window to indicate she was sorry for the delay (no cars ever came up behind me while I was in line). Nor did she indicate such when she passed me the bag. I asked for a receipt, for I never received one - "I threw it in the trash - I'll print a new one." Maybe it was the kitchen's fault, but she was the face of that business. Maybe some training - and a faster cook!!

Bruce Hey
from Brandenburg, KY
Store 2981; Approximately 10:00 p.m. April 3, 2015. 1) after finishing my meal (tasty)I went to counter and stood in line to order a sundae; second in line, behind a BK employee ordering. After the employee ordered the two employees chatted and joked without acknowledging me standing at the counter. I believe my presence at the counter alone ought to had been a cue for the counter worker to ask me if she could help me; instead I found it disrespect and poor business to allow me to walk away without acknowledging that I may want something. Good business is for employees to place the customer's time ahead of their own. I was on break from work - I guarantee that my time is well worth more than BK counter help. (2) I went on-line to complete survey.
After agreeing to answer a few more questions I was kicked off. I attempted to go back on-line but I received a message that no more surveys were being accepted. I just spent 5 minutes attempting to take the survey and now another 15 minutes to voice my complaint. Apparently, from the website notice, BK does not need my information and may not be honring the agreement. I believe I have valid concerns - I have been frequenting this BK location nearly weekly (or more) for over 7 years. Please give me a reason to return because good customer service is questionable at this time. Apparently, the newer employees have not been trained well. I do not have time to wait for good customer service. I am busy and I am certain you are as well. Thank you for your time!

I ordered a Whopper, Jr. meal with cheese. (this is a complaint against whoever made the sandwich, not the guy who took my order.) when I got home, there wasn't any cheese, even though I was charged for it....I put on my own cheese, and while looking at the inside of the sandwich, there was one pickle, one tiny slice of tomato, one tiny ring of an onion and the lettuce you could hardly find. I remade the sandwich, adding my own cheese, pickles, onion and lettuce.

I went into the store on Fairgrounds road in Bremerton on March 31. About 12:45 PM. I had to go into the store because the drive up lane was backed up about 4 or 5 cars. I ordered 2 BIG KING sandwiches (with no middle bun.) The lady who waited on me did a good job. I asked for 2 mustard packets. When I got my order. And left the store. I got on the road, on my way to work. I opened up one of the sandwiches and noticed there was only one patty in the sandwich. I opened the other sandwich and there was only one patty in that one as well. My order stated that I did not want the middle bun. NOT the middle patty? This has happened before at the same store and either the order is wrong? Or the fires are cold. So maybe it is time to go to Wendy's

I am writing this to you to let you know that two of your BK's that I go to are deliberately having their printers not print the receipt survey number out so that you can't read it, and can't do your survey. They are store #2956, and #7249. This has been going on for at least two months now. I was first told that the printer needed ink. Than a few weeks later I saw an employee at the mall, and when I asked if the printer was fixed, I was told that they don't want us to call in. The reason is because they don't want us to get a free item, and they won't make as much money as they would without the survey receipt. If you send someone to these BK's you will see what I am talking about. I will stop going to these places if they don't fix their printers.

Burger king @ 200 East Judge Perez D. Chalmette,la April 1st 815 a.m. Went in to order a breakfast meal. 2 employee 1 for preparing the food the other take the order from drive thru and front countner REALLY. you need to get more employee's or close down that is dam rite STUPID.

I ordered chicken fires today for lunch and much to my surprise there was no chicken or very little, what taste there was tasted like fried dough, very little flavor, they were also very dry. they should be dough fries. very disappointed.

i was visiting the burger king on peters creek in winston salem NC.. i arrived at around 1130 am.. i had palced my orger and waited for about 15 minutes all to find out that my meal had either been given to another customer or had not been made at all.. when i went to inquire about the reason i was waiting so long,, i was told nothing by the attendant,, she just yelled in the back and acted very irritated with me ,, i was embarrased because there were other customers there and she was so loud and rude. i decided to leave with out my money back or food because it was just going to make me more mad waiting on my refund

bill boyce
from Springfield, MA
i work at a laquinta very close to this burger king..which always seems to be short handed..anyway today sunday, 3/29..at aprox. 1230 I went in to order food for 5 fellow workers..there was a line which was not moving..a young think girl seemed to me having a argument with someone on the line...then she said she was not working and got her phone and went to texting..then yelled that there were no more burgers and she was not taking care of the people at the cunter...a lot of people left, me for one and went to the near by dunkin dounuts and got some very good sandwiches...why does this unit have suck a hard time with help....a couple weeks ago the dining room was closed cause they didn't have enough help...and we send a lot of our guest over there..maybe not so much if this place cant get it together....

M Stowers
from Pittsburgh, PA
This Bluefield Va Burger King has not had ice cream for over six weeks and we come for the shakes and Icey floats. Not a good representation for theis store in Bluefield Va.

Becky Ockman
from Picayune, MS
Went thru drive thru after paying was asked to drive up to wait for tens minutes which there was know other customers when i got home old fries so hard you couldnt eat them i ordered a double with cheese i got a single know cheese and burnt bun its really sad yall open for 24 hours and know customers and still I received a bad product!

Madia Wright
from Milwaukee, WI
On Wednesday, (3/25/2015) at 11:35 AM, my family, and myself went to one of you drive thru. I brought a spicy whooper ( without cheese), whooper junior with cheese, 9 piece chicken fries, 2 bacon cheese burgers,1 large onion ring, 3 small fries, 1 medium ice coffee, and 1 medium fruit punch. receipt number (217), my complaint is that we found hair on one of the cheese burgers and they did not contain no bacon, my other complaint is that my spicy whooper had cheese on it when I clearly stated no cheese. This is bad business, my son had ate off the cheese burger when he found a long black hair on his burger. I also have a complaint that no one in the store were wearing hairs nets, and they all has long hair. The store number I went to was #03456. Cashier 300169 Britney. Address: 5120 W Capitol Dr, Milwaukee, WI 53216.

Kayla ramirez
from Crescent City, CA
I went out to eat with my children and a lady worker camileigha set my burgers on the counter while waiting for my kids chicken nuggets by the time my kids food was done I sat down to eat and my food was ice cold so I respectfully asked for another burger she grabbed the burger felt it and said f***ing bullshit and tossed the burger, made a second one and let that one set then brought it to me and that one was also cold she then said to me that it was my own fault that my food was cold. And that it wasn't mcdonalds I can't have it my way. I was very disappointed I asked for a refund. Then left. I wanted to be reimbusted for the time I lost I didn't even get to sit down and eat with my children. Please call me at (707)-457-7899 thank you

Mike
from Panama City, FL
Addressing the Burger King in Panama City fl on 1396 w. 15 th st 32405 Store phone # 850 784 1660. I went in @4:51pm on 3/25/2015 I ordered a double whopper w/cheese and fries and a chocolate shake. I asked for a senior citizen discount the cashier said we don't do senior discount's I then informed him that yes you do I always get my senior discount. He said he is not allowed to gives discount's yet. He said I would have to speak to the manager I said ok can I speak to her he went and informed her that I would like to speak to her she said ok give her a couple of min so we waited patiently for about five min then I told him to go ahead and ring it ,regularly so other people could get waited on. My order cost $8.49. Then I steped aside to wait on my order and to speak to the manager by now 10+ min 's have passed I watching the young manager working and I waited patiently. Finally she told the young cashier his double whopper was up.
Now my order is ready and she still never took a moment to address my concern, I asked him who was her boss and he shrugged his shoulder's saying I don't no , then he told her I wanted to no who her boss was and she never informed me so I proceded to tell her that all I wanted to ask her was about my ,senior discount she said all I had to do was ask him which I said I did and he said I had to ask you. She told me she was busy and if I had a problem with that I could come back there and make burger I told her I'm retired and I have made more burger's in my day than she is old. I have grand kids older than she is and I have paid my time.i told her that she could have answered his ? From where ever she was and never stopped working. My problem is that this little girl would not take time out of her busy day to respect her elder's and it's sad because I'm a customer the reason she is able to be a manager @ Burger King.
All this over a senior citizen discount and a very disrespectful manager don't remember her name but she was working @ 4:49 pm on 3/25/2015 the young cashier was new I could tell because he really did not want to upset her by asking her my ?'s . My Host: was William order#219 I really would like for someone to address this issue I and my wife have had this happen to us a few times @ this Burger King five times we get senior discount then when a new employee comes in they don't understand the discount there should be proper notification plastered on the bulletins board for all employee to honor the men and women of the military and seniors who have earned the right . That young lady needs to know that some gave all and all gave some for her to be in the position she is in.

Renee' Konias
from Pittsburgh, PA
Yesterday apx 4:00pm my husband and i went to the north versailles, pa drive thru. 1st i couldn't understand what the girl @ the order window was saying. I asked her 3x to repeat herself she was not talking clearly and i couldn't understand her at all. i ordered 2 jr whopper meals and told her i left my coupon at home. she charged me like $9.39 for 2 meals. I threw away the receipt, you can check the register tape with my order. We then ate our meals when we arrived home and were very disappointed in the quality of the meal. the buns on both burgers were dry and stale. I called the restaurant and they said to bring it back. I said i'm not coming back when it's 20 minutes away each way from my home. I asked for a refund (for my next visit) they said they can't do that. Since They were unable to assist me, can you send me coupons for two (2) free meals at a later date. I frequently eat at burger king and this the 1st time in over 30 years i ever experienced a problem. Thank you for your assistance. Renee' Konias

Justine Hawthorne
from Macon, GA
I went to burger king in Macon Ga. ask for a chicken sandwich with light mayo ,when I got my sandwich it was fill with mayo,also it taste like it was cook in old oil and had bend under the heat lamp the sandwich was not freash.

A manager (Fea) came in yelling at a couple employees telling them to shut the up and putting her hand in their face, also was throwing creamer in one of the employees face.

I called Burger king last march 3rd about bolt in the milkshake and they said will send to big corporate office and they never call me. I call every once a week ... and they never call me until now.

Christopher
from Brooklyn, NY
Today I decided that I would have something from Burger King. I stand online to order a #1. Durning the process waiting for someone to take my order. You have one Clark notices me but not asking for my order just for at least 4mins doing what ever note even say sir I'll be right with u. Store is in Elmont ny.... I left and when somewhere else to eat ghetto service

Edward Sykes
from Gorham, ME
Every time I go here to the drive-thru at Burger King in Windham, Maine (04062) it is a 10 minute wait for my food. Its at least 3 -4 minutes before I can place my order, then a 5-10 minute wait for my order. Not just me , EVERY ONE! You can go to McDonalds across the street and be out of there in 3 minutes or less, usually less. You need to hire more efficient employee's. No one should ever have to wait that long. I got to McDonalds and as I'm leaving the same cars are at Burger King still waiting for their orders. This is like this ALL THE TIME. And at Burger King there is no way to get around the other cars in the drive thru so you have to Wait and wait and wait. WHAT IS WRONG WITH YOUR EMPLOYEE'S?

Orange juice was almost water at Burger King. If I go there I expect a certain level of customer service.

kelvin kearney
from Seagrove, NC
Went to go get a ice cream sundae manager claim that it was 4 oz. of ice cream wasn't even 1 and half. I don't think that customers should be treated that way.

burger king me and my 3 children where in burger king on the 3-9-15 and one of the employes was very rude her name tag said Cheyenne me and my 3 children was dinning and she came over to my table where we was eating our meal and she grabbed my 13 month olds high chair and pushed it back with my bay in it and began to clean our area it was upsetting to me she had no right to grab my babys high chair with her in it she should have waited until we where through with our meal before cleaning our table and swiping under our table it could have gotten trash in our food and my baby could have fallen out of her high chair when she grabed her and pushed her chair across the floor like she did that could be a law suite so please do something about this employe at burger king by the name of Cheyenne she is located at the burger king at 1605 town square SW

pamela orina
from Minneapolis, MN
One food was ice cold returned it and she had put already deep fried onion ring back in the deep fryer then my fish sandwich was so cold there was no warmth at all ice cold brought it back and the had that balls to microwave the fish patty and one it was still cold and so tough it could not be eaten at all this is the 2nd time I've been there and the 2nd time we got food poisoning and extremely bad service and food this place there is no way this place would ever pass a inspection of any kind its dirty filthy and the employees are just as bad I will NEVER go back to that burger king don't wanna be sick with food poisoning again even my son got sick off their food this burger king was on the corner of century ave / 120th ave and 36 in south Paul MN area I was told the place was closed down due to it not being up to code.

JERRY MOSEMAN
from Garland, TX
Rowlett, Texas has no burger king! Come on guy's i need a double whopper stat!

william kersting
from Hayward, CA
We went into burger king store 977 and we go in every morning and there was a sign on the window for two Breakfast cros. For 4.00 the employee at the window charged us 3.89 for each cros. We did tell her that the window sign stated 4.00 for two and she stated that the price is not on her menu code. We did ask her to check. The window and she stated she was not going to do that. We would like our money back 3.89 and she does need more training at the window she was very rude to us. She does not know her job.

mary mansfield
from Chalmette, LA
Went to the burger king in Chalmette, LA didn't have sausage but ham and bacon only really. Needs to be closed down.

Matt
from Hedgesville, WV
A very u satisfied customer in Martinsburg,wv been to both stores. Very poor,slow service. never get what you ask for always ask for Zesty might get it 2 out of 10 times.. zesty an being my daughters favorite place is the whole reason we eat there.. But after today were done...

Karen Carlin
from New Bedford, MA
Went to the BK in Fairhaven Ma about 7pm tonight. Ordered 2 fries and 2 Jr Whoppers got home a 4 min ride everything was cold! Really ! Now I had to listen to my husband complain. This is not the first time this has happened at this location, simple request I want my food hot.

Karen Van Westen
from Hull, IA
our orders of French Fries were extremely loaded with salt--what happened to the "no salt" to be added do to health issues? Also, the chicken sandwich had almost no sauce-making the sandwich very dry. Normally eat the Whopper Jr., but decided to try something different-what a mistake!

Went to the Traverse City Mi. BK at US31 South and M37 Intersection on Friday th3 13th ( should have known) and ordered 2 Bacon double cheese burgers and a large order of Onion rings. Getting home (about a 10 mile trip) I find an order of chicken nuggets. No cheeseburgers, no onion rings, just nuggets. No I didn't call or return that day, didn't know I was suppose to. The following Monday I stopped by on my way home from work ( something I would do 3 or 4 times a week. The manager was nothing short of rude. Frowning she asked if I had called I told her no, I didn't know I was suppose to. People standing behind me were getting mad at being held up. The manager finally came back and said I will do it this time but next time call. Really? So she thinks this will happen again? Instead of making me feel like a fool in front of the other customers she should have had a talk with the lady that put the napkins in the bag and was laughing and talking with her co-workers. BK is no longer on my list of fave places to stop. I realize this won't hurt your business a bit but at least I won't be treated like a fool anymore.

on 10/28/12, at burger king in warrenville, il. at 4pm, i was informed that the customer is not always right.oh, did i mention this happened in america?i ordered two dble cheeseburgers off the grill and fresh fries. reminding the girl again that it was to be off the broiler. after i was asked for 12.41. i said that was alot, and the girl said she made a mistake and had to ask the manager for help. he took control of the register and i reminded him i wanted it off the broiler; as i was watching the cook take the already cooked patties out of the cold pan to be microwaved. the mgr.[ julio gomez, he told me was his name ]said off the broiler. the cook then made one, and the mgr. bagged it. i then said, i ordered two,and the mgr. informed me i was wrong, and had only ordered 1! that i had only paid for 1! the girl said, "he paid for two" after all, he had taken care of the order after she had erred. he asked me if i wanted another one, and i said that i wanted two, just like i had ordered! he then repeated many times that i had only paid for one, that i had ordered one! i said isn't the customer always right?, and he said more beliggerently, no, the customer is not always right! well, that hit me as pretty confrontational for something that was entirely his and her fault. when i asked for his name, he replied, "julio" then i asked him his last name "gomez", he said. i thought that it sounded a little common, but i am writing this letter thinking it will be his real name, though i suspect it isn't. he was overly aggressive and his attitude was one of disrespect. he seems to be a little arrogant, and needless to say, his store will be the last place i order a meal, in the future.i hope someone will read my letter and not dismiss it per se. i am not a typist, and it took me longer that you can imagine to type it.! i'd like a response to this letter, thank you.

Went into Burger King today as its what my daughter chose we ordered and everything was not appetising at all ! The burger bun was dry and had no sauce the chips were freezing ! I didn't eat mine I took my little girls back and said I'm fine with not changing mine because I had been put off but wanted her chips replacing they made some fresh chips and then put them in the kids bag with the cold ones still in there I said the cold chips are still in there and the women replied you have got fresh chips in there as well so why are you complaining ?!? Needless to say I am appalled at the service I got and don't think I will be going back ! It's not very often we take my little girl out for something to eat as she has milk allergies and Burger King are usually good with us but this experience is not a nice one I would understand if they were busy but I was they only customer being served and 3 tables had been used it is unacceptable !

On 4/13/2013 we went through drive thru ordering our items. When we drove off, and got home, we found out we were missing a Bacon Cheeseburger. Due to us being clear across town and having a baby that fell asleep, I called the Burger King Resturant and asked what can be done. The manager said 1 of two things.. 1) I can come back and get it or 2) she can mail me out a coupon, but the coupon could take up to 2 weeks to be mailed out! I was furious at the type of service this manager was giving me. To waste my gas and time going clear across town for a bacon cheese burger that I paid for and didnt get, or to wait at least 2 weeks to see if they were going to send me out a coupon for something that wasnt my fault!
I never would go back to this specific Burger King again. Terriable service and awful managment.
Its horriable to have a resturant take your money and not give you your item you paid for, Then to tell you to wait 2 weeks! Pathetic!
Burger King # 13029 2504 O Street Lincoln Nebraska 68510
402-476-3050

Hello. I am filing a complaint about the Burger King located at 500 N Martin Luther King Jr Drive in Winston Salem, NC 27101. This facility is the worst that I have seen in quite some time. I noticed that there are a lot of teenage workers who do not have manners at all. The hours of operation clearly states that the facility will be open until 12:00am, but around 10:30 every night, you are free to order, but no one will answer to take your order, and when you pull around to the window, the employees look at you as if you are crazy, and continue to talk to each other and on their cell phones. Burger King is not the same.

I am on the road a lot during the week and quite often use fast food restaurants for lunch. I have noticed that there is an increasing number of Burger King restaurants in the Holland, Zeeland, MI area that are getting slower and slower with their service. It appears that one person is handling the front counter and the drive up window. I can get through the drive through line at a McDonalds much quicker than at Burger King. I prefer the Burger King fish sandwich over McDonalds but cannot afford the long wait at Burger King. I also like vanilla shakes. The vanilla shakes at Burger King taste like frozen Cool Whip. It is not ice cream by any stretch of the imagination.
Starting to think Burger King may be getting in financial trouble and cutting back on staff and quality food to lower costs.

Every time I go to your store located on Port Washington Road in the mornings on my way to work, I either wait for 5 minutes or better, or I leave. The store # is Burger King #5369.
I just noticed online today that this store doesn't open until 6:00 so the first two times I was there, I understand why I waited, as I got to the drive through between 5:55 and 5:58, but still, I waited one of those times until 6:06. This morning I got to the drive through at 6:04 am and at 6:10 AM I drove off. Nobody even came to the window.
When I left I saw someone in the drive through window making coffe or doing something, but never even acknowledged me. I do not have a Burger King in my town so this is usually a treat for me for breakfast since I really love their breakfast sandwiches but I will tell you this, I am completely irritated and frustrated with this store.
I am not to sure I will be going back there. Hopefully the rumor that we are getting a store in the Saukville/Port Washington area is true, othewise I will just have to go to breakfast in West Bend on the weekends when I feel like I want it.

your store number #1736 BURGER KING OF HACKETTSTOWN<NJ, has the worst bunch of morons i have ever seen run and operated of a kindergadren based mentality that it take to perform there duties. everytime i goes to this store,they get the simplest of orders wrong. i had been going to this place weekly for years.and always got horible service...so against my better judgement,i went there again today...and as ALWAYS. they screwed up my order. "have it your way" REALLY? i have to get the right order t least once outa 25 times to get it my way....someone needs to fire that manger,and crew and start from fresh...you could put Chimps behind the counter and they would do a better job.

I went to the Burger King at 2295 w. stadium blvd Ann Arbor mi 48103 on 4/12/13 for lunch before heading to work. I asked for a FRESH chicken sandwich +onion and FRESH onion rings. Needless to say onion rings were ok but my sandwich was anything but fresh. It's so irritating to order something pay your money and bother what you asked for. I understand its much easier to give someone a fillet/ patty that has been sitting for 15-30 min but not everyone eats that kind of food. I like my food fresh and don't mind waiting 7-10 minutes to get fresh food. Why can't these workers just give people what they ask & pay for.? The sandwich didn't even have onions on it. My receipt says off fryer which I assume means cook a new one. I've been trying to call the store for over an hour but they won't pick up the phone. Now I'm at work for 7 hours and stillness something to eat. I know the manager will say I'm sorry we will replace it which is not helping me right now.

In burien burger king, Every time i go to that burger king, they always get my orders wrong or charge me extra . Well i just got back from burger king twice and i found a hair in my burger , i had to throw away because it made me not hungry anymore. Last time i went there, i ate in. It was not a clean place to eat at all. While i was eating , there was a fly buzzing by me , making me feel dirty and the table wasnt wipedclean.

My Fiance and I eat at Burger King every other week. Last night I was so embarrassed by the rude service we will never go back and I will make it my life's mission to advise everyone I know never to eat there again! I came in around 11:30pm on November 27th at the Burger King located near Yonge and Eglinton. I asked for a spicy wopper (meaning the whiplash burger or whatever) and the manager Laura refused to serve me! WTF what fast food restaurant refuses to serve someone? Drunk homeless people come in and still get served! I asked for a complaints number and she gave me the number to her restaurant. Her and other collegues had a good laugh! I will never to back to any Burger King unless I get a verbal and written apology from LAURA! I'm sure nothing will come from this complaint but Burger King lost about $400 annually from my fiance and I and I'm sure a lot more after I tell my story. Burger King has been boycotted unless I get that apology from Laura!

Burger King you got to do better!! I had to do this because it makes me mad when come to spend my hard earned money and you have such terrible service not once but twice.
My first bad experience, my order was wrong and on top of that,cold!The drive-thru attendant told me that they ran out of onion ring sauce. When I got to the light after leaving Burger King I turned around to return the food inside.I asked for the manager to get a refund, he gave me my refund and asked what was wrong.
I advised him that the food was cold and the order was wrong and plus you ran out of onion ring sauce. The manager said to me that they did not run out, they had plenty. So the drive-thru attendent lied just because she didn't want to get me the sauce. Who does that??
My last experience that made me send this email, the customer service was the worst ever. I've never been thru a drive thru where the the only thing the attendent says to you is "your total is..." No hello, how are you. I asked for barbaque sauce, she said noting, just passed it too me. She never said thank you, have a good night, nothing.
Also not to mention when I approched the window they were changing money, or changing the drawers, which was not a problem because I understand that has to be done but not once did she say sorry for the wait.
Nor did she come and knowledge me waiting for close to 5 mins. How do you give someone a job dealing with customers when they have no customer service experience? I'm not having it my way at Burger King!!
Burger King on Ironbridge Rd.Richmond,VA 23237

I don't complain about a lot in life. But since this is the second incident at the Burger King In Ottawa, KS, I have to say something. Today, 1/28/12, I ordered the whopper (no lettuce and no onions), onion rings, and a coke. When I was given my order, I asked the gal at the window, "No onions or lettuce,right?" Her reply was "There shouldn't be". Well, guess what sister? There was both onions and lettuce on my order. And the coke tasted like it had antifreeze in it. $6.00 bucks shot to hell. I will NOT be going back to this establishment. I'll take my business across the street to McDonalds!
I'd like to say that when i entered into the Burger King restaurant I was walking into a PARTY SCENE or though it seemed! I entered in the rear of the building and could hear a bunch of playing, joking, laughing, and cursing! I almost didnt order. No manager in site, a hefty bi-racial woman with glasses was present she was dressed different from the others, she was well occupied with who i at first assumed to be a child of hers in regular clothing (no burger king attire) until i seen them kissing in the kitchen area, needless to say then i realized different. My order that was suppose to be a whopper with cheese no onion with chocolate shake took me 9 minutes to get and was AWFULY COLD..
I was very dissapointed but i chose no to even go back inside once in the car, i however did call and try to make a complaint but someone who answered the phone never directed my call to any management? Needless to say i will probably never go back in this restraunt in the evenings.

Last night I felt really ill so ran in burger king to use the toilet then I felt sick so ran out side to be sick and asked for a cup of water and didn't get one , I needed to toilet again so I ran back I was being sick , the security gaurd opend and unlocked the door whilst I was in the toilet I was trying to ring my sister to come and pick me up a woman who worked there's had hold of me trying to pull me off the toilet I was asking for water and they refused , in the end I got up off the toilet and as I walked out they was shouting at me saying don't come back here again I am unhappy with how they treated me I couldn't help being ill , this is in the manchester picadilly mcdonalds.

I went through the drive through at BurgerKing#13903 at 101 W Euless Main in Euless Texas. My order number was #2. I ordered 2 sausage biscuits, a sausage egg and cheese biscuit and a bacon egg and cheese biscuit. When I got home to eat I discovered that the biscuits were hard as a rock. Almost like a crouton. Unfortunately I have no teeth so this made it very difficult to eat. And the sausage on the sausage egg and cheese biscuit was dry like it was over microwaved. I have been going to this Burger King for a long time now and I have never received such poor quality food before.

My husband and I left a basketball game and stopped by for your fish sandwiches. We both ordered combo meals. One fish was to have no lettuce and extra tarter sauce and the other to have no tarter sauce and only lettuce. The gentleman taking our order repeated it back to us with our 2 special orders and he repeated it back correctly. We finally received our order and drove across town to our home. Upon arriving home i noticed that NEITHER one of our sandwiches were made correctly. It was not feasible to drive back across town to return the food. It was really aggravating and frustrating to get home to eat dinner and find out that I could not eat my sandwich because of the lettuce on it, and my husband could eat his but had to scrape as much of the tarter sauce off that he possibly could. This is just not acceptable to me because the gentleman taking the order repeated exactly what we wanted back to us and they were still not made correctly.

When I walked in it took 10 minutes to be served, and once served it took so long for my meal I sat down. When paying for my meal I gave my army ID and they said they don't give HM forces discount in which I find disgusting. I am a war veteran so Why does another Burger King give HM forces discount and another not, I think that this is discriminating the British armed forces in which I shall be talking to Land about this. When I actually got my meal after another 10 minutes, I had one piece of bacon, cold burgers and a stale bun, I took my burger back to compliant about it and they were helpful about the matter but when getting burger back the bun was worse than the first one stale. This is discussing for such a popular fast food restaurant.

I arrived at burger king on desiard st in monroe,la a little after 6 on feb 20,2013.. I stood insince line for about 10minutes and from my expierience since I was white I wasn't being waited on..I stood in line and blacks that were entering after me(their orders were being taken) there was two customers that purchased food but didn't have all the money and ran to get change,while they were gone the older black customer was asked what she wanted to order and she said she wasn't ready so when I finally got a chance to place my order I was told that the screen was tied up and I couldn't place my order yet..that was bullshit and I will be contacting a lawyer..besides it should all be on camera..

I was at a Burger King store with my brother. I notice that there were people that was behind me getting there orders. I went up to ask what was taking so long, the girl did not offer me a explanation so I told her to refund my card (the bill was 16.02). I then left. Upon checking my bank account, it did not show the account credited. The next day I went in again and ask to talk to the manager, she told me that it take 24 hours to go through, again I left. On Monday the 29th of October 2012 I looked at my account it was not credited. I went in to talk to the manager I could not understand what she was saying and again told me it would take 24 hrs, it was now 48 hrs. I became frustrated and told her that I would just like to have my refund, she stated that I would have to go to the corporate office. Then threatened to call the police on me because I was frustrated and raised my voice. I left defeated and angry. I was not offered another meal at a different time, apology, and I could not get my money back.

I have just got a whooper meal and the chips was cold the burger was slapped together and looked a total mess and when i ordered the drink that was ment to bed coke cola and i was given a cheap substute that twisted nothing like coke and COKE COLA was advertised on the BK menu board. plus i was standing in shop for 20 mins waiting for my food.
How you can call tyhis fast food it was more like RIPPING CUSTOMER OFF !!!!!!!!!!!

I went to the Burger King on Ruth st in Sulphur Louisisan 02/03/2013 at 06:30 am. I ordered a frappe mocha and as I was dringking it, i kept getting little white hard stuff in my mouth. I thought it was one of my teeth had chipped off. Well when I got to the bottom of the cup it was a huge white cap in the bottom. It was all beaten up. It also had lots of fragments in the bottom. I called the store and spoke to the manager on duty. I tell her and she says she is sorry and she will replace the drink. This is unsafe. Its know telling how many fragments I have drink. I brought it to another burger king and it was said to be a syrup cap. It was in the blender and was blended with my drink. This could have really damaged my throat and insides. I very upset of the lack of concern at the resturant. I would like a call back from someone at corporate offices of BK.

I live in Hudson, NC. I visit the Burger King location on Hickory Blvd. 3-4 times per week for a frozen Coke. Each time I am told the machine "is broken and Corporate won't fix it". Now I truly understand machines are just that and they do breakdown, but 3-4 or more times each and every week?? Come on now, that's a bit much to swallow. However, if it is true, then the item should be taken off the menu. I don't believe this is the case each time, I believe it's employees who don't want to clean the machine and do it before the store closes. I would like to see someone resolve this issue or else remove the item so it's not offered at this location. Thank you for your time. Sandi Phillips Hudson, NC.

I would like to tell everyone about the experience i just had at Burger King in bonner springs kansas, i went in to get my son husband and i lunch at about 11:30 am, gave my order,and went to get my son his fasta orange drink, the new machine they had in there quirted orange soda all over my new top,new shoes and all over my hands, it literally stained them, I ask to speak with a manager ,he came out ,and it sprayed out at him as well.i wanted to get lunch home to my son n husband befor it grew cold,which it did anyhow befor i got home, the manager didnt take my name number or anything down ,it was the most horrible thing , i could ever imagine... this is terrible that these fast food restauraunts doe NOT take fault for what happens with their equipment. i am very upset with this matter.

Today, 9/29/12, I drove by the Burger King located in the 1300 block of West Irving Park RD in Chicago, IL and noted that the large American flag in front was torn loose from one of it's mounts, appeared dirty and dangling almost to the ground. Having lost an uncle in WW II and aware of the thousands of young Americans who lost their lives or limbs in defense of what that flag stands for, I am sickened and appalled by the lack of respect the Burger King company has for this country.
Approximately one week to ten days ago, I had first noticed the condition of the flag and reported my concern to the manager of that facility. She had even come outside and visually confirmed the tattered condition of the flag. Several days later nothing has been corrected. I have no idea how many days, weeks or months the flag has been displayed in this deplorable condition. I fully intend to make as many people aware of this situation as I can.
Why is this situation allowed to continue and why has it not been corrected?

Burger King was one of my best fast food restaurants. All my children love it. Since I travel a lot to the UK and the US Burger King is my first choice during my travel. Unfortunately Burger King is owned by one of the most known people supporting terrorism in Bahrain. I hate politics and never interested in such a thing but the way the owner of Bahraini branch of Burger King supporting terrorism and attacking the silence majority people of Bahrain had a bad image on Burger King. It reached to the point that if you love your country and don't support the opposition you should stop buying anything from Burger King restaurants. I know that the worse thing for a business owner to be involve in Politics.
Today I was at City Center one of the most known malls in Bahrain and now our Eid season when all the malls are busy people buying gifts and cloths for Eid. I stopped buying from Burger King from February 2011 and I only enjoyed it during June and July when I was visiting Orlando. Today at lunchtime I went to the food court in City Center and since it is one of the busiest seasons all other fast food restaurants were very busy and waiting was really long and the only restaurant with almost no customers was Burger King.
My four years daughter was hungry and I told myself I have a good excuse. I went to the counter were two Philippines were serving food in a restaurant without food!!! . I asked for Chicken Nugget Kids meal. Do u know what was the answer? We don't have any chicken nuggets in a very rude way without saying Sorry!! Then I asked what kids meal you have and also said in a very rude way we don't have any kids meal only two sandwich Chicken or Beef burger!!!!! I am sure even if I asked for a burger they would find a way to say we don't serve food.
I am really shocked how a big and famous food chain like Burger King is allowing them to do so. I can provide with the exact time and it was early as the mall stay open until late. Everyone knows about the Riffa branch of Burger King and it was closed because all people living in Riffa were really mad about the owner. Do u know that when the owner hire people to remove the furniture and everything in the restaurant with the logo, pictures were taking by normal people and it was everywhere to tell everyone that we r winning and anybody supporting terrorism will have the same thing.
I miss Burger King food so much. My other daughter asked me when will I be able to eat from Burger King and I told her only when we travel!!!!!!

On may 5th 2013 at 3pm my family and me stopped to eat at burger king in parsons ks. When my fience went to open his hambuger it had a big bite out of the sandwich. My dad took the sandwich up one of the employees to it threw it in the trash and got him another hambuger. The manger on shift didn't look at the sandwich but explained it off as it was because sometimes the hambuger falls apart. There was no apoligies. There was a perfect bite out of the sandwich bun and all this was no meat falling aprt thing. The manger acted like it was no big deal. I would just like to let you know how buger king in parsons kansas is being repercented and that me and my family and friends will no longer be goin to burger king.thank you for your time the

I don't normally do this, but the last few times that my family and I have been to the Burger King in Hastings MN; the food and service have been horrible! Today, my daughter and I went out to eat lunch and bothe the service and food were horrible. I knew that we were in trouble when we walked in because I saw two fries and chicken nuggets sitting there...not even under any warming lights, mind you! Now, I understand that fast food doesn't mean that I am foing to sit down to fine dining, but I do believe that my food should be warm and the staff should be curteous. So, our food was indeed cold and when I asked the staff to warm it up in the microwave, they proceeded to heat it up...too long and the food was beyond chewable. The bread and meat were cooked to the point that it became hard, as well as everyhting else. The staff was irritated with me for wanting my food warm. I don't really understand why I was such a bother, considering they were just standing around, laughing, and doing nothing. I have been to many Burger Kings across the country actually and Hastings is by far the worst that I've ever been to. Your staff in Hastings should take a lesson from the staff in Lake City MN. The establishment in Lake City seems like a supper club compared to the Hastings store. Lake City always has HOT food, curteous staff and really want to let you know that as well! Thank you for your time, Sincerely, Derek Dickinson

I was just at your Green Bay store on military ave, I bought a crossant sandwich meal. When I got home and opened it, it looked like they just threw everything in the bag, the sandwich wasn't wrapped and had fallen apart and the tater tots were all over the bag. If the staff at this store don't care anymore tell them to quit and go work somewhere else or have them retrained. I won't go to that store anymore. If they present there product like that then I sure don't want see what the condition of the store is.

My husband and I went to the drive thru at the Burger King on Middle Country Roach across from the Centereach Mall in Long Island on Sunday, October 21st and purchased 2 Chicken Parmesian Sandwiches. We sat in the parking lot to eat them and half way through my husband bit into a piece that was almost jelly like. He looked down and it looked like gelatin, it was raw. We went back to the drive thru and showed the person at the window and they took it to their manager. We waited almost ten minutes at the window and no one ever returned. After the ten minutes the same worker came back with another Chicken Parmesian sandwich and my husband refused it as he did not want to take a chance again and that he would either want a burger or his money back. The worker then said he would have to go back to the manager. Another five minutes later the gentleman comes back with a burger. The manager never came to address the issue with us directly to apologize or anything. That night my husband suffered very bad stomach pains and was vomitting through the night. Burger King is my families favorite burger place but after this and the type of customer service we received I'm not so sure how often we will frequent the establishment. Maybe new training needs to take place.

I'm employed at the Burger King in Atlantic Highlands, New Jersey. Store Number 13283. I'm always finding breaking of the store policies going on inside the store. Not only are two of my managers dating each other but I've always turned my head and caught them "making out" which disturbs me to deal with in my place of work. I find it to be highly unprofessional.
My GM has also multiple times been rude and down right nasty to some of our customers with the excuse that "she doesn't want to deal with people today." When you work in a fast food restaurant half the work you do is dealing with customers, and when you're rude to them you lose business which isn't a good thing for the corporation.
My manager has also recently been cutting hours of some of the workers due to personal reasons rather than work related reasons. She's cutting hours to fulfill the hours of their daughter and son who are also employed there. When we're not even short on staff she's constantly hiring more which also causes a drop in hours for the good workers who've worked there longer.
They also won't work some workers on the same shift as some of the other managers due to reasons implying racism. They've stated they're sexist against female employees, not necessarily the ones who work in the store but others she's worked with recently. I don't find this to be the best store you could possibly make it to be because of all the things that go on in it.

Dear Burger King, I am so pissed off I can hardly write. I've been going to this particular Burger King for over 10 years.. I was never insulted like this before. I am a handicapped senior citizen. I ordered lunch and usually sit at one of the 3 tables with chairs. you worker in the pictures had stuff on all 3 tables Including baby stuff and a baby bottle, I had to squeeze in sideways at a both right next to him. he completely ignored me and was sitting at the first table texting on his phone.
while the baby was throwing his keys on the floor and running around my table. he never asked if I needed one of the tables he was occupying. there was another employee having his lunch at the last table. At first I thought the boy was just a rude customer, until I noticed he was talking to the worker next to him and the manager behind the counter. also in pictures. I was just about done eating.
then I took out my cell phone and started taking pictures, that's when he stopped texting, got up cleared the table he was sitting at and got the baby off the floor. He went to the side door and talked to his manager, they both looked and the boy went back to work, trying to hide from me. they never apologized or nothing. I really pissed off. I think your help in this store needs a talking to, I'm not looking for any free hamburgers, I'm just pissed, cause I eat at Burger King about 3 times a week .
I hope this helps you control some of the attitude at this store. What got me so pissed is he could see that I was having a hard time fitting into the booth. but was having fun watching me struggle.

There was a bread tag on the bottom of my chicken sandwich and I could of choked on it if I was not paying attention. I want something doen about it cause this could of choked me and really no food coupons will be excepted because it could be a lawsuit if i would of choked.

This is the first complaint I have ever submitted with any company. In this case I feel a complaint is warranted so that service is improved and I can continue to enjoy eating at the restaurant. I went with my children to dine in on Sunday evening at 9:45 pm, but there were no customers inside and the door was locked. The dine-in hours stated closing hours at 12:00 am. We settled for going through the drive -thru. At the speaker I asked for an order of chicken fries, a hamburger w/no pickles, a crispy chicken sandwich and 2 small onion rings. When I arrived to the window I payed using my debit card and checked my order. I had an extra order of chicken fries and reviewed my receipt. I realized I paid for the extra order. However? I was told that I could not be reimbursed because the cash register was in the process of closing. I was offered ab extra fry instead and accepted it because I didn't want a confrontation at the time and there was a long line of cars behind me. I was upset but accepted the fries instead even though the fries cost much less than the chicken fries. I then asked for a zesty sauce and was told it was already in the bag. After arriving home I realized the zesty sauce was not in the bag and furthermore the hamburger had cheese in it. My son can not eat cheese as a result of medical issues. I did not return to make the change because at this point I was quite upset as were my children. I believe this to be awful service. I am not seeking any reimbursement, but I do hope that the lack of adequate service is addressed and remediated. Thank you for your time.

Steven L Balog
from Goshen, IN
Ordered the 2 for $6 chicken sandwich 1 crispy 1 spicy at drive thru, got home I opened mine and only had half of a tomato on it, I ask my wife to look at hers and she only had half of a tomato on hers, is this normal? If so, this is pretty weak on Burger King.

james r chandler
from Tampa, FL
i had a coupon for 10 pc chicken nugget and fries for 3.99, i added another 10 pc nugget 1 plain cheese burger, and 1 hamburger ketchup only. i watched 7 orders go ahead of me, manager said he made my fries large for the wait. when i got home i had 2 whopper jrs with everything on them. my grand children are very picky about what they eat.

Marieann Nobbie
from Dublin, OH
Hello I had visited a Burger King on Wednesday July, 11, 2018 at 500 Rexdale, Blvd unit L001 in Etobicoke, Ontario M3W 6K5. I had waited in the line which was backed up as 2 employees was chatting and laughing in between serving customers. When my time came for me to place my order the server named Mike, would not stop chatting and making conversation with his co-worker. In between placing my order he kept interrupting me to talk with his co-worker! I was annoyed as I waited over 10 minutes just to be served to not only be constantly interrupted when trying to place my order. So I decided to stand there and let him continue to talk away with his co worker. They were talking about another customer and laughing at the situation and in the meanwhile other customers 2 to be exact came back to the counter and said that both of their orders were wrong. I stood there as they tried to figure what went wrong with those orders...still waiting to finish placing my order. Finally after another 4 minutes he looked at me and asked me what did I want again? I repeated my ordered to him again be rudely interrupted yet again! so that he could finish his previous conversation with the same co-worker. That is when I spoke up and asked when will he be done with his conversation that I would love to complete my order! He finally took my ordered to then repeated a wrong order. I then corrected him and paid with my debit card... As I waited for my order to be prepared, he once again started talking with his co -worker, I then interrupted him and asked for my receipt. He proceeded to say to me that I had to pay first? I said I just did, maybe if you stop chatting so much and pay attention to your customers you'll know what's going on? He threw the receipt on the counter and said very loudly "just relax and wait for your order" I then asked for a refund and he yelled out she's "cancelling her order" " forget it". This person was not only rude but when I brought it to his attention that his chatting is causing a back up and producing wrong orders to be filled he got angry! I only brought up that the constant chatting is causing issues with orders and me as a customer who stood there patiently waiting for him to talk away with his co-worker... I believe he was being rude and very inconsiderate towards me as a customer instead of trying to resolve the situation, he made it way worst by not admitting his faults for all of the delays! I should also mention that he was the only server with only one cash register open...so customers were relying on his performance to keep things going smoothly, which unfortunately did not happen.
Signed,
A very unsatisfied customer.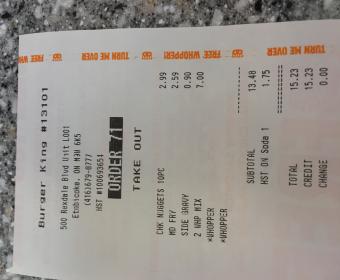 Mike Geddry Sr
from Lompoc, CA
Burger King #4694 120 S Nicholson St Santa Maria
6:57PM 7/12/18 Order # 137 Cashier 2
1.Dining area(Floor, Tables, & Seats) not cleaned up to include trash on floor Roof Air Conditioning Condenser contaminated water dripping into area adjacent to customer tables (evidence that this has been a long term event by ceiling plaster missing & decorative wall paper hanging) Employees acted like they.had no prior knowledge of it. Yet they told us that it only occurred when the air conditioner was on for extended period. This is a major health hazard that can bring about Legionnaires Disease.
2. Fish sandwich was served burnt. Employee was advised of this. She said that if she re-did the sandwich it would be the same way. She is correct because the oil was not changed or skimmed as required. Second sandwich was the same way plus I had to pickup the sandwich instead of it being delivered to our table.
3. Television was on the MTV Channel subjecting us to abusive language. I asked to have the channel changed to another channel. Employee told me they have no idea where the remote is.
The dripping of the contaminated condenser water is a major health hazard which I am planning to notify Santa Barbara County Environmental Health Department. If this did not have evidence of a long term occurrence event I would not do this.
Mike Geddry Sr.
805-345-9001

jeff falkenhage
from Raleigh, NC
burger king
3955 new bern ave -Raleigh nc
I stop by at night at 2.30a.m I waiting in drive -over 20 minutes not a word came over the speaker so I drove to the second I waiting 10 minutes til someone saw she open the window I am sorry we not doing breakfast til 30 minutes I said I do not what breakfast then she said we run out all meat
I said I what a number 14 which is a fish meal
no one was wearing a head set
no one know the menu
there is no dress code they in street stuff - did not look professional
this year I have make 5 complaints about the 3 shift -doing
thank you
jeff

Jose Arvizu
from Los Angeles, CA
Hello no complaint about the service its always great, I received an email saying congrats i won a $1,000 bbking gift card I said its about time since i go there 2-3 times a week. It said click here to redeem so i did and it wanted me to take a 20 min survey which i did then it wanted me to buy something it said i won so i won why should i have to do all that and not get it i believe i should get a gift card since it said i won one thank you. 438 E Prince rd. Tucson Az 85705 # 228 you can send my card to this address unless that is just a scam to have people take surveys which is wrong

Becky Wilson
from Tallmadge, OH
Stopped at the Burger King at 1560 Norton Rd Stow, Oh 44224. I purchased an sweet tea. When I took a drink, it was clear the ice tea was fairly old and had not been kept cold to avoid spoilage. When I reported it and asked for a different drink the man at the drive through said they never keep it cool. They make and it sits in a pitcher on the counter until they make the next batch. I personally make sweet tea at home several times a week and even in air conditioning it has to be put in the refrigerator or it goes bad pretty quickly. When he walked away, my son happened to notice the pitcher on the counter and pointed it out. It looks like it has not been washed in quite a while. Another reason for the tea going bad. I took a picture and it is disgusting the amount of old tea clinging to the sides of the pitcher. Will not sure I will purchase anything at this Burger King again if they are so open about their unsanitary conditions, who knows what goes on behind the scenes. I am attaching the pictures. I think they are lucky the Health Department has not seen this. I believe McDonalds got in trouble several years ago for problems with their sweet tea going bad also and some people got sick from it.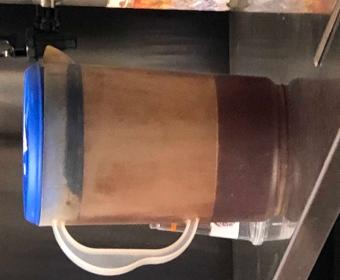 Sharon Eltz
from Walton, NY
The Burger King that my husband, myself and daughter was at on July 5th had ants crawling on the window seal at the table we sat at. We informed the server and changed tables and not one employee while we ate ever went to that table to check out the situation and close that table. Also the floors were not clean and could have used a good cleaning. We will not visit this Burger King again.

Martin Linex
from Garland, TX
On July 3rd, 2018 I stopped at Burger King on Campbell Rd just West of Hwy 75 in Richardson, TX at 7:30 PM. Was the only person in there; Stood there in line for over 5 minutes while the young girl working there stood talking on a cell phone knowing I was there walking around. A drive through pulled up, she put the phone on hold and took the drive thru order and then picked up the cell phone and continued talking on it. I waited aprox. 3 more minutes and she still never came over to me but did look at me several times knowing I was there. So I told her while she was talking I would go elsewhere to eat if I could not get my order taken. She never acknowledged my response so I left and decided to go to the Burger King on Hwy 544 just West of Hwy 78 in Wylie,Tx. I went in at aprox. 8 PM and placed my order and ask for my Senior discount as I have done several times at this location. The young man at the counter went back to the office and told someone I was wanting a Senior discount and he was told that they could only honer it on the drink only. But no one came up to honor or discuss anything. I told the boy I eat there on a week;y basis and have always got the discount. He said he did not know but that was what he was told. I told him to cancel my order and I would go elsewhere if it could not be honored. He cancelled it and I left going to McDonald's around the corner. 2 strikes in one day for a meal I was in the mood for. If you have any questions you can contact me by email or phone at 972-494-5651 Noon to 7PM CDT. Thanks, Martin

Sandra Lahaie
from Goodyear, AZ
I went through the drive thru at our local Burger King #21281 located in Goodyear, Arizona on Thursday July 5, 2018. I was told to pull forward and park because the chicken nuggets I ordered were not ready. The problem was that I didn't receive a receipt for my cash transaction. When the young man came with my order he said that he would bring it right out. Well, I waited a good 5 minutes before I went in to ask what the problem was. They told me they threw it away and couldn't find it. I find this hard to believe thinking there was only one person behind me and how much trash could they be going through to find a receipt that was just printed 10 minutes earlier? I spoke with the manager and she said they don't give receipts. I was shocked because if I had a problem with my order how could I proved to them anything was wrong without a receipt. I'm sure Burger King doesn't pay it's vendors without a receipt. I'm not sure what's going on since this is the same problem my husband and daughter had 2 days before. I will longer visit Burger King and take my business down the street to Jack in the Box or Taco Bell.. I can't wait til McDonalds opens a store closer to us. And NO I didn't have it my way!

Jerry Matisak
from Easton, PA
Tuesday,, July 3rd, 2018, a few of us stopped by the Burger King Restaurant on Tilghman Street in Allentown, Pa. for lunch. Surprised to say that we waited 12 minutes in line with no one taking any of our orders. No manager was present to voice our complaint and people were frustrated with the non-service. How can you run a fast food business with no authority present? I kept asking the workers behind the counter to please take our orders as the line of people were obviously on lunch break and can not afford to wait a quarter hour just to place an order. Such poor management at that restaurant that i will no longer consider Burger King a viable option for lunch. The three of us were so fed up with the inability of the staff that we would not consider this establishment a fast-food restaurant. Anything but fast! Poor service, poor communication, poor overall!

Jacqueline Williams
from Worcester, MA
Hello, I just went to Burger King at 711 W. Boylston Street in Worcester, MA and ordered 2 McChicken sandwiches for $6.00 at the drive up window around 8:40PM on July 4th, 2018. The girl that took my order just gave me the price to pay. When I got to the window to pay, I said to her, "you did not ask me what kind I wanted". Her reply was, "I don't have to ask you, you have to tell me which one you want." It certainly was said in a nasty manner. I said so your telling me when I order I am suppose to tell you that? She said yes. Then, she had the nerve to pass me my bag and say "Here" in such a nasty tone. Any other customer would have just thrown the bag at her but I don't condone violense. There was no reason to be that rude and nasty. Mind you I've been there inside and ordered the same thing and the worker always would ask which one do you want. If you don't have people skills, you should not serve the public. I called and ask for the name of the Manager and she said her name was Websee (she said she is the manager. (I even wonder about)

Kara Ernsberger
from Jackson, MI
Hello I live in Battle Creek Michigan and had my 4 nieces come stay with me for a few days. They love Burger King so that's where we decided to go for dinner. I ordered and 1 original chicken sandwich meal. 2 whopper meals, and 2 rodeo burgers and fries and a drink.
We were heading out of town therefore went thru the drive thru. It was a really hot day so the lady at the window handed me everything in a rush and assured me everything was in the bag. Well first of all we received our drinks (no straws). secondly the fries tasted like they had sat on the warmer all day! And we were shorted to orders of fries at that! The whopper was so sloppley made when you tried to bite it that it practically slid off the bun right into my lap. My pop was flat and had no ice! the original chicken I asked for plain with cheese only and it was loaded with lettuce and very sloppley made. My nieces and I were disappointed, shorted food, the fries were nasty and the sandwiches to say the least were very sloppley put together. I spent over $40 for this meal and still ended up going thru another drive thru restaurant to get more food because of this.
Very disappointed in Burger King and would really like some compensation for this!

Lisa Lawson
from Virginia Beach, VA
This occurred in the Cleveland Ave Fort Myers BK: Ladies and Gentleman of the Line!!
I was the Officer who was served a burger at Burger King at 4004 Cleveland Avenue in Ft Myers with dirt in it, At first I thought it was just burned old bacon, I was hungry and ate the burger, at the last bite I saw dirt and grit on the burger. In disgust, I threw it out of the window. I quickly noticed that my receipt had big block letters with the word POLICE on it. this has never been the case previously. I went inside and made contact with the manager who said "sorry, what do you want me to do?" Just before speaking to the manager the staff member from the drive thru asked "what the matter officer something wrong with your order?" Then she and the other staff had a good laugh. Some day we first responders just want to grab a quick bite because we are overwhelmed with calls, and this is how we are treated. I contacted cooperate offices and they said "not our problem we'll have the franchise owner contact you", When contacted by the franchise owner he said "It is impossible for dirt to get into food, you're crazy!"
So to my brothers and sisters I say this. only eat at safe places and check your food before hand. EXCELSIOR!!!!!!
THIS IS BEYOND UNACCEPTABLE!!!!

william reese
from Challis, ID
there is only one fast food burger restaurant in salmon Idaho which is burger king .the cashier Judy hatch is old and not all there .she is very rude.And often messes up the change.my daughter has Autism and chooses to eat at this place .I didn't like it when my daughter ordered a meal for 3.79 and with tax it came to 4.02 my daughter gave Judy Hatch a five dollar bill and Judy asked if my daughter had two pennys and my daughter said no so judy grabed two pennys out of a cup and told my daughter to bring more pennys.

Wanda Johnson
from Southfield, MI

Tina smith
from La Grange, GA
I always go the Burger King on parkway in Lagrange. One lady who always smiles,Charlene she had me laughiing, I was in s bad mood but when i left there I was in a better mood, theses people are tthe ones Burger King on the parkway needs not the one who does not smile or act crazy. Thank you, Tina smith

I ordered the 2 for 6 and received two cold poorly made sandwiches forty minutes later. You lost two families as customers today and I personally believe Burger King would be better off if the store on 544 in Wylie Texas didn't exist.

Linda and Roger Neff
from Saint Marys, OH
On 6-25-18 went to Burger King in Celina,Ohio. It was around dinner time. There was an employee that was cleaning the bathroom . He went in with gloves on he came out of the mens room with toliet brush in his hand. He proceeded to put his gloved hand on the counter walked back into the food preparation area and came back from there into the womens bathroom.Came out the door carrying the tb in hand. Once again gloved hand was placed on the counter ,behind the counter touching everything. It made me sick. Hep A can be spread . He should know better than contaminate counters and everything else he touched. He should have taken off dirty gloves and replaced them. Just want to keep people from getting sick. We enjoyed eating there but can't get that out of my mind. Thank You for listening.

Arthur Hughes
from Haddonfield, NJ
Due to your La. Burger King refusing to serve Police, I will never shop Burger King again.
You do not even get the one star low review.
Arthur Hughes

George Smith
from Prairieville, LA
On Tue. June 25, 2018. I stopped at a BK and went inside to order. 2 locations - Prairieville,La, Airline Hwy and Duchtown, La Hwy 73, about 3 -4 miles apart. Prairieville One kid at the inside order counter. No one else in sight, not at drive thru, no one cooking. no one in sight. I left, No reason to stay.
Drove to the Dutchtown location. Went inside. One girl hosing out a sink in the back. No cooking, no one waiting on customers,.Again I left. No one to talk too. This was all between 6:30 - 7:00.
I have never seen anything like this before. You have lost me as a customer. I am just dunbfounded.
Good by BK.

will rogers
from Kinston, NC
am very disappointed in burger king the reason why is for refusing to serve police officers very disappointed will never eat at a burger king again

Debra Shamaly
from Houston, TX
I live in houston, Texas and just ate Burger King with my family today. I am extremely disappointed in hearing the story of the Louisiana location that refused to serve police officers and then the audacity of the owner to demand an apology from the police. I will not hope for bad fortune to fall on this store but this is a very bad precedent to set. Officers will be needed one day and maybe they will decide THEY do not want to serve these pathetic individuals.
No comments from Burger King, no more visits from my family of five. We have been 3 times in last 10 days.

Eddie Pereira
from Miami, FL
I am complaining about a child who works at the Burger King in Lake Placid Florida on Highway 27, the childs name is Caleb Roberts he is 17 years old male and was fired a few weeks ago for threatening and grabbing another employee. He was later given his job back cause his aunt is the manager of another Burger King in Highlands County his aunts name is Sam and she works at Burger King in Sebring. This child Caleb Roberts should have never got his job back at the Lake Placid Burger King or any other Burger King. The manager of this Burger King i believe does not even want him working there, but his aunt named Sam maybe also a district type manager who has gotten many complaints also. Caleb Roberts has been seen spitting in food by other employees and taking money. If he continues to work there i will have this matter taken up with health inspectors and other authorities to look into the matter and possibly have this Burger King shut down, his Aunt and Uncle also need to be investigated for their actions at the Burger King in Sebring, not sure if they have the same last name but the Lake Placid female manager who is not named Sam knows who they are. I hope this gets taken care of soon before you get further complaints or people getting sick. Again this child name is Caleb Roberts who is a 17 year old male who works at the Lake Placid Florida Burger King on Highway 27. Who was already fired and should of never got his job back and his aunt Sam is also the blame. This has become a problem for this Burger King and it's continued business.

Gary Howerton
from Richardson, TX
I just went to store # 4599 i placed my order to go and wanted the bugers plain and no cheese and they got it wrong i checked before i left they took them back and gave me two other bugers when i got back to work they still wasnt plain i dont get it that they cant even get it right the second time.

Kimberly Tanner
from Logan, OH
Hillsboro, Ohio restaurant. First they gave us the wrong food. They had no ice. No ketchup. We were the only customers so they had plenty of free time to take care of that. They knew it was empty because she asked us if we wanted ice in our cups. And the play area was still closed for maintenance. This has been the last two visits. Someone is not doing their job!

Thomas Heimburger
from Clearwater, FL
On Thursday 06-14-2018 at 9:48 pm I entered the drive thru at Burger King store #2646 in Dunedin ,Florida and was asked to wait a minute before placing my order. At 9:59 pm I was allowed to place my order of the 2 for 6.00 crispy chicken , whopper sandwich , large fry, and an order of pretzel chicken fries and was told to proceed to the window for payment. At 10:06 pm I was told the broiler was down and they could not make the whopper sandwich so I changed my order to two chicken sandwiches, large fry and pretzel chicken fries. At 10;18 pm I was informed that they could not complete my order at all and was told that they had planned on closing at 10:00 pm because they could not cook any food at all. I then asked for the corporate phone number to lodge a complaint for being kept in the drive through for 29 minutes. At that time Kyle employee # 552 gave me my original receipt and told me the corporate number 727-216-6704 was listed at the top under the address. When I called the number Kyle answered to take my complaint so I guess we all know how far my complaint was going to go after that.
sincerely Thomas Heimburger
1275 Belcher Rd. lot # 67
Dunedin, Florida
34698

doug lowers
from Fargo, ND
my complaint is in Wadena mn I went for breakfast ordered couple bacon egg cheese crosants meals started off when they got my order wrong and the lady at drive thru tells me I should've made myself more clear to her then rolls her eyes tells me pull ahead there were no cars behind me so I asked for what she tells me there on timer don't wamt bad review times I made it very clear I would not move ahead if she did her job right she wouldn't have to be trying to fool her employer she goes and begins swearing at me and calling me few other names I tell her stop right there give me my money back now she slams window shut and goes over and gets bag ready and wait for food I slid window open told her again she can stop waiting for food and get my money now she still ignores me gets food then goes with food into back again for about 60 secends then sends cook -manager to window and trys to give me my food by now im pissed fourth time I said want my money back now the other mgr mubbles something rolls her eyes leaves for about 2 minutes gets my money opens windows to give me money and drops it on ground I told her this is far from over there response was good bring it on dick I didn't even give a shit about $ 430 cents I left money on ground drove away this bullshit will be addressed or you can damn well bet well make it public over these 2 smart ass bitchs you can contact me at 2186393856

Debbie Frichette
from Auburn, WA
Yesterday I went to do laundry on 72nd St in Tacoma Washington. I had clipped a coupon for 2 cheese burgers w/ bacon etc. Figured I would treat myself and enjoy while doing my laundry as I hadn't been to a fast food place in a couple years. After what was done to my food I'm still sick and I doubt that I could ever ever eat there again. One of the burgers had a regular sesame seed bun and the other I have no clue what the bun was. No sesame seed and the bottom had weird markings and black Mars everywhere. I stood there speechless. But that's not the worst .The bacon looked like it was set on the grill for one sec. It was almost completely raw. I only wish I had thought to take pictures cause seeing is believing. My stomach is still sick. Needless to say it went in the garbage. All of it. I worked in fast food at McdMcDonal fir 14 yrs and I'm not one to take the food back and cause a seen. But I also know that's not how the bacon is supposed to look. Something needs to be said before people get really sick. I tried contacting through a survey but the store number they gave me 12886 isn't working. I can't call cause I'm hearing impaired so you were my next option and hopefully some how some way this will reach the corporate office. Sincerely Debra Frichette. I don't have a receipt to look for a survey number because the food was unacceptable for human consumption. That bad.

WHY IS THIS BK 9310,VICTORVILLE LOCATION, SERVING PRE COOKED BUGER'S AGAIN. ORDERED 2 F 6 WHOPPERS, IT ONLY TOOK ABOUT 1 MIN AND ORDER WAS READY. COMMIT FROM MGR, WE DON'I HAVE TIME TO COOK AS YOU ORDER BECAUSE I'M SHORT PEOPLE. YOU COULD SEE BURGER'S AND ITEM'S ALREADY PRE COOK IN THERE READY FOR ORDES TRAY. BURGER WHERE NOT EVEN HOT OR WARM.

At drive thru they didn't get both sandwiches I ordered. I repeated & still was wrong. A man gets on so I tell him.
He told me to drive up. Took my card swipes it & refused to give me food telling me to l leave.
Very rude & then got phone & spoke like he was talking To police!
This was so rude to refuse me after they swiped my card.
E 1st st Ankeny ia

MICHELLE KING
from Las Vegas, NV
The food wasn't fresh cold, old fries and still bread!!!
Drive-thru @ 05:32 pm 05/11/2018 total $17.73 money wasted for still food cold fries need order REPLACE. Order 3 2 whop chs, 2LG FRY 2lg coke. If further action needs to be taken please on my part about my food don't hesitate to let me know whom to contact. Since that was money wasted. Do I need to place my order and ask for my food Hot and Fresh? Let me know what should I do on my part to assist Burger King employees. The young man customers service was acceptable nice and polite on the drive-thru window. If this not the area for a complaint please let me know whom to contact the food was UNACCEPTABLE, NOT FRESH FRIES COLD. Please have management speak to the employees contact me about my complaint and when will my order get REPLACE Hot and Fresh.
burger king 820 N. Rancho
702-648-7820

Marva Williams
from Baton Rouge, LA
Approximately 1:15pm 05/11/2018 the supervisor on duty at your 10130 Coursey Blvd location in Baton Rouge, LA 70816 berated an employee in front of customers and then got into a shouting match with me, the customer when I suggested that it was not what she was saying to the employee but how she was saying it that matters The supervisor then spoke to me in a loud tone that if I (the customer) knew what was going on "on the back end" then I would not be telling her that she should not be speaking to the employee in that tone. WRONG!!! The employee was "obviously" challenged with performing the tasks at the drive-thru and the supervisor exacerbated the problem by "belittling" the employee in front of her co-workers and customers. She offered to give my husband and I our money back when my husband asked where his order was but we declined and instead again told the supervisor that she needed to learn how to speak to her employees. This supervisor needs some additional training on how to communicate with people to include her employees and customers. She totally disrespected the young employee and behaved in an unprofessional manner with me, the customer, by thinking she could engage in a "tit for tat" shouting match with me. We left your establishment with the supervisor holding steadfast to her justification that she could and would continue to talk to the employee in the inappropriate tone because of "what the employee was doing wrong on the back end." (her words) Terrible experience. I hope the young lady decides not to return to an establishment where she was not valued or respected; and, hopefully the other young workers will follow suit.

Karen Jones
from Dallas, TX
On 5/11/18@12:35pm. Burger King 6510 at Sam Rayburn Tollway, McKinney, Texas
At Drive Thru window I asked for a Kids Meal Hamburger with only pickles and mustard due to ketchup allergies. I repeated again to ensure the order was correct, and was told my amount came up to approximately $5.89. I asked the young lady to repeat the order and was told to drive up to the window. Once at the window, I asked why was the order that amount and was told that I also ordered an additional burger, which I did not. I understand that sometimes the intercom systems can be difficult to give and receive information. So I informed her that I would go ahead and pay for the order, but make sure each burger had only mustard and pickles. She then puffed up and snatched the sandwich out of the bag. I informed her that I did not want the order due to her rudeness. I walked in and asked the man at the register if I could talk to the manager, and he informed me that he was the manager. I explained to him what happened above and asked for the number at corporate. He informed me that it wouldn't do any good to call the office. He gave me a phone number 512-818-8172. I called the number and got a voicemail of Alturo Garcia. I walked back in and informed the gentleman at the cash register that this was not a number for the corporate office. This gentleman then stated it was his district manager. He then stated he would talk to the lady about her rudeness and he would not fire her over this. I informed him I just would like to be heard as a customer in regards to my concerns and I was not requesting anyone be fired. I asked his name and pointing to the lady that I interacted with at the window. He stated his name was Julio and her name was Rosalee.
This situation could have been handled differently without a problem if I would have been given the common decency of being heard with respect, which is what was lacking in this situation. We need more human kindness, respectfulness, accountability, integrity and generosity in this world today. I would love to sit down with all involved and make this a productive and teachable moment.
Karen

nitu
from Pleasant Hill, CA
BG#6841,604 BAILEY ROAD ,PITTSBURG,CA Location,this is not my first time visiting his location,forget about poor and rude service but does BG pay money to the health officers to keep this location in business,its a FAST FOOD location the service is the opposite the manager is as RUDE as she can be everyone talks in Spanish.This location does not deserve a 1 star, deserves nothing.I am not sure how the corporate will take this complaint but i have listed my email address so hopefully other customers will see a difference.
Hire happy people , these employees are grumpy because they don't have enough workers and they are tired .

ELLA HOUSTON
from Philadelphia, PA
UNHAPPY WITH SERVICE,WHOPPER WASN'T WHAT I EXPECTED, PLUS ONE OF YOUR WORKERS WAS BELLIGERENT TO MY WIFE. Her NAME IS LAURA. 2300 HUNDRED BLOCK OF OREGON AVE.

Sherry Hall Shelton
from Lake Jackson, TX
At BK #17892...my usual order is fish sandwich w/LITTLE sauce, NO pickles and ADD tomato ...and...LARGE frozen Coke. The Coke is my "cheat treat". I'm known there and the manager of chefs is Phillip. He sees me come in and immediately hands me the Coke. Today was different. New lady took my order. Whomever made it put lots of sauce, pickles (which is easy for me to remove) but no tomato. Young lady gave me a small Coke even when I asked for "El Grande" size. She said that's their only size. (Not so) I've been given five different sizes in the times I've been there to eat. ???What gives?~! I said I'd be back for a refill.....and sat down to eat. She later brought an "El Grande" cup of Coke to me saying she didn't want to get in trouble with her manager (who was NOT Phillip). Manager is a woman today. In all the time I've eaten there...no one has gotten my order right...except when Phillip was working. I quit going to the other BK near the mall (#8574) because their Coke machine is always broken (more than three years now) and their fish sandwich patties are tough and half the thickness of BK # 17892.~!!! Feel free to call me anytime.
979-265-2690

Charlotte Wilson
from Centre, AL
No complaint with service. It was OK.
My complaint is that I visited Burger King store 469 on Thursday, 4/19/2018 at 05:13 PM and the receipt said on the back that if I responded to a survey within 48 hours and told about my experience in the store, I would receive a free whopper on my next visit. I went to the site within the 48 hours as it is still not up at this time as it is only 3:17 on 4/21/2018 and was told that they already had all the information they need and the survey was closed. I did my part according to the receipt and I expect my whopper. The survey code is: 16304-31011-19414-080901.

Dan Weidner
from Freeland, PA
On 4/16/18 i went to Burger King located in Ames Plaza Carbondale Pa Rt 6 Upon entering i went to mens room my girlfriend went to ladies room both were dirty and disgusting (tp on floor urine on floor ) The lobby was dirty also (dirty tables not cleaned ) we ordered our meals that were barely warm ! Upon eating my girlfriend bit into her whooper pulling out a piece of PLASTIC WRAP witch was almost as big as burger We went to the counter to complain an employee offered to re place burger and refunded cost of burger THE half dressed manger was to busy watching TV to take care of customer complaint What a dirty disgusting restaurant !!!!!

MRS PATRICIA GISLER
from Sacramento, CA
I went to drive thru window and ordered a chicken sandwich meal. When I arrived at the drive thru window I was reprimanded by the sales person for not mentioning I had a coupon. Then I received my order which the chicken sandwich was very cold and so were the fries. I paid for my order and was not given a receipt. I am upset with the way I was treated and with the quality of the chicken sandwich which was served cold also the chicken was Very Chewy/tough,
Not a very good meal at all. I went to the 5300 folsom blvd location ( I was on the 59th street in Sacramento)

Allan Richardson
from Shenyang, LN
Very unusually, I have had an unpleasant experience at one of your restaurants, specifically the one in Shenyang, China, at Taiyuan Beijie. My burger was adequate, the fries were cool when served, so they were cold before I had finished eating them. However, my main complaint was of a young Chinese couple sitting at a table and kissing passionately. They were doing this when I arrived, and still doing it when I left. Even in my countries - the UK and Germany - this would have been unacceptable, and the staff would not tolerate such behaviour. In China, demonstrations of affection in public are taboo, yet all this took place for at least 15 minutes and in full view of your staff, who ignored the pair. I was not the only person who was embarrassed. Of course, I will continue to eat at your restaurants, as in general I prefer your products.

I went through drive thru, employee misunderstood about a taco and took it off my order, that's understandable I also had a happy meal a 10pc nugget and cheesy tots I left had to come back and told them the forgot some things in my order the employee was rude and tried to recharge me I ask to speak with management and she rudely said she was the manager said her name was jazmin but the receipt reads TC not sure if that the same person or what but I'm highly dissatisfied .

chamblee tucker
from Norcross, GA
Burger King Indian trail Norcross ga no working phone number listed

Delilah Porter
from Jackson, MS
This morning I went to Burger King, store#12137, located in Jackson, Mississippi. I was charged $9.81 and did not received the correct. I tried talking to the Manager and explained I was at work and could not come back. I called the one 1-800 number and spoke to Jacqueline and everyone was in a meeting at 7:40 am. I WANT MY MONEY BACK AND YOU AND HAVE WHAT YOU GAVE ME BACK. I TRIED CALLING THE MANAGER, THE YOUNG LADY WOULD NOT GIVE HER NAME AND DID NOT TAKE MY NAME BECAUSE THEY DO NOT HAVE A INK PEN. THIS CONVERSATION WAS RECORDED!!! YOU HAVE YOUR PRODUCT AND MY MONEY. I GUESS STEALING FROM THE CONSUMER IS HOW YOU MAKE IT IN THIS WORK. Delilah Porter 601-826-4988

Deanna Ganss
from New Kensington, PA
I visited the Natrona Heights, Pa store and when I pulled in I seen 2 managers outside taking a break and smoking a cigarette. As I placed my order I went around to pay for it and as I waited for my food I seen the 2 managers coming in from outside and ONLY ONE of these managers went right to the sink to wash her hands named Sandy, the other one named John went right to a ordering screen and took an order, then he went over to the sink and I thought he was gonna wash but NO HE DID NOT. he grabbed some paper towels and blew his nose and wiped his face (which he has some infection going on on his face.... looked like infatego) threw the paper towel away and started bagging my food. I took my food and tossed it in the garbage because he touched the fries I was gonna eat with his hands that he did not wash nor had a glove on. Very upsetting that a grown man and manager would not set an example for the rest of his crew.
Thank You for your time.
Ms. Deanna

Kila Clements
from Victorville, CA
Chicken nuggets - cold
All 4 cheeseburgers bread and cheese we're hard.
Overall everything was nasty

Michael masseri
from Paterson, NJ
The complaint I have is with Burger King on Mclean Boulevard in Paterson New Jersey all right they have a man renting out the parking lot to sell stolen some of it stolen cuz he told me so toys and carpets and fake Timberland boots he told me he pays the manager is $3,000 a month and I don't like the way he acts with little children especially little females rubbing their legs and their back he's just a weird guy it's illegal to rent out a parking lot for someone the pedal and I want them shut down I want to shut down and I want to know where the money is going that they're paying this manager for him to use the parking lot

Abraham
from Federal Way, WA
I had to most horrible customer service at your tukwila store.. first they took a long time to get my order, then they asked us to park and they will bring our food. After a long wait they bring out food and it's missing an tiem(French fries) so I get out of my car and explain what's missing. I get to he item and the cashier lashaya in tukwila gives me an attitude( like I made a mistake and forgot to put an item in my bag) and is super rude.. so I leave then realize after I got home that a burger was missing then I had to drive all the way back and explain that I wa missing yet another item. The manager try to help and re do my Oder ,but the workers were so rude and unprofessional. The manager had no control on his employees. After they re did my order they still forgot one of my item..( this is ha fast food place, not a hospital or a customer service oriented place) but still how hard is it to get an order right? Yet you charged me the right way. During hat same time 3 over customer came how an complain that they were missing items. This is so unexpecteble.. I need feed back from corporate ASAP I have all the store info and cashier Ifo( the cashier did refused to give me her and cover her name tag and said "fuck youn lot giving you my name" I will not stop till I have N answer

Tanya George
from Cherokee, IA
I went to the Burger King on Joliet Ave. Missouri Valley, Iowa STORE BK10219. I was VERY disappointed in the quality of the food and the slowness of the service! My husband ordered a double whopper and received a king double hamburger without the right condiments. The catsup dispenser was empty the whole time we was there, even after we asked for catsup and other customers doing the same! My husband ordered a med combo and received small fries. A couple behind us ordered their food after us and was still waiting for their meal even after we was almost finished eating ours. They finally left, without food after paying for it. Tired of waiting! The tables were sticky from not being wiped off! Burger King should be ashamed permitting such a store with their name! Order 255 03/14/2018 12:41p.m. total bill $16.23 try to do survey on the back of the receipt but ink on the receipt was too faded. (needed new ink)
Have feedback for Burger King?
Thanks for your feedback!
Sorry. Please try again later!