Burger King
Burger King Complaints Continued... (Page 3)
659+ reviews added so far. Upset? Call Burger King corporate: 1-866-394-2493

Becky Wilson
from Tallmadge, OH
Stopped at the Burger King at 1560 Norton Rd Stow, Oh 44224. I purchased an sweet tea. When I took a drink, it was clear the ice tea was fairly old and had not been kept cold to avoid spoilage. When I reported it and asked for a different drink the man at the drive through said they never keep it cool. They make and it sits in a pitcher on the counter until they make the next batch. I personally make sweet tea at home several times a week and even in air conditioning it has to be put in the refrigerator or it goes bad pretty quickly. When he walked away, my son happened to notice the pitcher on the counter and pointed it out. It looks like it has not been washed in quite a while. Another reason for the tea going bad. I took a picture and it is disgusting the amount of old tea clinging to the sides of the pitcher. Will not sure I will purchase anything at this Burger King again if they are so open about their unsanitary conditions, who knows what goes on behind the scenes. I am attaching the pictures. I think they are lucky the Health Department has not seen this. I believe McDonalds got in trouble several years ago for problems with their sweet tea going bad also and some people got sick from it.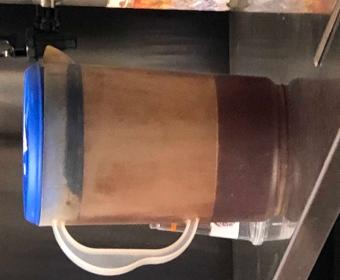 Sharon Eltz
from Walton, NY
The Burger King that my husband, myself and daughter was at on July 5th had ants crawling on the window seal at the table we sat at. We informed the server and changed tables and not one employee while we ate ever went to that table to check out the situation and close that table. Also the floors were not clean and could have used a good cleaning. We will not visit this Burger King again.

Martin Linex
from Garland, TX
On July 3rd, 2018 I stopped at Burger King on Campbell Rd just West of Hwy 75 in Richardson, TX at 7:30 PM. Was the only person in there; Stood there in line for over 5 minutes while the young girl working there stood talking on a cell phone knowing I was there walking around. A drive through pulled up, she put the phone on hold and took the drive thru order and then picked up the cell phone and continued talking on it. I waited aprox. 3 more minutes and she still never came over to me but did look at me several times knowing I was there. So I told her while she was talking I would go elsewhere to eat if I could not get my order taken. She never acknowledged my response so I left and decided to go to the Burger King on Hwy 544 just West of Hwy 78 in Wylie,Tx. I went in at aprox. 8 PM and placed my order and ask for my Senior discount as I have done several times at this location. The young man at the counter went back to the office and told someone I was wanting a Senior discount and he was told that they could only honer it on the drink only. But no one came up to honor or discuss anything. I told the boy I eat there on a week;y basis and have always got the discount. He said he did not know but that was what he was told. I told him to cancel my order and I would go elsewhere if it could not be honored. He cancelled it and I left going to McDonald's around the corner. 2 strikes in one day for a meal I was in the mood for. If you have any questions you can contact me by email or phone at 972-494-5651 Noon to 7PM CDT. Thanks, Martin

Sandra Lahaie
from Goodyear, AZ
I went through the drive thru at our local Burger King #21281 located in Goodyear, Arizona on Thursday July 5, 2018. I was told to pull forward and park because the chicken nuggets I ordered were not ready. The problem was that I didn't receive a receipt for my cash transaction. When the young man came with my order he said that he would bring it right out. Well, I waited a good 5 minutes before I went in to ask what the problem was. They told me they threw it away and couldn't find it. I find this hard to believe thinking there was only one person behind me and how much trash could they be going through to find a receipt that was just printed 10 minutes earlier? I spoke with the manager and she said they don't give receipts. I was shocked because if I had a problem with my order how could I proved to them anything was wrong without a receipt. I'm sure Burger King doesn't pay it's vendors without a receipt. I'm not sure what's going on since this is the same problem my husband and daughter had 2 days before. I will longer visit Burger King and take my business down the street to Jack in the Box or Taco Bell.. I can't wait til McDonalds opens a store closer to us. And NO I didn't have it my way!

Jerry Matisak
from Easton, PA
Tuesday,, July 3rd, 2018, a few of us stopped by the Burger King Restaurant on Tilghman Street in Allentown, Pa. for lunch. Surprised to say that we waited 12 minutes in line with no one taking any of our orders. No manager was present to voice our complaint and people were frustrated with the non-service. How can you run a fast food business with no authority present? I kept asking the workers behind the counter to please take our orders as the line of people were obviously on lunch break and can not afford to wait a quarter hour just to place an order. Such poor management at that restaurant that i will no longer consider Burger King a viable option for lunch. The three of us were so fed up with the inability of the staff that we would not consider this establishment a fast-food restaurant. Anything but fast! Poor service, poor communication, poor overall!

Jacqueline Williams
from Worcester, MA
Hello, I just went to Burger King at 711 W. Boylston Street in Worcester, MA and ordered 2 McChicken sandwiches for $6.00 at the drive up window around 8:40PM on July 4th, 2018. The girl that took my order just gave me the price to pay. When I got to the window to pay, I said to her, "you did not ask me what kind I wanted". Her reply was, "I don't have to ask you, you have to tell me which one you want." It certainly was said in a nasty manner. I said so your telling me when I order I am suppose to tell you that? She said yes. Then, she had the nerve to pass me my bag and say "Here" in such a nasty tone. Any other customer would have just thrown the bag at her but I don't condone violense. There was no reason to be that rude and nasty. Mind you I've been there inside and ordered the same thing and the worker always would ask which one do you want. If you don't have people skills, you should not serve the public. I called and ask for the name of the Manager and she said her name was Websee (she said she is the manager. (I even wonder about)

Kara Ernsberger
from Jackson, MI
Hello I live in Battle Creek Michigan and had my 4 nieces come stay with me for a few days. They love Burger King so that's where we decided to go for dinner. I ordered and 1 original chicken sandwich meal. 2 whopper meals, and 2 rodeo burgers and fries and a drink.
We were heading out of town therefore went thru the drive thru. It was a really hot day so the lady at the window handed me everything in a rush and assured me everything was in the bag. Well first of all we received our drinks (no straws). secondly the fries tasted like they had sat on the warmer all day! And we were shorted to orders of fries at that! The whopper was so sloppley made when you tried to bite it that it practically slid off the bun right into my lap. My pop was flat and had no ice! the original chicken I asked for plain with cheese only and it was loaded with lettuce and very sloppley made. My nieces and I were disappointed, shorted food, the fries were nasty and the sandwiches to say the least were very sloppley put together. I spent over $40 for this meal and still ended up going thru another drive thru restaurant to get more food because of this.
Very disappointed in Burger King and would really like some compensation for this!

Lisa Lawson
from Virginia Beach, VA
This occurred in the Cleveland Ave Fort Myers BK: Ladies and Gentleman of the Line!!
I was the Officer who was served a burger at Burger King at 4004 Cleveland Avenue in Ft Myers with dirt in it, At first I thought it was just burned old bacon, I was hungry and ate the burger, at the last bite I saw dirt and grit on the burger. In disgust, I threw it out of the window. I quickly noticed that my receipt had big block letters with the word POLICE on it. this has never been the case previously. I went inside and made contact with the manager who said "sorry, what do you want me to do?" Just before speaking to the manager the staff member from the drive thru asked "what the matter officer something wrong with your order?" Then she and the other staff had a good laugh. Some day we first responders just want to grab a quick bite because we are overwhelmed with calls, and this is how we are treated. I contacted cooperate offices and they said "not our problem we'll have the franchise owner contact you", When contacted by the franchise owner he said "It is impossible for dirt to get into food, you're crazy!"
So to my brothers and sisters I say this. only eat at safe places and check your food before hand. EXCELSIOR!!!!!!
THIS IS BEYOND UNACCEPTABLE!!!!

william reese
from Challis, ID
there is only one fast food burger restaurant in salmon Idaho which is burger king .the cashier Judy hatch is old and not all there .she is very rude.And often messes up the change.my daughter has Autism and chooses to eat at this place .I didn't like it when my daughter ordered a meal for 3.79 and with tax it came to 4.02 my daughter gave Judy Hatch a five dollar bill and Judy asked if my daughter had two pennys and my daughter said no so judy grabed two pennys out of a cup and told my daughter to bring more pennys.

Wanda Johnson
from Southfield, MI

Tina smith
from La Grange, GA
I always go the Burger King on parkway in Lagrange. One lady who always smiles,Charlene she had me laughiing, I was in s bad mood but when i left there I was in a better mood, theses people are tthe ones Burger King on the parkway needs not the one who does not smile or act crazy. Thank you, Tina smith

I ordered the 2 for 6 and received two cold poorly made sandwiches forty minutes later. You lost two families as customers today and I personally believe Burger King would be better off if the store on 544 in Wylie Texas didn't exist.

Linda and Roger Neff
from Saint Marys, OH
On 6-25-18 went to Burger King in Celina,Ohio. It was around dinner time. There was an employee that was cleaning the bathroom . He went in with gloves on he came out of the mens room with toliet brush in his hand. He proceeded to put his gloved hand on the counter walked back into the food preparation area and came back from there into the womens bathroom.Came out the door carrying the tb in hand. Once again gloved hand was placed on the counter ,behind the counter touching everything. It made me sick. Hep A can be spread . He should know better than contaminate counters and everything else he touched. He should have taken off dirty gloves and replaced them. Just want to keep people from getting sick. We enjoyed eating there but can't get that out of my mind. Thank You for listening.

Arthur Hughes
from Haddonfield, NJ
Due to your La. Burger King refusing to serve Police, I will never shop Burger King again.
You do not even get the one star low review.
Arthur Hughes

George Smith
from Prairieville, LA
On Tue. June 25, 2018. I stopped at a BK and went inside to order. 2 locations - Prairieville,La, Airline Hwy and Duchtown, La Hwy 73, about 3 -4 miles apart. Prairieville One kid at the inside order counter. No one else in sight, not at drive thru, no one cooking. no one in sight. I left, No reason to stay.
Drove to the Dutchtown location. Went inside. One girl hosing out a sink in the back. No cooking, no one waiting on customers,.Again I left. No one to talk too. This was all between 6:30 - 7:00.
I have never seen anything like this before. You have lost me as a customer. I am just dunbfounded.
Good by BK.

will rogers
from Kinston, NC
am very disappointed in burger king the reason why is for refusing to serve police officers very disappointed will never eat at a burger king again

Debra Shamaly
from Houston, TX
I live in houston, Texas and just ate Burger King with my family today. I am extremely disappointed in hearing the story of the Louisiana location that refused to serve police officers and then the audacity of the owner to demand an apology from the police. I will not hope for bad fortune to fall on this store but this is a very bad precedent to set. Officers will be needed one day and maybe they will decide THEY do not want to serve these pathetic individuals.
No comments from Burger King, no more visits from my family of five. We have been 3 times in last 10 days.

Eddie Pereira
from Miami, FL
I am complaining about a child who works at the Burger King in Lake Placid Florida on Highway 27, the childs name is Caleb Roberts he is 17 years old male and was fired a few weeks ago for threatening and grabbing another employee. He was later given his job back cause his aunt is the manager of another Burger King in Highlands County his aunts name is Sam and she works at Burger King in Sebring. This child Caleb Roberts should have never got his job back at the Lake Placid Burger King or any other Burger King. The manager of this Burger King i believe does not even want him working there, but his aunt named Sam maybe also a district type manager who has gotten many complaints also. Caleb Roberts has been seen spitting in food by other employees and taking money. If he continues to work there i will have this matter taken up with health inspectors and other authorities to look into the matter and possibly have this Burger King shut down, his Aunt and Uncle also need to be investigated for their actions at the Burger King in Sebring, not sure if they have the same last name but the Lake Placid female manager who is not named Sam knows who they are. I hope this gets taken care of soon before you get further complaints or people getting sick. Again this child name is Caleb Roberts who is a 17 year old male who works at the Lake Placid Florida Burger King on Highway 27. Who was already fired and should of never got his job back and his aunt Sam is also the blame. This has become a problem for this Burger King and it's continued business.

Gary Howerton
from Richardson, TX
I just went to store # 4599 i placed my order to go and wanted the bugers plain and no cheese and they got it wrong i checked before i left they took them back and gave me two other bugers when i got back to work they still wasnt plain i dont get it that they cant even get it right the second time.

Kimberly Tanner
from Logan, OH
Hillsboro, Ohio restaurant. First they gave us the wrong food. They had no ice. No ketchup. We were the only customers so they had plenty of free time to take care of that. They knew it was empty because she asked us if we wanted ice in our cups. And the play area was still closed for maintenance. This has been the last two visits. Someone is not doing their job!

Thomas Heimburger
from Clearwater, FL
On Thursday 06-14-2018 at 9:48 pm I entered the drive thru at Burger King store #2646 in Dunedin ,Florida and was asked to wait a minute before placing my order. At 9:59 pm I was allowed to place my order of the 2 for 6.00 crispy chicken , whopper sandwich , large fry, and an order of pretzel chicken fries and was told to proceed to the window for payment. At 10:06 pm I was told the broiler was down and they could not make the whopper sandwich so I changed my order to two chicken sandwiches, large fry and pretzel chicken fries. At 10;18 pm I was informed that they could not complete my order at all and was told that they had planned on closing at 10:00 pm because they could not cook any food at all. I then asked for the corporate phone number to lodge a complaint for being kept in the drive through for 29 minutes. At that time Kyle employee # 552 gave me my original receipt and told me the corporate number 727-216-6704 was listed at the top under the address. When I called the number Kyle answered to take my complaint so I guess we all know how far my complaint was going to go after that.
sincerely Thomas Heimburger
1275 Belcher Rd. lot # 67
Dunedin, Florida
34698

doug lowers
from Fargo, ND
my complaint is in Wadena mn I went for breakfast ordered couple bacon egg cheese crosants meals started off when they got my order wrong and the lady at drive thru tells me I should've made myself more clear to her then rolls her eyes tells me pull ahead there were no cars behind me so I asked for what she tells me there on timer don't wamt bad review times I made it very clear I would not move ahead if she did her job right she wouldn't have to be trying to fool her employer she goes and begins swearing at me and calling me few other names I tell her stop right there give me my money back now she slams window shut and goes over and gets bag ready and wait for food I slid window open told her again she can stop waiting for food and get my money now she still ignores me gets food then goes with food into back again for about 60 secends then sends cook -manager to window and trys to give me my food by now im pissed fourth time I said want my money back now the other mgr mubbles something rolls her eyes leaves for about 2 minutes gets my money opens windows to give me money and drops it on ground I told her this is far from over there response was good bring it on dick I didn't even give a shit about $ 430 cents I left money on ground drove away this bullshit will be addressed or you can damn well bet well make it public over these 2 smart ass bitchs you can contact me at 2186393856

Debbie Frichette
from Auburn, WA
Yesterday I went to do laundry on 72nd St in Tacoma Washington. I had clipped a coupon for 2 cheese burgers w/ bacon etc. Figured I would treat myself and enjoy while doing my laundry as I hadn't been to a fast food place in a couple years. After what was done to my food I'm still sick and I doubt that I could ever ever eat there again. One of the burgers had a regular sesame seed bun and the other I have no clue what the bun was. No sesame seed and the bottom had weird markings and black Mars everywhere. I stood there speechless. But that's not the worst .The bacon looked like it was set on the grill for one sec. It was almost completely raw. I only wish I had thought to take pictures cause seeing is believing. My stomach is still sick. Needless to say it went in the garbage. All of it. I worked in fast food at McdMcDonal fir 14 yrs and I'm not one to take the food back and cause a seen. But I also know that's not how the bacon is supposed to look. Something needs to be said before people get really sick. I tried contacting through a survey but the store number they gave me 12886 isn't working. I can't call cause I'm hearing impaired so you were my next option and hopefully some how some way this will reach the corporate office. Sincerely Debra Frichette. I don't have a receipt to look for a survey number because the food was unacceptable for human consumption. That bad.

WHY IS THIS BK 9310,VICTORVILLE LOCATION, SERVING PRE COOKED BUGER'S AGAIN. ORDERED 2 F 6 WHOPPERS, IT ONLY TOOK ABOUT 1 MIN AND ORDER WAS READY. COMMIT FROM MGR, WE DON'I HAVE TIME TO COOK AS YOU ORDER BECAUSE I'M SHORT PEOPLE. YOU COULD SEE BURGER'S AND ITEM'S ALREADY PRE COOK IN THERE READY FOR ORDES TRAY. BURGER WHERE NOT EVEN HOT OR WARM.

At drive thru they didn't get both sandwiches I ordered. I repeated & still was wrong. A man gets on so I tell him.
He told me to drive up. Took my card swipes it & refused to give me food telling me to l leave.
Very rude & then got phone & spoke like he was talking To police!
This was so rude to refuse me after they swiped my card.
E 1st st Ankeny ia

MICHELLE KING
from Las Vegas, NV
The food wasn't fresh cold, old fries and still bread!!!
Drive-thru @ 05:32 pm 05/11/2018 total $17.73 money wasted for still food cold fries need order REPLACE. Order 3 2 whop chs, 2LG FRY 2lg coke. If further action needs to be taken please on my part about my food don't hesitate to let me know whom to contact. Since that was money wasted. Do I need to place my order and ask for my food Hot and Fresh? Let me know what should I do on my part to assist Burger King employees. The young man customers service was acceptable nice and polite on the drive-thru window. If this not the area for a complaint please let me know whom to contact the food was UNACCEPTABLE, NOT FRESH FRIES COLD. Please have management speak to the employees contact me about my complaint and when will my order get REPLACE Hot and Fresh.
burger king 820 N. Rancho
702-648-7820

Marva Williams
from Baton Rouge, LA
Approximately 1:15pm 05/11/2018 the supervisor on duty at your 10130 Coursey Blvd location in Baton Rouge, LA 70816 berated an employee in front of customers and then got into a shouting match with me, the customer when I suggested that it was not what she was saying to the employee but how she was saying it that matters The supervisor then spoke to me in a loud tone that if I (the customer) knew what was going on "on the back end" then I would not be telling her that she should not be speaking to the employee in that tone. WRONG!!! The employee was "obviously" challenged with performing the tasks at the drive-thru and the supervisor exacerbated the problem by "belittling" the employee in front of her co-workers and customers. She offered to give my husband and I our money back when my husband asked where his order was but we declined and instead again told the supervisor that she needed to learn how to speak to her employees. This supervisor needs some additional training on how to communicate with people to include her employees and customers. She totally disrespected the young employee and behaved in an unprofessional manner with me, the customer, by thinking she could engage in a "tit for tat" shouting match with me. We left your establishment with the supervisor holding steadfast to her justification that she could and would continue to talk to the employee in the inappropriate tone because of "what the employee was doing wrong on the back end." (her words) Terrible experience. I hope the young lady decides not to return to an establishment where she was not valued or respected; and, hopefully the other young workers will follow suit.

Karen Jones
from Dallas, TX
On 5/11/18@12:35pm. Burger King 6510 at Sam Rayburn Tollway, McKinney, Texas
At Drive Thru window I asked for a Kids Meal Hamburger with only pickles and mustard due to ketchup allergies. I repeated again to ensure the order was correct, and was told my amount came up to approximately $5.89. I asked the young lady to repeat the order and was told to drive up to the window. Once at the window, I asked why was the order that amount and was told that I also ordered an additional burger, which I did not. I understand that sometimes the intercom systems can be difficult to give and receive information. So I informed her that I would go ahead and pay for the order, but make sure each burger had only mustard and pickles. She then puffed up and snatched the sandwich out of the bag. I informed her that I did not want the order due to her rudeness. I walked in and asked the man at the register if I could talk to the manager, and he informed me that he was the manager. I explained to him what happened above and asked for the number at corporate. He informed me that it wouldn't do any good to call the office. He gave me a phone number 512-818-8172. I called the number and got a voicemail of Alturo Garcia. I walked back in and informed the gentleman at the cash register that this was not a number for the corporate office. This gentleman then stated it was his district manager. He then stated he would talk to the lady about her rudeness and he would not fire her over this. I informed him I just would like to be heard as a customer in regards to my concerns and I was not requesting anyone be fired. I asked his name and pointing to the lady that I interacted with at the window. He stated his name was Julio and her name was Rosalee.
This situation could have been handled differently without a problem if I would have been given the common decency of being heard with respect, which is what was lacking in this situation. We need more human kindness, respectfulness, accountability, integrity and generosity in this world today. I would love to sit down with all involved and make this a productive and teachable moment.
Karen

nitu
from Pleasant Hill, CA
BG#6841,604 BAILEY ROAD ,PITTSBURG,CA Location,this is not my first time visiting his location,forget about poor and rude service but does BG pay money to the health officers to keep this location in business,its a FAST FOOD location the service is the opposite the manager is as RUDE as she can be everyone talks in Spanish.This location does not deserve a 1 star, deserves nothing.I am not sure how the corporate will take this complaint but i have listed my email address so hopefully other customers will see a difference.
Hire happy people , these employees are grumpy because they don't have enough workers and they are tired .

ELLA HOUSTON
from Philadelphia, PA
UNHAPPY WITH SERVICE,WHOPPER WASN'T WHAT I EXPECTED, PLUS ONE OF YOUR WORKERS WAS BELLIGERENT TO MY WIFE. Her NAME IS LAURA. 2300 HUNDRED BLOCK OF OREGON AVE.

Sherry Hall Shelton
from Lake Jackson, TX
At BK #17892...my usual order is fish sandwich w/LITTLE sauce, NO pickles and ADD tomato ...and...LARGE frozen Coke. The Coke is my "cheat treat". I'm known there and the manager of chefs is Phillip. He sees me come in and immediately hands me the Coke. Today was different. New lady took my order. Whomever made it put lots of sauce, pickles (which is easy for me to remove) but no tomato. Young lady gave me a small Coke even when I asked for "El Grande" size. She said that's their only size. (Not so) I've been given five different sizes in the times I've been there to eat. ???What gives?~! I said I'd be back for a refill.....and sat down to eat. She later brought an "El Grande" cup of Coke to me saying she didn't want to get in trouble with her manager (who was NOT Phillip). Manager is a woman today. In all the time I've eaten there...no one has gotten my order right...except when Phillip was working. I quit going to the other BK near the mall (#8574) because their Coke machine is always broken (more than three years now) and their fish sandwich patties are tough and half the thickness of BK # 17892.~!!! Feel free to call me anytime.
979-265-2690

Charlotte Wilson
from Centre, AL
No complaint with service. It was OK.
My complaint is that I visited Burger King store 469 on Thursday, 4/19/2018 at 05:13 PM and the receipt said on the back that if I responded to a survey within 48 hours and told about my experience in the store, I would receive a free whopper on my next visit. I went to the site within the 48 hours as it is still not up at this time as it is only 3:17 on 4/21/2018 and was told that they already had all the information they need and the survey was closed. I did my part according to the receipt and I expect my whopper. The survey code is: 16304-31011-19414-080901.

Dan Weidner
from Freeland, PA
On 4/16/18 i went to Burger King located in Ames Plaza Carbondale Pa Rt 6 Upon entering i went to mens room my girlfriend went to ladies room both were dirty and disgusting (tp on floor urine on floor ) The lobby was dirty also (dirty tables not cleaned ) we ordered our meals that were barely warm ! Upon eating my girlfriend bit into her whooper pulling out a piece of PLASTIC WRAP witch was almost as big as burger We went to the counter to complain an employee offered to re place burger and refunded cost of burger THE half dressed manger was to busy watching TV to take care of customer complaint What a dirty disgusting restaurant !!!!!

MRS PATRICIA GISLER
from Sacramento, CA
I went to drive thru window and ordered a chicken sandwich meal. When I arrived at the drive thru window I was reprimanded by the sales person for not mentioning I had a coupon. Then I received my order which the chicken sandwich was very cold and so were the fries. I paid for my order and was not given a receipt. I am upset with the way I was treated and with the quality of the chicken sandwich which was served cold also the chicken was Very Chewy/tough,
Not a very good meal at all. I went to the 5300 folsom blvd location ( I was on the 59th street in Sacramento)

Allan Richardson
from Shenyang, LN
Very unusually, I have had an unpleasant experience at one of your restaurants, specifically the one in Shenyang, China, at Taiyuan Beijie. My burger was adequate, the fries were cool when served, so they were cold before I had finished eating them. However, my main complaint was of a young Chinese couple sitting at a table and kissing passionately. They were doing this when I arrived, and still doing it when I left. Even in my countries - the UK and Germany - this would have been unacceptable, and the staff would not tolerate such behaviour. In China, demonstrations of affection in public are taboo, yet all this took place for at least 15 minutes and in full view of your staff, who ignored the pair. I was not the only person who was embarrassed. Of course, I will continue to eat at your restaurants, as in general I prefer your products.

I went through drive thru, employee misunderstood about a taco and took it off my order, that's understandable I also had a happy meal a 10pc nugget and cheesy tots I left had to come back and told them the forgot some things in my order the employee was rude and tried to recharge me I ask to speak with management and she rudely said she was the manager said her name was jazmin but the receipt reads TC not sure if that the same person or what but I'm highly dissatisfied .

chamblee tucker
from Norcross, GA
Burger King Indian trail Norcross ga no working phone number listed

Delilah Porter
from Jackson, MS
This morning I went to Burger King, store#12137, located in Jackson, Mississippi. I was charged $9.81 and did not received the correct. I tried talking to the Manager and explained I was at work and could not come back. I called the one 1-800 number and spoke to Jacqueline and everyone was in a meeting at 7:40 am. I WANT MY MONEY BACK AND YOU AND HAVE WHAT YOU GAVE ME BACK. I TRIED CALLING THE MANAGER, THE YOUNG LADY WOULD NOT GIVE HER NAME AND DID NOT TAKE MY NAME BECAUSE THEY DO NOT HAVE A INK PEN. THIS CONVERSATION WAS RECORDED!!! YOU HAVE YOUR PRODUCT AND MY MONEY. I GUESS STEALING FROM THE CONSUMER IS HOW YOU MAKE IT IN THIS WORK. Delilah Porter 601-826-4988

Deanna Ganss
from New Kensington, PA
I visited the Natrona Heights, Pa store and when I pulled in I seen 2 managers outside taking a break and smoking a cigarette. As I placed my order I went around to pay for it and as I waited for my food I seen the 2 managers coming in from outside and ONLY ONE of these managers went right to the sink to wash her hands named Sandy, the other one named John went right to a ordering screen and took an order, then he went over to the sink and I thought he was gonna wash but NO HE DID NOT. he grabbed some paper towels and blew his nose and wiped his face (which he has some infection going on on his face.... looked like infatego) threw the paper towel away and started bagging my food. I took my food and tossed it in the garbage because he touched the fries I was gonna eat with his hands that he did not wash nor had a glove on. Very upsetting that a grown man and manager would not set an example for the rest of his crew.
Thank You for your time.
Ms. Deanna

Kila Clements
from Victorville, CA
Chicken nuggets - cold
All 4 cheeseburgers bread and cheese we're hard.
Overall everything was nasty

Michael masseri
from Paterson, NJ
The complaint I have is with Burger King on Mclean Boulevard in Paterson New Jersey all right they have a man renting out the parking lot to sell stolen some of it stolen cuz he told me so toys and carpets and fake Timberland boots he told me he pays the manager is $3,000 a month and I don't like the way he acts with little children especially little females rubbing their legs and their back he's just a weird guy it's illegal to rent out a parking lot for someone the pedal and I want them shut down I want to shut down and I want to know where the money is going that they're paying this manager for him to use the parking lot

Abraham
from Federal Way, WA
I had to most horrible customer service at your tukwila store.. first they took a long time to get my order, then they asked us to park and they will bring our food. After a long wait they bring out food and it's missing an tiem(French fries) so I get out of my car and explain what's missing. I get to he item and the cashier lashaya in tukwila gives me an attitude( like I made a mistake and forgot to put an item in my bag) and is super rude.. so I leave then realize after I got home that a burger was missing then I had to drive all the way back and explain that I wa missing yet another item. The manager try to help and re do my Oder ,but the workers were so rude and unprofessional. The manager had no control on his employees. After they re did my order they still forgot one of my item..( this is ha fast food place, not a hospital or a customer service oriented place) but still how hard is it to get an order right? Yet you charged me the right way. During hat same time 3 over customer came how an complain that they were missing items. This is so unexpecteble.. I need feed back from corporate ASAP I have all the store info and cashier Ifo( the cashier did refused to give me her and cover her name tag and said "fuck youn lot giving you my name" I will not stop till I have N answer

Tanya George
from Cherokee, IA
I went to the Burger King on Joliet Ave. Missouri Valley, Iowa STORE BK10219. I was VERY disappointed in the quality of the food and the slowness of the service! My husband ordered a double whopper and received a king double hamburger without the right condiments. The catsup dispenser was empty the whole time we was there, even after we asked for catsup and other customers doing the same! My husband ordered a med combo and received small fries. A couple behind us ordered their food after us and was still waiting for their meal even after we was almost finished eating ours. They finally left, without food after paying for it. Tired of waiting! The tables were sticky from not being wiped off! Burger King should be ashamed permitting such a store with their name! Order 255 03/14/2018 12:41p.m. total bill $16.23 try to do survey on the back of the receipt but ink on the receipt was too faded. (needed new ink)

Barbara Montgomery
from Sanford, FL
I rarely eat fast food, but when I do, it is always burger king because I crave the onion rings with the zesty sauce. I stopped in on my way to work and ordered a number 1..whopper with cheese meal large with a coke and requested onion rings. I failed to look in my bag. I get to work and we were extremely busy so I had to wait awhile. When I finally had a minute to eat, I found a double whopper with jalapenos and French fries. I cant eat spicy food and I don't like the fries. so in a nutshell, it was a whole meal that went into the trash. I am an emergency dispatcher , so I could not leave room to call or go exchange.

Jose Rivera
from Orlando, FL
I go to Burguer King number #16278 address-728 S Alafaya Trail
Orlando, FL 32828 and I was eating at the restaurant with my children and a group of people arrive and 2 of them identify themselves as employees in a defiant way talking with GM Miguel Baez. Suddenly a brunette woman named Tanya arrives and identifies herself as an employee of the restaurant without saying a word. they begin to beat and fight all the clients we retire from the restaurant and we leave until the food we feel threatened several clients we refer to the GM he identified himself as Miguel Baez and we asked him why he allowed this and that the man identified as Joseph and another william They beat a woman and he did not call the police. He did not do anything. We also asked him how he could have these violent people as employees. He just smiled and said goodbye to us. I hope that the top management of this aforementioned restaurant will fire those people I think there was also a person identified as Sandra and another Bryan in the store I hope that the corporation responds to ste complaint and do not have those people working in any of its restaurants and that GM Miguel Baez can not use them thanks for your attention

Thomas C. Royer
from Pineville, LA
first of all the people at the burger king on Monroe highway pineville La are very rude and lazy since bk has had the cinnamon toast crunch shake every time I order it no matter how early or late the never have shakes or ice cream never but when u go in you can see the machines running also i haven't yet had one correct order from then in the last 2 years every order has been messed up from wrong burger to no burger i have already have been giving no meal at all in drive thrue went inside and they give me additude telling me i have it and i show them the order and they still argue with me and i get burgers that look like they have been thrown on floor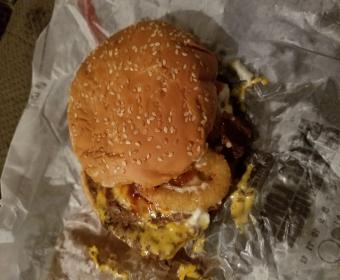 alberta roux
from Glen Mills, PA
aston,pa...ordered 2 whopper jrs & fries...one jr. with no onion & cheese...one with no sauce ,onion or tomato...# 2 they left the onion & took off the lettuce...the wait was 10 min or more...which isn't that bad during lunch...but during my wait...I heard her tell the guy...what was on the whopper jr....few minutes later....told him again.....later told him again...really.....special orders do upset you...a 5 yr old could probably get it right...im assuming its an adult working and shouldn't have to be told that many times...as I was standing right there waiting ...she was able to fill other orders behind me...and the burgers were way overdone...I think maybe that person filling the orders should take another burger king course...anyway...very disappointed

Shirley
from Campbellsville, KY
I went to bk in Albany ky today and first thing the food was nasty the ff were hard as rocks cold they don't get it order right and the girl working the window had a problem I didn't get my change when got home order was wrong i called back and she was rude as hell I won't ever be back and I will tell everybody I know it's only got a 3 rating so what does that tell u new help or new management talked to me like I was stupid don't think so I couldn't fill out survey because I don't get a receipt

Dennis P FitzGerald
from Roswell, GA
Berger King Market Square Roswell GA is beyond a shadow of a doubt the worst experience I've ever had at a "fast food" - that's a joke - store.
Approached the counter to a Hugh Black woman who looked at me with such distdain I felt dirty. Stood sideways with her hand on her hip as she shouted out instructions for me to give her my order. Crispy Chicken Sandwich with Onion Rings "WHAT SIZE"? Medium. punched it into the register then ripped off the tape and threw it on the counter as she walked away. Never looked back at me once.
I waited and waited while car after car was served at the drive up window. Finally I asked another Black young woman not in uniform with Pink Hair braided when I was going to get my order. She SHOUTS OUT "You go this guy's order?" It's produced on a tray with onion rings strewn all over the tray out of the box and a wrapped sandwich. I went to my table then realized there was no onion ring sauce. Went back and politely asked for the sauce. I get the look of death from her, she grabs one and flings it on the counter and turns her back to me. I go back to my table proceed to put the rings back into the container when I see it's about half filled. Unwrap the Sandwich and find "Crispy Chicken" is a soggy mess of fat dripping half cooked whatever that's completely inedible. I tray an onion ring it literally drips of fat as I bit into it. I put everything back on the tray walk up to the waste bin and as I'm putting it inside the Hugh woman behind the counter notices what I'm doing. I said to her this is disgusting. I exit the building.
I get in my car and start to back up when the door flings open and a small black woman comes out with a Mad as Hell look on her face and she's shouting "Get back in here" and starts walking to my car. She gestures for me to get back and park while shouting "Get back in here" I waved good by and drove off with her walking after my car. Thank god she wasn't armed.
We have few fast food stores in East Roswell. It's a shame your unit is here and should be closed. You need to send in secret corporate personal to experience "Fine Dining" at Burger King in Market Square in East Roswell GA 30076. An experience you will never forget. My wife said she won't go back there ever again.
I failed to mention the time. It was 2:30 PM. The place, floor, counters, tables were disgustingly filthy. While I was waiting two tall black men came in. The entire counter staff started whooping it up - jive talk - high fives all around talking all at once very loud. Everyone was looking for "some sugar" what ever that means. All food prep stopped and it was talk time. Everyone behind the counter with a uniform looked like they hadn't washed them in a week. Stained - filthy. Disgusting

Storme Smith
from Boiling Springs, SC
No receipt, bought 14.43 dollars worth of food from store #12668 2 stone cold croissanwiches one was hot of the three. Ripped me off hiding them at bottom of bag, cold no like refrigerated cold. I need a response or a refund.

We opted for Burger King today as we wanted a burger and didn't feel like a sit down restaurant. I have been a B K customer since the late 60's; spent my career in restaurant management. WE went to the BK on the Roseville Parkway, in Roseville, CA, where CNN was blaring. We asked if it could be changed to a more upbeat program. Olympics? The cashier asked the manager, who said it had to stay on CNN. He tried to turn the volume down, but could not. The manager looked right at me, but didn't acknowledge. Why would we eat a fun burger, listening to the week's tragedies??? Told we could sit in a big empty room, no booths. We were the only customers. Wonder why.

Linda Pernini
from Cumberland, RI
On Wednesday morning (2/7/18) I went to the drive up window at the Social Street location in Woonsocket Rhode Island. I ordered 2 egg and cheese sandwiches on biscuits and a large hash brown. When they handed me the bag I noticed it looked a bit "wet" on the side. Didn't think much of it then but when I got home and picked up the bag there was a "wet" stain on my passenger side seat. Upon further investigation I realized it was grease! I opened the bag "lots of grease" unwrapped a sandwich. I immediately threw the piece in my mouth as well as the entire contents in the bag. I always go to The Burger King on Eddie Dowling Hwy in North Smithfield, Rhode Island and have never ever had any kind of problem. The staff were very courteous and fast but the food was just horrible!

Antoinette
from Glendale Heights, IL
i went to the Burger King located at 1021 E. Saint Charles Rd, Lombard Illinois. I arrived at the location 8:00 p.m. there were approximately 4 to 5 people in the dinning area. When I went to the front counter there was no one at the front counter and I smelled an odor of marijuana, I dismissed it and looked to the back of the store in the kitchen area and noticed that the back door was open. Finally the employee walked to the front to take my order and never stop to wash her hands, I gave her my order and the smell of marijuana became noticeable again so I asked her if she had been smoking? She admitted to me that she had been smoking cigarettes and I than told her that she doesn't smell like cigarettes but marijuana and cancelled my order and walked out. This was only my second time visiting this Burger King. I'm so angry with what took place here and so shocked with what I saw, smelled and witnessed I will never go there again and will tell others about my visit. Thant entire shift of employees needs to be disciplined.

vickie abel
from Fairfield, OH
I recently purchased 2 bacon/egg/cheese croissants from your Fairfield OH location#3466---after getting back to work with them, we discovered the were sausage/egg/cheese. I called the manager--Katrina and she issued a credit for 2 sandwiches made correctly. I went this morning and asked to redeem my credit---which I was greeted quite rudely. She shoved 2 sandwiches in a bag and walked away. Again upon arriving at work with them, we discovered they were FLAT, thin, the croissants were hard on the bottom and soggy on the top. the whole sandwich is about 3/4 of an inch thick. What is going to be done about this? I am severely disappointed in my whole experience. Please respond

Norma Newman
from Erie, PA
My husband and I are frequent visitors to Burger King. Why are the burgers coming out of a steam table all watery and nasty. The fries are given to us old . Been sitting around for a few hours. Food is terrible any more and service half the time we are missing food from our orders. Also I got a secret Santa Gift Card for Christmas and cant use it cause a scratch on the bar code. I was trying to get this resolved since Christmas when we went to use it and it was declined. I checked to make sure money is on the card and there is but cant use it. What kind of business is this? Burger King has really gone down hill. Need to correct this problem. Thank you!!

Matthew Prowker
from Salisbury, NC
Me and my wife stopped to pick up dinner and the king here in Salisbury has bend pour for a long time but new face lift was done so we stopped in anyway. Ordered 4 whoppers in drive through. Had to pull up and wait which was fine got order drove 1mile up the road and check the order and they were stone cold very very pour service

bill johnson
from Barstow, CA
(over salting or not salting fries)I have had great consistent service at the Burger King 1540 East Main, Barstow; however the store in Walmart doesn't meet the same standards. On one occasion, I informed the cashier that he forgot to salt the fries. His answer was that there was salt in the bin warmer. Not So!! On other occasions I observed the cashier just lacing too much salt on the fries which caused me and my wife to throw them in the trash because we couldn't eat them. We live close to Walmart and frequent it often. We would like to have Burger King there live up to the same high quality standards as other stores. We love the store at 1540 E. Main; but why should we be forced to go there for good food?

david barber
from Grand Rapids, MI
I ordered and original chicken sandwich, add cheese, plus onion, light mayo. 4 pm on Tuesday afternoon. I waited in line about 10 minutes behind 2 cars.i got home took a bite and it was completely flat, it had been under the light or the heater for many many hours. I cant believe they served that anyone. I don't have the address but I talked to the district manager laura and she apologized and offered me food or money back, I drove back down there and wanted to talk to her they told me she was gone. I did get a refund I don't have the address but the phone number is 616 531 6353. I would never complain, but the sandwich was unedible, I will never eat at "that" burger king again and in my opinion the manager should be fired.

The Burger King on 184th and Halsted has the worst managers ever. I have been a faithful and loyal company and is just amazed at how poorly and how rudely they are to their own employees. There are new people working in there and are learning and they are very rude to them and talk to them like they are dogs. Some of the customers are horrible as well to the employees and the Managers chimes right in with the customers and are talking and treating their workers bad and siding with these customers that are often wrong, don't ever seem to know what they want in line and changes their orders constantly and then gets an attitude with the workers who I have seen ALL who have done outstanding jobs in dealing with customers. There is one new girl that stands out and her name is Deja, I believe and she is a very pretty girl and is almost pleasant to her customers and the customers gives her a hard time and I have even seen the managers talk to her rudely and nasty. Have given her major attitude and I see her almost all the time I go in there she is always polite, she smiles. I would not allow my child(ren) to work there just because of how I see them treat their workers. Something needs to be done. You would think them moving into a new facility, they would have new attitudes.
Very Disappointed customer and will NOT be going back there. Cannot understand how these managers get away with treating especially some of these young adults like this.

Stephanie Powell
from Navarre, FL
On 1/29/2018 at 11:50am I went into the Burger King location at 8590 Navarre Parkway, Navarre, FL. Store #7736 I had previously completed a survey and had the receipt with the code on it for a "free sandwich". I was the only customer in the building at the time I entered. I was greeted by a employee and I presented the receipt and started to tell the young woman my order. She quickly told me that she did not "know how to do that". I stopped and then waited for another woman to come to assist. At this time, I was not aware she was the Manager on duty. Again I repeated my order, which was a Whopper, add cheese, bacon and extra onion, small fries, medium drink and a cheeseburger. I told her that I know I will have to pay for the "extras". Once again, the "Manager" could not ring up the order. She and the first employee stood at the register and tried several times. Finally, they gave me a total of $10.83. I snickered and said "that's not correct". The Manager looked at me and said, yes it is. I pointed at the board above her and said, there's no way that a cheeseburger ($1.00), a Medium drink (2.39) and a 1.99 fry is $10.83. Even with the bacon and cheese, its not 10.83.
She became really angry and said, HOLD ON. Finally a 3rd employee came from the back and showed the "MANAGER" how to ring up the order so that the sandwich would come up with the PROMO price. I then said, don't forget that I owe you for the extras. She said, yes ok. Finally the 3rd employee, gave me a total of $5.76. I did not argue because at this point I had already been there 15 minutes of a hour lunch break dealing with this. My order came up and I asked for ketchup, 1 zesty sauce and some pepper. No pepper in the building I was told, so I took my order and left.
When I got to my office to eat my lunch, I opened the bag to find a whopper, no cheese, no bacon and no onion. the burger hardly had any lettuce on it and so much mayo that it was running off the sides. The cheeseburger we ordered was so cold that the cheese did not even melt and the mustard was all over the paper. I packed it up and went back to the store. Upon entering the store, there was a line of about 8-9 people. The Manager was at the front counter taking orders. As I walked up, she said in a loud voice, OH GOD, now what?? Everyone turned to look at me. I was already angry and it got worse. When it was my turn, I explained that what I received and it wasnt what I ordered. She and the other (3rd employee from earlier) both stood there and argued about my order instead of just fixing the order. I am personally an Administrator of a Home Health Agency and deal with the public everyday, I could not believe this was happening in front of the entire restuarant and people behind me in line. She finally (very rudely) shouted to the guys on the line to make another sandwich. When it was done she shoved it into the bag and slid it across the counter at me. Never even looked up. No offer to give me fresh fries (which I returned in the bag) or even a apology.(Not even a napkin in the bag !) The employee that stated she was "The Manager" had on a teal colored hoodie over her uniform top and no name tag. She was very unprofessional in her actions as well as appearance. Her hair was pulled up and you could see that she had many " hickies" on her neck. None of the employees on the front line had on name tags, which I found odd, as it makes it very hard to address them. I do not normally complain, I am usually every easy going and will just take what I get, but this is the 3rd or 4th bad experience I have had in this particular location in less than a month and will probably not be visiting this location again in the near future. My office which has 15-20 employees have all had similiar problems with this location and I just felt someone needed to be aware of why Burger King is losing so much business in our area. This BK is in a prime location (Beaches) and if has good staff, it could really grow.
My order number was 131 at 11:50am, Host: Lisa

Store # BK03418. This is not the first time that I have had a problem with this store. This time I asked for the new double quarter pound burger with no pickles ane onion rings. All through the drive thru. First it had pickles and then I recieved fries. Also was given merchant copy with no survey numbers. Very dissapointed.

love BG when i buy out its the one ,always use the coupons .but today I was told it was no good)but it has 2/25/18 and when I told them that I WAS it was over,and did i want something else or i could get the 2 whoppers for 6 dollors . and what i got was 2 of the dryest burgers i ever ate,i have ever eat,im 65 yrs,old and been eating BG all my life.hell i turned my wife from micky-ds' TO BG .I just hope this is a one time deal

Janice Earley
from Arlington, TX
I don't even want to give ONE STAR. The Burger King located at I-30 and Cooper St, Arlington, Tx, has the worst customer service I have EVER experienced in my 37 years living in Arlington. Not only were we waiting in the driver-thru line for over 10 mins, we encountered the rudest customer service ever by the young lady working the window. Told me to " hold on a second" and then came back 4 mins later and asked me what do I want. Not, sorry for the long wait or anything remotely apologetic about having me wait 4 mins, but for her to rudely ask me "what do I want". Wow, and when I expressed that she should show some kind of explanation to the delay she told ME I didn't need to talk to her like that?? Like what?? Why are you taking 4 mins to ask me for my order in a DRIVE THRU??? Needless to say, because of the dynamic drive-thru at this location, I couldn't even get my vehicle out of this mayhem and foolishness because I was sandwiched in between other cars all stuck in their mess of failure to provide ANY customer service to any of us.
When I asked to speak with the manager.....she somehow discovers she can't speak any ENGLISH and looks so disheveled and confused she probably wasn't even the manager. NO ONE had on name tags therefore, I cannot provide any names. I was attempting to eat there on 1/27/2018 @ 8:40 pm, it shouldn't be hard to pinpoint whom may have been working there at that time.
I will choose to give my business to other establishments and have no future need or want for that matter to ever attempt to purchase from ANY Burger King establishment ever again.

bill edge
from Meridian, ID
Why do the print ads and the TV commercials show a Burger that you do NOT get. The cheese burger special shows the hb patty bigger then the bun, in truth it is much smaller. That is true of all their burgers, they are not the only company that does that. Wendys, McD et all all misrepresent
the food they sell.
Looks like false deceptive ad. to mee

Tamala P. Heard
from Cincinnati, OH
I drove into Burger King's drive-thru on 1/17/18 @ 8:15 p.m. at 9427 Colerain Ave. Cincinnati, Ohio 45251. I ordered a Garden side salad with an extra ranch dressing. The girl said 1.79, pull to the window. The order board had 1.59 for a side salad and I was like I was not paying 20 cents for an extra pack of dressing. When I pulled to the window I asked the cashier how much was the salad and she said 1.79? I said the menu board says 1.59 for the salad and she said she would ask her manager. He came to the window and I told him the price of the Garden side salad was 1.59 and you all are charging me 1.79. He said well I can't change it and can't do anything about it. I said well I will go to McDonald's. They honor their prices and they have better salads. The manager said something smart and I pulled. I was going to pull back around to the window and ask for his name and badge number because I was going to file a complaint. It was too crowded when I pulled back around towards the drive thru and too cold to go into the restaurant. I was so angry when I pulled off That I went home without getting anything and ate what was in the house which saved me 1.79. That Burger King has always had rude managers and worker's employed there. I know it has been over 3 years since I've been there and I see why different employees, still rude.

Laura Moore
from St. Petersburg, FL
New sausage biscuit for 79 cents is the worst I have ever had. Buscuit was hard... stale.... inedible... bought 3 . Trashes 3 . Will never buy again.........

Veronica
from Williamsburg, VA
I entered the Gloucester, VA store on Wednesday afternoon, December 13 and went to the restroom before ordering. Someone entered the other stall, used the facilities and came out of stall a second ahead of me. I noticed the person exited without washing their hands and this person was an associate of Burger King. I washed my hands and when I came out and walked up to the counter to order that person was the cashier at the counter. I just spoke and left. I did not want any food at that point from there. Maybe, management needs to reiterate the importance of washing hands. Food safety is a serious issue.

Michelle Jackson
from Miami, FL
Good morning, I just left the Burger King in perrine and I am very disgusted at how the Manager with the red hair was talking to the employees. I've seen and heard her do this more than once. I feel the way she carries herself as a manager she should not have a job with the company..... workers like her make employees and customers very uncomfortable.

Kara Martin
from Charleston, WV
I am very dissatisfied with my visit to my local burger King. After waiting a total of about 40 minutes our order was still wrong but my children were hungry. I spoke with management and requested a full or partial refund. He walked away from me and i assumed he would get back to me. They were so busy and I was so stressed that I want back to my table to be with my family. A full thirty minutes later I still had not had the issue resolved and they kept my receipt. I couldn't find any management to speak with before we left and I was so frustrated by the experience with my boyfriend and there children that we left. I don't plan to eat here anytime again soon but thing management should be investigated as well as efficiency and friendliness. I understand it's a job and it can be difficult .. since I've worked in the industry but this store is losing business. I watched six people walk out without ordering and saw many dissatisfied customers. Karawood.hsu@gmail.com

Kristin Quirke
from Long Beach, CA
Letter to Mr. Daniel Schwartz: . dschwartz@whopper.com
12-02-2017
Mr Schwartz,
I visited your Burger King 12-01-17, on 127 4th Street Long Beach CA. Before I ordered I looked back in the kitchen and to my surprise the female chef had no gloves and was preparing food. I asked the man at the register, before I order could you ask the chef to put gloves on. He yelled in Spanish, "you need to put gloves on!" I did not hear the response. And he went about his business. I then asked for the manager. He said he was the manager, Ricardo. He said "The gloves will not arrive until tomorrow!" I took a lot of pick of the restaurant, the kitchen, the chef without gloves handling food and Ricardo the manager.
I left the premises without ordering and told other patrons that the chef is not wearing gloves. This is the second time I have been there same issues… no gloves. Just be a shortage!
I do live close by and always have Burger King at least once a week, after a ling day at work and Im too tired to cook or its too hot!
Attached with this email you will find photos from 12-01-17
I filed with the California Health complaints department as well with photos!
Regards,
Kristin Quirke
350 Cedar Ave Apt 502
Long Beach CA 90802
786-803-0568
krisquirke@yahoo.com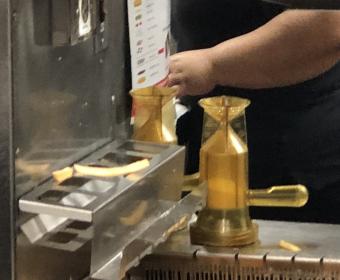 TIM Porter
from Sioux Rapids, IA
My complaint is my wife and I stopped at Burger King in Storm Lake, Iowa 50588 tonight. I had a Whopper, LG fry, LG Diet. My wife had a Bacon King and a LG Fry. When we arrived at home my wife found a large amount of hair in her sandwich. She found a piece of hair first then a larger amount. She couldn't finish the food after that. I'm sending you the sales slip from the store. Hopefully you can address the issue with them. We have always other then this time had great food, but now it might be questionable if we would trust them again. Thanks for listening.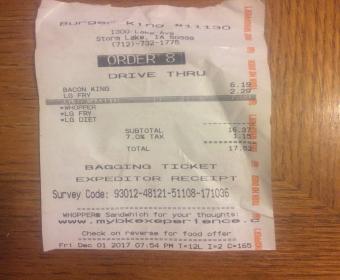 David torres
from Marion, NC
when your person taking the order has a bad attitude and a name tag that says Jay-jay all you have to do is add A V now you're talking about A woman's vagina when you order tater tot's and they normally have no salt to get even with the customer they added a lot of salt thank God that the salt didn't affect me all I did was throw out the tater tats and the manager didn't care because she's the one that started the tater tot's that's not how a business needs to be ran and this was done on November 17, 2017 the person taking the order was Jamie who had the name tag saying Jay-jay this was store number to 11 in Marion North Carolina

Ms Freddie M. Cox
from Fort Worth, TX
I was in your store on 11/09/2017 with two of my great grand babies, grand daughter, daughter, and son in law. I order two ten piece nuggets, two small fries, and two of your whoppers for six dollars and was charged for another two ten piece nuggets. The number # 12033, 1670 East Chase Pky around 1:44 P.M. I went back to the counter and the manager attempted a refund but charged another $3.78, again I went back to let her know that she didn't refund either of them. I was out of $7.56 for food I didn't receive nor a refund. The ticket number for each transactions are order 19 ($19.85), order 22 ($3.78) this should have been a refund but was a charge. The manager made another attempt to refund but only did an over ring and saying she refunded $3.78 to my bank account but it didn't show. She eventually did a duplicate over ring order 20 ($7.56). Burger King manager ended up keeping my $7.56 plus called police out. I am a senior who get her money once a month, $7.56 may not seem a lots to some but it does to me. The receipt I have have nearly faded out with the information. I've called corporate trying to get a refund of acknowledgement but none of the owners have responded. Miss Freddie Cox, 817-891-8004, 4405 Crenshaw Ave, Fort Worth, Texas 76105

Craig Weaver
from Williamsport, PA
We stopped at Burger King 12790 while traveling across Ohio on November 18, 2017. There was one person in front of me in line. As the young lady took his order she was completely distracted as she talked with another employee. When his order was completed she completely disappeared for several minutes. By this time, there were two more people in line behind me. She eventually returned to take my order. When I went to the soda area, both machines were out of ice. Another person waiting for food told me had had to go to another vendor to get ice from their machine. I waited, and waited, and waited. There was one employee visible and he was preparing food. Eventually, a lady appeared to clean up a mess at the iced tea container. When I asked her if someone could help me, she said, she didn't know, that she actually worked at Starbucks and was just there to clean up the iced tea. When she finished, she spoke to the young man who was cooking and he stopped what he was doing to get my order for me. My wife and I both got the fish sandwich, which was terrible. She initially thought that it was chicken. When I went to get ketchup for my fries, one of the containers had leaked and the entire bin was messy and sticky. Honestly, this experience could not have been any worse. I hope you can speak with someone to address these problems. It really did turn me off to BK!

Jane Barry
from Oak Creek, WI
I and a guest visited store #3791 on 11/10/17 between 7:30pm-8:00pm for eating in, my guest and I both had a whopper with fries and a drink. When we received our food, the temperature of the hamburger meat itself, was not hot, more room temperature and did not taste very well. The fries ordered were not very hot, when I took them back to the counter to ask for fresh fries, the clerk said they just came out of the fryer, but when I received the newer FRESH FRIES, they were the same temperature (NOT HOT OUT OF THE GREASE). I know what hot out of the grease fries are like, and the ones I received were not even close.
As we were eating our food, 3 customers (2 very young adults and one child) came in and the female clerk that took our original order knew them because I saw her hug the female in the group. The customers then proceeded to HANG OUT AT THE COUNTER, laughing and talking, inhibiting other customers that were approaching the counter to place an order. I did not see those 3 young adults order any food and was wondering why they were at the counter. The child was doing cartwheels in the restaurant close to the front door which was not safe and I did not see a sign that the restaurant was a playland type of store.
My guest wanted to order food to go and when she went up the to counter to order, the female clerk had a lollipop in her mouth that she was sucking and it fell out of her mouth on to the counter. She laughed and threw it away. WHAT?????? I did not know that clerks should be eating candy, chewing gum, sucking a lollipop or anything when working behind the counter!! VERY VERY UNPROFESSIONAL AND SANITARY!! After my guest ordered her food, I noticed the same female clerk make the food in the back. I did not see her wash her hands beforehand, nor wear gloves to prepare the food. If she was handling money etc, before, isn't that the normal practice to wash hands before preparing food? And the cooks that WERE on the line, were just standing around and talking to each other, so I wondered why the clerk was making the food and not them???? I am very very disappointed in this restaurant and I want someone to reprimand these employees or retrain them in ettiqutte. I know this is not a normal practice and something needs to be done about it now!!! I will call the day manager next week and complain to her as well and hope that something is done about it! This restaurant is convenient for me and is close to my work and home, if I need to visit a different Burger King I will do so and tell everyone I know not to visit THIS PARTICULAR restaurant anymore!!!

Linda Hatfield
from North Las Vegas, NV
I ordered an orange juice and paid for it and then asked for a cup (it was in a carton) and was told I would have to pay for for the cup as they were out of the cups for orange juice. I explained that that was the stores issue, not mine and did he expect me to drink it out of the carton and he said sorry mam (really?!) No attempt to be flexible in the interest of customer service AT ALL!! I asked for my money back and left the store. I will also note that I am in that store at least 3 times a week and feel my business should matter more than a two cent cup!

Gary Brodman
from The Bronx, NY
Hello.
I'm normally not one to complain when sauce, napkins, or anything else small is missing form my drive thru order.
But on October 30th I ordered a breakfast combo.
Upon eating it, I noticed the cheese wasn't even melted.
Then I bit into it, and the middle of the sandwich was cold, and the tater tots were cold.
Like I said, not one to complain, but this was very disappointing.
I have a long drive to work, so going back to the store to address this was not an option.
Thank you for reading
Gary Brodman

Shirley Bennett
from Beloit, WI
This morning my son went to the Burger King in Beloit, Wi on 4th St using the drive thru. He ordered 2 original chicken sandwiches, 2 original fries and 2 mocha iced coffees. He had to wait 15 minutes, while the Mocha coffee ice was melting. Then an order was brought to his car. The person that brought the order recited what we ordered, but when my son checked the bag, it had a bacon cheeseburger, 2 croissants & fries. He got upset, and I admit he swore at the drive thru person, which I don't agree with. Linda, the manager, took his food back & told him to leave. I heard her tell him that as he was on the phone with me. She wouldn't give him the correct order. I called there, talked to her & went down to get the food. I went in and asked to talk to her personally. She didn't want to come to see me. Finally she did. I told her that I didn't agree with my son swearing at her, but he had waited 15 min & got the wrong order. I thought we should get a credit. She advised me "I will not give a credit. It wasn't her fault that I had to come back down there as it was my son's fault for swearing." While she was getting the order ready, I asked if she was giving me the original fries. In a VERY hard tone of voice, she advised me they don't have any other style. I asked when that changed & she said "We have always had only one kind". I know that is not true, as the other way the fries are made, make me sick. She then went into her office. I asked to see her again, but she refused. Pretended she was on the phone. I had to tell the nice young African American boy what I was going to tell her as she wouldn't come out. I was going to tell her that I have always worked with customers. If a customer isn't nice to me, I understand how she feels. BUT when a family member comes in to talk to me I don't treat them like they were the one that swore. I DIDN'T SWEAR OR RAISE MY VOICE to her, but she treated me like I was the one that did. That is why I am filing this complaint. Linda is the same one that on September 30, we waited in the drive thru for 20 minutes, then was finally told the drive thru speaker wasn't working. We won't be going there anymore & have heard from others that they always get the order wrong.

tom parrish
from Warner Robins, GA
warner robins ga. on Watson blvd. I went in for breakfast around 925 am. I stood at the counter and waited for someone to show up to take my order. a black female manage finally walks up to the front and is talking very loud about some man not getting his pork chop next time. She NEVER acknowledged me at all and while she was standing at the register still talking very loud to other employees and laughing and cutting up, still not acknowledging that I am a customer and want to order my food. I know I stood there for 2 to 3 minutes while she was acting foolish. I finally said out loud I want a number 1 with a coke for here. she slammed my cup down in front of me. never said Good morning, may I help you or any damn thing. I took my cup and went and got my drink and when I came back to the counter to get my food it was in a bag to go, not on a tray so I could eat inside. I think her name was Shirley. while I sat down, I watched her attitude with others, 6 black people men and women came in and she smiled and spoke to them like she should. if she don't like white males then she is in the wrong business. she better show some respect next time I go in there because I'm not gonna be treated like that shit again by her. she is always very loud in that store and does not respect people. do something this!

toni natta
from Waycross, GA
I ordered 2 whoppers and a large fry. First this isn't the only time. The whoppers had old wilted brown lettuce old onion and so much ketchup and mayo it was running down my arm. The frys where cold and rubbery.
The staff are not costumer are not focused. The store is dirty as well and freezing cold.

vanessa
from Cedar Crest, NM
On oct 20 i visited burger king drive thru at 7:27 pm.
wait a long time in line to get cold food not only that but found a marker cap in one of my burgers.

Donna Salazar
from Conroe, TX
I went into Burger King on College Park in the Woodlands, Tx. I ordered a Big Fish Combo, extra pickles and extra Tartar Sauce, with a small garden salad instead of fries, and a large Unsweet Iced Tea. My total came to $8.65. It occurred to me while my credit card was processing that the total was incorrect, and I expressed that to the person at the register. She explained that I was charged for the combo, (ok), a 40 cent upcharge for the tea (ok) and an upcharge of $1.90 for the salad (not ok).
I explained that the Big Fish Combo was $5.69, with an upcharge of 40 cents for the drink, and that I only wanted a small salad that was only $1.59 if ordered a la carte. Why was I being charged $1.90? She replied that it was the tax. No, it was taxed on the total after the additional $1.90.
The manager was standing there, so I explained it again to her. She said that was the only way they could put it in the machine to get a salad instead of fries.
Then why was I charged for a combo?
If I ordered everything a la carte, it would have even been less, with the Big Fish sandwich at $3.69, the salad at $1.59, and the Large Iced Tea at $1.99, the total would be just $7.87 instead of $8.65. When I am charged for the Combo with the upcharge for the drink, it is $6.58.
The manager insisted that was the way it was done.
Imagine my surprise when my order came out, and it had a meal-sized salad instead of a side salad! I kind of thought something wasn't right when the cashier (verified) during the order that I did not want meat....I had replied, no meat just a small (using my hands to demonstrate small) side garden salad.
I did not pursue the conversation any further. Since the bill was paid, I decided to have my lunch and notify you instead.
Here's the thing--I go into that Burger King often, and always order my combo the same way. They always charge me the Combo price with an upcharge for the Large Iced Tea. They have never charged me an upcharge for the salad since I don't have the fries. That said, even if they had to charge an upcharge, or charge me a la carte, the side garden salad is posted on the menu at $1.59, not $1.90.
There was no misunderstanding about what I wanted. It was repeated several times since the cashier kept saying "what?" and I kept repeating.
I am sure the order was entered incorrectly, and I am sure I was overcharged, and I am sure there was no effort to correct the problem.
The good thing is that the food was fresh and delicious as usual, which I do appreciate, since my diet is somewhat restricted and this is how I treat myself ..(I don't eat the bun, either, but refrain from ordering it that way due to the confusion it has caused in the past and that I understand).
I have attached photos of the menu, the meal as it was presented, and the receipt.
Thank you for your attention. I will look forward to your response.
Also, please note that when I went to your site and clicked on 'Complaint Form' I was routed to a complaint page for some energy company. I had to do a little work to get to this form. I do hope it is, indeed. the right portal for Burger King Corporate.
Sincerely,
Donna Salazar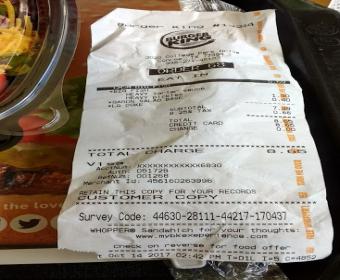 Mildred Estacio
from Haledon, NJ
At about 6:27 pm on 10/10/17, my husband and I paid for our order at this BK joint in Midland Park, NJ. Then we stepped aside at the other end of the counter to wait for our order. While standing and waiting, we decided to order another item. The guy who served us first, left the register as it was not that busy. I went back in front of the register and waited for someone to serve us. This woman, Nina (we found out her name afterwards), came up front but she just stared at me then looked away and turned her back on us while doing her stuff. I did not say anything as I thought maybe ringing the register wasn't her job. After awhile, she turned around again, stared at me then turned her back again… until my husband who was still at the other side of the counter, signaled to her that I need help. She then took my order. After that I looked at my husband saying in my native tongue "Why wasn't she asking me if I need help in the beginning?" Then all of a sudden, this Nina woman responded, also in my native tongue, saying "I thought you were served already" – with a big attitude.
First of all, I expected her to apologize – in my native language or whatever. Second of all, if she were not trying to be rude and do what is expected of her instead, working in a customer-service based establishment, she shouldn't have even opened her mouth and pretended not to understand what I said. After all, I am a paying customer who needs to be served with respect. Instead, she acted like she was all this high and mighty BK supervisor or manager or whatever her title is. My husband was all nice to her even after all that but she carried on with her condescending attitude… that's when my husband confronted her and put her in place. She then started saying she did not notice me… that I wasn't in front of the register, etc… You have cameras all over the place. Watch and see what exactly happened. She was not only rude but a liar, too!

Michele Amos
from Tallahassee, FL
I worked at BK for 4 years in 1984 and again as a part time job to supplement my income when I was single. I'm sure some things have changed but the way the employees are now they just don't give a damn that's from the managers on down. Every time I go to one the customer service sucks, the food is always wrong and most of the time the employees are playing. What happened to the secret shopper coming in and rating the store and actually getting disciplined when things were not up to standard. IF YOU GOT TIME TO LEAN YOU GOT TIME TO CLEAN, not these days fries are all over the floor visible for the customers to see. One time I went in to one of the stores and the manager was actually buying perfume in the lobby that a customer had brought into the store, instead of telling her to leave she allowed it. What about washing your hands after you take cash before you prepare food, its not being done. Wearing a hair net not being done. If you need a secret shopper I would be more than happy to go around to all your Tampa stores and tell you everything that is being done wrong and each store, just let me know.

Raymond littrell
from Knoxville, TN
Food was cold and hamburgers were burnt tasted like rubber was like they had been sitting around all day never had a worst burger in my life had to wait 10 minutes for the worst meal we ever had very dissatisfied service was terrible got food home only two miles away very cold could not even eat it it was so bad this burger king was located in memphis tn on summer ave and perkins road you really need to do something about this will never eat there again I would really like my money back dont know what they did food tasted old as hell would really like some compensation if I dont hear something from you will never go to a burger king again I will tell everyone I know it really sucked baf

Burger King just opened a new store a couple of months ago in Platteville Wisconsin. I was so excited to have a Burger King in this town. I have not heard one person who has had a good experience at this Burger King. The complaints have ranged from the food, the service and even the cleanliness of a new store. How does that even happen --you are only open a week and the floors are so dirty and sticky that you can hardly walk on the. The waiting time is another issue but I think that might be normal. I went there last Saturday and I got a whopper junior which should not be a difficult order. I got it to go and I could not even eat half of it. They had put so much of the special sauce and it almost seemed like they put the tomatoes, onions, pickles and special sauce in a blender and slopped it on top of the burger. It was the most disgusting tasting thing I have ever had. It will be a long time before I give Burger King another shot.

Johnny Smith Jr
from Lafayette, LA
Placed an order at 11:32 and didn't get it til 11:50 when only 2 other customers were ahead of me. Yet 5 other people were served before I received my food. So I'm pissed and let the cashier know and when I recieved my food it was so sloppy. I will never eat at restaurant number 501 at 1500 Johnston St .Lafayette, La. 70503 again. I dont even want your free whopper which is why I didn't take the survey.

Hello
I went to your Burger King on 68st in Hialeah today Oc 2,2017. I ordered thru the drive-thru and paid. At the moment they gave me the soda and told me to park as my food was not ready. I waited 15 minutes in my car and I noticed everyone after me paid and left and I was still there. I walked into the store regarding my order and it was sitting there. No one knew who it belonged to and the employees all looked at each other. I asked for a refund and to talk to a manager regarding the situation. She was very rude that she didn't want to give me a refund. Later she issued the refund but didn't want to give me a receipt regarding the refund issued. She was very nasty and not very helpful at all. I will never go back.
Regards,
Gladys

Catherine Rai
from Las Vegas, NV
I've been to your Flamingo and Cheyenne location 2x the last 3wks. The 1st time I ordered cheeseburger no ketchup and I had extra ketchup snd product eas cold wanted a refund because my bus was coming they refused and I mised my bus and had to wait another hour. Went yesterday and ordered another cheeseburger mo ketchup. Recieved what I ordered had cheese slappef on extra mustard that I did not order and cold. Hmmm is this typical? Don't give an excuse on food temp because I've been a food/bev manager for 20yrs. If I want cold food I can get a sandwich at Subway or at home. I wish your company continuous success.

Richard Ridenour
from Belton, TX
The location of Burger king in Belton, Texas. The facility ceilings are water damaged and stained with black mold growing on the ceiling tiles, the air ducks have black mold growing on them as well. there were a lot fries on the floor that looked as if they had be there for a few days, the food was way over cook and cold. the buns looked and felt like 5 day old bread hard and crunchy. I am a member of the Military community and have started to pass the word not to visit this store until improvements are made.

D.I. Lynch
from Saint Marys, OH
when did it become routine to not give change back to the customer? stopped at the store in celina, ohio this morning and my bill came to $2.99. I gave the person at the window $3.00. All she said was "thank you". While it is only one cent, I still expected my change back. If not I would have told her to keep the change. This has happened more than once. i don't know if they assume people wouldn't want the penny back but unless they are told to keep any change, they should give it back. I have worked retail for over 20 years and would never assume the customer wanted me to keep the change. regardless of the amount.

Krystal Cates
from Alexandria, LA
I love burger king and prefer the whopper to the big mac any day! However when my food is somewhat raw it becomes inedible and I can't enjoy my favorite fast food place. When my husband and I went through the drive through the server was rushing us so quickly that she spent more time interrupting to ask "anything else" than she spent listening. We got our food home and realized the whopper jr. didn't match our receipt and our bacon chicken burger was ice cold. It was so cold that it was hard to bite through. I'm not asking for a refund and I'm not asking for coupons. I'm asking for this problem to be addressed before the burger king (store #12673) in Alexandria gives someone salmonella.

Mike peters
from Olathe, KS
Hello there, I just wanted to say this is the first time I have ever made a complaint with any fast food place. On Sunday September 17, 2017. My wife and I and our children visited the burger king in Olathe Kansas next to the Wal-Mart on K7 and Sante Fe around 1:00 pm. We went inside to eat. The gentleman taking our orders was not rude but very impatient while we tried to give him our kids orders. We told the man the kids wanted Apple sauce with there meals and he said we don't offer Apple sauce. The menus board very clearly stated Apple sauce as a side item. We just let it go and got them fries instead. When we tried to get sodas from the machine, it was broke down so he had to get us soda from the drive through machine. When we finally got out meal first thing we noticed is how bad the French fries were. They were quite possibly the worst fries I had ever had. Over cooked and dry and not hardly even warm. My kids refused to eat them. I decided to get some ketchup to make them a little better. The ketchup hand pump machine had been filled with water Im guessing to make the ketchup last longer. It was most discusting. Most of the tables were not clean so we had to sit at a handycaped table. Our burgers were actually not too bad but my daughter's had slices of tomatoes that had small parts of stem still attached. I was so mad and disappointed we just left without saying anything.

Christa Florenz
from Minneapolis, MN
Just came from Burger King at 3342 Nicollet Avenue South, Minneapolis,MN. 55407. I ordered two(2) number ones(1) with cheese, which is a Whopper, fries and drink. Instead, I received two (2) double whoppers and some of the SALTIEST, NASTIEST fries I've ever had! We were unable to enjoy the fries at all, had to throw them away. Way too much mayo which made the bun soggy and also looked very unappealing. Spoke with the manager who responded that: "Corporate says to hold the salt shaker upside down and let it fall on the fries until the salt stops coming out on its own." That's got to be one of the most ridiculous responses I've ever heard. Needless to say, we are very dissatisfied with BK food service and the lack of quality in which they serve and present their food. I am a long standing customer of this particular BK, have been going there since I was in high school, year 1978. The standards and quality of the food and the manner in which it is presented to customer has severely declined. One would think and hope that standards would increase but sadly that is not the case. I give this BK experience a Negative 1.

Stanley Curtis
from Brunswick, GA
My wife and I usually have good experiences when we eat at Burger King. The food is normally very good. We visited the above mentioned store earlier today for lunch. We ordered the 2 for $6.00 Whopper special and were very disappointed in the quality and the taste of the sandwiches we purchased. The sandwiches were sloppily and haphazardly assembled and somewhat mashed down. The sauce appeared to be only an abundance of mayonnaise and not at all like your normal signature sauce. The sandwiches did not even have the flavor of a Whopper. This is the first that we have experienced this at the Brunswick store but have had similar experiences at the St. Simon's Island store. It almost seems like the personnel from the St. Simon's Island store have been transferred to the Brunswick store. We hope that was not the case.
We hope that an in depth investigation will be initiated in both locations and steps taken to correct this problem as soon as possible. We would again like to enjoy the original and great flavor of the sandwich that made Burger King famous.

Gayle Diehl
from Columbus, OH
I went to the Burger King in Columbus Ohio at the Carriage Place Plaza this morning (9/17/17) around 10:15 AM. There were 4 cars in the parking lot and initially there was no one behind me and to my knowledge in front of me though I could not see around to the side of the building. I ordered a breakfast combo and asked that my hash browns could be extra crispy. I have ordered them that way in the past and most of the time they have not been. At first my question was ignored and then when I asked again I was told "No." So much for the old commercial "Special orders don't upset us all we want is that you have it your way. Have it your way.....". Anyway when I got up to the window I saw a new woman who I am assuming was a new manager. I would have thought that a new manager would bring positive changes. I also found it very interesting that the receipt I received did not appear to have any identifying information about the store on it such as the store number etc.
I changed my order to exclude the hash browns because I don't want to pay for food I don't want.
In addition, most of the time when I have gone I have only seen 1-2 women of Hispanic decent I assume, and they can be very difficult to understand and I usu have to ask what they at saying again and they usu ask me the same thing. It is not that big of a deal as usu there is plenty of time because I don't want to hold anyone else up behind me and most of the time there isn't anyone. However, I don't understand why they are put at the drive thru due to the language barrier. I love that America is a diverse nation but I think they should be getting more assistance/tutoring from Burger King with their English. I am sure there are rude and demeaning people that are customers and it causes frustration for the customers and the workers as well.
Anyway thank you for your time and attention to this matter.
Gayle L Diehl

Robert Keck
from Royal Oak, MI
I purchased Chicken Fies for my children and there was a chicken bone approximately 3/4 of an inch in one of the chicken fries.
Please contact me to discuss further.
Thank you
Purchases 09/16/17 at 04:35 pm
Order 27
Store # 1312

Ray Darnell
from Independence, MO
Went to your independence, 23rd & 291 location approx. 7:30 pm, with my 7 year old son. They had on loud rap music in the kitchen area with some rather profane lyrics, I mean you could hear it through the entire store. Plus the supervisor, I'm assuming, since he was directing everyone, was smoking on the line. Right up at the front counter. Very poor experience. Really disgusted with my visit.

Cyndi Brawley
from Lake Charles, LA
Burger King in Lake Charles, La. on Prien Lake road--I oerder the ulitmate breakfast platter, they were out of pan cakes, so I asked if it would be cheaper or would I get a subsiture for pancakes, an employee, said very ugugy, that I was getting a biscuit , what was that suppose to mean, it came with a biscuit, all she had to say is I will give u an extra sausage or take .99 off or something, no , she was uguly, I am sure she was manager.

Randy corbitt
from Montgomery, AL
Beaufort sc .hwy 21.
The worse service ever. Waited for 20 minutes for 2 sausage egg biscuits. Then they had no coffee ready.waited another 15 minutes. They tried to give me a small decaf. They had just given it to the guy ahead of me. He noticed it was decsf after he tasted it. They tried to give me the same cup...gross.
Not only that...i paid for a large cup. Not a small.
The day before..15 min wait and they gave me 2 cold croissant sausage egg biscuits that were cold.
By the time i got my coffee on that second day my food was cold. Didnt save the reciept.
McDonald's is next door. Always packed. BK.. Empty.
The day ive told you about there were only 2 customers in the store.
corbittrcc33@gmail.com
843-271-7580

why doesnot store number 8850 recognize viet nam veterans and senior ciitazens I don't understand for a discount

So I went to the Burger King drive thru in East Bay in Provo, Ut. I ordered 3 Whoppers w/o onions, since I'm highly allergic. I also ordered a crispy Chicken sandwich. One of my Whoppers had onions all over it. I tried to call and complain and was hung up on 4 times. Someone even said, whatever. This order was taken at close to 1p.m. today. I was gonna just try to get my sandwich replaced, but the fact I was hung up on 4 times is ridiculous. I'm now beyond frustrated and angry. I refuse to call them anymore today. I wanna know what can be done to rectify this situation.

I was in the Burger King tonight to order food for my boys and ordered a whopper meal and Chicken meal as well as chicken nuggets. When I got home the french fries were missing, but what makes this bad was when I was there the time before they forgot the whopper so this is why I am complaining. It seems to be a habit at this BK. I had to go back for the whopper but I was not going back for french fries, as suggested or getting free ones next time.
I don't believe this should be acceptable to you, it is not to me.

On 1-31-2019 at approximately 1:30 pm myself and a friend ate at the Burger King located at 1605 Town Sq. SW Cullman, Alabama. In all of my 51 years of eating at various restaurants, I have never been as disappointed with any restaurant. Service was marginal at best without a "thank you" or any other acknowledgement. Drink cups were not handed to us, but sat upside down on a clear cookie case that appeared to have not been cleaned in several hours. Closer inspection of the facility revealed scattered food on the countertops with mud, dirt, napkins, food and other general liter spread across the floor of the entire store. I considered requesting a refund and leaving however it was well passed my meal time. As we progressed further the drink dispensers were splashed with beverages running down the front of the machines and the ice bin was open with a chair in front of the dispenser. Napkins were scattered around the dispensing station as was additional mud. Every table in the store had either trash or debris from other customers with breakfast foods scattered in the seats and on the floor. Each garbage can in the store was overflowing and several were running into the floor with trays stacked15-20 deep on each waste disposal station. this was totally the worst experience I have ever had at a BK restaurant and would definitely not have been a good time for the health inspector to appear. The restaurant was well staffed however everyone was more concerned with talking amongst themselves rather than interacting with customers. Some behind the counter we even out of uniform giving the appearance they did not belong there. Long story short......my last trip to BK, especially this one. Nasty, just plain nasty with employees thta cared nothing about yur brand or their job! Just thought you might want to know!

Michael Rumpf
from Cochranville, PA
Went to ravine pa Burger King and ordered 5 of the 10 piece nuggets .... they didn't ask if I wanted sauce .... I asked for bbq sauce she said sure .... got my order and drove home .. opened the bag and no sauce .... so I drove all the way back and went in ... Told them what happened and gave my bag and they gave me 2 sauces .... 2 sauces for 50 chicken nuggets ... i May never eat Burger King again

Laura Luecke
from Tallahassee, FL
On January 25, 2019 between 3:00 and 3:30 p.m. I, my friend, and his aging father experienced an unprofessional and demoralizing lunch listening to Latonia Branch give a staff meeting at 1209 S. Jefferson St, Monticello FL 32344. She used foul language such as "our production has gone to hell". She referred to employee's lack of cleanliness stating "some people do not bathe, especially the night shift". She threatened them with less hours working and stated "if you don't like it here go work at Hardee's". She called out people specifically in a group setting. She said "I hired you, I can fire you". It was all very excessively loud and we could not hear our own conversation all the way across the room. I asked her for her name and told her I intended to make a complaint. She said "you want my phone number". I said no thank you.
Laura Luecke
706-315-2304

Kathy Hale
from Marysville, OH
I am complaining about the one off of park ave in Mansfield Ohio. I go to the drive Thru and waited for 15 mins. I got no services so I drove and parked it they were clearly open when I checked the door for the hours. Their employees were dancing acting like idiots and not paying any attention to anything but socializing there was also 5 cars behind me they also didn't help and lost business.

larry bland
from Orange, TX
do your employees get any training what so ever or can they even read i will tell them how i want my burger low and behold cant even get it right when it right in front of them i have tolod them no mayo heavy on ketchop and mustard get home a spot of ketchup and mustard or nothing but mayo try calling to complain but i guess managers are to busy to answer the phone so when i went and got my burger today told them make them dry and give me packs of ketchup and mustard low and behold nothing but meat and bun i cant figure out how the hell you stay in bussiness

April Hires
from Terre Haute, IN
Went to get 2 spicy chickens and an order of the funnel cake fries and the funnel cake fries were so hard I almost broke a tooth and when I went to get different ones the doors were locked at 1040pm when they don't close until 11pm. I'm really disappointed.this is the Burger King in West Terre Haute Indiana..

James Nold
from Bogalusa, LA
First, I ordered 2 BK XL Meals, 1 $6 box, and 4 ten piece nuggets. 2 sweet teas, and 1 unsweet. Pull to the window (I was in the drive thru) to pay, hand the gal my money, she hands me two straws. She gives me my change, I tell her I have three drinks and you only gave me two straws. I could see the look on her face like I was bothering her by pointing out a shortfall. I am then told to pull forward, they would bring my order out. Same gal brings order out, turns and goes back inside. I check my order, no chicken nuggets. Go back inside, another girl looks at my receipt, gives me the nuggets. I return to car, am leaving parking lot, grab a cold, limp fry! Getting home, I look in the bag, one of my burgers (XL) is on it's side in the bag, all the runny sauce has limped up the bun, everything is in the bottom of the wrapper! Who lays a burger on it's side anyway? The other bag has an order of fries that had to be thrown in the bag, because there were more fries in the bottom of the bag than in the fry holder cup! Your sauce on the XL is kinda tasteless and runny, and there was entirely too much of it! This was at BK# 7179, Bogalusa, LA @ 1:02 PM 25 Jan 2019. Amt of order $27.68

chequilaj42@gmail. com
from Norman, OK
I was in buger King checking up on a job and the hiring manager said someone told her I was a theft and it is dead for me working

suzanne Thompson
from Coatesville, PA
On January 22, 2019 my family and I went to the new Burger King located in Avondale, Pa. We were very disappointed in the service and the food that we ordered.
1) There were only 2 cashiers open and there were several employees standing around.
2) When the cashiers took our orders Burger King was out of fries and Med. size drinks so the customer was forces to pay for the small or large size cups. We were charged $2.32 for a large drink. That is unexpected especially since we could not get the size we wanted. .
3) We had to wait at least 10 minutes for our meal and there were only 2 others a head of us.
4) When we received our meals the food was wrong even though we reviewed with the cashier what the order was. The food was also very cold. I said something to someone and nothing happened.
We are so disappointed in the new restaurant that is the area. This is not the first complaint I have heard about the new place.

Harriet Jackson
from Livingston, TX
This is the second time my order has been wrong. I ordered the bacon king no mayo with mustard. It had mayo. My husband will not eat anything with even a tiny amount of mayo on it went in the trash. There were suppose to be 2 cookies but no cookies. Drinks were suppose to be Dr. Pepper and root beer but we got 2 Pepsi. My husband and daughter love Burger King but our local store is just terrible. After this last visit we will not been eating at this Burger King again.

kenny smith
from Blacksburg, VA
i always get onion rings when I go to BK, now you are charging extra for the zesty sauce that I like so well. I payed it this time but that was my last trip to a Burger King if you are getting that hard up. i eat breakfast and lunch there quite often so not happy at all. thanks for listening
Kenny

David Kurczi
from Lakewood, OH
Ordered PLAIN burgers and was sold burgers with all the fixings. My bride ate her burger and saved the other but I had to order pizza due to food allergy and preference.
Returned to Burger King with my receipt and four uneaten burgers and was told No REFUND because we didn't call in our complaint the day before.
Had I called after such a wonderful day and messed up dinner I likely would have used profanity. Now I really want to use it.
Eric said he was sorry but couldn't give me my money back because I didn't call and complain the day before and this isn't acceptable to me.

bernard maruszewski
from Bay City, MI
ok every month i go to midland from gladwin and go to my doctors befor i go i stop at berger king in mid last month i ordered 2 for 6 bucks chick san i got one chic san and one spicey chic let me tell u no one that i know can eat that spicy it so hot every one tells me make sure iwe dont get the spicy one well i got one so this month i orered 2 reg crip chic ok i got them both one was exc and the one i got was made of leather it looked like some one puled it off the bottom shelf after the end of the night just the 3 bites i got out of it was very nasty allso i woke up from a sound sleep 300 in the morning with my stomach hurting so bad i was in the bathroom for a half an hr tryen to get out of there with my stomach hutring so bad i craled in to my bed after takeing a half bottel of peptobizmo i will no go there again i have better luck in my hic town of gladwin with a drunk boss that goes to her car all the time oopps was i sapos to say that i hope u do some thing about that store in mid ! thanks a not happy cus! bernard !

Tammi Williams
from Alabaster, AL
My complaint is that every time I try to use this location, there is an issue with their equipment. If it isn't the shake machine, it is the frosty machine. Today, 1/13/2019 to my amazement the broiler was out of service. I would like to know how on earth do you bill your business on flame broiled burgers, and the broiler is down. I tried to place an order, only to be told that they were only serving chicken. I did not want chicken. I feel that if you cannot provide what you have built a reputation upon, that perhaps you should close the business for today, I know that you will not meet sales for today, because when I think Burger King, I think burgers..not chicken. I was told that the Area Director is Mrs. Rose Williams, and the manager I spoke with by the name of April, could not even provide me the Corporate offices information. As someone who is/has been in management for over 25 years, I know better than the answers that were given. Perhaps the location at 681 1st Street S.W. located in Alabaster, Alabama 35007 is due for a complete overhaul...including equipment & staff. I don't think that I will ever attempt to use the services from that location again. Thank You...very dissatisfied customer.

cathy colao
from Delaware, OH
To the head person whom runs and own s bk I was working for a while and i was threat ok until recent .I was told that would get 8 hours when i work in sun berry i did not yet at all then come to find out other things like manger s date other in epyees and I know that it cant be done been going for some time now .I have not said anything until now because i was lied to you under payed me and i quit on Sunday the 6th of jan year .I do not like to be use s or lied to i came in on days off and stayed late and still got treated like shit .I told christna that i would work with her on days that i did not work at my other job . Then things got bad there .I was only working a few day at a time then one week at a time and then it want were i wasnt even on the paper to work so that when i had it chould not do it any more so i truned in my stuff

Michael E. Peterson II
from West Des Moines, IA
My wife and I went through the drive through at the Burger King at 7275 Vista Drive in West Des Moines Iowa. The young lady in the drive through at approximately 5:00 pm filled our order completely wrong. I received a single instead of the double I paid for, my wife requested no lettuce or onions, both of which were on the sandwich. The fries were cold, both of our burgers were smashed. When handing us our drinks we received which I pointed and she did change it while muttering under her breath. After fixing the lid she handed me the wrong drink. After the transaction was complete, I said thank you and she said yeah. I worked in customer service for 17 years, and 10 of that was management, so consequently, I know how to treat a customer. This is not the way.

sandy coleman
from Germantown, MD
I WENT IN TO THE BURGER KING ON 306 11749 THE GM WAS RUDE THE LOBBY WAS LOCKED ON A FRIDAYBECAUSE THEY WERE UNDERSTAFFED ONCE AGAIN AS ALWAYS AND ROACHES ALL OVER COUNTER COOKS NOT WEARING GLOVES THE GM ACTED IF SHE DIDNT KNOW WHAT SHE WAS DOING AND YELLING AT HER EMPLOYEES IM IN UPPER MANAGEMENT AT MY JOB AND THAT WOULD NOT BE TOLERATED IF THATS WHAT YOU GOT AS MANAGMENT YOUR COMPANY REALLY NEEDS TO JUST SHUT ALL THE DOORS AS UPPER MANAGMENT SHE SHOULD BE ABLE TO HANDLE HER ISSUES AND NOT TAKE IT OUT ON THE EMPLOYEES THATS WHY THE SALES ARE DOWN AND YOU CANT KEEP STAFF BECAUSE SHE TALKS/YELLS AT THEM AS IF THEY WERE ANIMALS I WILL NOT AS LONG AS SHE IS MANAGMENT COME BACK TO ANY OF THESE LOCATIONS GET RID OF HER BEFORE YOU END UP HAVING TO SHUT THE DOORS

Sheryl Motsinger
from Salem, IN
I live in Salem,Indiana and we have a fairly new restaurant. When it first opened it was always clean and food good. For the last several months the restaurant is always dirty,tables not wiped off floors filthy food not hot. We love Burger King but we have been having to go out of town to other Burger Kings. No problem with any of the rest of them! And also a boy that works at Salem pants are way down below his butt crack. He can't hardly cook for pulling them up. I told the manager bout it one day we was in there she acted like no big deal. Didn't even say anything to him! I just don't understand why you would let a new restaurant get in that shape.

Tom DiCola
from Jeffersonville, IN
Been eating BK since a kid, now 65 years young. When this location first opened it was terrible, wrote office to a new location, new mgmt. and staff. Many months later still disappointed. Wait time at register. Wait for order. Then saw order in the delivery sleeve for about 12 minutes. Spoke to who I thought was a manager and asked for my money back. She refused telling me that my order was right there. I explained that it was right there for quite some time. She kept insisting I take it. I did because I was in a hurry. As I expected, cold whopper with cheese and fries are just terrible. Need a new crew in this location. Never again...
Sincerely yours,
Wed Jan 02 2019 05:53 PM T=01L I=3 C=867769 Burger King # 22721 3030 East 10th. Street Jeffersonville, IN 47130
Tom DiCola

Hannah Harris
from Sierra Vista, AZ
I am complaining about the Burger King on Cedar Creek Rd in Fayetteville NC. There have been several times that I have been to this BK and the employees are rude and the restaurant is not clean which has made me not go to this location. However today 190104 I stopped to get a mocha BK coffee and a sausage croissant. First off I don't know if you are told to ration the napkins but every time I have been to this location I am never given napkins thru drive thru. But back to my main issue, so I go to take a big gulp of my BK coffee and on my first drink of the coffee I felt something in my mouth which was horrifying. I pulled the mass out of my mouth to see what is was and it appeared to be a big wad of filth from either the coffee machine or perhaps the ice machine, I wish I had thought to take a picture but I was so disgusting and distraught from what I saw. Regardless it was nasty and very disturbing after the incident once at work I poured out remainder of coffee to look for any other foreign objects there was none. But regardless I was unable to finish my sandwich and now I'm done with BK. I decided to call location to inform them of this mishap before anyone else encounter same situation but phone stayed busy for several calls and when the phone did ring after several other attempts phone was pick up and the hung up. I am hoping this will maybe have some effect on store maybe more checks on cleanliness or something. Until then I'm done with Bk!!!!!!

Christy P
from Hannibal, MO
We were in the drive through 20 minutes! When we finally got to the service window we saw people standing inside for waiting for their order who didn't look to happy. They told us our chicken nuggets would take two minutes and to pull up. The woman that took our money also ran up to the "delivery" window!!! After waiting another five minutes I got out of the car and looked through the glass door. The dude that was preparing the sandwiches was waving his hands talking to the entire crew who was standing around doing nothing but listening to him. (except for the poor girl who took out money). The "talker" pointed at me and a young man came to the take out door. I asked, 'Where was my chicken nuggets' he said oh no! I forgot them! Then after about a minute he came out with piping hot nuggets and apologized. I hate going to this place because every time it's been a nightmare trying to get your food. I finally decided you need to know what's going on there. If you wonder why it's not busy??? Getting waited on was forever and some people are working and need their food quick. This is why McDonald's down the street is so busy...they get your food right and fast. Maybe you guys should rethink how you are handling your food line? I actually love your food but never go because of the poor survice. I was taking my son who wanted the nuggets. Thank you for listening. Gee I wish you guys would do something cause I love the food. By the way. By the time we left I noticed the same guys are still waiting on their food after about half an hour!

Michael Pope
from Omaha, NE
Service wasn't bad. People were not rude. The fries were not anywhere close to hot. I would describe as room temp. Sour dough burger meat very dry. Bread was poorly toasted. Like bread warmed in a microwave. Almost soggy. I don't eat out often and maybe this is why. Tonight it was a toss up between here and the McDonald's just down the street. I reckon I chose poorly.

Susan Keelan
from Miami, FL
I went to my local Burger King (7299 West Commercial Blvd., Tamarac, Fl 33319) yesterday, December 20, 2018 around 1 or 2pm.
I went to the drive-thru window and ordered a Veggie Burger which I have had from this store before about a month or so ago.
I remember how good the first one was and thought I was going to get another one just like it. Unfortunately, when I got home with my burger.... there was nothing on it but a wide piece of sliced onion and 1 little pickle. No lettuce, no tomato, no taste, etc.
My dog wouldn't even eat it! It was a dried up patty on a bun. It didn't even look appealing let alone taste good. I didn't go back because the last thing I need is to have someone there spit on my sandwich the next time I go.
I grew up loving the Whopper and French fries and when I heard about the Veggie burger I couldn't wait to try it. Too bad the caring by your employees to make your product appealing, tasty and enjoyable was not given! It ruined my afternoon and I don't think I've ever complained about a fast food product but this really made me mad! Somebody needs to be fired and whoever trains your employees needs to revisit this store and see how they are throwing these items together.

jackie campbell
from Long Beach, WA
I love your food especially the whooper. I also love that the burger king in Astoria Oregon is the only place I CAN EAT THAT PLAYS fox NEWS, MY FAVORITE. My complaint pertains to the Burger King in Astoria Oregon 350 Marine Drive. I've been going their for many years, 30 plus, because I like the food but I think that's going to stop soon. Lately each time I go all the employees and managers have the dirtiest greasy hair. I've seen them touch their hair and then get the fries. YUK !! In fact the whole crew looks dirty sloppy and bored. No one even pretends to like their job. Very poor moral. Extremely sloppy group. In fact the best I've seen from a fast food group has to be Dairy Queen, clean and cheerful.
Last time I was their two weeks ago I even spoke to the manager about this and she just nodded make some excuses and when back to doing what she was doing before. DID NOT CARE. Weird group. FYI only, Jackie Campbell.

jean chaffee
from Laramie, WY
I went to burger king on grand ave Laramie Wyoming yesterday 12/27/2018 bought the family coupon deal and a medium drink 3 whoopers. 3 cheese burgers and 3 small fries for 12.99 I think he asked us the code on coupon and we told him we wanted cheese on all the whoopers and a medium drink came to almost 18.00 dollars when we got home 10 minutes later we only had 1 fry at the bottom of bag and the burgers were ice cold I heated the burgers in m,icrowave and we ate with chips and after we ate I called them and told manager about not getting all the fries and burgers were ice cold he said if we come back up right now he would replace the whole meal but we werer already out all afternoon for sales and we didn't want to cook so that is why we stopped to begin with I asked him if I could ge the stuff today Friday 12/28/2018 and he said no not tomorrow today or forget it and was very rude...I can get burgers and fries any where and if I don't get some satisfaction I will not go there for awhile...

Judy Sparkman
from Neilson, FL
Poor customer service. Order not right, Waited 25 min to get to window. Only 4 cars in line, left out nuggets from order, and person at window was snippy when asked to repeat order. No smile, no customer service. This was at DUNN AVENUE in JACKSONVILLE. I will never go back again. One to 5 scale, I give it a ZERO

Joseph McAfee
from Barstow, CA
I went thier to eat with my family and once again they don't know who to do the egift card process this is the second time I've had to walk away disappointed ,and almost every other time I eat here I'm always missing an item . And the free meal they gave my
Son so I wouldn't call u the nuggets was burned

gary stroschein
from Linglestown, PA
my wife was in your burger king on w college ave in state college pa in the drive thru the other day and told me how the lady on front of her had a dog with its head out the window....the employee handing out the food proceeds to pet the dog on the head and nose area while the dog is licking the employees hand....then she hands my wife her order....how disgusting.....no more burger king for me

Angela Johnson
from Louisville, KY
I Went to the Burger King on Dixie Hwy. 40258 and was over charged. I called your corporate office to file a complaint and have not heard back. I called and spoke to one of the customer service reps. gave all information needed and I have not got a response from your office. I would appreciate some feed back from my complaint. Ph # 502 -294 - 8967

KC Lascelle-Hancock
from Denton, TX
On Thursday 12/20 at 5 pm, I presented a coupon for sandwiches at the Marinette, WI location. Buy 1 whopper, get 1 free. The same coupon I have been presenting for several years. It is in the weekly church bulletin. The manager on duty made the accusation that it looked like a copy, walked away saying she needed to check with the district manager as she has never seen this before. I know for a fact that I am not the only person who presents these coupons. I felt very bad she left a young girl at the window to possibly deal with an agitated customer! She said she was sorry, but that should not have been her place to apologize. This should have come from the manager. There were several cars lining up to pick up their orders. I did not want to make them wait any longer than they had to. I gave the girl other coupons as well, to show they were not exactly the same from week to week in the bulletin and left.
As I stated, this is from the CHURCH bulletin!! Of course it's a copy, don't you think the church makes copies of their bulletin??? Also, as stated, I have been using these coupons for quite some time now.
I DID NOT TAKE KINDLY TO THE ACCUSATION OF MAKING AND PRESENTING A COPY. This was a false accusation that was completely uncalled for and should not have been stated in such a manner. Possibly bordering on defamation of character!! The worst experience I have ever had at a fast food establishment! In a world where customer satisfaction is the #1 goal of companies, clearly Burger King is not interested in providing a good customer experience.
My husband and I are regular customers at Burger King, as we enjoy the food very much. However, if something is not done in regards to this, we will find another establishment to support.
I do expect a response to this complaint. I was treated extremely poorly am very upset with the false accusation that was stated.
My email address has been recorded above.

Rogers Norton
from New Orleans, LA
1.) I talked, to two other individuals then, my order was taken.
2.)The whopper juniors with cheese. Instead, no cheese, jalapeno peppers were placed on the junior whoppers.
3.)The staff acted as if, I was just there to waste time as they were.
4.) My children were just as shocked as I were!
This was the worst service I ever had at this particular store. It will make me second guess next time?
It was unbelievable, as well truly sad..... Thank you for your time and consideration. RJNSr.

Barbie Rudnicki
from Sault Ste. Marie, ON
The Manger Carla at Great Northern Rd Sault Ste Marie, Ontario store #900019. is of no use she wont leave bagging station to add fries to bag or deliver order completed to cash. Shes unkind when reminding cash girls to give cups. shes not smiling or thanking those sh does give order to. She was unable to fill the order and give to customer. Not a team player at all. We waited 33 min for two burgers. My number was 38 the where serving 20, 48, 33 just to say a few numbers. The heat grill holding area was full all she wanted to do is bag burgers but wasn't able to even do that. all The fries where under the heater ready to be bagged but she never put any in the bags to complete the order. Other workers from back would come help her but because she wasn't giving anything to customers the line continued to grow with people waiting for food.The fry girl and front cash girls and even the cook was helping her find the orders when they could. Then cause she wasn't bagging and handing to customer she shut down one till. I placed my order very quickly order #38 at 12:35 I received my order at 1:05. At some point I looked at the pop machine it was covered in drinks spill t and garbage and unused lids everywhere, I tried to clean it up. The burger was now cold due to the length of time it touch me to get it. then imagine being charged for bacon without any on my burger. I am very disappointed to think one person could cause so much delay by expecting others to do her job. Please mail me my money back $18.75 B Rudnicki 42 Heywwod Rd Sault Ste Marie,Ontario, Canada P6A-6K4 Thank you I hope she will be retrained and or find someone more suitable for manager and team player. All this could have been avoided if she would have left the spot and grabbed the fries and served the customer. Please renew my faith in Burger King.
Barbie Rudnicki

CHARLES WOOLFORD
from Germantown, MD
I received in the mail a burger king coupon sheet. During shopping I stopped at a Burger King Location at 740 E. Little creek rd., Norfolk Va 23509
Because of valuables in car waited for a half hour in drive thru line. When I finally made my order for myself and family and told them I was using your coupon long pause.. the manager informed me, because location is a franchise they do not accept coupons. I left looked on line and found all local BK locations are franchised so no BK locations accept coupons.
My compliant is why would you send coupons in the mail and when customers attempt to use no local locations where I received coupons are accepted . Bait and switch?
Please no longer send coupons or have locations put up a sign that says we don not accept coupons so I don't waste time again
Charles Woolford
2206 Willow wood dr. Norfolk Va.23509

mikewhite
from Newark, NJ
took my grand kids to your store they like nuggets , good deal , French fries not so good but livable, 4 medium sodas !!!! 8 bucks!!!! outrageous. tried to call of course put on hold. after 45 minutes hung up . why must you screw people over? makes people wonder about the integrity of burger king

Poor service at store # 6. I have called and left messages for Jesus Corrons twice to provide details of my experience . He has not returned my calls. Please have Mr. Corrons supervisor call me at 305 595 6033 for details. Thank you.

Tammi Marable
from Cordova, TN
My sister and I placed a drive-thru order. The order was the 2 for $6 whoppers. We added cheese so the total was $7.65. The cashier was given a twenty dollar bill and sixty five cents in change. In the process of checking order prior to driving away, we noticed the wrong bread and cheese directly under top bun. An African -American lady approached the window and loudly commented, " can I help you". I said, "these sandwiches are not properly prepared". The same lady rudely stated she was the manger and the sandwiches were correct. She also commented, " we outta regular bread, you getting potato bread and the cheese can go anywhere". I then asked for a refund. She gave me incorrect change and when debated she yelled, " these (hoes) can't count. my register not gone be short for these hoes". This was in reference to my sister and I. I asked for her name and she said, " ummm I don't do names". This is not my first dispute with this young lady but I am finally at my breaking point with the location on Germantown parkway. I was cursed at, given poor service and cheated out of money. Feel free to personally contact me at (901)570-3701.

Jeanette Wallace
from Dover, DE
I have stopped at this burger king on patapsco ave in Baltimore, Md for the last month. Everytime i order nuggets there is never any bbq sauce. Tonight i ordered four 10pc nuggets and four small fries. I waited over 10 mins at the window and when i finally got my food i was given the wrong sauce and all my fries where burnt and nasty.

Kelli Johnson
from Spokane, WA
Today I went to my closest BK for a snack on the way to an appointment. Of course it was 11:45 so the drive in had a long line. I popped inside where there was only one person in front of me. Oddly, there was ONE person at the counter....I assume a person in the drive through and ONE person cooking in the kitchen. I ordered and waited....and waited....and waited. I could see the food piling up on the pass, but no one was handing out food to customers. Now there is another make employee who is standing in the restaurant with the rest of us waiting for our food (is he on break??). A lady comes rushing in (who I now believe is the manager) and she proceeds to chat with staff, blocks the gal at the counter who is trying to wait on customers...but he's kind of acting like she has no idea what is going on. Still waiting. The man in front of me FINALLY gets his food and I wait some more. Now the lady goes in the back and now there are 2 older men just standing around doing nothing. More customers are standing around...food is still piling up on the pass but is not going out to customers. FINALLY she comes up and starts putting orders together and handing them out. I have been waiting for 10 minutes and I'm now going to be late to my appointment. I walk over to her and tell her that I'm not getting my food (FOUR CHICKEN TENDERS) because I have to go. She just looked at me and turned away.
After my appointment I call the store and ask for the manager...and she says she is the manager, Lynn. When I told her that I left her store without my food after a 10 minute wait...this is her reply: "It was 5 minutes and you can still have your chicken if you want it.". WOW! That is a manager's response to a customer????? WOW! I told her I'd like the number of the owner. She gets off the phone...gets back on and tells me this is a franchise store so she'll have to take my number and have the DM call me. I told her that I'd go online...she hung up on me!!!
I can't even believe this type of treatment. I wasn't really "angry" when I called her....but I'm angry now!!!
Kelli Johnson
509-990-5219
Spokane, WA

Lloyd Miller
from Elmira, NY
Twice I have been to Horseheads NY Berger King and asked for my military discount. First time two weeks ago the manager stated the food is already discounted. 12-13 18, I was told there is no military discount. I drive for a living and I pull into Berger King if the day is longer than usual. on the same day I [pulled into the Sayre, Pa Berger King and received my military discount....as I also do in Towanda, Pa. Being a veteran (disabled to be more precise) I enjoy my military discount. Why is this not so in Horseheads, NY?

They got my order wrong it was cold and they would not give my money back with the receipt I had I'm pissed something needs to be done

Clare Roller
from Lecanto, FL
Florida HOMOSASSA SPRINGS Burger King ALWAYS serves BELOW WARM - DRY BURGERS served on a DRY OLD BUN. Have had words with the Manager TO NO AVAIL. Things better change there or they may as well CLOSE UP. I have even asked for "HOT OFF THE GRILL" and that didn't work either.
We live close to them and WE DON'T INTEND ON GOING AGAIN FOR A WHILE (30-45 DAYS) We'll try it again then and see if the complaints have helped any.
Not sure how you can get through to this Manager. Burger King was our favorite quick burger even if they would give us a JUICY HOT OFF THE GRILL!!
TERRIBLE.

david godfrey
from London, ENG
missing 2 chips made a complaint through the app and still missing the 2 chips

Jerome Perry
from Ashford, CT
I'm from Willimantic Ct there's only one Burger King in this town. I have a complain. I never complained before. I'm a Black Vietnam Veteran and today a couple of Vet buddies we always frequent Burger King especially when we have our coupons. I got my order and walking toward the pick up area to get our cup for drinks there was this White manager. I have to describe him as White because as long as I've been going there's always been a Hispanic manager in charge. Anyways, this particular White manager appeared to either be training or showing off with some of the young female workers there. I asked the workers to please make our burgers fresh - only because during and after rush hour the burgers are sitting up under a HEAT lamp getting roasted and we didn't feel like eating burger with roasted lettuce and scorching tomatoes. I said yes ma'am can you make them fresh for me.. She said.. yessir and here they are. Them manager turn around and held up a French Fry in front of my face and stated: Do you want to check and see if this fry is fresh and hot.
I thought you should know that you shouldn't have a person of that capacity in a position of training new employees like that. It was not only unprofessional but insulting and uncalled for. You guys never know about these thing unless someone tells you. This happen today December 11th a little after 1:00pm if you need me further for verification please email me or call me I will be glad to have this conversation again 860-377-9934

William Mustari
from Homewood, IL
besides extended waiting for dine- in restaurant service (while customers walk out) HOW is it possible to be out of a simple bbq sauce condiment, week after week? I asked for it when placing the order, they said nothing, once paid & served your THEN told "were out"...and they walk off with NO ask of a substitute offering …..how is that even customer service??

Jacquelyn
from Elmhurst, IL
I Don't Know Who Does The Hiring For This Establishment However I Find That The People There Have Very Poor Customer Service and This Is Just Something I'm Not Use To For Burger King What Ever Happened To Great Customer Service Or As Your Model Says Have It Your Way ? Every Time I Go To This Establishment Here In Peoria, IL On The Corner Of Knoxville and Richmond I Have Some Sort Of Issue With Them I Already Put In A Complaint Before Because I'd Bought These Coupons From There ( That Mind You I Still Have Yet To Use ) That When I'd Went To Try And Use
Them They Weren't Able To Oblige, They Are Always Slow and Asking You To Park Ahead, One Time They Had Me To Pull Ahead and I Waited Over 30 Minutes Outside I Tried To Call Inside Because I Was Truly Tired After Getting Off Work And Just Didn't Want To Walk Inside Or I Wouldn't Have Used The Drive-Thru In The First Place But Ended Up Walking Inside Anyway Because No One Would Answer The Phone Calls They Aren't Very Friendly At All Excluding The Early Morning Shift Anyway Tonight 12-11-18 Around 9:30pm I Stop There And After The Girl Gives Me My Bag I Realize That I Need Salt Because They Never Put Salt On The Fries So As She Starts To Walk Away Completely From The Window I Yell Out Can I Get Some Salt but She Keeps On Walking As If She Doesn't Here Me But There's A Crack In The Window Which Tells Me She Does Here Me So I Open Car Door To Knock On The Window When The Manager Herself Comes Through But She Doesn't Even Stop To Ask If She Could Help Me She Sends The Boy To The Window I Ask For The Salt As He Gives It To Me I Tell Him To Tell Her That She Needs To Ask Before Walking Off If There's Anything Else The Customer Needs Before Just Leaving He Laughs I Start To Pull Off But I See Whom I Think Is The Manager Come Back Up And He And She Are Standing There Laughing At Me So I Bag Back Up And Start To Tell Her But She Weren't Respectful About It In Any Way At All In Fact She Started Trying To Mock Me She Is Truly Not Manager Material And Needs To Be Fired So Someone Who Knows How To Be And Act Like A Manager Can Run That Place In A Respectful and Caring Way
Signed Very Disappointed

Jerome Perry
from Ashford, CT
I'm from Willimantic Ct there's only one Burger King in this town. I have a complain. I never complained before. I'm a Black Vietnam Veteran and today a couple of Vet buddies we always frequent Burger King especially when we have our coupons. I got my order and walking toward the pick up area to get our cup for drinks there was this White manager. I have to describe him as White because as long as I've been going there's always been a Hispanic manager in charge. Anyways, this particular White manager appeared to either be training or showing off with some of the young female workers there. I asked the workers to please make our burgers fresh - only because during and after rush hour the burgers are sitting up under a HEAT lamp getting roasted and we didn't feel like eating burger with roasted lettuce and scorching tomatoes. I said yes ma'am can you make them fresh for me.. She said.. yessir and here they are. Them manager turn around and held up a French Fry in front of my face and stated: Do you want to check and see if this fry is fresh and hot.
I thought you should know that you shouldn't have a person of that capacity in a position of training new employees like that. It was not only unprofessional but insulting and uncalled for. You guys never know about these thing unless someone tells you. This happen today December 11th a little after 1:00pm if you need me further for verification please email me or call me I will be glad to have this conversation again 860-377-9934

mary stubert
from Georgetown, TX
broke tooth on big bone in burger JUNE16 now it is Dec 10 . called and BK told me to toss the bone.Manage at the time took a photo of the bone;so I took the bone and tooth piece to the dentist where he disposed of the bone. Got call from BK ins. co 4 months later, they NEED THE BONE> well , wrote the local BK where I bit the bone. NOT one reply from the BK corporate or the local one. NOT EVEN A BK COUPON< (could have used it for chicken)
needless to day not us or our friends go to BK anymore.
6 months and not even a coupon they should be ashamed.
Have feedback for Burger King?
Thanks for your feedback!
Sorry. Please try again later!