Burger King
Burger King Complaints Continued... (Page 1)
526+ reviews added so far. Upset? Call Burger King corporate: 1-866-394-2493

kim
from Simpsonville, KY
waited 10 minutes in the drive thru only to find nobody was working it. eventually everyone just drove off. There were people working inside but nobody would answer at the order kiosk or come to the window. A lot of lost business.
Blankenbaker location Louisville KY 7:10am

I never had any problem with Burgerking until tonight. I had to place a order for my brother since we had went out of town due to my father having a interview at a car lot. Afterwards we stopped by the Burgerking located in Lima, Ohio the address to this place is 1860 Harding Hwy, Lima, OH 45804. I ordered and as we approached the window I kindly asked the woman for a cup holder. She has no problems getting me one. Yes, I only ordered three burgers, a fry and a drink. But, my fathers truck sometimes is awful and has no cup holders so I asked for one so it could be easier to hold during the ride back home. I noticed the girl behind her ask the girl who was handling giving me my order : Why are you getting a cup holder? I can't tell you what was said but because the girl who was handling my order's back was turned. The other girl gives me a dirty look and goes back to the girl handling my order and says: For one drink? That's stupid. And then looks back at me all with a rude disgusting look and laughs while she makes fun of me from the drive thru window. I called the main place up and don't know honestly if the situation is gonna be handled but I have a funny feeling it is not. But, I have NEVER been disrespected like that at all and I don't tolerate being treated with disrespect or made to feel that what I ask for is stupid. How I feel is that we are customers don't ever ask for much and its their job to make sure are orders are full filled to our desire and our happiness is meant. Which tonight mine was not. My number is 567 295 0493 If you have any other questions but just wanted to file a complaint but I won't tolerate that kind of disrespect.

Barbara Gomez
from Napa, CA
I live in Napa California. Burger King advertises 10 chicken nuggets for a dollar but I have been to the Burger King in Napa 4 times in the last week, and they are out of chicken nuggets. When I have tried to speak to the manger about it, all I get is that they just run out of them fast. If your going to advertise something for a redused price then you should make sure you have enough of the item .

Pamela Bekowitz
from Indianapolis, IN
I have been to this Burger King lots of times over the years. Located at 72 st AND Blondo omaha Ne .and have been disappointed more times thsn
. Today my boyfriend and I tried again through the drive through. Not surprised at all, we were informed they were out of hamburgers and chicken nuggets. Now im sorry to compain, I never have before. But we were in a hurry and had no time to go to another Burger King. I believe that that Burger King coupd be a thriving restaraunt if under the right management. If their having roblems keeping food stocked then someone isnt doing their job. We love Burger King and will continue to eat there just never again at that location. Thank You for your time
Pamela Bekowitz

Barbara Marvin
from Hillsboro, OR
In the past one and half months. I have been told by personnel at the store at 2246 Baseline St., Cornelius, OR 97113,
1. The Grill is not working.
2, They only have Chicken Product.
I know that most times that I have gone to Burger King there are more new faces. I do like your product, we go at least every other week. Sometimes the wait in the Drive-through is slow. So we now go inside. The tables are not wiped down, the floors are not kept clean around the soda machine. The people who are working there are all busy and trying to get out the product in a timely manner, we do see that. Maybe there needs to be a couple more people working. I have always gotten what is ordered, it is well prepared. The last set of coupons said "Grand Reopening", Really!

Lawrence Baber
from Fort Myers, FL
Thanks for being one of the few fast food chain to offer a vegetarian burger. For MANY years I've received your corporate coupons in the mail. NEVER have your offered a discount and/or promotion for your BK Veggie Burger. This is very unfortunate. Vegetarians are keenly aware of your unwillingness to promote and discount the BK Veggie Burger, and we share it throughout our ever-growing community.

carol forbing
from Redford, MI
I just went to burger king on plymouth road in Livonia Mi. They were out of whoppers, fries, and sauces. I went in to ask where there was another burger king. I first said You have no whoppers? The lady was rude and said Thats what the sign says!! This is not the first time they were rude at this locacation. I don't know if they don't like white people or what!!! I have never been rude to them and I wil never go to that location again!!!

bob ewing
from Butler, PA
There is a sale go\ing on, two for $10.00 whopper meals, good value. Wanted a third meal @ 3 for $15.00 and was denied, third meal would be @ regular price, that is crappy so went to Wendy's....

Amanda armstrong
from Greeneville, TN
We got the 2 for six. I got the whooper and and bf got the spicy chicken sandwich we was in a rush so we ate it but the chicken sandwich was so hard you could break a window with it and my whopper just didn't taste right. ( old meat) my bf ended up eating half of mine abuse it was the better one. And didn't ask me if I wanted cheese, I'm pregnant and was craving a whopper and it did not satisfy my taste buds.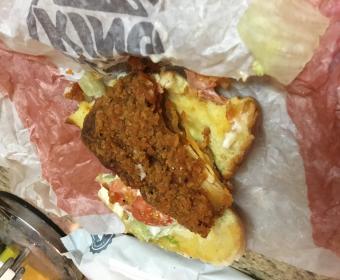 Martin Hertel
from West Jordan, UT
I visited store 16196 in Tooele Utah tonight about 5 minutes and ordered through the drive up window. My receipt shows order number 87. It is just before 7pm. After paying for my order, the girl working the drive up goes to hand me my bag with the food in it. I nicely asked if I could get 8 zesty sauce packets. Her response was a huge audible sigh and she called to the taller blond girl for zesty sauces. She brings her 2 and the first employee says, no he needs 8. The taller girls reply was to hiss "Jesus", storm to the box where the sauce is kept, grabs them and puts them in the bag then hands it to me glaring. I work full time in customer service for a health insurance company where I get paid to listen to customers insult me and I am unable to react or defend myself which is fine, that's my job. I REFUSE to allow someone who is being paid to serve me the customer with such disrespect. I am offended for the usage of profanity directed at me, the customer and want to hear back from someone letting me know this behavior has been addressed. Good grief, has the service industry really gotten this bad? My email address is mhertel@aol.com or my cell phone number is 435-850-9705.

sjimenez
from Middletown, CT
On October 8 at about 9:00-9:15 I visited .
Burger King Hartford Rd New Britain I have already written a complaint and have not heard any respond towards it. I will once again explain we ordered about 50.00 worth of food where the fries were soggy the meat on the chicken sanwiches were cold there was no ice when asked for ice the person behind the counter gave my son attitude the cashier was also rude there were bugs crawling around the bathroom was dirty the floor and tables were sticky for the locations the store is very disgusting and on top of that there was a people complaining right before us. We should of noticed something then. I am very dissatisfied since burger king has been my favorite place since I was small.

Janet Pritchard
from Madison, GA
I am giving a 1 star rating, because there is no zero star option. The Burger King in Greensboro, Ga., (store # 25607) is new, but that is no excuse for the less than poor service. I have been 6 times. 5 out of the 6 times, my order has been wrong, and it has been ridiculously slow. Today, I went inside to get my to go order, just to see if it would be any better. No, it was not. When I finally got my bag, ( 1 bag for 3 fries, 4 sandwiches, and 1 chicken fry) I checked it before I left the counter. I was missing 1 fry and 1 special order sandwich. They gave me the food, I saw the special order sticker on the sandwich. I did not open it up and check it. I should have. Even with the plain sticker on it, it came with everything on it. This sandwich was wasted, because the person I bought it for, cannot eat the condiments. I am done with this store. And, I am not alone. Everyone I have talked to around here says the same thing. If things don't change, this store won't be getting very much local business.
I know I am wasting my time doing this, but I had to get this off my mind. Our little town needed a new place to eat. We were excited to learn we were getting a Burger King. So disappointing.

Joyce Ann Finkelstein
from St Louis, MO
Sirs:
My son had just gotten off from work and he was hungry.. So, he said "Let's go to Burger King" and I said "ok". We hadn't been there in a while and tonight, I remember why not !!! We traveled for 15 minutes to the one in Creve Coeur, Mo...It was raining and hard to see, but, I didn't want to disappoint him.
We pull up to a parking space, and the girl was watching inside and we got out of the car and proceeded to the door. She waited till we got to the door and had to unlock it...It was 10:15 pm. She said in a nasty tone, "Can I help you" ? What did she think we wanted..The sign on the door said they were open till 11:00. She said "Well, we are not open" I said "why" ? She said "because I am the ONLY ONE here"....She had a very bad attitude. She is in a expensive neighborhood and should act accordingly. She isn't "down in the city".
Also, she was NOT the only one there...Granted you need more people at that location, and when we left we saw a guy with a drive thru headset on, walking around taking his break...Oh well, if that is the way you run a business, you won't have many customers, at night.
I work in food service and we HAVE to serve up to closing time... Tell her to put "her business head on" when there are customers, who want to come to your establishment... Thank you... Couldn't see her name tag, she had it turned.
Burger King
Olive and Mason
Creve Coeur. Mo...

Silver Southall
from Fayetteville, GA
On Friday, October 12, I went to the Burger King in Fayetteville Georgia. I purchased two whopper meals with cheese.
After paying I proceeded to the pick up window, it had a van ahead of me. I don"t know what the problem was with the
order, but I was in line fourteen minutes before the problem as solved. I got to the window nothing was said like sorry
for the wait or nothing I left I began to eat the fries they was warm, I told my daughter to taste the hamburger it was
the same. This order had been setting all that time. I think the problem could have been handle in a more timely manner
those workers need to be trained.

Sandra Hughes
from Fargo, ND
I stopped at a Burger King restaurant store 1908 2253 South University Drive in Fargo ND 58103. I ordered 3 10pcs chicken nuggets at 11:30 pm and this store close at 12:00 am. The service person working at the drive thru window was very rude. First of all he stated those things are going to take about 5 minutes to cook, referring to the chicken nuggets we ordered. He further stated "are you going to wait" continuing to speak in a very rude tone of voice and his facial expression appeared to be frustrated with servicing African American customers. Also this service person snatched my debit card from my hand and slammed the window shut in a very rude manner. After swiping my debit card for the total amount of the food purchase, he did not give me a receipt and directed me to pull over in one of the parking spaces stating "I'll bring them out to you continuing to speak in a very rude tone of voice. At the end of this apparent racist experience I decided to ask for a refund of my total purchase price and left the restaurant. I will not return to this restaurant again and I will inform as many people as I can not to eat at this particular restaurant. The service was despicable and the experience was even more deplorable. If I had the time I would boycott this restaurant. No one should ever have to experience such despicable service from any restaurant. I do hope your corporate office investigate this particular restaurant before this happen to some other innocent victim hungry for a late night snack at 11:30 pm. Simply Despicable

Marie L Jeralds
from Twin Lakes, WI
I ordered a double whopper with cheese for carryout and only received a single whopper with cheese.

the burger king on w. 4th st reno Nevada has the worst general manager ever, she yells at employees all the time, they are not moving fast enough they are not allowed to take breaks, I see her yell at employees so much I'm surprised there are any employees still there, it's a hostile work enviornment. this person has anger issues and needs serious help.
she puts people down,'
she cusses at customers because they are upset they are waiting forever for their food, man I'm glad I don't work there

dana slingland
from Reading, PA
i complained to burger that the workers were all working with their pants down below their ass cheeks. they were told about it and corrected the problem. The next day they were doing the same thing. The district manager was their and i told him and he told them to pull up their pants and left. The minute he left they pulled down their pants and the store manager Ronald did nothing about it. Today the worker who was told to pull up his pants when to take my food order said to me, do you want me to pull my pants up and i say yes, he then proceeded to tell me he is 41 years old and will do want he wants. I said you are representing burger king and he started to lecture on he will do what he wants. I told him not to lecture me but he kept doing it and i raised my voice and then he told me to lower my voice or he will not take my order and then said next in line and told him. I am going to order then Nancy the manager moved him to burger board. She then took my order. working with food with your pants down is not sanitary.
Workers should never confront a customer when he complaints to a manager and the managers should not let the workers dress this way.
I also asked the manager Ronald for the district managers phone number but he would give it to me.
Also the handcap restroom door has been locked for about 3 weeks which makes it hard for my who is with me who uses a walker to use the reguler bathroom.
I go their every day with my dad. But I think I need to find a new place to eat/
If you want to contact me feel free to call me at 6102584680.
I would also suggest you post the District Managers phone number at the store
This happened at your store at 25th street in easton, pa.

used my debit card to buy a product the product did not work IE: frozen orange drank , burger king stated they would have my refund in two days this was on 9/30/18 still have not gotten back my refund today is 10/03/18 still no refund,on debit card never use your debit card at burger king A THEFT IN THE NIIGHT BURGER KING AND THEY WILL NOT ANSWER THERE PHONE I WAS ON HOLD WITH BURGER KING FOR OVER 30MIN, NO NEVER DID ANSWER THE PHONE JUST SORRY AZZ MUSIC

Stephanie
from Los Angeles, CA
The manager was gelling us for the our drive through experience. Not good he was short with us even before we got to the window then when we got up to the window he just rudely told us to go park and wait for our food when we got our food we asked for BBQ sauce and ketchup he rolled his eyes he said you will have to back through the drive through again so we just left. . . the food was so bad I wouldn't give it to my dog and if I did he wouldn't eat it! Then the price we paid was twice as much as we expected... We want our money back or our meals replaced she didn't even get bacon on her bacon burger . . . we'd love to send you the receipt or fax a copy burn we didn't get one . . . we eat out a lot we where thinking about going to Mc D's but BK has never let me down so far . . .
I never complain ! At All, Ever. . .
Stephanie

robert spidell
from Lansing, MI
4 days ago I visited my local burger king for one of the new salted caramel shakes. I love these shakes sometimes I have several a week along with my whooper. so on this day I asked the young woman could she make it fresh as there were cars ahead of me in the drive thru line and I didn't want it to be watery from the wait. she said yes no problem, so once I got to the window to pay I look at the shake and asked her if she had forgotten the caramel, her response was its all ready premade and I asked her what about the caramel can you add more and her response again was its already made. I drove off basically with a vanilla shake with a small amount of salt mixed into it, I had already paid via credit card so a refund would have been a hustle. she was the worst ever and I haven't even had a salted caramel shake since

LETHIA NUCKOLS
from Palmyra, VA
I ENTERED BURGER KING AND ORDERED THE 2 FOR $6.00 MEAL. NO LETTECE ON ETHER SANDWICH. THE CLERK SAW THE COOK PUTTING LETTECE ON THE HAMBERGER AND STATED SHE SAID NO LETTECE. HE CONTINUED TO PUT LETTECE ON THE CHICKEN. THE CLERK STATED AGAIN NO LETTECE ON EITHER SANDWICH. HE TURNED AROUND AND YELLED, GET BACK TO THE WINDOW AND DO YOUR JOB. HE SAID SOMETHING ABOUT YOU CAN DISCUSS CARS. WHEN I GOT MY SANDWICHES I TOLD THE CLERK I WOULD GO TO MCDONALS FROM NOW ON. ( HE CLEARLY SAID OK) YOUR COOK PUT SO MUCH MAYONNAISE ON THE SANDWICHES IT RAN FROM THE SIDES AND STAINED MY SHIRT.I AM SO DISAPPOINTED IN THE BURGER KING ON PANTOPS. I WILL NEVER GO THERE AGAIN. YOUR BURGER KING ON 29 NORTH HAS A WONDERFUL WINDOW CLERK. kIM YOU NEED TO PLEASE LOOK INTO MY COMPLAINT. YOUR OFFICE NEDS TO LOOK INTO COMPLAINTS AND COMPLMENTS.

Suwarna dussie
from Perry, FL
I went to the bk on Oakland an university in sunrise FLORIDA . I was told it's cash only so I jokingly say in this century we don't have creditcard. With that I was there looking at the menu board so he said or ordering or not I said why would I be seating here. So then this lady get on the line start disrespecting me telling me to order or get out the drive true or she going to call the police on me because a am rude an to get out she not taking the order and so I ask for a manager she said no manager working they not there.?i call to speak to a manger they take the phone off the so it all busy signal . If feel very violated an disrespect they was very rude to me . This is my email is sdussie@ Comcast. Net ph 786-2638050 . This instant happen 9/6/2018. At 4:00 pm

jerry parr
from Trenton, MI
the food........the original chicken sandwhich is hollowed out.....there isnt even any chicken in it, same goes for chicken jr. how much dam profit do you need? pathetic.......u call this food??? prices keep going up and the food disappears.........total bullshit........im gonna take pics and go on a media blits with this crap ass food i just got.....unreal!!!

I have gone to the Burger King on 2095 W Memorial Blvd # 25528 When it first open they were the kindest people I've met. On more than two occasions. This one was the worst visit. 09/01/2018 I ask a question and the feed back was rude and not professional at all. If you can not ask a question without getting negative feed back why are they there to help. Or working And show respect. Two of the young ladies wore the black vest one without the glasses black young lady was totally rude. The cashier was ask a question as well and she didn't know the answer on who to contact or how to contact someone who is over the company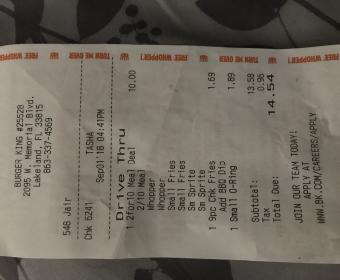 Linda Poidevin
from Delray Beach, FL
We went to the Burger King on 8th St, Boynton Beach,Fl on the way to the beach this morning. We ordered breakfast items and 2 small coffees,each with MILK & 1 SPLENDA. Both coffees were BLACK!!! We had nothing else to drink with us. Very disappointing experience. We could not drink the coffees. I dumped the coffees & filled the cups with water from the bathroom sink. The food was good, otherwise I would not have rated 2 stars.When I looked at the receipt, it jus lists 2 coffees. Does not list milk or splenda, so it was never keyed in properly. survey code 88509-1 120-21609-081831. the missing # between the 1 1 is not clear.could be another 1 or 7. Time was 8:31 am. I would like a coupon for 2 coffees for next time.

Charles Carter
from Milwaukee, WI
I went to the BK on 5120 W Capitol Dr here im Milwaukee, Wisconsin and literally most of the employees were outside smoking and and some costomer was yelling back n forth with a employee in the front doors. so i just decided to go thru the drive thru and they wouldnt even take my order.I wasnt too happy.I used to go to this BK alot cause its only burger place near me that i like.I wont be going there again gotten ridicuous there.

Demetria Thomas
from Jackson, MS
I ordered the chicken biscuit combo. I didn't mind that the chicken had to be cooked but the chicken was the size of the biscuit which doesn't look like the picture. And it was burnt. And it was NASTY!!! I just ordered a chicken biscuit combo a few days ago and it was delicious. I didn't have a receipt so I wasn't able to take the survey. I didn't have a way to take the food back. And the hash browns didn't taste that good either. This was a waste of my money this morning.

Earl Rucker
from Mahwah, NJ
Today 8/9/2018 at 5:56 AM on order 542 is the third time I have come in and no napkins were placed in the order at drive thru. The employee seems to have the attitude that the customer is an imposition and disturbing the day.

carol swiercz
from Janesville, WI
We were just at the Burger King on Milton Ave. in Janesville Wi.Seems very time we go there they mess up order this time we got the whopper meal for two for.899and both our whoppers were made wrong.IT's disappointing lately cuz every fast food place wevegone to always mess up our order and I never complain but this is getting very old we repeated our oder 3 times and you would think thy'd grt it right.I would like all of replaced or I'll never step foot in your place business again.I am amanager of a fast food restaurant myself and I don't take this lightly.My address is 2530 sauk dr Janesville,wisconsin 53545-name is Swiercz
,

Went thru the drive thru this afternoon, no lines great! No waiting for a change!! The employee greeted me, asked "may I help you?" Gave my order, he could barely understand me, I repeated myself several times, which was no problem, wanted to make sure he got my order correct. When I pulled up to the drive thru window, I was Greeted by an employee who was rude! (Not the same emoyloyee who took my order & I did not get his name, wished I did because he was Very polite & professional) The rude employee's name is Jordan, did not give his last name, which I asked! I know safety is important! He asked what did I ordered, & I told him, I asked, "what's the problem?" He was rude with his response, I said excuse me, he proceeded to be rude still, I said to him, "I do not like your rudeness or your attitude, he continued With his rudeness, the other employee interjected, & he finalized by order. Once I paid, my Oder was given to me by Jordan, I looked into my bag, NO napkins or plastic ware to eat with. I asked several times, so the polite employee gave me what I asked for. I thanked him & left.
I did not have time to go into Buger King, I was on my way to work, time was of the essence for me. This is the reason why I'm writing to Burger King!
Please note when hiring, please teach All employeres proper etiquette! It really does look bad for business! Now, my question is this, will anything be done about this, I do not know, I can take my business elsewhere! Who will treat me better than your employee!
After all, I'm spending my money for poor service!

Margaret Novotny
from Fallston, MD
Was given a gift card. With $8.24 left on it (verified by BK), two BKs rejected it as "invalid." Very embarrassing. Called the number on the card. Replacement requires an email to a mile long address, a bunch of information and a PHOTOGRAPH of the card. I can't photograph the card & include it in an email. So, I'm out $8.24, but they'll never see a penny of my money again.

Cynthia jones
from Petersburg, VA
Stop pass the Burger King an Dinwiddie to get breakfast this morning manager was real rude an nasty to her employees there's a way to talk to people n I have been a manager now for 15yrs n if I won't respect she need to learn how to give it

Jennifer Allen
from Woonsocket, RI
Good Afternoon,
I am writing to let you know of a great concern that happened Monday, July 30, 2018 at Burger King, Foxwoods Casino 101 Trolley Line Blvd Mashantucket, CT.
First thing, we have a life threatening food allergy that we manage for my 3 year old little boy. We carry epi pens wherever we go and also research all foods before eating anything. Our choice was to stay at Foxwoods Resort for 2 night little get away (beach, pool, outlets and their new arcade in the resort). After speaking with several chefs, we were comfortable eating at Fuddruckers and Burger King (because he is 3 and is picky on what he eats!). He loves Burger King---so we decided to go there on Monday evening for dinner.
The 3 of went up to the counter and the girl at the register was half asleep-barely even looked at us…not the first thing I like to see when I am ordering food for my son! I first started off my order telling her that we have life threatening food allergies and to please change gloves. She never responded and I asked if she heard me…she muttered yes she did. Ok! I then asked if we could have 4 piece nuggets, applesauce and white milk in a kids meal. I asked to please have the team members change gloves as they are working on prepping his meal because I need to be sure about cross contamination. We proceeded to order to 2 adult meals in addition to the kids meal. I went to the table to wait for the food with my son. I wiped all the table and chairs down so we can have our meal.
When my husband returned to the table, I opened up the kids meal bag and I find a chocolate chip cookie sitting on top of his food!!!!!!!!!! I couldn't believe this! I quickly returned to the counter and I asked why there was a cookie in his bag after I clearly stated there was a food allergy?????? I was told they ran out of applesauce and toys! Ok that is fine…but WHY would you EVER put a COOKIE in his bag without asking a parent FIRST??? If he took the bag and started eating this , this could have ended in a VERY DANGEROUS AND SCARY NIGHT! I asked for the entire bag be thrown and start a new bag with new gloves…the looks I received from the staff was hurtful to say the least! I couldn't believe the attitude I was given trying to get a SAFE MEAL for my 3 year old little boy. I was so hurt and disgusted at how we were treated….this was the ONLY place within Foxwoods I felt comfortable eating with him for our little get away. We frequent that area often (again in August 26-28TH 2018) and would love to know things would be changed.
When someone comes in with ANY kind of food allergies---please train your team to listen to their request with empathy. Feeding your small children out to begin with is a very frightening experience-this should be something very fun for them! PLEASE change gloves without attitude! PLEASE PLEASE NEVER put anything in the bag that has not been discussed—especially when it is a baked good for peanut and tree nut allergy. This does not leave me wanting to ever return to a BK-I hope I can change my mind.
I can be reached at 401-419-1910 if you wish to discuss further.
Mrs. Jennifer Lynn Allen
1 Curran Brook Court
Cumberland, RI 02864
JennB430@aol.com
Jennifer Lynn Allen
Development Director
Stadium Theatre & Conservatory
28 Monument Square
Woonsocket, RI 02895
401-762-4545 x 104

kimberly rogers
from Houston, TX
I work at a hospital and normally send one person to get the orders. this is the burger king in west Monroe on Thomas road. they normally have 4-5 orders. the inside is normally closed when we get ready to order so we have to use the drive thru then we are told by the manager that we can only place two orders at a time. this is crazy considering this burger king is not that busy.

Maria Aguilar
from Miami, FL
Good afternoon,
I would like to bring to your attention the poor management skills that the Burger King on 57th & 7th street has. I have been going there on and off since I was an adolescent and I have experienced in various occasions the lack and poor skills of management. There is a general manager by the name of Karol that seems to take her management skills to a different level. I have seen and heard her scream, belittle, disrespect and humiliate her employees in front of others including customers like myself. Burger King has a respected name that should be respected as such like other franchises, but it does say a lot when your management team is so unprofessional. I imagine that the employees that work there, work either to acquire the work experience and responsibilities of the workforce while they attend school and others that simply need to work to maintain there homes. Needless to say, they all have a purpose as to why they work, as we all do and for those that are still teenagers that rather work instead of being out in the streets. I truly recommend someone that has the patience to teach and respect on how to treat others.

Elizabeththirman
from Clermont, FL
I have be n the buying egg and cheese croissants every am since September 2017. Recently the egg inside went from big and fluffy to very, very thin. I even tried two other burger kings in my area (Clearwater,FL; 2865 gulf to bay, clearwater, Fl and you seemed to have changed your product to a scimpy version for the egg. Am very unhappy; will find somewhere else to eat

Kenneth Allen
from Birmingham, AL
I went in too your store on 3rd avenue west this morning for a breakfast sandwich. I ordered a breakfast sandwich A my ticket number was 47. It was suppose to be beacon egg ham and sausage croissant. But I got a croissant with sausage tomota mayo onion of other shit as well. This was not good am sick.

Erika Webb
from DeLand, FL
Judging from the inability to get a person on the phone as well as the overall horrid attitudes of Burger King's employees and very poor conditions of all of these restaurants, I am certain this complaint will change nothing, but yesterday at the location 1850 South Woodland Boulevard in DeLand, Florida, I was treated more dreadfully than I have been treated anyplace in my 54 years on earth. A repeatedly rude employee would not listen to my "have it your way" instructions and the Whopper Junior came out cold and incorrectly assembled. Her manager was pandering to the employee, would not let me state my complaint, just an overall terrible experience. Heaped on top of typical experiences here and at other Burger Kings, as well as the company clearly not caring what customers think anymore, I will never darken the door of one of these establishments again. It's very obvious that Burger King is not long for this world. Good riddance.

brian starks
from Gaylord, MI
i go to 3 bk in my area and this one like to rise the cost for subistute when there out. biscuts specials go up if you add chesse you lose specials pricing when you change the order there . this has been going on for awhile this is the only store i have found that does this bk store #1614

chris bianco
from DeLand, FL
I have been buying your whoppers for over 40 years. on 7,23,2018 I went to the burger king on enterprise rd , in orange city , florida. when I entered the restaurant, there were flies all over the counter. I was asking why. I was told because of sweetner added to the the blacktop. I never heard of such a thing. next I ordered 2 spicy chicken, and 2 whoppers to go. by the time I got home to eat, I took apart the burgers to add cheese, and they were not fully cooked. you saw blood from the meat. as I was on line observing, I did not see the burgers come from a flame broiler. all I saw was 2 burgers put into a top warmer tray, then 1 minute later transferred to the whopper buns. .worst whoppers I ever ate. my wife wanted the spicy chicken sandwiches. all I can tell you is that they are very spicy and leave the back of your mouth very hot. as it goes for my whopper sandwiches, I had to cook them all over again until I saw no blood. that is why I chose to buy out last night. SO I DID NOT HAVE TO COOK AT HOME. but I did .and this is a fairly new restaurant. something is wrong here. please fix this problem.

Nicolas Flowers
from Detroit, MI
The Burger King on 20401 Warren in Dearborn heights Michigan. Every time we go through the drive thru we ask to pull around wait for our order or to pull down over the time pad so it will not look we have been waiting a long time and I went in and talk to the manger she got setup with me and said we told your order will take a long time. I ask for my money back the manger said I don't have time for this just give him his money with a attitude I so I told her y'all have poor customer service. This happen to day at 2:50pm Tuesday 24, 2018

Reta Heintz
from Montgomery, IL
Newly remodeled Burger King in Aurora, IL on Route 34 (Ogden Avenue) and Long Grove Drive. Today one of the employees had her children there and she was not dressed as an employee (in tank top) and she had her computer with the children came out from behind the counter picked up computer and went back behind the counter.
Corporations has not clue what goes on in their stores and things like this happen all the time.

Valerie
from Cleveland, OH
The Burger King located at 4625 Northfield Rd, in Cleveland , Ohio 44128. SUCK!!,, the store is scheduled to open at 6:00 am m-f, HOWEVER, you can bet at least once a week they are not open. Either changes the hours of operation or find dependable staff, I'll just spend my $ at Panera or Chick-fil-a, they are dependable.

Lori Bowman
from Jeddo, MI
I took my 5 & 6 year old granddaughters to Burger King today. Was very upset! Both girls ordered the ice cream coke float, which I paid $2 each and they received a regular frozen drink that sell for $1 so I was overcharged. They did not refund any money because they had already started to drink it. Then we ordered chicken fried with sweet/sour sauce and fries. We were allowed 1 sauce each and 4 catsup packets. When my 6 year old granddaughter asked for more we were charged 11 cents per sauce and 6 cents per catsup! Unbelievable! They are children and had to ask me for more money to get extra condiments! I was in disbelief! Any place else is happy to give you more, not charge you. Also the last time I visited the same Burger King, they had no salt! Wouldn't even offer to give us some from the kitchen! I love BK, but for the cost of the food I can't get the little things that probably cost them 2 cents? Wow!

Keith Goldstein
from Loveland, OH
Burger King Location: 9065 Union Cemetery Rd, Cincinnati, OH 45249
I'm not one to complain about service and quality of fast food places, but today set me off.
I visited this location today, just before noon and went through the drive-thru
I pulled up with about 4 cars in front of me at 11:54AM. I sat there like usual for a few minutes, and carried on. Then it got to be about 12:10 and we have not moved a single car in the drive-thru.No mind you, i have a 30 minute lunch.. this is already half of my lunch already wasted. Meanwhile, 3 cars behind me and one in front of me had to back out and go somewhere else.
So, at 12:10 i sat at the order screen for a few seconds, and was greeted with 'What can i get ya". I ordered, saw my order pop up and then nothing else was said, so i just pulled away after staring awkwardly at the screen without them even acknowledging me or my order total.
I pull to the first window, and it says move to the next window for payment. Who closes the first payment window during lunch rush hour??
Next, i pull up to grab my food from the window. A young woman opens the window and stares back at me without even greeting me, and has her hand out for my card, i had to ASK what my total was. She took my card, scanned it, gave me it back and shut the window on me without even saying a word. about 3 minutes more go by and she comes back (with my HUGE order of 2 cheeseburgers) and hands it to me and shuts the window. Not a single emotion, nor "Have a nice day".
Like i said, i am not one to bitch about customer service. But this was so RUDE. I ended up sitting in your drive-thru for 17 MINUTES!!!!!!!
I get back to work to eat my burgers, and guess what... they're smashed and you can tell they didn't even try to make them correct.
I got 2 bacon cheeseburgers. Each had one small piece of bacon, a drip of mustard and no onions. I mean seriously? do you value my business? because this is enough for me to just stick with the new McDonald's at the road.
I use to work for BK and i know how the entire process works. Slow service, complete shit customer service.

Carol Siewert
from Lake City, MN
Burger King located in Lake City MN is disgusting....filthy, filthy, filthy. The floors were/have been so dirty they're light grey and if cleaned workers are to stupid to clean entry ways and when mentioned to employee I was told it was because of garage sale people coming in----REALLY. When asked staff up front why this BK is so filthy I was told evening crew is to clean and they don't and then was told by employee that if you think it's bad out front you should see the kitchen. A long time retired employee walked out a few weeks ago as his "bacon" station was left so filthy from night before. Employees are on there phone talking with a line-up of customers waiting for service, always running out of food items as not ordered, dirty windows along with soda dispensing area not being cleaned and the list goes on and customer service horrible. The last straw for me was attempting to get breakfast through drive-up. Drive-up is to be opened at 6 AM. Drove around to front entry and doors locked although two children was sitting in booth while mom opening up. At 6:15/20 door unlocked and I got my coffee and breakfast sandwich. When asked where my tater rounds were they said oil was heating up and I left as I didn't have time to waste any longer. The two kids sitting out front then got up went behind counter and loaded up with beverages and food--obviously this goes on everyday. My next step now is to call the department of health. Our coffee group which would come in every morning no longer does because of such poor employees and filth of place. Another large lunch group no longer goes there either because of conditions. HORRIBLE UNTRAINED EMPLOYEES WHO COULD CARE LESS--only want pay check. If there is an actual supervisor for day/evening they are not doing their job. DO SOMETHING!!!!!!

Mary boyea
from Greene, NY
I went to burger king main st hi Binghamton by a nd got a mocha ice coffee the girl took the syrup from the jar. And put in cup very littleice. no milk or cream it was like mud. I took it back up she said that's the way it comes it wax s bad I asked for a milkshake i it was really bad and tasted like syrup only

Donna L Smith
from Honolulu, HI
On Wednesday July 18, 2018 at 2:45pm I went to the burger king inside of the Kahului Airport on Maui. I ordered a Junior Whopper Meal with no pickles or onions and with cheese. I waited about 7 minutes for my order. When I opened my sandwich, it had onions and pickles, the hamburger was cold and the cheese wasn't melted and the bun was old, it was falling apart. This was the worst Jr Whopper I have ever eaten.
I didn't have time to return it because my flight was getting ready to board. I'm not sure who own's this franchise, but I hope that you will follow up on my complaint.
Thank you, Donna L Smith

Regina Portis
from Montgomery, AL
First of all I didn't get a receipt with my order, but I ordered a sourdough burger and it was the worst thing I've ever ordered from Burger King. If I wasn't back at work already I would have taken it back. It was dry with no taste at all and I wanted to let you know that was $6.59 down the drain and that I wish I had spent it on a personal pan pizza, I would have been much happier.
P.S. Sorry I threw it in the dumpster, didn't know I had to upload a picture, but just wanted to let you know I didn't like it.
thanks,
~rp~
Have feedback for Burger King?
Thanks for your feedback!
Sorry. Please try again later!