Banana Republic
Contact Banana Republic Corporate
Toll free phone number: 650-952-4400
---
Banana Republic is a fashion apparel store for men and women with contemporary classic style. Recently, the Banana Republic business and all of their stores was acquired by Gap, although it continues to be one of the largest fashion names in the apparel sector. The company headquarters is located in San Francisco, California and was founded in the year 1978 by Mill Valley.
If you have a problem call Banana Republic's contact number at 1-888-BRSTYLE or toll free 1-888-277-8953. Various products include dresses, blouses, shirts, the tee shop, sweaters, pants, denim, skirts, shorts, blazers, suits, and jackets. You can write a letter directly to customer service at 5900 North Meadows Drive, Grove City, OH 43123.
Banana Republic Contact Information
Report complaints to corporate and get satisfaction
Banana Republic headquarters address

2 Folsom Street
San Francisco
CA 94105
United States

Company website

1-800 phone number

650-952-4400

Better Business Bureau rating

A

Customer service hours

7am-1am EST, 7 days a week
Browse reviews of other Clothing Stores
Top Banana Republic Complaints
Browse more than 1 reviews submitted so far

My only complaint about Banana Republic is their cloths are way too expensive for the quality. I got a t-shirt and a few polo shirts there and I barely wear them anymore. I don't have much to say about Banana Republic. Their clothes don't fit me well because of my size and everything they have is very expensive. The only time I shop at Banana is when they are having a sale. It's just really tough to see myself going there and spending that kind of money on clothes that look so common.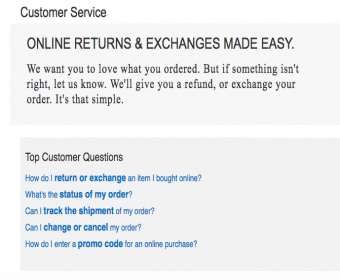 Have feedback for Banana Republic?
Thanks for your feedback!
Sorry. Please try again later!